Walking the Kumano Kodo pilgrimage route is a one-in-a-lifetime experience for any traveler. When I started my journey through the route, I didn't quite know what to expect, knowing little to nothing about Wakayama in general. Since I didn't have a lot of time (barely half a day), I decided to walk just part of one the seven major routes, the Nakahechi—just a few kilometers in reverse. This route starts in Hosshinmon-oji, one of the gates to Hongu Taisha, traverses Mizunomi-Oji, Fushiogami-oji and Haraido-Oji and concludes in Kumano Hongu Taisha. The experience made me deeply regret not having enough time to at least try to complete the entire route.
Despite the immense beauty of the scenery, most of which is covered in dense rainforest, Kumano remains a hidden gem, since most international visitors usually travel to Tokyo and Kyoto and don't deviate from their scheduled journey. Moreover, Wakayama is one of the least advertised prefectures at a national and international scale.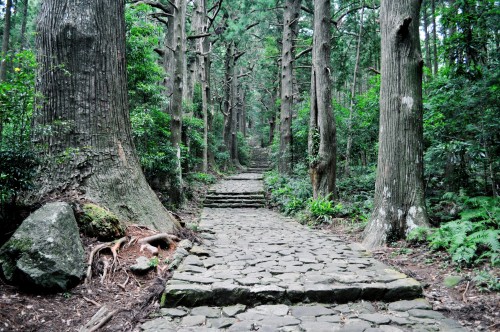 Kumano Kodo might sound quite wild and remote (it is), but it's actually very well equipped. Getting lost in this route is almost impossible, since all roads and smaller paths are perfectly marked with tons of signs in both Japanese and Roman letters. Along the way, you will find vending machines, public toilets, resting areas, information panels, fountains and other facilities. An abandoned primary school is one of the most obscure and eerie sights I came across before arriving to Fushiogami-oji.
The most memorable attractions within Kumano Kodo (which I visited separately) are the three Grand Shrines; Hayatama Taisha, Hongu Taisha and Nachi Taisha. These temples are historically considered to be sacred places home to the Gods, and areas of physical healing and cleanse. Every year, hundreds of pilgrims walk the route looking for bodily relief and peace of mind. The Nachi Falls, with the Nachi Taisha temple as the foreground, make for one the most impressive and dramatic landscapes in Japan.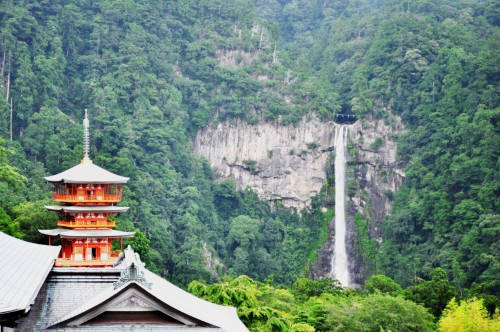 In addition to looking for the many oji shrines and temples scattered along the route, visitors are encouraged to find the stamp booths that take over the area. These are little wooden kiosks that hold red, rubber memorial stamps free for pilgrims to use, so don't forget to bring a notebook with you! Those who collect enough stamps will get a free, small token when presenting them at the Hongu Heritage Center. I collected over 10 stamps on my short itinerary.
Hongu provides perfect closure to the route, with several iconic attractions (being Kumano Hongu Taisha the most important), cafés, friendly guest houses and a modern information center and museum (with free WiFi!).
[cft format=0]