"It takes two entire years to pass a taiko apprenticeship. That means no drinking, no smoking, no social media. Do you think you could do it?" asks experienced taiko instructor Tomohiro Yonetani, with his tongue firmly planted in cheek.
"Whoa, yeah, probably not," I laughed, unable to give an eloquent answer to a question asked with so much humor. It was a question also filled with a clear underlying message about the seriousness and passion to which Sado's taiko drummers dedicate their lives to perfecting and showcasing the art form that has come to define the island.
"How many people manage to make it through the entire two years?" I asked, hoping to hear about all the failures to feel better about my lack of personal discipline. Typically during each intake, Yonetani explained, "about 12 people enter as disciples, but few make it through the rigorous training process. Sometimes eight or so, sometimes just two." This exchange took place at Sado Island's Taiko Centre (Tatakoukan). It was the first stop off of my three-day visit to Niigata and the first of my two days to be spent on Sado, an island filled with history, culture, and gold.
Taiko and Kodo: The Beating Heart of Sado
For those uninitiated, taiko is a style of traditional Japanese drum. It's ubiquitous at matsuri and is gaining attention from audiences across the globe. The Sado Island Taiko Center (also known as Tatakokan) is the headquarters of taiko collective Kodo, potentially the world's most famous taiko drumming ensemble, who travels the globe wowing audiences with their physical drumming performances.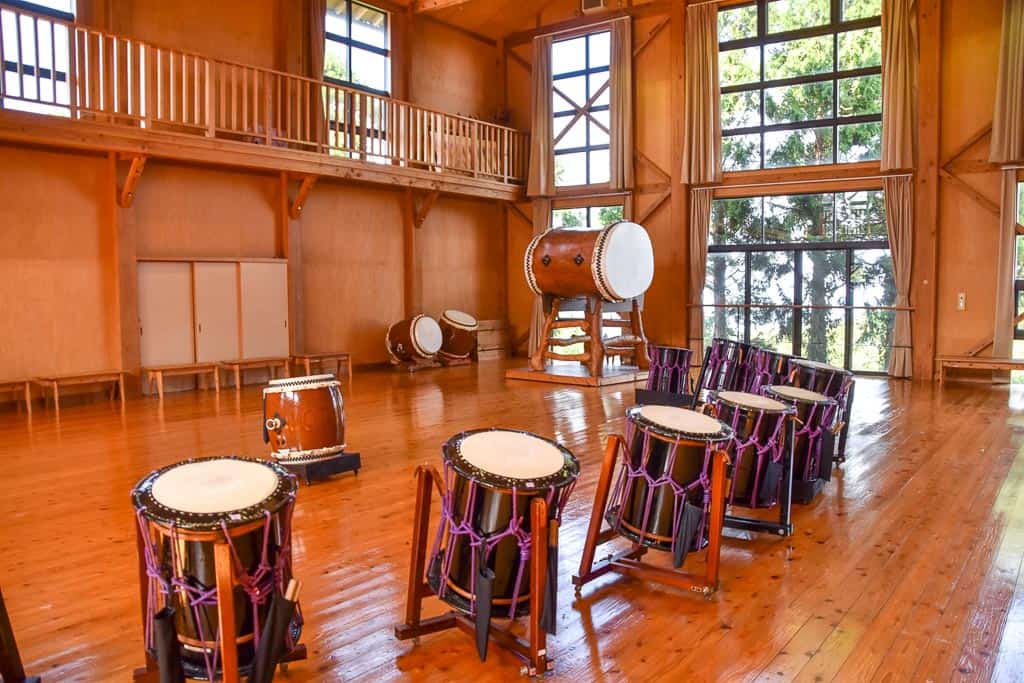 The collective formed in 1981. Since their beginnings, Kodo has given over 6,500 performances in 52 countries on five continents. Annually the group also hosts the large-scale 'Earth Celebration' event, an internationally attended showcase of taiko drumming excellence and the group's desire to transcend cultural and language boundaries through the power of music.
The center is home to an impressive collection of taiko drums of all styles. There's a collection of standard drums called katsugi oke daiko and two massive taiko drums hand-carved from the same enormous 600-year-old keyaki (Japanese zelkova) the regulars affectionately call Mr. Potato and Miss Pig. Wandering between the drums and trying my hand at belting some off-rhythm progressions, I could feel the power and humor that goes into keeping the culture of Sado alive.
A Stroll Through the Edo Period Village of Shukunegi
Although taiko is a richly historic performing art, there's something about Sado Island's Taiko Centre — or perhaps it was the infectious energy of Yonetani — that felt very young and of the moment. It wasn't until strolling through the island's southern Shukunegi district that I felt a sense of time or age. Known colloquially as Shukunegi Village, the area remains a piece of history relatively untouched by modern development since its peak during the Edo period to the early Meiji period, when it was a hotspot for maritime workers based at the nearby port.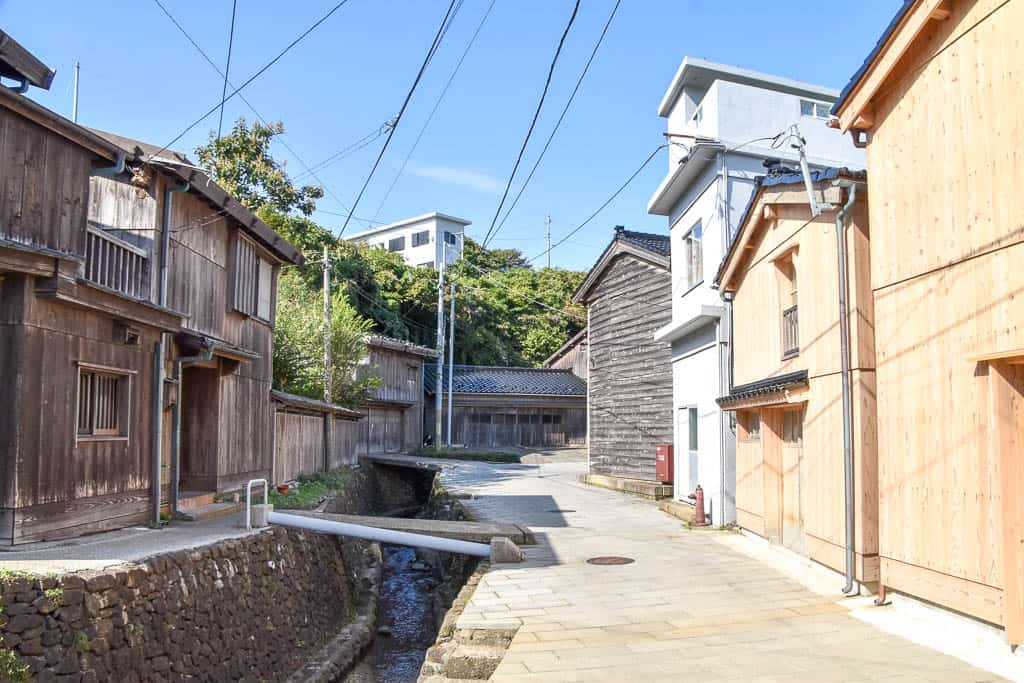 Featuring weaving, narrow alleys, and small canals, it's like something out of a storybook. Many of the gracefully aging double story wooden houses that populate the area were constructed by ship carpenters using similar materials, giving the site a gracefully aging, natural charm. Today many of the homes remain in use by locals as private residences and public businesses, like restaurants and cafes.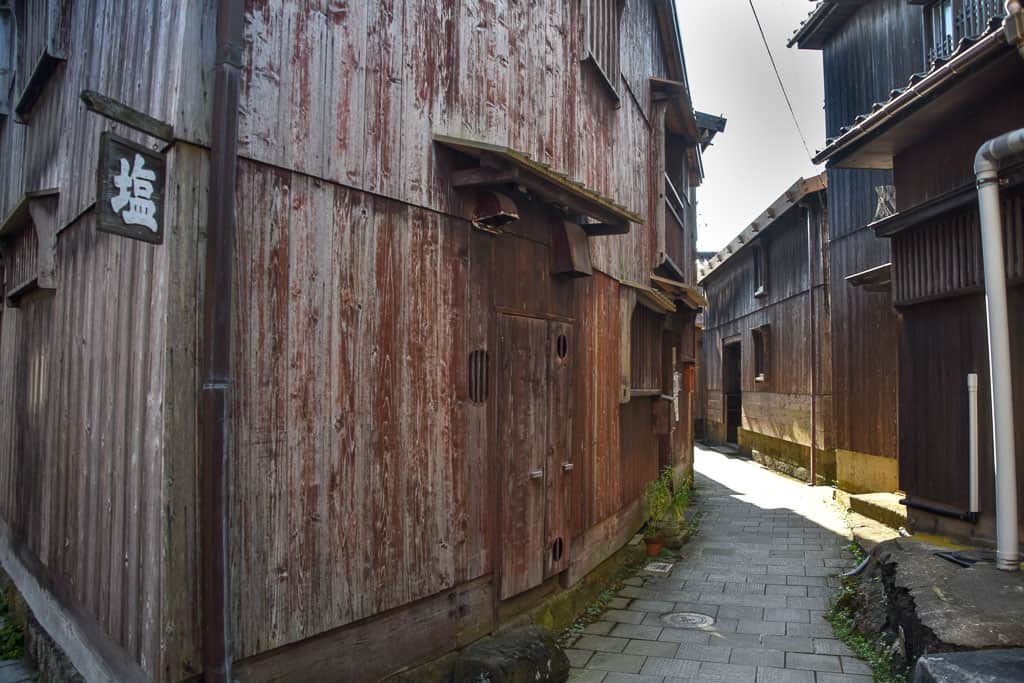 A Brief Overview of Sado's History
It wasn't until the second day of the trip, when some small talk about the day's plans opened up a discussion about Sado's history, that I really understood the island's context. I was seated next to my guide for the day, Takayuki Tsukakoshi, a man who grew up in Tokyo but had relocated to Sado, his mother's hometown. "Today, we're going to look at a few gold mines," he said. "Maybe you're familiar with goldmines from back home in Australia?"  
"Maybe Australians and Sado-ites are kind of similar," I joked, trying to draw humorously tenuous links between Tsukakoshi's much-loved home island and my own. "We both had gold rush histories, and we both come from criminal descendants," I continued. "Ahhhh, no, no, no," Tsukakoshi interjected, not quite offended, but eager to correct my misassumption. "Sado wasn't an island of criminals. It was an island of political exiles."
It turns out there's a very big difference, Tsukakoshi went on to explain; Sado's descendants were court nobles and intellectuals who found themselves in conflict with the governing bodies at the time. Looking into the island's history, one of the first figures to call Sado their adopted home was Hozumi Asomioyu, who found himself here in 722. He was a poet who criticized the imperial family.
Later, other highly regarded cultural figures came, like Emperor Juntoku in 1221, after losing the Jokyu War and Buddhist monk Nichiren in 1271, whose criticisms of the Kamakura Shogunate and other schools of Buddhism sealed his fate as a Sado resident. Once you realize what you could almost call the 'pedigree' of Sado's historical population, the island's rich connection to culture and passion for the arts makes a lot of sense. In many ways, the island was a cultural playground, a world unhindered by mainstream mainland politics, where thinkers and dissidents could roam free.
Tour of the Sado Gold Mine and Sights Around
You could say Sado is an island with a golden history, from the political royalty to actual gold mines. The mountains of Sado were once abundant with silver and gold. There are plenty of opportunities to marvel at this fascinating history and learn more about this mineral, which shaped the island. The best place to start is at Kirarium Sado, the newly established information center. The exhibits here are mainly video-based (all bilingual). They offer a comprehensive insight into the history, processes, politics, and economic impact of Sado's gold rush had not only on the island but on the rest of Japan and even the world.
The mountains of Sado were once abundant with rich minerals. The minerals included gold and silver, which shaped this fascinating island's economy, landscape, and culture. The primary gold mine, Sado Kinzan, was the most productive in Japan, operating between 1601 until 1974. It was closed in 1989. Today, it's open again, but as an immersive attraction where you wander the two most prominent tunnels, the Sodayu Tunnel and Doyu Tunnel, and imagine just what it may have been like as a gold miner all those years ago. At first, I was a little spooked but later impressed by the weaving tunnel displays and the almost slightly too-human like robot-miners that populate the site in recreations of scenes from the mine's flourishing eras.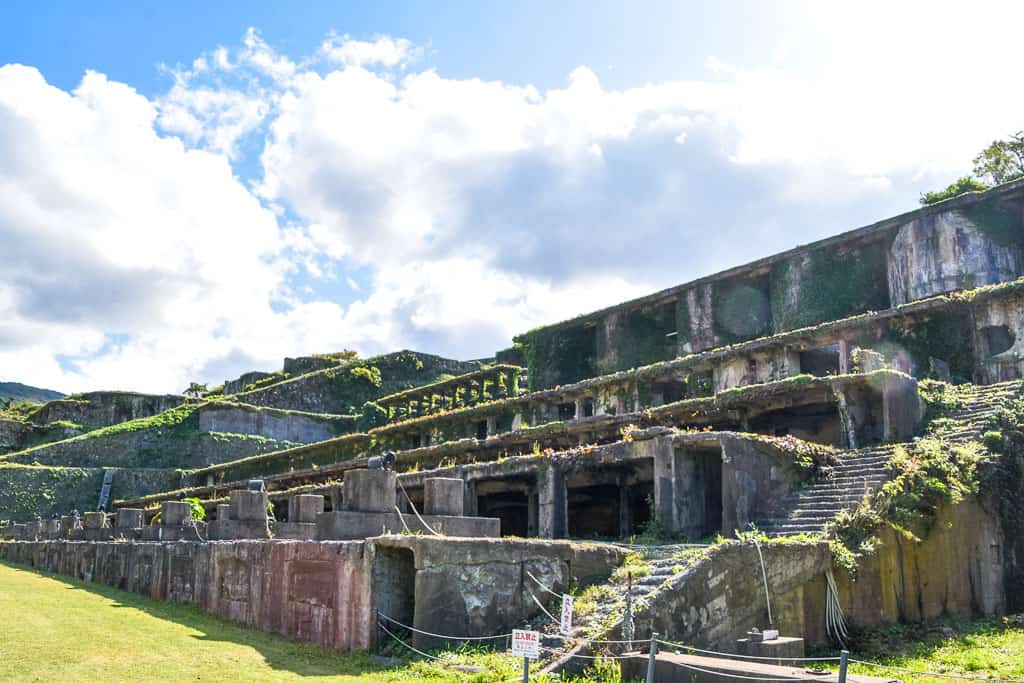 Hokusetsu Sake Brewery
After a hard day's work in the mines, you always need to blow off a little steam or at least have an end of day treat to look forward to. For me, that came in the form of a visit to the globally recognized Hokusetsu Sake Brewery. The brewery was established in 1872 as a way to make use of Niigata's high quality, delicious rice.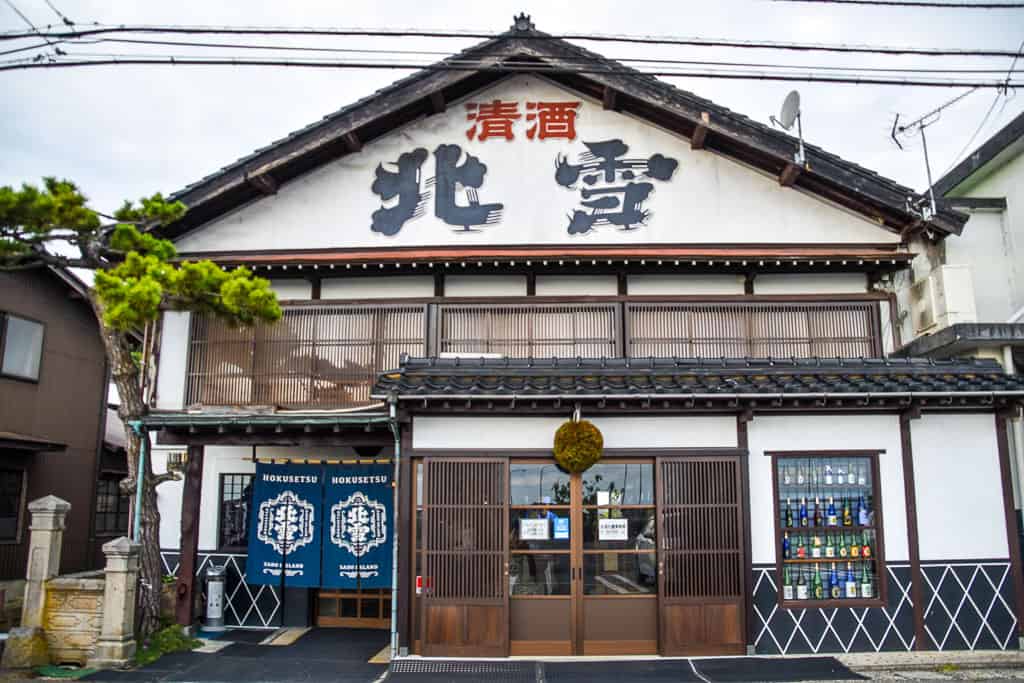 Hokusetsu uses larger than average rice grains, as they polish their rice until it loses around 35% of its mass; this is to ensure the taste is smooth and not too harsh. After tasting, I can confidently say that the quality of the rice does mean a high-quality sake.
The visit's biggest highlight was being led down to the dark, cold cellar room where one particular sake is given special musical treatment. "The sake inside this room listens to Kitaro's music all day," explains Hokusetsu's President Hiroshi Hazu. This technique is said to separate and create smaller alcohol molecules to enhance its smooth texture and taste. Hokusetsu Sake Brewery also supplies sake to luxury sushi chain (co-owned by Robert De Niro) Nobu's restaurants in New York, Los Angeles, London, Milan, Dubai, and many other cities in the world.
Tarai Boat: Studio Ghibli in Real Life
"The next place we're visiting is super popular with Taiwanese guests," explained my travel companion, Tachibana-san, as we approached the Tarai boat (a.k.a tub boat) – Yajima Experience Centre. "It's because the tub boats are like the ones in Spirited Away," he continued. Rumor has it it's the humble little fishing center that inspired Hayao Miyazaki, but as most fans would know, he's not a man to explicitly divulge his inspirations.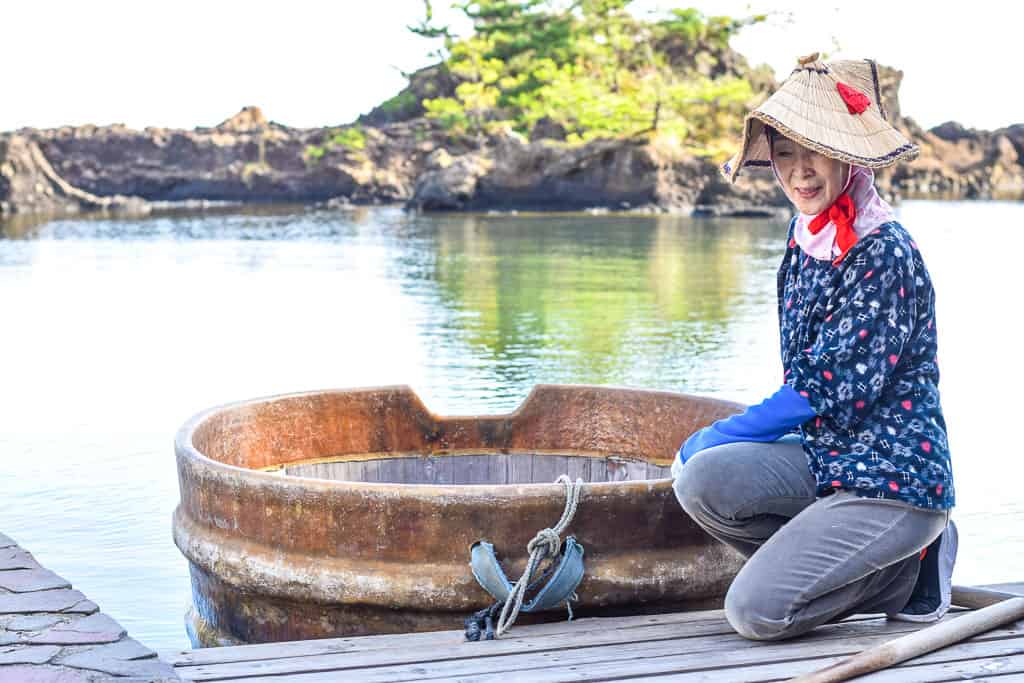 These small but sturdy, shallow barrel boats were designed in the mid-late 1800s as boats used by local women for collecting seaweed and shellfish and fishing on the calm waters of Sado. We followed a local driver and hopped aboard for a short but scenic cruise through the clear turquoise water near Ogi Port.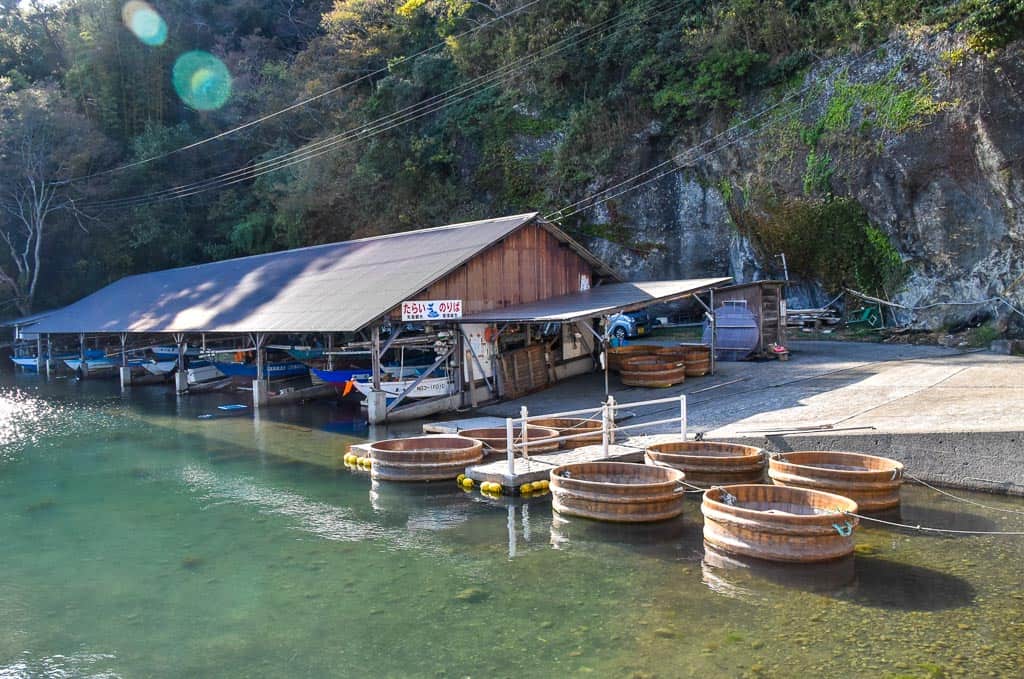 Shortly after, we hopped onto a much faster motor-powered boat from the other side of the port to take a cruise over to the rich-blue Ryuodo Caves, also known as "Sado's Blue Grotto." As its name suggests, when the sun hits it just so, the cave glitters like a sapphire in the sun; it's the type of natural beauty which no photo can do justice.
Niigata's Scenic Train Ride on the Setsugekka
As a little send-off on the final day, I was back on mainland Niigata and had the absolute pleasure of embarking on what I can confidently predict will be one of the most scenic and luxurious train journeys of my life — on the Setsugekka Train. This stunning red train runs through coastal Niigata's picturesque landscape, offering views of both the rugged mountains to the sweeping sea. With the largest train windows in Japan, there's more than ample opportunity to take it all in.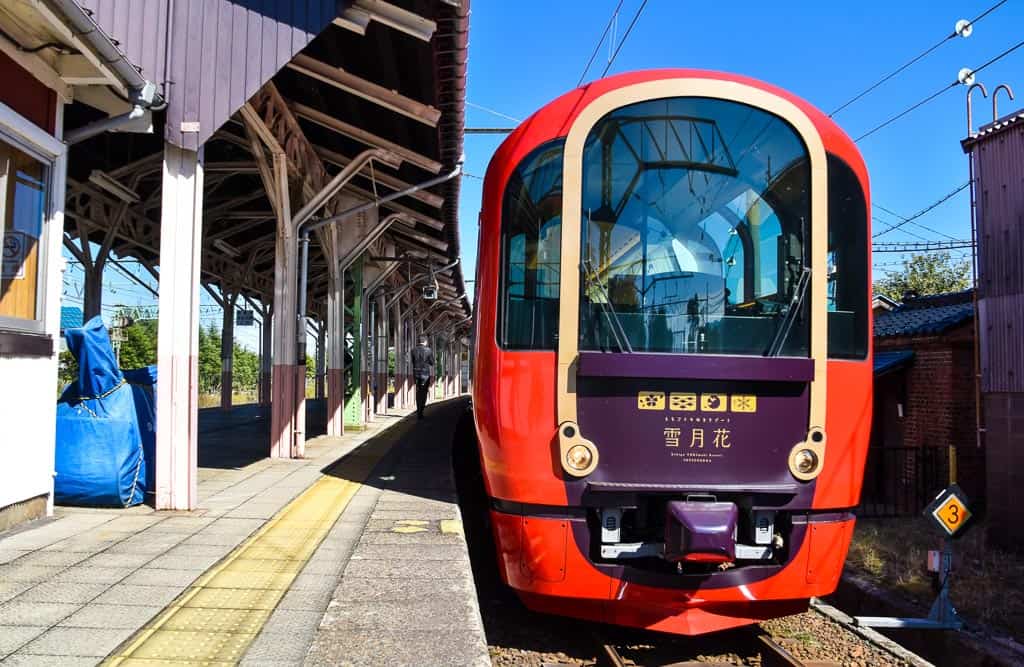 As well as serving up stunning views, the training package also serves multi-course lunch, French or Japanese depending on the time of day. Crafted by world-recognized chefs, they use the area's best local produce to deliver an 'ekiben' (train lunch box) I'll never forget.
The journey between Joetsu-Myoko Station (上越妙高駅, Jōetsumyōkō-eki) to Itoigawa Station (糸魚川駅, Itoigawa-eki) ran for about three hours. Along the journey, we were treated to a few guided stop-off destinations along the way where you can get out, sketch your legs, and learn a little about the area's fascinating history. You can even spot Niigata's famous koi safely swimming in streams that flowed through the Setsugekka train's tracks, like something out of a whimsical Ghibli film. What a fitting end.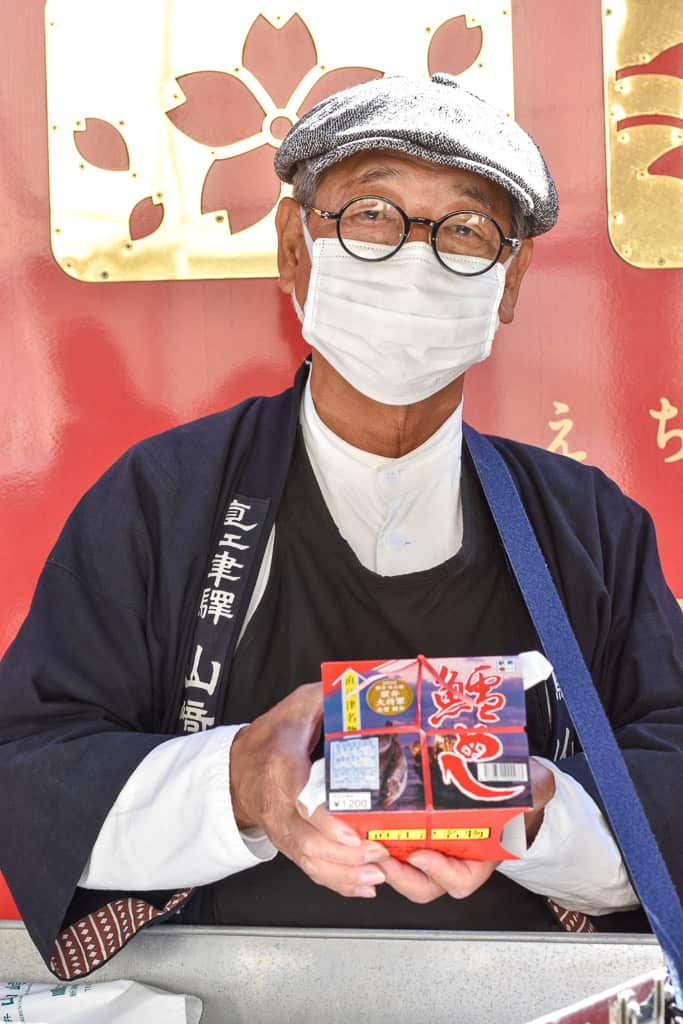 Where to Stay in Sado and Niigata
Hotel Urashima
When in Sado, I had the pleasure of staying at Hotel Urashima, a modern boutique hotel with ryokan charm and elegance. The hotel is separated into two wings, each envisioned by leading Japanese architects Hiroshi Naiko and Koh Kitayama. Both wings were designed to harmonize with the island's natural charm and feature easy ocean access as well as lush green surroundings. The dining was world-class. The hotel offers both French and sumptuous Japanese cuisine utilizing Sado's delicious produce, including plenty of fresh-caught seafood and mouth-watering vegetables.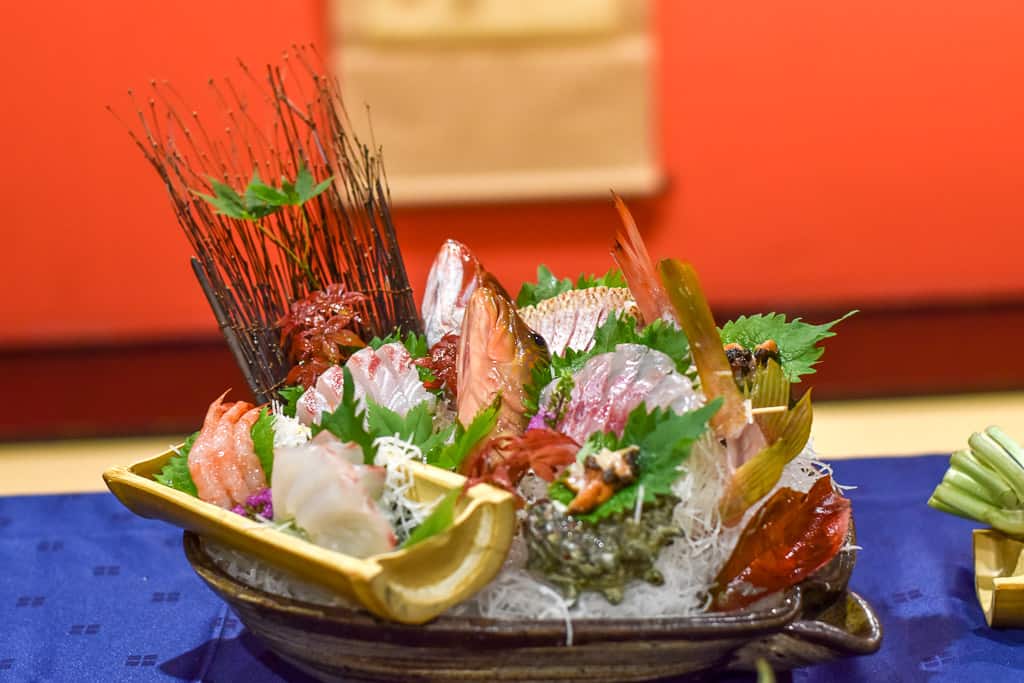 Akakura Kanko Hotel
Back on the mainland, I spent the night at the most famous hotel in the alpine Myoko Kogen area, Akakura Kanko Hotel, which looks a little like something out of a Wes Anderson cult hit. The hotel was built in 1937, and its classic and iconic facade remains today — with a few new additions, including luxurious spas, French and Japanese restaurants, and a stylish "Aqua Bar." Two of its other key features are its stunning location, offering panoramic views of the neighboring alpine ranges from multiple vantage points and onsen facilities featuring soothing mineral-rich water pumped directly from the nearby Akakura Onsen.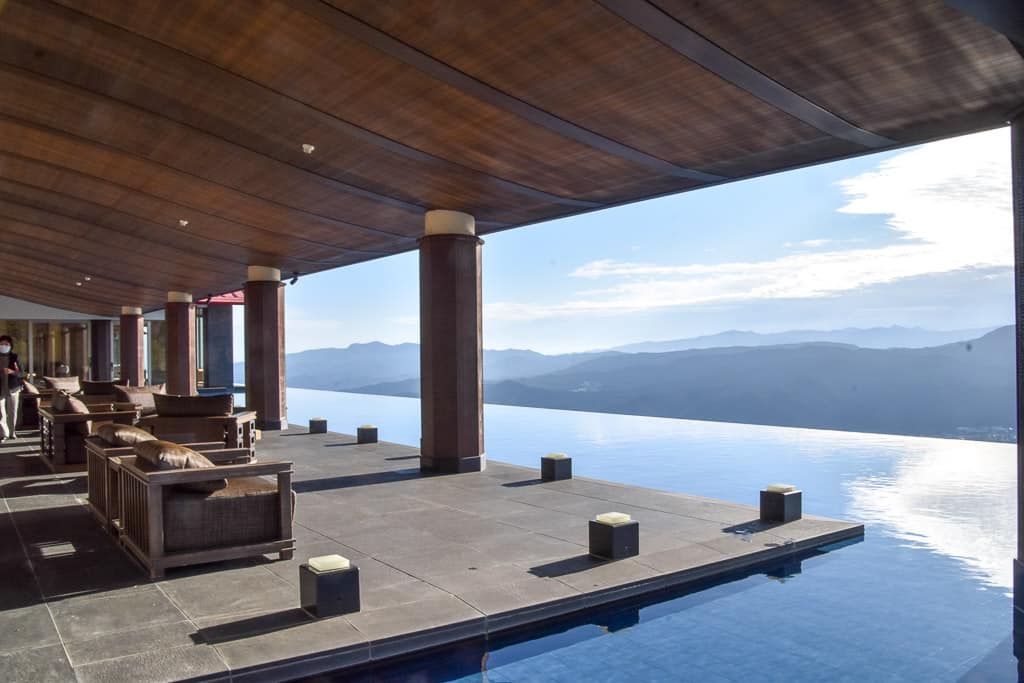 Getting to Sado
From Tokyo, take the shinkansen from Tokyo Station to Joetsumyoko Station. From Joetsumyoko Station, there's a bus that goes to Naoetsu port, the departing port for Sado Island. Alternatively, you can also drive and bring your car on the ferry to Sado. 
Niigata is a prefecture known for being the home of the Fuji Rock Festival and a destination for those looking for a more authentic Japanese skiing experience. But my time in Sado and on the mainland of this fascinating corner of the country reminded me just what makes traveling in Japan so special. If you're prepared to look a little more local or dig a little deeper, head off the tourist route; there are always so many surprises just waiting for you.
Sponsored by Niigata prefecture