Studio Ghibli, the renowned Japanese animation studio responsible for landmark films such as My Neighbor Totoro, Princess Mononoke, and Spirited Away, has enjoyed massive global success over the past several decades. The studio's very own Ghibli Museum (三鷹の森ジブリ美術館), located in Mitaka (三鷹), Tokyo, attracts visitors from around the world. Its limited tickets sell out regularly months in advance (to which I can personally attest). So, after Studio Ghibli came to an agreement with the Aichi Prefecture on May 31st, 2017, it came as no surprise when they announced that they would be working on a Studio Ghibli-themed park called—you guessed it—Ghibli Park, set to open in November 2022. Since then, there have been numerous updates regarding the new park. We're here to round up all the latest information for you!
What is Ghibli Park?
Studio Ghibli was, is, and continues to be a cultural phenomenon, and Ghibli Park is an extension of this phenomenon. Much like Nintendo's plans to open Super Nintendo World in Universal Studios Japan in late 2021, this theme park aims to build on the studio's decades of famed works and rich history to attract fans both domestically and abroad. However, unlike many other theme parks, this one is located inside a public park, namely the Moricoro Park (officially the Aichi Earth Expo Memorial Park / 愛・地球博記念公園). It will also strive to protect the existing public park experience while introducing theme park elements.
Ghibli Park is set to be split into five distinct areas: the Youth Hill Area (青春の丘エリア), the Big Ghibli Storehouse Area (ジブリの大倉庫エリア), the Mononoke Village Area (もののけの里エリア), the Witch Valley Area (魔女の谷エリア), and the Dondoko Forest Area (どんどこ森エリア). In the latter area, a wooden playground called "Dondoko-do" (どんどこ堂) will also be built.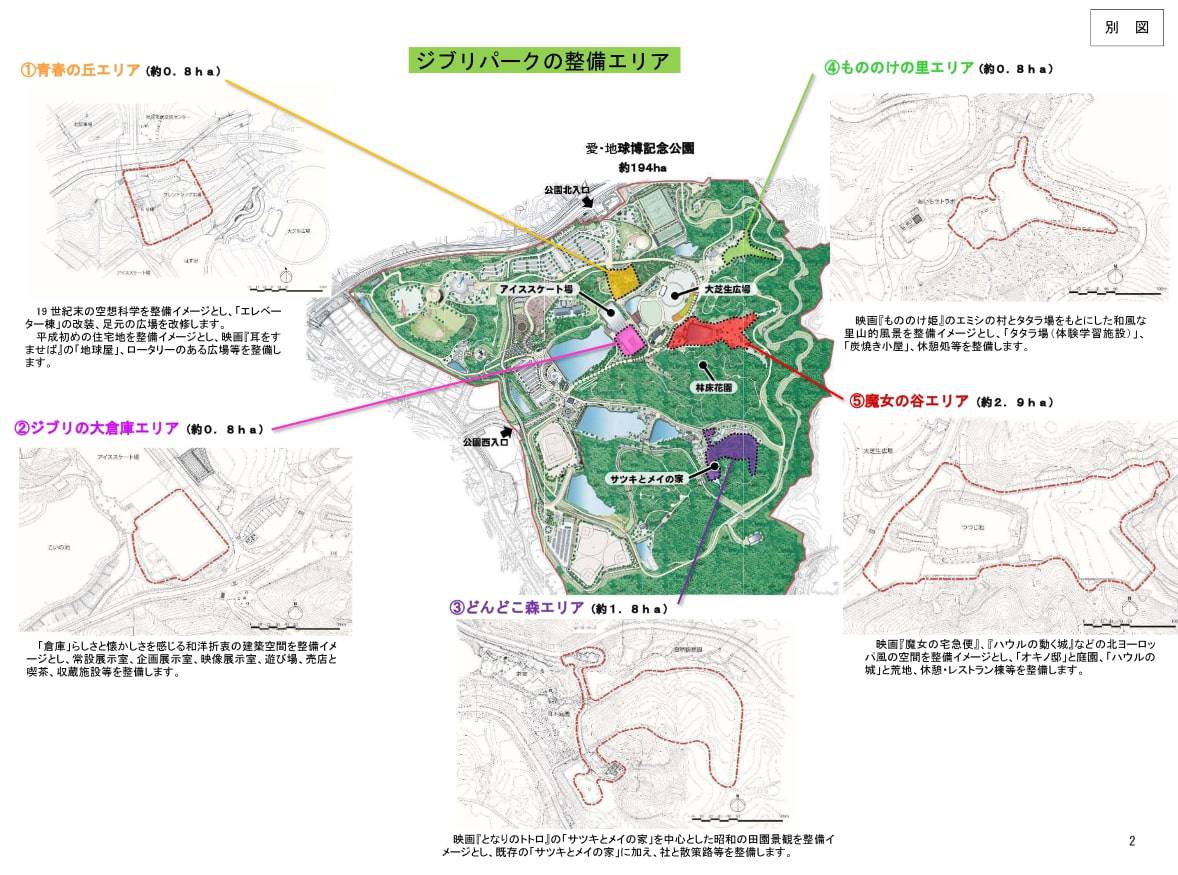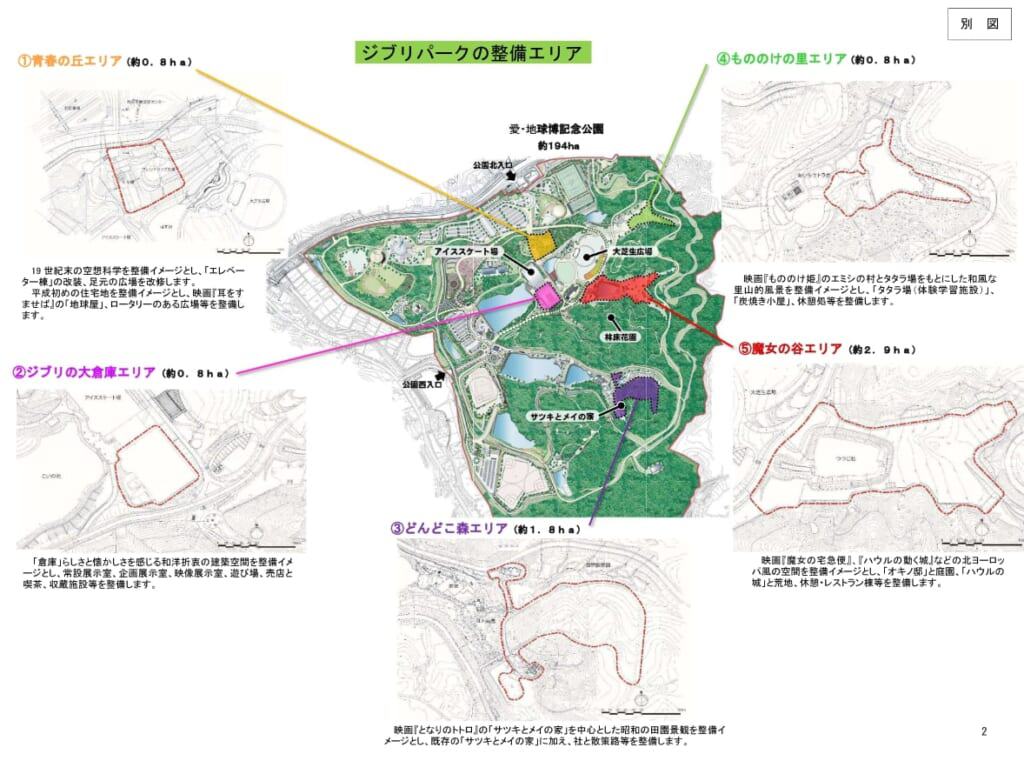 The Youth Hill Area (青春の丘エリア)
Located in the northern section of Moricoro Park, the Youth Hill area will welcome visitors into the world of Ghibli. The elevator here will be modeled after the Howl's Moving Castle-esque 19th-century steampunk theme. This area will also feature a 1990s Japanese residential district-inspired area featuring Whisper of the Heart's antique shop, and The Cat Returns "Cat Bureau," recreated as a cat-sized wooden one-story building, with furniture and accessories in miniature size.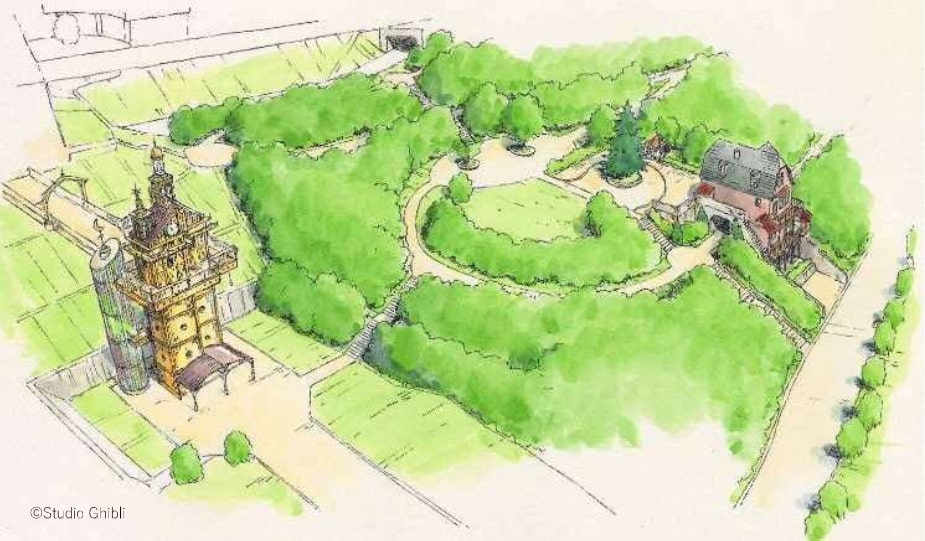 The Big Ghibli Storehouse Area (ジブリの大倉庫エリア)
The Big Ghibli Storehouse Area is an indoor area that will replace the heated swimming pool that closed in 2018, about three times the size of the Ghibli Museum. There will be permanent and event-based exhibit rooms, a 170-seat theater, and a children's play area. Among the exhibits will be Arrietty's house set complete with vegetation, allowing visitors to experience the perspective of "borrowers." The area will also host a reproduction of Laputa's ruined garden and a large-scale flying ship, 6 meters long, from the movie Laputa, Castle in the Sky. There will also be a room where children can play in the world of My Neighbour Totoro.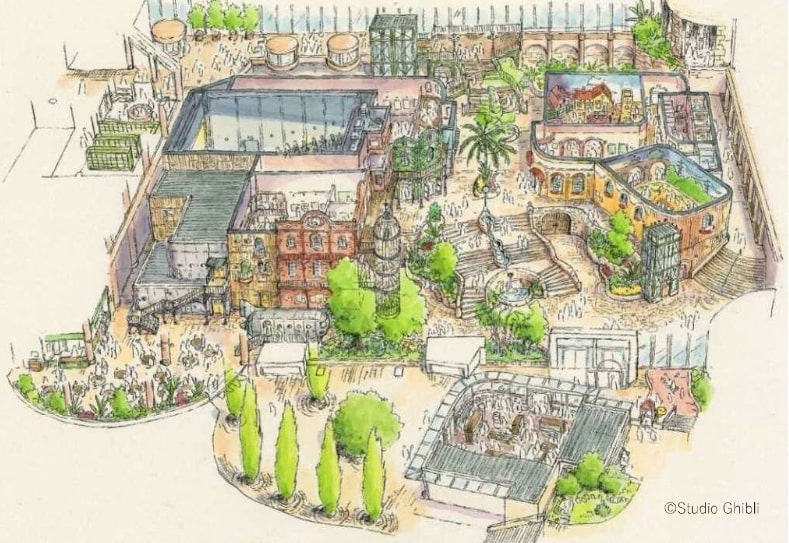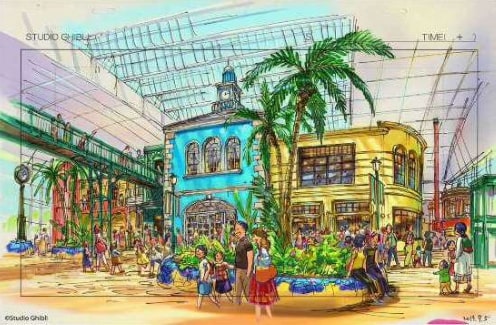 The Mononoke Village Area (もののけの里エリア)
The plans for the Mononoke Village Area is based on the Irontown building from Princess Mononoke. There are also plans to display large statues based on the film's Demons (Tatari Gami), Okkoto (Boar God), and other characters. (The famous robot statue from Castle in the Sky located on the roof of the Ghibli Museum is likely a good indicator of what to expect).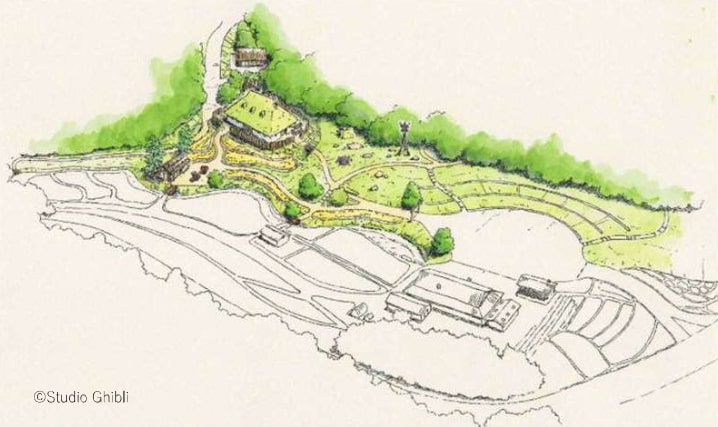 The Witch Valley Area (魔女の谷エリア)
The Witch Valley Area will be constructed in unused space near the public park's large, open lawn, and based on Howl's Moving Castle and Kiki's Delivery Service. Expect to find recreations of Howl's titular moving castle, Kiki's parents' house, and a host of recreational spots, rest areas, and restaurants.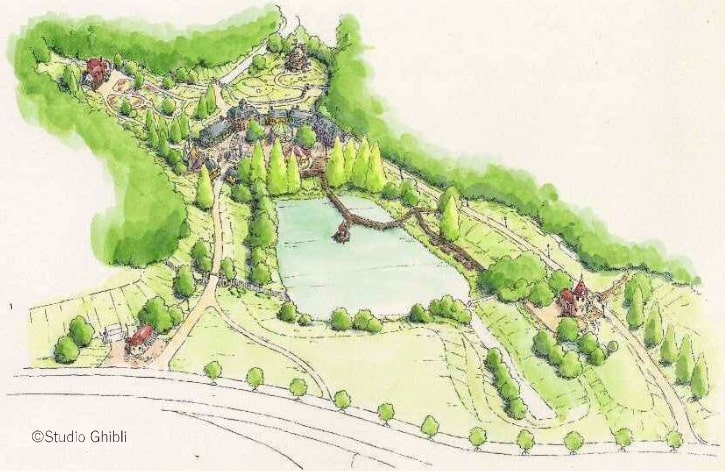 The studio has unveiled concept drawings of the 16-meter Howl's "Moving Castle," with construction planned to start in early 2021.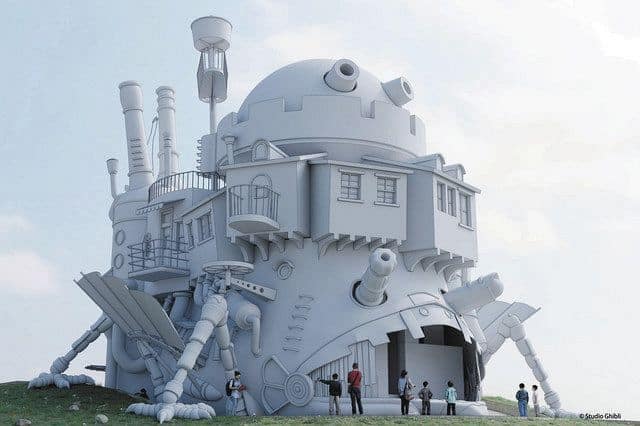 The Dondoko Forest Area (どんどこ森エリア)
The name of this area comes from the "Dondoko Odori" dance performed by Satsuki, Mei, and Totoro in a famous scene from My Neighbor Totoro. Also, much like the film, it focuses heavily on the theme of nature. Dondoko Forest's reception area will be based on the 1950s rural Japanese home featured in the movie (a realistic portrayal of which, complete with a traditional kitchen and bathroom, has existed as a popular tourist spot in the public park since 2005). There will also be a playground with wooden structures called "Dondoko-do" the hill behind the house.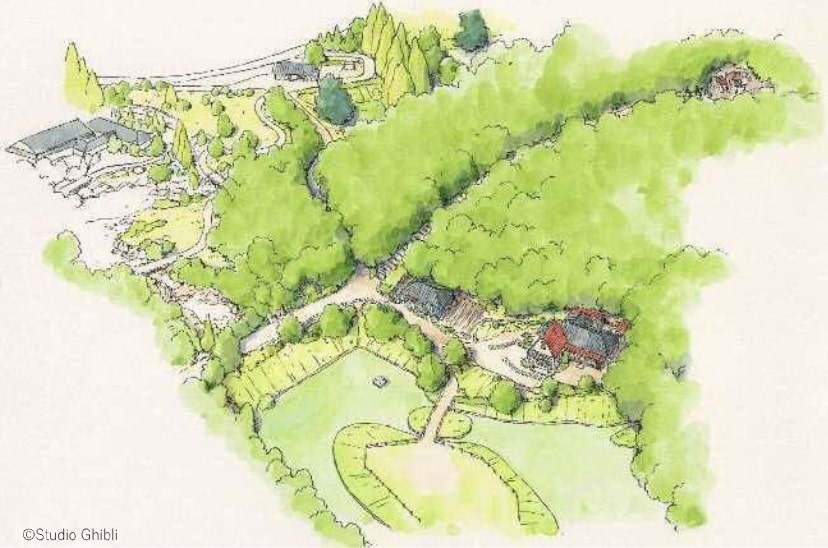 How Much Do Ghibli Park Tickets Cost?
The admission price for three of the five themed park sections — Ghibli's Grand Warehouse, Dondoko Forest and Hill of Youth — was officially announced in May 2022 and are as follows:
Ghibli's Grand Warehouse
Dondoko Forest
Hill of Youth
Weekdays
Adults: 2,000 yen
Children: 1,000 yen
Adults: 1,000 yen
Children: 500 yen
Adults: 1,000 yen
Children: 500 yen
Weekends & Holidays
Adults: 2,500 yen
Children: 1,250 yen
* Children (4 to 12 years old). Children under three years old receive free admission.
Admission to Moricoro Park, which will house the Ghibli Park, is currently free. Compared to admission costs of other popular Japanese parks like Universal Studios Japan or Tokyo Disneyland which are well above ¥7,000 per day for adults, the Ghibli Theme Park is significantly more affordable.
When Will the Ghibli Park Open?
The Youth Hill, Big Ghibli Storehouse, and Dondoko Forest areas are set to open on November 1st, 2022. The remaining Mononoke Village and Witch Valley areas are set to open the following year.
Despite concerns of delays due to COVID-19, construction officially began on the Ghibli Park's first three areas on July 28th, 2020. Studio Ghibli chairman, Kiyofumi Nakajima, was in attendance at the groundbreaking ceremony and excitedly announced that they were no longer in the blueprint phase. At a press conference on January 27, 2022, the Governor of Aichi Prefecture, and Toshio Suzuki, Producer of Studio Ghibli Inc., presented the first promotional tourism video made by Studio Ghibli, which encourages visitors to the Park to explore the prefecture. In the second part of the conference, Ghibli park director Goro Miyazaki and producer Tetsuya Okamura shared their vision for the park and some details about the structure. This was followed by a visit to the ongoing work on the site.
How Can I Get More Info About the Ghibli Theme Park?
We do our best to update you on any significant changes regarding the park here on Voyapon. You can also find all of Studio Ghibli's official announcements in Japanese from their website and information regarding the Aichi Earth Expo Memorial Park and construction plans from that park's website, also in Japanese.
Access to Ghibli Park
Ghibli Park will be located inside Aichi Prefecture's Moricoro Park, known officially as Aichi Earth Expo Memorial Park (愛・地球博記念公園, Aichikyūhaku-kinen-kōen), just east of Nagoya (名古屋).
Train access: The park is accessible via the Linimo magnetic levitation train (リニモ, Rinimo) at the Aichikyūhaku-kinen-kōen (Expo Memorial Park) Station.
Travel time by train is less than 3 hours from Tokyo Station, just over 2 hours from Osaka Station, and less than 2 hours from Kyoto Station (via a combination of bullet train, standard train, and Linimo). About one minute's walk from the Aichikyūhaku-kinen-kōen (Expo Memorial Park) Station (愛・地球博記念公園駅).
Bus access: The park is also accessible via Meitetsu bus at the Aichikyūhaku-kinen-kōen Station bus stop. The park is then about one minute's from the bus stop.
Car access: There are currently three parking lots available for private vehicles, should you have access to a car during your visit.
Original article published on 09/19/2020 | Last update on 05/06/2022