Tokyo is a city of high-rise buildings on an immense scale. The height of some buildings needs to be seen from up high to be fully appreciated, as they stretch upwards towards the sky. Some skyscrapers offer viewing-decks on their highest floors and give the public a unique opportunity to get panoramic views of the city. Here is our selection of the top 4 free observation decks that are great for their fantastic views of Tokyo.
1. Tokyo Metropolitan Government Building Observation Decks
Situated in the district of Shinjuku (新宿), the two towers of the Tokyo Metropolitan Government Building (東京都庁舎, Tōkyō-to Chōsha) each have observation decks on the 45th floor. At a height of 202 metres, they offer stunning views across the city from several different angles.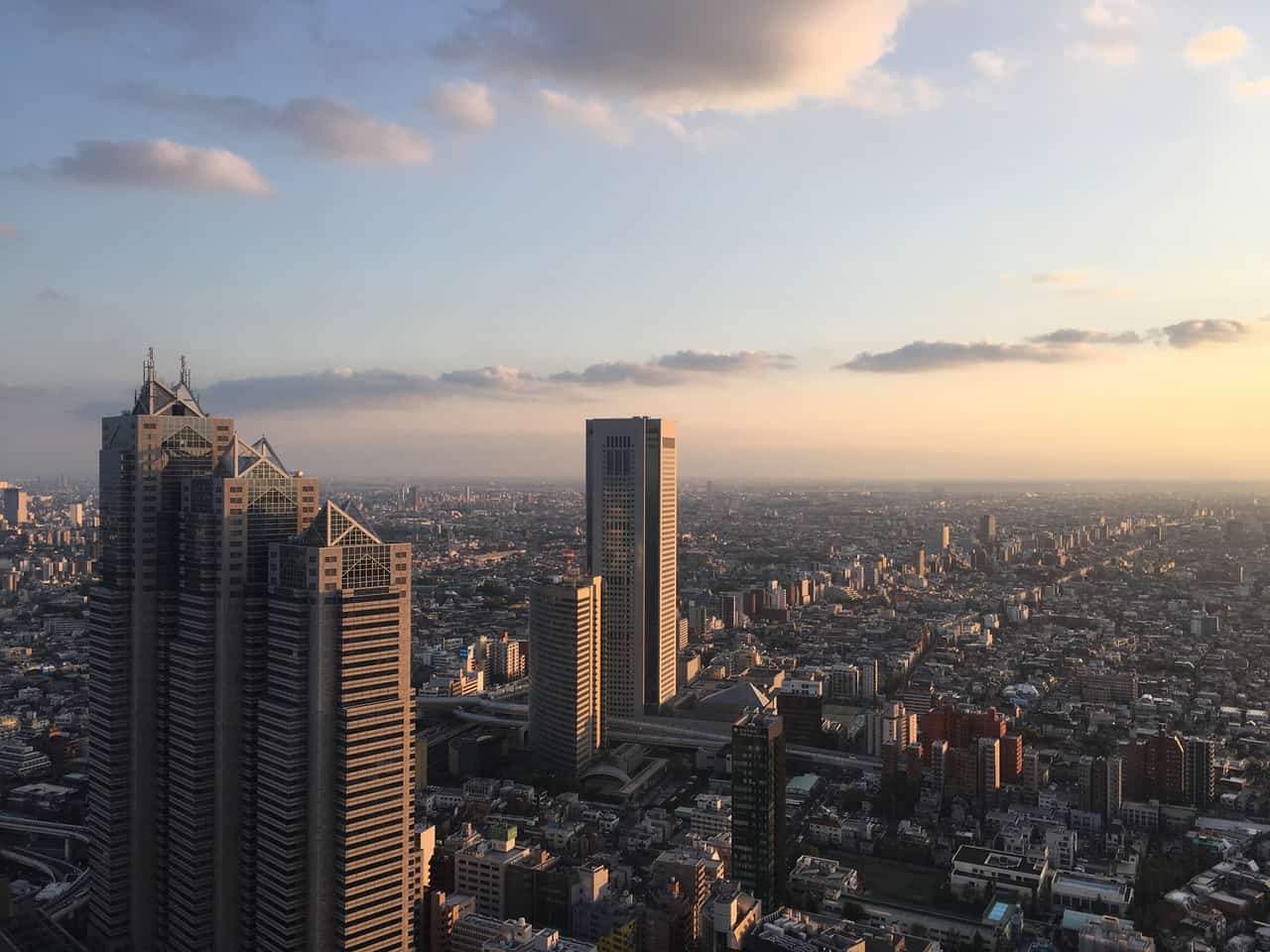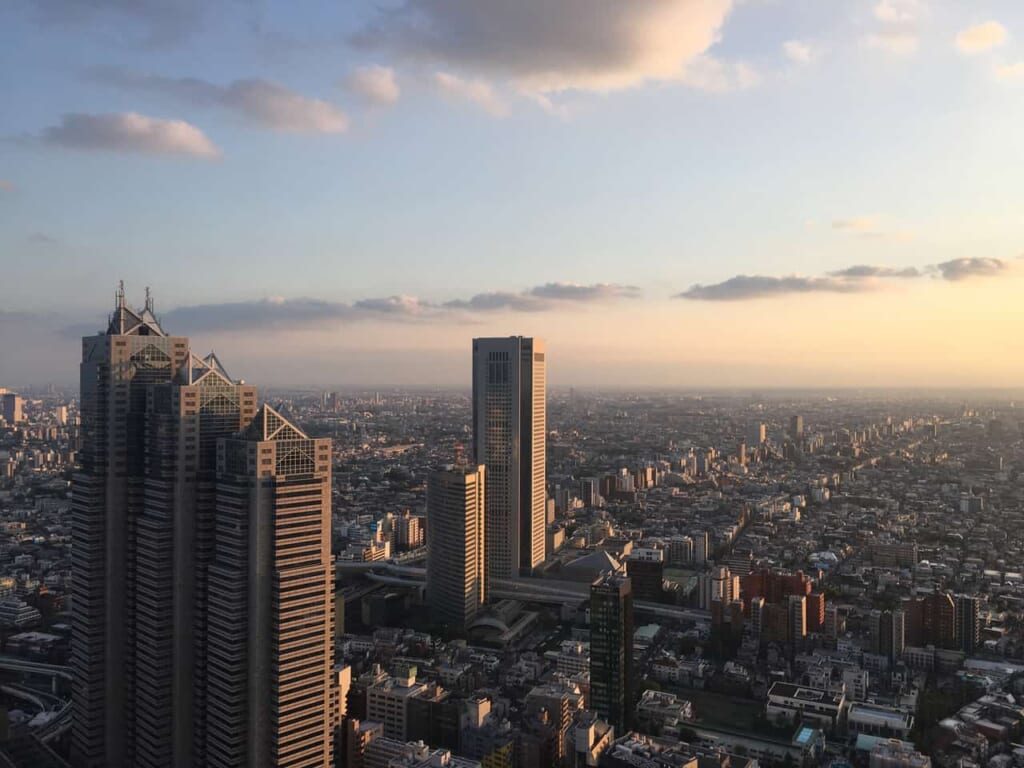 Access to both decks is free of charge. If you are lucky enough, you may even see Mount Fuji on a clear day! You will find souvenir shops in both towers and there is also a restaurant in the north tower with breathtaking panoramic views, particularly at night.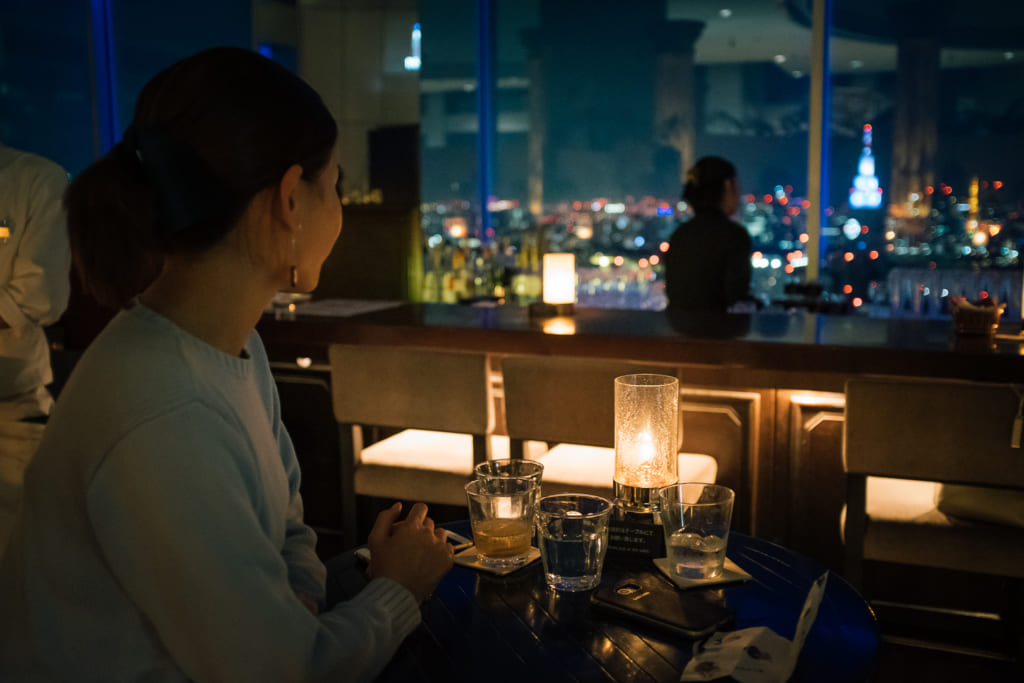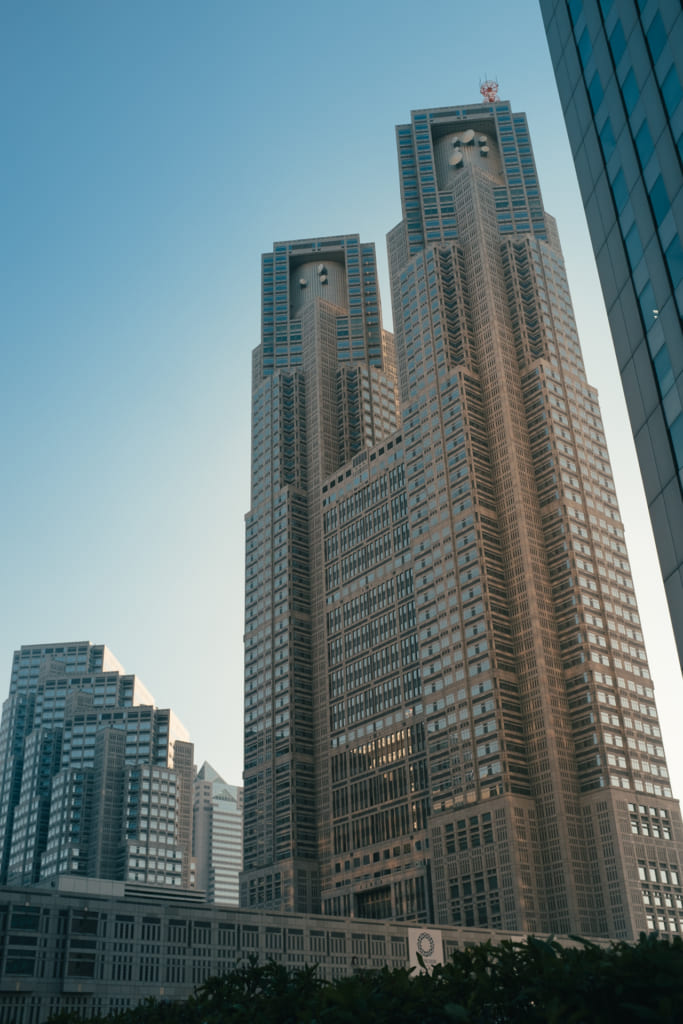 Access: From Shinjuku Station (新宿駅), one of the main transport hubs of central Tokyo and situated on many subway lines, follow signs for the Odakyu Line exits and Tokyo Metropolitan Government Building. There is a covered, underground walkway which will take you directly into the buildings. Allow around 10 to 15 minutes to walk from Shinjuku station to the entrance.
*Due to the Covid-19 pandemic, the observation area at the Tokyo Metropolitan Government Building is closed.
2. Bunkyo City Hall Observation Deck
Situated next to Tokyo Dome, Bunkyo City Hall (文京シビックセンター, Bunkyō Shibikku Sentaa) has a free observation deck on the 25th floor at a height of 130 metres. The slanted windows allow you to look down towards the surrounding streets below and you can see all the skyscrapers of Shinjuku to the west.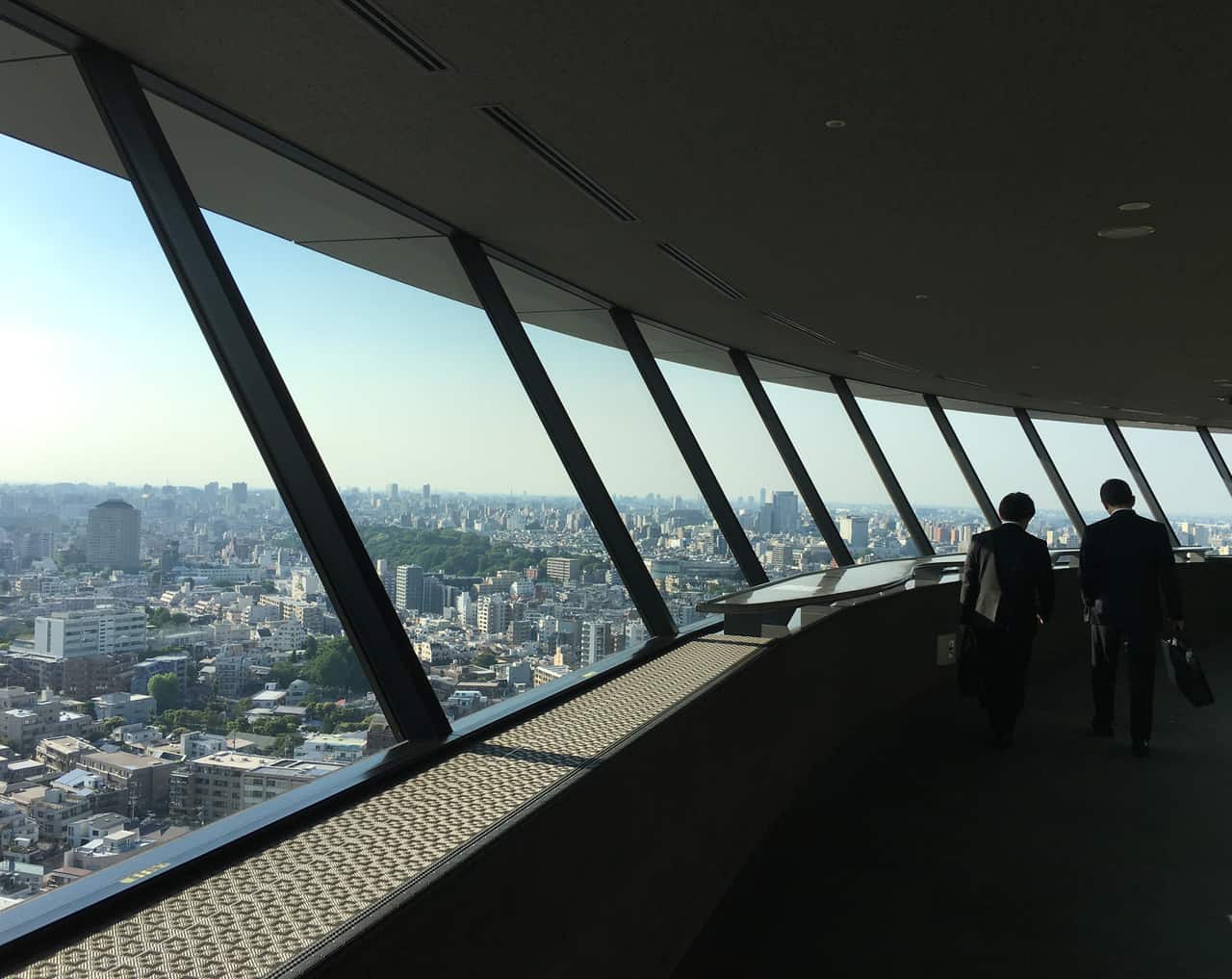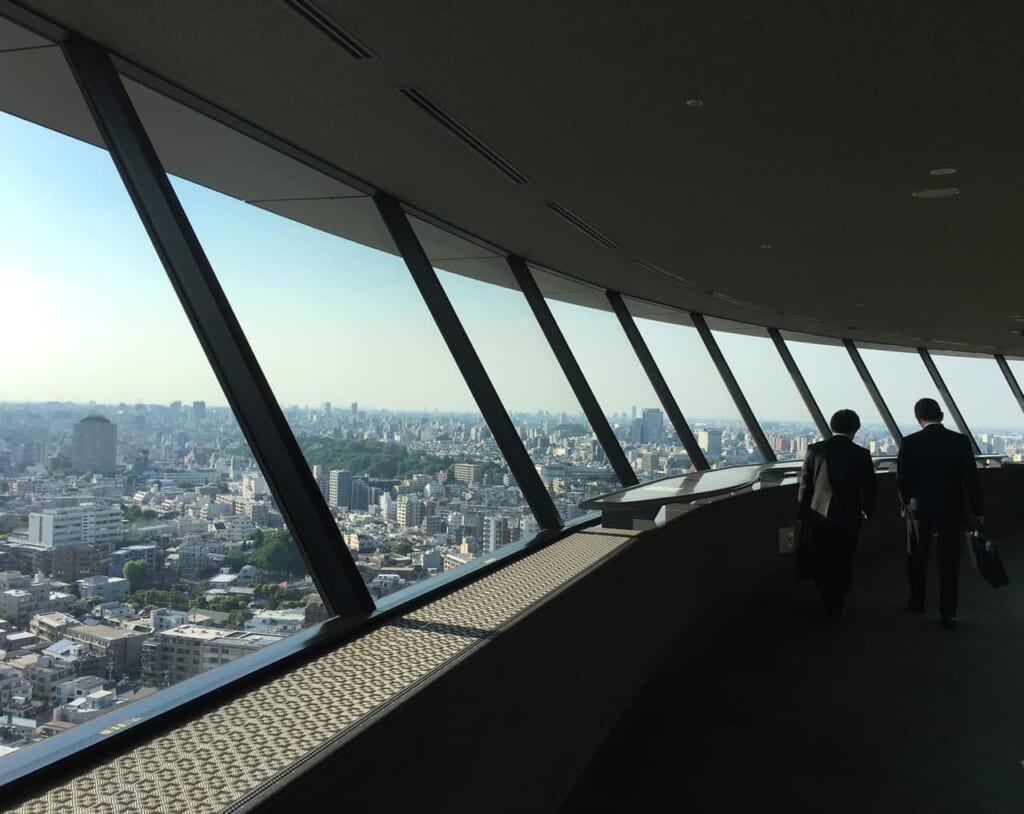 The deck has a stunning view of Tokyo Skytree and, on a clear day, you can also see Mount Fuji.
Open every day from 09:00 to 20:30. Closed between 29th of December and 3rd of January as well as the 3rd of Saturday in May.
Access: The closest subway station is Kasuga Station (春日駅) which is on the Toei Subway line and connected to major transport hubs, such as Shinjuku, and takes approximately 13 minutes.
*Due to the Covid-19 pandemic, the observation deck at Bunkyo City Hall is closed.
3. Asakusa Tourist Information Centre
Open to the public since 2012, the Asakusa Tourist Information Centre (浅草文化観光センター, Asakusa Bunka Kankō Sentaa), designed by architect Kengo Kuma (隈研吾), has a terrace on the 8th floor with panoramic views of the city below. Facing Kaminarimon Gate (雷門), it offers views of the main commercial street leading up to Sensō-ji Temple (浅草寺) as well as Tokyo Skytree.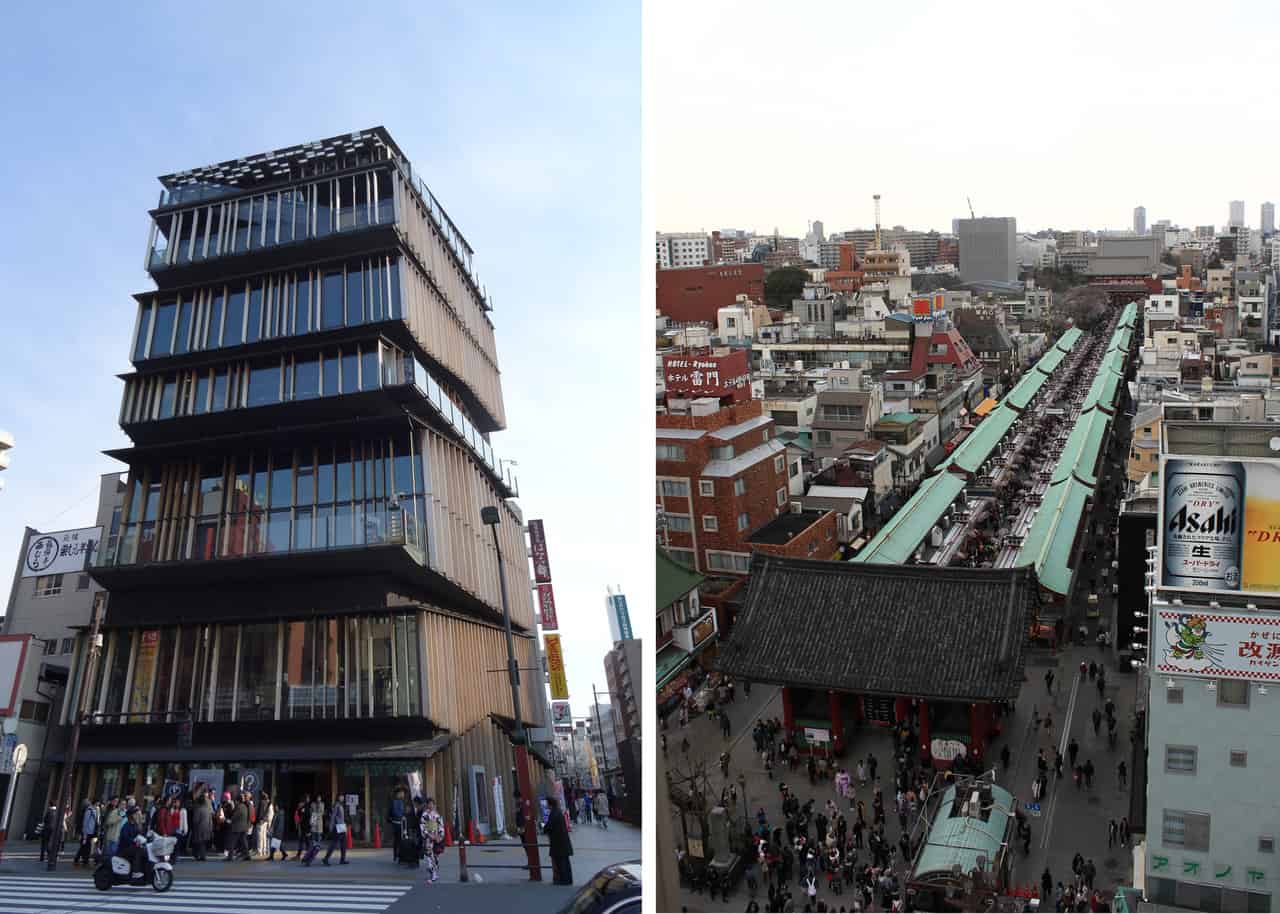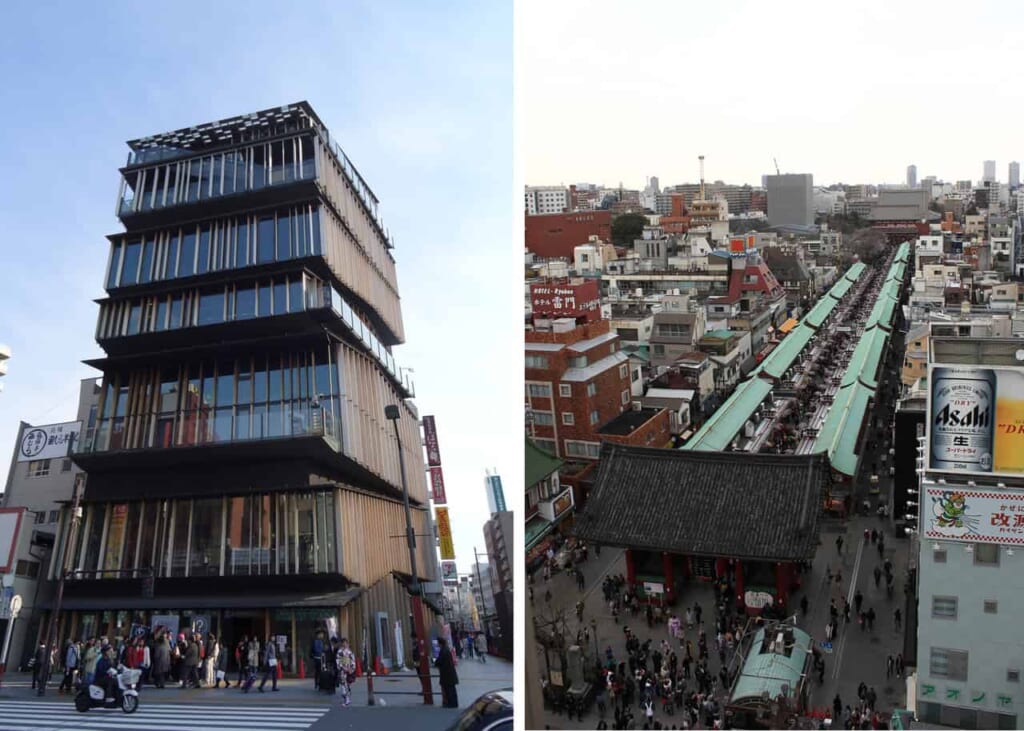 The Tourist Information Centre is open every day from 09:00 until 20:00 with the observation deck remaining open until 22:00.
Access: The closest subway station is Asakusa Station (浅草駅) which is on the Ginza, Toei and Asakusa lines. From Shibuya Station (渋谷駅), it takes 33 minutes on the Ginza line to Asakusa.
4. Dentsu Tower Observation Deck (Caretta Shiodome Dentsu View Lobby)
Located in the Ginza (銀座) district of Tokyo, the office building of Dentsu has an observation deck on the 46th floor (カレッタ汐留電通本社ビル 展望ロビー, Caretta Shiodome Dentsū Honsha Biru Denbō Lobby) which is accessible by an elevator. From the observation deck, you get a unique view of various points of interest in Tokyo Bay (東京湾, Tokyo wan), such as Tsukiji Fish Market (築地市場, Tsukiji shijō), Hama-Rikyu Gardens (浜離宮恩賜庭園, Hama-rikyū Onshi Teien), the Rainbow Bridge (レインボーブリッジ) and Odaiba (お台場). Next to this observation deck are various restaurants where you can dine while admiring this incredible view.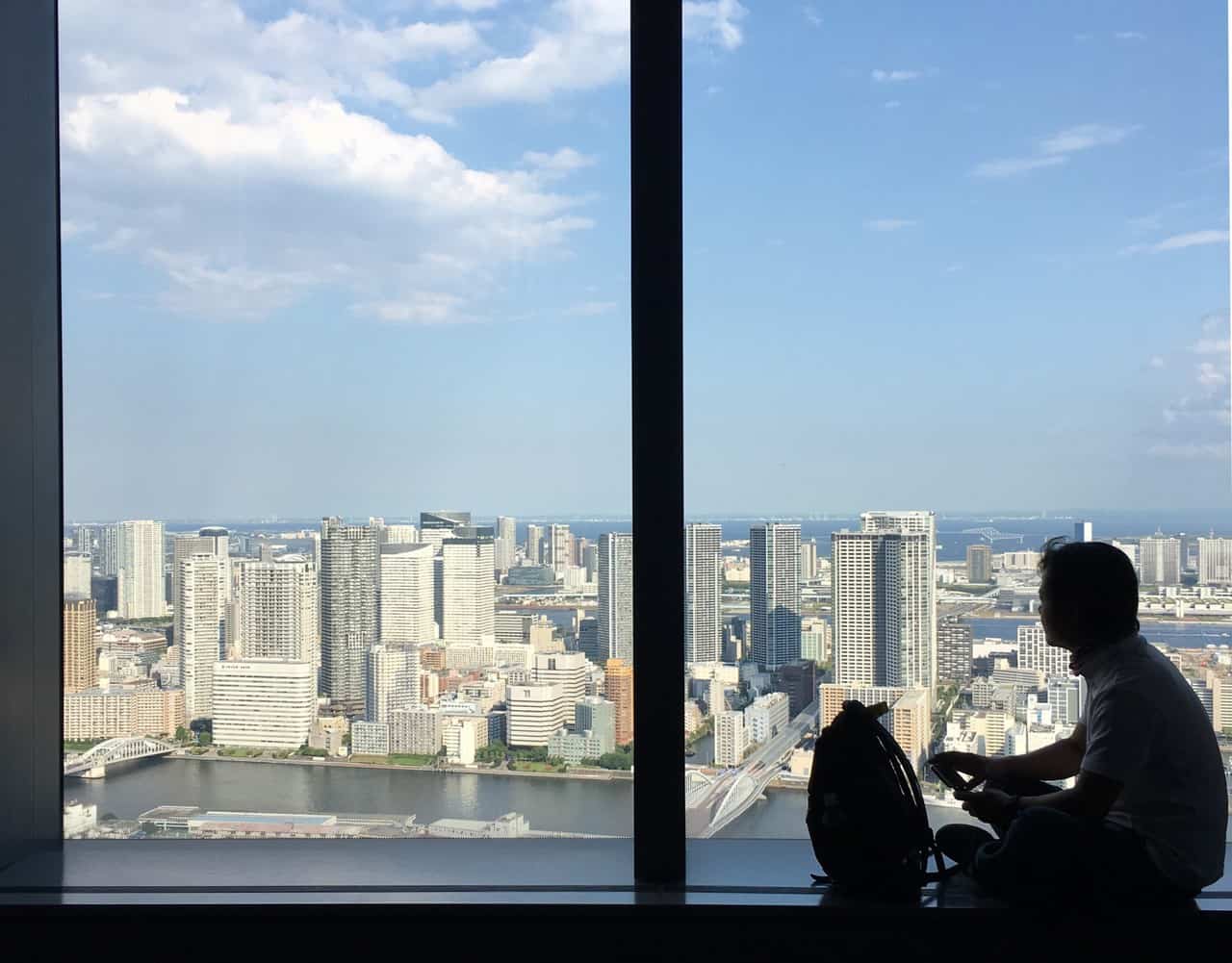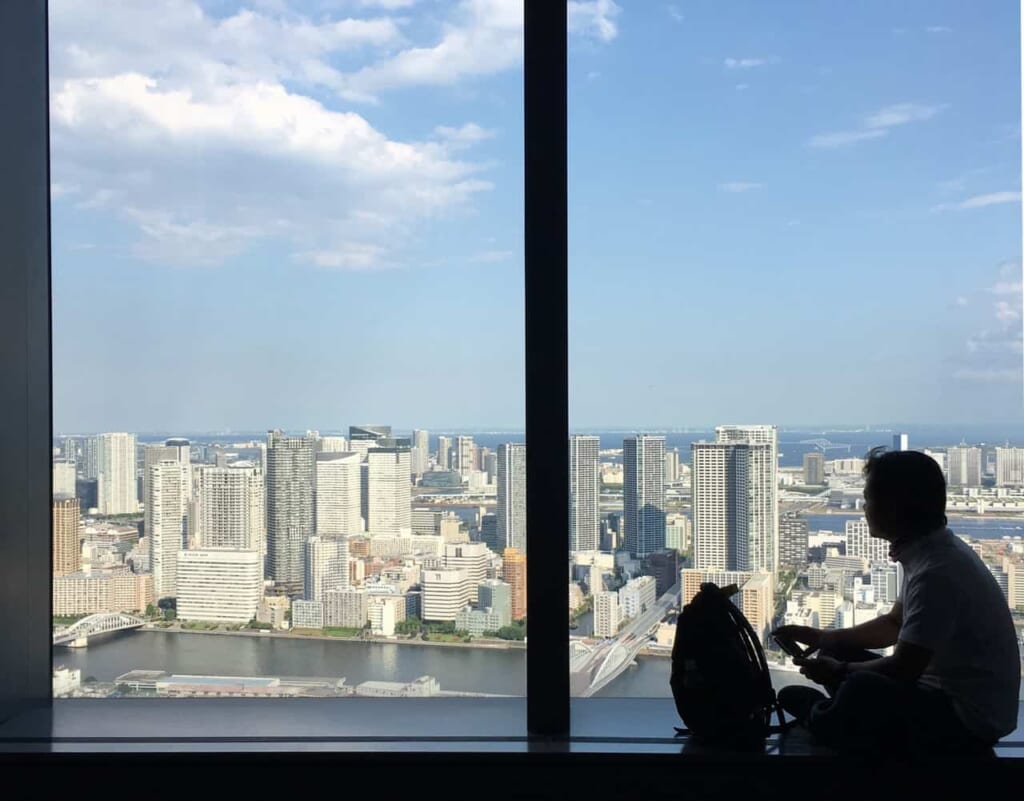 Access: Shimbashi Station (新橋駅) is just a short walk from Dentsu Tower and conveniently located on Tokyo's loop line, the Yamanote Line. It is just a short 4-minute journey from Tokyo Station to Shimbashi on the Yamanote Line.
These 4 free observation decks give you an idea of the immense size of the megapolis of Tokyo from different angles. Arrive before sunset to see nightfall and watch as the urban environment transforms into a blanket of twinkling lights. It's unforgettable!
If you would like to explore other observatories, the World Trade Centre Building near Zojo-Ji Temple offers one of the best views of Tokyo, even though an entrance fee is required. For more information, check out our article about Zojo-Ji Temple and the WTCB observatory.
Translated by Mark Webster