Everyone has something that made them fall in love with Japan. For me, it was my love of kimono and sushi. So, when I decided to visit Sushi Yamashichi (鮨処 やましち) in Shizuoka (静岡), I was delighted to learn that my visit would include a temaki sushi-making (a single large, cone-shaped sushi hand roll) session. I became even more ecstatic after I learned that restaurant owner, Tomoko Yamazaki-san, was an avid collector of vintage kimono – specifically vintage obi – featuring prints of the famous Hiroshige Utagwa's 53 Tokaido Stations series.
The intricacies, artistry and history of kimono fabric and design still astound me to this day. To see them get thrown away was heartbreaking, which ultimately led me down my path to reconstruct them into bespoke pieces for myself and others. I also adore eating sushi. It is perhaps my favourite Japanese cuisine. I enjoy a visit to a fun, conveyor-belt sushi restaurant as much as I do a visit to a fancy omakase (お任せ, a customer leaves the details of a meal to the chef) sushi restaurant tucked away in the backstreets of Tokyo.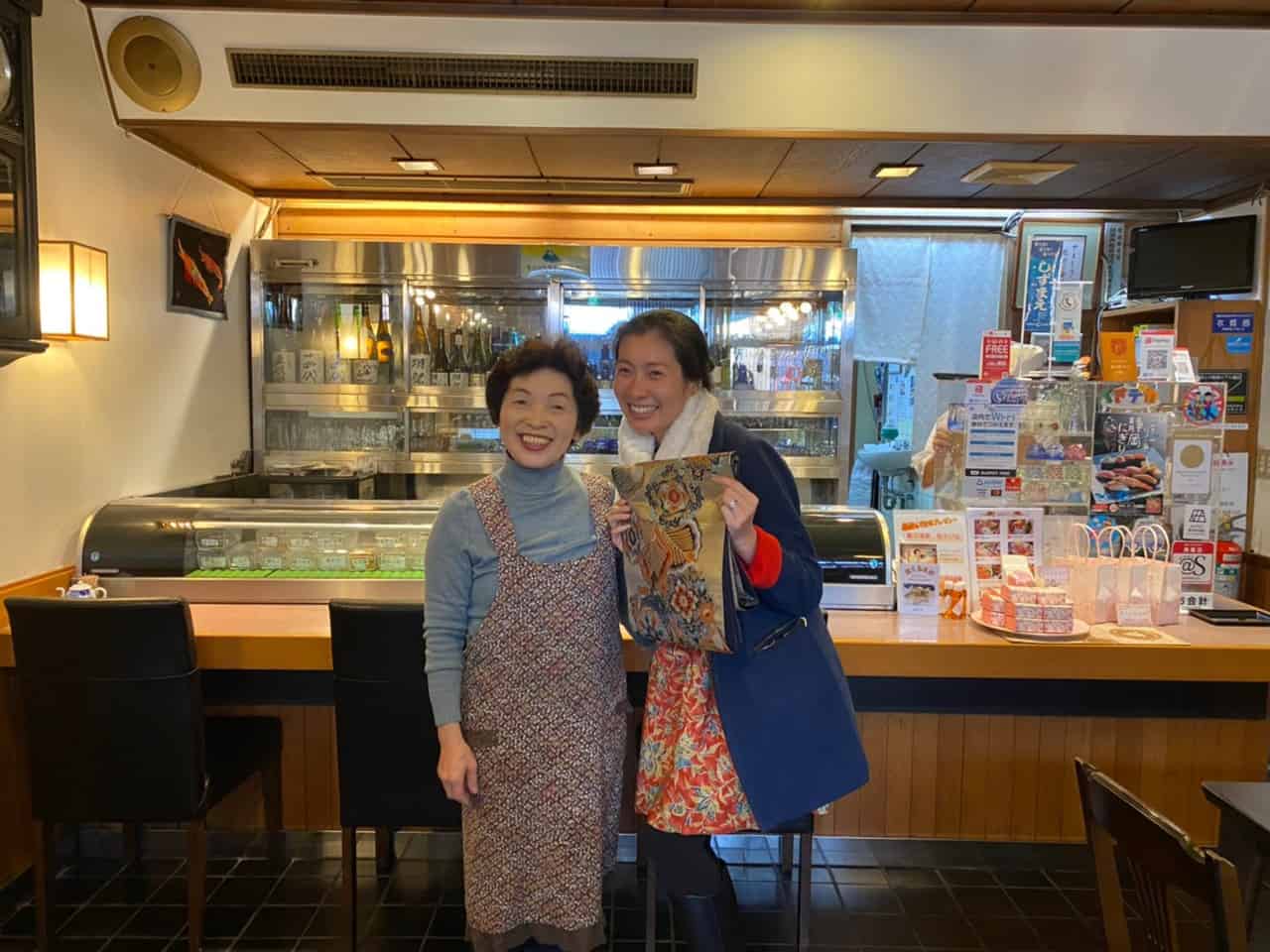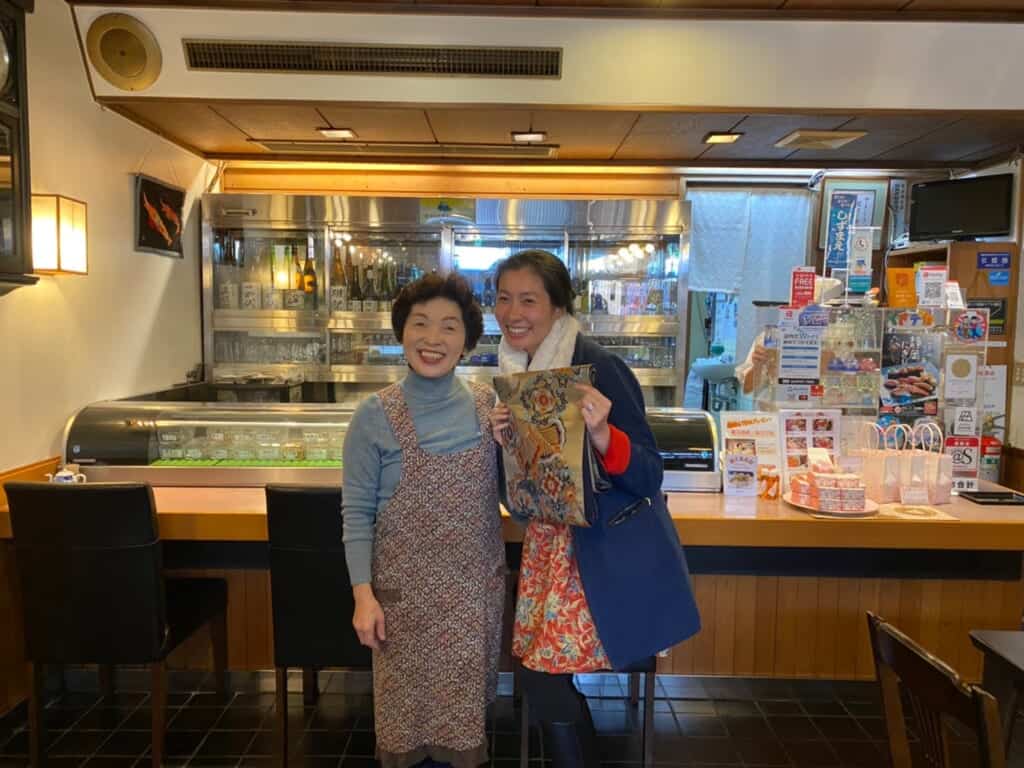 Sushi Restauranter & Kimono Craft Artist, Tomoko Yamazaki
The first time you meet Yamazaki-san, you may feel her excitement and energy to share her love of vintage obi and sushi, as I felt. As the daughter of a sakura shrimp (桜えび, sakura-ebi) fisherman, I could see this personal history reflected on the restaurant menu. Suruga Bay (駿河湾, Suruga-wan) in Shizuoka is famous for these sweet sakura shrimp delicacies, and the menu featured several different preparations of the local shrimp.
Sushi Yamashichi has been in business for 40 years. It is unique in that, in an adjacent room, there is a beautiful collection of vintage obis. The restaurant also prepares halal meals and offers a prayer space and worship mats (reconstructed from vintage obis). Yamazaki-san has turned vintage obis into stunning cushions and drink tumblers and allows guests to try on a kimono and obi of choice.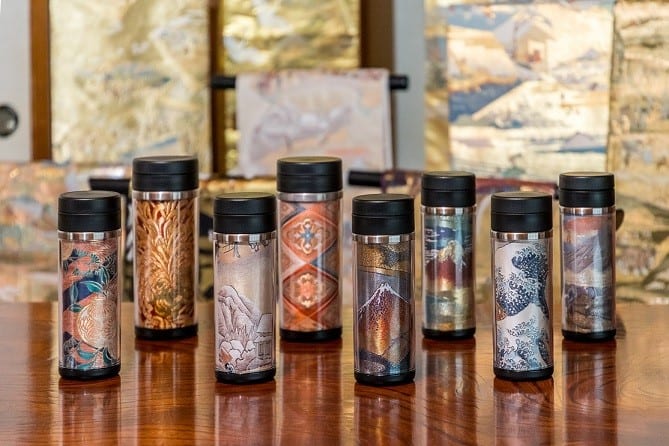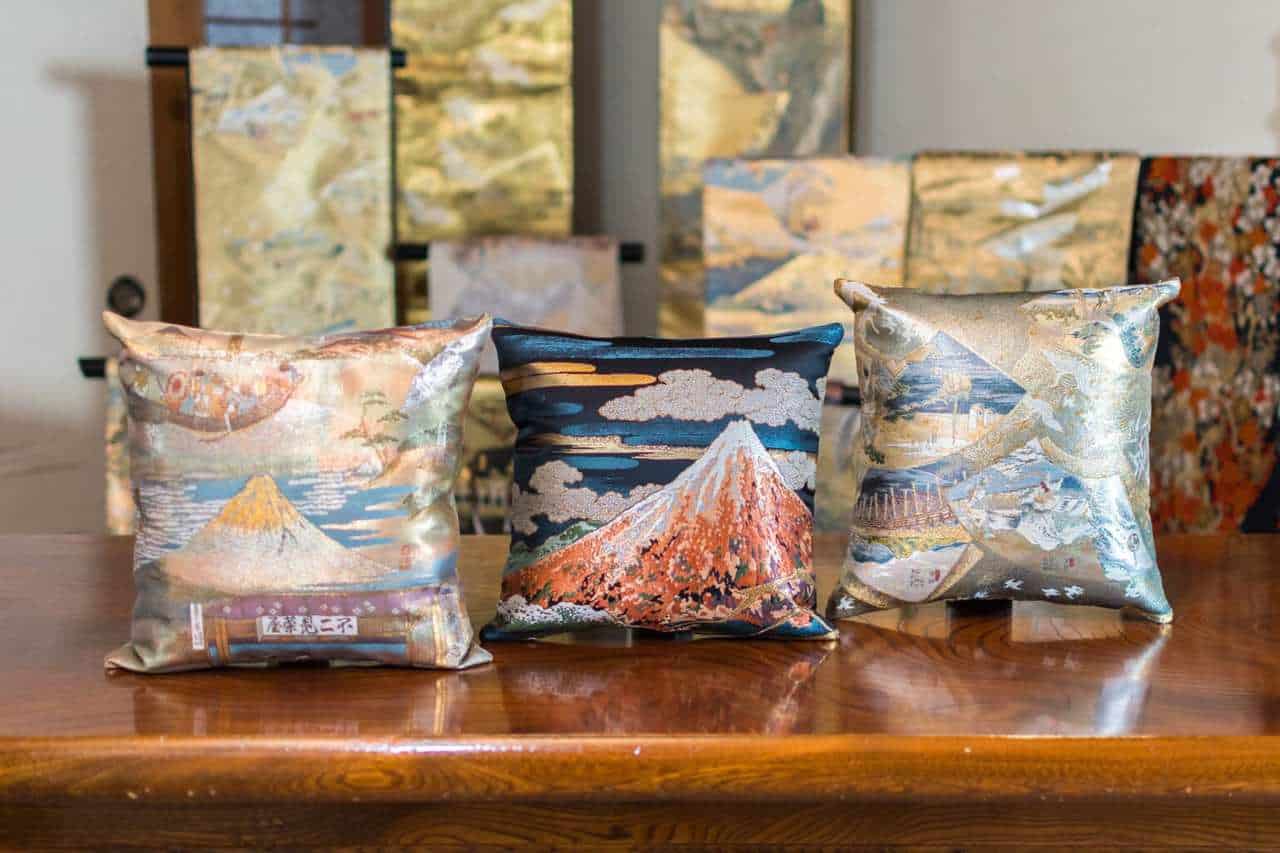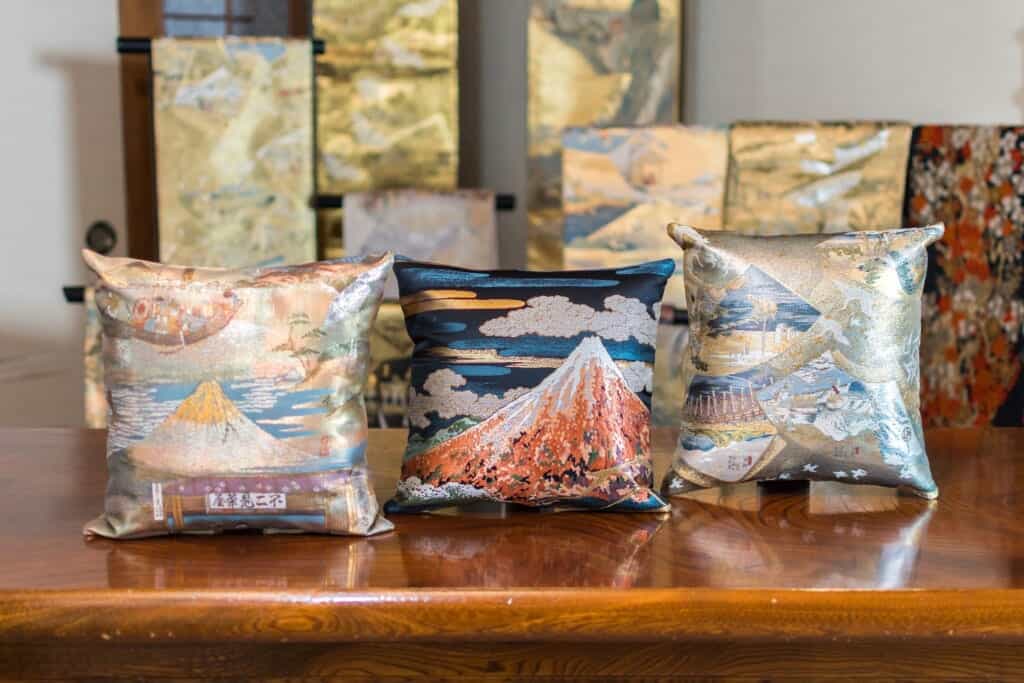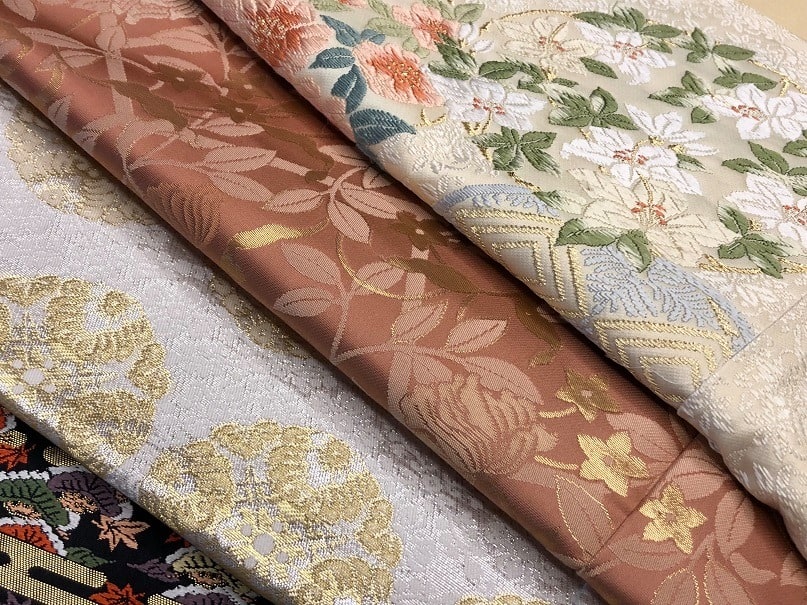 The Obi of the 53 Stations of the Tokaido at Sushi Yamashichi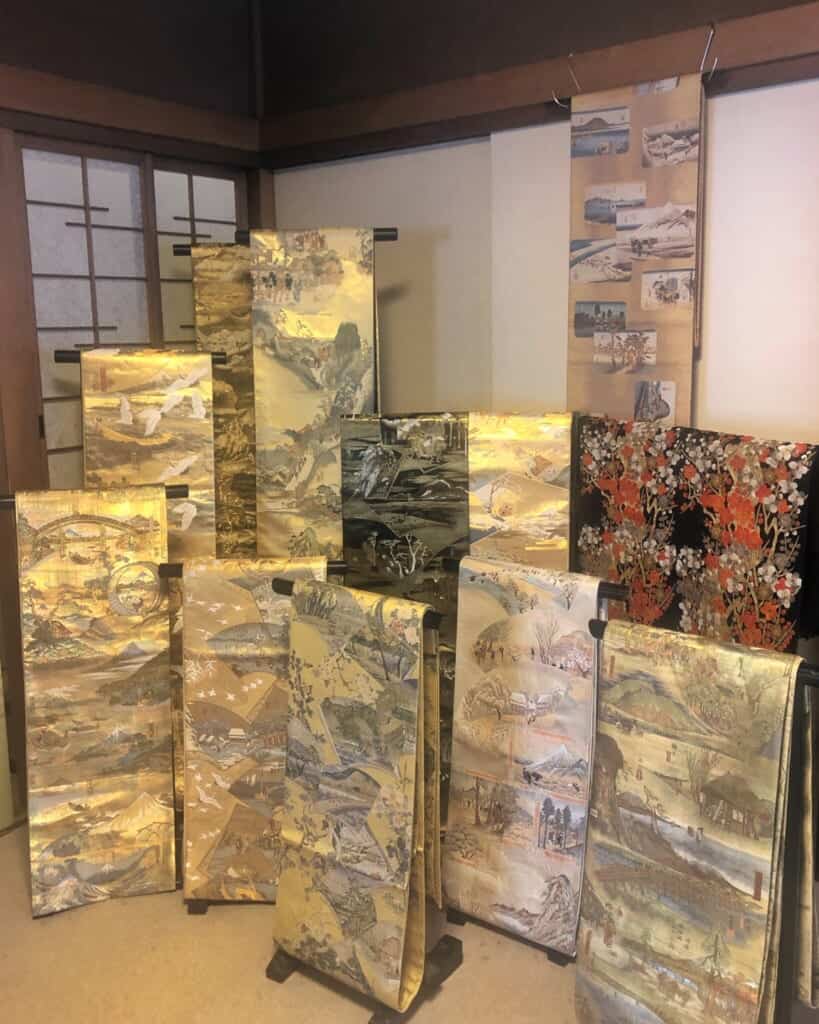 Yamazaki's love of vintage obi that illustrate Hiroshige Utagawa's 53 Stations of the Tokaido began when a customer saw one of her worship mats. After the customer requested a custom mat with a view of Mt. Fuji, Yamazaki-san began hunting for pieces that featured the famous printmaker's work. Since Sushi Yamashichi is located in Kanbara-juku (蒲原宿), the fifteenth of the fifty-three stations along the old Tokaido Road, her interest in Utagawa's work grew to that is reflected in her collection today.
Her collection is impressive and beautiful—the craftsmanship of the ukiyo-e designs incorporated into silk obis needs to be seen in person to appreciate. To give you an idea of how valuable these vintage obi are, one of them was worth approximately 3 million yen! They had to pry me away from her collection to begin the temaki sushi (手巻き寿司) experience.
A Temaki Sushi Feast
There are two floors at Sushi Yamashichi. The ground floor hosts a typical layout of tables, chairs and a sushi counter where you can see the chef at work (always a treat!).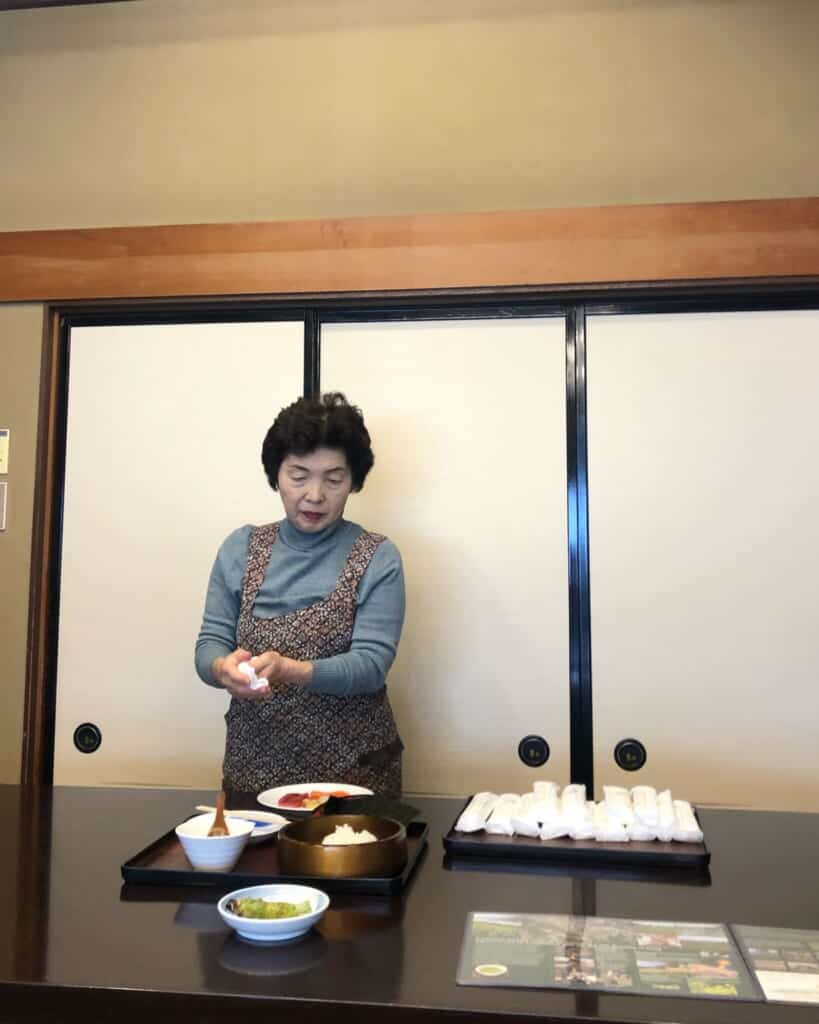 Upstairs is the private banquet room (next to the vintage obi room). It's perfect for larger groups, private functions and delightful food experiences like the temaki sushi making workshop. When we arrived, all the ingredients were beautifully laid out on the table. Next, Yamazaki-san graciously explained the process and proceeded to teach us how to create our temaki rolls. With a fragrant local Shizuoka green tea served with lunch, it was a delicious way to spend the afternoon.
Words from Yamazaki-San
In the words of Yamazaki-san: "After having a delicious meal and tasting Shizuoka tea, please take your time to browse through obi designs, try on a kimono and enjoy our traditional Japanese culture. Touch the kimono, put it on your shoulder, and if there is something you like, take a photo and enjoy it. We are happy to share with you our love for Hiroshige Utagawa's 53 Stations of the Tokaido. We hope to meet many of you soon."
Getting to Sushi Yamashichi on Tokaido Road
Website:
http://yamashiti.com/en/english-top/
Hours:
Wednesday to Monday, 11:30 – 20:30
Holiday:
Tuesday
Phone:
+81 54 388 2339
Address:
3-3-10 Kambara Shimizu-ku, Shizuoka City 421-3203
Parking Space available
Access:
From Tokyo, Kyoto and Osaka, take the JR Tokaido Shinkansen to Shizuoka Station (静岡駅).

Tokyo to Shizuoka Station takes approximately 1 hour
Kyoto to Shizuoka Station takes approximately 1 hour and 30mins
Osaka to Shizuoka Station takes approximately 2 hours

From Shizuoka station, take the local train to Shin Kambara Station(新蒲原駅). Sushi Yamashichi is a 3-minute walk from Shin Kambara Station