I'm a big believer in cycling as the optimum method of exploring a new area — especially cycling in Japan. As I cycled up and down the expanse of Shirahama (白浜) in Wakayama Prefecture on two wheels, my preconceived notions were confirmed.
Shirahama's Cycling Routes, Beaches, and Onsen Hot Springs
Hanging southward from central Honshu into the Pacific Ocean, the bulbous Kii Peninsula is defined by toothy rock features, wave-battered sea stacks, towering shoreline bluffs, and white sandy beaches. Wakayama Prefecture sits on the southern end of the said peninsula where you'll find some of Japan's most dramatic coastal cycling routes.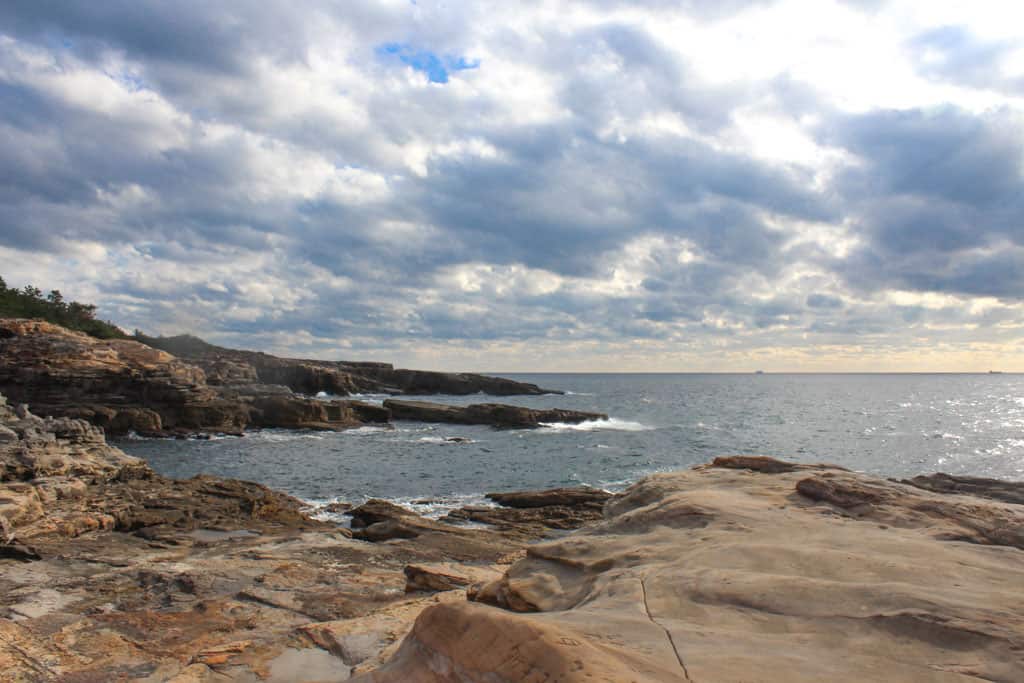 Shirahama (meaning "white sands") is a pretty seaside town, framing its namesake beach. The 500-meter-long cove opens up to the Pacific Ocean's embrace, with high-rise apartment blocks and hotels nestled behind it looking to the great horizon beyond. It's no wonder Shirahama is a popular weekend escape for city slickers in Osaka 100 miles to the north.
On top of the scenery, Shirahama has long been a hotbed of geothermal activity; some of the individual onsen (hot springs) have 1,350-plus-year histories. A range of therapeutic properties, from alleviating aches and pains to encouraging better blood flow, imbue Shirahama's bubbling spring waters. These factors have contributed to it becoming one of the top onsen resort towns.
On my first day in Wakayama Prefecture, I cycled through much of the fairly compact Shirahama town confines, visiting some of its most important sites. I passed scenery that would stop me dead in my tracks, tucked into an al fresco lunch with views the Pacific, boarded an elevator down through a rocky cliff to a former pirates' hideout before I sunk into a hot spring after dark. This eclectic combination of experiences really endeared me to Shirahama, while providing a perfect introduction to Wakayama Prefecture.
I flew into Nanki Shirahama Airport on a fresh December morning, cold enough to merit a shiver as I stepped from the plane which had carried me the 75-minute journey from Tokyo. I met up with my travel companions in the one-room lobby of the tiny airport, and in the fashion of most visitors to Shirahama, we headed straight for the coast.
Seafood Feast on Shirahama
In coastal regions of Japan — where the fish is, of course, rather plentiful — you'll often find a proliferation of Italian seafood restaurants, including Pizzeria Pescatore. It was at one of these haunts, a pasta and pizza specialist with an outdoor terrace with views of the ocean, where we dined on the fishy osusume dish. Pescatore was not only the restaurant's name but also one of the best sellers on the menu: a mini mountain of looping spaghetti cooked in a garlicky sauce and topped with an assortment of local seafood and shaved parmesan. I may have rolled inelegantly out the restaurant post-meal, but a cycle was on the cards to reinject the energy of which the delicious carbs had robbed me.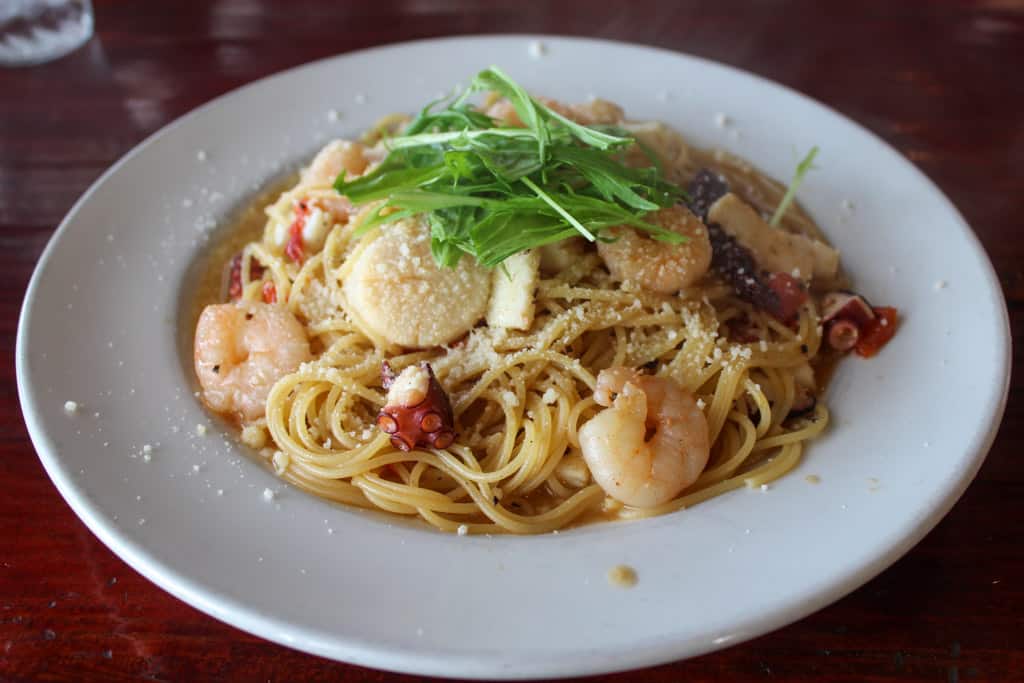 Renting Bikes on Shirahama
After another short drive, we rented cross bikes from the GIANT STORE NANKI SHIRAHAMA (electric bikes also available), which was conveniently connected to our accommodation for the evening, Shirahama Key Terrace Hotel Seamore.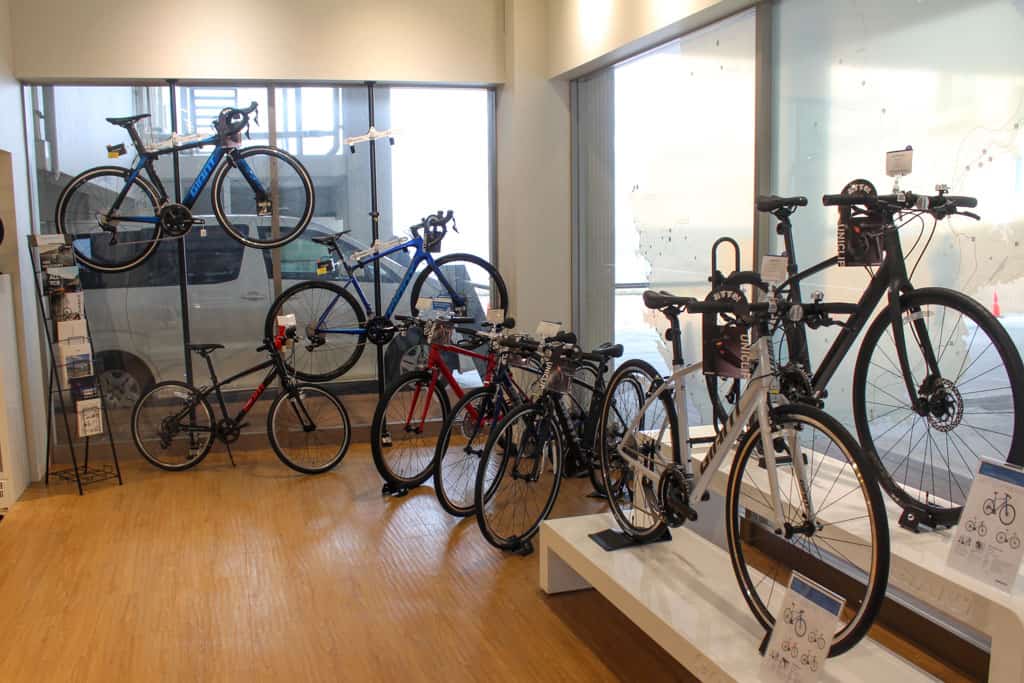 Senjojiki Rock Plateau
As we got pedaling along the coast, the winter sun blazed shimmering trails across the ocean's surface, while the undulating roads of Shirahama required us to break a little sweat. Shedding layers of quickly moistening clothing, we arrived at Senjojiki, a sandstone formation created by millennia of wave erosion, whose name translates to "one thousand tatami mats" indicating both its size and shape. Here, I got a real flavor of the kind of scenery the Shirahama coastline is famous for.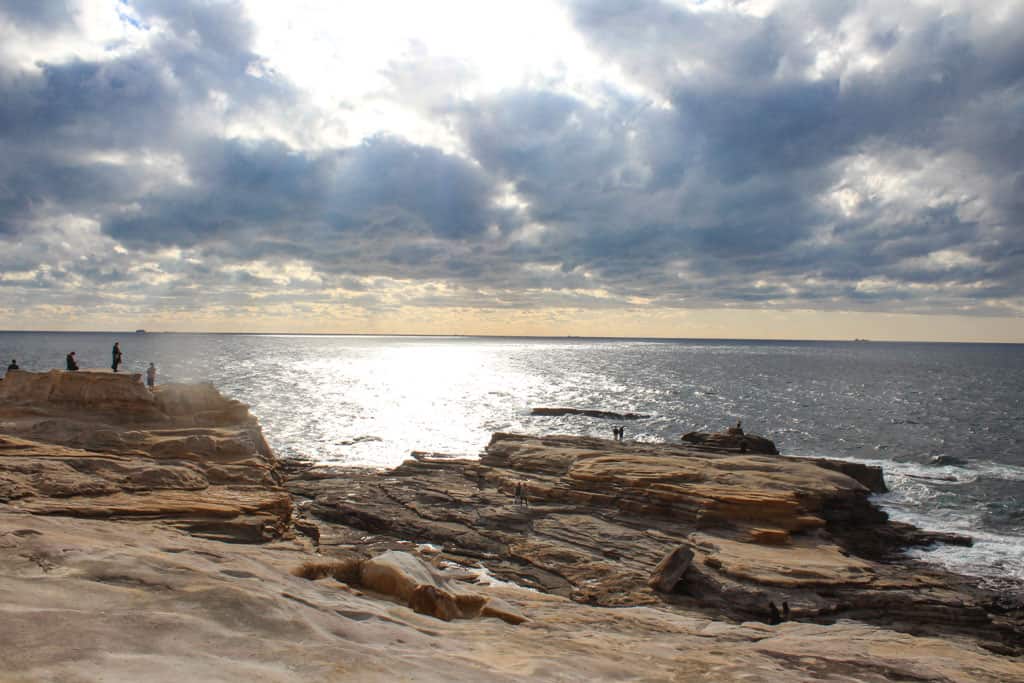 Senjojiki Rock plateau, part of the Yoshino-Kumano National Park, consists of little plateaus of sandstone that feed down toward the ocean in light brown striations. As we made our way toward the foamy breakers on the ocean side of Senjojiki Rock plateau, I couldn't help but notice the stone, composed of innumerable fine sediments packed tightly together, had a perceptibly soft texture. Further evidence of this could be seen in naturally-formed indents in the rock bed.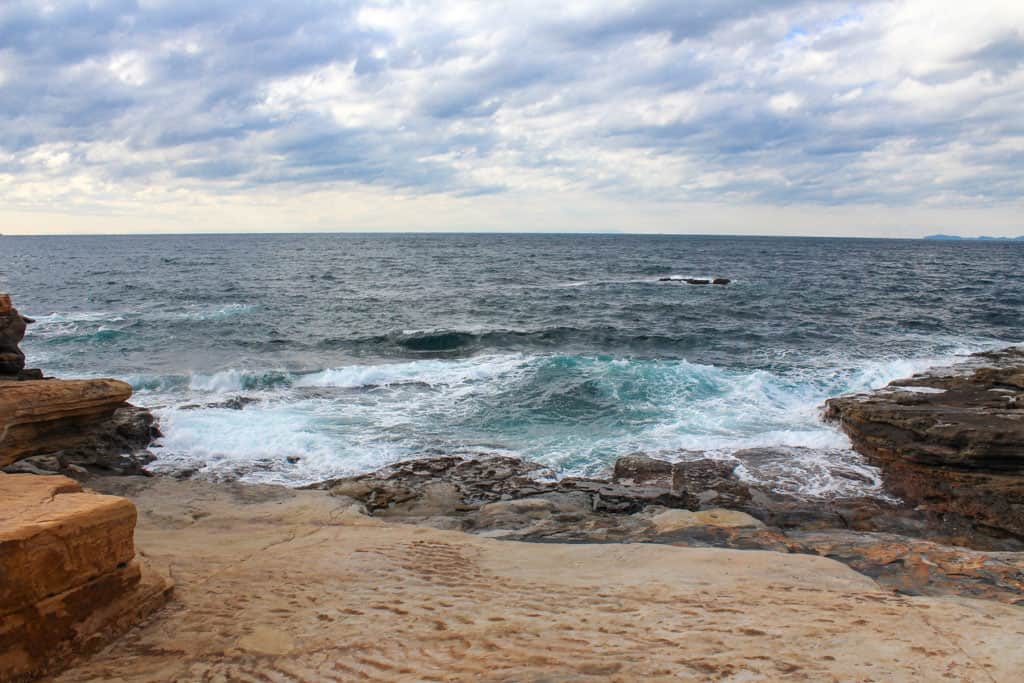 Going Underground to Sandanbeki Cave
Next, we made a short skip along the coast to the Sandanbeki Rock Cliff, a viewpoint looking toward Senjojiki Rock plateau, and the eponymous Sandanbeki Cave, which plunges to sea level. From the 50-plus-meter viewpoint, we were met by headlands shooting into the ocean on both flanks and a vast seascape spreading out in front of us.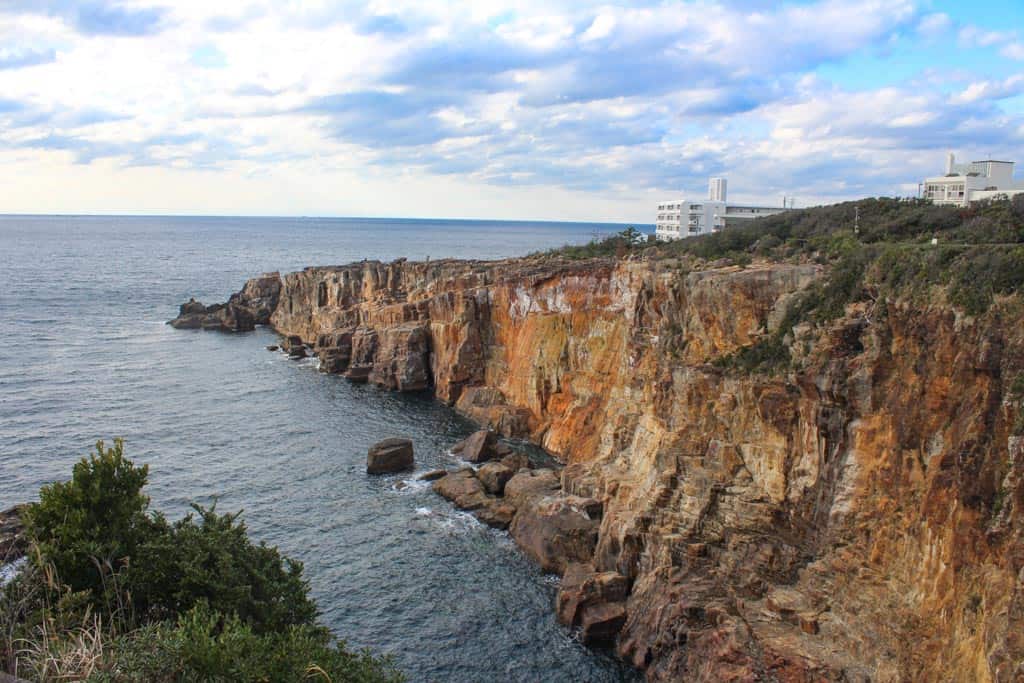 The subterranean scenes were equally impressive, and to catch a glimpse of these, we took the 36-meter elevator down into the Sandanbeki Cave below. This network of tunneled passageways was at once atmospheric, with lanterns casting dim glows, the constant trickle and drip of water through the permeable rock, and a Buddhist shrine dedicated to the Buddhist deity of water, Benzaiten. At various points in time, the cave was also said to be a hangout spot for local pirate gangs and the KumanoNavy. Snippets of this loaded historical intrigue were studded around the natural walls of the cave.
Cycling Up to Shirahama
After heading into the depths of the earth, we sought to rise to the top of it, or at least one of the highest points in Shirahama accessible by bicycle. Climbing this hill — a feat not to be attempted if you hate strenuous exercise — we arrived at an observation deck in a roadside layby, located just after the pristine fairways of Shirahama Golf Club.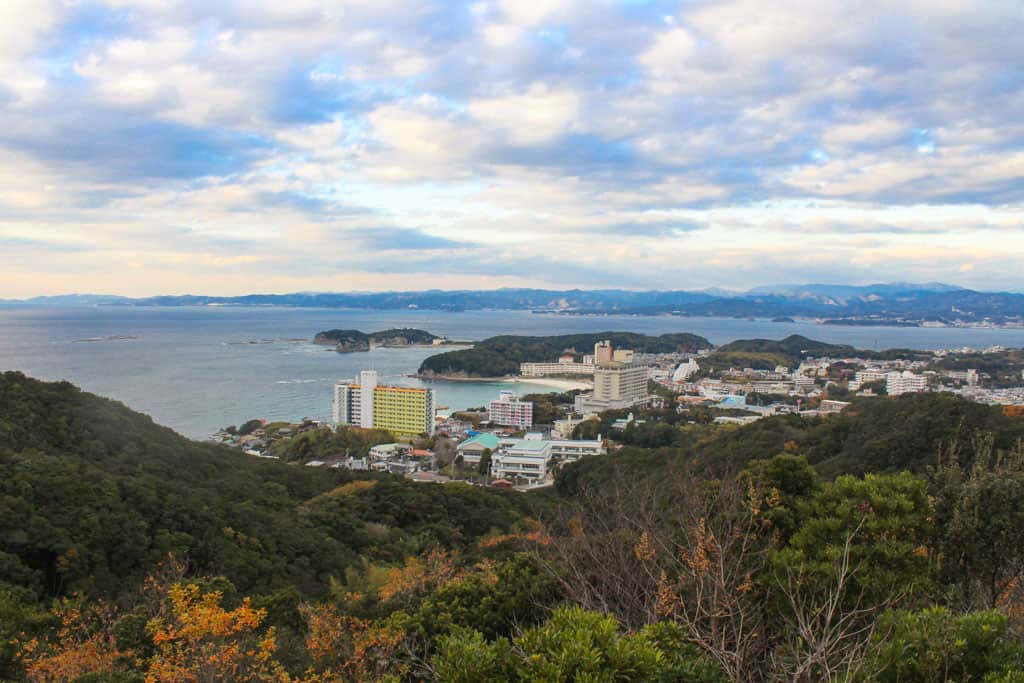 From here, I got more of a sense of Shirahama in its entirety. It's not a large town by any stretch of the imagination, but it exudes class. Hills spill down toward a neat town center dominated by tall, white-washed buildings and the welcoming sandy cove of Shirahama Beach. The coastline of bays and headlands is met by an ocean dotted with little islets resting in isolation, yet almost within touching distance of the mainland. I stood there in admiration, drinking in the wintry air and renewing my depleted oxygen deposits. Then I was yanked from my reverie. The sun was setting, and few places this side of Japan offer better views of day segueing to dusk than our final destination: Shirarahama Beach. We had better make tracks.
From East to West, to Shirarahama Beach
We left the observation deck and freewheeled along the snaking road toward Engetsuto Island, a rocky outcrop with a full moon-shaped hole puncturing its center. The rock, which can be viewed from the Shirahama Onsen Route running along the coast, has become a local icon, particularly on nights when the sun sets in the middle of Engetsuto Island's 'moon.' Unfortunately, we weren't to be so lucky on this particular eve — according to the Wakayama prefectural tourism office, spring and autumn are optimum sunset seasons — but the views were pretty splendid in their own right.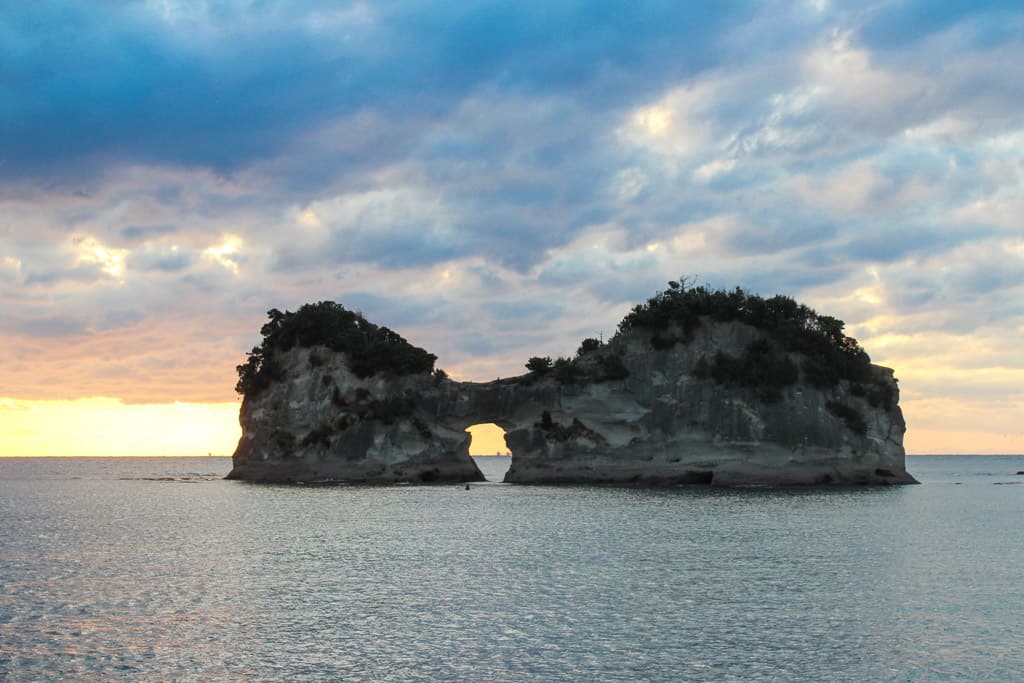 A sky of blue, cottony clouds was separated from the horizon by waves of orange and yellow light. Boats moved slowly across the water, yet far enough off in the distance to seem at a standstill. A group of local camera enthusiasts bunched together with their bazooka scopes, unleashing flurries of shutters and clicks, and comparing snaps. It's no surprise people privy to this view every day still make the journey down to see what Engetsuto Island has in store for them.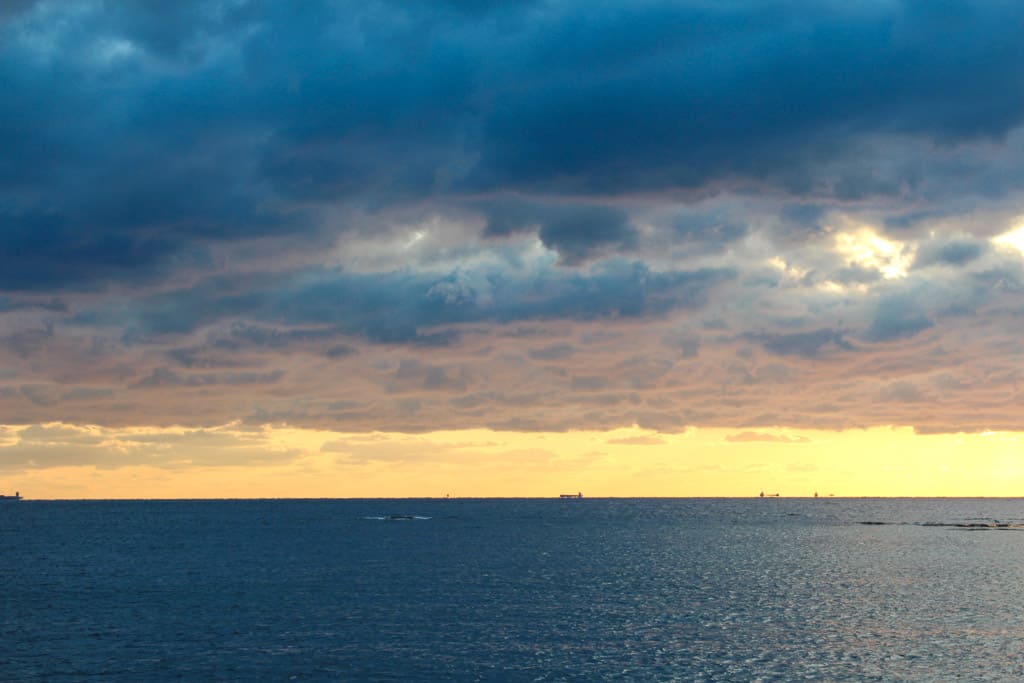 Our last destination was Shirarahama Beach, approximately one mile further along the coast. Few holidaymakers take to the waters this time of year, meaning we had the beach almost to ourselves, aside from a jogger huffing and puffing across the shoreline like Rock Balboa in a training montage. The sun sat deeper in the sky now, feeding it a liquid gold hue, its warmth counterbalancing the frigid bite of the sea breeze. I watched in silence, listening to the gentle lap of the ocean, and watching the sun slowly disappear into the night.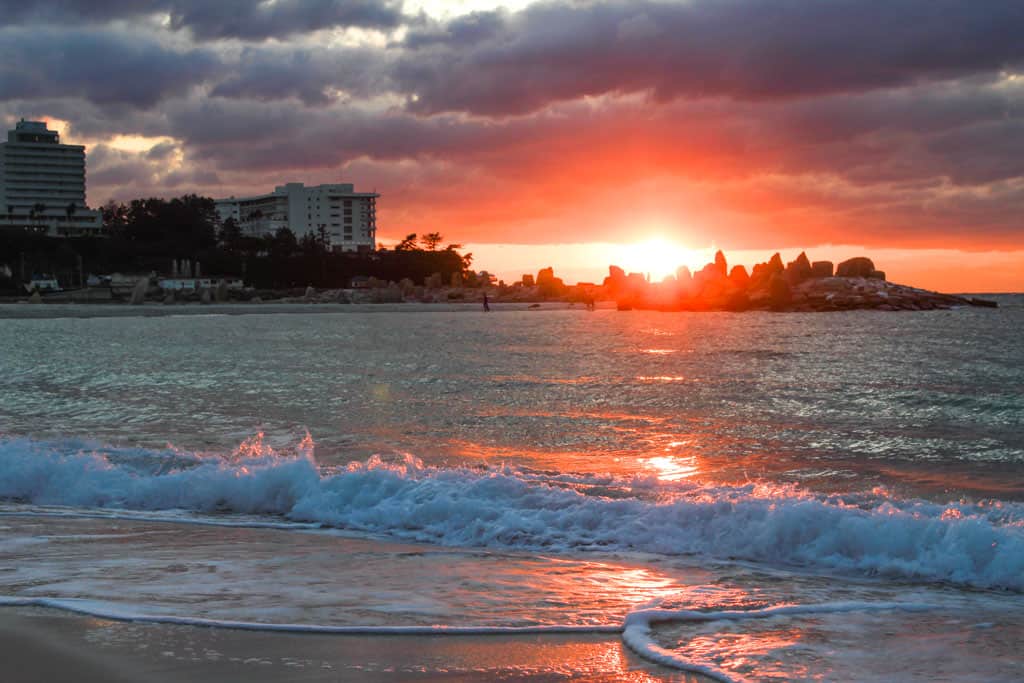 A Night at Shirahama Key Terrace Hotel Seamore
To cap off the evening, we unloaded our bikes at the GIANT STORE NANKI SHIRAHAMA and checked into the Shirahama Key Terrace Hotel Seamore. The hotel is a fusion between western chic and traditional Japanese minimalism. The former is represented in its marbled lobby and fluffy beds, the latter in its tatami seating platforms and kaiseki (traditional cuisine) restaurant.
From a bedroom with sprawling views of the coastline, I headed down to Warouda, a kaiseki restaurant next door to the main building, which specializes in fish and shellfish plucked from the Pacific that very day. The elegant repast, featuring sake-grilled abalone, was accompanied by nihonshu (rice wine) and craft ale from one of the local breweries. (A cocktail bar, an ocean buffet and pizzeria, and a sushi restaurant are also located on-site.)
Finishing off the night, as one always should in an onsen town (especially after a day of putting strain on the legs), I nipped into the Shirahama Key Terrace Hotel Seamore's hot spring baths, the best of which, sits outdoors like an infinity pool casting its gaze into the blackness of night. That, with the memory of my nearly-perfect day of cycling in Japan, that's when it dawned on me: a cocktail of cycling, good food, a dash of alcohol, and a hot spring dip, are more potent a tonic for a good night's sleep than any other I know.
Sponsored by Chubu District Transport Bureau, Wakayama Tourism Federation and Mie Prefecture