sponsored by Northern Kumamoto Administrative Headquarters
The strong winds blowing over the Senomoto Highlands had me worried it would make for a difficult cycling tour, but it turned out to be a blessing instead. Surveying the distant landscape, Kota-san, one of my guides from the Aso Kujyu Cycle Tour company, commented that it was as clear a day as he had seen in quite a while.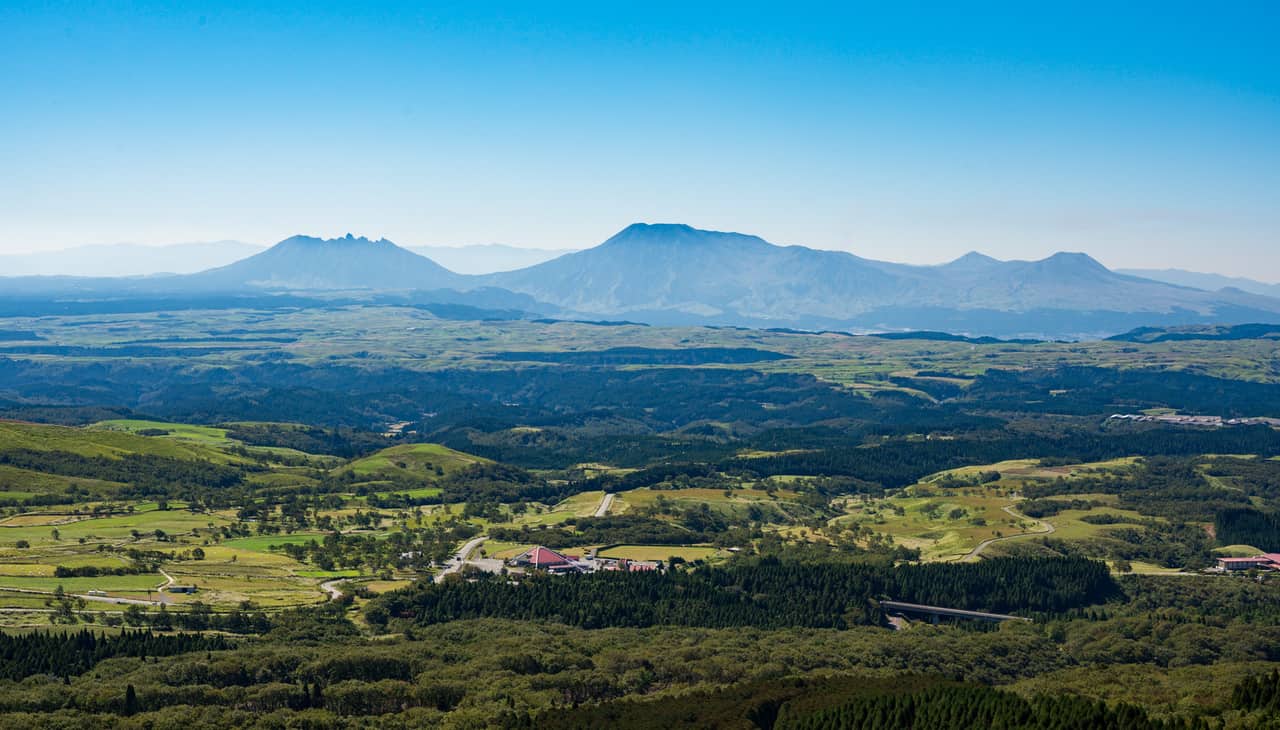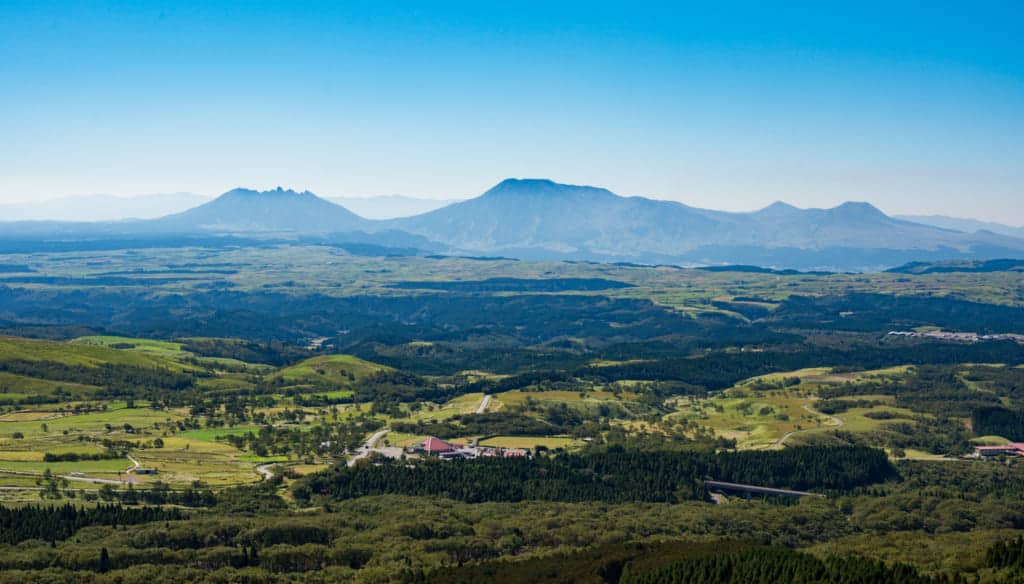 Aso Kujyu Cycle Tour Company
Kota-san and Abe-san are the men behind this innovative cycling tour company. Their mission is to give riders of all levels of experience and physical fitness a chance to experience the incredible landscapes of northern Kumamoto from the saddle of a bicycle. At the moment, we were perched on a turnout on the road winding up the Kuju Mountains. Just 15 minutes earlier, we were at their shop at the bottom of the mountain, getting our gear and selecting bicycles.
Located in a building near the Sanai Rest House, Aso Kujyu Cycle Tour has an eclectic mix of high-quality bicycles. Road and mountain bikes, child and adult-sized bikes, and even electric bicycles. I was slightly offended when Kota-san recommended an electric bicycle for me. I mean, I'm no Chris Froome, but neither am I Kris Kringle. But later, while the physically-fit Abe-san was huffing up a few short but steep inclines, I was thankful for Kota-san's advice.
As I had a plane to catch home from Kumamoto Airport, we took an abbreviated version of the downhill cycling tour. Typically, the tour would begin at the summit of Makinoto Ridge, on the most scenic mountain pass in Kyushu, winding down its fairly steep but well-maintained roads. Occasional turnouts offer spectacular panoramic views of the Aso caldera in the distance. It continues downhill, along near-deserted grassland roads of the Senomoto Highlands where herds of Jersey cows graze, watching as these strange creatures on two wheels whiz by.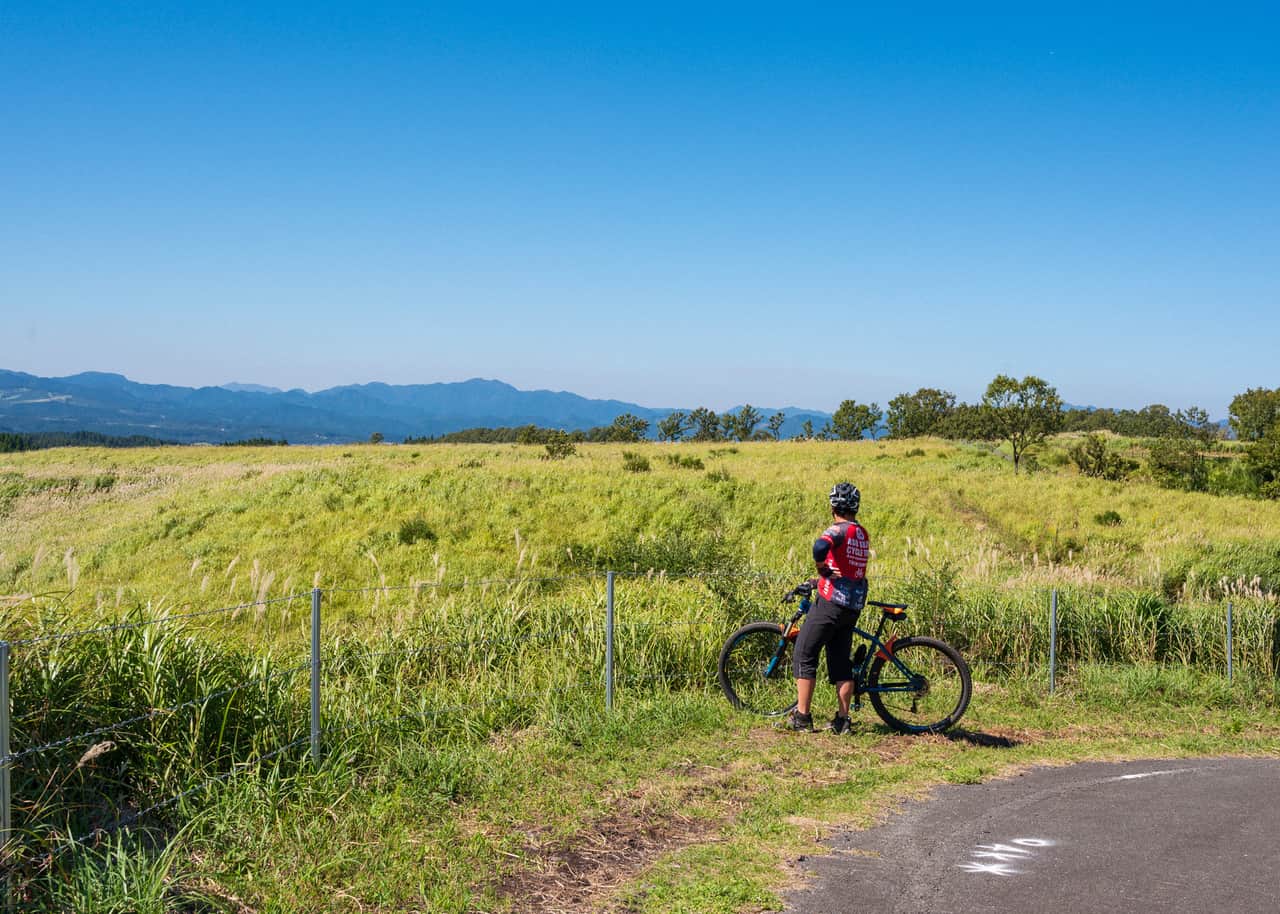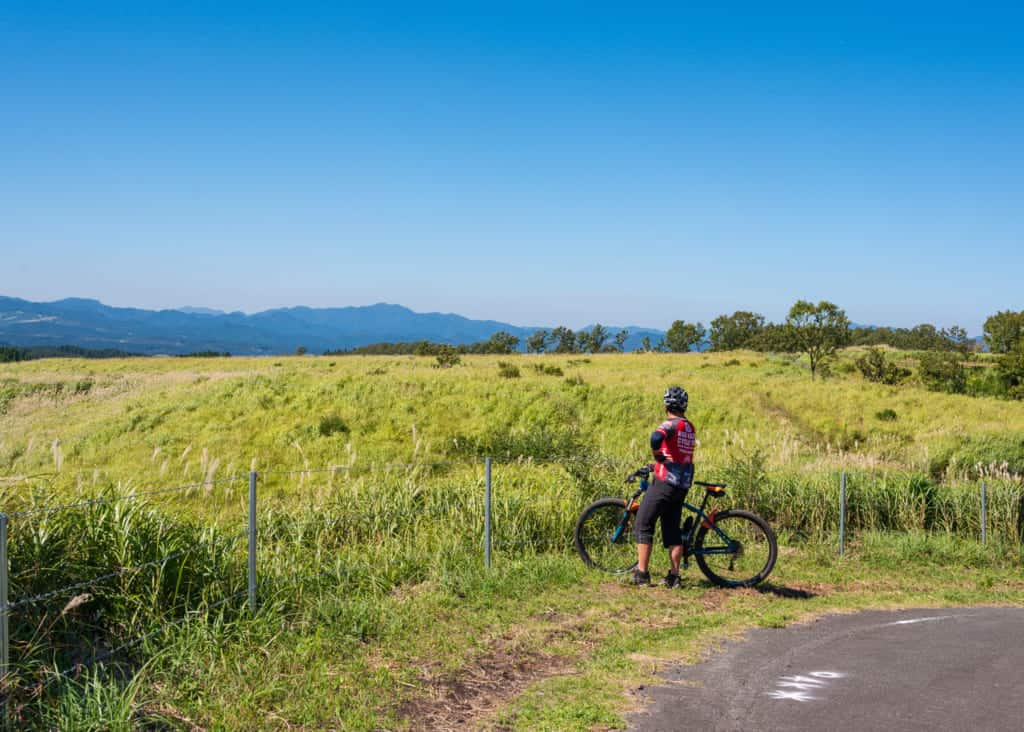 As Abe-san rode ahead of me, giving hand signals to warn me when to slow down or pull over, Kota-san followed a safe distance behind in the car. The two communicated via radio headsets, with Kota-san maintaining our safety from behind and, of course, driving us back up to the shop once we finished our ride.
From the grassy highlands, we descended through light forest, roughly following one of the many streams that meander through the area. Now, farmhouses began to appear, beside green-gold fields of rice ready for harvest.
Descending Into Onsen Country
I should point out that though this is the Downhill Course, not every stretch is entirely downhill. There were some areas where there were short, moderate climbs where Abe-san would shift into lower gears and break a little sweat. Comfortably on my electric bicycle, I never had to leave my seat on these climbs, and my cranky old knees would thank me (or Kota-san, for selecting the electric bike) later.
Following the Manganji River, we came to an interesting site. Built into the bank of the river, right alongside the road, was the Manganji Onsen, a public bath that really couldn't be more public. I suppose living in a tiny village in rural Japan, you literally have nothing to hide from your neighbors. However, for those with a little more modesty, the town built a properly covered bathhouse nearby.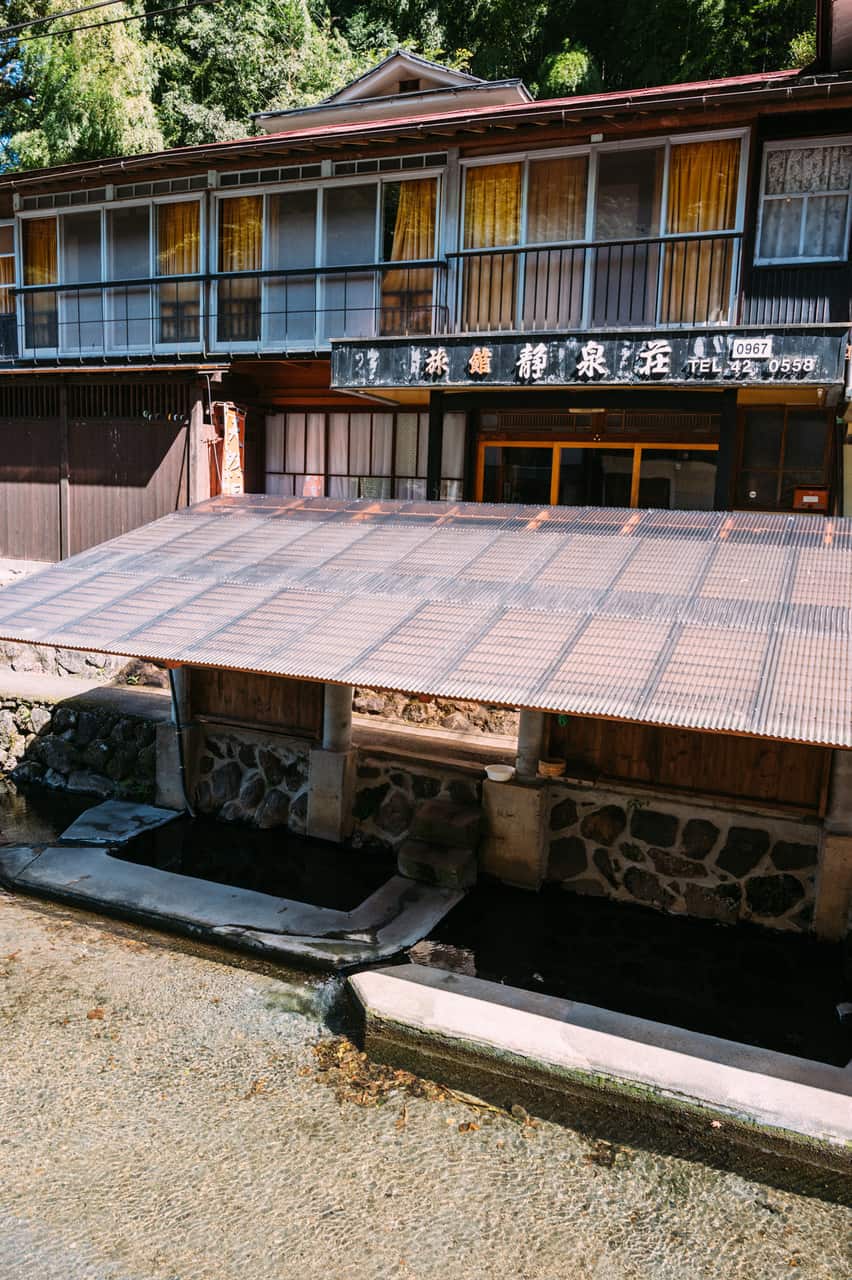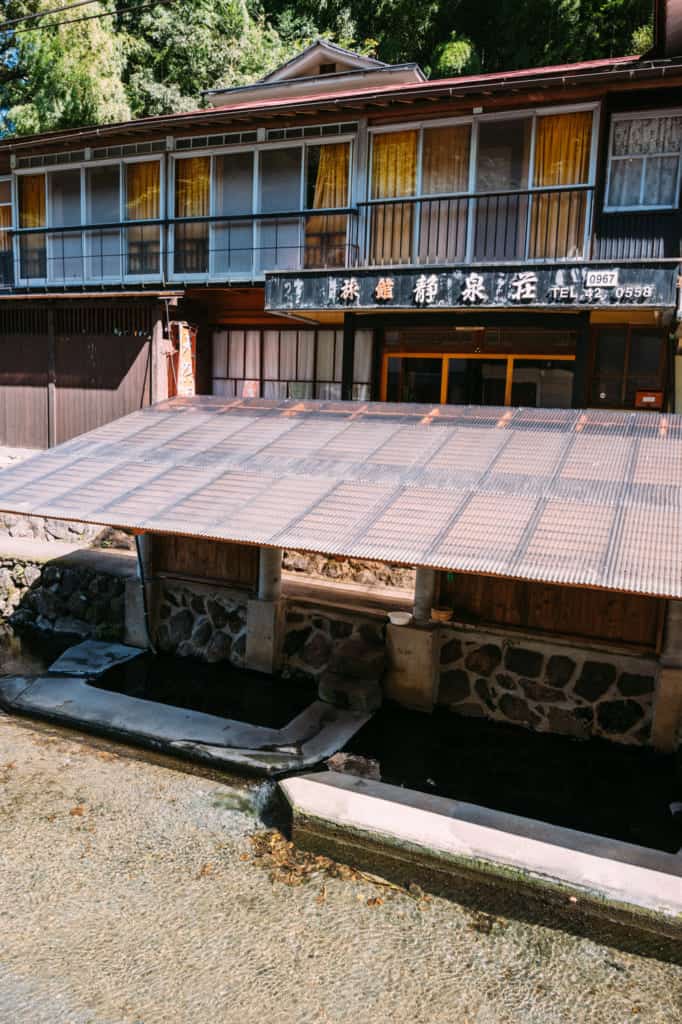 A hundred meters further downstream, Tachimamorusanmangan Temple, built 7 centuries ago as a place to pray for protection from the invading army of Genghis Khan, stands peacefully among the moss. Ancient temples like this are hidden gems of rural Japan that are easiest to find and explore by cycling.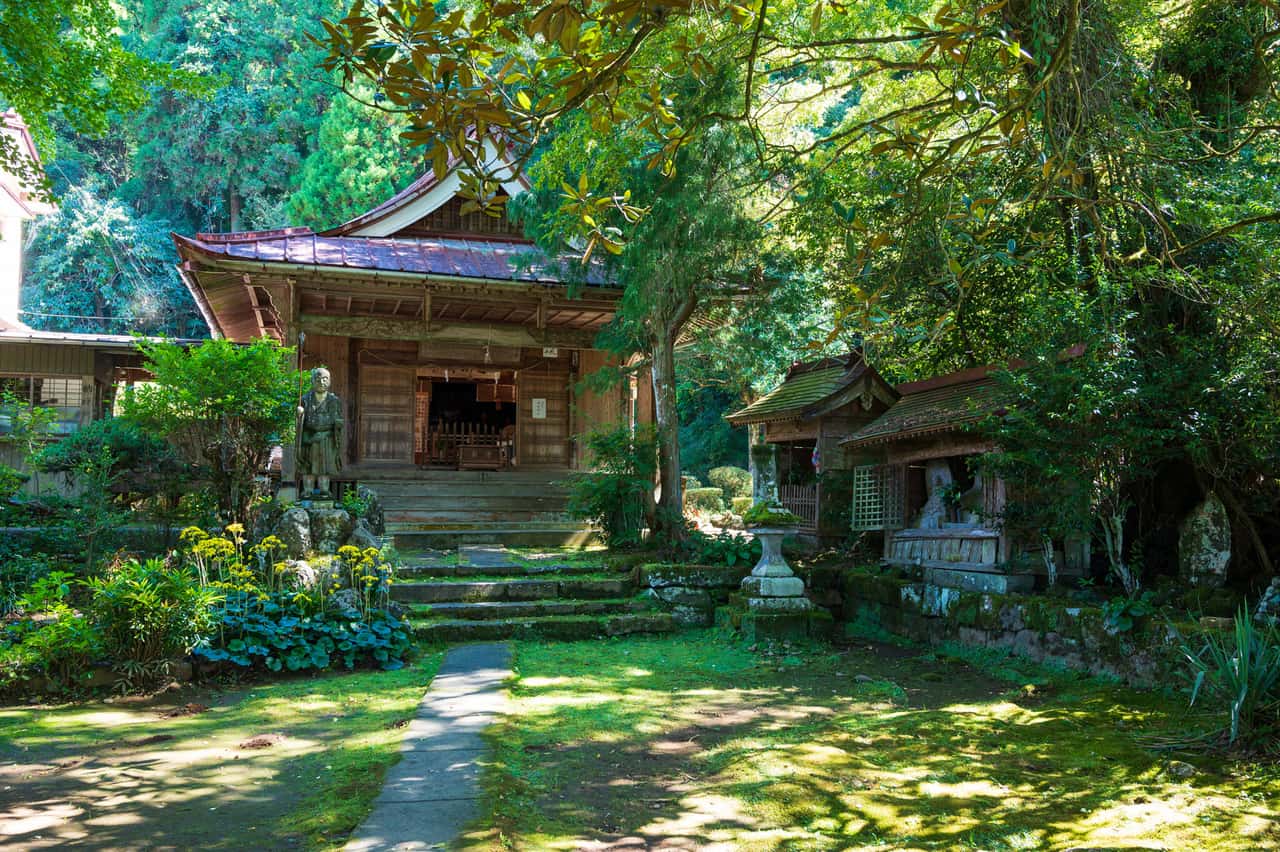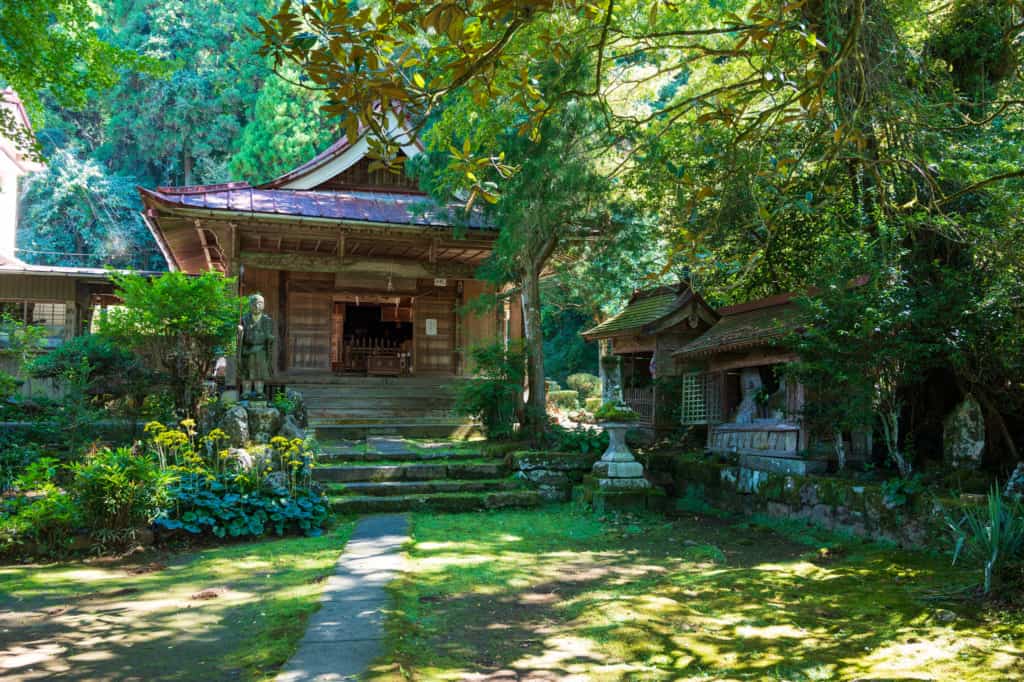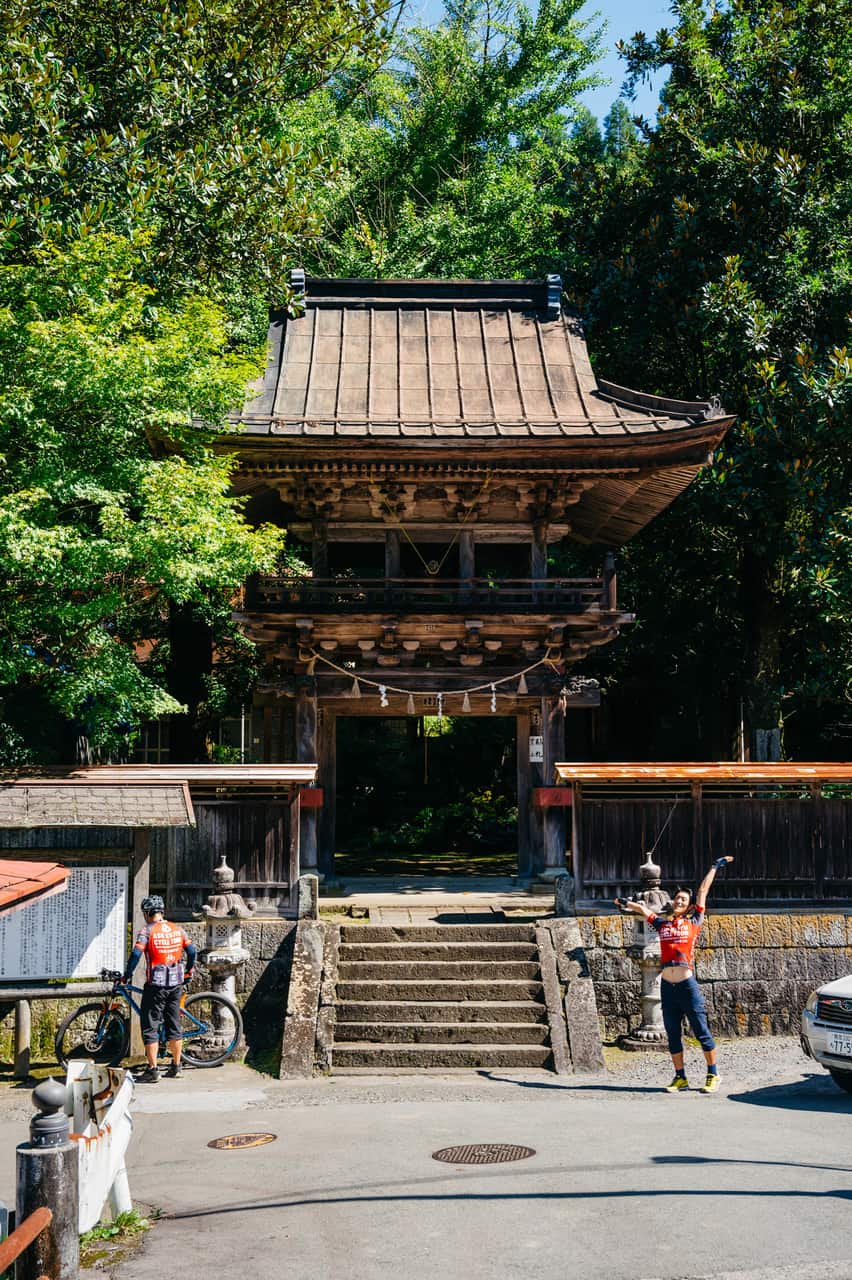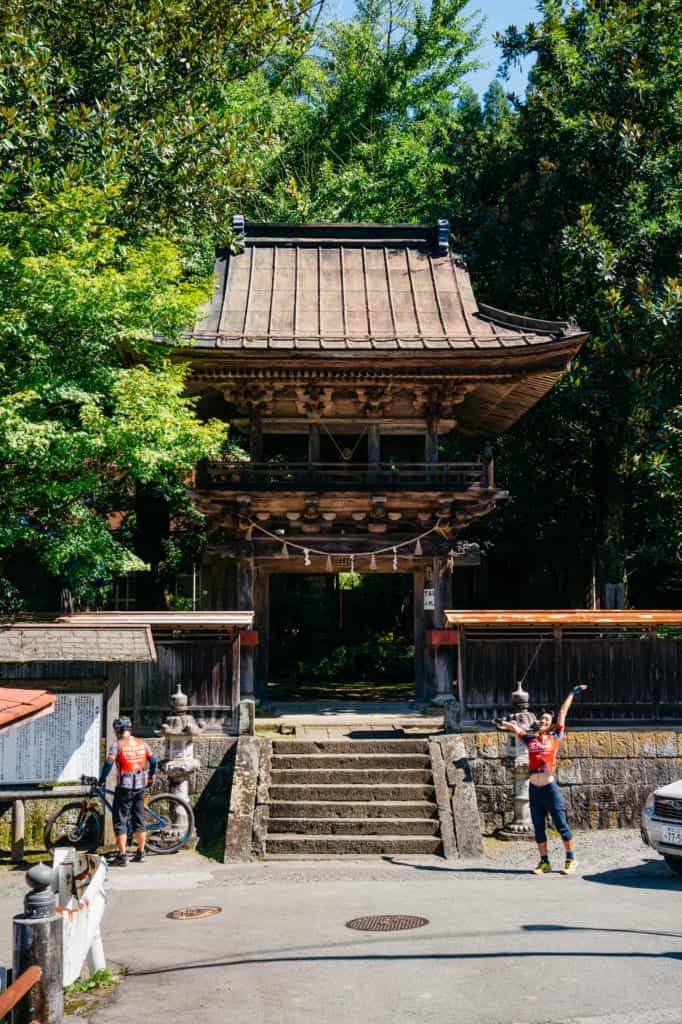 The geography of Northern Kumamoto is unique, and as you descend, it is easy to forget from how high you started. The Kuju Mountain summit is over 1,700m; by the time you descend to the Senomoto Highlands, you are still at 800m. It surprised me that at the distance we had traveled how we could be continuing to go downhill. But we paused at the entrance to a long tunnel, and Abe-san explained that I would need to brake to control my speed as we emerged from the other side.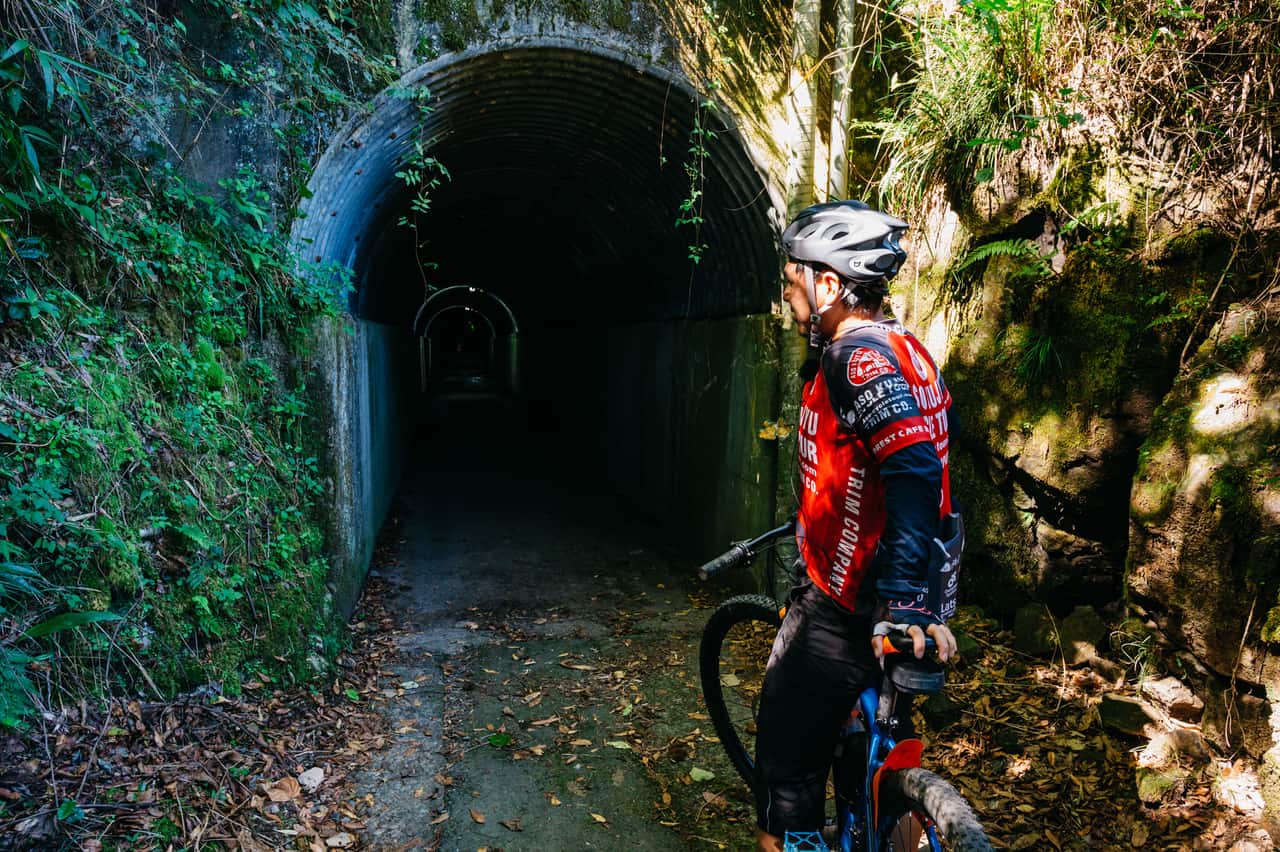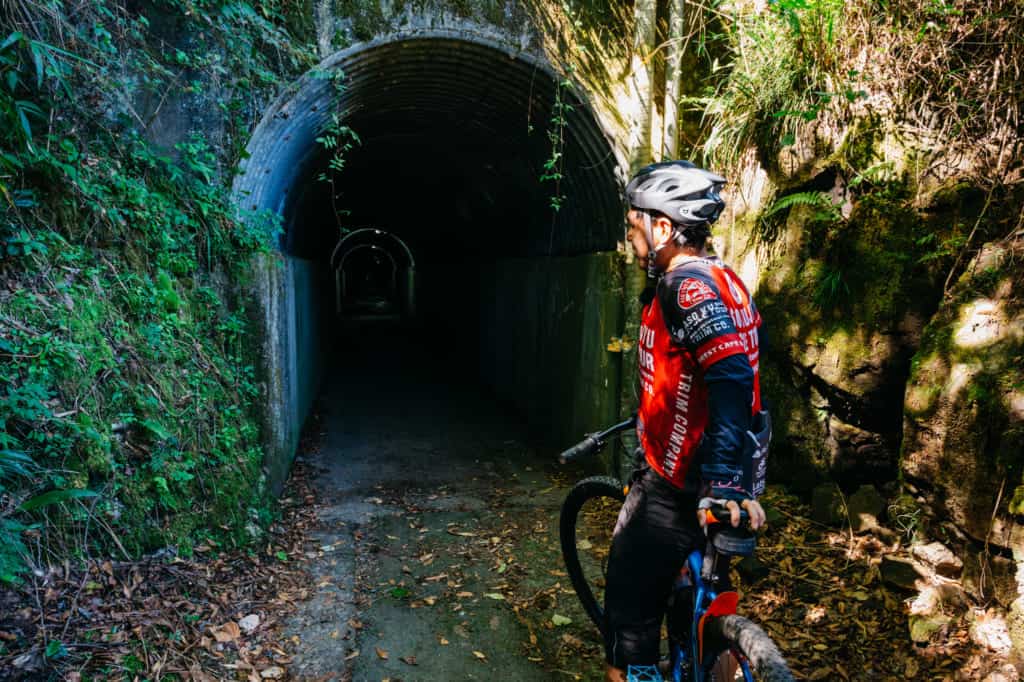 Local Kumamoto Cuisine This Side of Paradise
The terrain on the far side of the tunnel was a slice of rural heaven, a valley full of golden rice paddies and farmhouses, divided by a gently flowing clear stream. We rode along the river a little farther until finally arriving at our lunch destination, Shikino Sato Hira, a cute farmhouse restaurant famous for serving the local cuisine of Kumamoto. Outside the farmhouse, tamanegi (onions) hung suspended in the air out of reach of the wild boar that roam the area. On the porch, trays of fresh, sweet kuri (chestnuts) dried in the warm sun.
Abe-san recommended the special set comprising a variety of local dishes. The tray delivered to me held no less than 14 different dishes, mostly local roots and vegetables in slightly sweet sauces and marinades that are a trademark of Kyushu cuisine. To my surprise, the food just kept coming, from a plate of delicate lightly fried vegetable tempura to battered pieces of free-range chicken to a hearty soup full of meat and vegetables. And, of course, a bowl of fluffy white rice, no doubt from among the first crop of harvested rice in the area. The owner, sensing my hopelessness in finishing such a feast, assured me I could take anything I couldn't finish with me.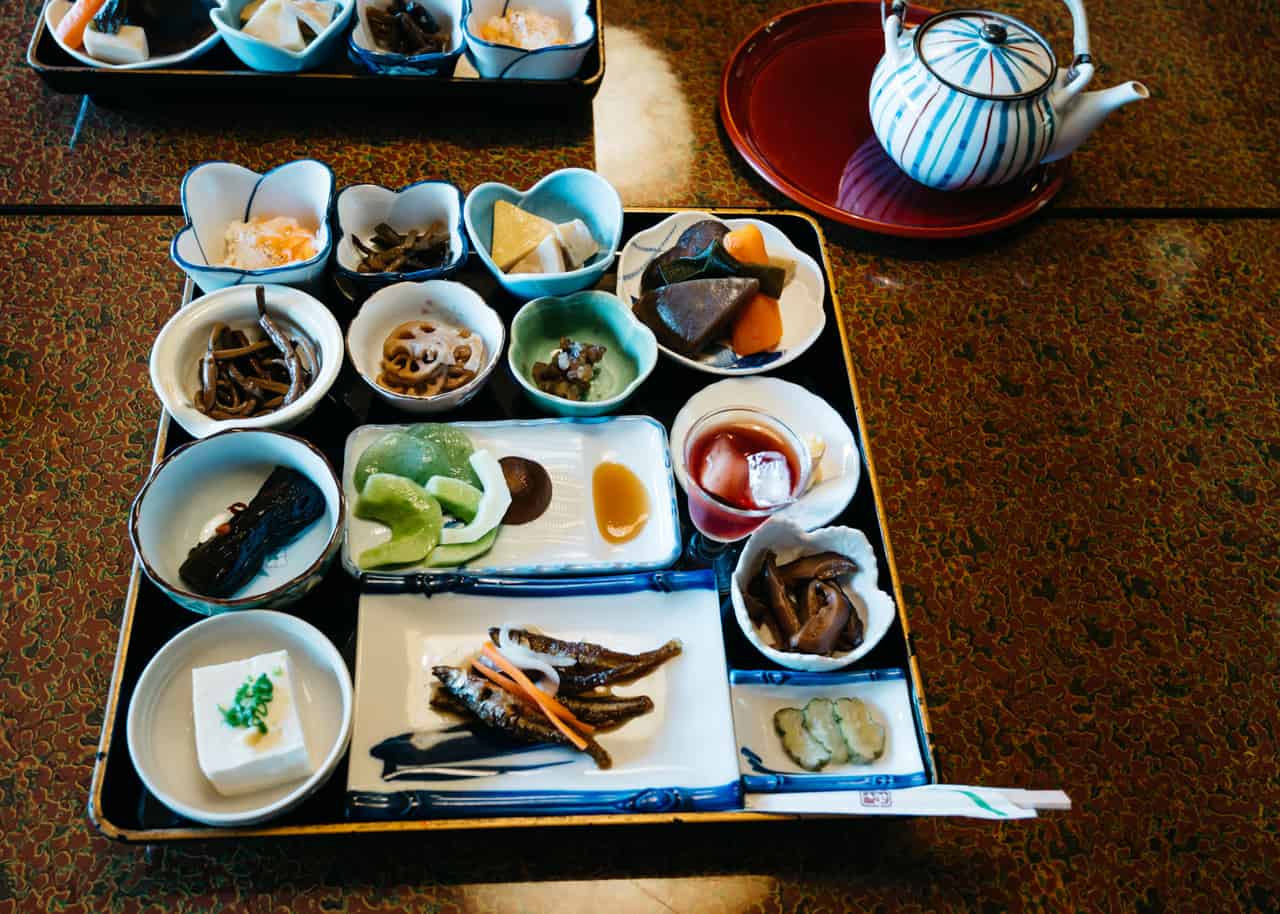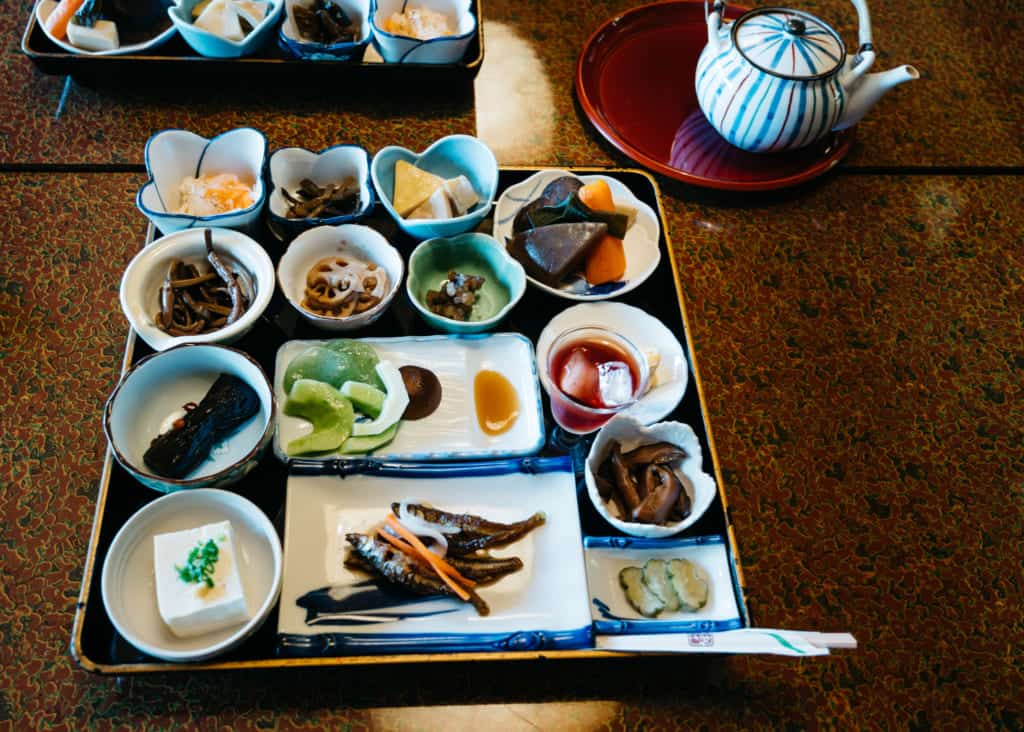 As we ate, we chatted about the cycling company. Aso Kujyu Cycle Tour offers a variety of packages, as simple as rental bikes and equipment for those who want to explore on their own, to full-fledged offroad tours on mountain bikes. Kota-san and Abe-san are willing to customize cycling tours to a great extent based on the physical fitness and riding skills of the participants. When making a reservation, you should explain the type of cycling tour you are interested in, as well as your fitness and skill levels, and they will come up with an appropriate course for you.
I regretted having such an early flight to catch as I would have enjoyed the full 30km downhill cycling experience, but time was growing short. Driving back to the shop on the main highway, it dawned on me how much more of Kumamoto you can see from the saddle of a bicycle, off the beaten path. I couldn't think of a better pair of guys to show me than the guys of the Aso Kujyu Cycle Tour.
Kumamoto: An Outdoor Enthusiast Paradise
A cycling tour is just one of the many outdoor activity options in northern Kumamoto. Ride horseback through the fields on the high plains. Hike in solitude along mountain streams in Oguni, enjoying the changing fall colors. Even take a unique kayaking adventure down an irrigation canal in Kikuchi! With 3 seasons of pleasant outdoor weather, you are sure to discover a way to enjoy the natural beauty of Kumamoto Prefecture.
Getting to the Aso Kuju Area
The attractions of northern Kumamoto are spread across a wide area, so renting a car is the best method of getting around. Car rental is available at all major points of entry like Fukuoka and Kumamoto cities, near Kumamoto airport and major Shinkansen stations. It takes about an hour from Kumamoto Airport and two hours from Fukuoka or Oita Airports.
Aso Kujyu Cycle Tour (Trim Co.)
5621-7 Manganji, Minamioguni, Aso District, Kumamoto 869-2402
Hours: 9:00 – 17:00
Tour availability can vary based on weather conditions. In general, cycling is not available during the winter due to weather conditions. When in doubt, contact the company to get up-to-date information.
Website: http://aso-cycletour.com/
Access to Aso From Other Areas
From Fukuoka Airport: about an 2 hours and 20 minutes by car
From Oita Airport: about an 2 hours and 10 minutes by car
From Kumamoto Airport: about 50 minutes by car