ℹ Advertorial
There are few places where the allure of culture, nature, modernity, and tradition come together as they do in Japan. Go to the thriving mega-capital of Tokyo, and you'll quickly find an embodiment of old-meets-new unlike any you may have encountered before. Sky-high neon-filled entertainment districts sit shoulder-to-shoulder with lantern-lit alleyways and izakaya bars smelling of charcoal-grilled chicken skewers. Or you could easily switch up the scenery with a quick flight to the white coastal islands of Okinawa. Here, you'll get glimpses of ancient Ryukyuan culture and history, sample the local food culture that has famously supported Okinawan people's health and longevity, and bask in beautiful subtropical nature, turning a short visit into an extended peaceful getaway from the city.
As new travel opportunities open up in Japan, we find ourselves looking for the best of Japan's dichotomy of worlds — of old and new, of city and nature — packed into one trip. With Air Canada and ANA airlines' discount tickets and favourable currency rates, getting the best of Japan's two sides is as easy as flying from Toronto to Tokyo in less than one day.
How Long Does it Take to Fly from Canada to Japan?
Travellers from Toronto to Tokyo will arrive at Narita or Haneda International Airports in about 14 hours. Likewise, a direct flight from Montreal to Tokyo takes approximately 14 hours to Narita International Airport, and Vancouver to Tokyo flights take about 10 hours to Narita International Airport. *Toronto flights arrive/depart from Narita or Haneda International Airports, while Vancouver and Montreal flights only arrive/depart from Narita.
From Tokyo, you can easily catch a direct, three-hour domestic flight by ANA Discover JAPAN to Okinawa's capital city ofNaha or Miyako or Ishigaki islands from less than 15,000 JPY (approximately 142 CAD).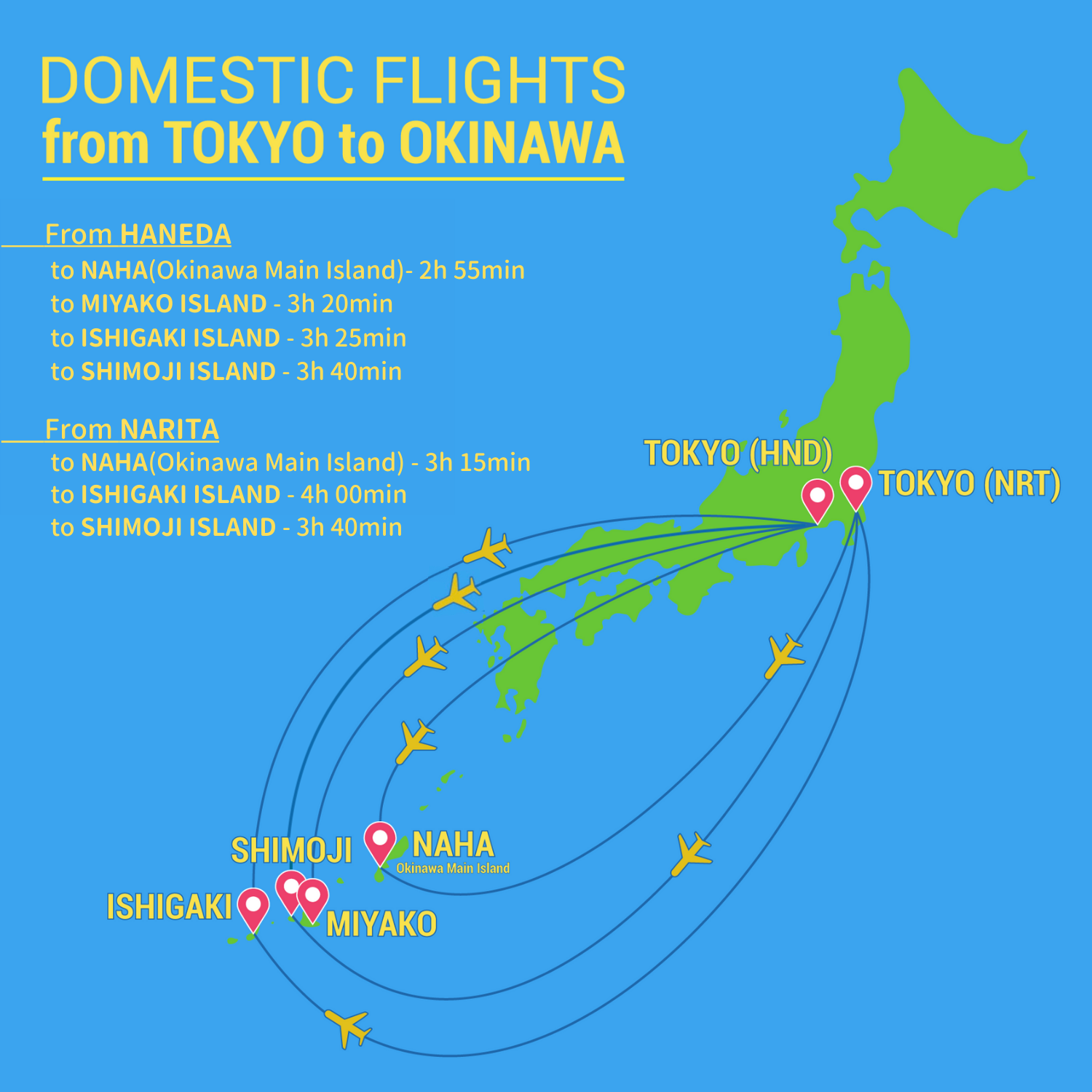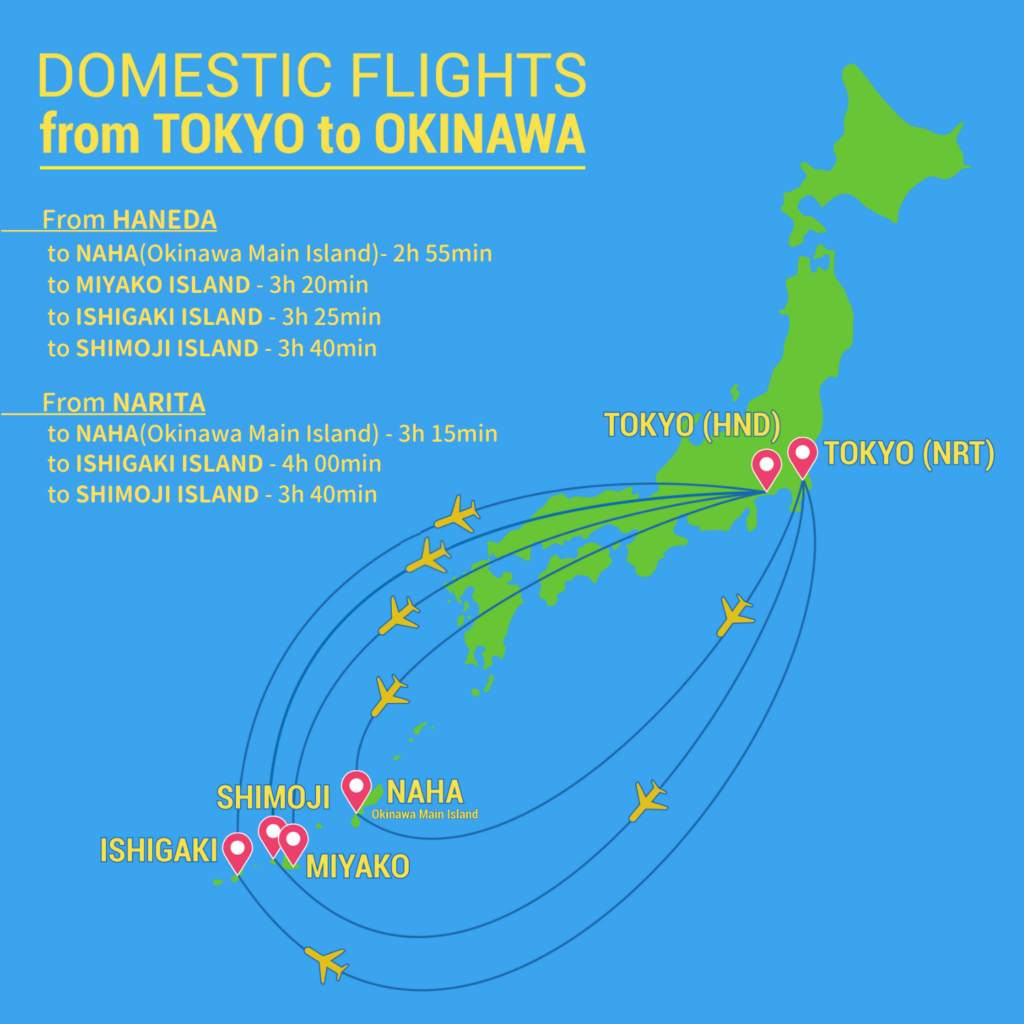 Domestic flights from Tokyo (Haneda Airport) to Okinawa:
Naha: 2h55min (ANA/JAL/SKYMARK/Solaseed Air)
Miyako Island: 3h20min (ANA/JAL)
Shimoji Island: 3h20min (SKYMARK)
Ishigaki Island: 3h25min (ANA/JAL)
Domestic flights from Tokyo (Narita International Airport) to Okinawa:
Naha: 3h15min (ANA/Peach(LCC)/Jetstar(LCC))
Shimoji Island: 3h40min (Jetstar(LCC))
Ishigaki Island: 4h00min (Peach(LCC))
Note:
*Shimoji Island route is not included in the ANA Discovery JAPAN Fare.
*Flights between Narita and Shimoji Island are suspended for winter 2022
Tokyo: Old-Meets-New in Japan's Capital City
Over 400 years ago, Tokyo, then called Edo, was established as the capital and center of politics and culture. Since then, the city has grown into a metropolis of over 14 million people, where artifacts of Japan's traditional development still exist in near-perfect harmony throughout the modern city landscape. Here are just some things Tokyo has in store for you during your visit.
Five-Storied Pagoda: Asakusa's Historical Landmark
After you land, step off the plane, head past the city's soaring towers, and into the old district of Asakusa for your first introduction to old Japan. Once Tokyo's entertainment district, this popular tourist destination is also home to one of the capital's historical landmarks: Senso-ji Temple (浅草寺) and its Five-Storied Pagoda.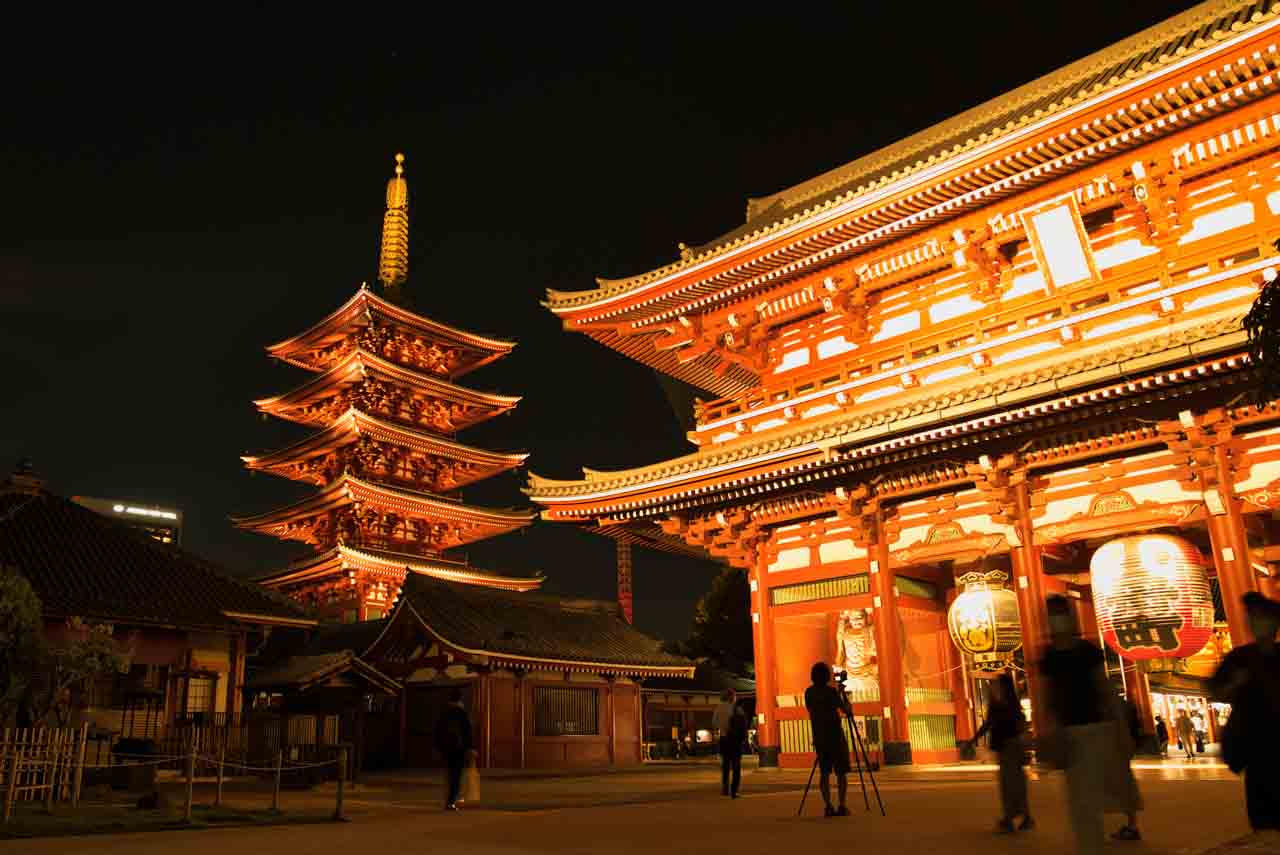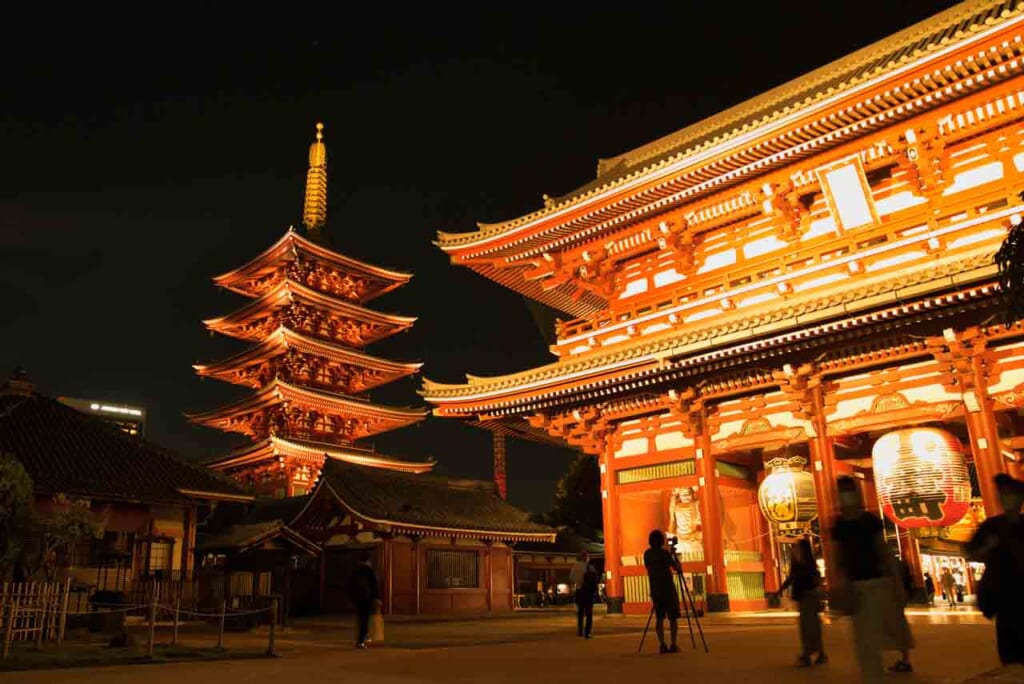 This stately Five-Storied Pagoda is dedicated to Sho Kanzeon Bosatsu, the Goddess of Mercy. It was originally built in 942 A.D. and rebuilt after consecutive fires, natural disasters, and finally, Second World War air raids left the area heavily damaged. While a day visit will surely impress upon you the grandeur of the Five-Storied Pagoda, at night you'll be rewarded with nighttime spotlights illuminating the pagoda's architectural intricacies with virtually no crowds, so you can better appreciate this historical site.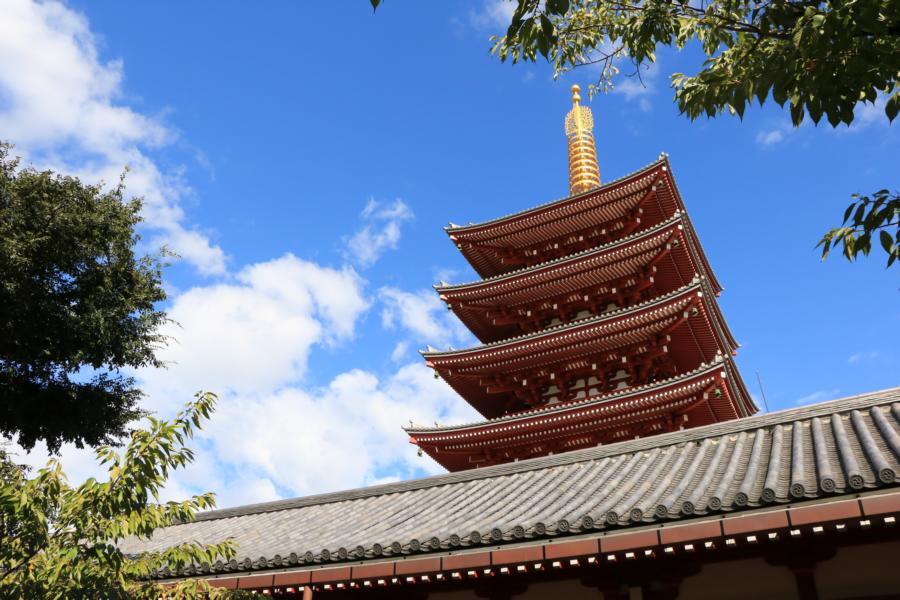 Tokyo Tower: A Modern Icon for a New Japan
Just as Senso-ji's Five-Storied Pagoda is a testament to Japan's preservation of tradition, Tokyo Tower became a beacon inspiring a bright future for Tokyo's modern era. Built in 1958, this 333-meter-tall landmark rises above the surrounding cityscape as one of the most popular tourist spots in the city.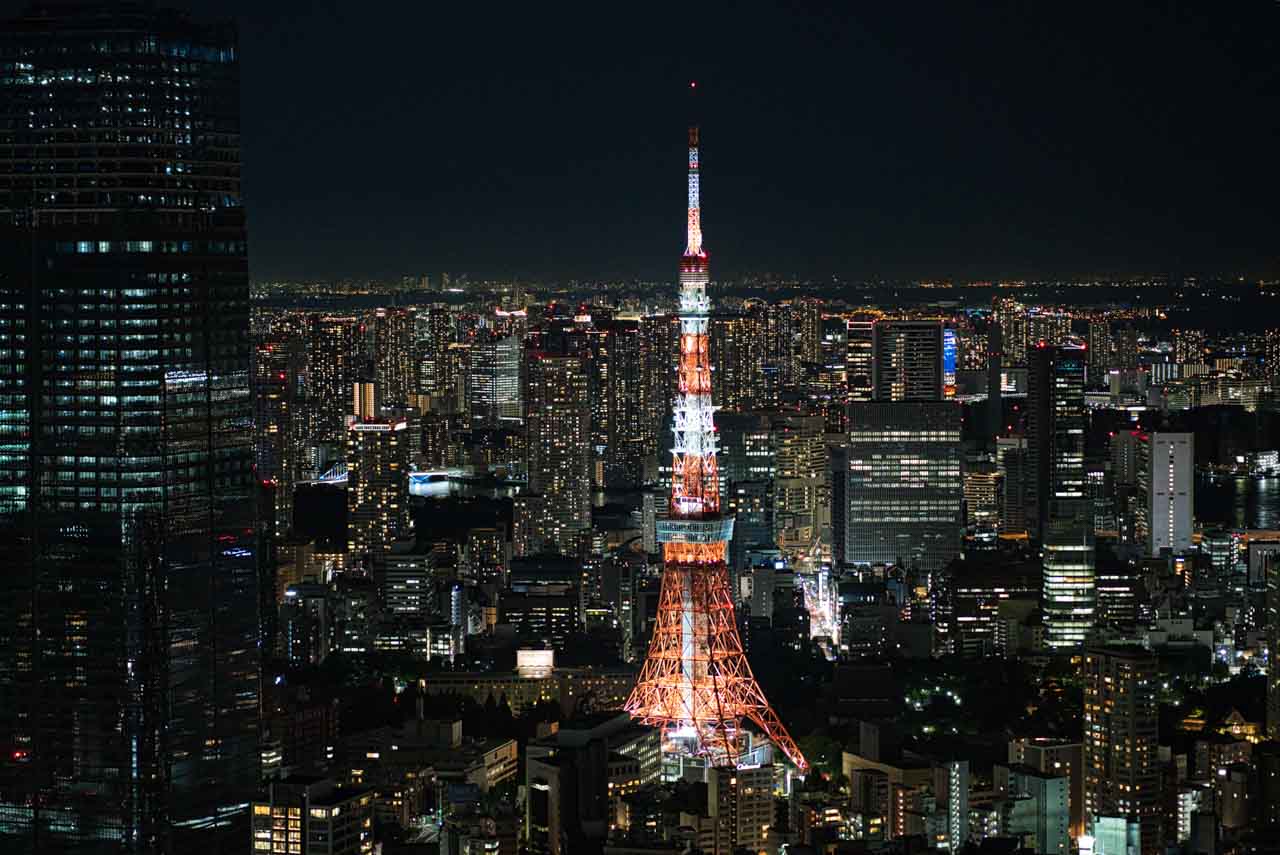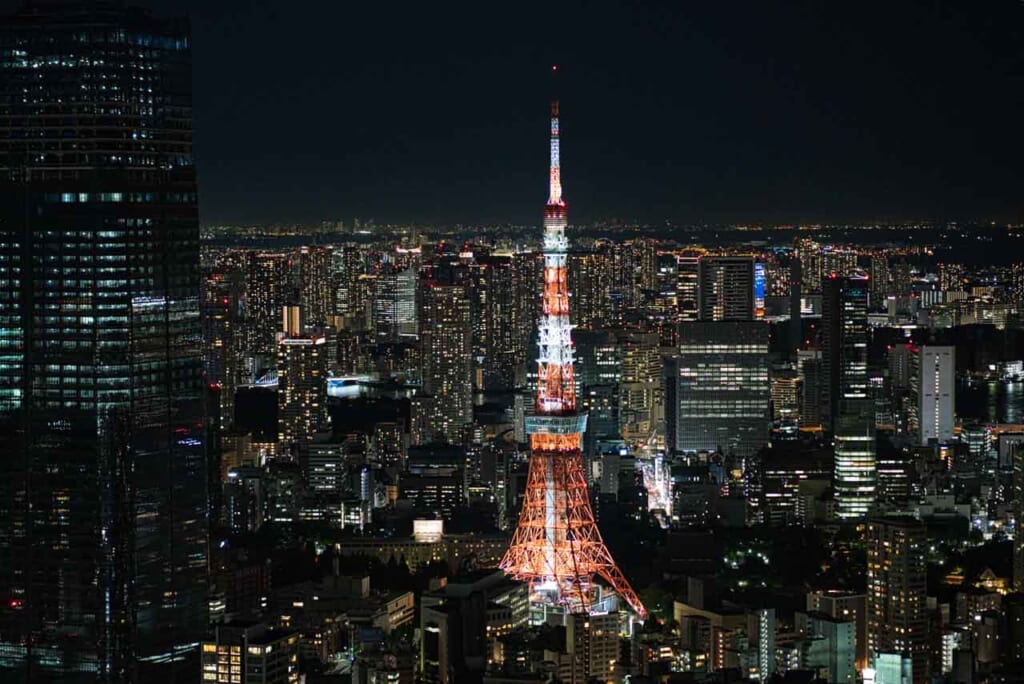 The five-story building under the tower houses an e-sports park, restaurants, and shops. From here, take the elevator to the two observation decks on the top floors, where you can truly appreciate the view of Tokyo's dense urban landscape stretching to the horizon, evidence of a thriving modern era for the city.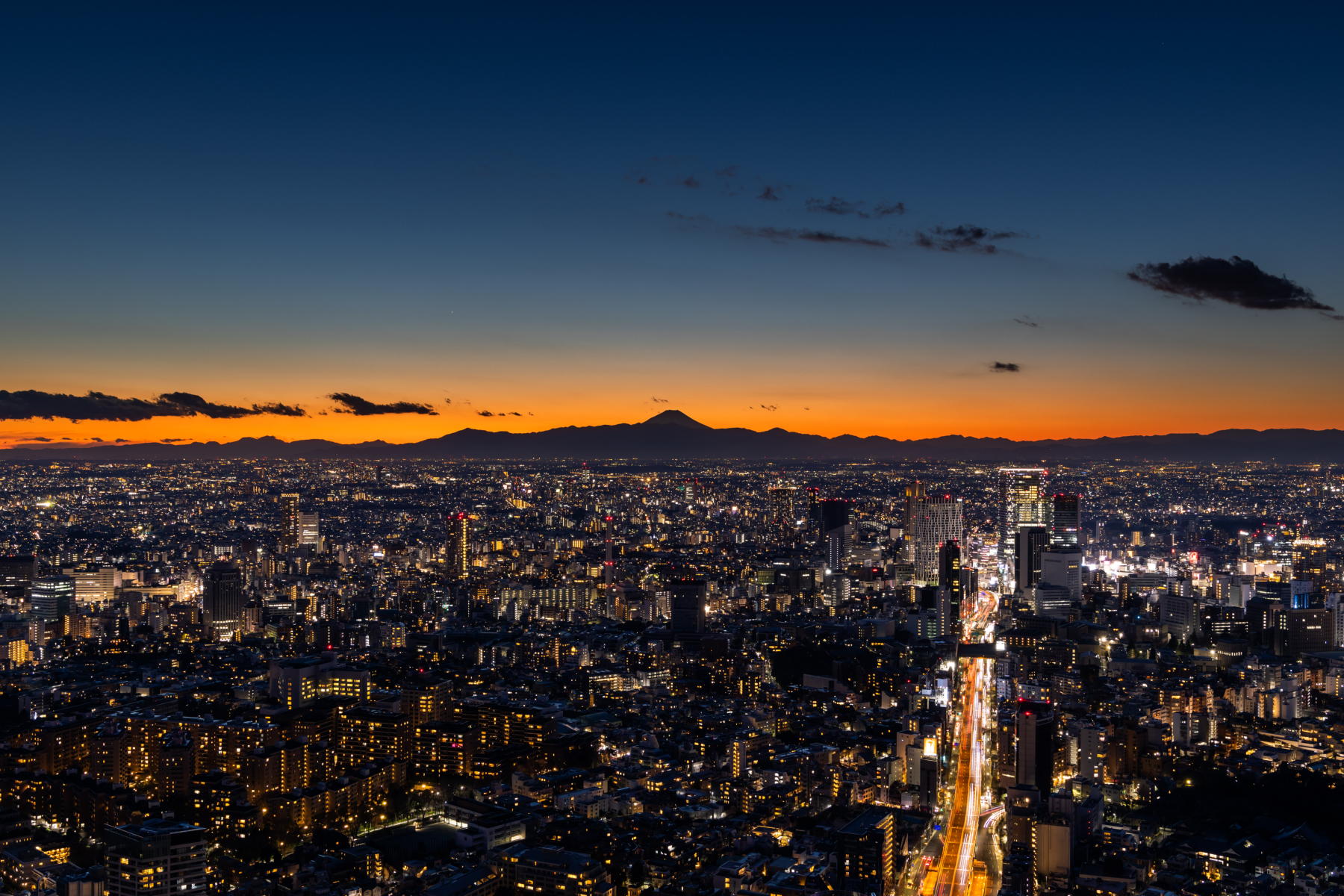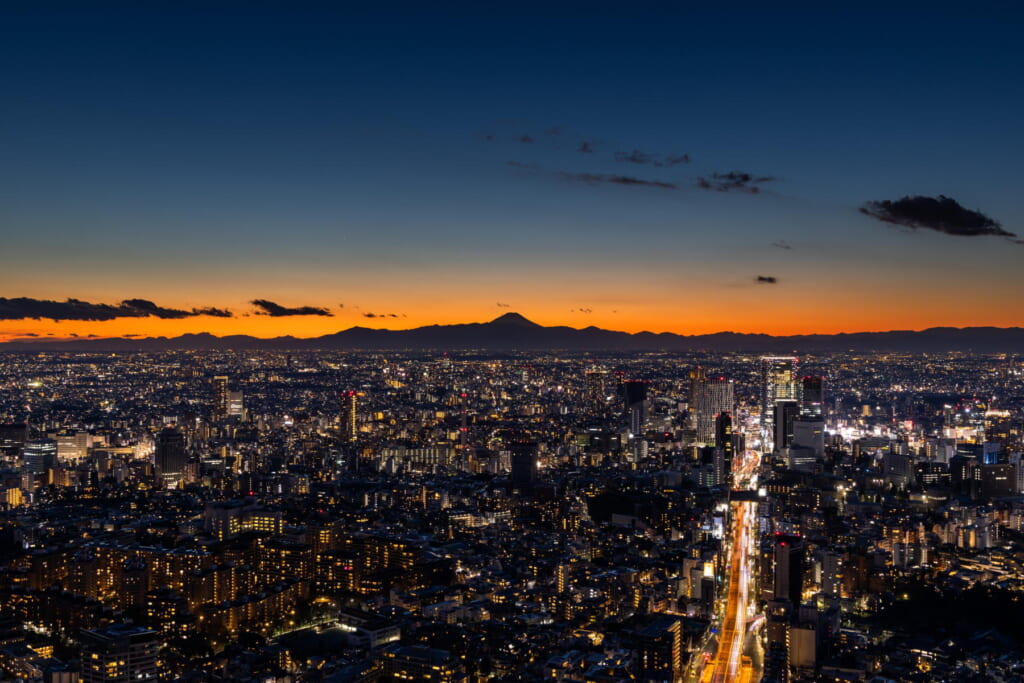 Sumida Hokusai Museum: Ukiyo-e and Contemporary Architecture
Next, head to the Sumida Hokusai Museum for a glimpse into the art and life of Japan's most famous ukiyo-e printmaker, Hokusai Katsushika, who lived during the mid-18th to 19th century. During his prolific career as an ukiyo-e printmaker, Hokusai created a large number of print designs in his Sumida Ward studio, including one of his most well-known, The Great Wave off Kanagawa.
You'll immediately be struck by the museum's ultra-contemporary architecture by Kazuyo Sejima, who designed this four-story museum to be approachable from all sides, with gentle slits dividing the buildings.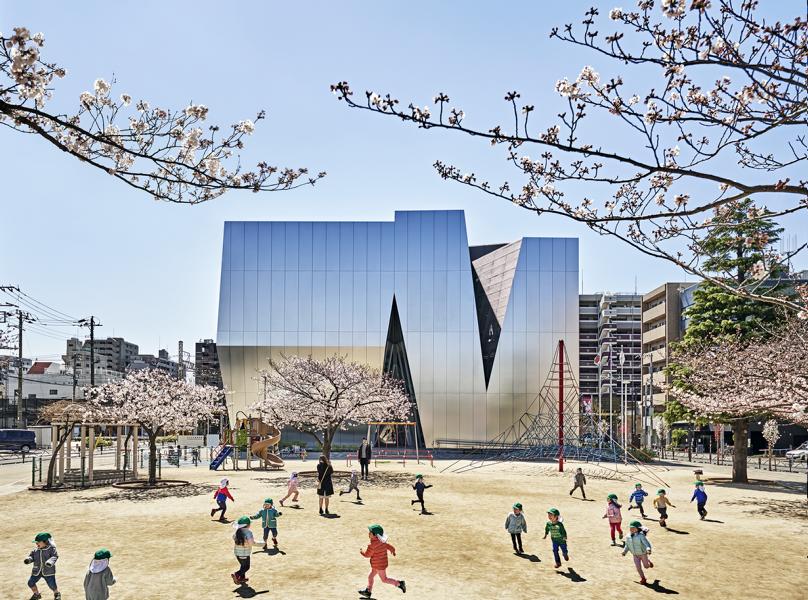 On the fourth floor is a permanent collection featuring a comprehensive view of how the master printmaker lived, with multilingual panels, high-quality replicas of Hokusai prints, and a model of Hokusai's Sumida Ward art studio. The third and fourth floors host temporary exhibitions, in which works by the master and his disciples are displayed according to different themes. You'll have to pay an additional fee, but seeing the ink, textures, and paper of a real-life Hokusai print is one that can't be replicated in any digital image andiswell worth the fee.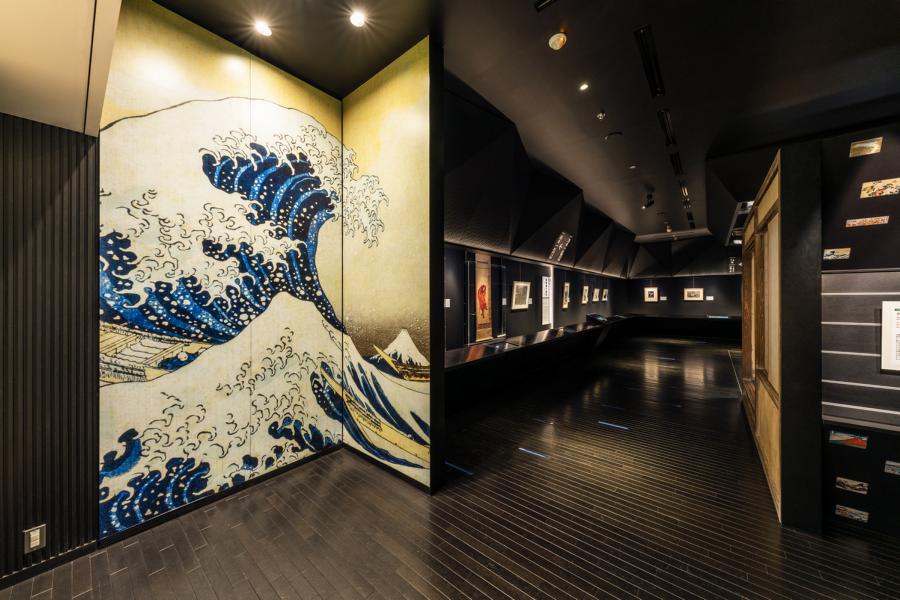 MANGA ART HOTEL, TOKYO: An Overnight Stay in Manga-Lovers' Heaven
If manga is already your daytime obsession, MANGA ART HOTEL, TOKYO invites you to spend the whole night indulging in your passion, catching up on your favourite characters or rediscovering new ones from the comfort of your bed. This novelty capsule hotel provides a wide selection of manga at your fingertips, on two floors of over 5,000 books displayed pristinely on contemporary white shelves in shared rooms.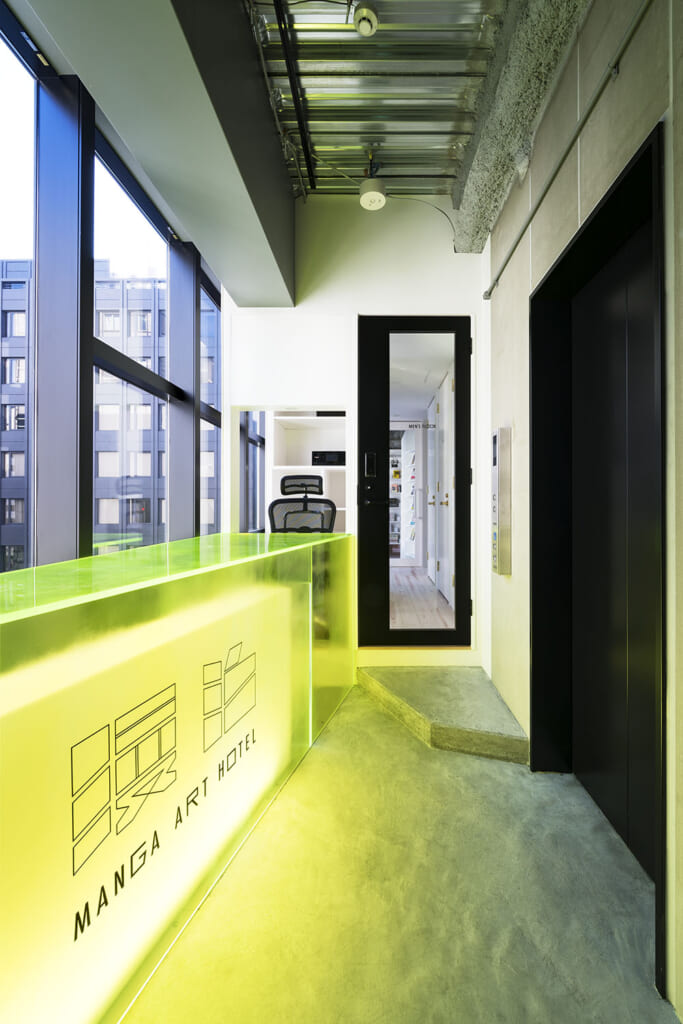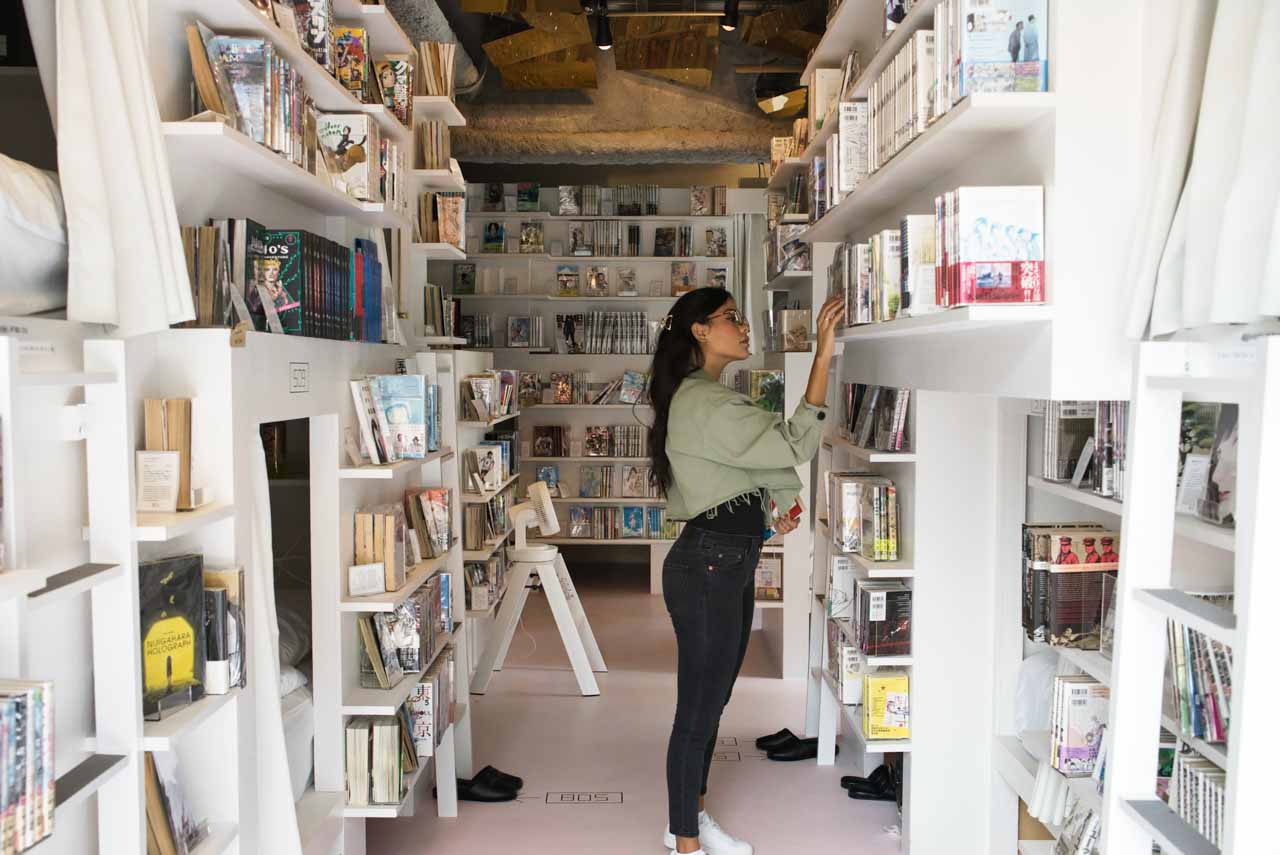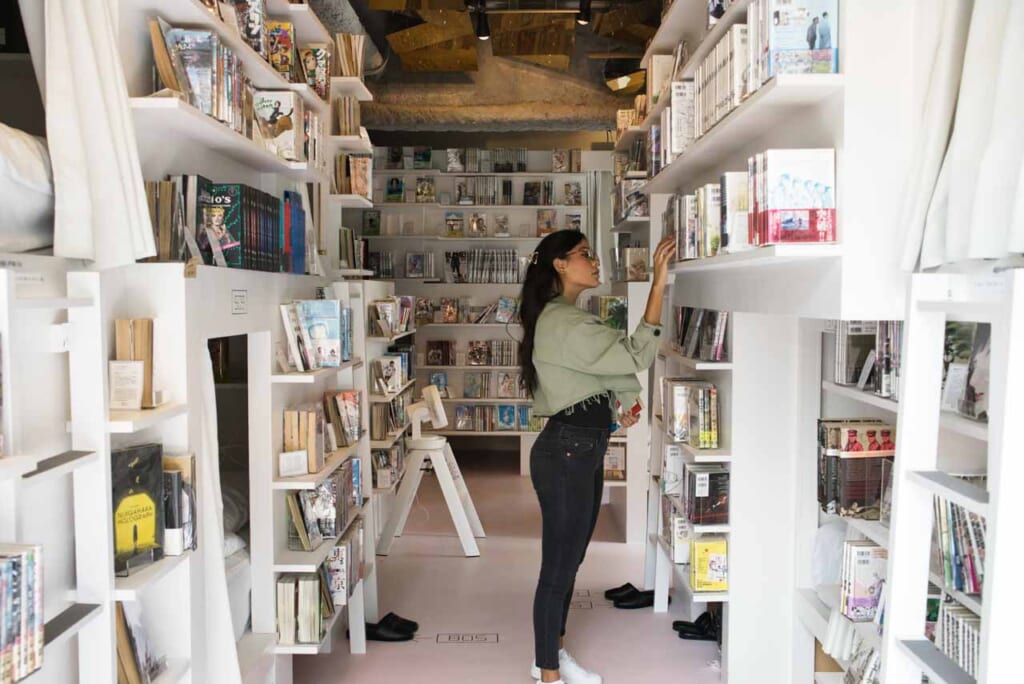 Each floor is separated by gender, with enclosed capsule-style pods built among the hotel's manga display shelves, floor-to-ceiling windows, and a balcony facing Tokyo's brilliant cityscape. Peruse the manga collection, pick your book, and sink yourself into one of the balcony chairs or your own capsule space with curtains for privacy. With all the manga to read, you may not have time to sleep!
Okinawa: Cultural & Historical Union of Nature, Cuisine, and Ryukyu Heritage
While you could easily spend the rest of your Japan visit in the capital city, one direct three-hour flight to Okinawa via ANA airlines will leave you equally spellbound with its subtropical coral reef beaches, nutrient-dense island cuisine, and its ancient Ryukyu Kingdom heritage so uniquely Okinawan. For 450 years, the Ryukyu Kingdom ruled the Okinawa islands, flourishing as an independent nation, until the kingdom became a fiefdom under Japan, and then was designated as Okinawa Prefecture by the Meiji government in the late 19th century. However, visitors can still see the remnants of Ryukyu's royal dynasty at the Shikinaen Royal Garden.
Shikinaen Royal Garden: Residence of Okinawa's Ryukyu Royal Family
The Shikinaen Royal Garden (識名園) was constructed at the end of the 18th century. It was the second residence of the Ryukyu royal family and was used to entertain visiting foreign representatives of the Chinese Emperor, in order to nurture long-lasting trade relations between the two nations. While the garden evokes a Japanese-style garden layout centred around a pond, the red roof tiles of the villa are distinctly Okinawan in flavour, along with a Chinese-style arched bridge leading to a pavilion of Chinese design. In 2000, Shinkinaen was added to a list of UNESCO World Heritage Sites. Its magnificent garden, Ryukyu-style villa, and Chinese architectural details make it easy to imagine the Kingdom's vibrant cultural diversity.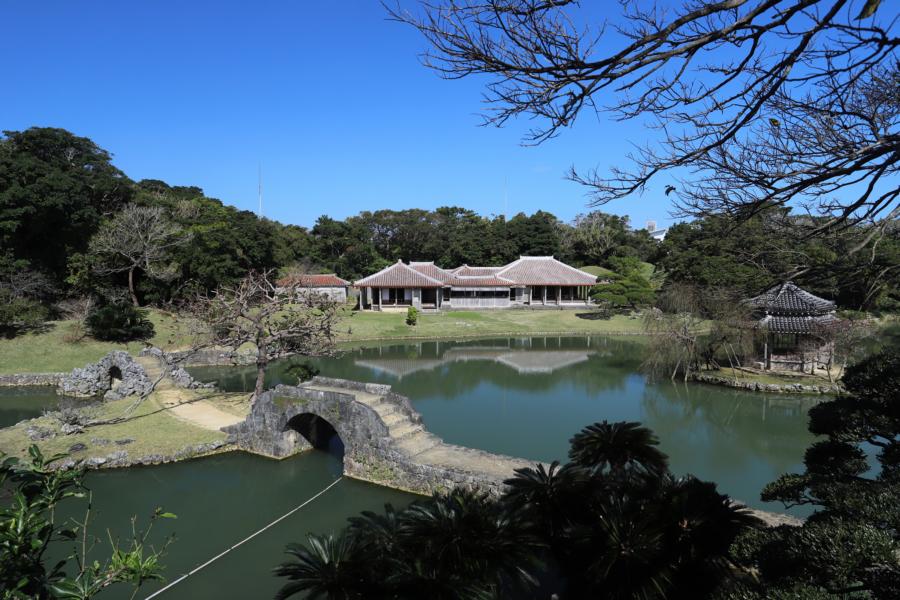 Practice Okinawa's Epitome Art Form at Yagi Karate Dojo
While in Okinawa, don't miss out on the chance to slip into a gi and experience one of the islands' epitome art forms: karate. Okinawa is the birthplace of this martial art, after all, and there is no better place to get a taste of traditional karate spirit than at Yagi Karate Dojo. Nearly 130 million karate enthusiasts practice karate worldwide, some even practicing under one of Yagi Karate Dojo's 70 training centers in 20 countries. Each karate workshop is tailored for participants of all ages, where you'll learn not only the movements that encompass the karate sport but to embrace the spiritual exercise of karate. With the guidance of your sensei, the act of moving your body to karate's long-standing techniques will naturally guide you to clear your mind, enter into a state of concentration and introspection, and ultimately, teach us the heart of karate that forms part of Okinawa's soul and lifestyle.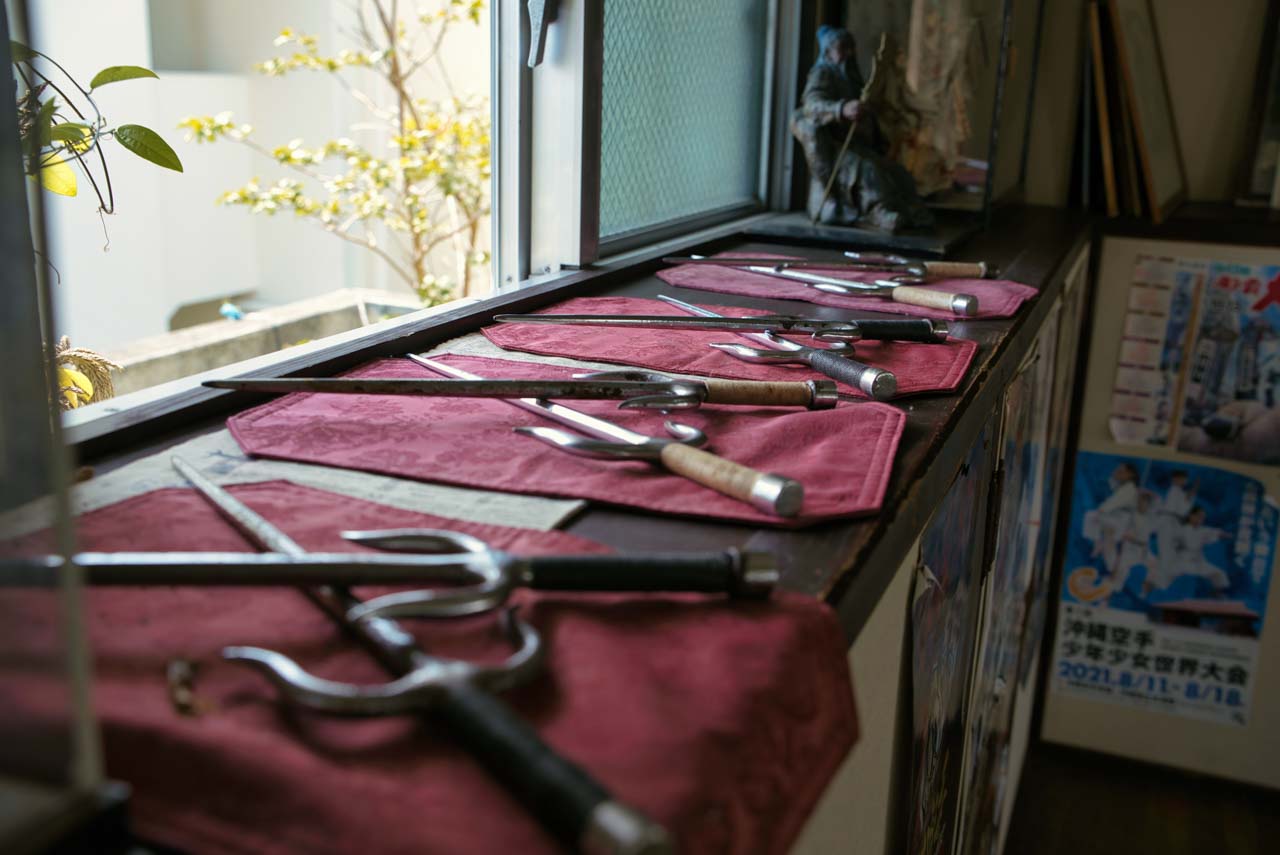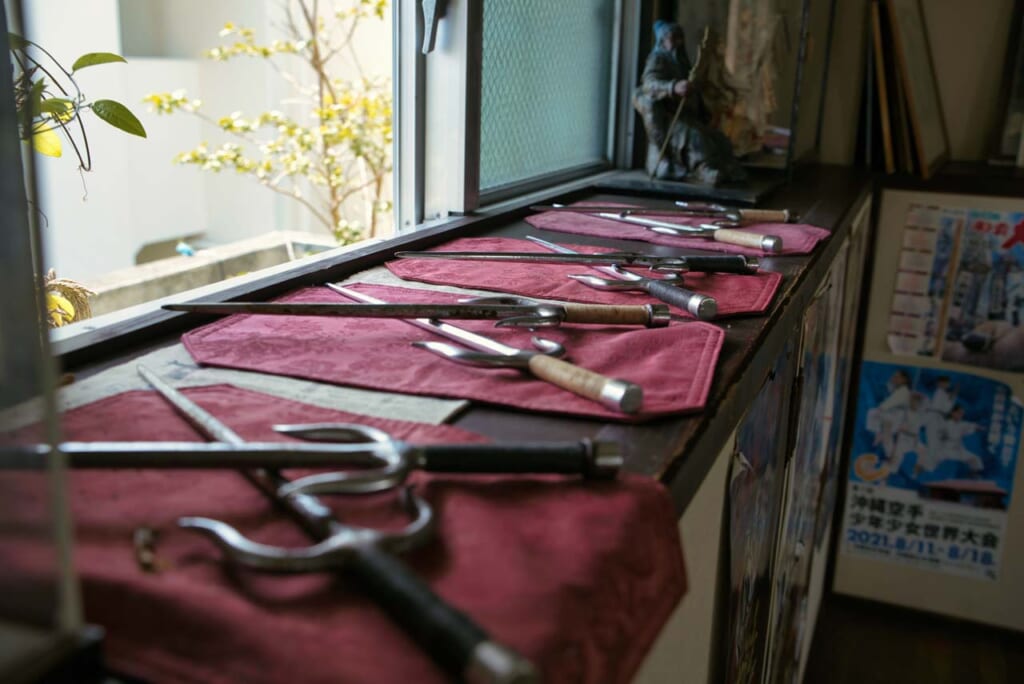 Dive into the Blue Sea around the Kerama Islands
For a day of tropical island breezes while gliding over azure waters, take a one-day boat diving trip to the smaller Kerama islands west of Okinawa's main island. These small islands comprise the Keramashoto National Park, surrounded primarily by coral reef-filled waters so clear that you can see colourful fish in the water's depths. Numerous dive shops with English support take guests on guided diving or snorkelling tours to explore the marine wildlife of Kerama. Come winter, you may catch sight of humpback whales on their annual migration to these subtropical waters.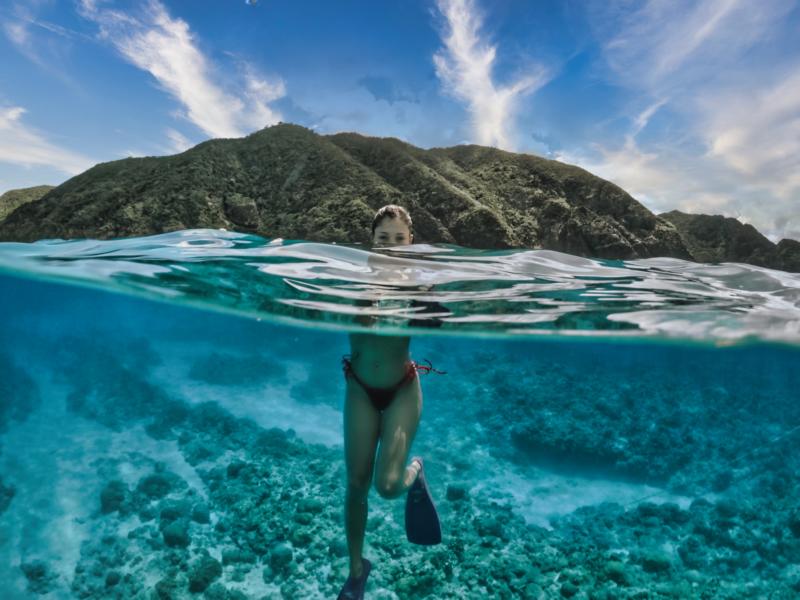 Feast Like a Royal on Ryukyu Cuisine at Suitenrou
The islands of Okinawa are part of the "Blue Zone," a term designated for populations with higher levels of life expectancy than the global average. Okinawan cuisine is undoubtedly part of the equation to the islanders' longevity. At Suitenrou, Ryukyuan cooking and performance go hand-in-hand in a superb dining experience that's fit for royalty, with a 500-set capacity to entertain the whole Ryukyuan royal family.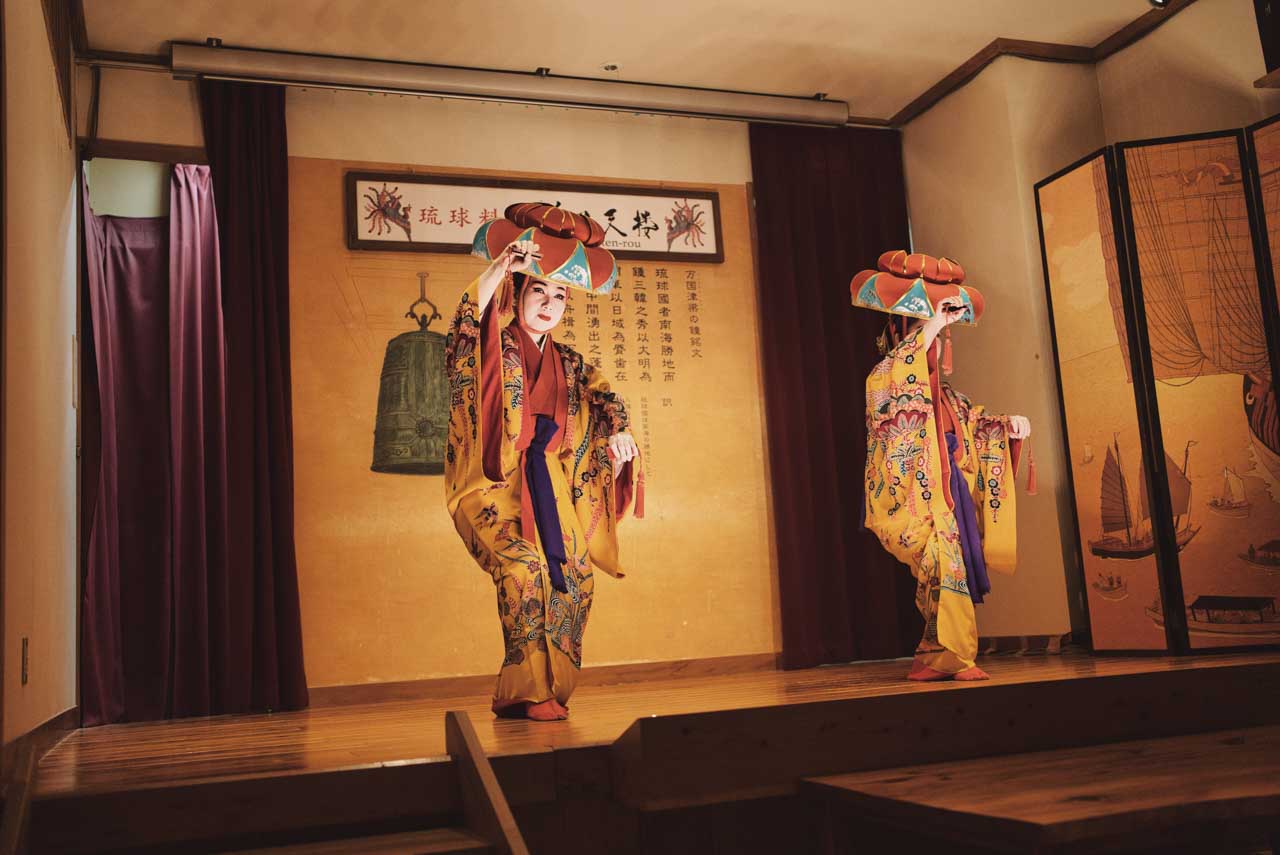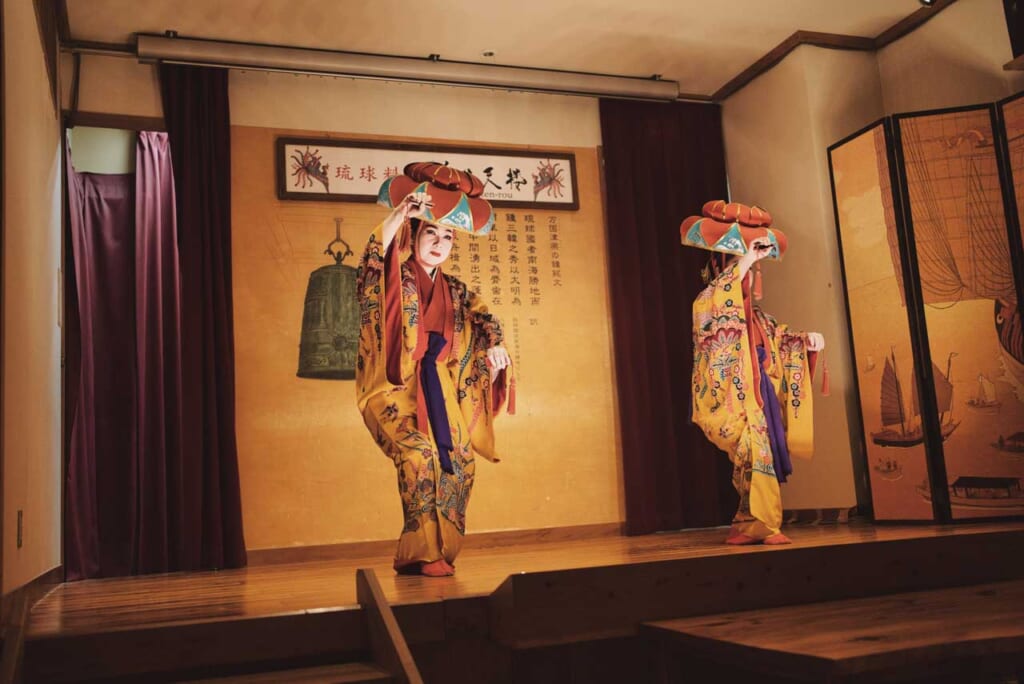 As Okinawa is also known as the "Island of Performing Arts," your Suitenrou dining experience is paired with live traditional Ryukyuan dance and music performances. Deep roots in Chinese trade and visiting Japanese magistrates create a culinary marriage mixed with Okinawan ingredients, producing a unique Ryukyuan cuisine, enjoyed at royal events, ceremonies, and entertainment from the dynasty era.
Fly the Happy Route: Canada to Tokyo and Okinawa
The Air Canada ticket rates to Japan display the best fares based on availability at the time of your search and will mainly show tickets to Tokyo. To purchase Canada-to-Okinawa flights, enter Naha (OKA) as your destination in the search box.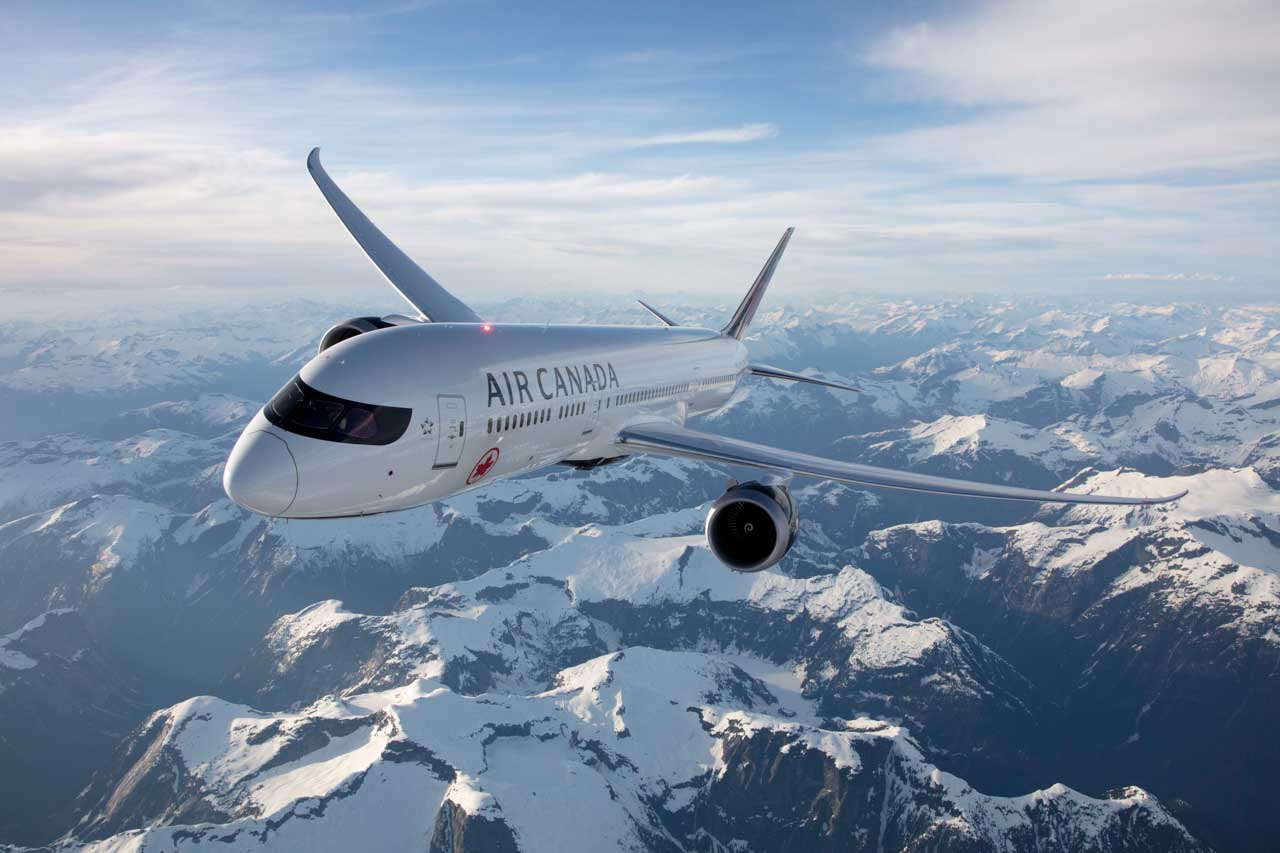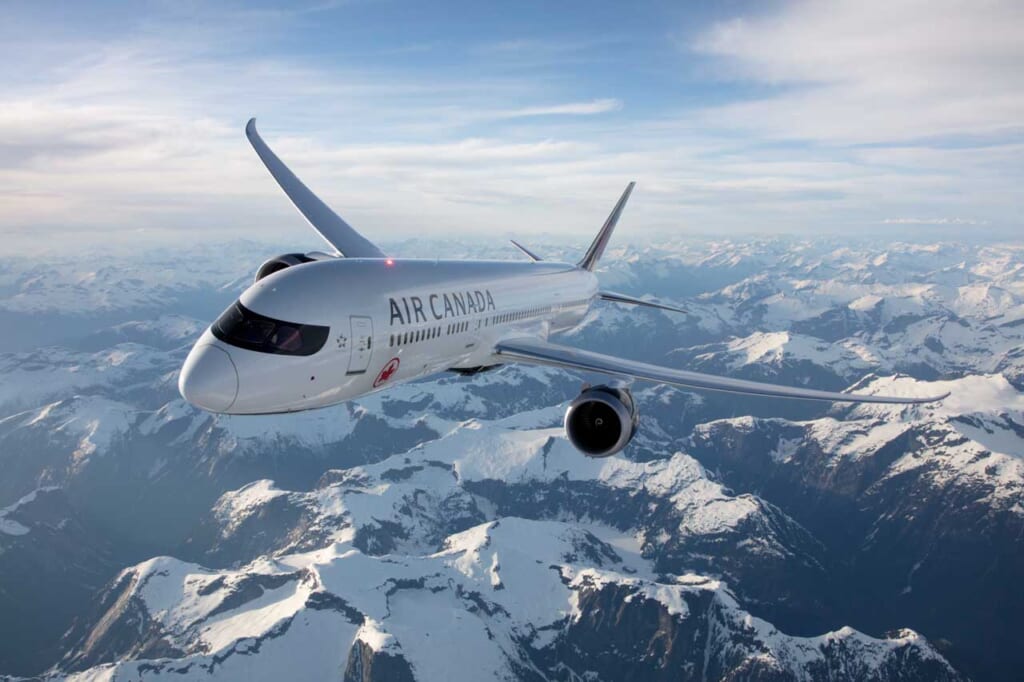 Purchase your special domestic fares from Tokyo to Okinawa on the ANA website, at ANA offices outside Japan, or travel agencies. Direct flights to Naha, Miyako, and Ishigaki take approximately three hours. This exclusive deal is valid until October 28, 2023, and tickets are available for purchase up to 355 days before your departure date. Furthermore, you can purchase domestic travel separately, even after your international ticket has been issued, or once you are in Japan. Not included in this deal, but still worth a visit is Shimojishima, which can also be reached within three hours.
Covid-19 Countermeasure Information: English-language hotlines are available in case of infection (Tokyo: ☎ 0570-550-571; Okinawa: ☎ 0570-050-235 ). Please note that many venues and accommodations will provide alcohol for hand disinfection and may request a temperature check before you proceed. We highly encourage you to follow Japan's standard anti-Covid rules, including wearing a mask indoors and in crowded places.
Direct flights from Canada give you the best of Japan's twin worlds, from the megalopolis of Tokyo to the subtropical islands of Okinawa. Experience the lavish and aesthetic world of imperial Japan, then hop across the street into ultra-modern Japan with its slick contemporary design sporting every conceivable modern convenience. If you need a little tropical sun, simply skip over to Japan's paradise islands of Okinawa, all with the best fare rates from Air Canada airlines and special domestic fares from ANA Discover Japan.

Article sponsored by and photographs courtesy of Okinawa Convention & Visitors Bureau and Tokyo Convention & Visitors Bureau