From the picturesque canals of Kinosaki Onsen to Amanohashidate's pine-covered sandbar, the Kitakinki (北近畿) region has everything necessary to make it onto Japan's "top 10 places to visit" lists. While these two destinations may be the region's most famous, a deeper dive into Kitakinki reveals a rich offering of unique experiences, from kayaking in crystal blue waters along a UNESCO Global Geopark to an overnight stay at a silkworm farmhouse-turned luxury accommodation.
Originally Kitakinki was made up of the four ancient provinces of Tango (丹後国), Tajima (但馬国), Tamba (丹波国), and Wakasa (若狭国), which now occupy parts of Hyogo, Kyoto, and Fukui prefectures. Due to this region's geographical and historical breadth, you can find both big-name destinations easily accessible by train and drive to off-the-beaten-path locations, as Kitakinki delivers the best of both worlds.
Visit the Historic Fukuchiyama Castle
Heading further north of Kyoto is the modest-sized Fukuchiyama Castle Tower, a reconstruction based on the 1580 castle built for feudal lord Akechi Mitsuhide. Today Fukuchiyama-jo Tenshukaku (福知山城天守閣) exhibits a collection of artifacts including samurai armor, swords, and woodblock prints.
The castle's summit offers an excellent panoramic view of Fukuchiyama city. I ended up scaling the castle twice (once while the sun hid behind clouds, and again when it made a sudden appearance) just to enjoy the magnificent view to its fullest.
Access: Fukuchiyama (福知山) is 1 hour and 20 minutes from Kyoto, and 1 hour and 40 minutes from Osaka by limited express train. From Fukuchiyama Station, it's about a 15-minute walk to the castle.
Walk Through Tamba's Historic Kaibara Castle Town
West of Kyoto in ancient Tamba province is the quaint Kaibara Castle Town (柏原城下町), home to descendants of Nobunaga Oda, the "First Unifier" of Japan, who built this feudal domain. Ironically, no castle ever existed, although the 1800's European-style architecture, wooden "Taiko Yagura" drum towers, and a grand residence for Kaibara's feudal lord still hit all the notes of an older, eclectic Japanese esthetic.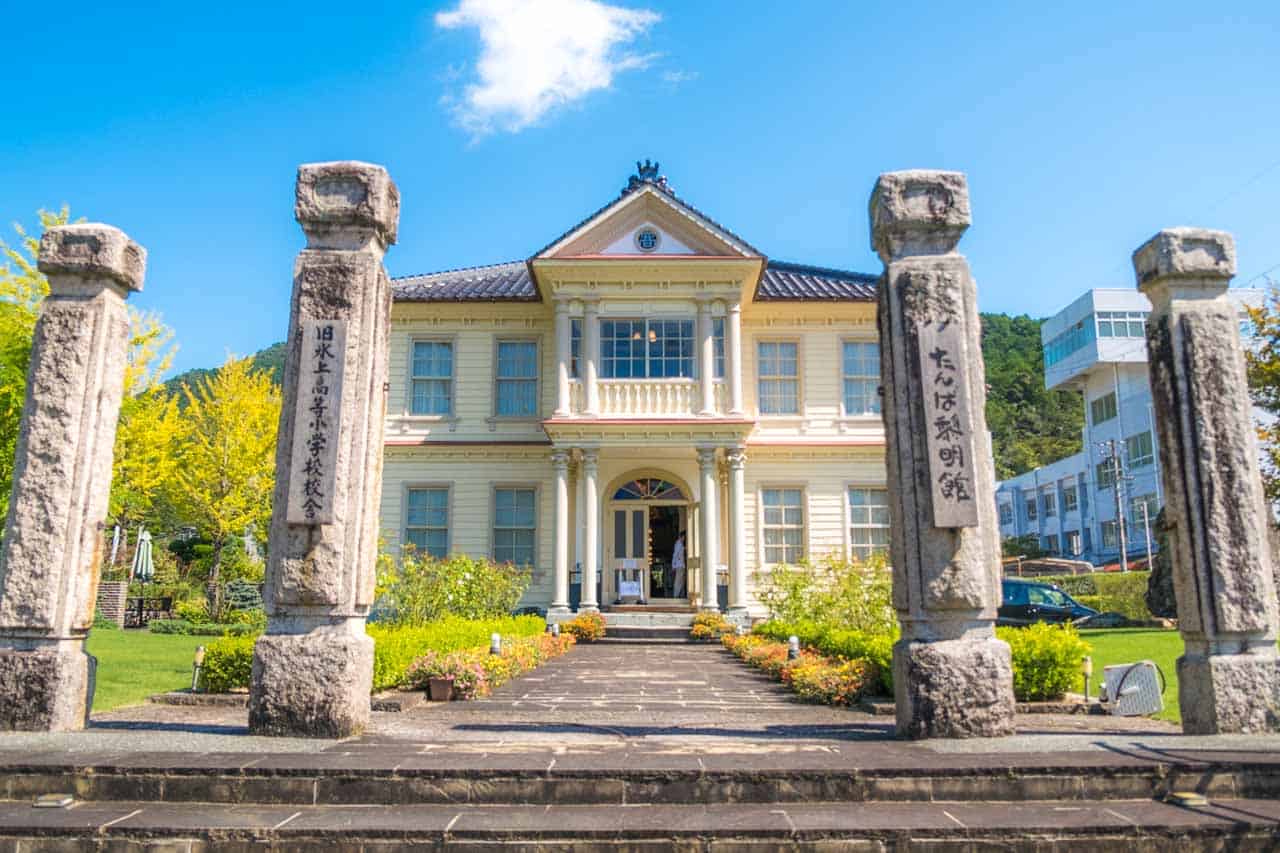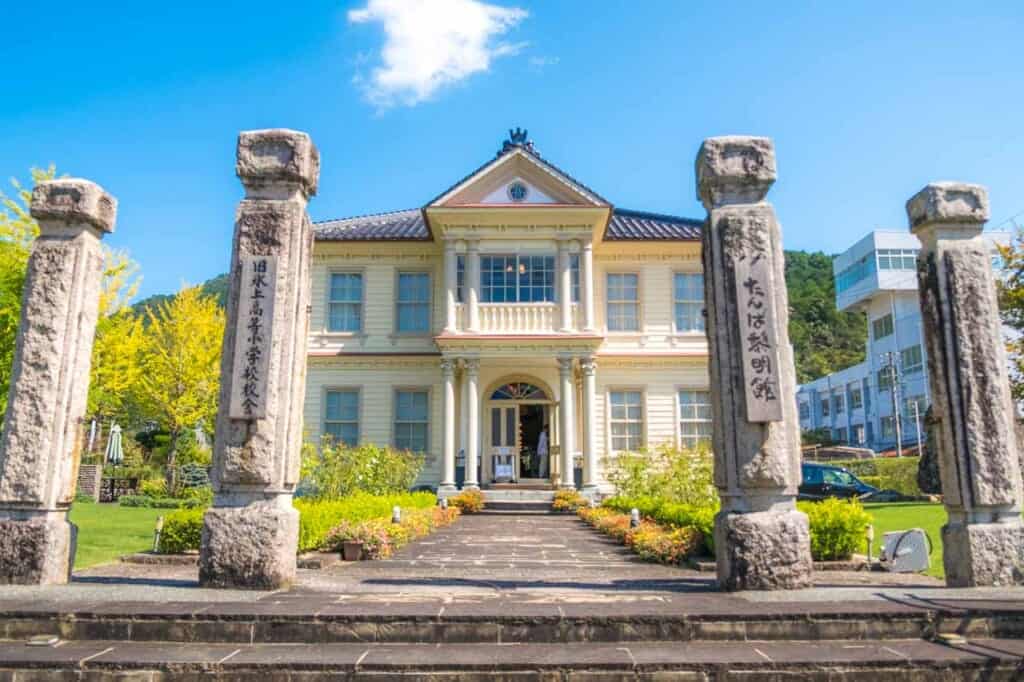 One of my greatest regrets during my visit was not trying one of the chestnut cakes topped with Tamba's autumn king-sized chestnuts — if given the opportunity, never skip a tasty seasonal treat.
Access: From Fukuchiyama Station, a local train connects to Kaibara (柏原) in about 30 minutes.
Stay in a Traditional Japanese Silkworm Rearing House at Oya Osugi
Further northwest into the old Tajima province and Hyogo prefecture lies Oya Osugi (大屋大杉), a beautifully renovated 130-year-old sericulture silkworm farmhouse. This three-story post-and-beam structure within Osugi town and its once-thriving silkworm industry is a historic property transformed into a tastefully renovated lodge with all the amenities of a high-class hotel.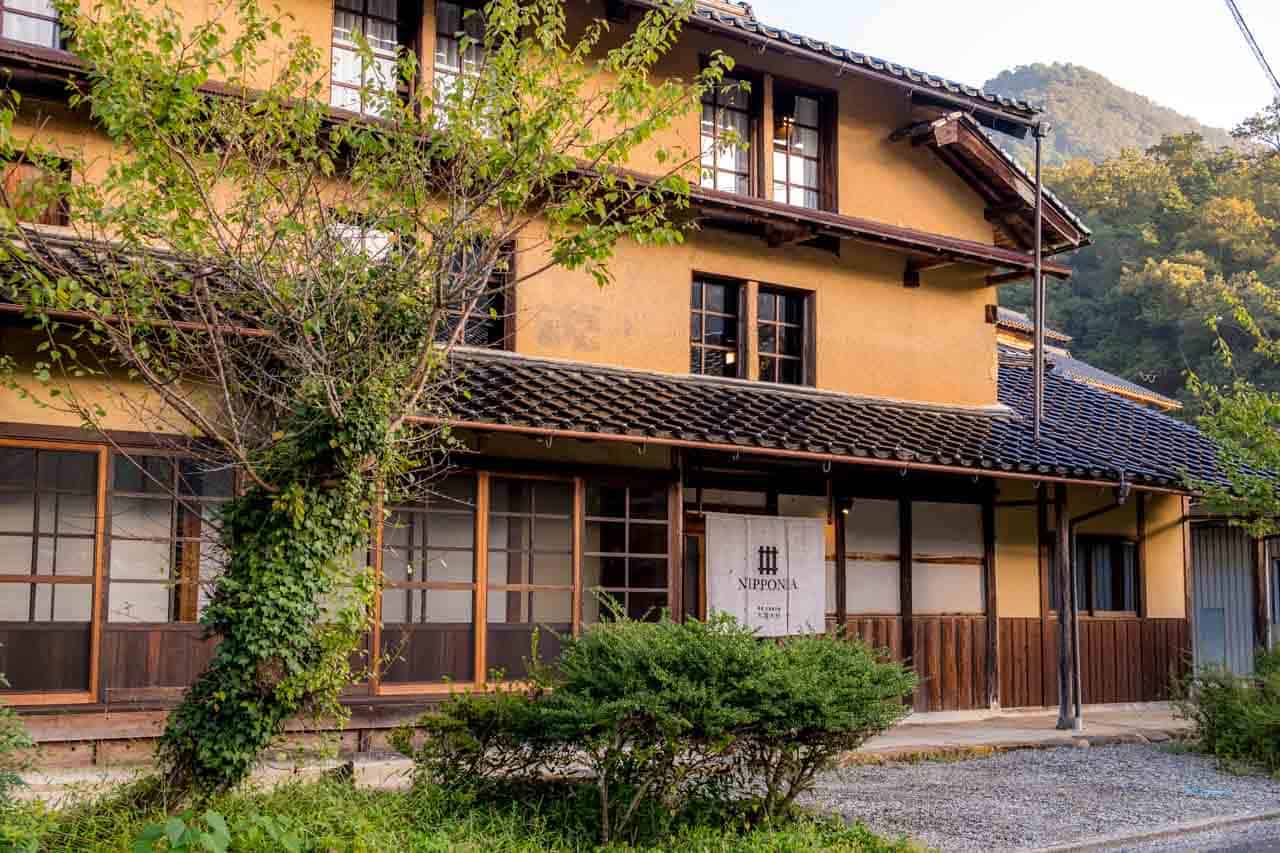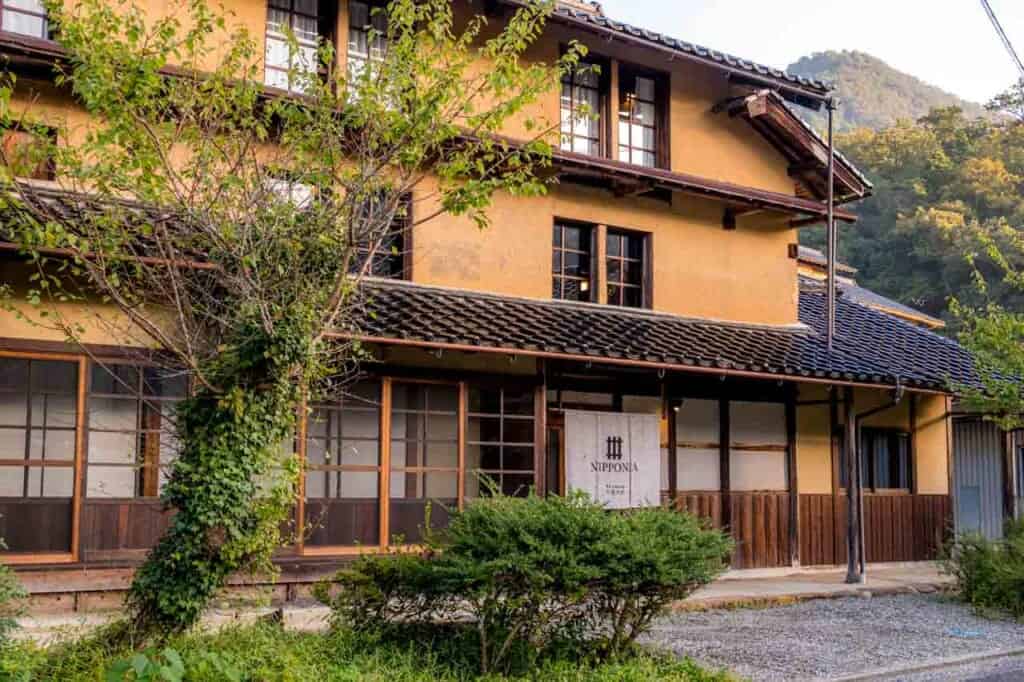 At Oya Osugi, dinner is a seasonal affair, featuring ingredients harvested by local farmers. Each dish was impeccably prepared, and the chef regaled me with stories of how the local ojisan (grandpas) caught the fresh eel and managed to farm 46 varieties of figs.
Access: From Fukuchiyama Station, JR trains connect to Yoka (八鹿) in about 40 minutes. From Yoka Station, a bus goes to Oya (大屋) in about 40 minutes. From there, another very short bus ride to Uriwara (瓜原) will take you within a few minutes' walk to Oya Osugi.
Kayak at Takeno Snorkel Center Near Kinosaki Onsen
Heading east to the Tajima region, home of the ever-popular Kinosaki Onsen (城崎温泉), you can kayak from Takeno Snorkel Center (竹野スノーケルセンター) out into azure waters, past dramatic rock formations of the UNESCO-designated San'in Kaigan Geopark.
This geopark spans Kyoto to Tottori prefectures' coastlines and is known for its geologically diverse land formations of sedimentary and volcanic rock layers, some of which you can see up close from your kayak. Certified instructors are on hand to offer those with little to no experience an easy crash course on kayaking basics, before venturing out from Takeno Beach.
Access: Access: From Fukuchiyama Station, the Kounotori Limited Express train connects to Kinosaki Onsen in about 1 hour. From Kinosaki Onsen Station, it's a 10-minute train ride and a 20-minute walk to Takeno Snorkel Center.
Enjoy Contemporary Architecture, Children's Illustrations, and Tango Cuisine at Wakuden no Mori
East of Kinosaki lies Tango Province, best known for the pine-covered sandbar of Amanohashidate (天橋立). Not far away, Wakuden no Mori restaurant and museum offers a peaceful retreat from some of the more bustling locations combining art, modern architecture, and food.
One of Wakuden no Mori's icons is the striking modern structure of Mitsumasa Anno Art Museum, designed by world-renowned architect Tadao Ando. This museum exclusively showcases the work of illustrator Mitsumasa Anno, known for his delicate watercolors and pen illustrations for children's books. During my visit, a collection of delicate English and Japanese watercolor landscapes was on display, along with whimsical illustrations of foxes, bears, and other creatures frolicking in the forest. As a hobbyist illustrator myself, I could have happily browsed through the collection for hours.
The nearby Wakuden no Mori restaurant offers an eclectic selection of Tango specialties. My lunch of Tango sushi with brown rice, goya bitter melon, and pickled onions hit the right savory notes, while the simpler scrambled egg and shirasu (whitebait) on rice will equally satisfy any hungry belly. Lastly, a self-guided tour through Wakuden's spacious grounds is the perfect way to end your visit. After lunch, I took a relaxing meander past diverse tree groves and up to the Kumihama Kobo workshop to take a peek at the creation of seasonal confectioneries made especially for Wakuden's souvenir shop.
Access: From Fukuchiyama Station, take the JR limited express train "Hashidate" to Miyazu (宮津, 30 minutes), then transfer to the Tantetsu Miyamai-Miyatoyo line to Mineyama (峰山, 30 minutes). From Mineyama Station, take the Tankai bus (丹海バス) to Tanikogyodanchimae (谷工業団地, 30 minutes). From there, walk up the slope on the left and you will see the entrance to Wakuden no Mori.
Near Amanohashidate: Himono Fish Drying, Historic Sake Brewers' House, Miyazu Nightlife District
If you're near Amanohashidate and want to chow down on Tango's fresh seafood, Kanemasu (カネマス) seafood restaurant in the historic fishing port of Miyazu serves just that, with a twist. Here you can get hands-on with your meal during Kanemasu's "himono" fish-drying experience. Reserve in advance at Miyazu Station for a short lesson on fish-cleaning techniques in Kanemasu's filleting and drying facilities. My patient teacher generously helped me work through a local ishimachi horse mackerel freshly caught from Miyazu Bay until it was spotlessly filleted.
The entire process includes soaking the fish in a solution of saltwater, sake, konbu (kelp) and a dash of vinegar, followed by a 90-minute drying process where the fish is hung to dry in front of large fans. Back at Kanemasu restaurant, I sat on one of only ten stools at the wooden bar for a front-row seat, as the proprietor grilled fresh vegetables and my very own filleted fish on clay stoves of smoldering charcoal. While a side of olive oil, salt, and sudachi lime was on hand for additional taste, the flavors of its marination from my filleting workshop hardly needed it.
From there you can walk to the former sake brewers' house at Mikami Family Residence. This important national cultural property was home to one of the leading merchant families of Miyazu operating brewing, shipping, and silk businesses. The residence burned down in 1783, only to be rebuilt with fire-resistant earthen walls to its present state. Today it serves as a museum to offer glimpses of the family's brewing days in the life of wealthy merchants, complete with a spacious garden and a tea room where the Mikami family entertained visiting members of nobility.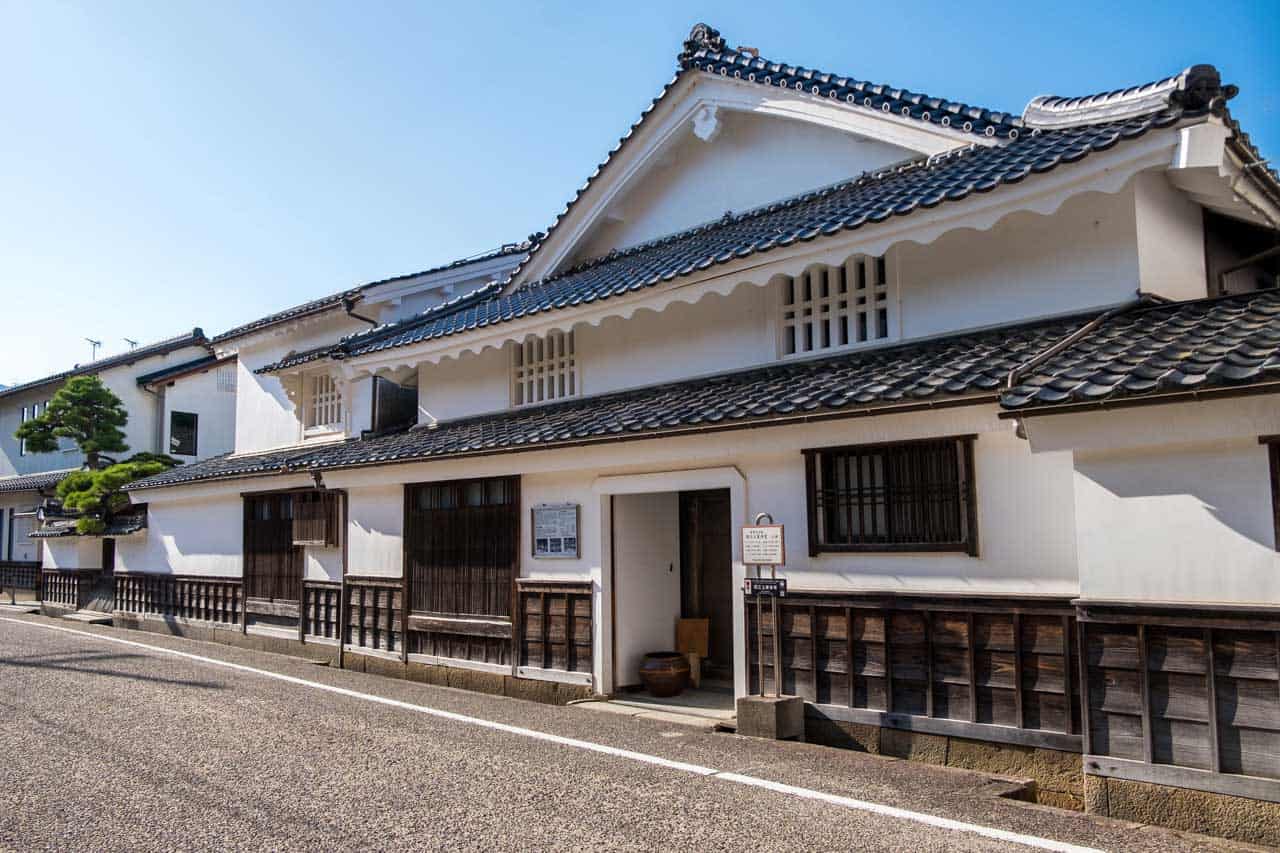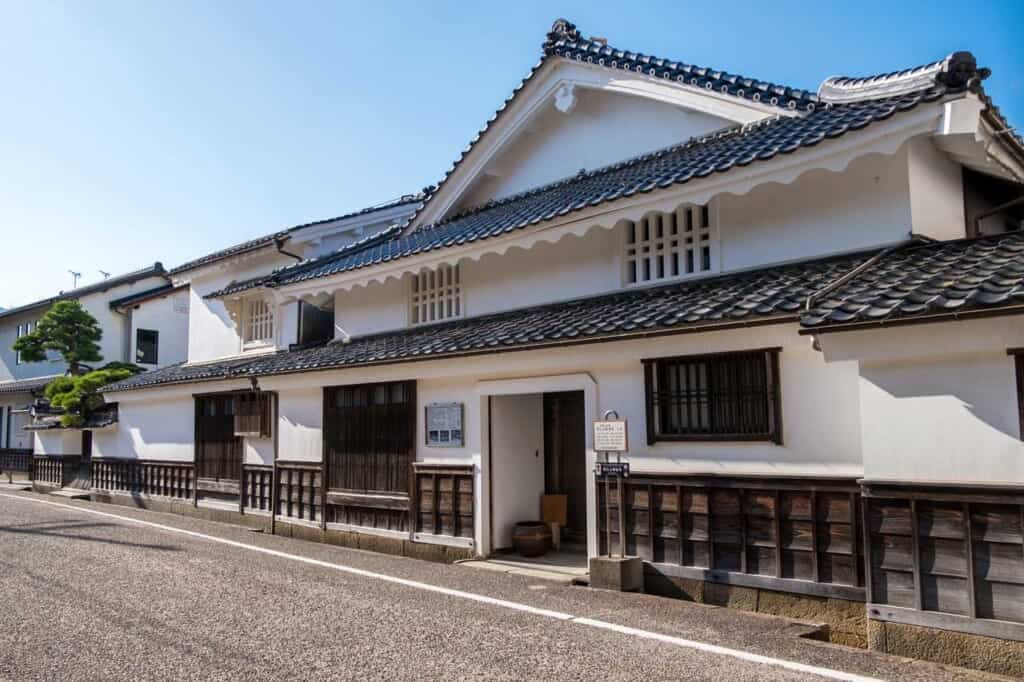 If you're looking for a leg stretch, the historic district in Shinhama (新浜) is a short, pleasant walk through the older part of town, with some of the classic latticed wooden buildings still in a pristine state. For a quick snack, hop into one of the Japanese snack bars, or head towards Miyazu's Fish Kitchen, a store selling local groceries and souvenirs to satisfy any hunger pangs before lunch.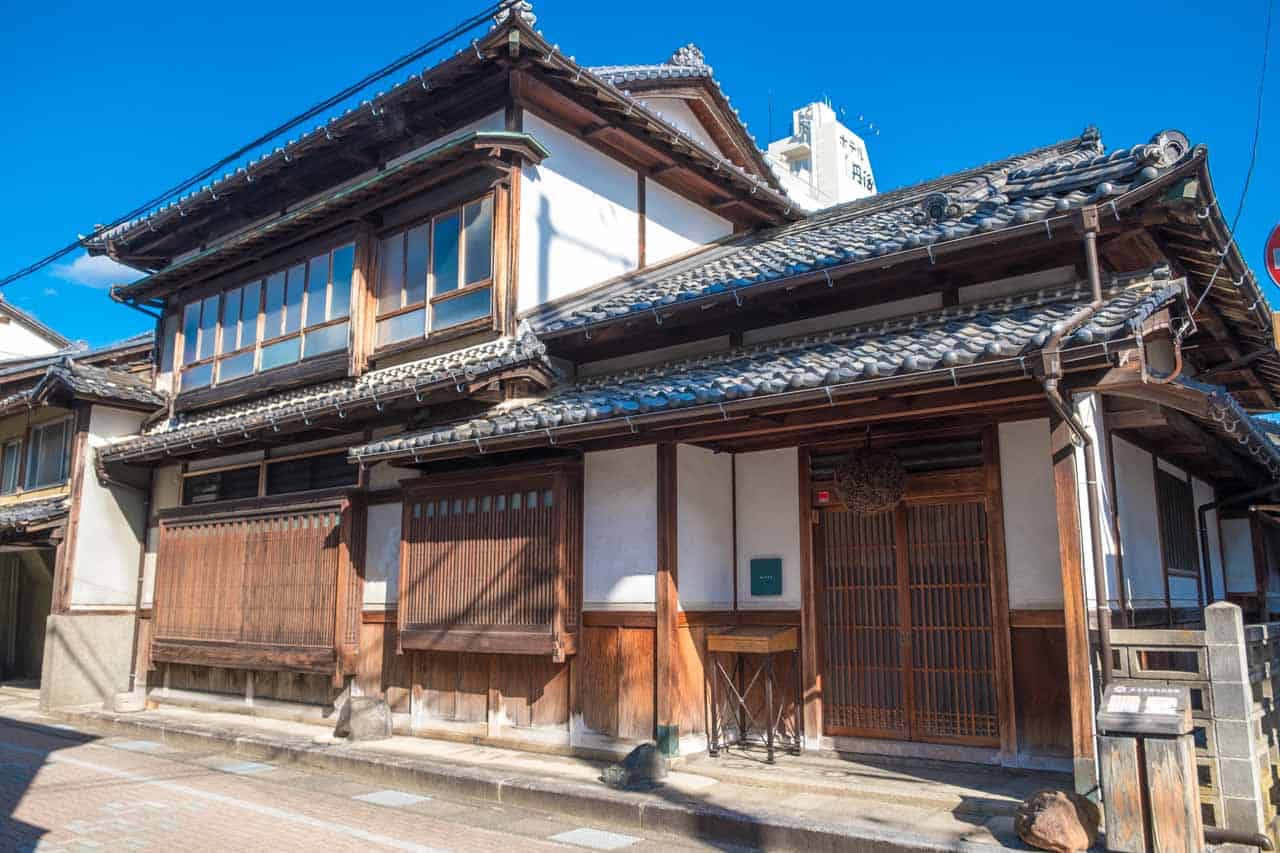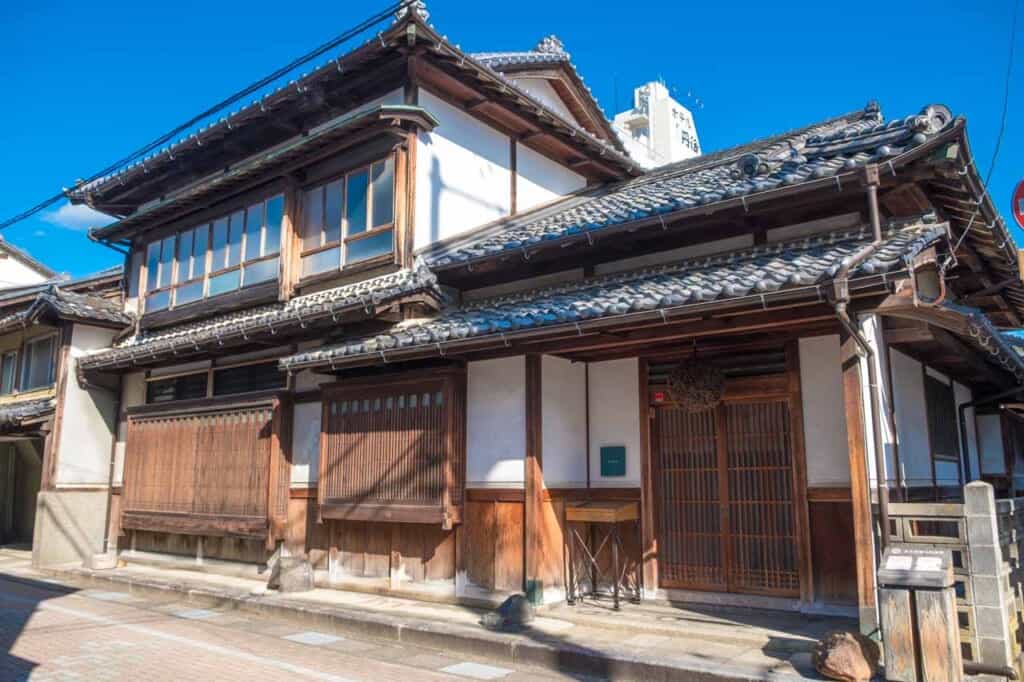 Access: From Fukuchiyama Station, the JR limited express train "Hashidate" connects to Miyazu in 30 minutes.
How to Get to Fukuchiyama and the Surrounding Kitakinki Region
Fukuchiyama is easily accessible by train from both Kyoto and Osaka in about 1.5 hours. From there, you can reach all of Kitakinki's destinations via a combination of train and bus travel. However, a rental car will only expand your options to discover the region at your own pace, as it did mine.
From Kinosaki Onsen, Amanohashidate, and everything in between, these forays into Kitakinki's deeper but equally rewarding reaches truly encapsulate an ideal Japan travel experience. You won't be disappointed!
Sponsored by North Kansai Tourism Association