I might not have been the image of grace stomping along in my inch-high geta sandals. But it completed my yukata and onsen hopping outfit, as I clip-clopped along the willow-lined canal of Kinosaki Onsen (城崎温泉). With the luminous lantern lights bouncing off the Ohtani river(大谿川), I felt completely absorbed in one of Japan's most famous onsen towns.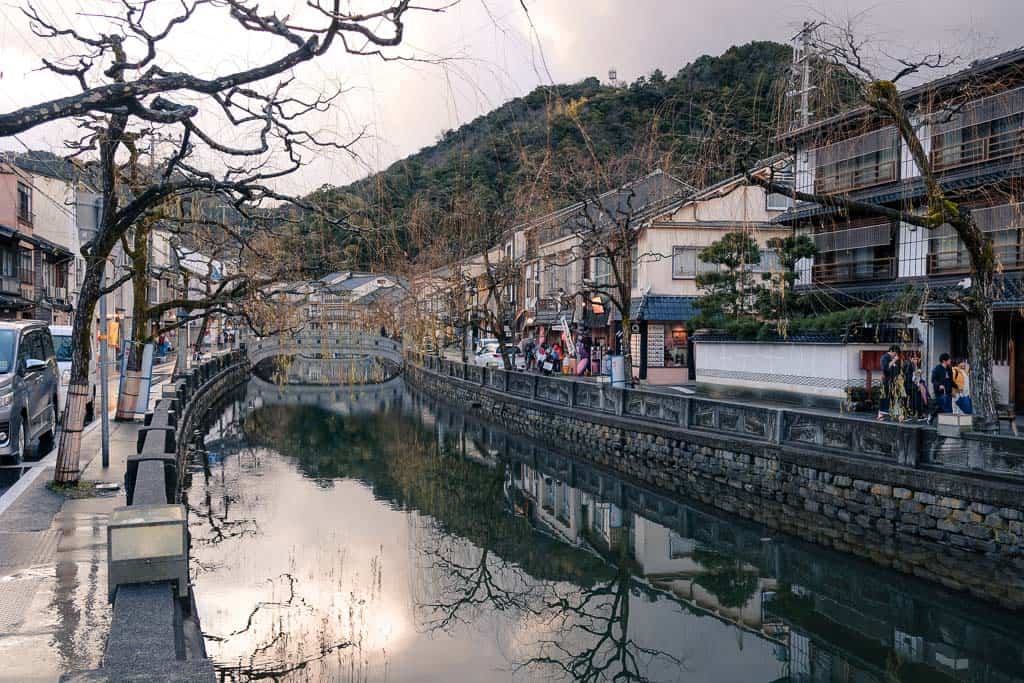 In the northern corner of Hyogo prefecture (兵庫県), Kinosaki Onsen has been healing the aches and pains of the Japanese people for over 1,300 years. As one of the biggest onsen (hot spring) spots in all of Japan, I was one happy girl. Because I love onsens.
After gorging myself on hand-made soba noodles at the nearby Izushi Castle Town, I arrived in Kinosaki in the late afternoon. Seasonal crabs from the Sea of Japan laid on beds of crushed ice, and people had already emerged from their accommodations decked out in their yukatas and geta.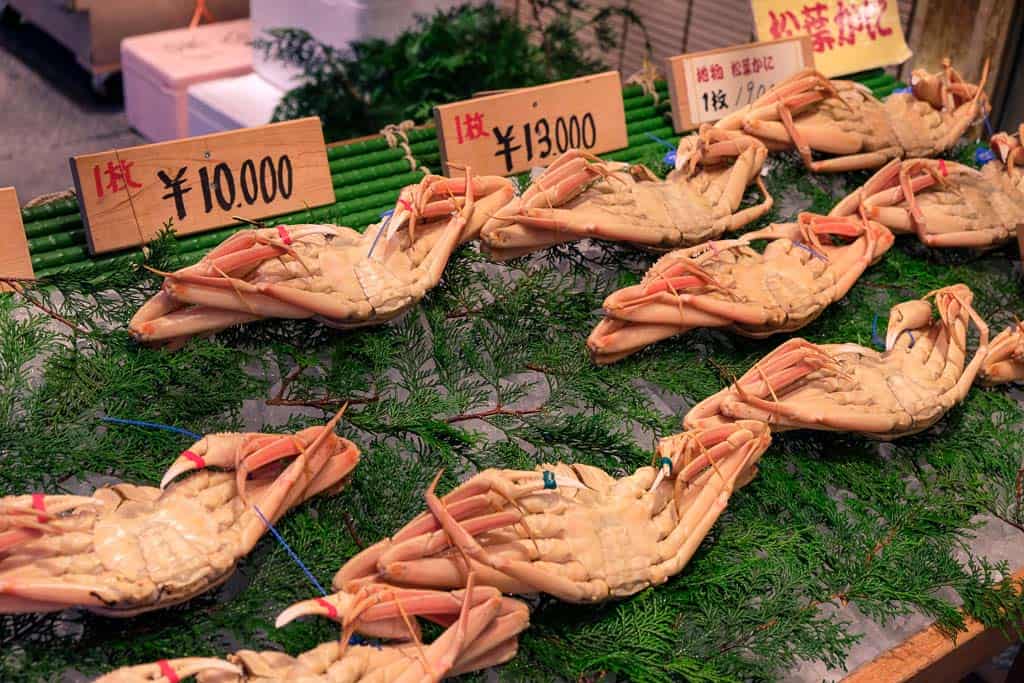 Soto-yu Meguri: The Seven Public Hot Springs of Kinosaki Onsen
One of the main attractions of Kinosaki is the Soto-yu Meguri, or the seven public onsen, which people can access with a pass or pay individually at each location. Ranging from simple to luxurious 2-storey onsen, guests can hop from onsen to onsen down the canal street. If you're staying overnight as I did, your hotel or ryokan will offer the pass for free, so be sure to check with your accommodations before you purchase your pass.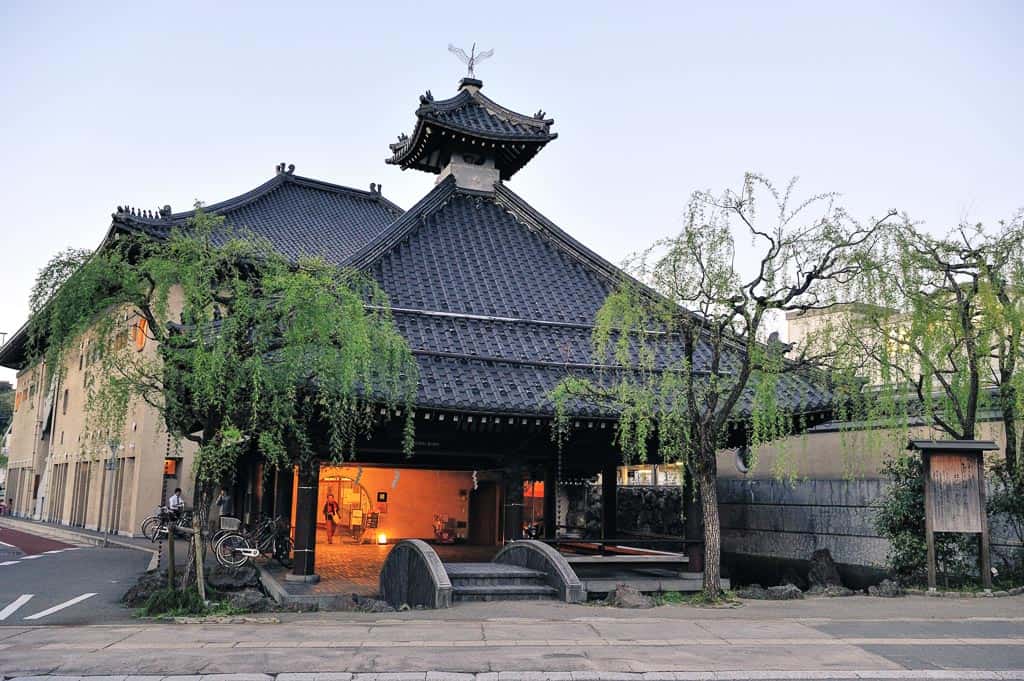 Stay Overnight at Nishimuraya Hotel Shogetsutei
A big part of the Kinosaki experience is an overnight stay in one of their ryokan (traditional Japanese-style accommodations). On the other side of town, I reached Nishimuraya Hotel Shogetsutei where I stayed for the night. Built as an annex to the traditional 150-year-old Nishimuraya Ryokan, Nishimuraya Hotel Shogetsutei is a new-style inn incorporating the intimate traditional style of its predecessor with a luxurious, western style. There's a modern Italian and French-inspired menu at the hotel restaurant, and the hotel's facilities include a karaoke lounge, noodle bar, gift boutique, and public onsen exclusive to hotel guests. The next morning, a local farmers market opened at the front entrance of the hotel featuring all of the seasonal foods of Kinosaki. After indulging in the local delights during my meals here, it was hard not to be tempted to buy everything in sight.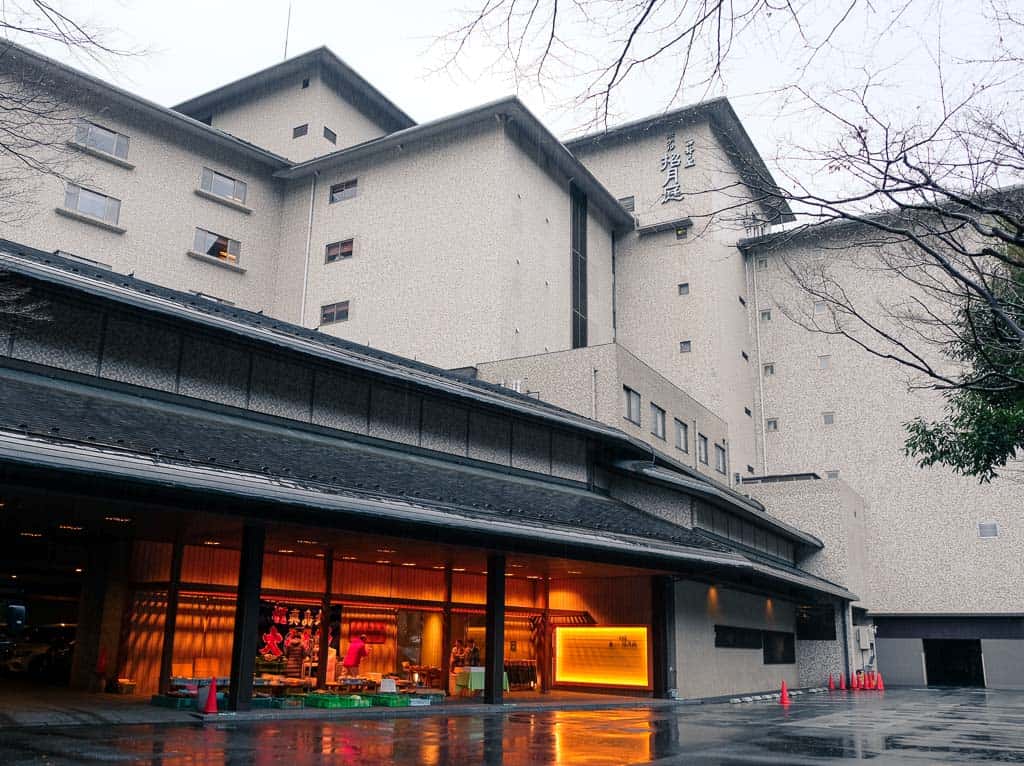 I entered the gorgeous lobby, and the staff at the counter quickly got me checked into my room. It seemed like the majority of the staff speak English, from the concierge to the waiters and waitresses, cleaners and bath attendants. Whether it's true or not, there's an inviting atmosphere that demonstrates the welcoming hospitality of the hotel.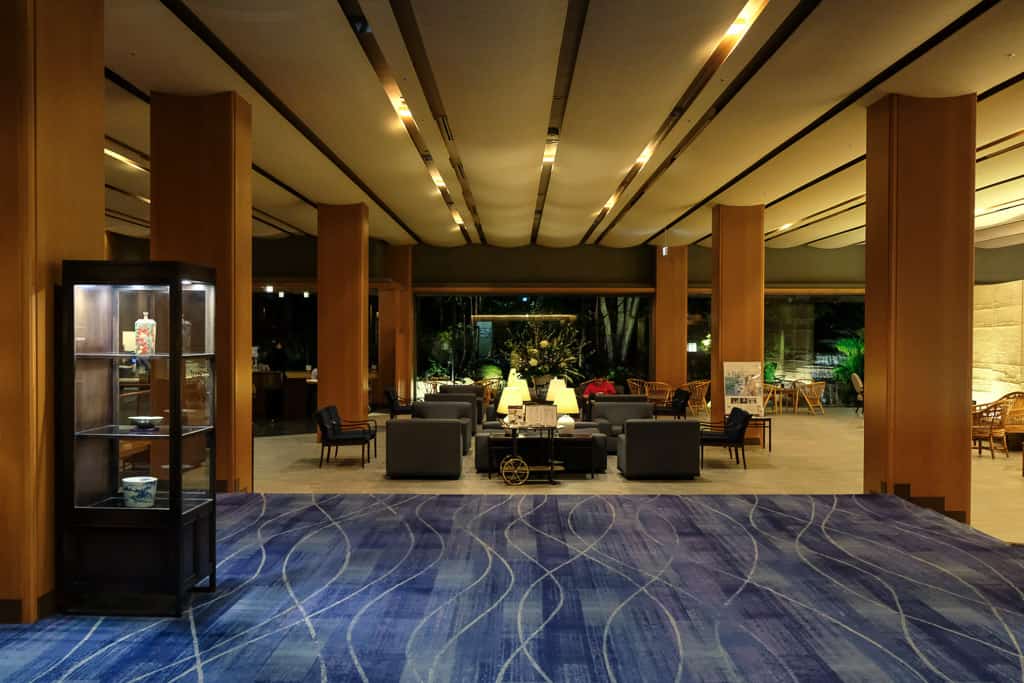 My western-style room had a living room, two twin beds, a walk-in closet, a separate toilet, and a bathroom with a waterfall shower head. And this happened to be one of the smaller rooms in the hotel! Before long, there was a knock on my door, a delicious delivery of a tray of tea and snacks.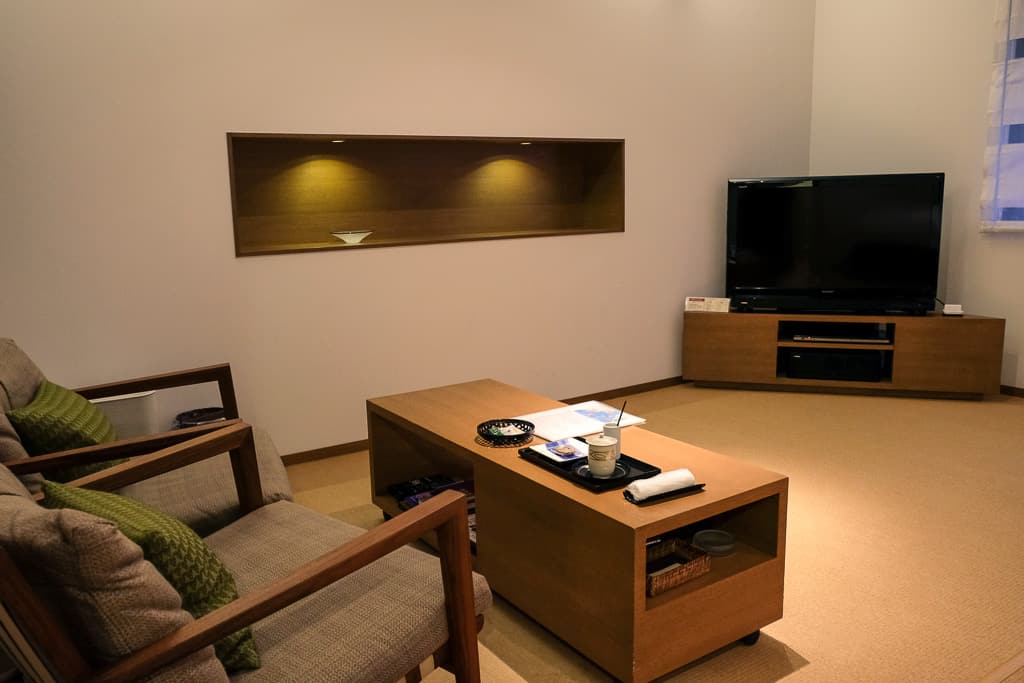 Relish in Luxury at Rinsen Private Onsen Spa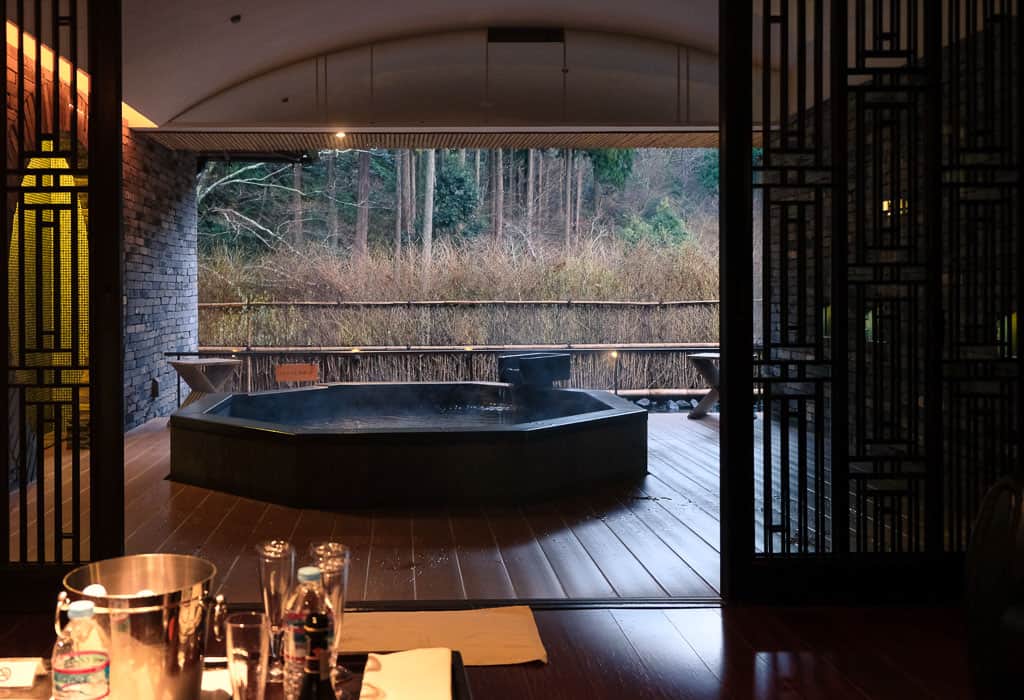 The star attraction is the private onsen spa that's literally had my name on it… for the next hour at least. With a reservation made for 4:00 pm, I arrived a bit late and hastily made my way up as soon as I checked in. There are three types available, and I booked 70 minutes in the Chinese-style "Rinsen" room. With a living room, rock sauna, bucket of sparkling wine, and a view of the garden from my bath, this is by far the most lavish onsen experience of my life. The spa even has its own genkan (Japanese entryway)! While sipping sparkling wine and listening to the soft drizzle of rain outside, I feel my busy day melting away with it.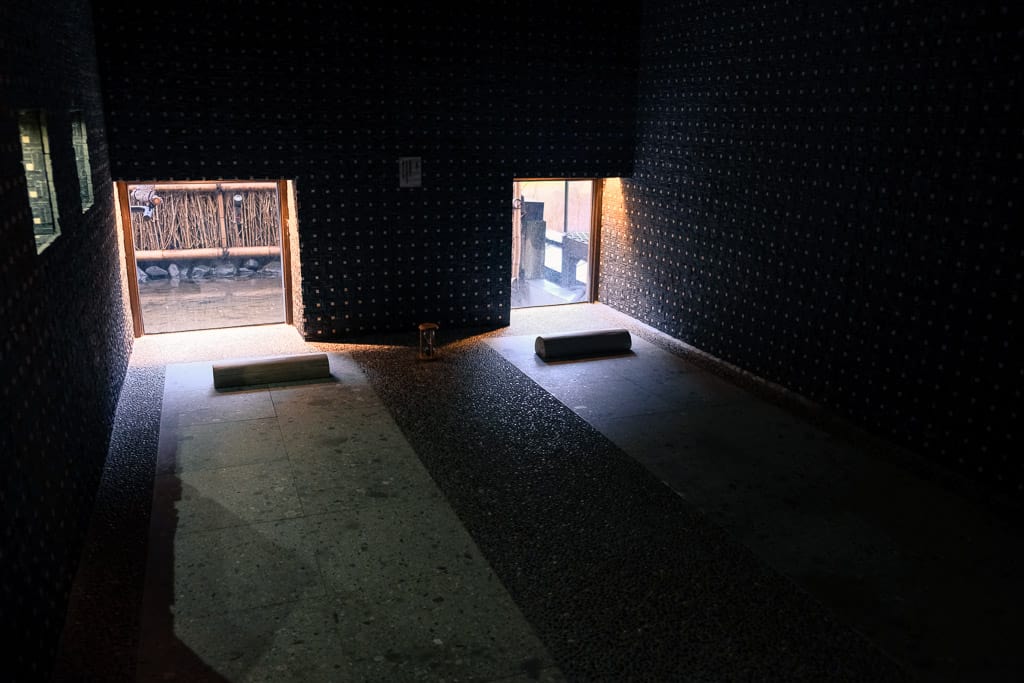 Kinosaki's Local Flavors at RICCA Restaurant
Like many of the ryokan in the area, a local kaiseki (traditional multi-course Japanese meal) is offered here at Hotel Shogetsutei's RICCA. Kaiseki meals are one of my favourite ways to enjoy an area's bounties, as local and seasonal foods are often a highlight of the meal. With a French and Italian-inspired menu, I order one of the set meals that included appetizers, several main dishes, dessert, and even a palette cleanser. Brought out by waiters and waitresses dressed in crisp white button-ups and black vests, the plates arrived one by one. As soon as I finished a dish, it was quickly replaced by another of Kinosaki's specialities. Egg bisque with crab and shrimp. Hirame paté and local cured ham. Sweet turnips with anchovy sauce. Two-month aged Tajima steak. Nigori saké and strawberry sorbet.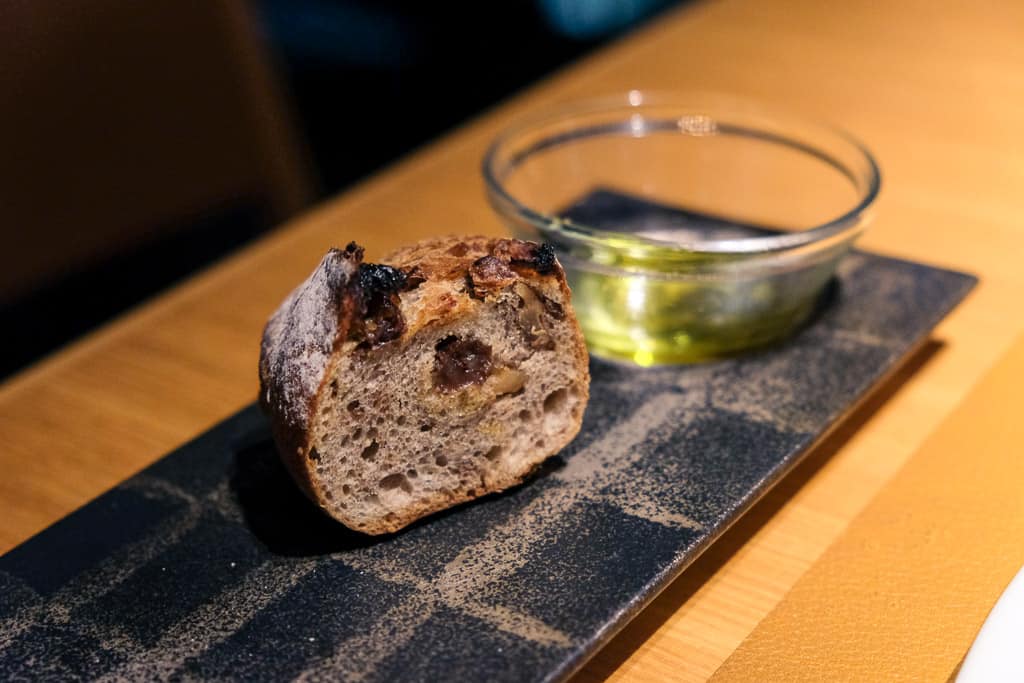 By the meal's end, I had experienced an impeccable collection of Kinosaki's finest through taste. As a soft stream of Sarah Vaughn played in the background, I stuffed myself until I couldn't eat anymore.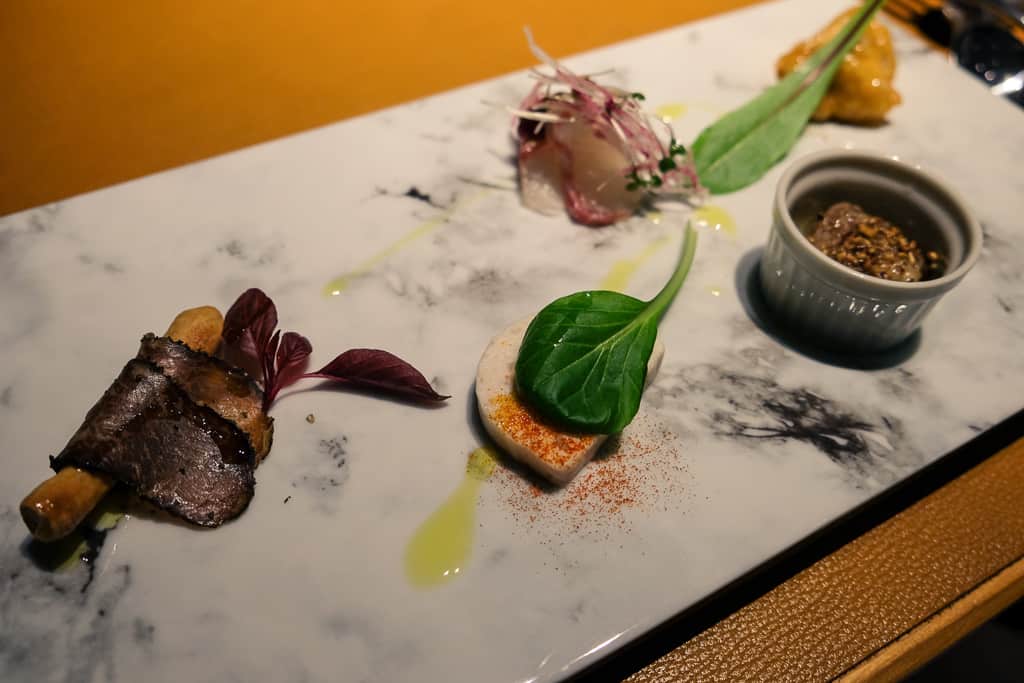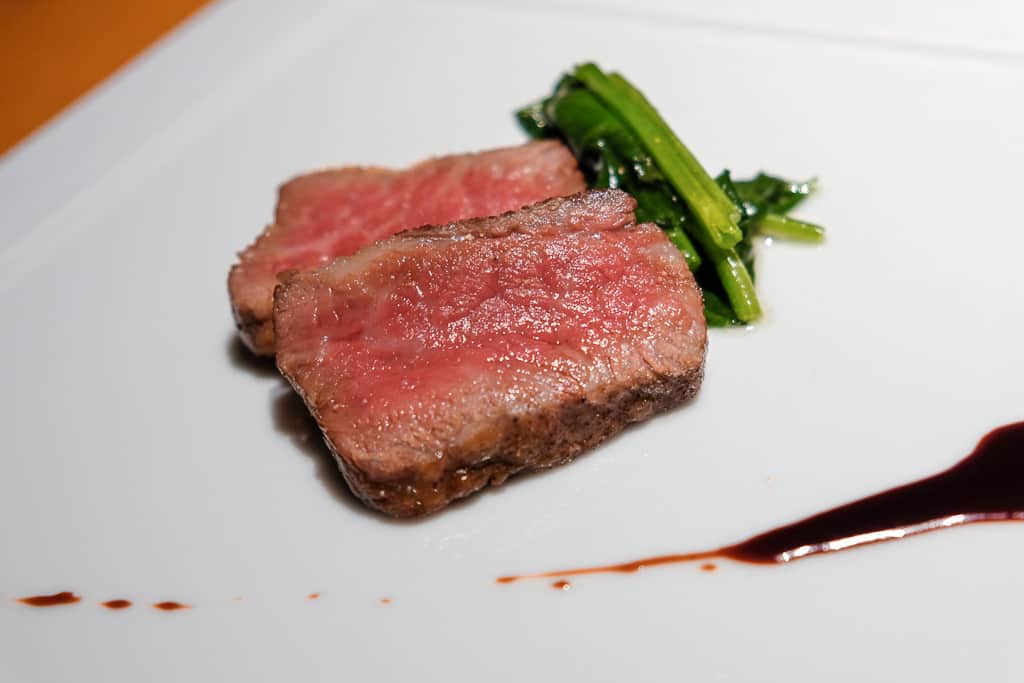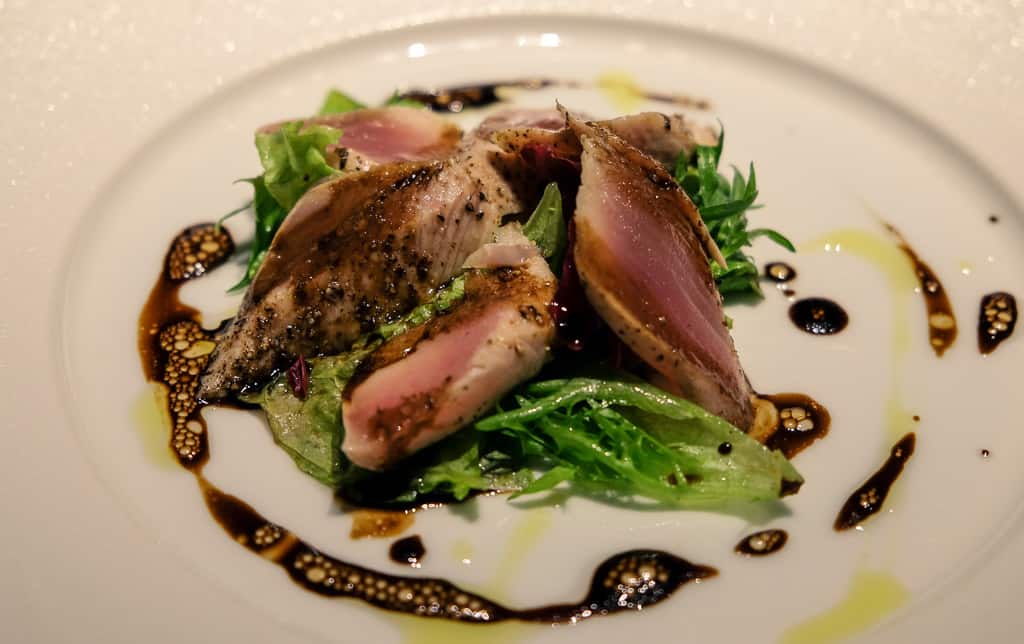 Hot Spring Hopping at the Seven Public Onsen of Kinosaki
After my dinner, I headed to the hotel entrance to catch a shuttle bus that took me to my last indulgent activity for the night: An onsen hop of Kinosaki's seven public onsen. As a hotel guest, I'm given a pass that gets me access to all seven onsen for free. Shuttle buses run from Nishimuraya Hotel every hour and bags are provided at the front desk to carry your towels during your trip. I trade in my hotel slippers for a pair of the geta (wooden sandals) I've seen throughout the town. It's much easier than walking in stiletto heels, but I still feel like a 6-year old stomping around in her mother's heels. With a hobbled start, I laughed out loud. After my extravagant supper and private spa, I don't think anything could alter my state of onsen bliss.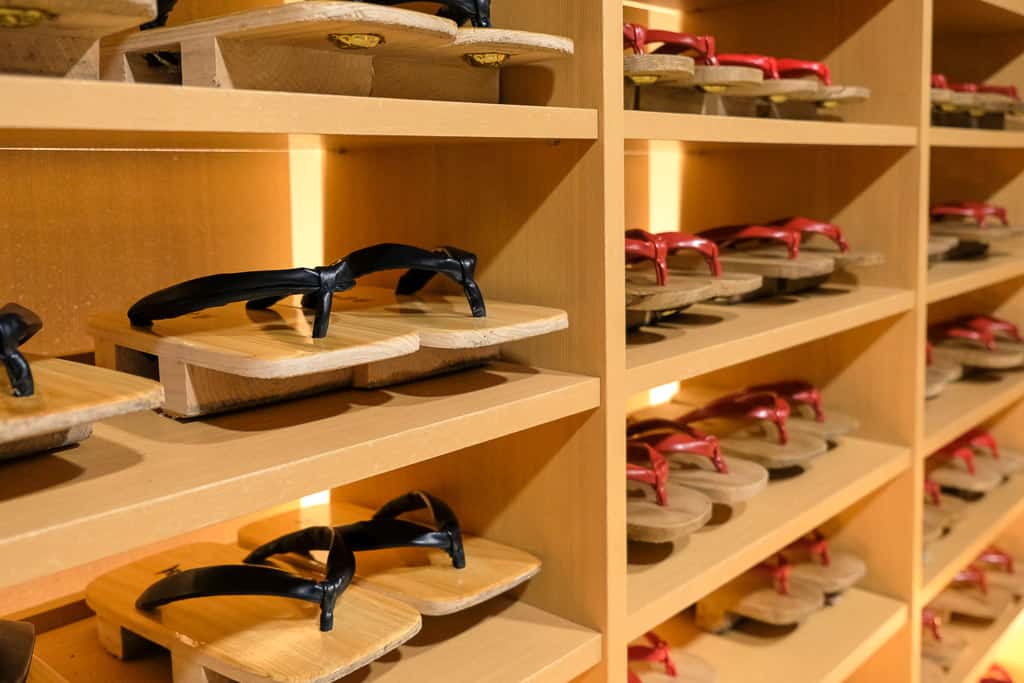 I chose the farthest onsen from the hotel of Sato no Yu, and was dropped off by the shuttle bus. Adjacent to the Kinosaki train station, it's the largest public onsen in town. The two-story onsen includes a large main bath, a dry sauna, cold tub, and an outdoor waterfall bath on the second floor. After my bath, I head to my next onsen spot at Ichino Yu Onsen (一乃湯外観), where I sit under the dome of its popular cave-style onsen.
Onsen changing areas have lockers with a lock and key, so I was able to leave my camera while I bathed. The shuttle bus picks up guests at two of the seven onsen spots to take you back to the hotel, but I opted to walk the rest of the way, taking pictures along the way. Depending on how many hot springs you stop at, the walk back to the hotel takes approximately 20 to 25 minutes, with or without geta.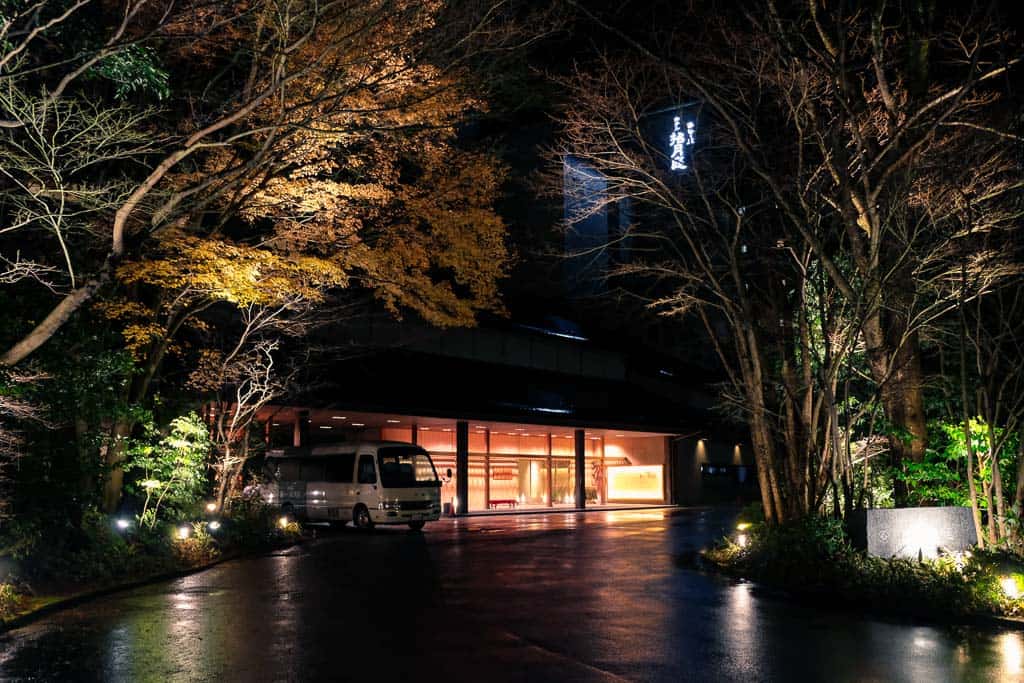 After a night of onsen euphoria, I returned to my hotel sleepy and ready for bed. As soon as my head hit the pillow, I was out like a light, dreaming of lanterns, wisping willows and the clip-clop of wooden sandals.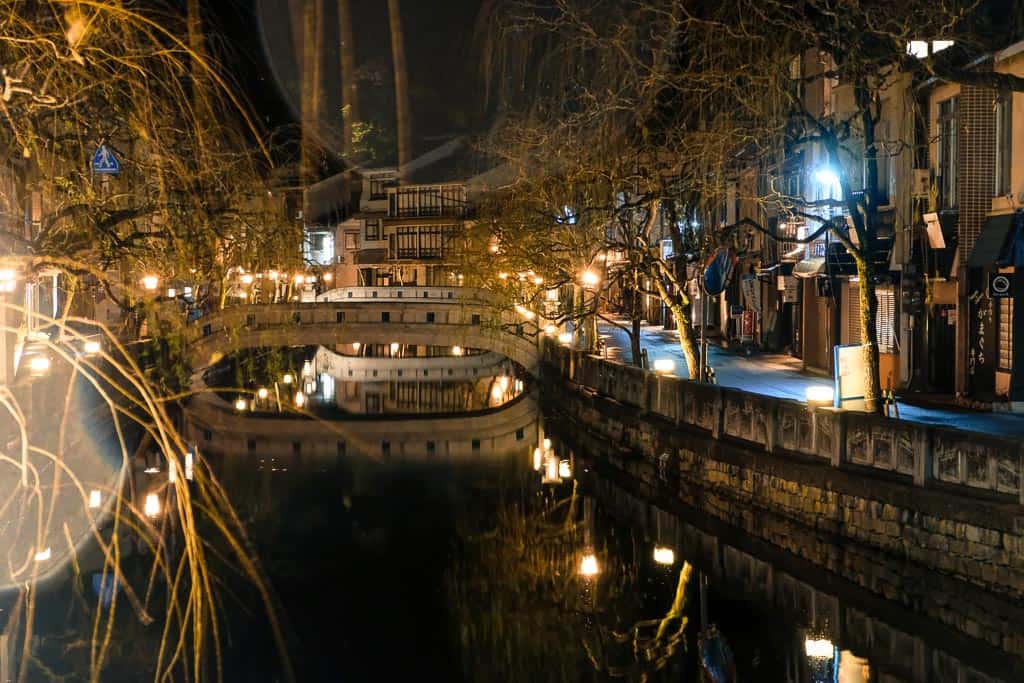 Traditional Japanese Breakfast Buffet
Morning comes swiftly, and I headed downstairs to the breakfast buffet to try more of the local Kinosaki fare. There's a considerable number of options to try, and I have a hard time selecting what I want without overstuffing my tray.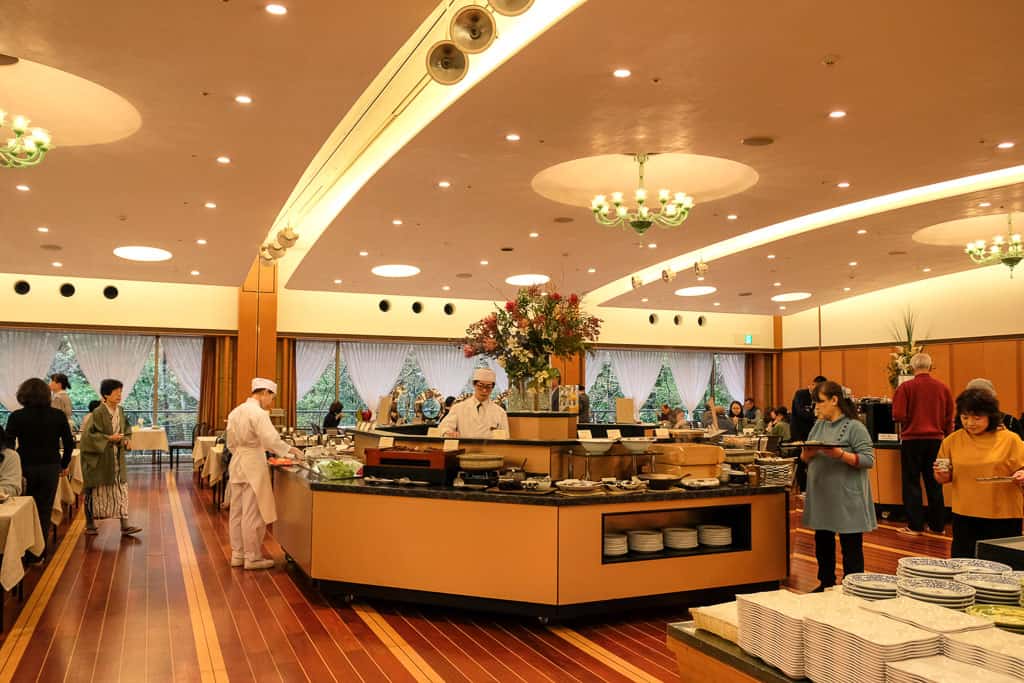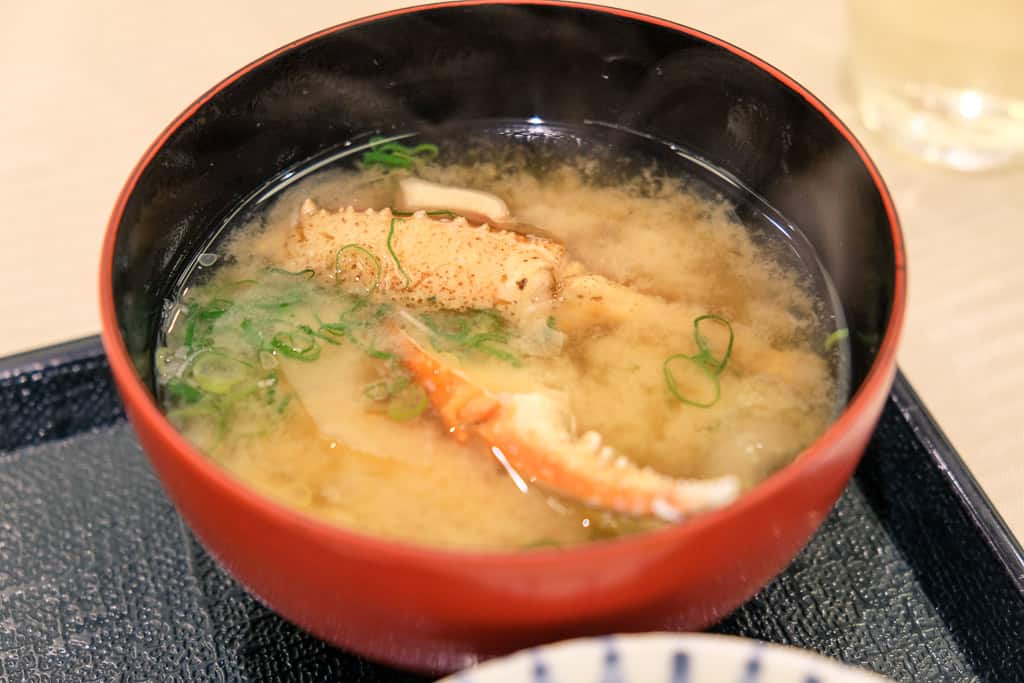 It was a brief but sweet visit to Kinosaki Onsen. If you're planning a trip yourself, the Kinosaki website has a lot of tips on areas to visit. You can also book a stay at Nishimuraya Hotel Shogetsutei through their website, or browse through their many amenities on site.
Next, I head to Hyogo's viewing spot of Takeda Castle Ruins and will walk underground in old mining tunnels at Ikuno Silver Mine.
Getting to Kinosaki Onsen
From Kyoto, it takes about 2.5 hours to reach Kinosaki by express train. From Osaka, Kinosaki Onsen is easily reached by train from either Osaka Station or Shin-Osaka Station. The Limited Express Hamakaze or the Limited Express Kounotori trains are usually the fastest and run directly to Kinosaki Onsen. They take about 3 hours.
---
Exploring the Tajima Province of Hyogo
If you're in the area, a 65-minute drive will get you to Ritsuun-kyo, where you can hike up to catch sight of Takeda Castle Ruins, also popularly known as the "Castle in the Sky". An hour and 20-minute drive from Kinosaki Onsen will get you to Ikuno Silver Mine, where you can get a glimpse into the fascinating history of mining in Japan while walking through its underground tunnels. The nearby mining town of Kuchiganaya is known for its unique red roof tiles and preserved inns. 40 minutes away from Kinosaki Onsen is the old castle town of Izushi, where you can eat all the soba buckwheat noodles your stomach can handle.
Article sponsored by North Kansai Tourism Association.