I have a confession to make: I hate haunted houses. As a kid, the looming fear that something would come to life and jump out at me from the dark terrified me to the core. So you can imagine my surprise, when I first entered Ikuno Ginzan (生野銀山) Silver Mine in Asago city(朝来市), Hyogo prefecture (兵庫県), that I was unexpectedly forced to face my fear head-on!
Really, it's not as bad as I make it sound, as you will soon find out. My third and final day of exploring the Tajima province ended on a high, if not a slightly humorous note. In the morning, I left my overnight stay at Kinosaki Onsen (城崎温泉) and headed towards Asago's Takeda Castle Ruins to get a hearty breath of fresh air on top of a mountain.
Castle in the Sky: Takeda Castle Ruins
The top of Ritsuun-kyo (立雲峡) is where I got my spectacular view of the Takeda Castle Ruins (竹田城跡). Like Laputa from the Studio Ghibli film, Takeda Castle is the aptly named "Castle in the Sky". Early morning fog during October and November creates a sea of clouds that surrounds the ruins, which appear to float above the fog, creating an ethereal, magical effect. Sending many a landscape photographer's heart aflutter, visitors take the early morning trip to see this novel sight, making it one of Japan's most visited castles.
Constructed between 1431 and 1443, the castle was abandoned in the 1600s until a restoration project reopened the ruins to visitors in the 1980s. Now visitors can walk among the castle's ruins throughout most of the year. If you happen to visit during its yearly closure between early January to February, then a climb up Ritsuun-kyo would be an excellent opportunity to get a vantage point of it.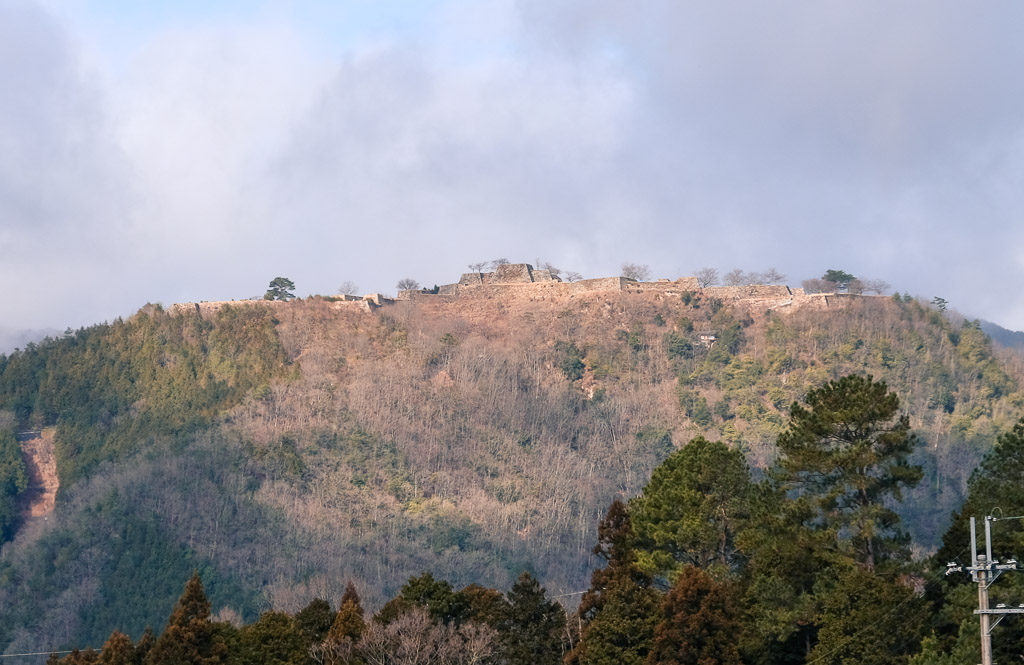 To get to Ritsuun-kyo, I drove up a hill so steep I had to keep one hand on my phone to keep it from tumbling down from the dashboard. There's no fee to enter, but a suggested 300 yen environmental maintenance fee can be paid in a small coin box at the entrance. With a light mist of rain and heavy grey clouds, I bundled up in my raincoat and set off for my morning hike.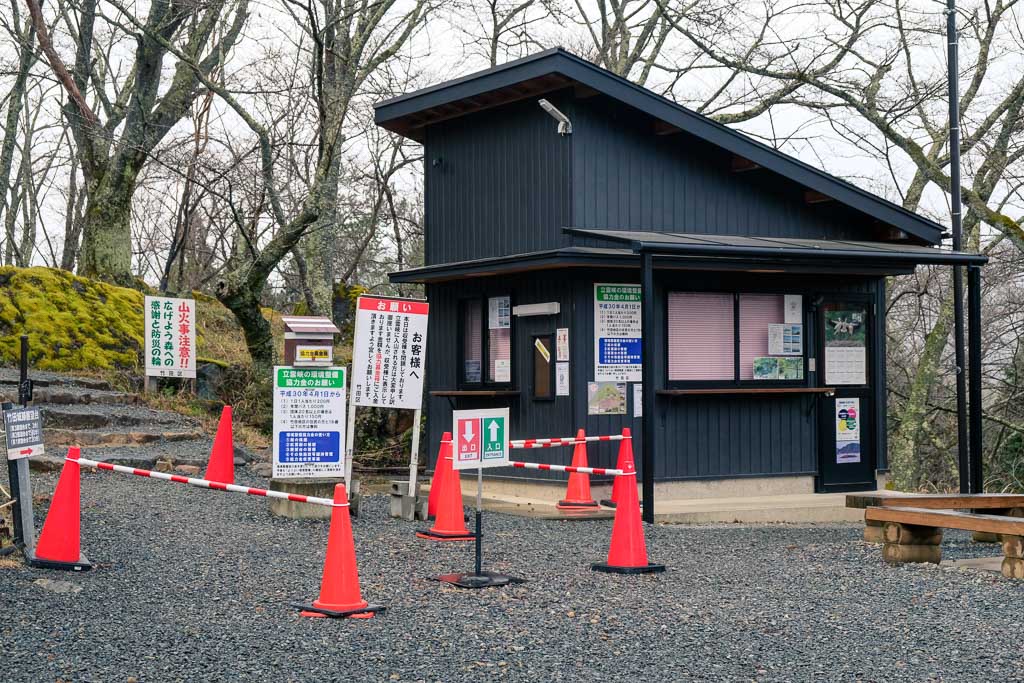 Though I'm not an experienced hiker, I found that the walk up to the third observation point was relatively easy. (Note: the observation points are numbered in reverse order from third to first when going up the mountain, so the third observation point is the first one you will come to) I arrived just in time too, as the sun broke through the clouds to reveal a rainbow nestled in the valley below. For a few brief moments, I photographed and gawked at this spectacle before it faded back into the mist.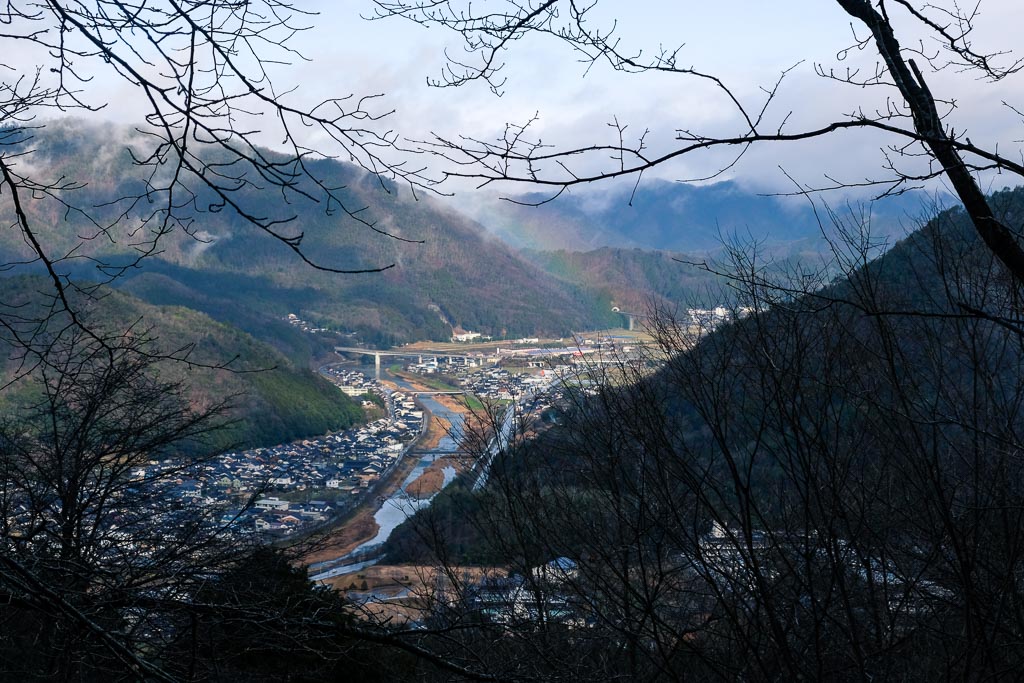 There are further observatory points higher up, though, in my opinion, the third point is the best one to view the castle ruins. If you go higher, the path splits into two between the third and second observation points. The right path will take you to a small lake and gazebo, which would be a nice place to visit when the cherry trees I noticed on my walk up are in full bloom during the springtime.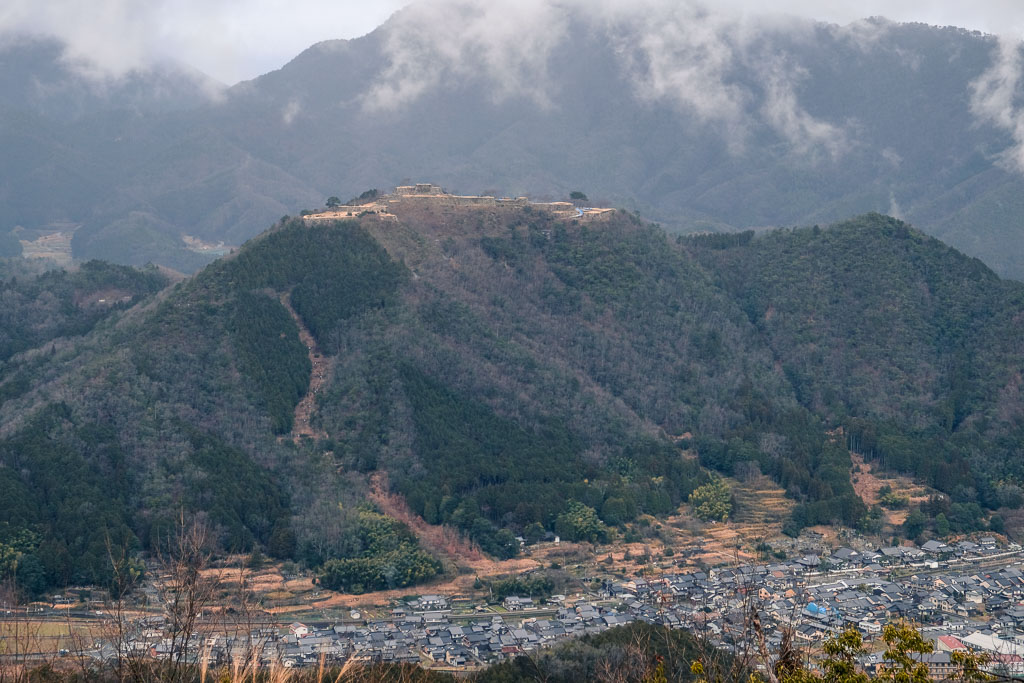 Ikuno Silver Mine and Ginzan Boyz
After my hike, I hopped back into my car and headed south to my next destination of Ikuno Ginzan Silver Mine (生野銀山) in Asago city. Before my trip, research online revealed not only a fascinating glimpse into Japan's mining history but also the inventive efforts of the Silver Ikuno Corporation to attract more visitors to the silver mine. The pop idol group, "Ginzan Boyz", features the mannequins used to demonstrate the different jobs within the mine, and have their own music videos, Twitter and Instagram accounts, and dedicated Ginzan Boys webpage. Whether it was done tongue-in-cheek or in all seriousness (it's pretty clear which one if you watch the music video), it's a rather clever idea to draw attention to the mine, while also being pretty hilarious at the same time.
There's a free parking lot in front of the mine, and the entry fee is paid at a small booth in front of the mine entrance. Pick up the silver mine brochure that details some of the sights within. And don't forget to grab the complete list of all the Ginzan Boyz, with their personal profiles and signatures!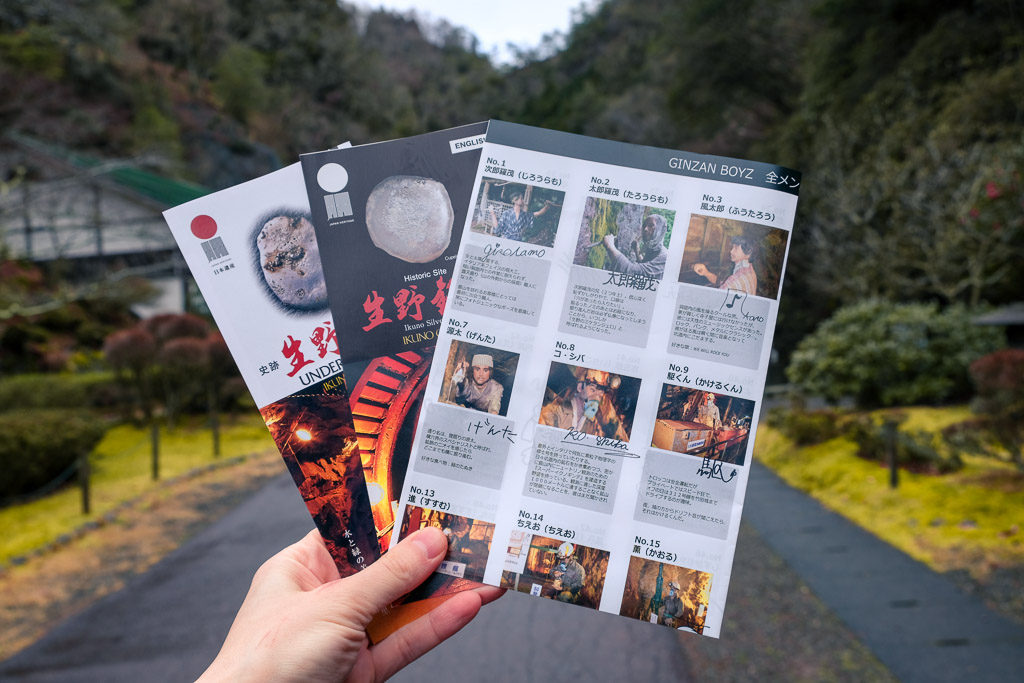 The more recent tunnel of Kanagase is open to the public, and stops along the way include an old elevator shaft, transport vehicles, and of course, Ginzan Boyz. Each mannequin serves an educational role, and demonstrates many of the responsibilities and jobs of the miners back in the day.
With all this backstory, music videos and humour, I was taken by surprise when I first entered the mine tunnels of how… eerie they were. Remember, this is coming from a paranoid place in my brain that thinks that dark places hide a shadowy figure about to jump out and scare the crap out of me. So, when "Asuka-kun" appeared in the corner of my eye, he…well, scared the living daylights out of me.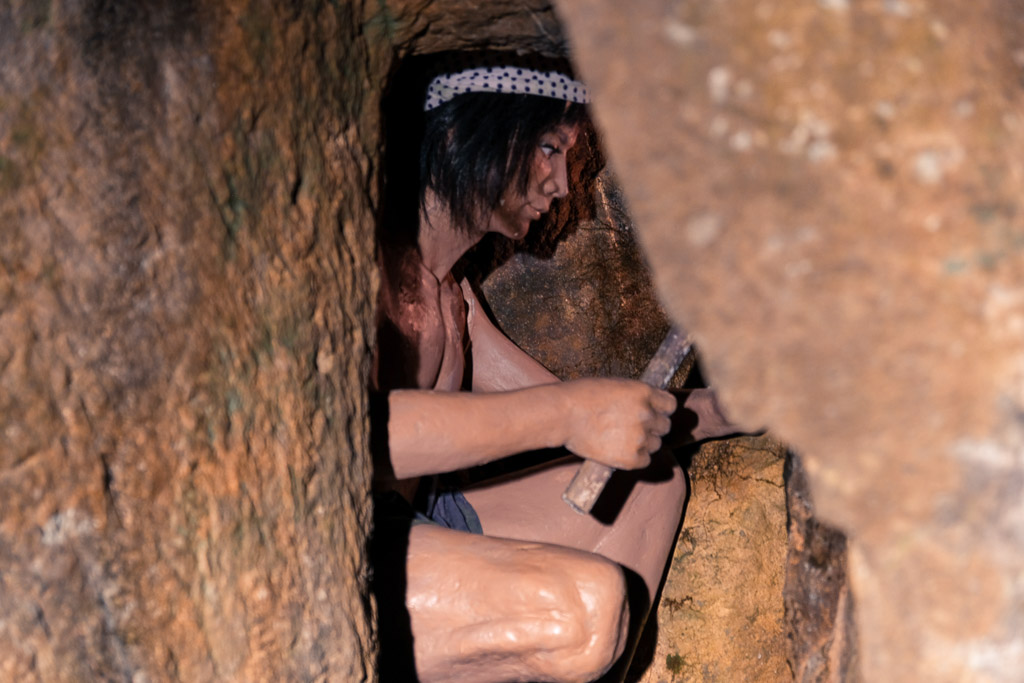 Even so, don't let this deter you from visiting the mine. Over 70 different types of ore have been collected from the mine, from its discovery around the year 807 and a full-scale mining history dating back to 1542. Much of the tunnel is now reinforced with man-made elements, though the narrow crawls spaces in the walls and ceiling are original. As I peered down the narrow holes, I'm reminded at once that I'm underground. A claustrophobic would have a deathly terrifying time in one of those deep holes. With meandering tunnels that reach an astounding 350km in total length and 880m in depth, it's all very, very cool.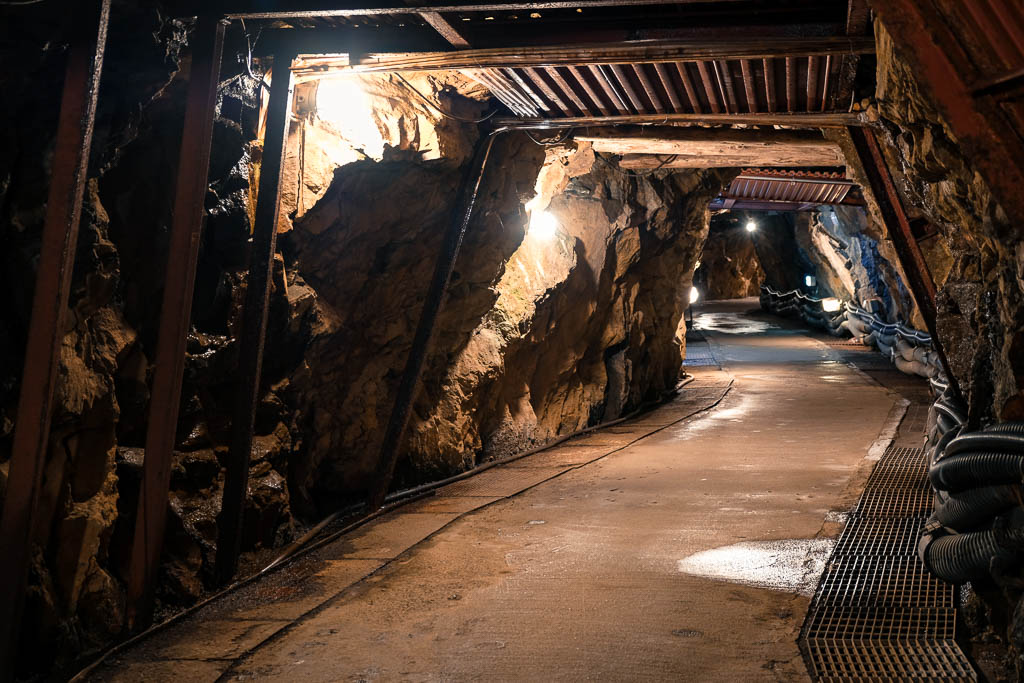 I'd recommend you set aside at least 40 minutes for a full walkthrough, though I spent a little over an hour in total. Except for the occasional pockets of humidity, temperatures hover around 13C / 55F, so it's a good idea to bring a jacket with you.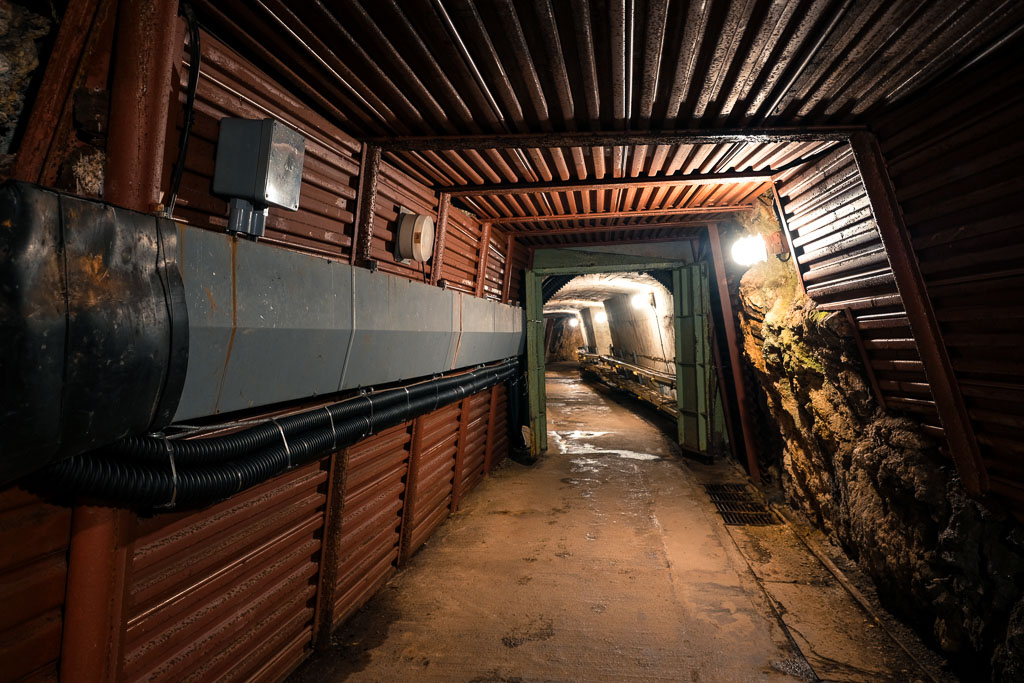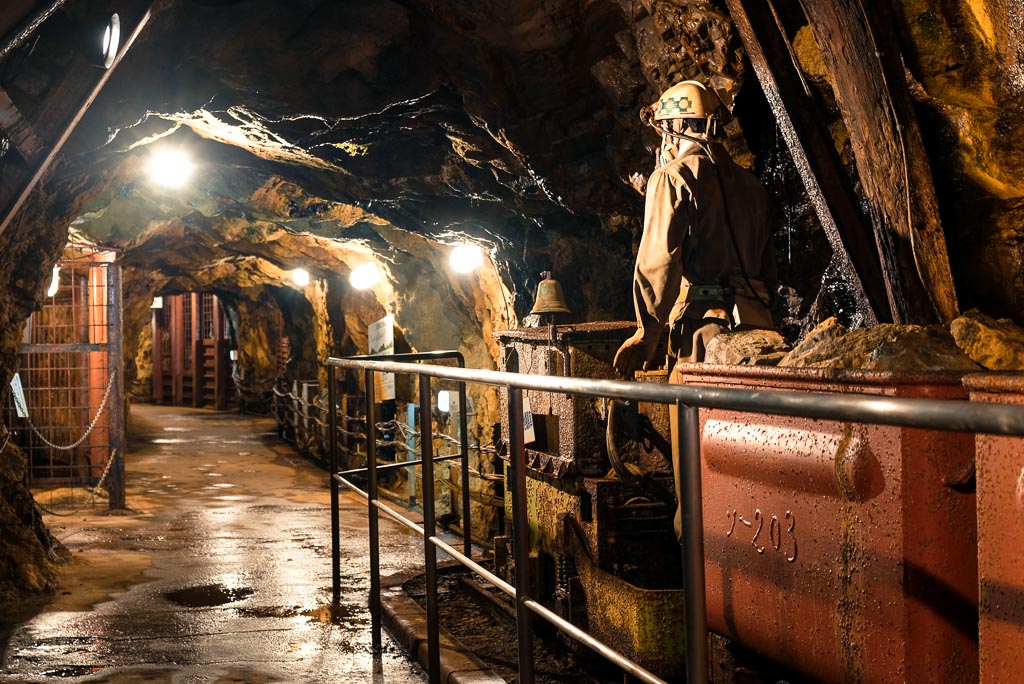 Halfway down the tunnel path is a massive winch drum once used to hoist an elevator full of miners and ore to and from the mine depths. Potentially supporting thousands of pounds, the miners put their faith in the winch drum to carry them safely to and from their daily jobs.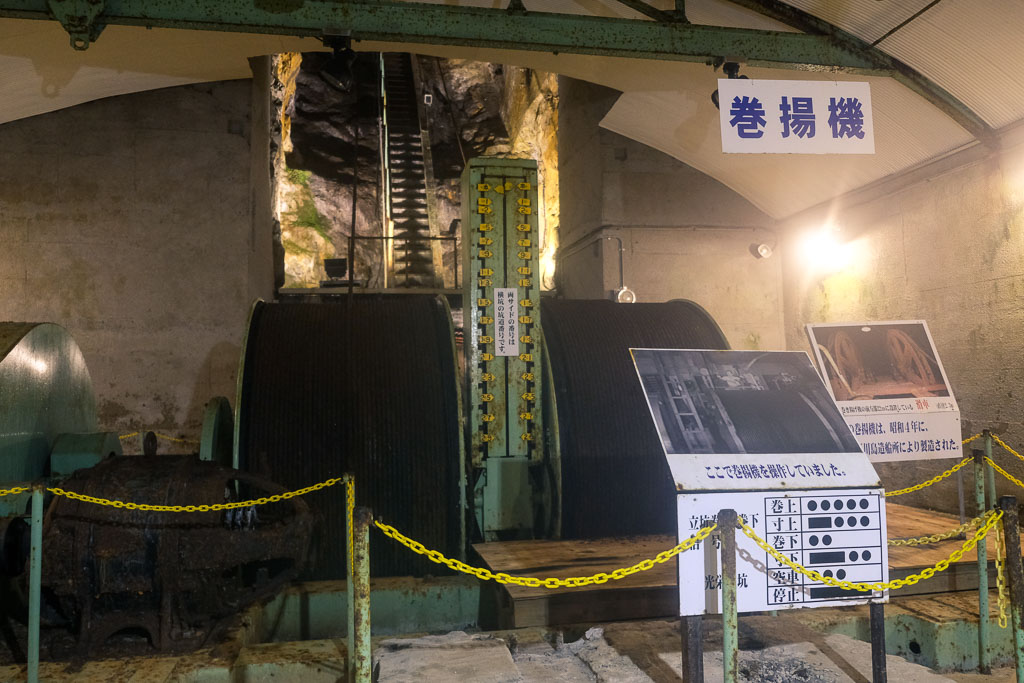 As I reached the end of my tunnel walk, there's a group of Ginzan Boyz and girls waiting for me. The Silver Ikuno Corporation is once again showing off its humor. Being a few weeks away from Valentine's Day, every mannequin is decked out in Valentine's gear.
I guess they aren't so scary after all.
Just outside the tunnel entrance is the Ikuno archives building, where examples of ore from the mine are on display. There's also a souvenir shop selling Ginzan Boyz CDs and other merchandise, and the restaurant on the second floor features the Ikuno hayashi rice dish (a hashed beef stew with rice) if you're hungry.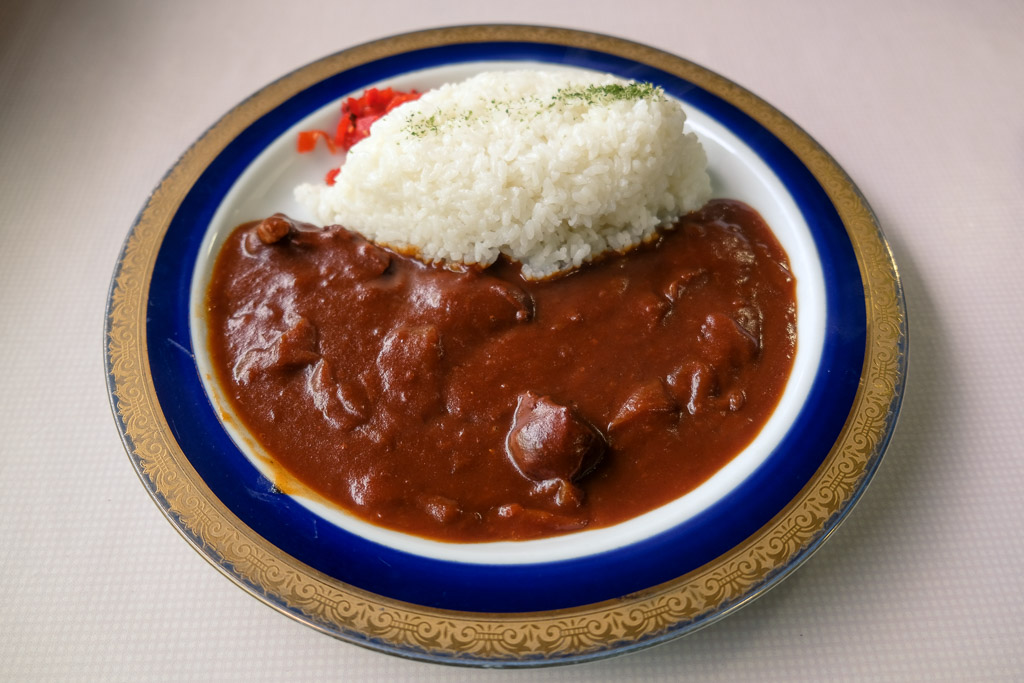 Asago's Mining Town of Ikuno
My final destination of the day is a 5-minute drive from Ikuno Mine to Kuchiganaya (口銀谷町), the heart of Asago's mining town of Ikuno. The town served the mining prospectors in its day, and many of the old inns that opened their doors to them still exist today. The red roof tiles are unique to Ikuno and the caramel plaster walls create a color combination that helps retain their traditional appearance.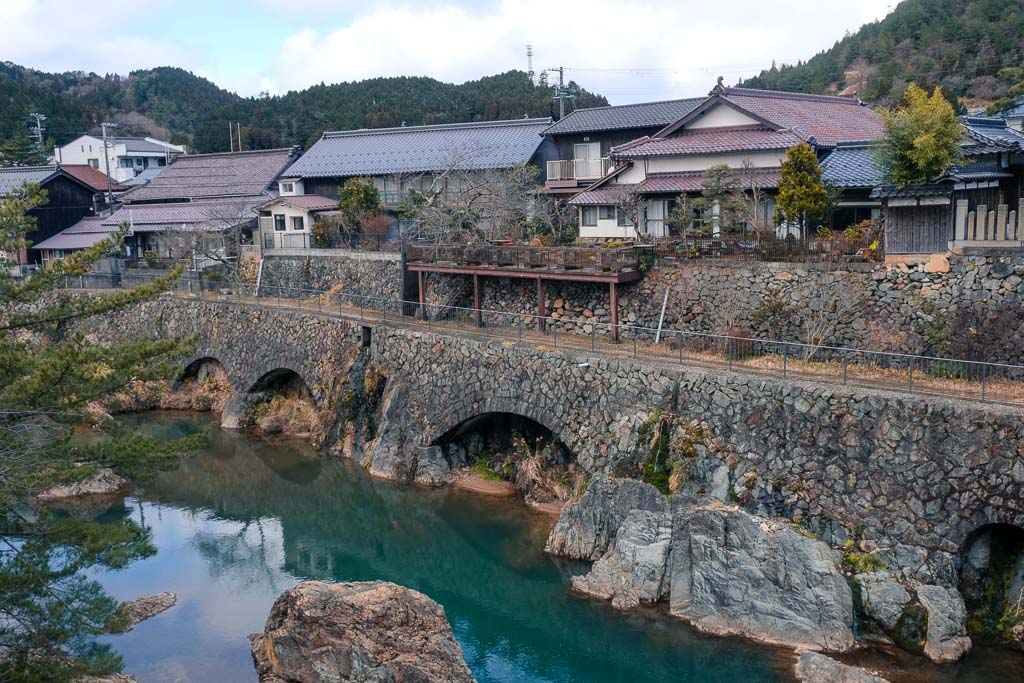 I followed the suggested walking tour from the Discover Tajima website, which I thought a good general walking tour to the area. Parking at one of the free parking lots in the city, I headed towards Himemiya Shrine (姫宮神社). The Himemiya Bridge leading to the shine provides a view of the old lorry rail line that runs along the Ichi River. The tracks were completed in 1920 and connected the Ikuno Mining Headquarters to the old Ikuno station during its use. Now, it serves as a public walking trail.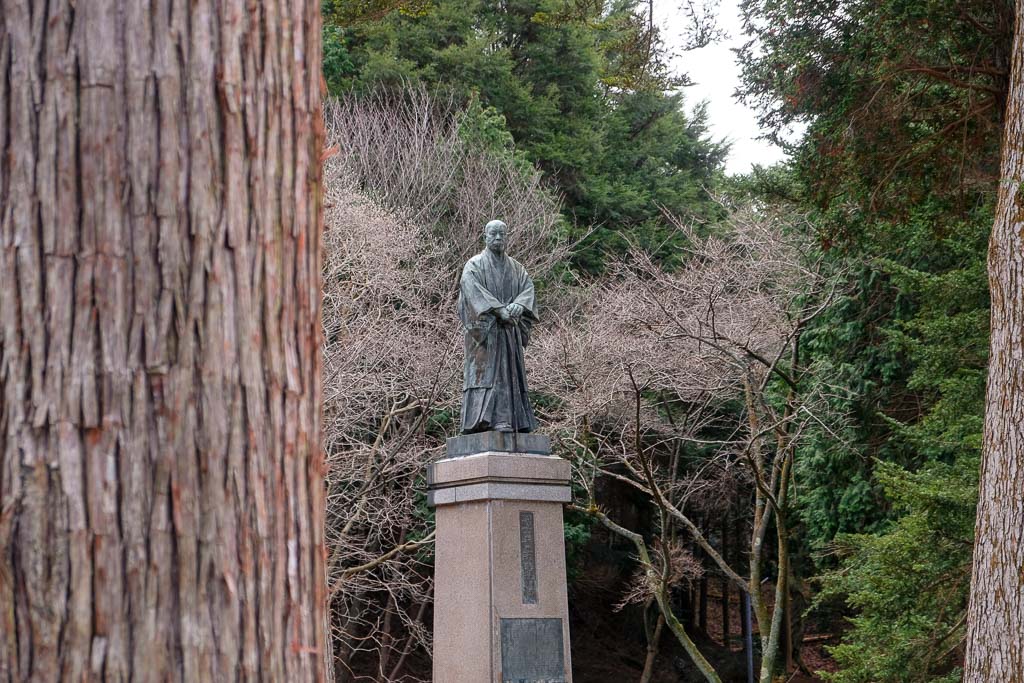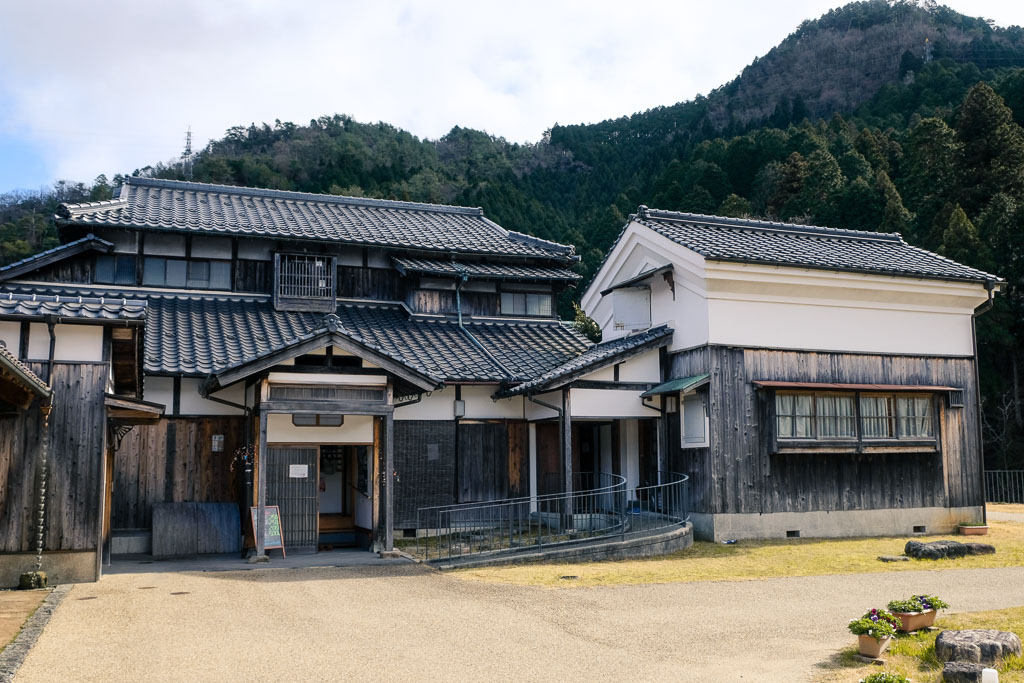 Midway along my walk, I passed the old Ikuno Police Station. Built in 1886, this quasi-western style building still has its old town symbol centered among the roof eaves. It's now used as one of Ikuno's public buildings.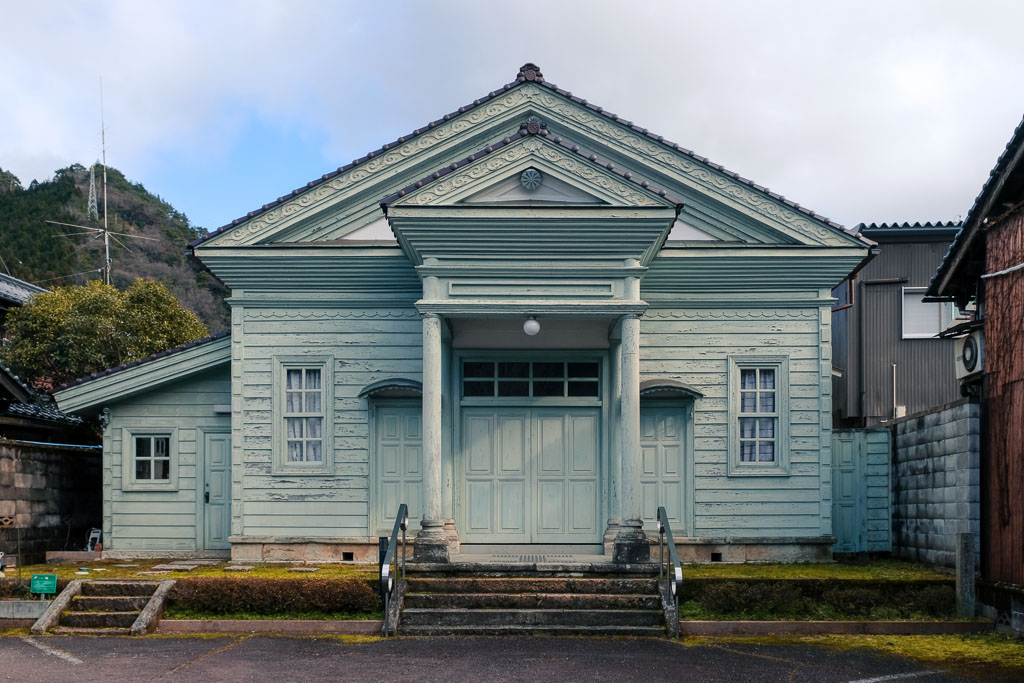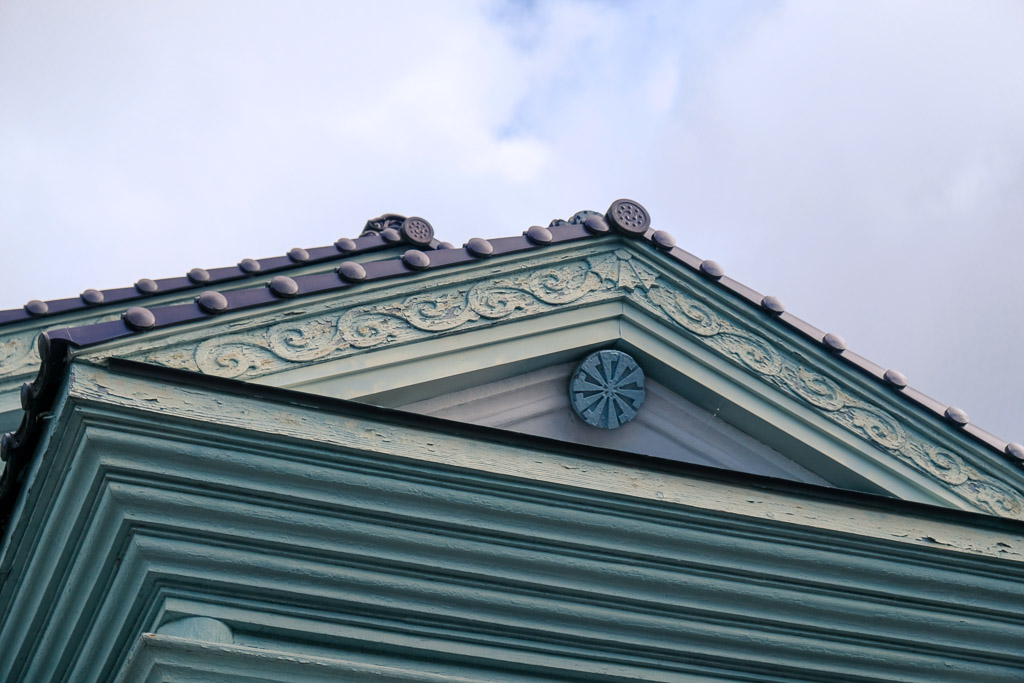 The Takashi Shimura Museum
If you're en route to the Ikuno Mine and Kuchiganaya town, the Takashi Shimura Museum is a quick stop between the two. There's an interesting display of old Japanese houses that has been converted into a museum dedicated to actor Takashi Shimura, whose father worked at Ikuno Mine. The star of some of Akira Kurosawa's most famous movies, the original house the actor was born in is also here.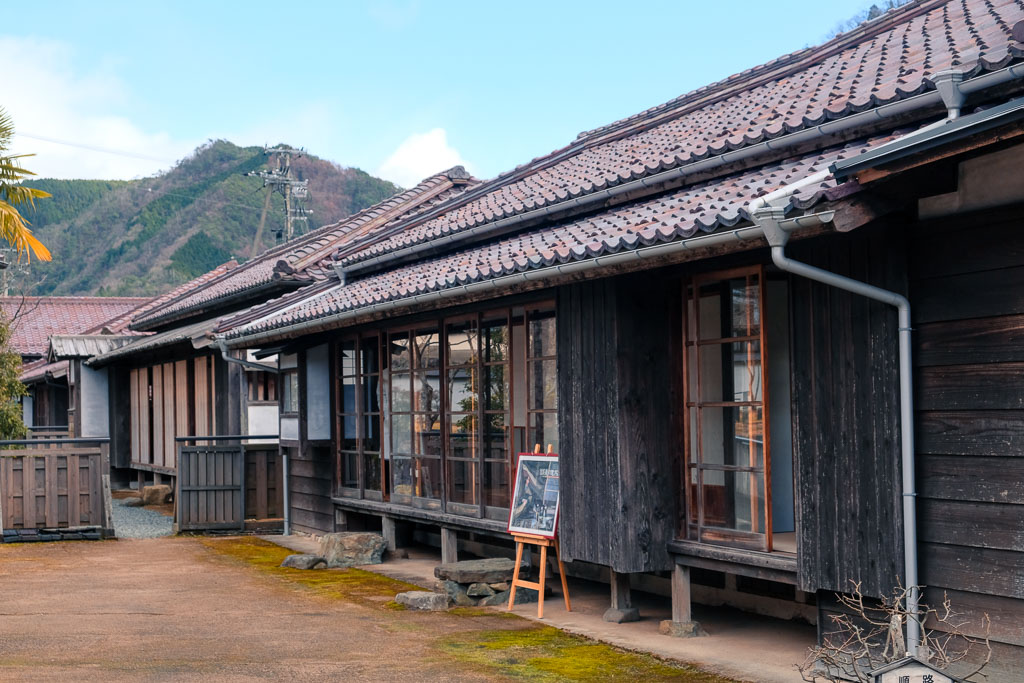 Walking Tour of Kuchiganaya
Suggested walking tour from the Discover Tajima website.
Getting to Asago City, Ikuno Silver Mine, and Ritsuun-kyo
Asago City has 6 JR train stations: Wadayama, Yanase, Takeda, Aokura, Nii and Ikuno. The biggest and most accessible one is Wadayama.
From Kyoto to Asago city: From Kyoto Station, you will arrive at Wadayama Station in about 1 hour and 50 minutes by limited express via San-in Line.
From Osaka to Asago city: From Osaka Station, you will arrive at Wadayama Station in about 2 hours and 10 minutes by limited express via the Fukuchiyama Line.
From Wadayama Station to Ikuno Silver Mine: Take the local train to Ikuno station, where you will transfer to the bus that takes you to Ikuno Ginzan guchi bus stop. The Ikuno Silver Mine is a 10 minute walk from the bus stop.
From Wadayama Station to Ritsuun-kyo: Take the local train to Takeda station. There are no buses departing to Ristuun-kyo, but it can be reached on foot in 45 minutes.
Visit the Asago Travel Guide for more info. The guide is available in English, French, Chinese and Japanese.
---
Exploring the Tajima Province of Hyogo
If you're in the area, an hour's drive will get you to the old castle town of Izushi, where you can eat all the soba (buckwheat) noodles your stomach can handle. For a dip into a hot spring, the nearby Kinosaki Onsen with its several ryokan (traditional-style inn) and many public onsen is well worth the stopover.
Article sponsored by North Kansai Tourism Association.