Remove your watch and shut down your smartphone. For time flows differently at Oumi no Sato (翁美の里), and you don't want to be the one responsible for dispelling the magic within this realm. Here, a vivacious fairy godmother awaits you with a single mission: she's here to bring happiness to all of her visitors. As the old adage goes, "The way to a man's heart is through his stomach," she also has quite a lot of experience conquering us with delicious seasonal fruits from her farm.
Oumi no Sato, a Break from the Mundane Noise
Hailed as Japan's Land of Sunshine, Okayama (岡山) enjoys privileged weather compared to most of the country, making it a prime location for agriculture. Muscat grapes and white peaches are the region's most famous products nationwide and it's no coincidence that this is also is the birthplace of Momotaro (桃太郎), the Japanese folk hero born from a giant peach that's at the core of the legends surrounding the ancient region of Kibiji.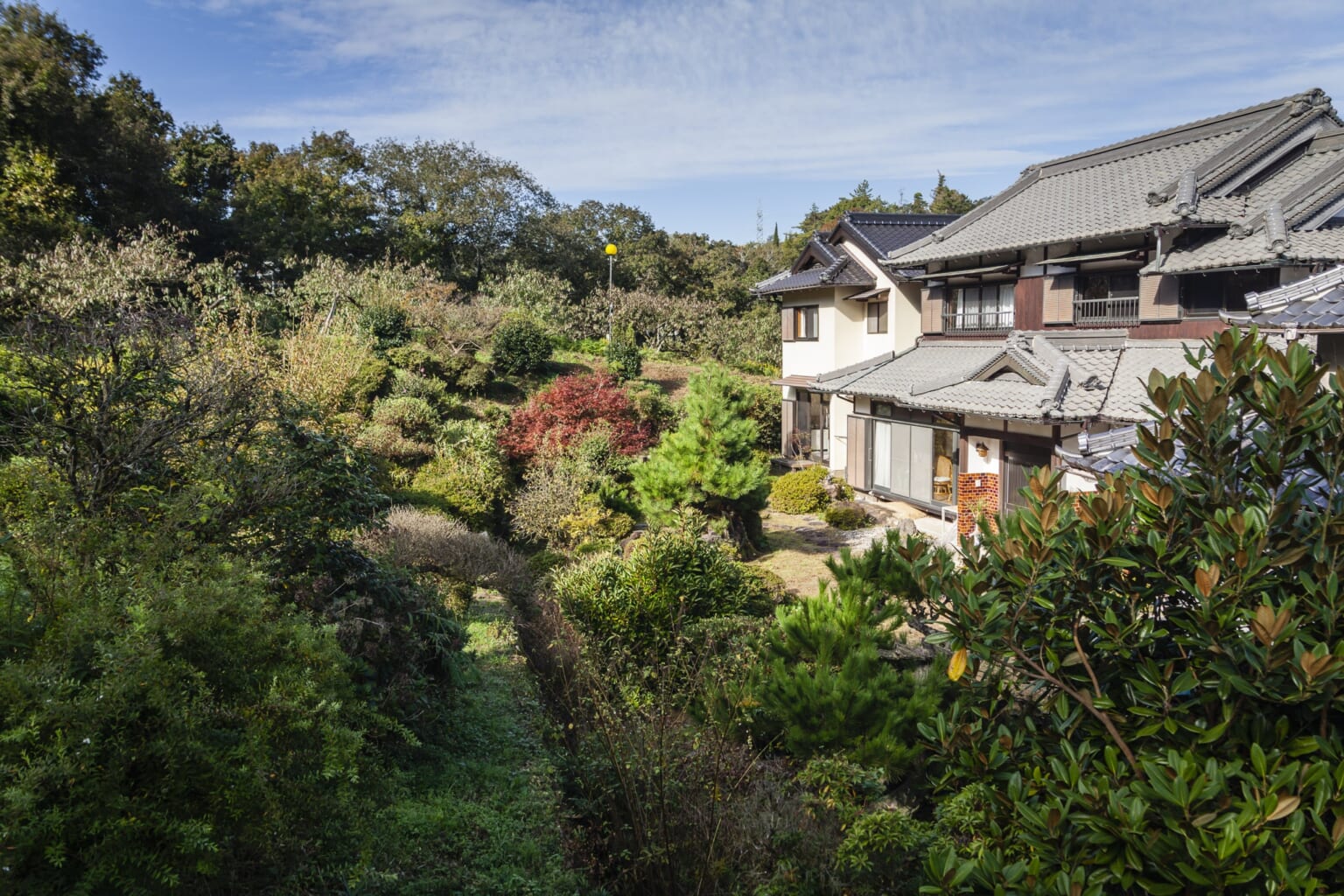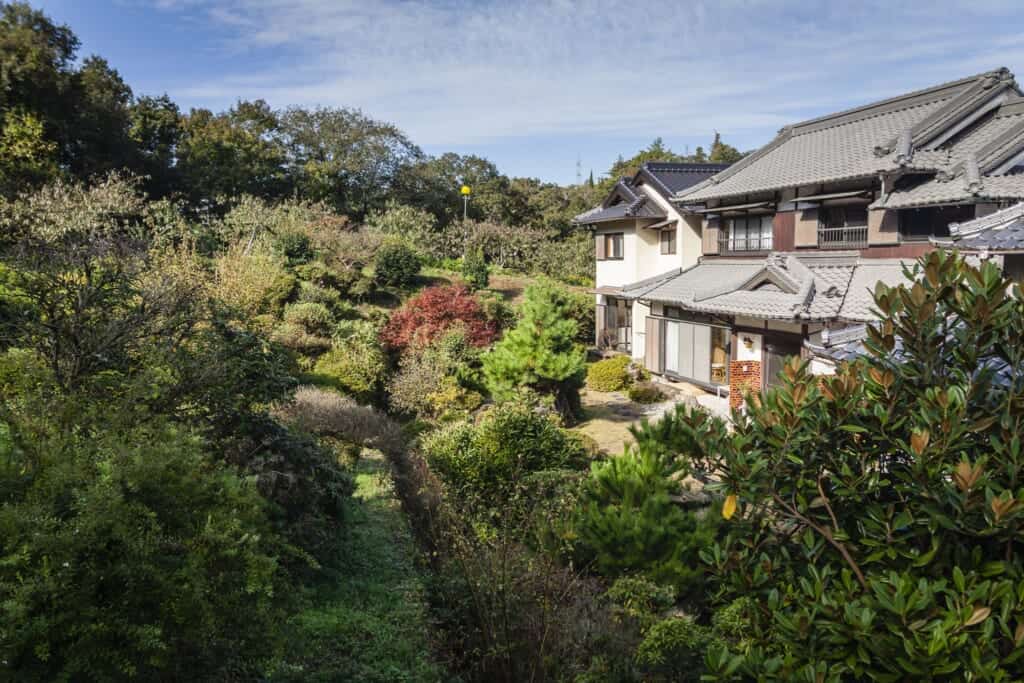 It's already past sunset by the time I arrive at Oumi no Sato, after a long day of walking and shooting. It's not that far from the city, only 13 km away from Okayama Station, but I'm already in a radically different rural environment given the peaceful silence, only interrupted by the soft murmur of the trees with the fresh autumn breeze. Sadayo Satomi greets me with a bright smile, and after leaving my belongings in my room for the night and resting for a bit, she starts telling me about this special place over dinner.
She's a third-generation peach farmer who decided to expand the business scope when she took over the farm from her parents. She envisions this place not just as a regular farm stay for a rural and agricultural experience but also as a healing place to stop and recover from the stress of our daily routines. "Nowadays, many people only fill their lives with endless studying followed by endless work, without time for themselves," she says. Some guests, she explains, just come here to work remotely while living for a little while in a slow-paced and natural environment. Seeing her visitors loosen up and relax is one of her joys of interacting with people. Her enthusiasm is contagious as she shares stories of an idyllic childhood running around and singing freely around the fields and nearby mountains. Oumi no Sato is about sharing with others this feeling of emotional freedom.
Organic Farming in Oumi no Sato's Fields
Besides focusing on producing the delicious white peaches the area is so famous for, she also started to grow various fruits such as La France pears, blueberries, citrus fruits, and plums. Although aided by Okayama's gentle weather, running her farm is no walk in the park. Satomi-san is constantly watching over the fields and monitoring the fruits to gauge the precise moment to harvest them, even if it means checking every single day at sunrise as harvest season approaches. This year's weather had been a bit unusual, and she was not taking any chances with her beloved peaches.
It's not harvesting season anymore at the time of my visit, so I can only imagine the effort and delight of overlooking 100 acres of fruits (75 acres for white peaches and 25 acres for everything else). The next day we take a morning walk around the fields while Satomi-san explains what's planted on every section. If visitors come during harvest season, they can also enjoy a harvesting experience, roaming freely without time constraints and purchasing the fruits they've taken themselves. In addition, there's also an area dedicated to growing shiitake mushrooms which can also be part of the harvesting experience. For a through and through urbanite like me, the thought of eating something I've harvested myself brings me an immense feeling of satisfaction which I'm sure must be experienced by other guests like me.
However, I did have the chance to feel satisfaction from feeding others instead of myself. Oumi no Sato also has a small zoo with Holland Lop rabbits, an African spurred tortoise, and several goats. The latter were overly enthusiastic about our visit, as we kept feeding them with nearby weeds. It was such a pure and childlike joy, simply watching the cute fluffy bunnies and hearing the goats gleefully bleating as they kept demanding food from us. No wonder this is one of Satomi-san's happy corners.
Rich Fruits, A Cafe Without a Fixed Schedule Nor Regular Menu
Working on her farm, Satomi-san was faced with a small problem. Some fruits were not produced in large enough quantities to be carried to the markets but were still too much for her own consumption. Opening Rich Fruits was the answer. Faithful to the farm's free-spirited ethos, this is not your run-of-the-mill cafe. You'll be served whatever the owner feels like doing on any given day — rest assured it's going to be delicious regardless — or you may arrive and find a sign she's away working on the fields. But a quick call will suffice for her to come back and serve the best she has to offer. In any case, it's always best to call beforehand to make sure the cafe will be open on the day you plan to visit.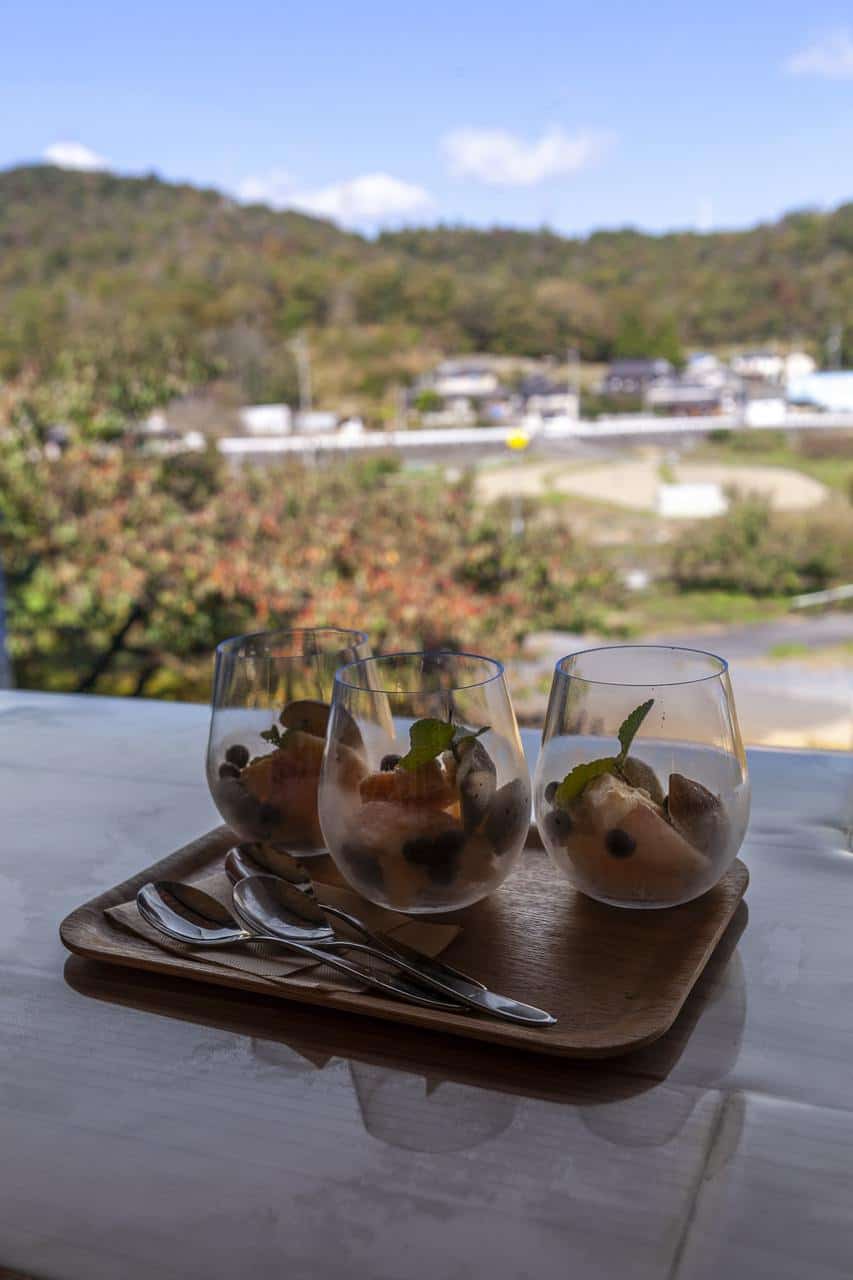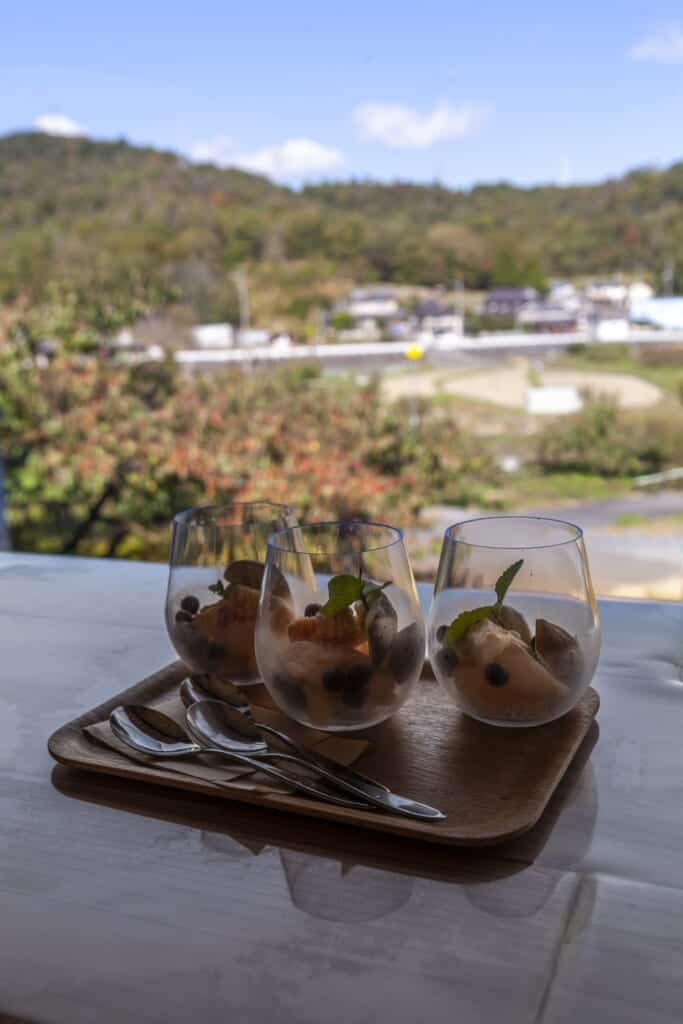 The cherry on top is sitting facing the window and admiring the countryside landscape. Visitors' word of mouth has become an effective promotion tool of the cafe's heartwarming ambience. It's been a huge learning experience for Satomi-san, as managing different types of business and serving customers brought other challenges, taking a lot of trial and error to overcome them. This is why she also offers the opportunity for visitors to rent spaces for workshops or run a cafe for a day. The cafe can be rented for 600yen/hour or 3,000 yen/day from 11:00 to 16:00. The processing kitchen is available for 1,000 yen/day and a Japanese-style traditional room for 2,000 yen/day.
Traditional Japanese Experiences in Oumi no Sato
Our taste of farm life was complemented with a traditional and local experience for lunchtime. We learned how to make Barazushi, one of Okayama's signature dishes. The particularity of this variety is the addition of vegetables, various pickles, and slices of egg omelette besides fish. Our day's menu included whitebait with green beans, mushrooms, lotus root, and mixed Japanese pickles.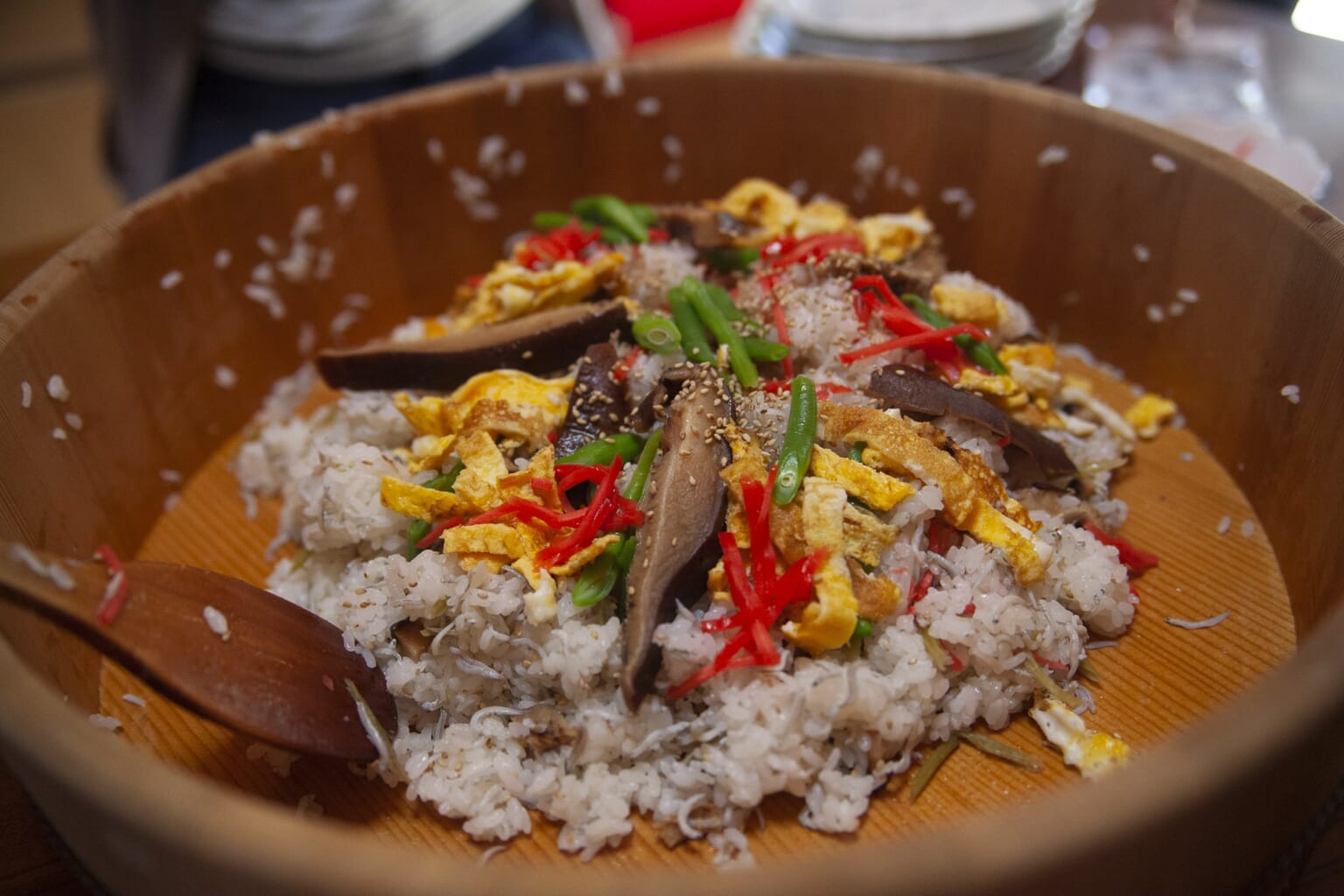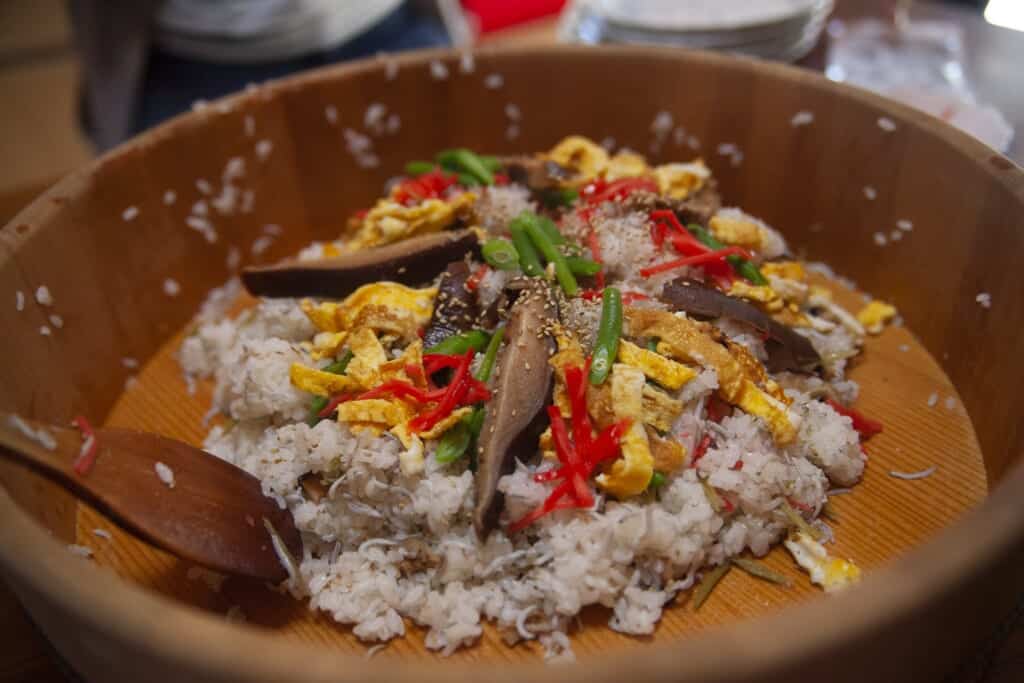 The delicious lunch was followed by a tea ceremony with a slight twist. Instead of the typical confectionery made with sweet bean paste covered in a sweet mixture of glutinous rice flour, we were served the house's special blueberry and white peach cookies. A tea ceremony is a meaningful experience here. Wabi-sabi aesthetics are coupled with the contemplative nature of the ritual, about purifying ourselves and being mindful of the here and now, which is at the core of what Oumi no Sato experience is about. It was the perfect way to end my stay.
Getting to Oumi no Sato
Oumi no Sato is only 30 minutes away from Okayama station or just 10 minutes from Okayama Airport by car. If you're on public transportation, the easiest route is taking the bus from stop number 6 in front of Okayama station headed to Tenmaya-Sayama Danchi-Rehabilitation C (天満屋~佐山団地~リハビリC線). The farm's nearest stop is Tomiyoshi Honmuranishi (富吉本村西), 15 minutes away on foot. Cafe business hours are 11:00-16:00 on irregular holidays, so it's best to confirm by phone beforehand.
Oumi no Sato is the perfect spot for those looking for an authentic farm stay experience. Here, time stops, and we're given a chance to recollect our thoughts and reconnect with ourselves, surrounded by nature, fresh and delicious fruits, and cute animals. Farmer Sadayo Satomi feels proud when thinking about those that have come to this place to find solace from the daily stress. But I'm sure that part of what keeps people coming back here is her infectious joy and spirited demeanour.
Sponsored by Okayama city, Okayama