The Nakasendo Trail (中山道) is one of the five former "Gokaido" (五街道) routes in Japan used during the Edo period (1603-1868). Frequently used by feudal lords, this 535-kilometer road connecting Kyoto to Tokyo (then called Edo) is also known as the "Samurai Road." It has 69 stops (宿場, shukuba) including Magome (馬籠), Tsumago (妻籠) and Nakatsugawa (中津川). From hiking, history, crafts, and beautiful scenery, there's much to discover of Nakatsugawa's treasures with its authentic Edo atmosphere.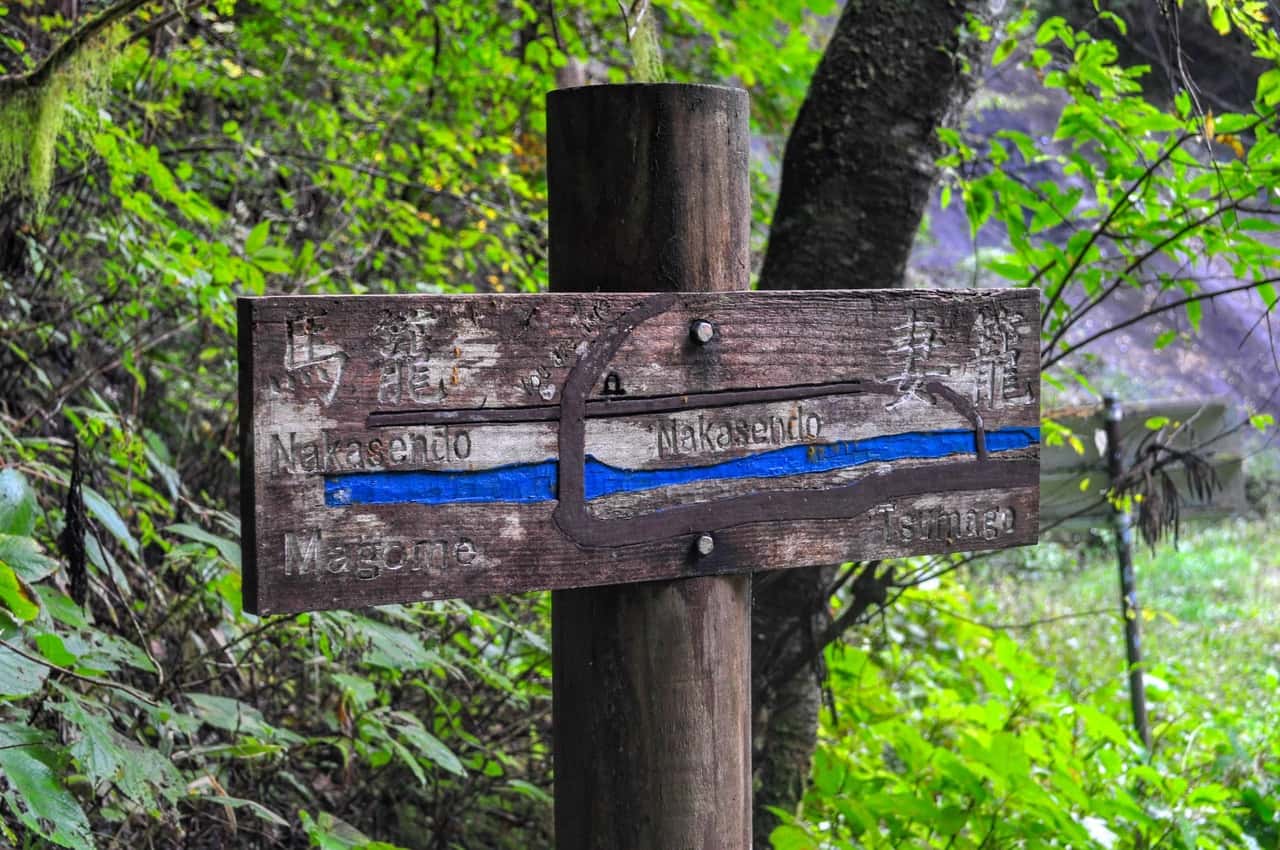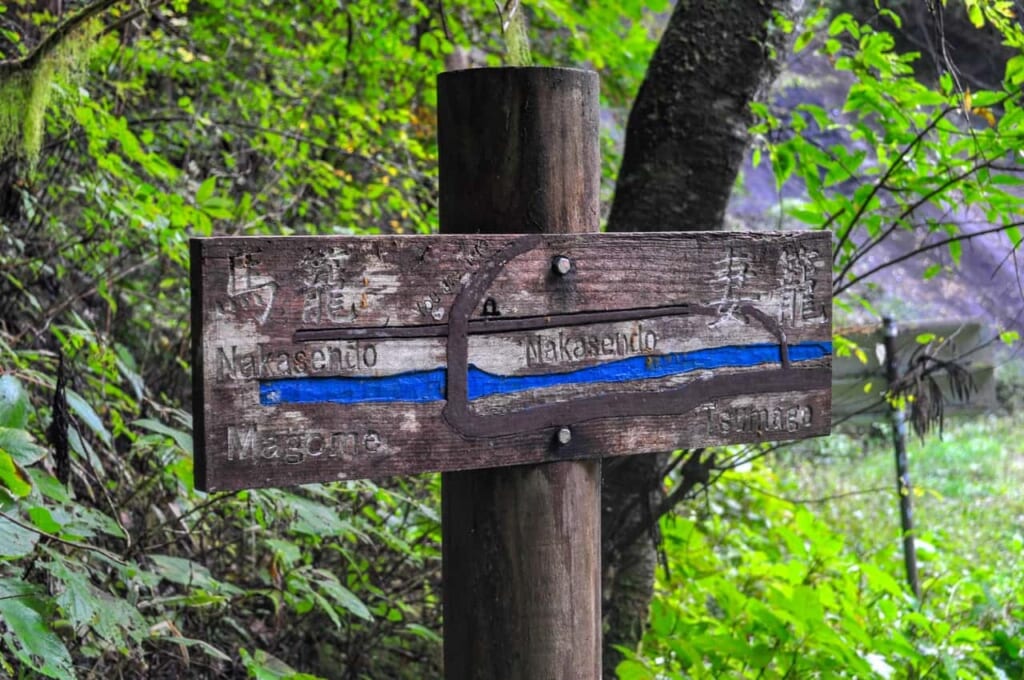 Hiking from Nakatsugawa to Tsumago, in the footsteps of the samurai
The hike between Magome-juku and Tsumago-juku (9 km) is very popular. But for most adventurous travelers, it is possible to extend the trip by starting from Nakatsugawa-juku (about 17 km).
Start your Tour at Nakatsugawa-juku
We started our tour of Nakatsugawa (中津川宿) from Waki Honjin (脇本陣跡), a building that once served as a substitute residence for feudal lords and high-ranking people when there was no more room in the main residence.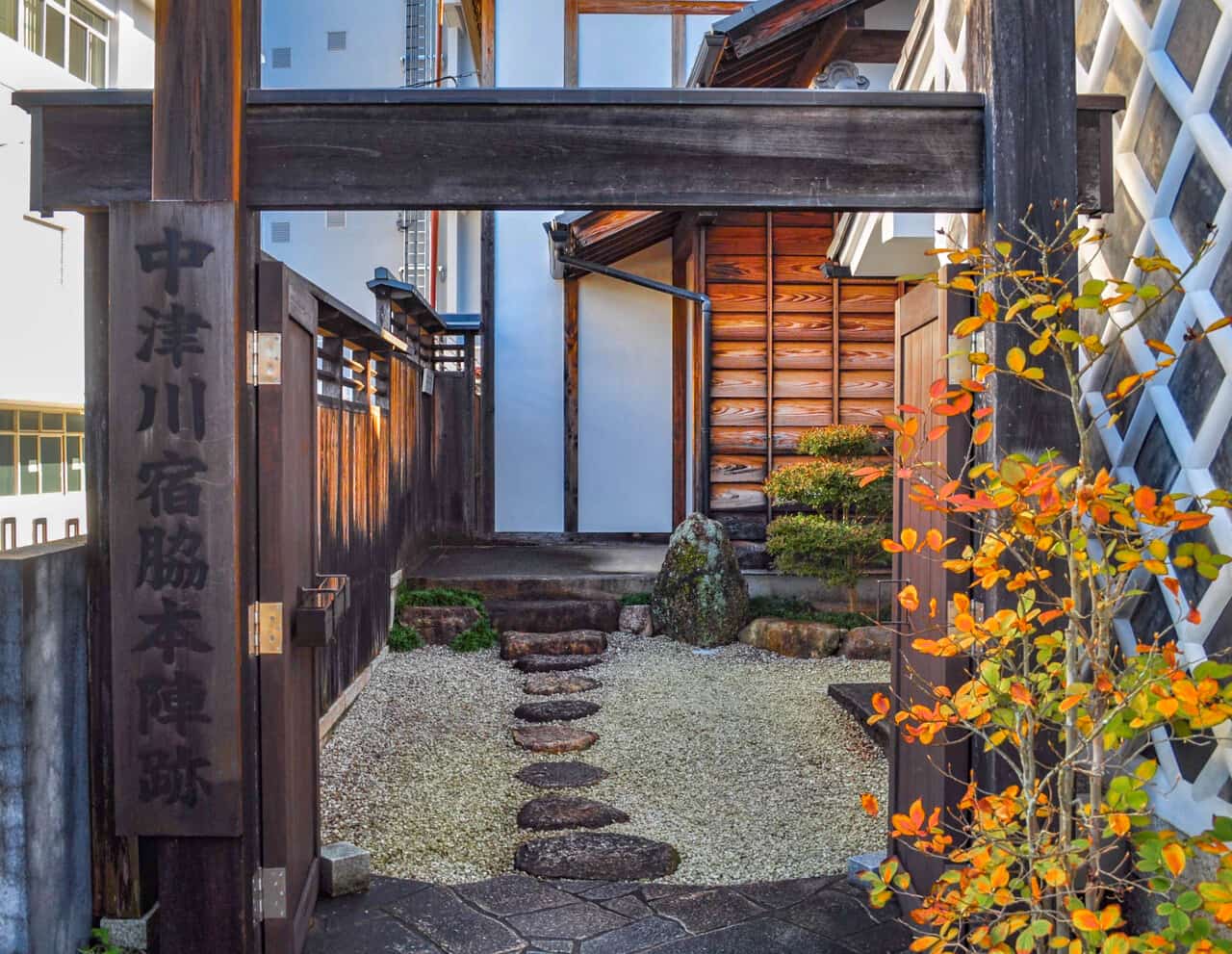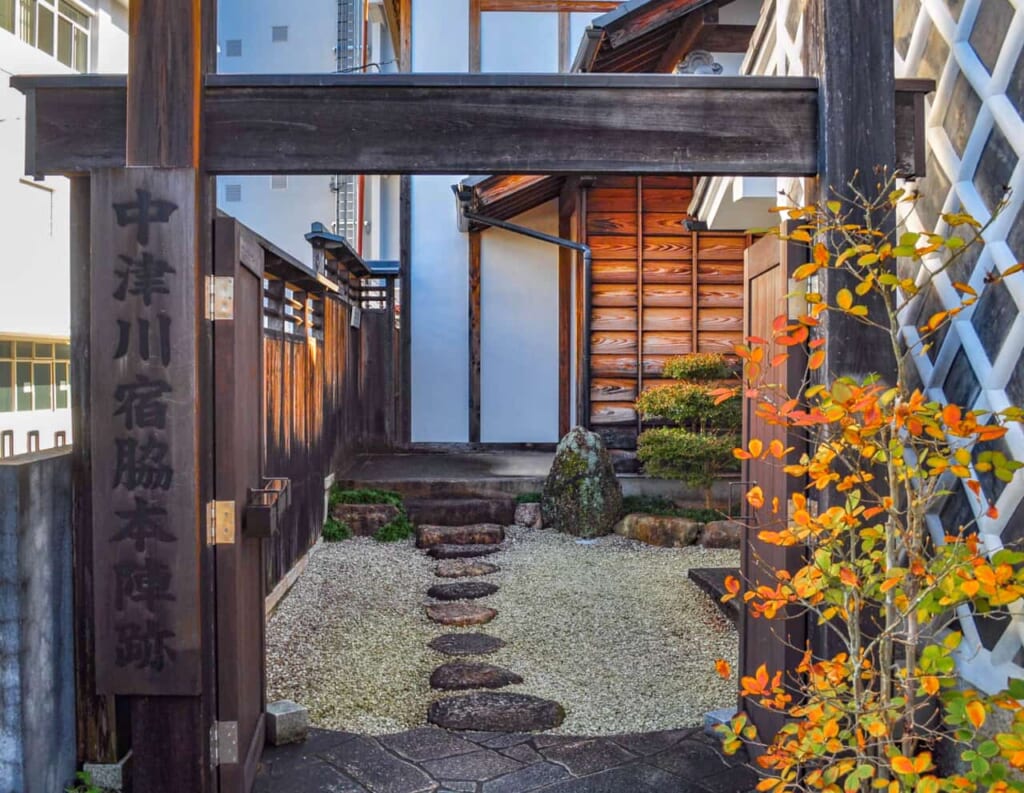 Then, as we walked through the alleys of Nakatsugawa-juku, we discovered stores and the many historical buildings with traditional architecture that date back to over 400 years old.
Architecture lovers will be happy to discover two types of traditional buildings that coexist in Nakatsugawa: wooden buildings, and namako walls ("sea cucumber wall") made of diagonal tiles, designed to prevent fires.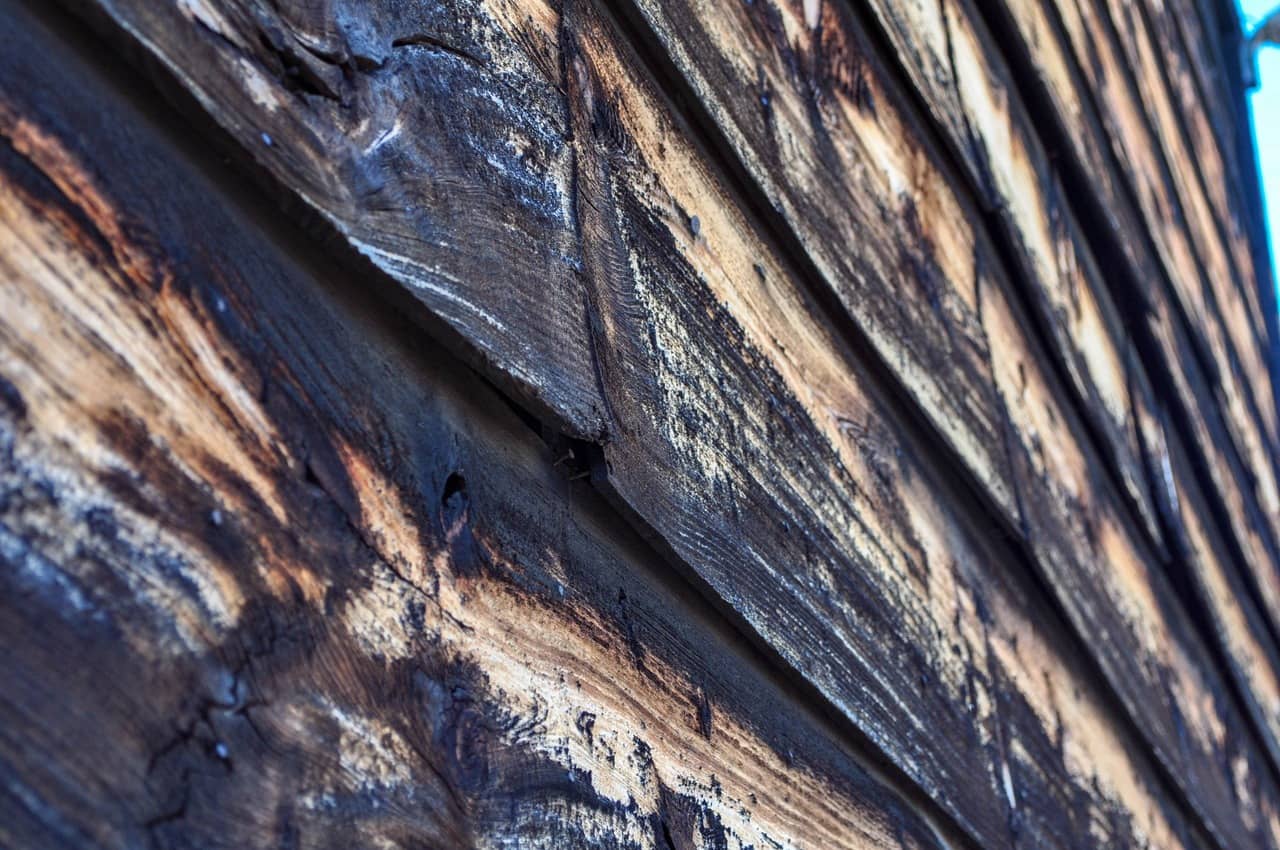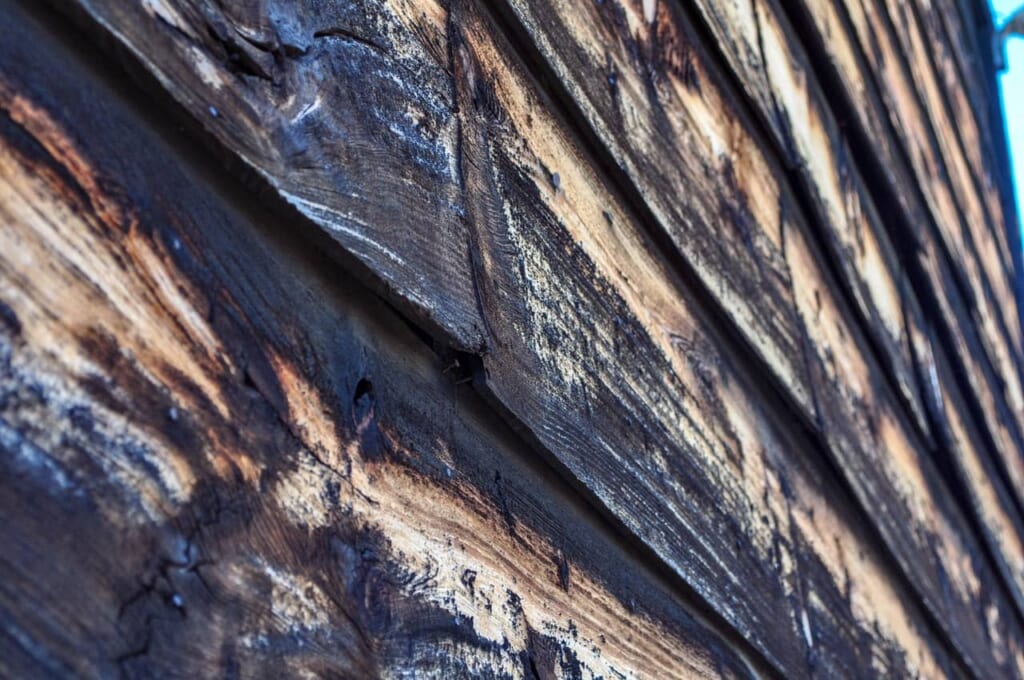 Owning such a residence was once reserved for the wealthy. If you look up, you will see an udatsu firewall (dragon tail roof), a sign of wealth, or oni gawara (protective monsters) both meant to keep fires away and attract good luck under its roof.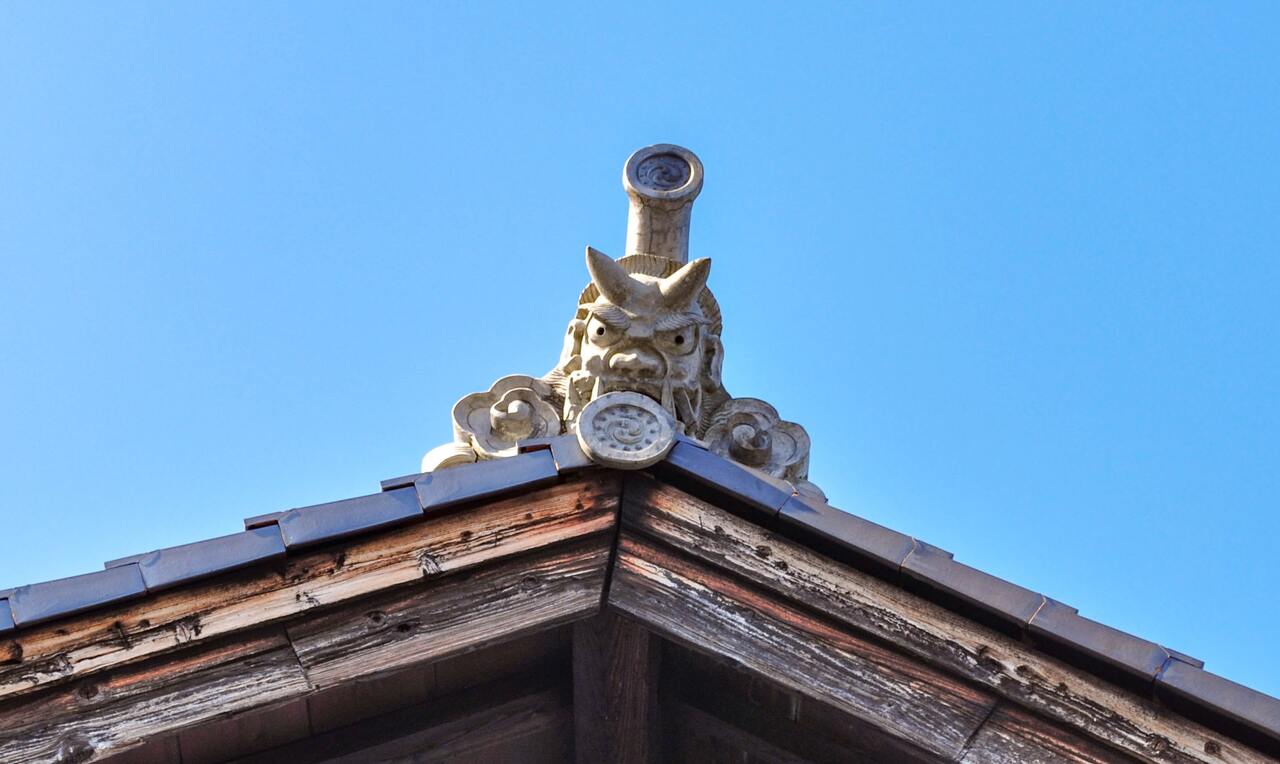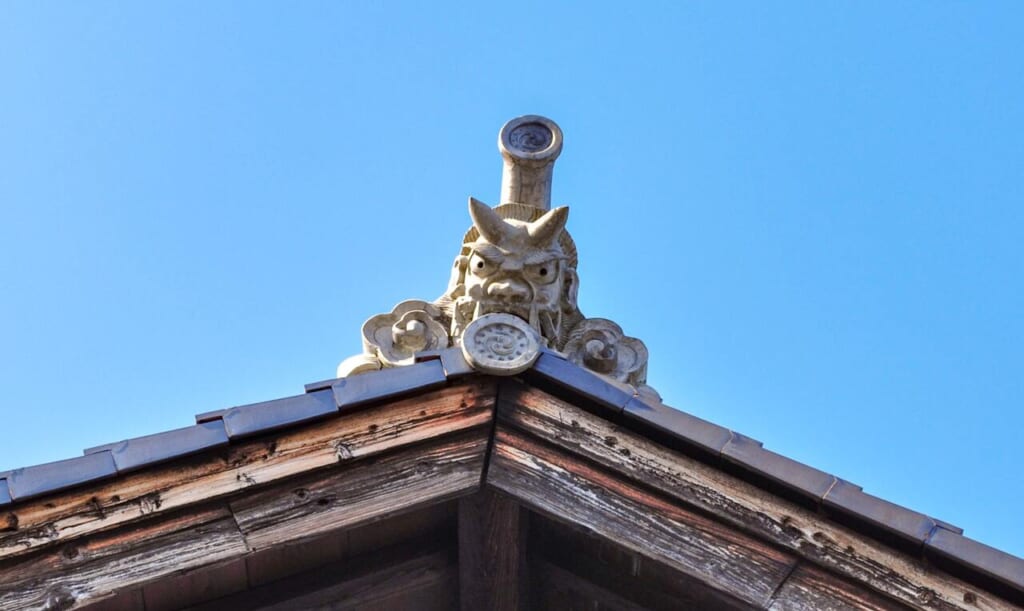 Following the road with two-colored stones showing the way to the Nakasendo, we slowly moved away from civilization to enter the forest. All you have to do after passing the Asahigaoka Fushimi shrine is to be gently lulled by the calm of nature.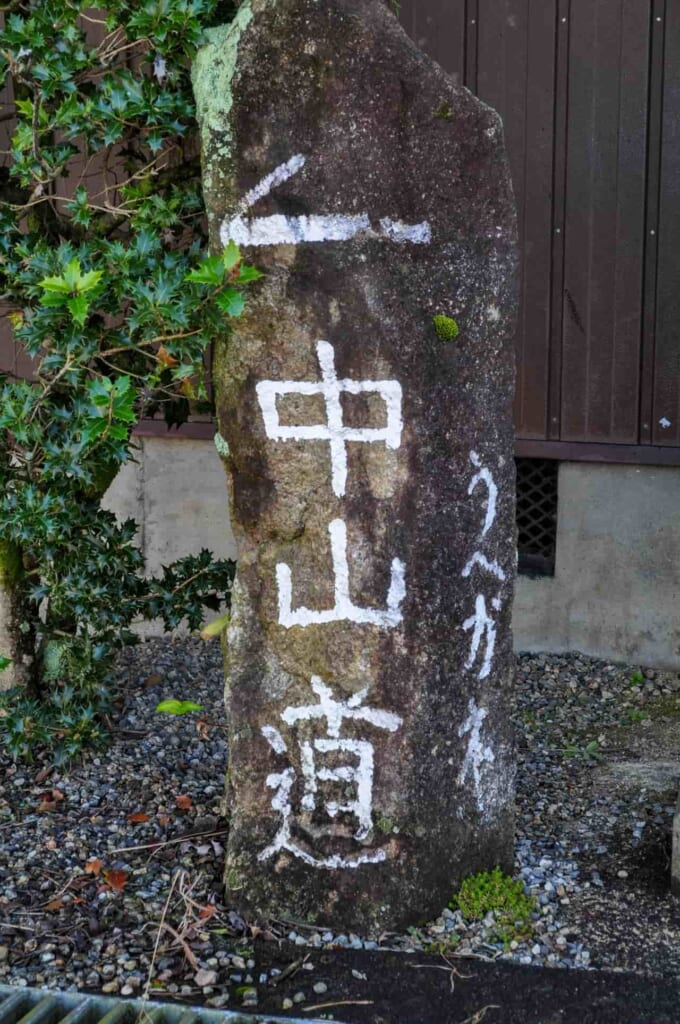 Ochiai-juku, the 44th post station
This sunny day was nice to enjoy the rice fields, waterfalls, and rural houses we passed on the road, overlooked by Mount Ena (恵那山, 2191 meters).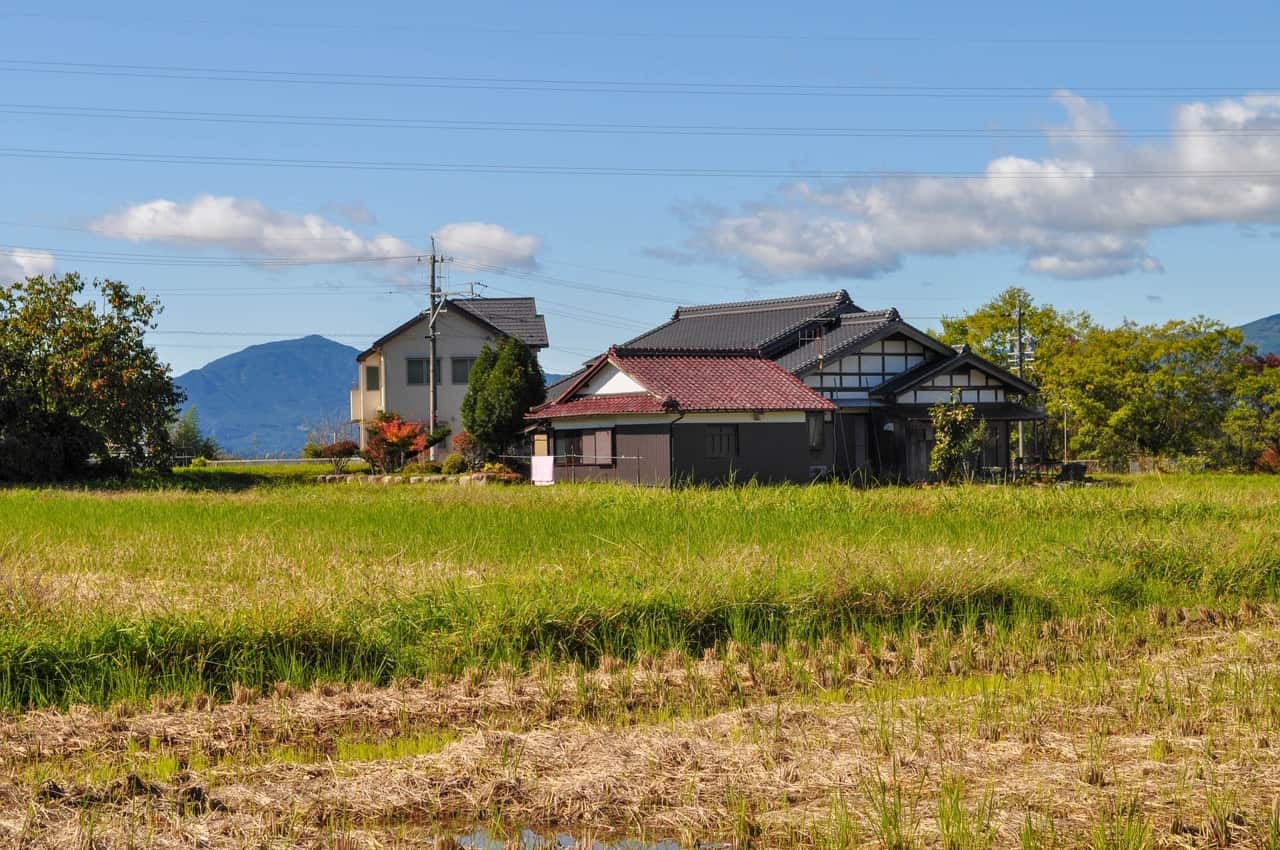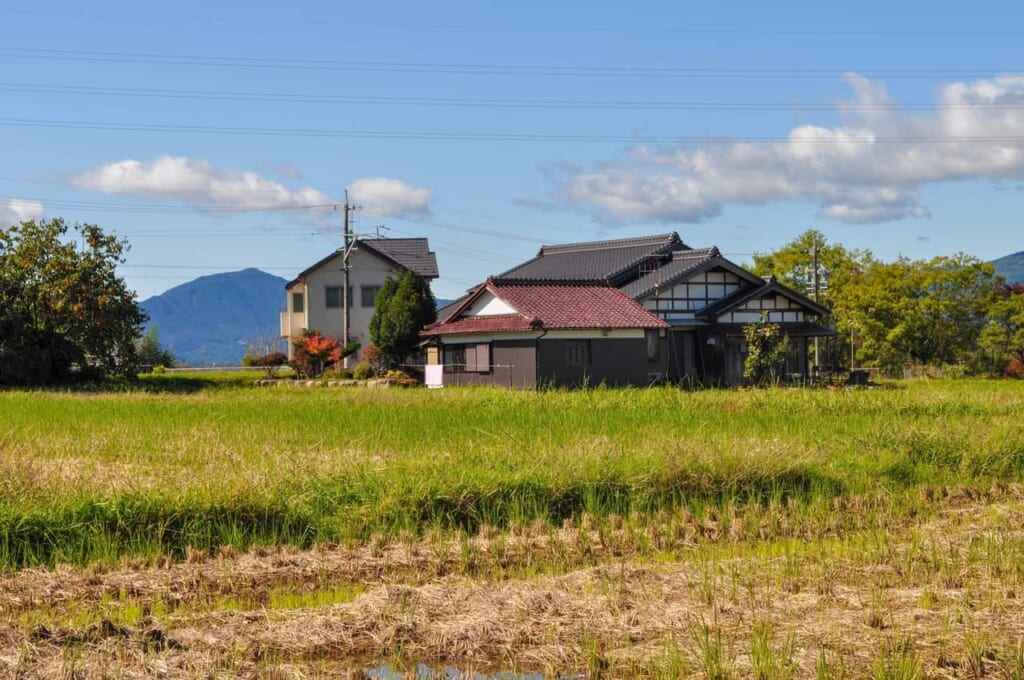 Then comes the Ochiai paved path which covers 840 meters. Specific to the Nakasendo, its 70 meters of original stones are on the list of national historic sites. The area next to the paved path, mosses, bamboo forests, and waterfalls create a magical atmosphere.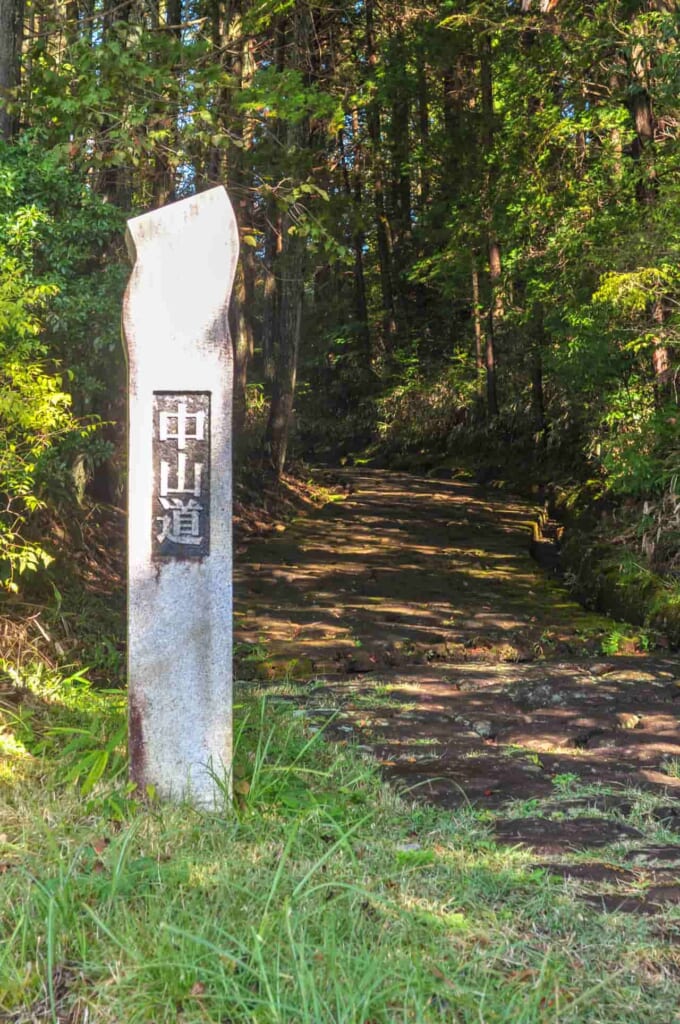 Here we are in Ochiai-juku (落合宿), the 44th stop on the Nakasendo, where Ochiai-juku Honjin (落合宿本陣), the last residence in Gifu Prefecture reserved for feudal lords is located. Its buildings, gate, and garden are original and open to the public every Sunday.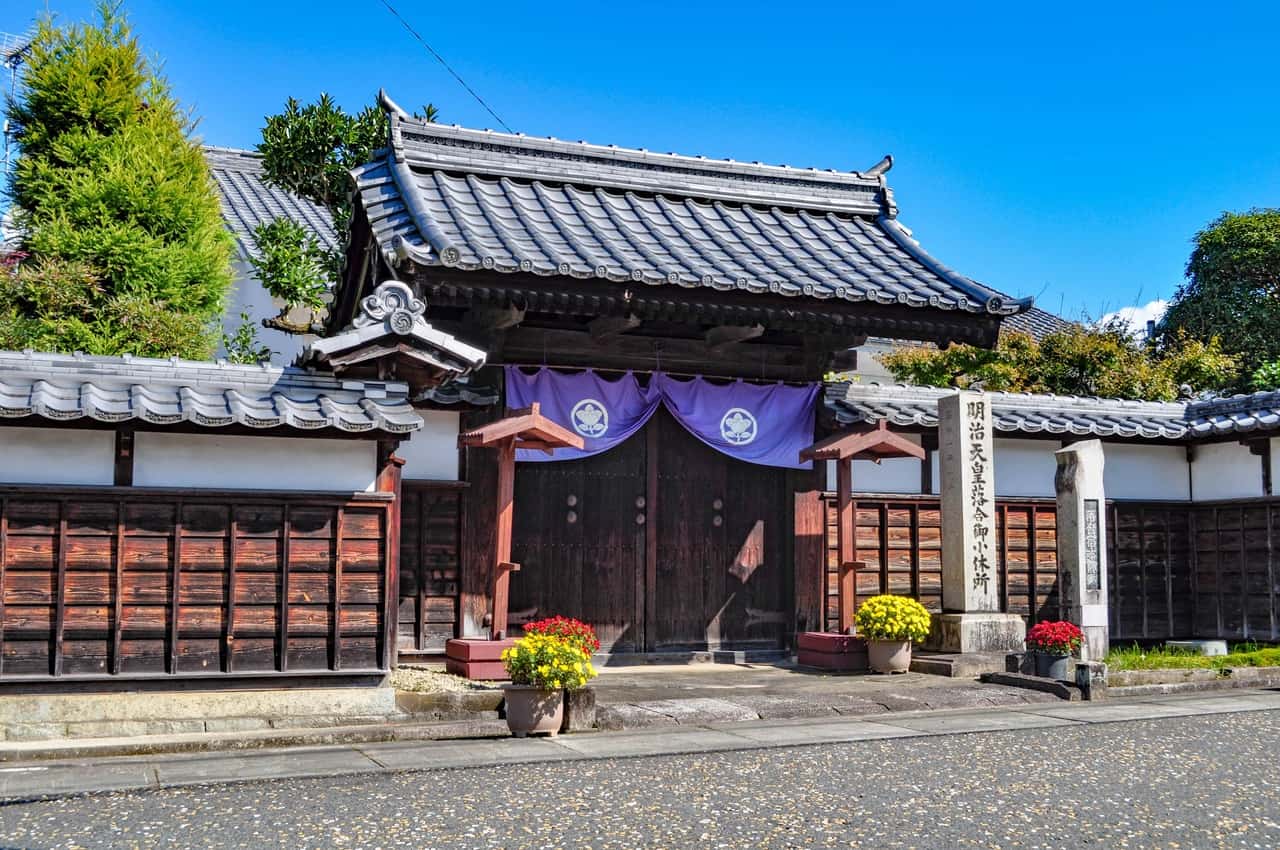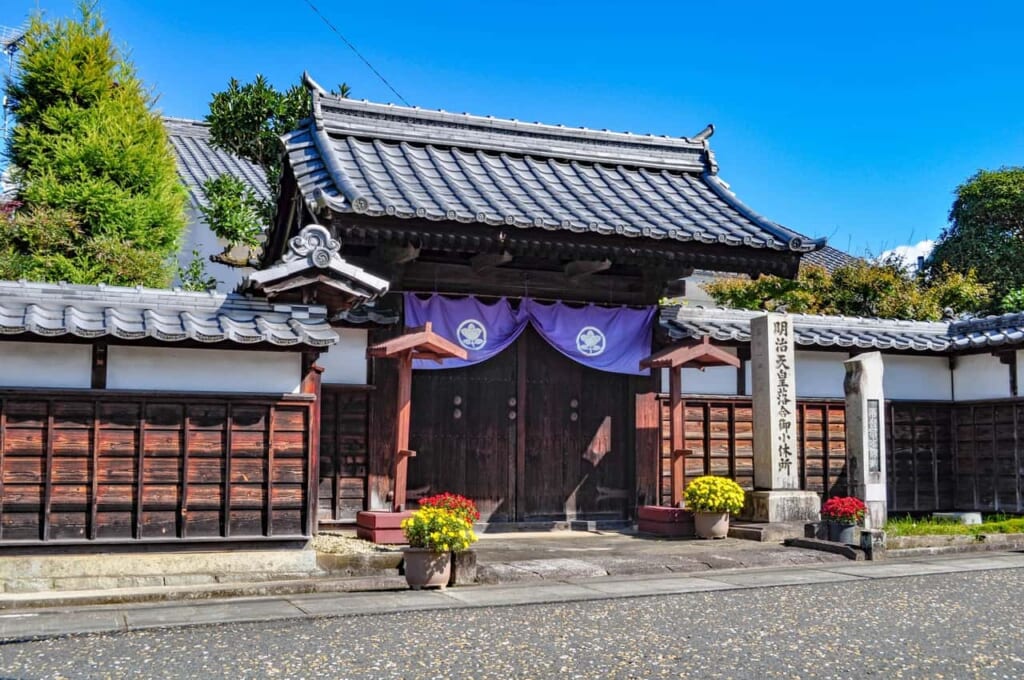 Although Nakatsugawa and Ochiai are less popular than Tsumago and Magome, this part of the hike was my favorite because you can enjoy beautiful landscapes and exceptional scenery.
Magome-juku, the 43rd stop of the Nakasendo
Magome (馬籠宿) is the 43rd stop of the Nakasendo. The area is very suitable for rice production, so there are many rice fields, which are very important for the locals.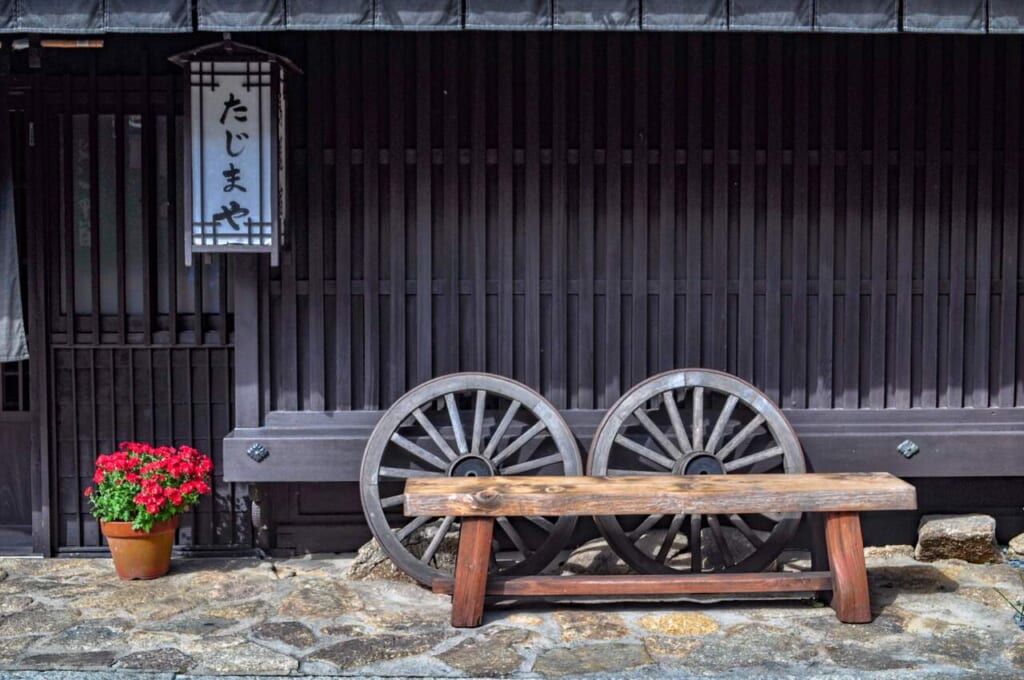 Magome is famous for its streets lined with traditional houses, which give the impression of walking in a movie set. The reconstruction of Magome after a fire in 1895 is now an open-air museum, nowadays appreciated by photographers.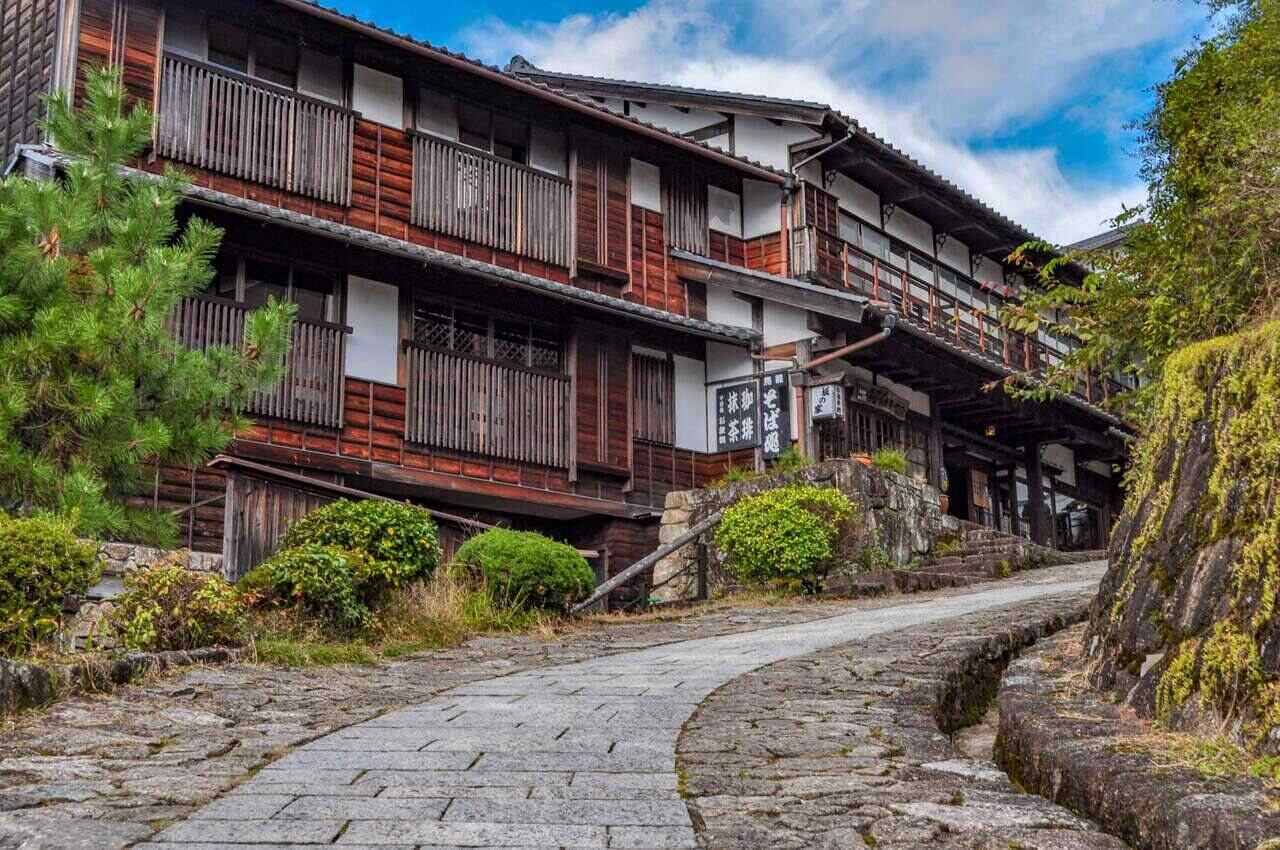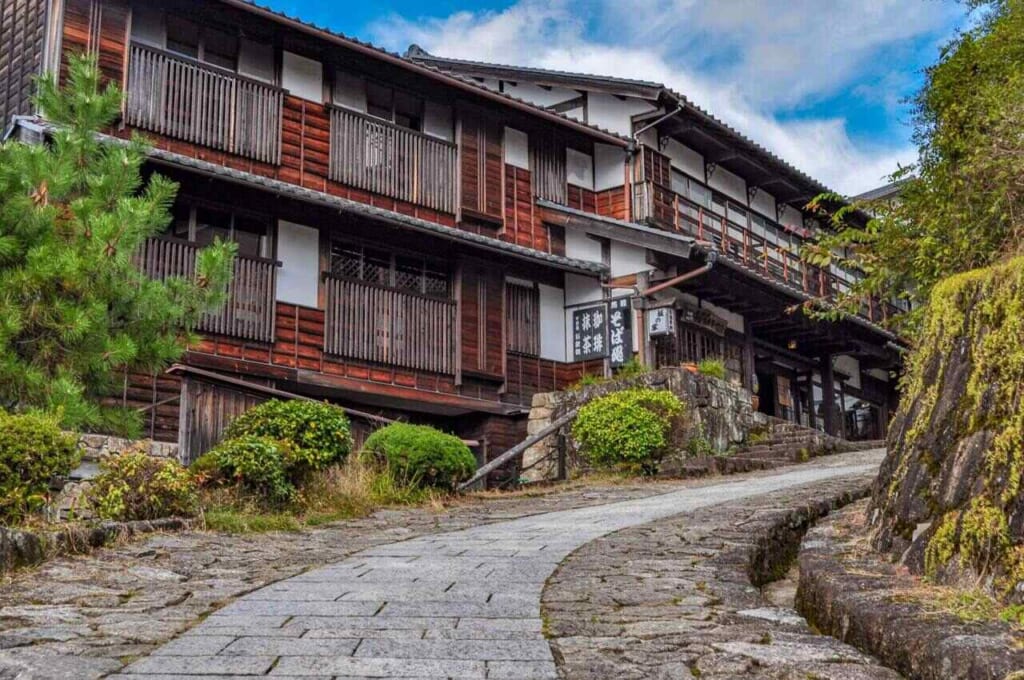 Be aware that despite this postcard atmosphere, the various buildings and residences of Magome are still occupied. People live there peacefully, like in a temporal enclave taking its inhabitants back 400 years ago.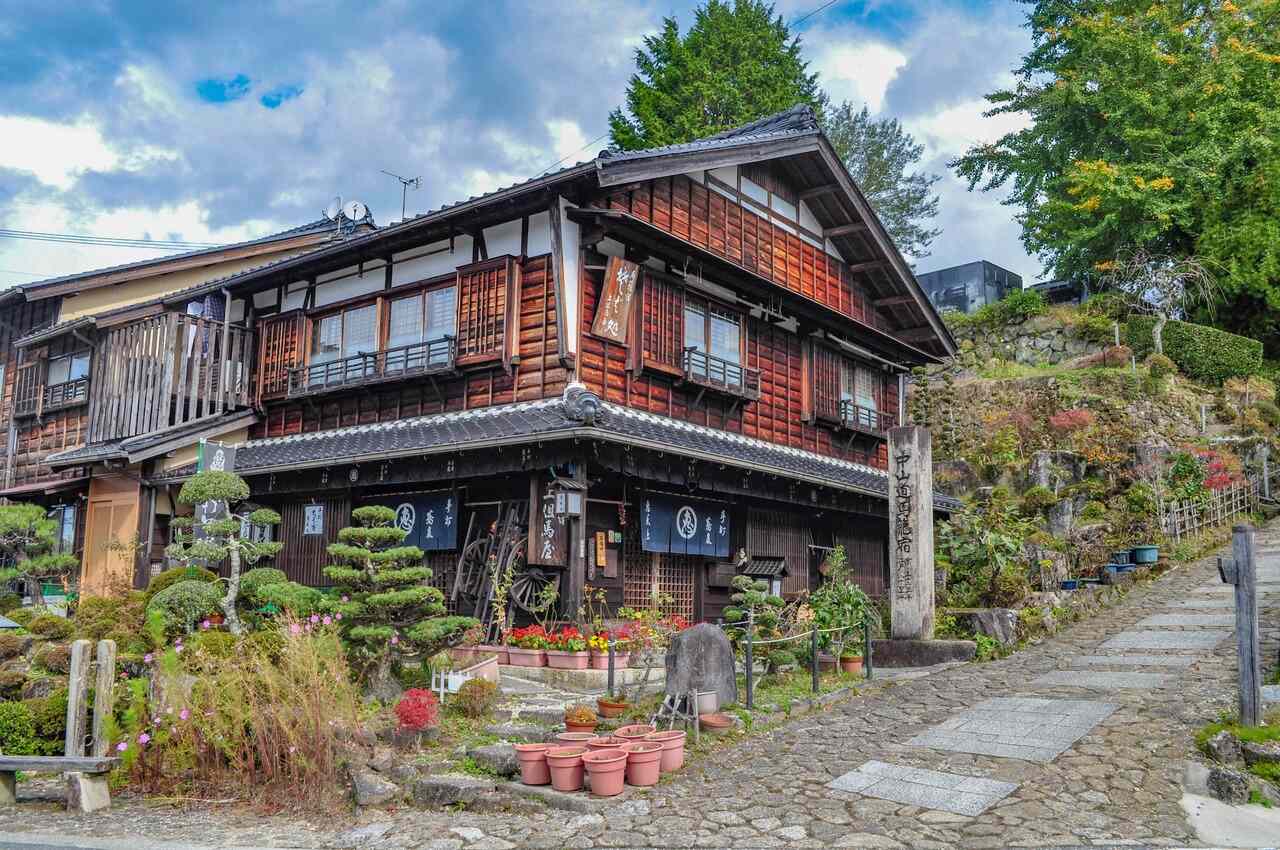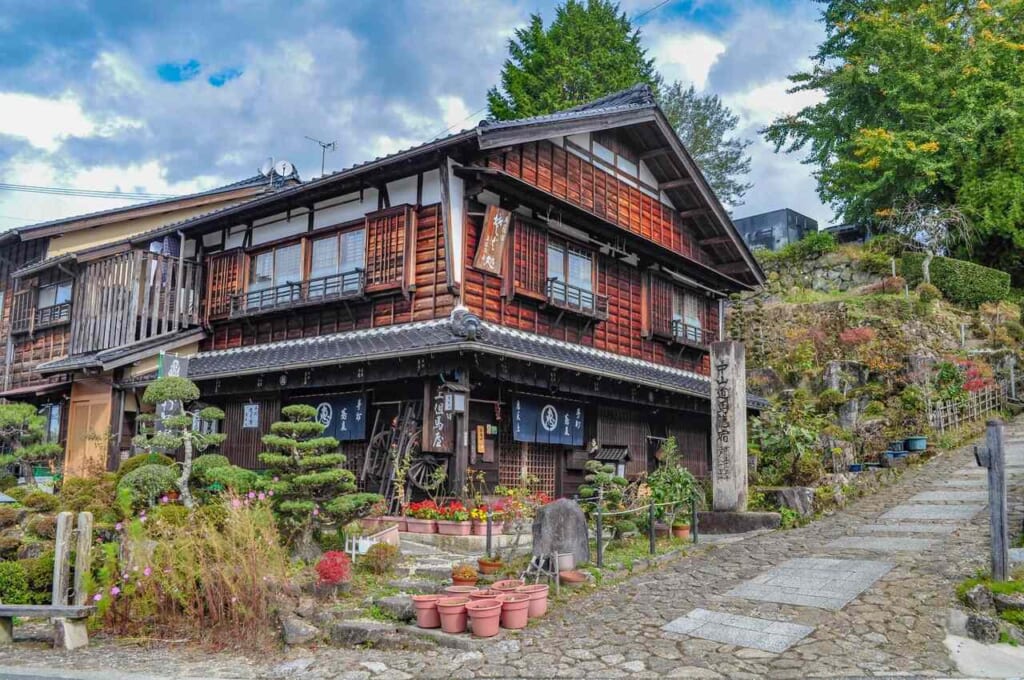 Along its slopes and waterways, Magome has a timeless landscape and includes many shops, residences, cafes, and restaurants to enjoy.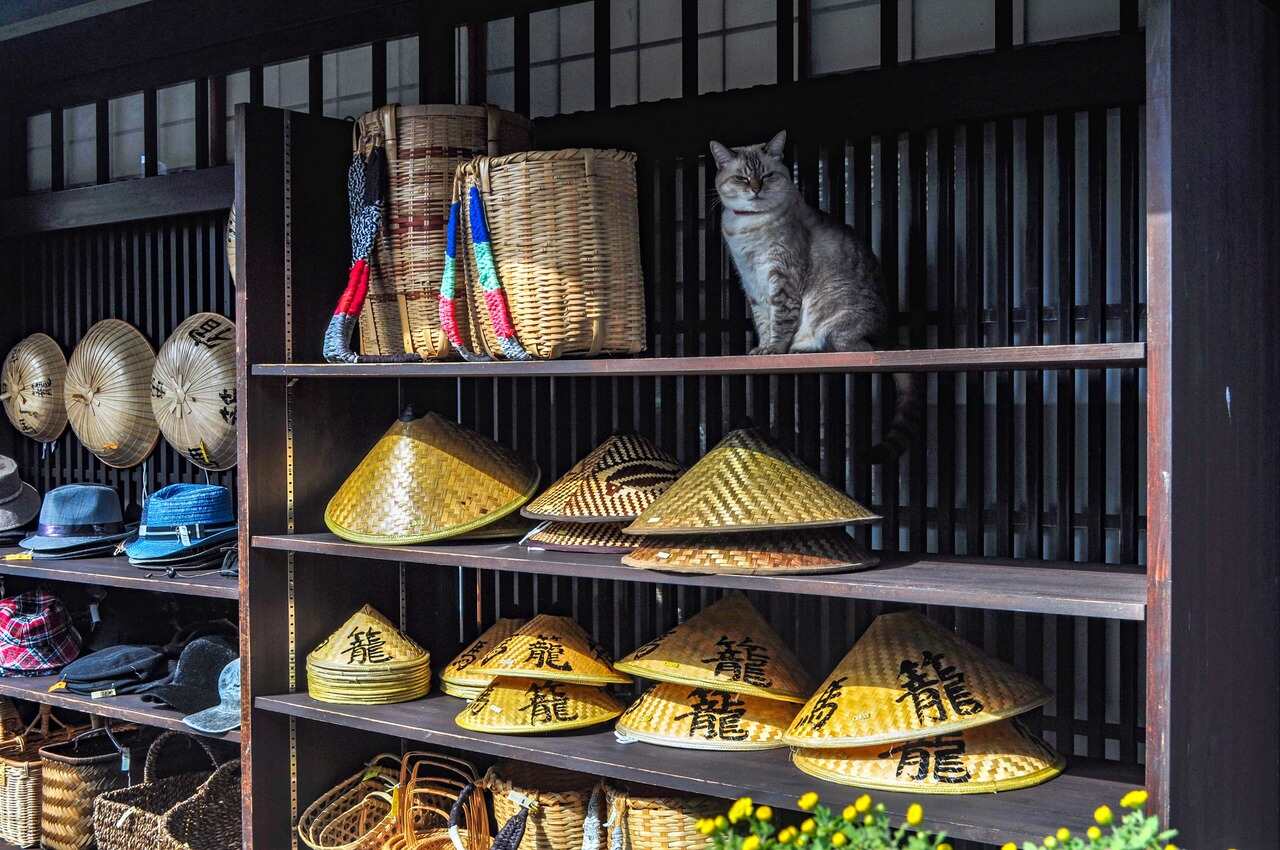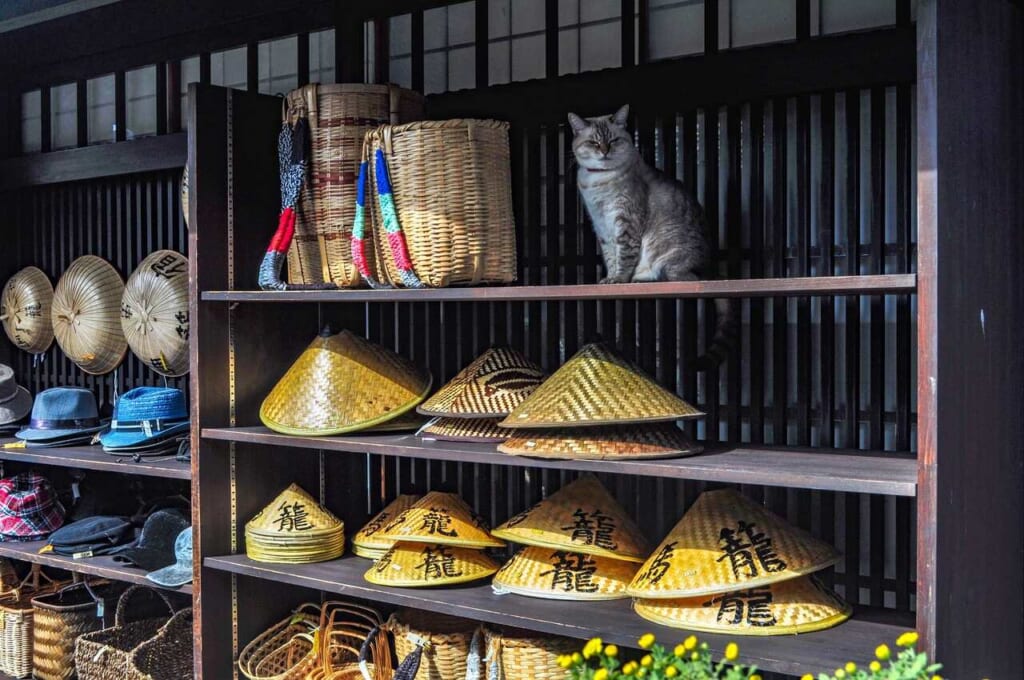 Also, don't miss Jimba, Magome's observation point offering a panoramic view of Mount Ena, once used to spot enemies. There I was struck by the beauty of the Kiso Valley, while myself and three grannies quietly contemplated this breathtaking view.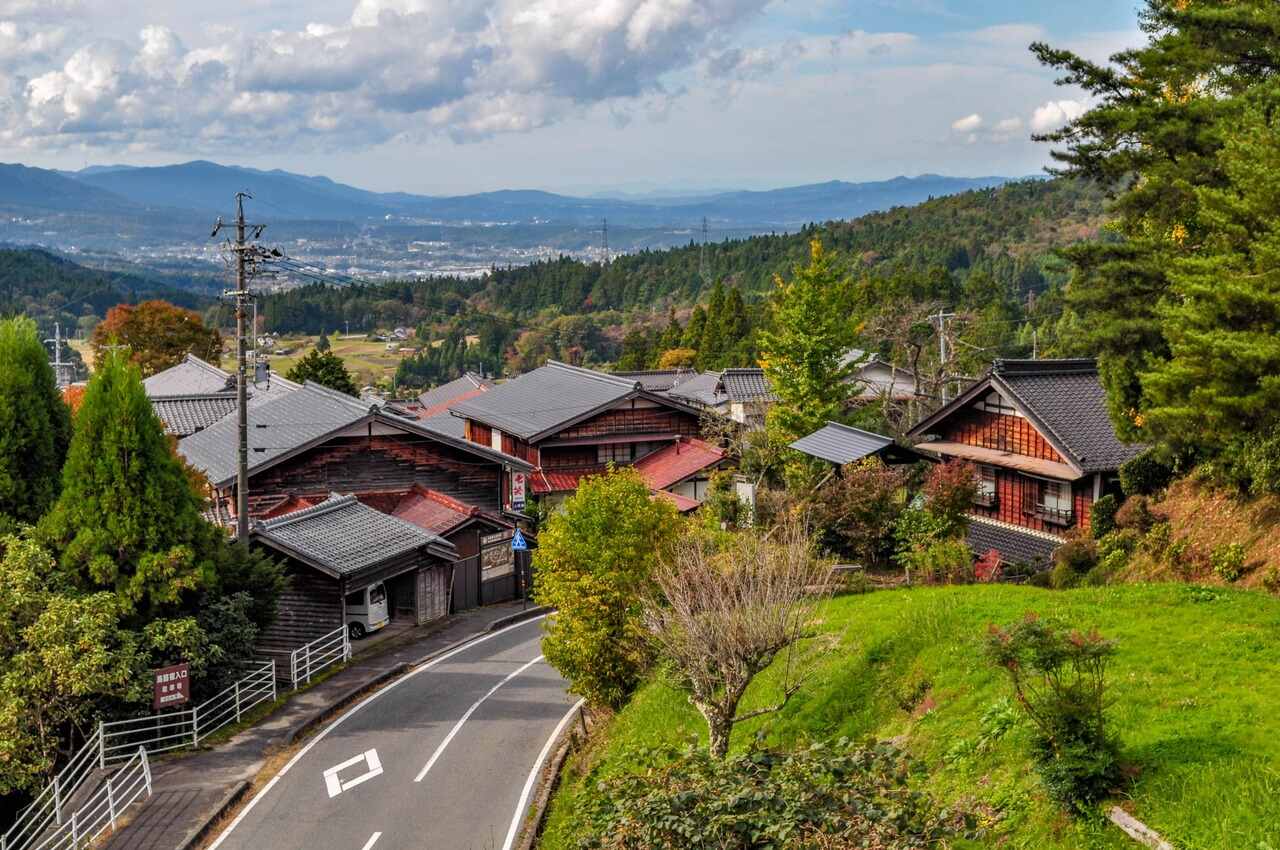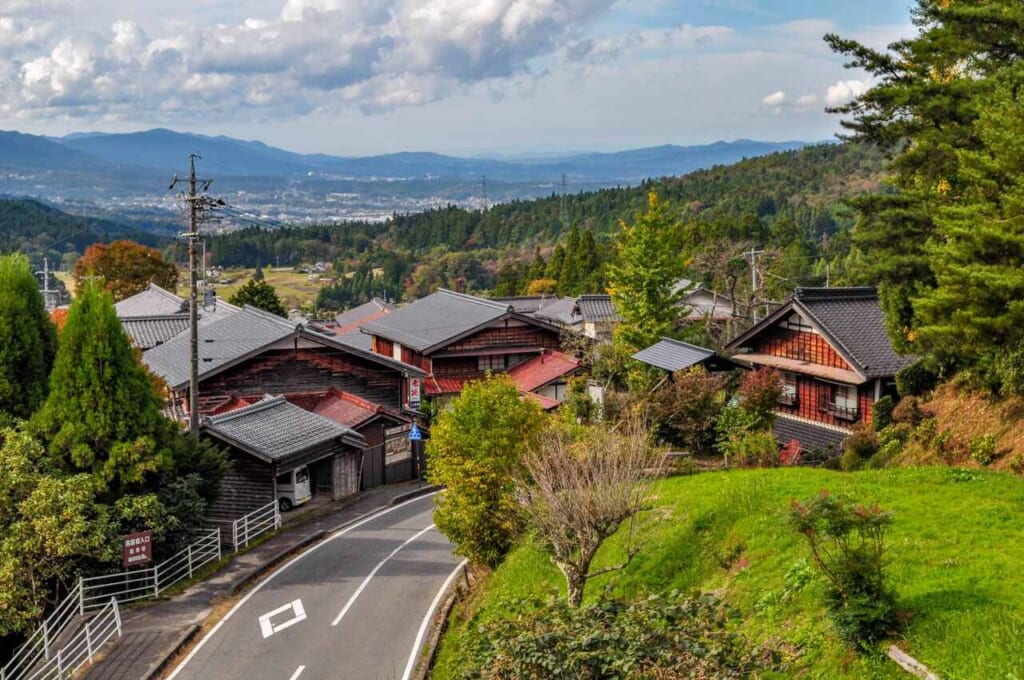 Tsumago-juku, the 42nd stop of the Nakasendo
The 9-kilometer hike (about 3 hours) from Magome to Tsumago (妻籠宿) is the most popular. On your way, you will pass a few bear bells, but don't worry: locals haven't seen any in the area for years.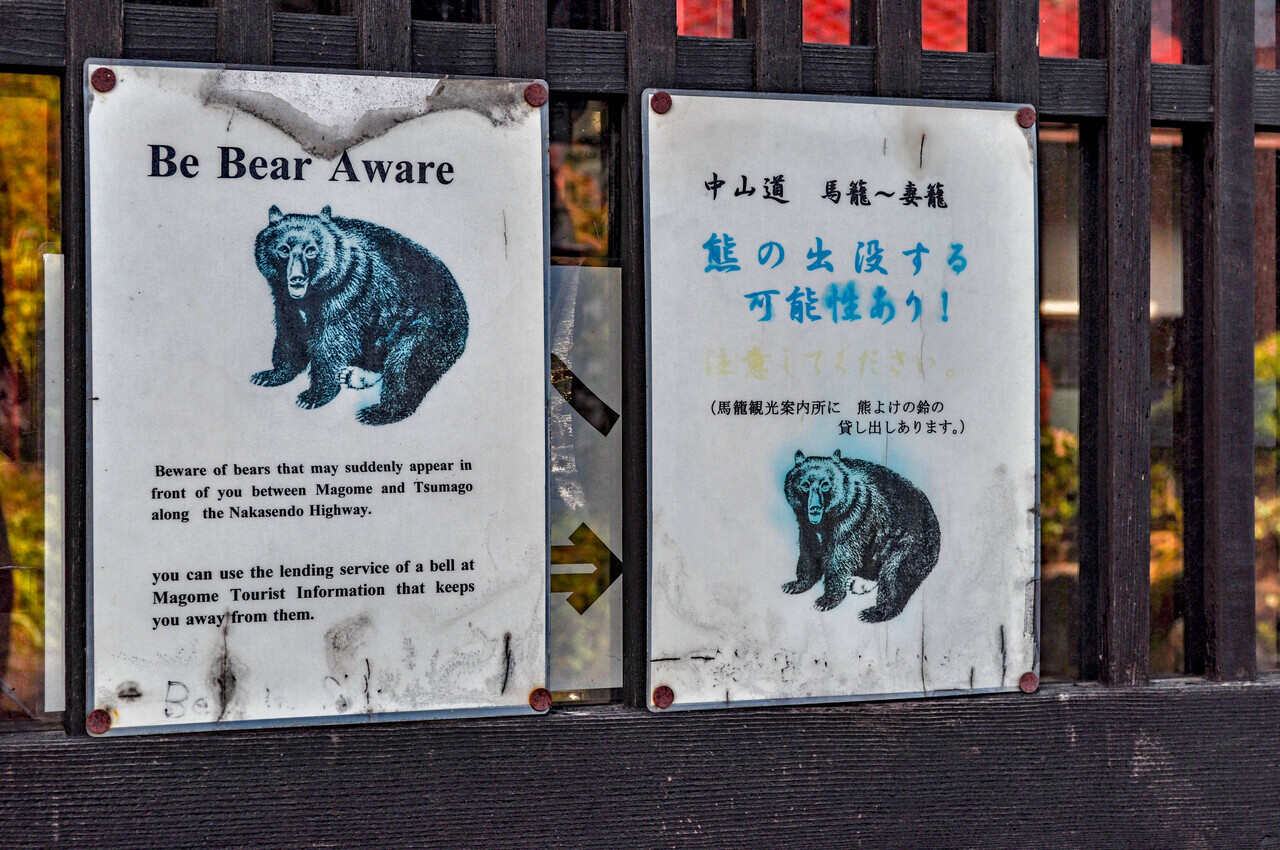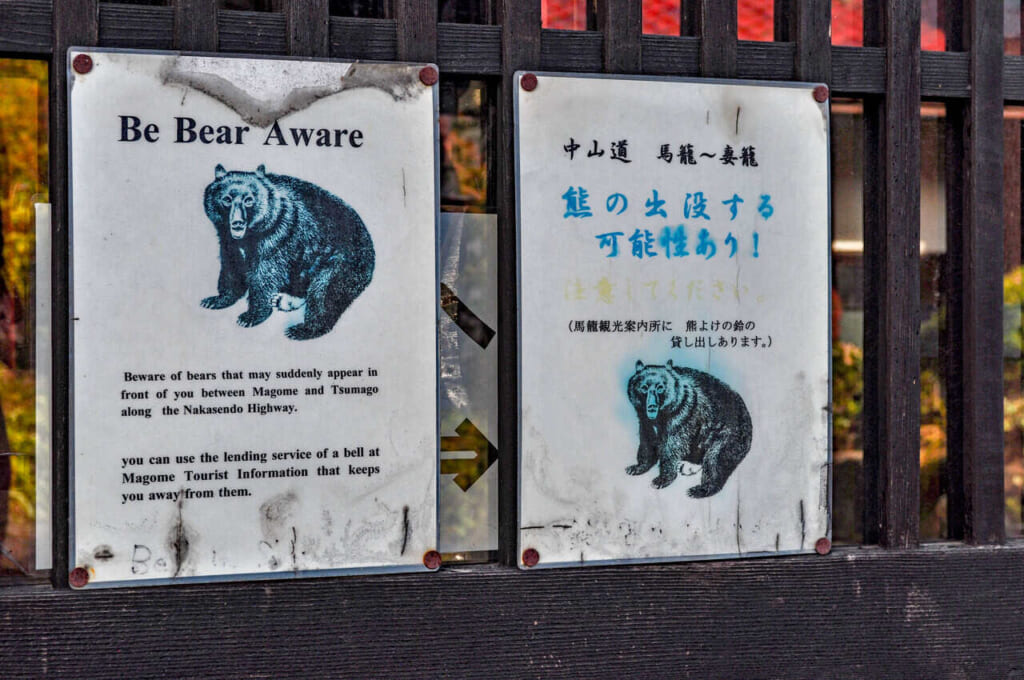 On the road, I was pleasantly surprised to discover a forest a bit wilder than between Nakatsugawa and Magome. You can meet wild animals like deers, wild boars or monkeys there.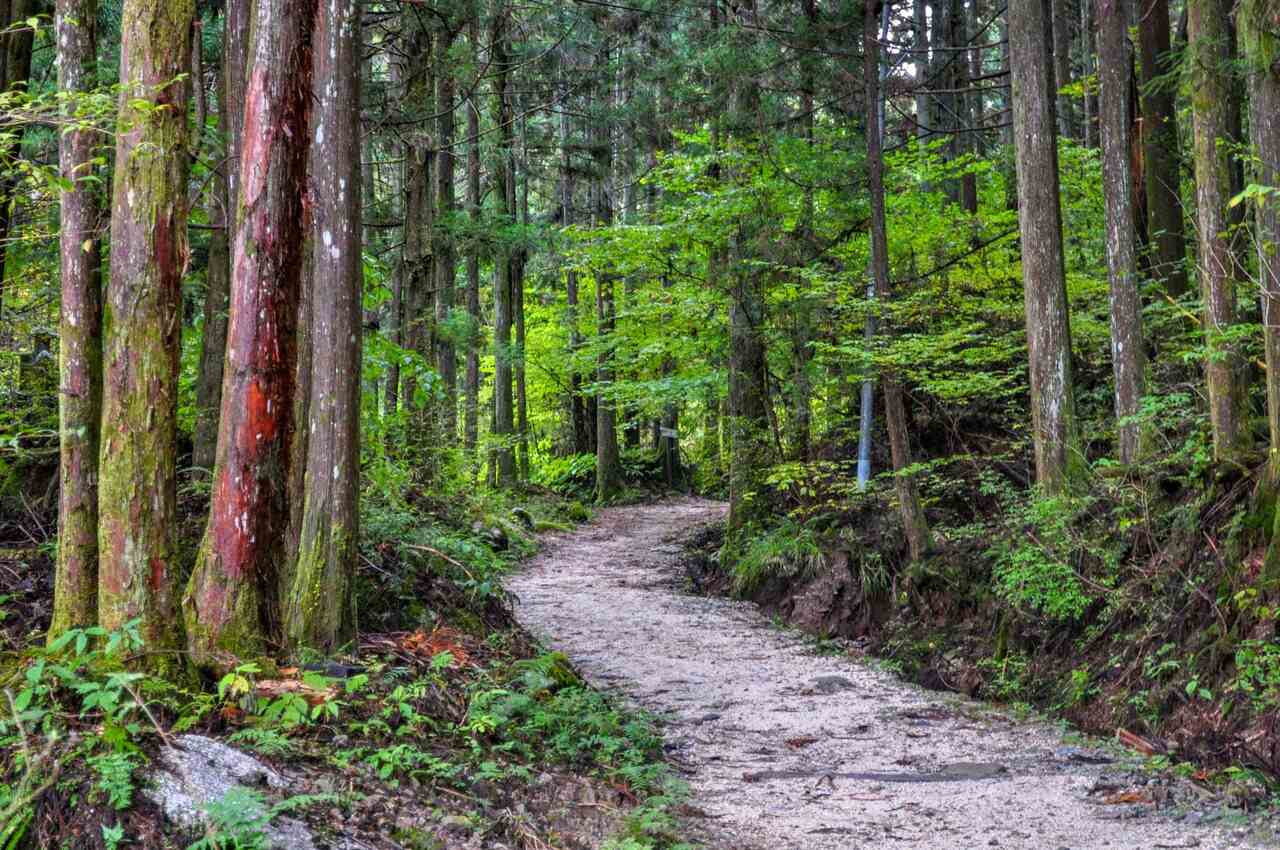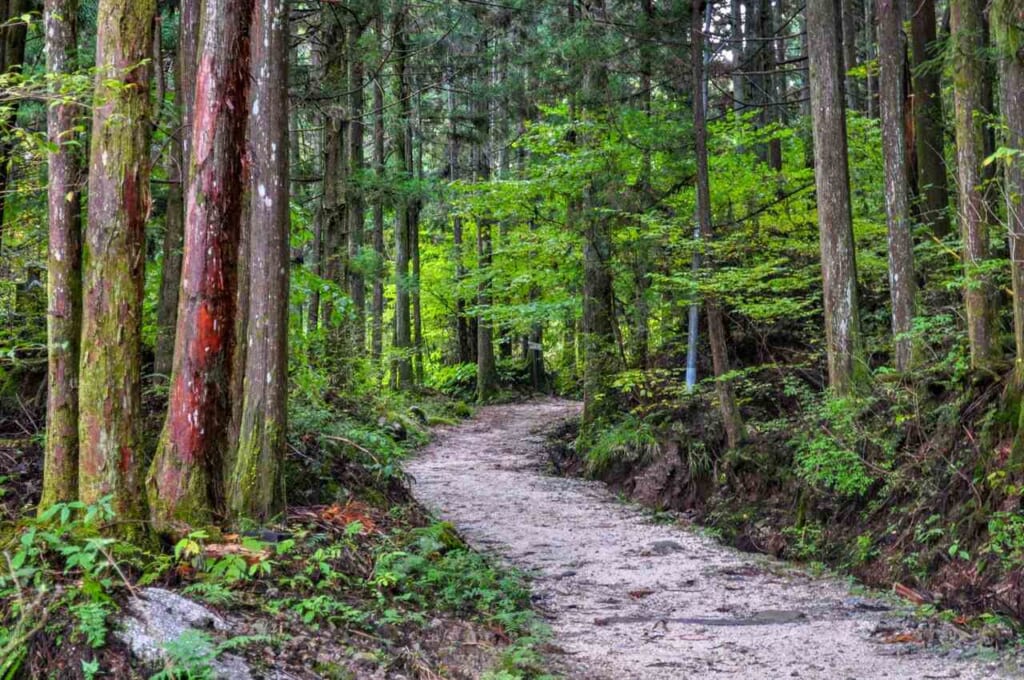 Welcome to Tsumago, the 42nd stop of the Nakasendo. Unlike Magome, the village was spared by the flames and remains authentic. Electric cables are buried and cars are forbidden to enter. Everything is made to keep the atmosphere of the Edo period intact and less touristic than in Magome.
Many minshuku and ryokan are located in the village, allowing travelers to take a break in their journey. You will also find some stores and restaurants, but be aware that the sun sets early in Kiso Valley, and most of the shops close around 4:00 pm.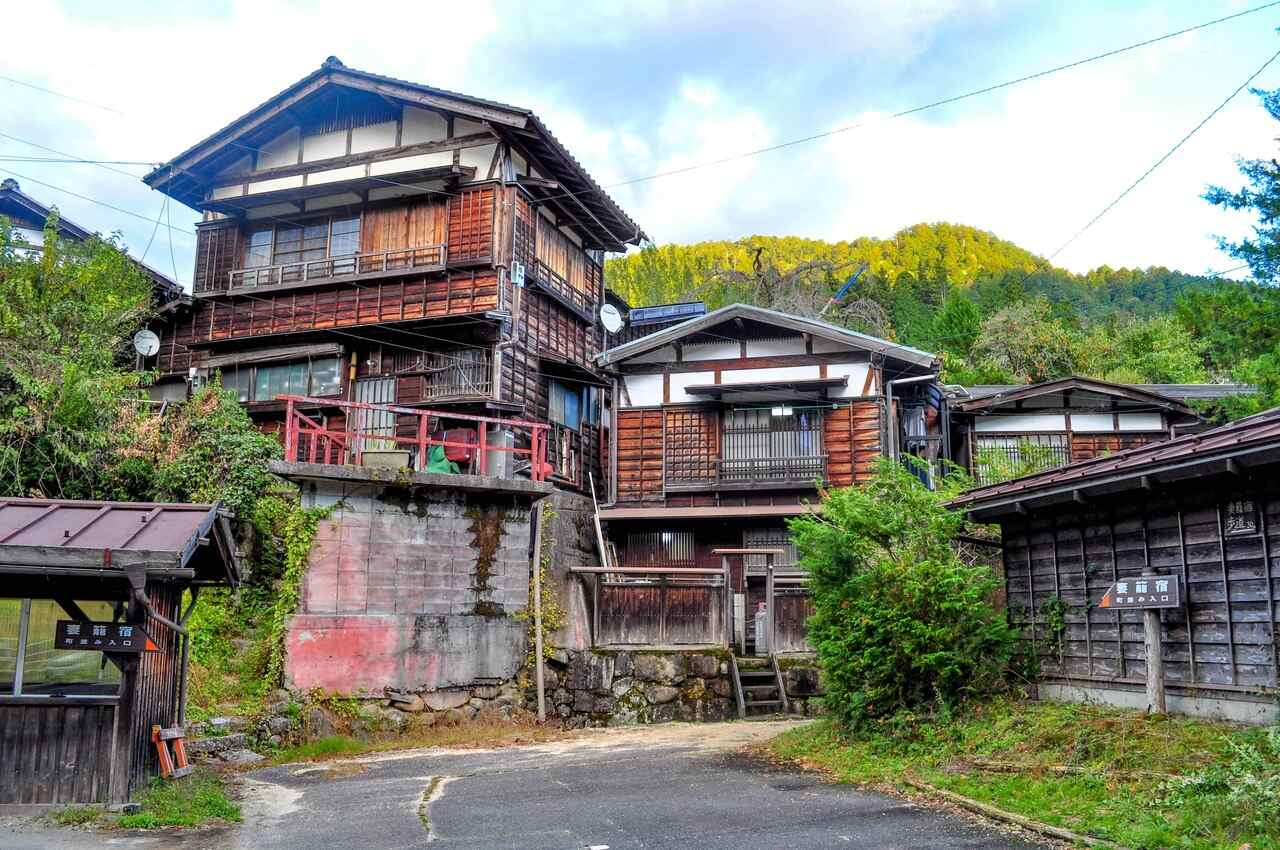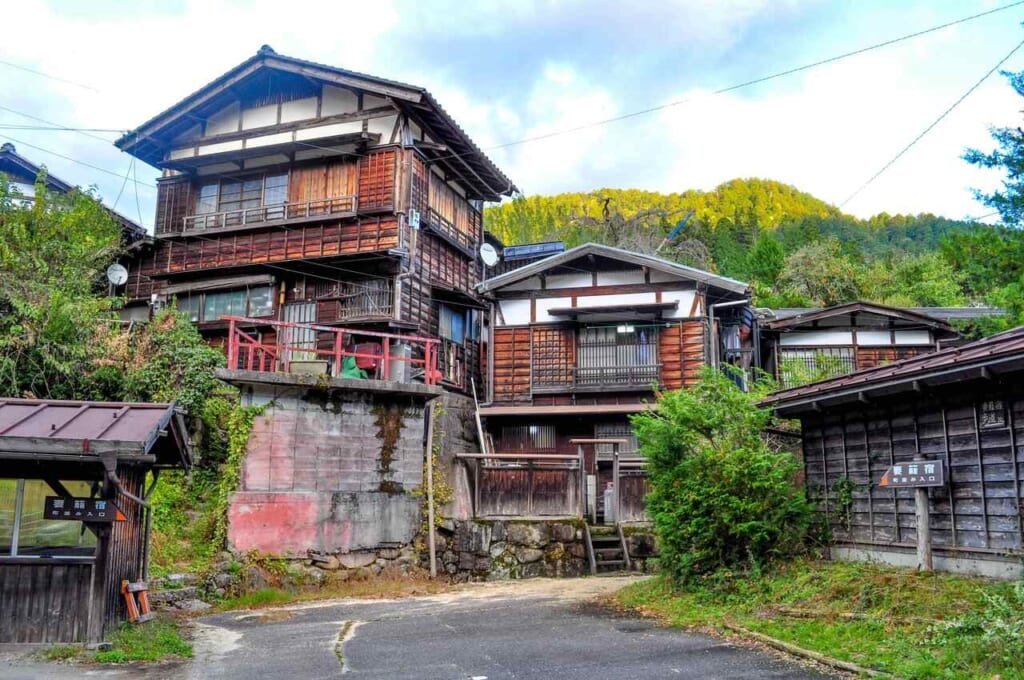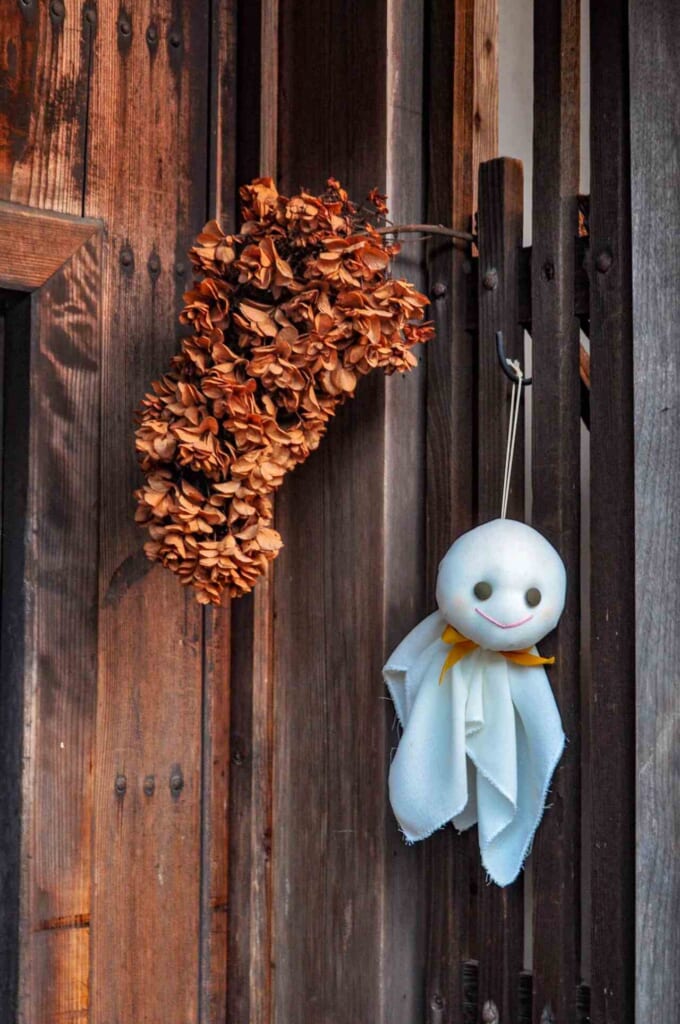 What Else to Do in Nakatsugawa and Surrounding Area
Most of the time, tourists stay only one day in Tsumago and Magome and go home directly in the evening. However, the region has many sites not to be missed.
Naegi Castle Ruins
Overlooking the valley, the walls of Naegi Castle (苗木城跡) is the unique distinction of being red, not white like most other Japanese castles. Legend says that the walls, originally white, were painted red to calm the anger of a dragon that hated white. Dismantled in 1871, its ruins will captivate history lovers.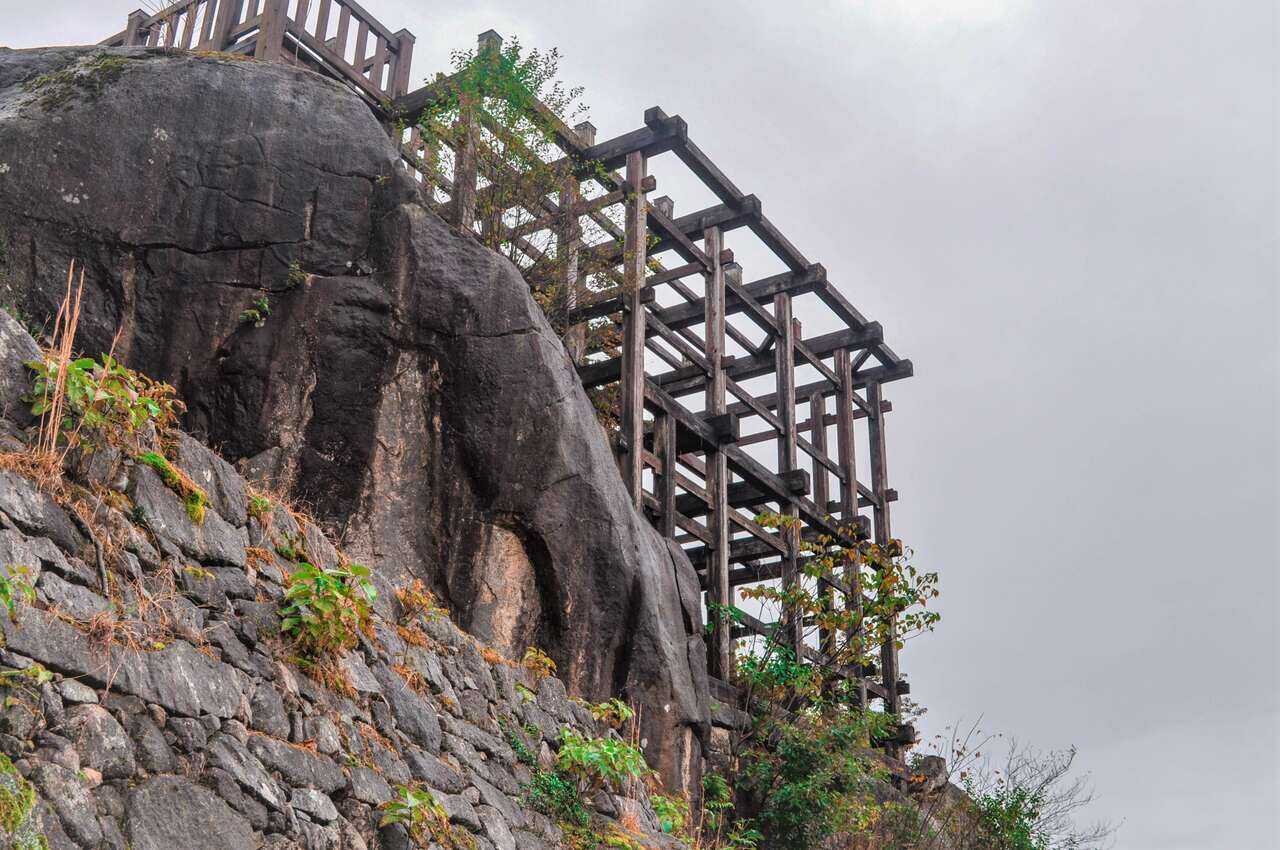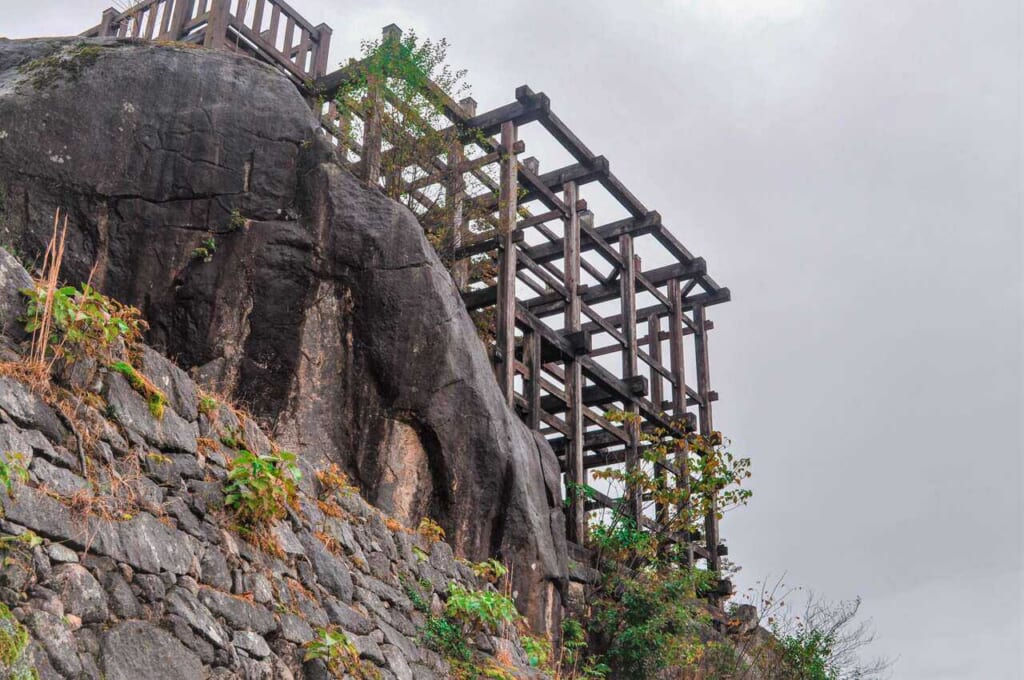 The ji-kabuki scene of Meiji-za
The Meiji-za Theater houses a stage for ji-kabuki, a popular form of traditional kabuki drama. The locals have preserved the theater for 120 years.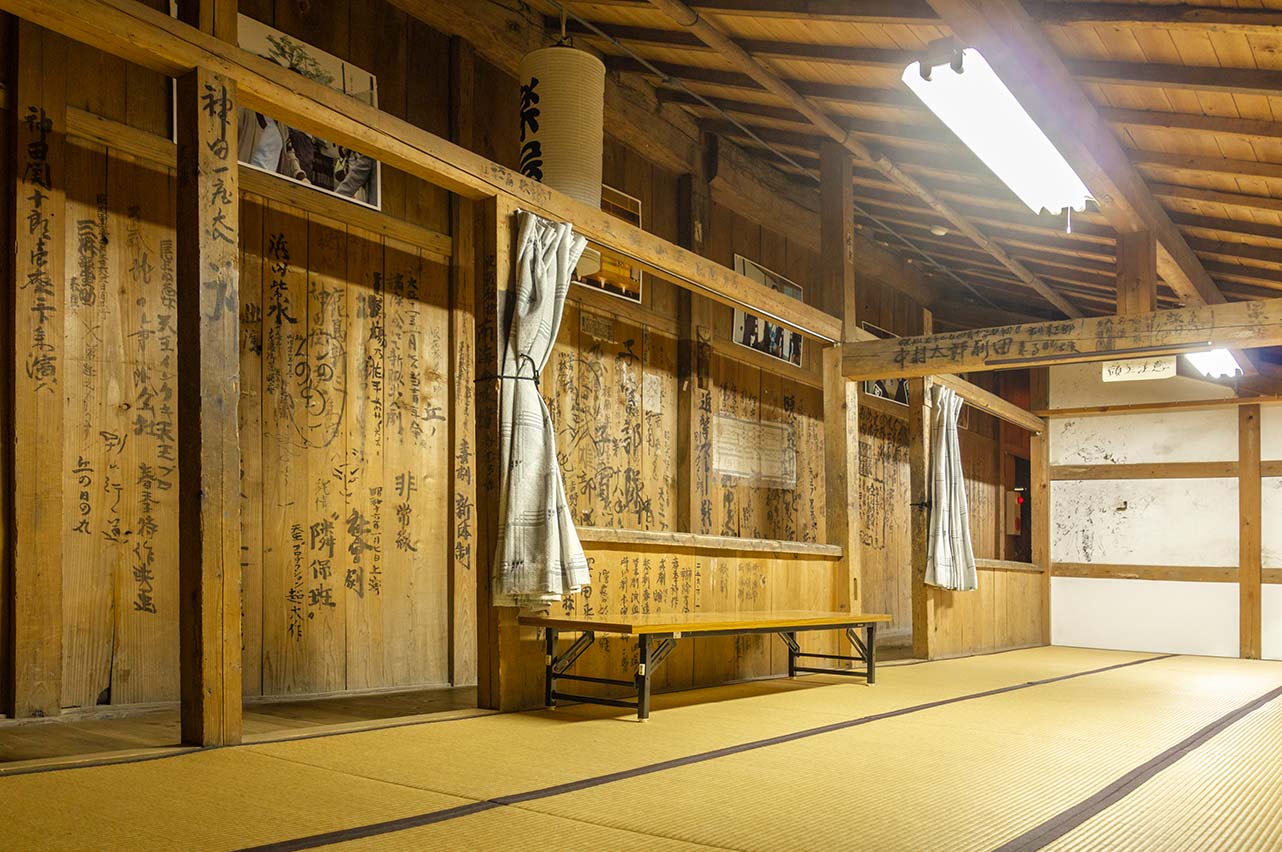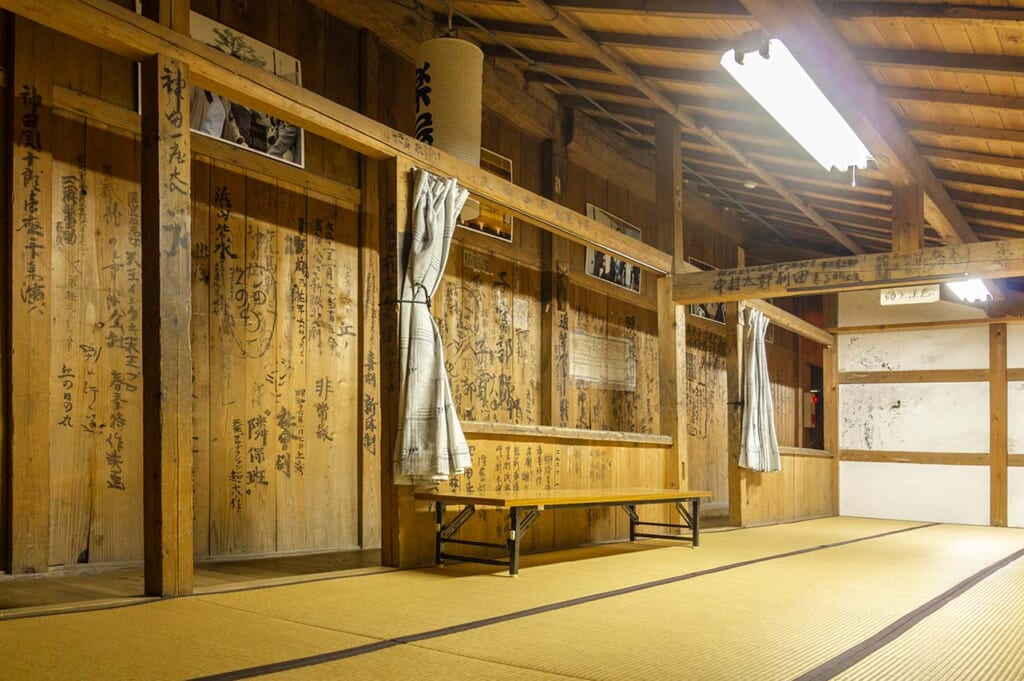 For this purpose, Itahegi (板へぎ) is still practiced. This traditional technique of making wooden shakes almost disappeared but is now passed on to future generations.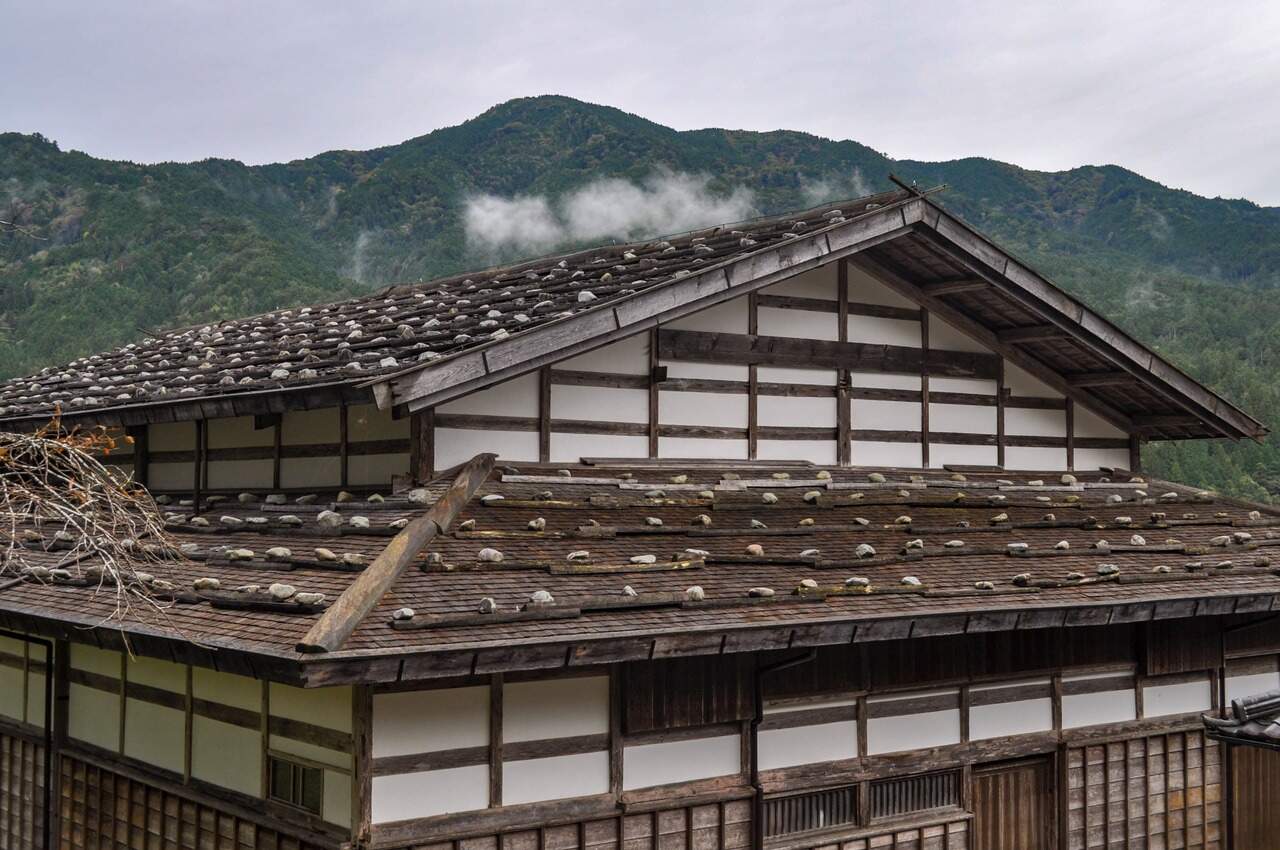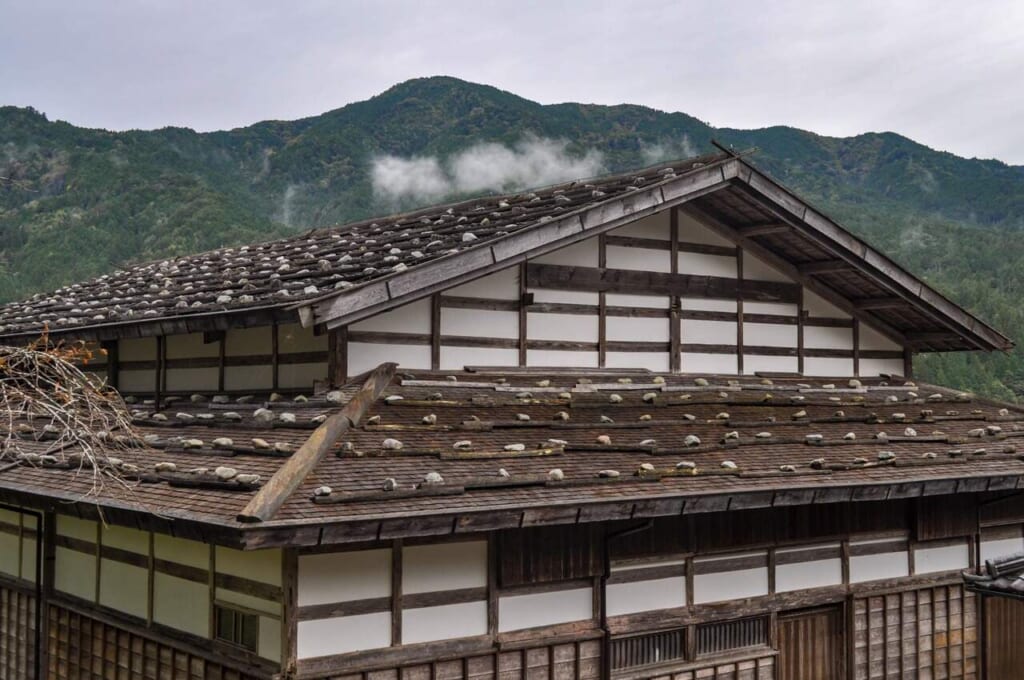 Best Things to Eat in Nakatsugawa
The local gastronomy is not forgotten in Nakatsugawa, and the area provides delicious dishes that will delight food lovers.
Kurikinton, A Local Chestnut Speciality
During fall, kurikinton (栗きんとん), delicious chestnut sweets, are a big hit. There are different kinds, and each store has its own recipe. It is even possible to take some home to offer to your friends and family.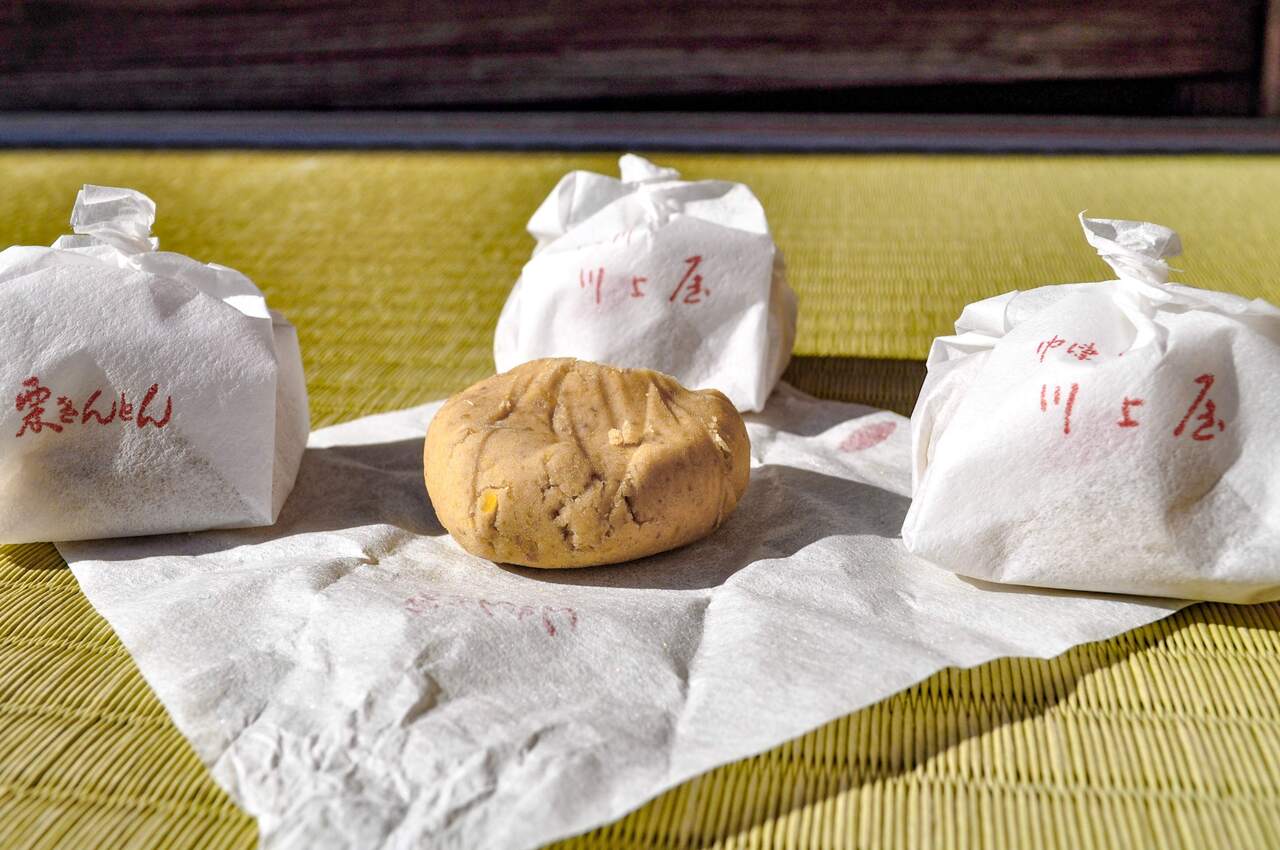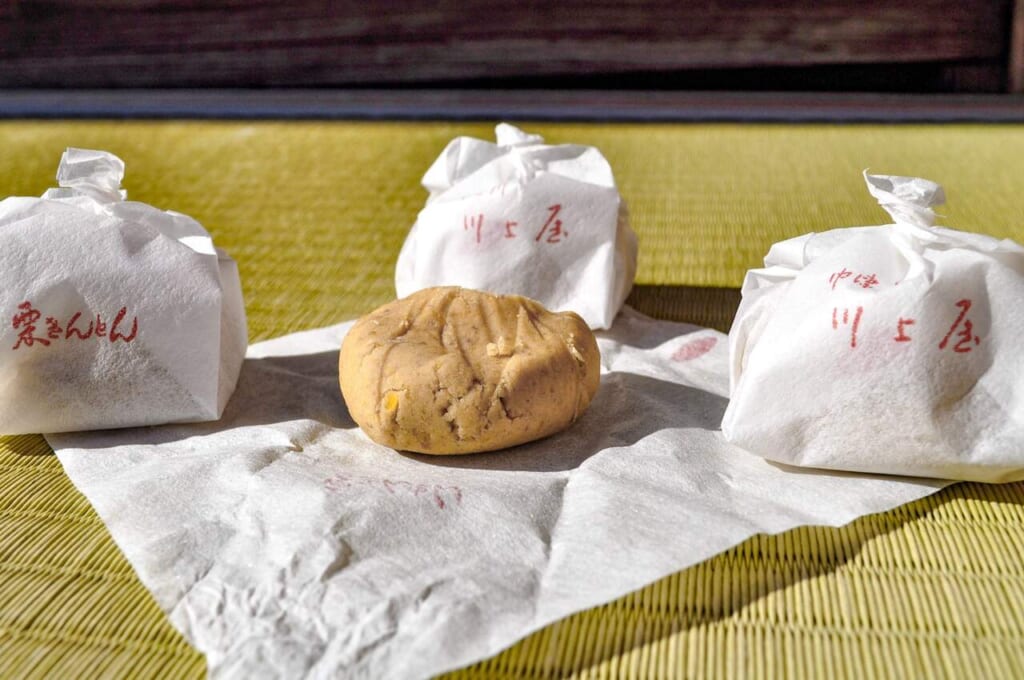 San-mon-mochi and gohei-mochi
San-mon-mochi (三文餅) is a traditional cake made of rice paste and brown sugar you can try at Echizenya cafe, a store in a 200-year-old traditional house on the road between Nakatsugawa-juku and Ochiai-juku. Its taste is not too sweet and is absolutely delicious.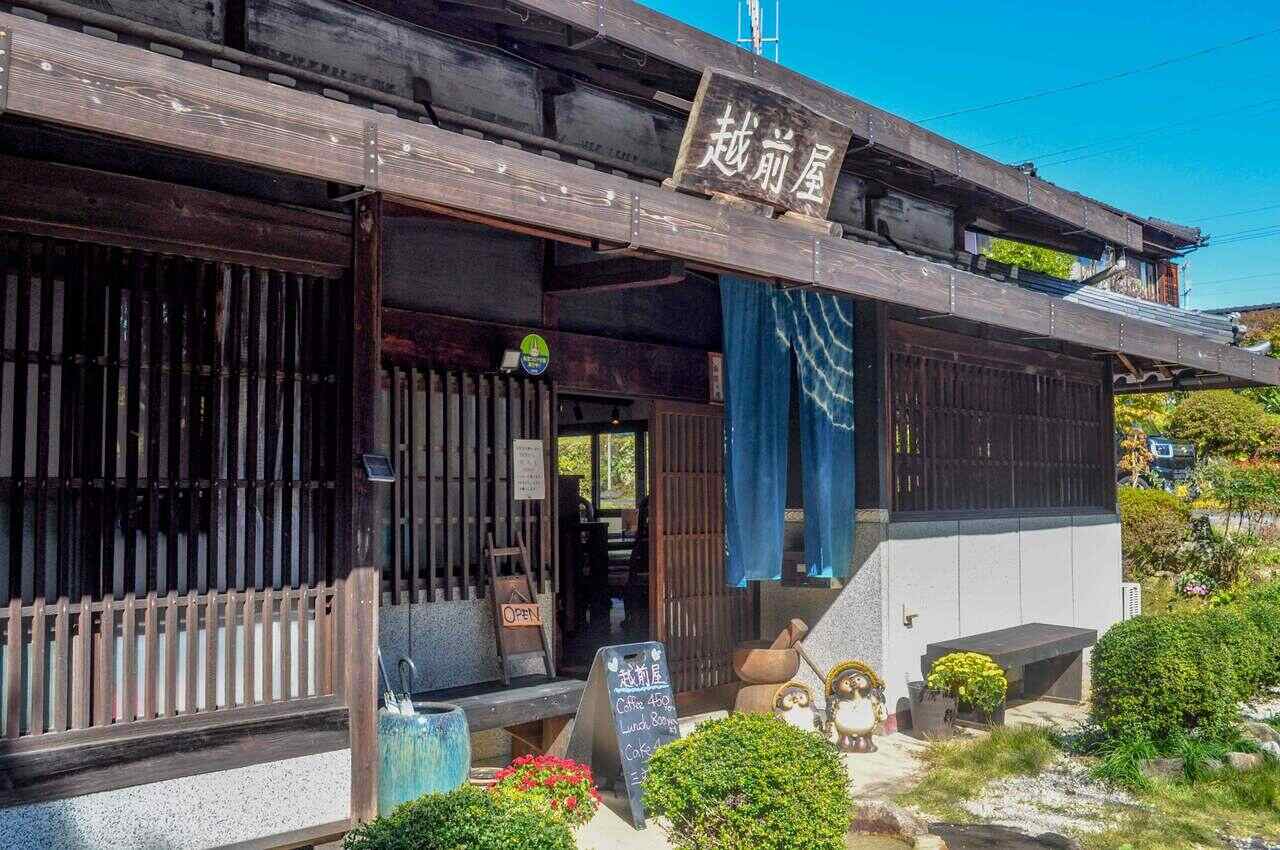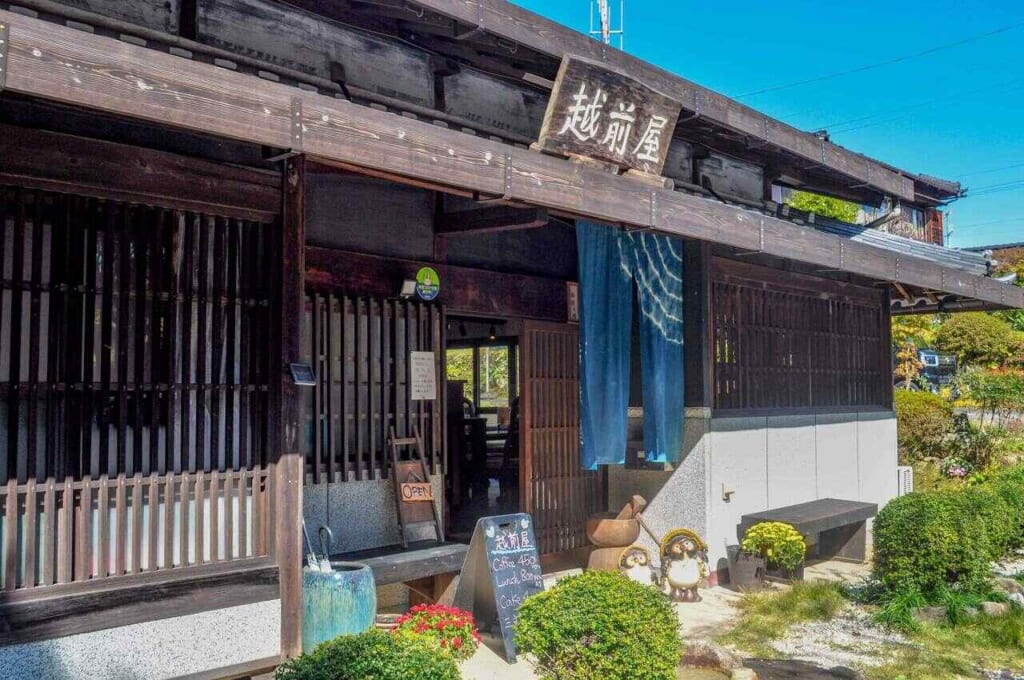 Gohei-mochi (五平餅) is a mochi stick covered with sweet and sour miso and is a tasty snack that you can enjoy during your visit.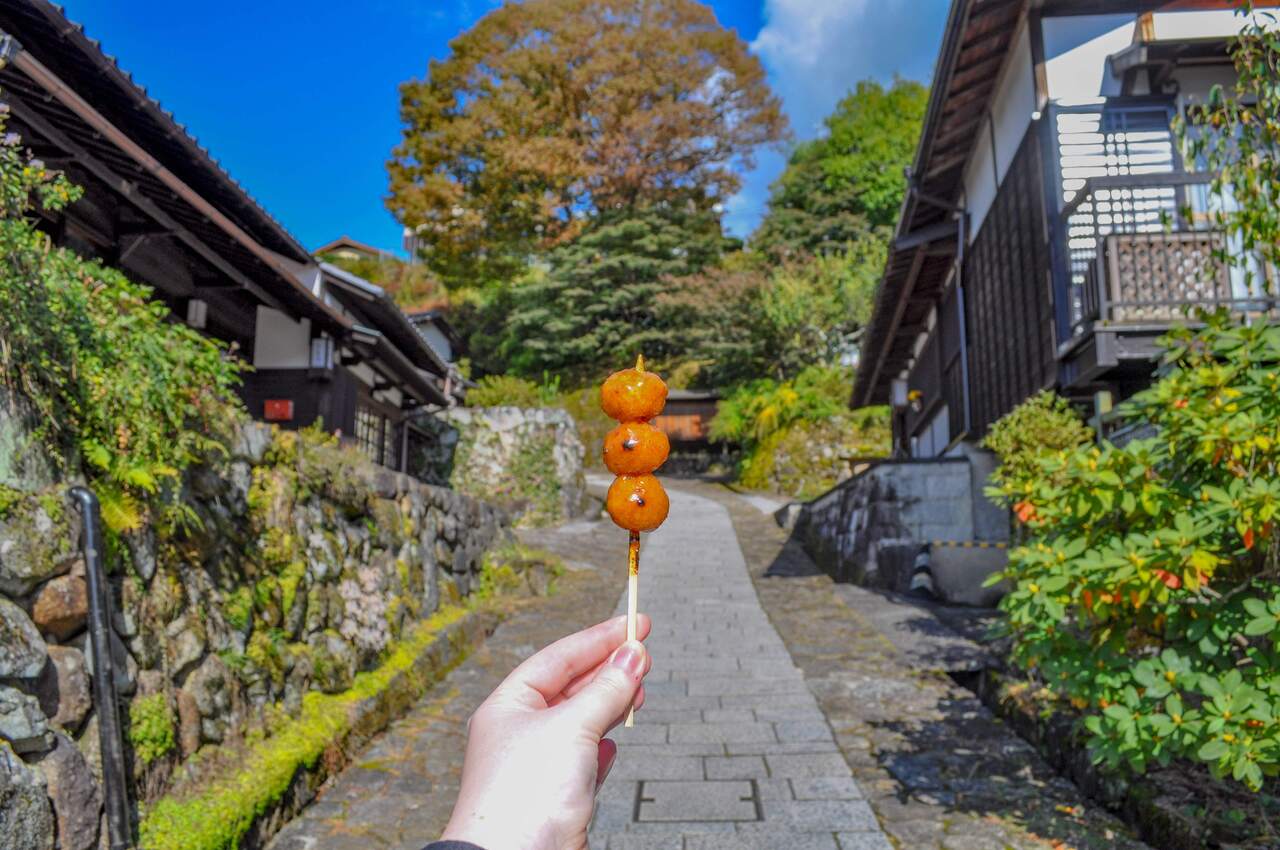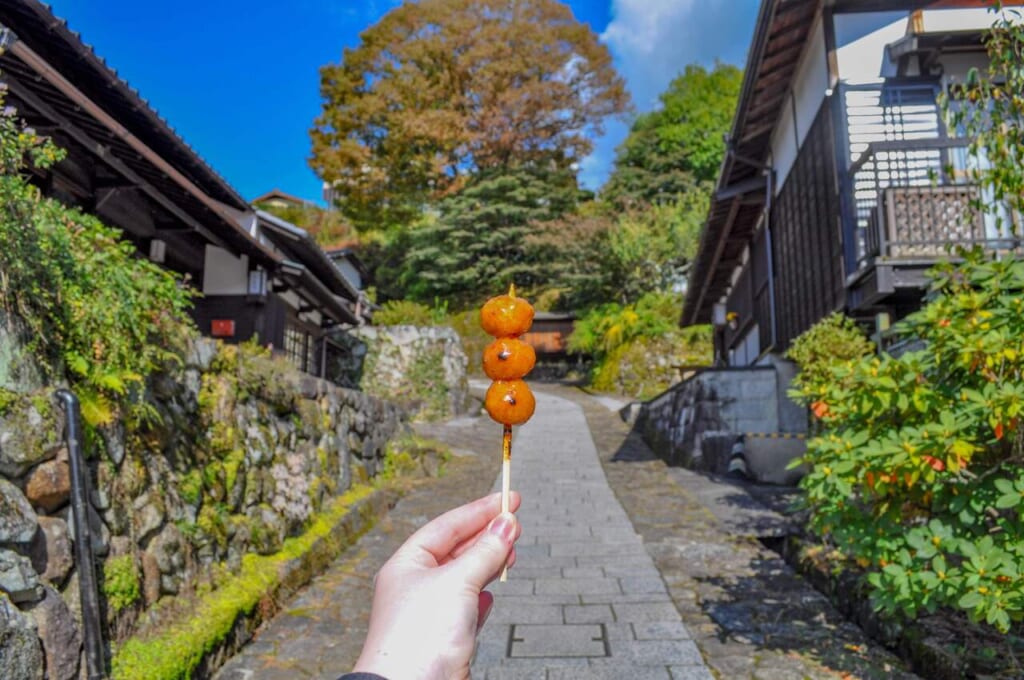 Hoshigaki: delicious dried persimmons
Persimmons are everywhere in the area, and many locals dry them in front of their homes. These dried persimmons, called hoshigaki (干し柿), have a delightful taste, and they are very photogenic besides being delicious!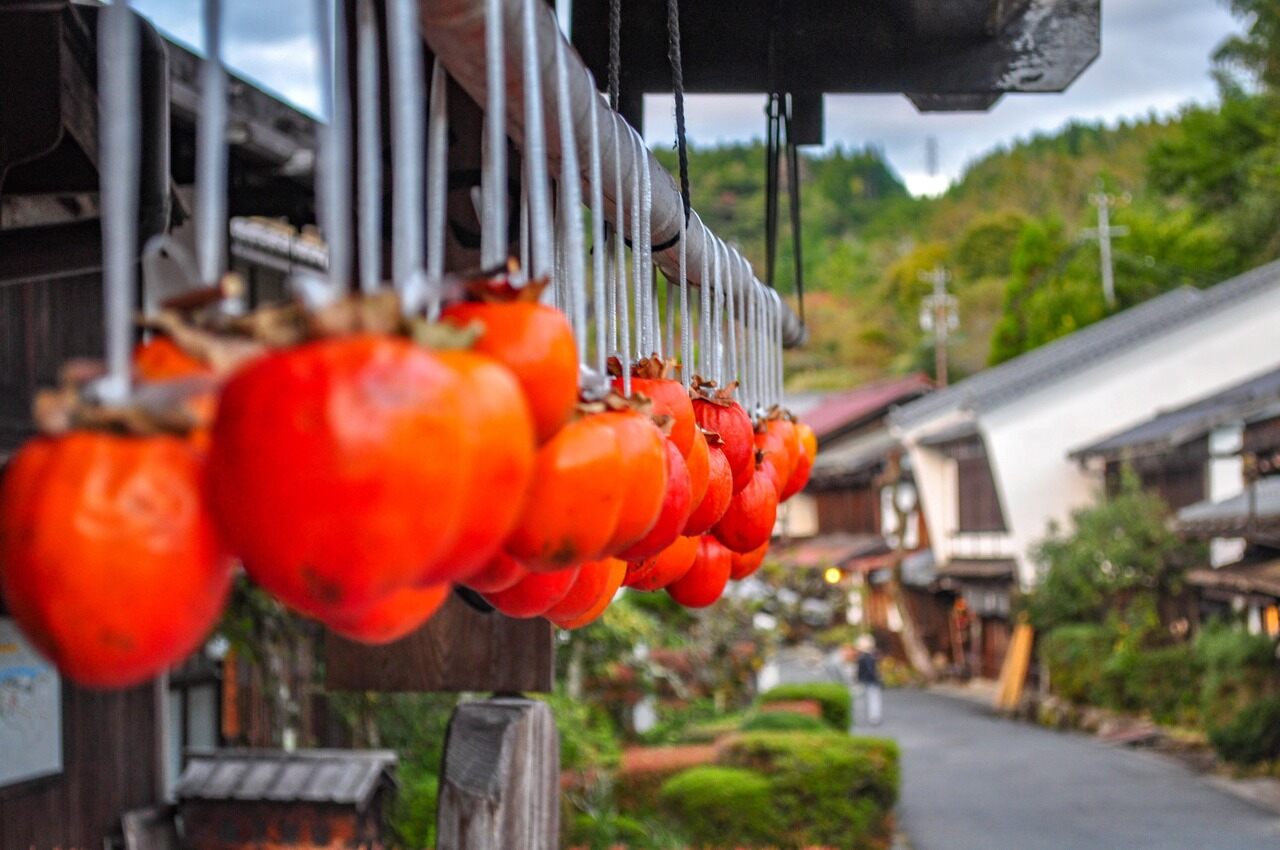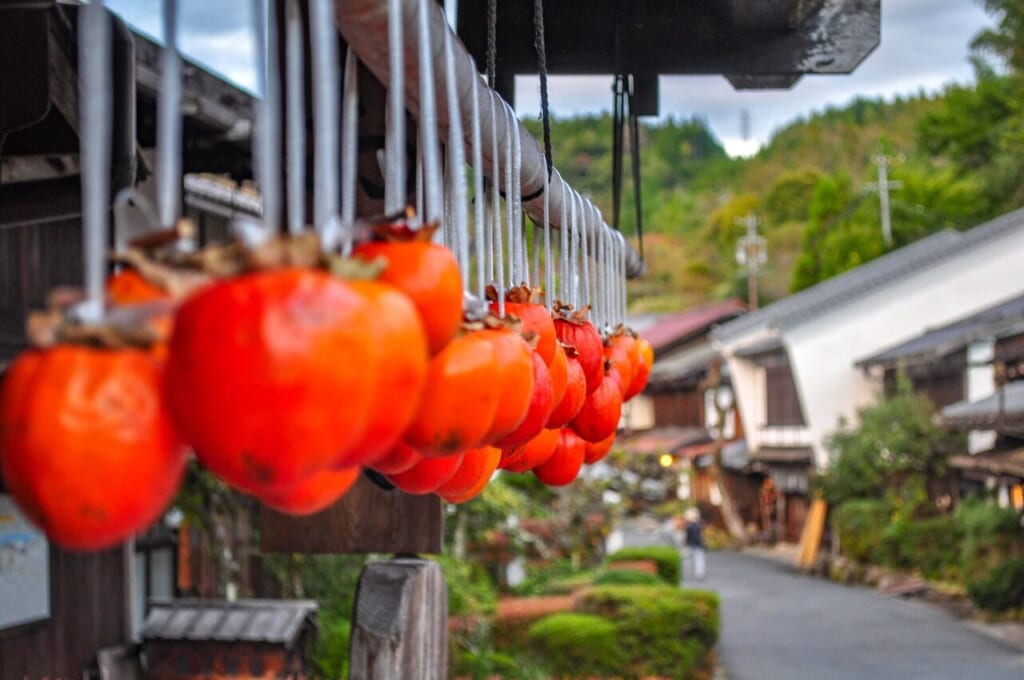 How to Get to Nakatsugawa
The easiest way to get to Nakatsugawa is first to go to Nagoya. It takes about 1 hour and 40 minutes from Tokyo and 35 minutes from Kyoto by Shinkansen express train.
Then, it takes 50 minutes by JR limited express Shinano train between Nagoya and Nakatsugawa. The Japan Rail Pass covers these trips.
Even today, travelers still consider Magome and Tsumago as stopover towns and only visit for the day. But there are so many things to do in Nakatsugawa that can extend your stay for much longer. The area offers a lot of places to visit and activities, including handcraft, canoeing, cycling, fishing, and camping. After a hike from Nakatsugawa, I recommend you spend the night to discover all its treasures.
Article sponsored by Nakatsugawa City