Sponsored by Nakatsugawa City.
Nakatsugawa in Gifu Prefecture is known for the beautiful trail named "Nakasendo," with many historical sites which separated from each other by only a few kilometers. So, take a chance to discover what else Nakatsugawa has to offer, by hiking or by joining a cycling tour.
Naegi Castle Ruins 苗木城跡
First hiking up to the Naegi Castle ruins, which formed the administrative center of Naegi Domain and a feudal domain of the Tōyama clan in the past. It was also called Kasumigajō, a fog castle. The site has been protected as a National Historic Site since 1981.
The Tōyama clan included leaders of southeastern Mino Province since at least the 12th century. The castle was built in 1520s by Tōyama Naokado, a lord of the famous Iwamura Castle and husband of Oda Nobunaga's sister, marking it as one of the most powerful lords of empire at that time. His daughter was adopted by Nobunaga and then married Takeda Katsuyori in order to repel plans of his opponent Takeda on Mino Province. After Iwamura Castle fell into Takeda's hands, Nobunaga regarded Naegi Castle as the most important defense against Takeda clan.
However, following the assassination of Nobunaga in 1583 during the Honnō-ji incident, the castle fell into the hands of Mori Nagayoshi. Mori assigned Kawajiri Hidenaga as a squire while the Tōyama clan fled to Hamamatsu, where they served Tokugawa Ieyasu.
At the Sekigahara Battleship in 1600, Kawajiri sided with the pro-Toyotomi army under the command of Ishida Mitsunari, and was killed during the fight. Ieyasu sent Tōyama Tomomasa to take the castle. He was later confirmed as the new daimyō, a lord ruling over possessions of his ancestors, which marked the beginning of the Naegi Domain under the Tokugawa shogunate reign. The Tōyama clan stayed in the castle for twelve generations until the restoration of Meiji in 1868.
The castle was abandoned and dismantled in 1871, including its furnishings and even its beams auctioned to help pay huge debt.
Today, a restoration of donjon allows visitors to admire Nakatsugawa City and Kiso River. You can also visit a museum below the Naegi Castle Ruins with various models showing the castle before its destruction. There is also an observatory to admire the view of Nakatsugawa city and the beautiful river. After hiking up the mountain, the view will give you the energy to go down to Nakatsugawa center. The hike to the ruins takes about 2.5 hours with 15km.
Yumori Valley 夕森渓谷 and Tsukechi Gorge 付知峡
Getting to Yumori Valley and Tsukechi Gorge requires you to rent a car or to go by taxi as it is located a few kilometers away from the Naegi Castle Ruins. Yet these are remote sites, all nature stays untouched and there is a walking path to admire the nature itself. Yumori Valley consists of five waterfalls, especially a walking to Ryujin Waterfall gives us a pleasant walk while observing the beauty of waterfalls.
Fudo Park is well arranged in terms of paths and the environments, yet a few minute walk provides us many waterfall views with natural surprises. Do not miss the Tsukechi Gorge as it is one of the highilights in this park, with its tranquil and rapid currents and sounds, which would take you deep into the nature.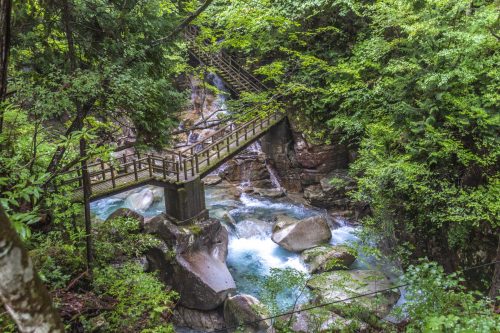 Nagataki 長多喜
Nagataki offers us true Japanese hospitality in a sophisticated touch. At the entrance just a few steps from car park, a host in traditional kimono will escort you into beautiful narrow alleys lined with plants and mosses.
Only lunch is available here without staying in a ryokan then make the most time of appreciating traditional architectures of the main dining room in the heart of a dark and humid vegetation. Have a nice view thanks to large windows with shoji sliding panels made with rice paper, which gives a beautiful kick to the surrounding light.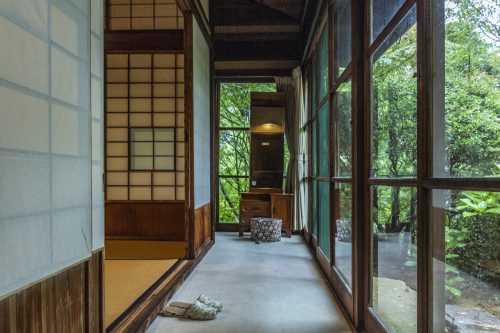 You can choose your among the different options to best suit your budget, whether your choice turns out to be a beautiful set of seafood, sushi and sashimi, or a more modest set, but moreover perfectly prepared with surprising taste nuances. Donburi, which is a large bowl mixture of  rice, in this case with braised chicken, scrambled eggs, broccoli and fresh tomatoes, was my choice. It is accompanied by some tsukemono which are pickled vegetables, miso soup and a delicious grape pudding.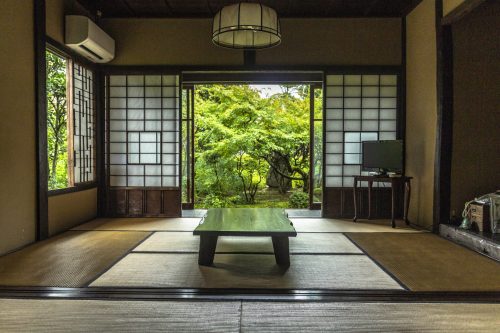 Nagataki also offers visitors several traditional private rooms with an unforgettable memory of a night in the vegetation and surrounded by the soft smell of tatami.
Kashimo Meijiza 加子母明治座
Kashimo Meijiza is a theatre built by local volunteers in 1894, dedicated to Ji-Kabuki, a type of kabuki show performed by amateur actors which was quite popular at that time. Remarkably, it took almost 2 months with the help of 100 locals to take down a giant tree that used to be at the site of this theater. You can stop by the theatre while you're taking a bike tour, it is an interesting step to have a small introduction on the Japanese art of kabuki theatre. Feel free to take a guided cycling tour as well to discover these areas at your own pace.