Deep in the heart of Ehime Prefecture, a leisurely drive south of Matsuyama City, away from the throngs of tourists taking photos of Dogo Onsen, the hot spring that inspired Spirited Away, lie two towns whose richness now lies in their relative obscurity. Ozu (大洲), once a booming inland harbor town, was abundant in both wealth and culture and is being revitalized after decades out of the spotlight. In contrast, Uwajima (宇和島) is the perfect place to experience small-town life thriving with both industry and craftsmanship. Combined, they make a relaxing two-night, three-day trip, with luxury accommodation and dining options for the traveler who wants to experience both culture and tradition in tranquility.
What to See and Do in Ozu Castle Town
Ozu was a castle town whose isolation was pivotal to its success. Sitting on the Hiji River, just 20 kilometers from the coastline, what remains of this classic Japanese town is a legacy to the Meiji Era industrialists who built their success upon the urban layout developed during the Edo period. In its heyday, barges traveled 25 kilometers from Uchiko Town (内子) loaded up with the soft wax of the fruit from the sumac tree to Ozu and then on to Kobe, Kyoto, and beyond. This wax, better known at the time as 'Bintsuke' (鬢付) in Japan, and 'Japan Wax' in Europe, was lauded for its use as a sweat-eradicating foundation layer underneath the clean, white makeup of the geisha in Kyoto, and as a hair pomade of the modern office worker in Tokyo.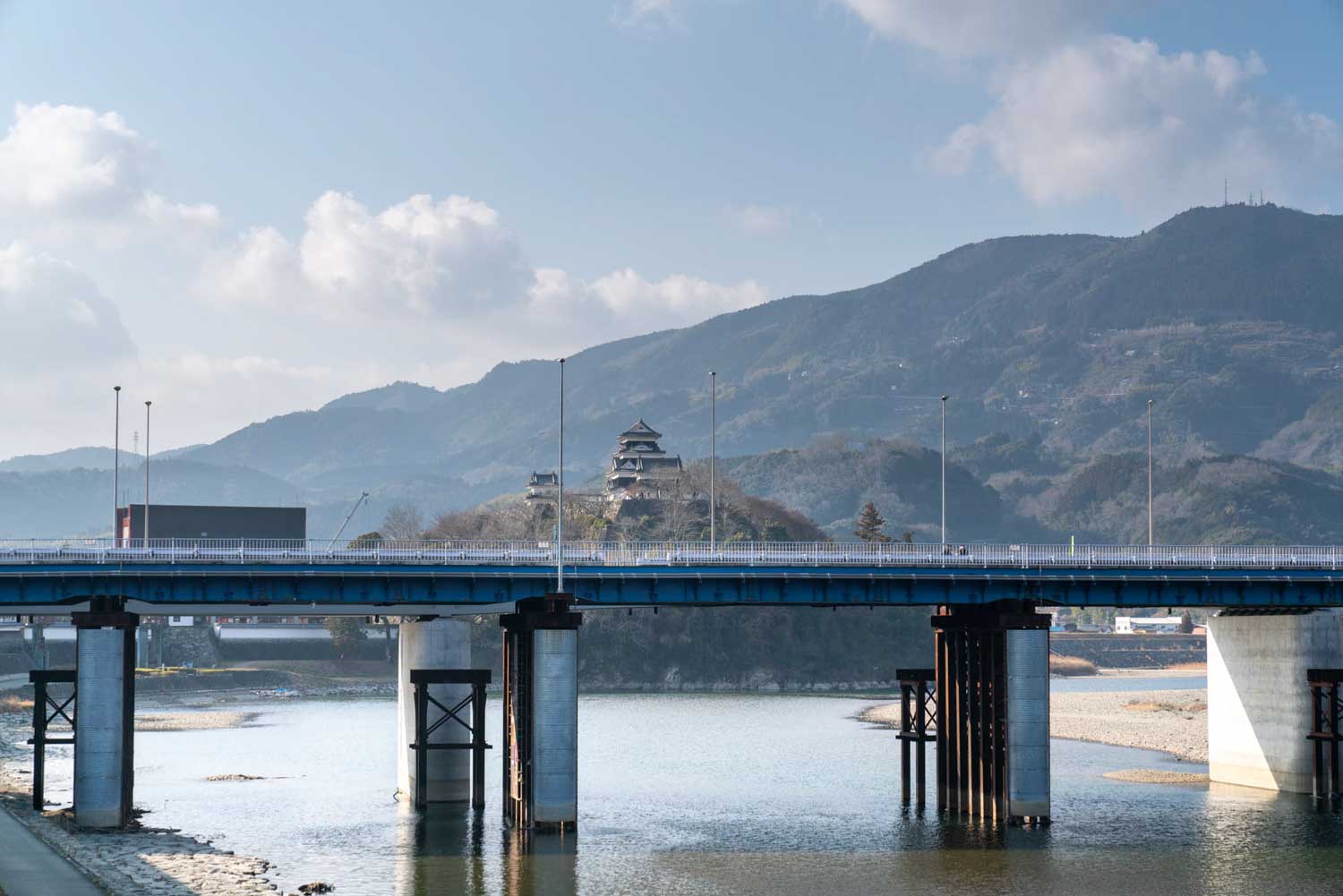 Those who owned and expanded the sumac plantations and barges became wealthy, and the township became a thriving merchant center, with banks and tea houses, and shrewd investments made in silk production continued to pay handsome returns well into the early 20th century. Culture, sophistication, and deep ties to the capital classes of Tokyo and Kyoto also came to Ozu. However, over time, industrial processes replaced the natural wax and silk production and the barges disappeared and the once-bustling streets and impressive townhouses lay empty.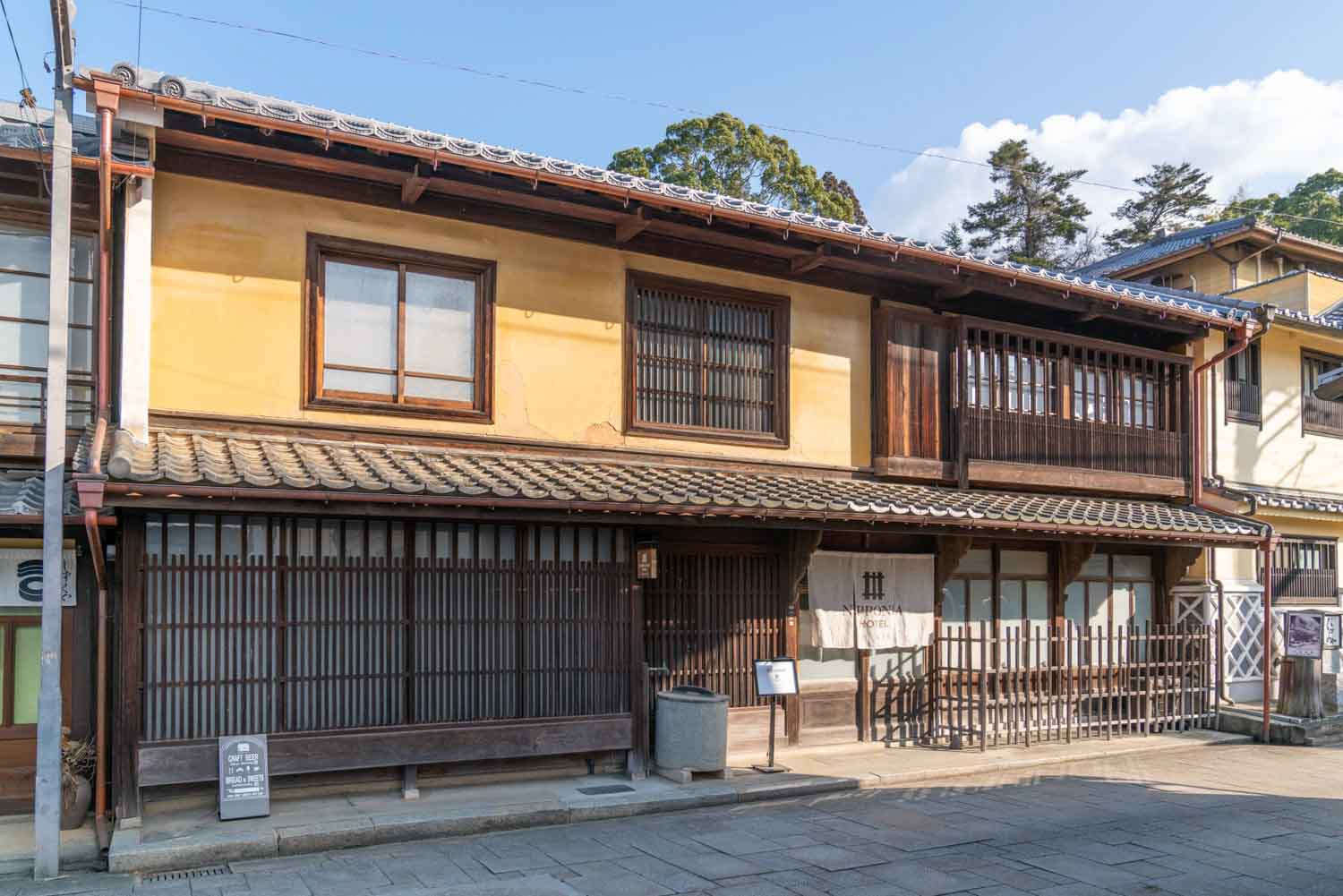 But with the faithful reconstruction of the town's castle in 2004, tourism returned, and Nipponia, known in Japan as masters of small-town revitalization, soon started developing the old town area of Ozu into an upmarket hotel district. Nipponia proceeded to renovate century-old buildings into luxury historical accommodations while preserving the town's history.
Visit the Charming Japanese Cottage of Garyu Sanso
Aside from the accommodation options, the architectural highlight of Ozu is Garyu Sanso (臥龍山荘), a cottage and tea house looking out over the Hiji River. Built for Kouchi Torajiro, who found success in the import/export business, it was completed at the onset of the 20th century and combines Western architectural flourishes, such as a barrel vault ceiling in the teahouse, with Japanese styling and design.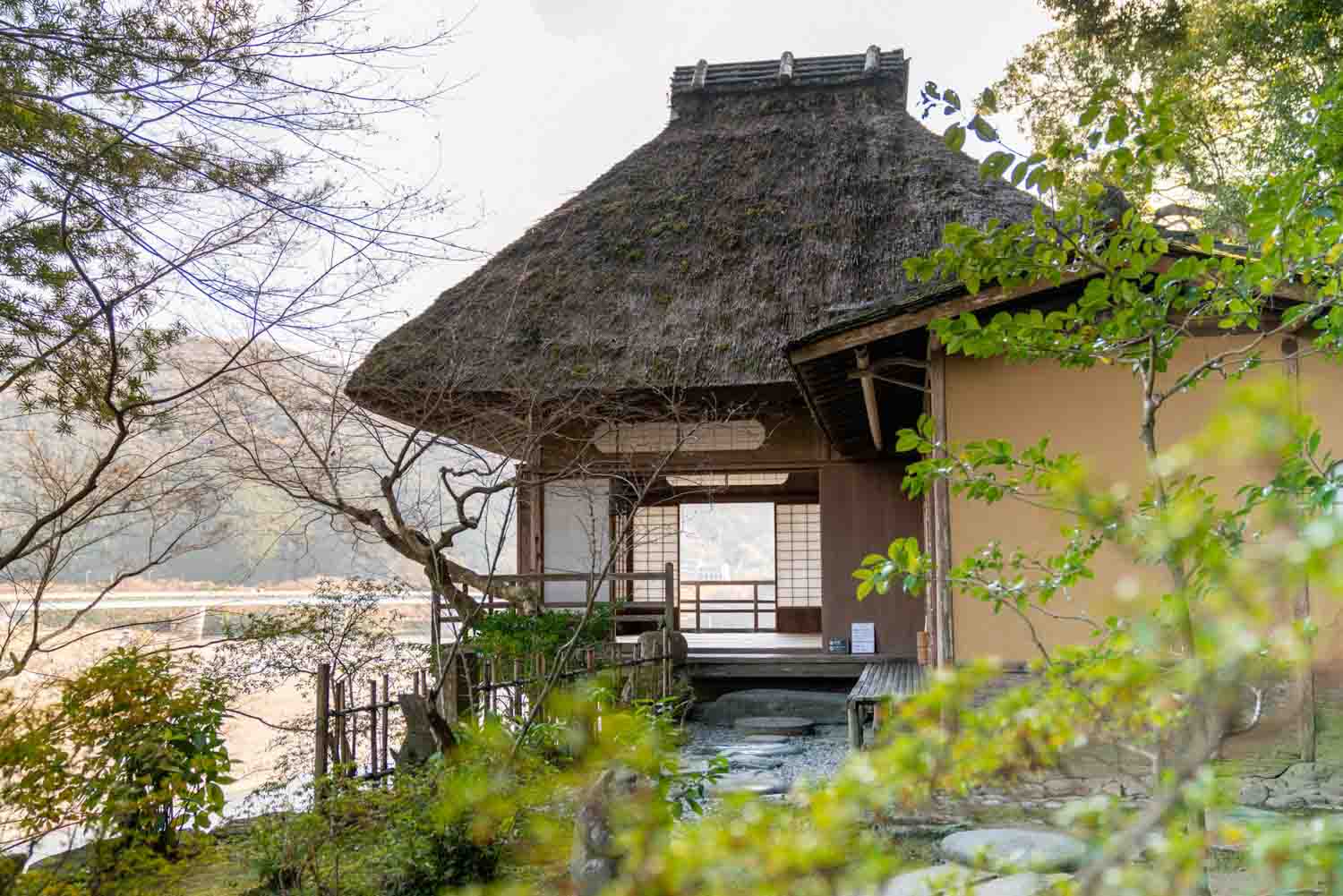 Constructed to be in harmony with the existing environment, nothing in the design is by accident — craftsmen were brought from Kyoto to work with and teach modern techniques to the locals, and this tea house is his legacy to the town.
A Japanese Castle Visit and Accommodation at Ozu Castle
Looking out over the town, the Ozu Castle keep is unique in that it was rebuilt in 2004 to its original design using traditional wooden building techniques that were common in the late 16th century.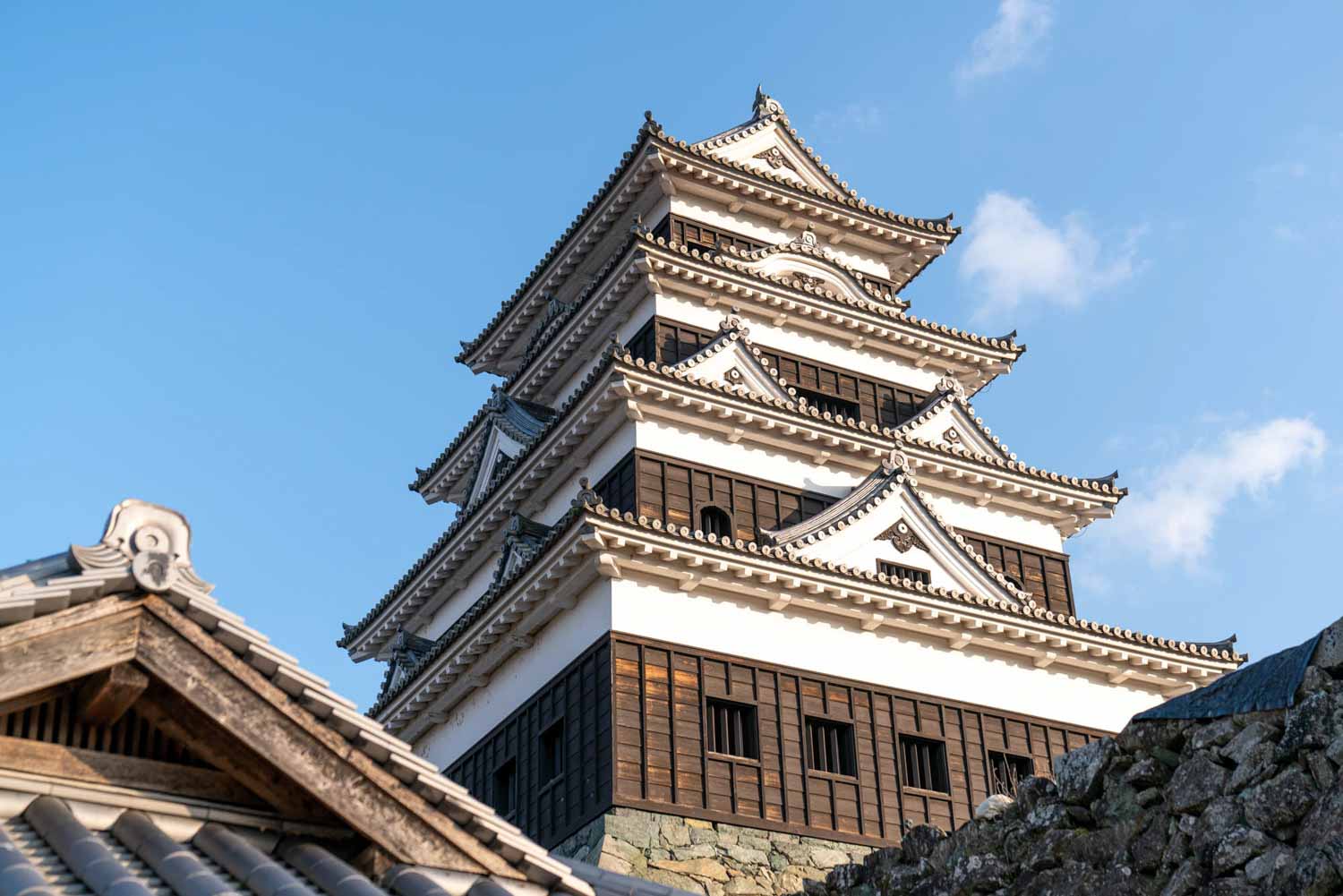 With an unobstructed view in every direction, you can see where the barges snaked their way around tall mountains out to sea. For those who have a castle stay as an item on their bucket list, it is also possible to take over the castle for an evening and dine in one of the castle's turrets. For breakfast, indulge in a traditional Japanese breakfast set out for you at Garyu Sanso.
Dine at Nipponia's Restaurant Le Un
The jewel of Nipponia's reconstruction of the city of Ozu is the restaurant Le Un, which serves a delightfully playful, French-Japanese fusion tasting menu. Taking advantage of the seasons, regional specialties, and locally-sourced ingredients, the head chef is not afraid to make use of unusual pairings to create the flavor profiles he wants. Our winter menu featured a piece of local fish wrapped in paper-thin prosciutto for an umami kick.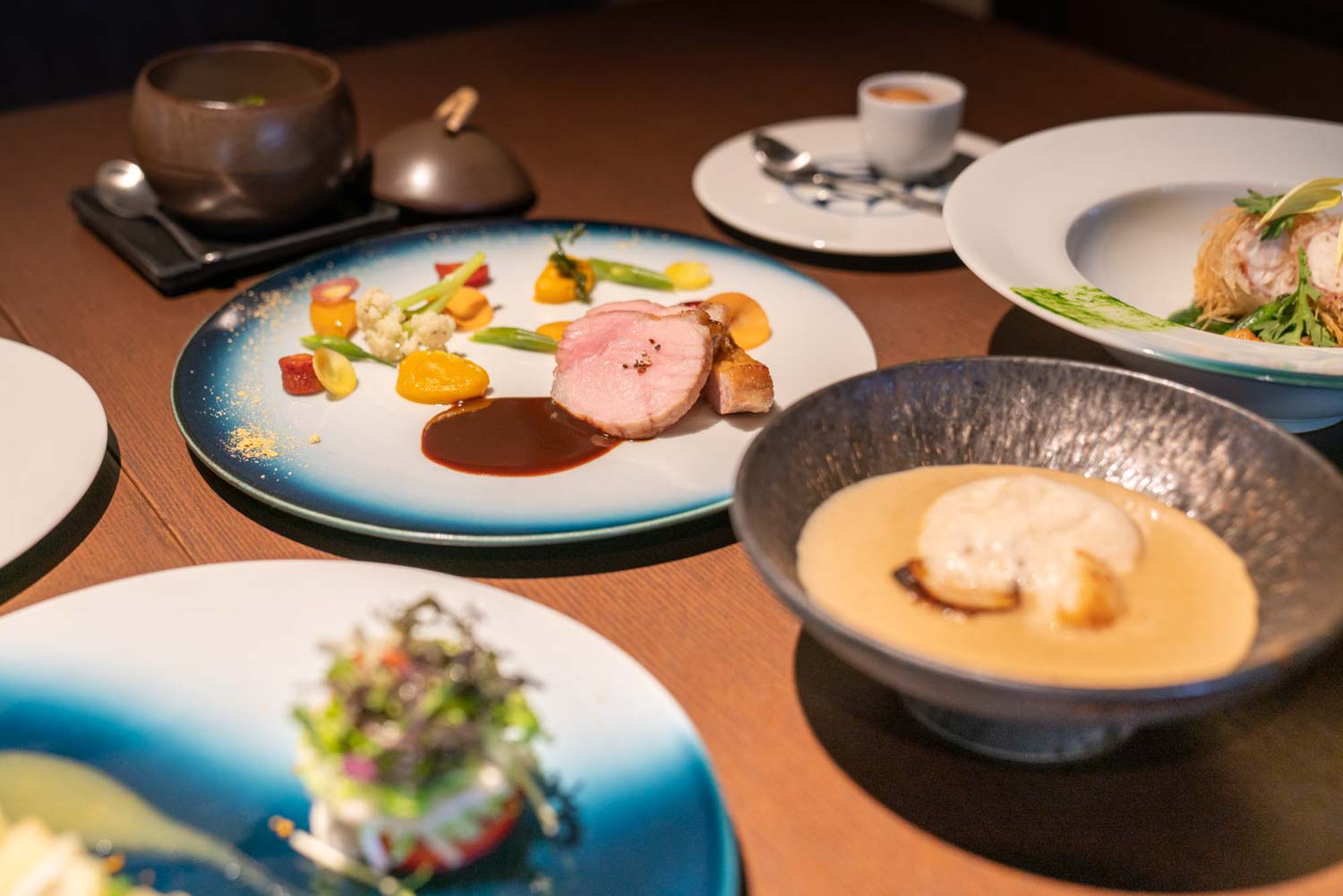 He is also happy to eschew tradition by putting vegetables on the pedestal when served with meat, as he did when a local variety of sweet carrots stole the show from slices of the local famous pork in the main dish. Ehime is famous in Japan for citrus, so Japanese citrus varieties, such as yuzu, also play a focal point in the menu.
Uchiko: One the Main Sources of Ozu's Wealth
If you have a spare afternoon and would like to see the source of Japan Wax, a visit to the historic town of Uchiko is also recommended. The Uchiko-za, originally built as a kabuki theater but which also spent time as a movie theater, is open to visitors to wander around and enjoy. This all wooden theater has been home to Japanese TV dramas, and you can walk underneath the floorboards to see the mechanics of how the kabuki stage operated.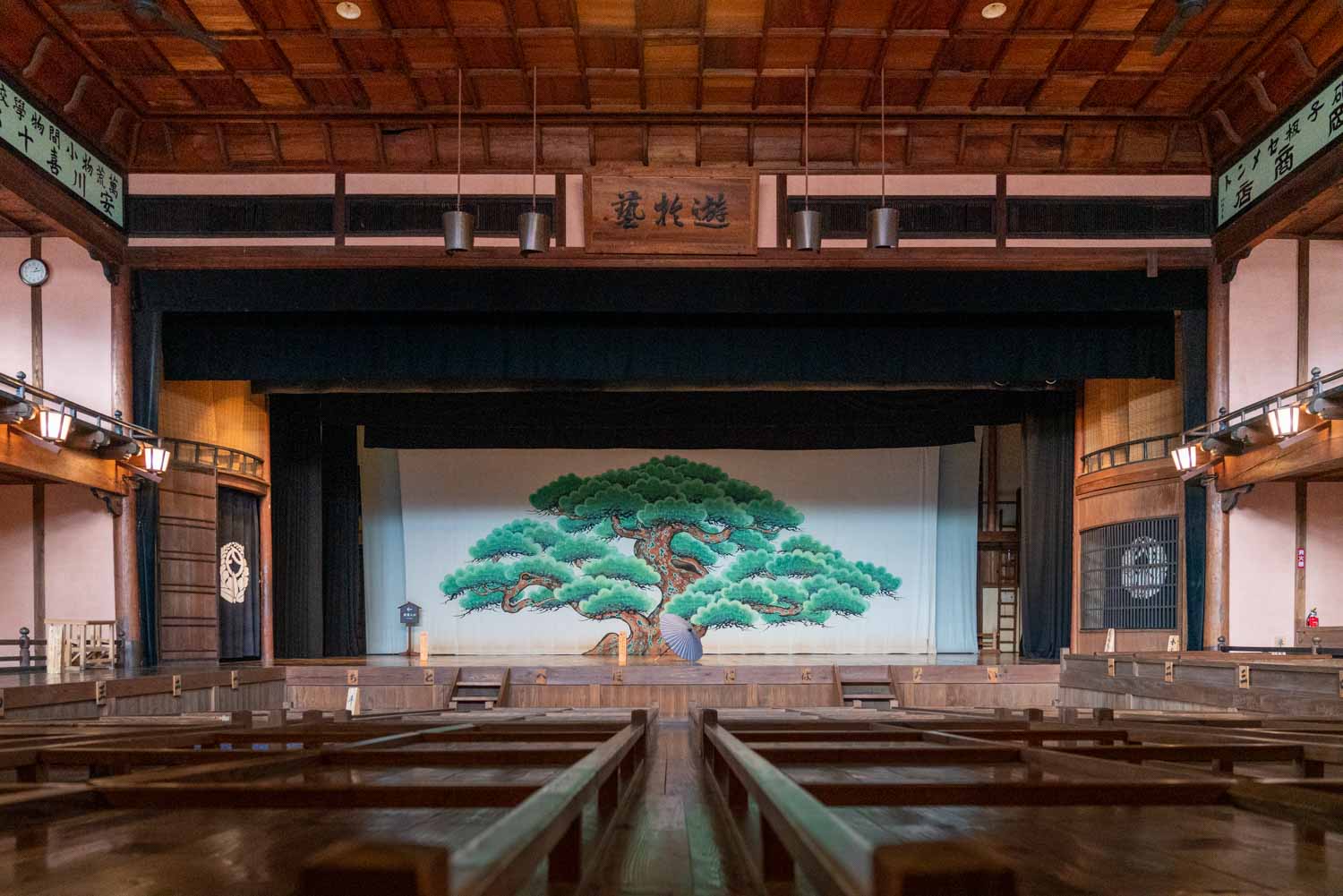 What to See and Do in the Local Township of Uwajima
The Uwajima area was able to preserve its industry and craftsmanship over the last century. With fishing in its veins, and a history of hardship and industriousness, it is a spectacular landscape to ride electric bikes around for a day, and for those looking to rest in comfort, Kiya Ryokan should not be missed.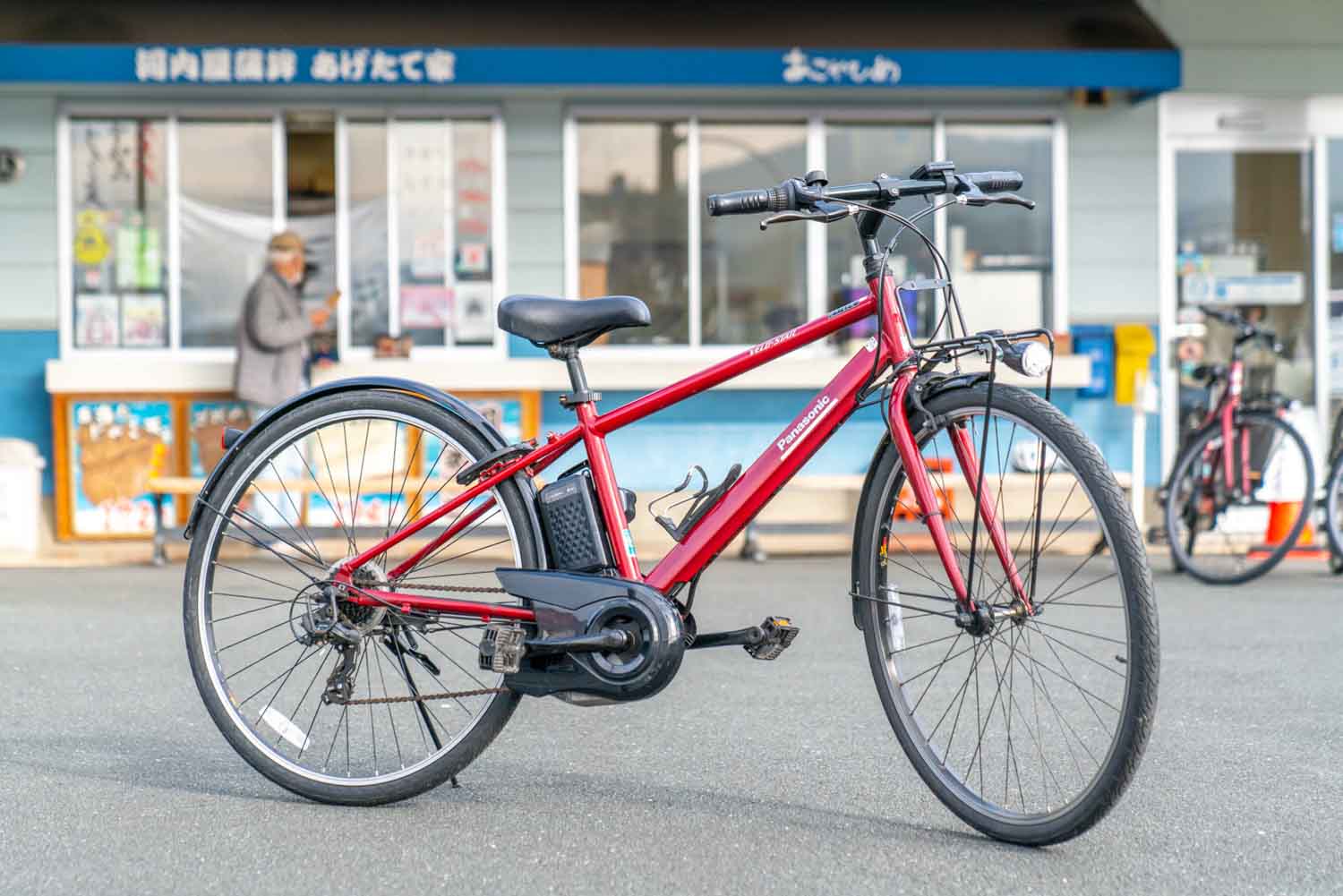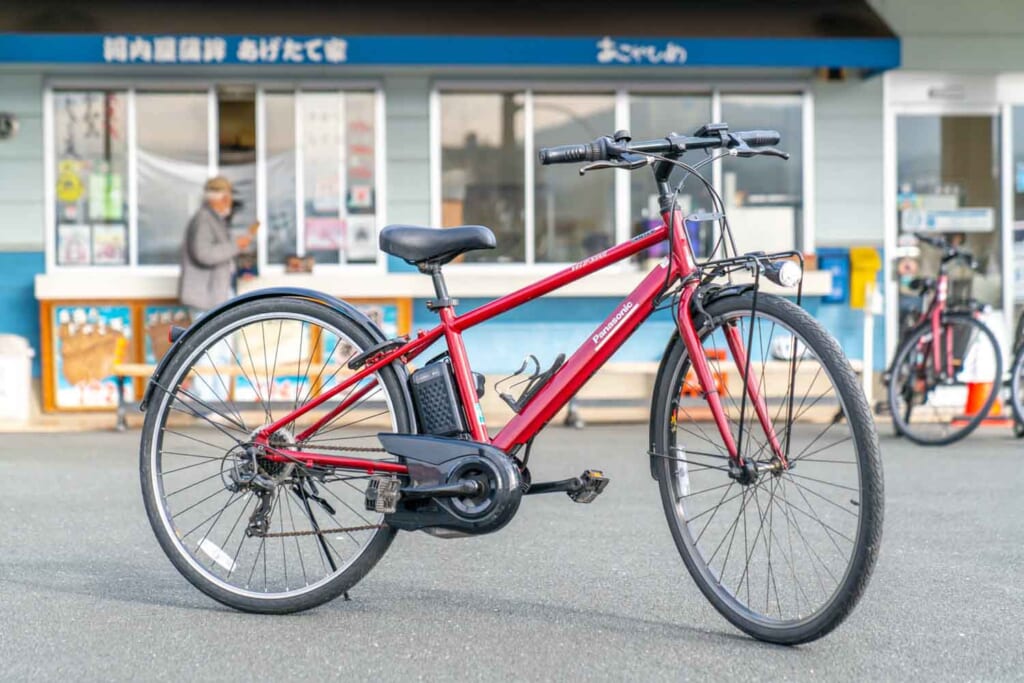 Visit the Terraced Fields of Yusumizugaura
For some awe-inspiring views of terraced rice fields, the stone walls on Yusu's steep mountain slopes will surely inspire a visit. With the thin tracts of arable land taken up with housing, locals turned to these terraced fields to grow millet and grain rather than rice which normally requires an abundance of potable water.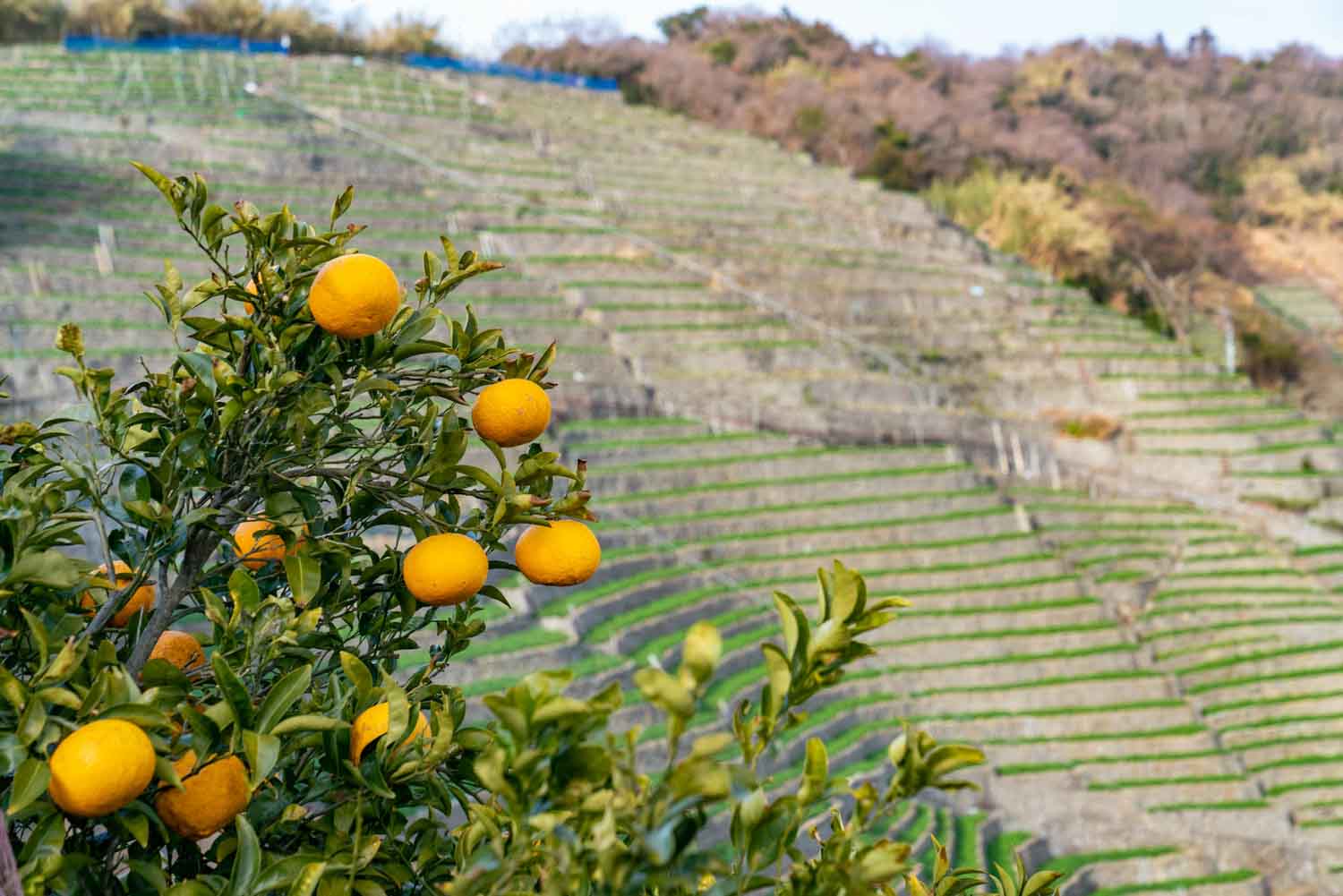 As time went on and the commercial production of silk in the region became viable, mulberry trees were grown and the revenue was used to sure up the extremely steep terraces with stonework. In the 1960s, aquaculture and the harvesting of pearls became the main local industry and the reliance on the terraced fields dropped off, with the fields falling into disrepair. From the year 2000, local volunteers have been restoring the terraced fields, and this impressive visual artifact to the hardship of times gone by now attracts 20,000 visitors per year.
Visit the Locals on Kushima
If you would like to explore a friendly Japanese fishing village that time has left untouched, head to Kisaiya Square in Uwajima, jump on some electric bikes and head out to the island Kushima (九島). The island is bursting with character, with old houses and laneways everywhere just ready to be explored.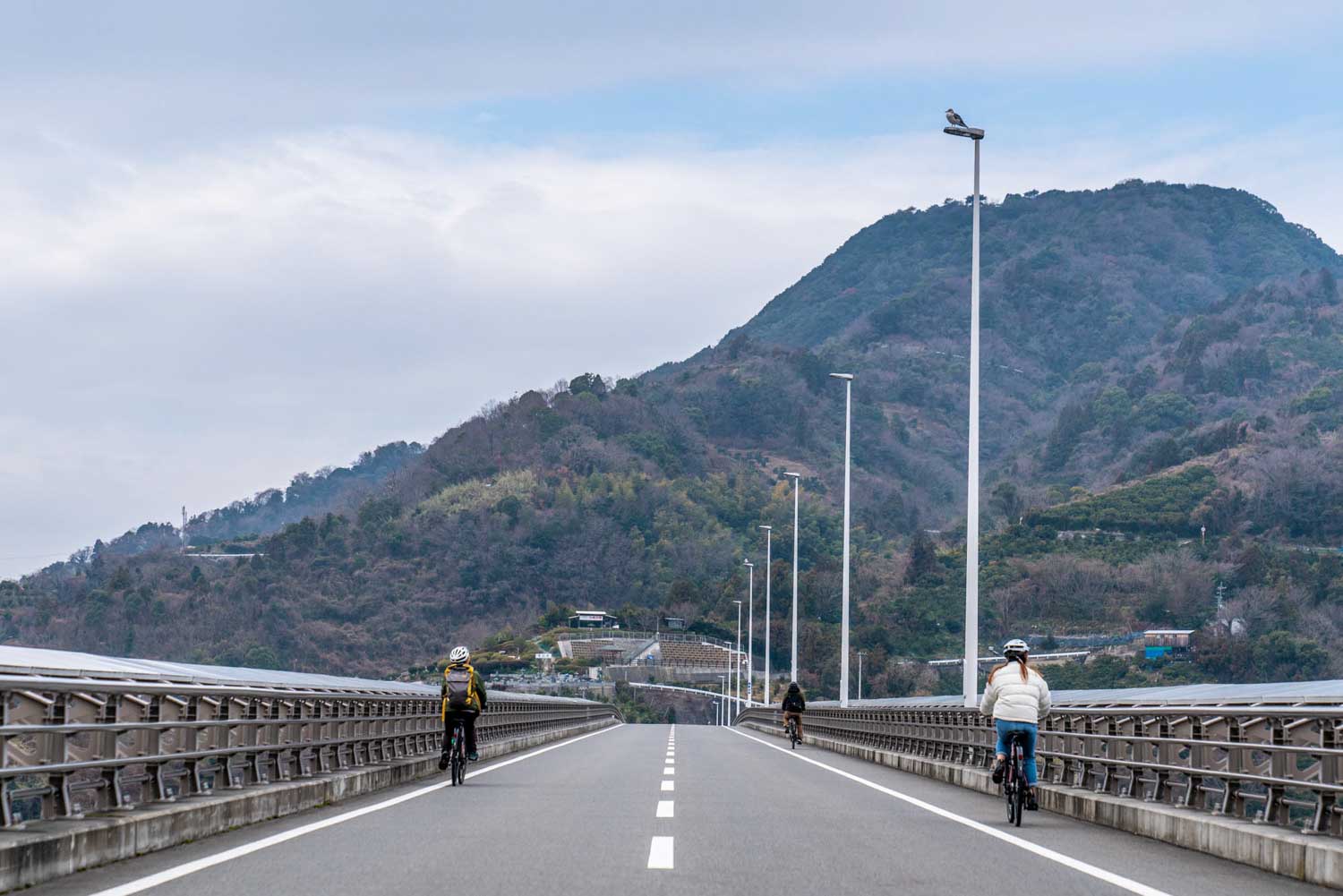 While we were there, we came across a group of weathered fishermen fixing their nets happy to have a chat, and all of the locals were friendly and affable. There are several boats dotting the coastline, and further, out to sea, you will notice the fish farms rearing sea bream, yellowtail tuna, and fugu.
Stop for Lunch at Restaurant "nicco"
The restaurant "nicco" is a recent addition to the Kushima food landscape, serving delicious, healthy food in a relaxed open space. Husband and wife team, Hiroyuki and Chihiro Mizuno came to the island for a holiday to visit Chihiro's grandmother and fell in love with the island and its people. One day, when they were wandering around the island township looking for a location to open their restaurant, their now neighbor said, "This building has been empty for ten years." Three years later, with their labor of love complete, they were ready for their first customers.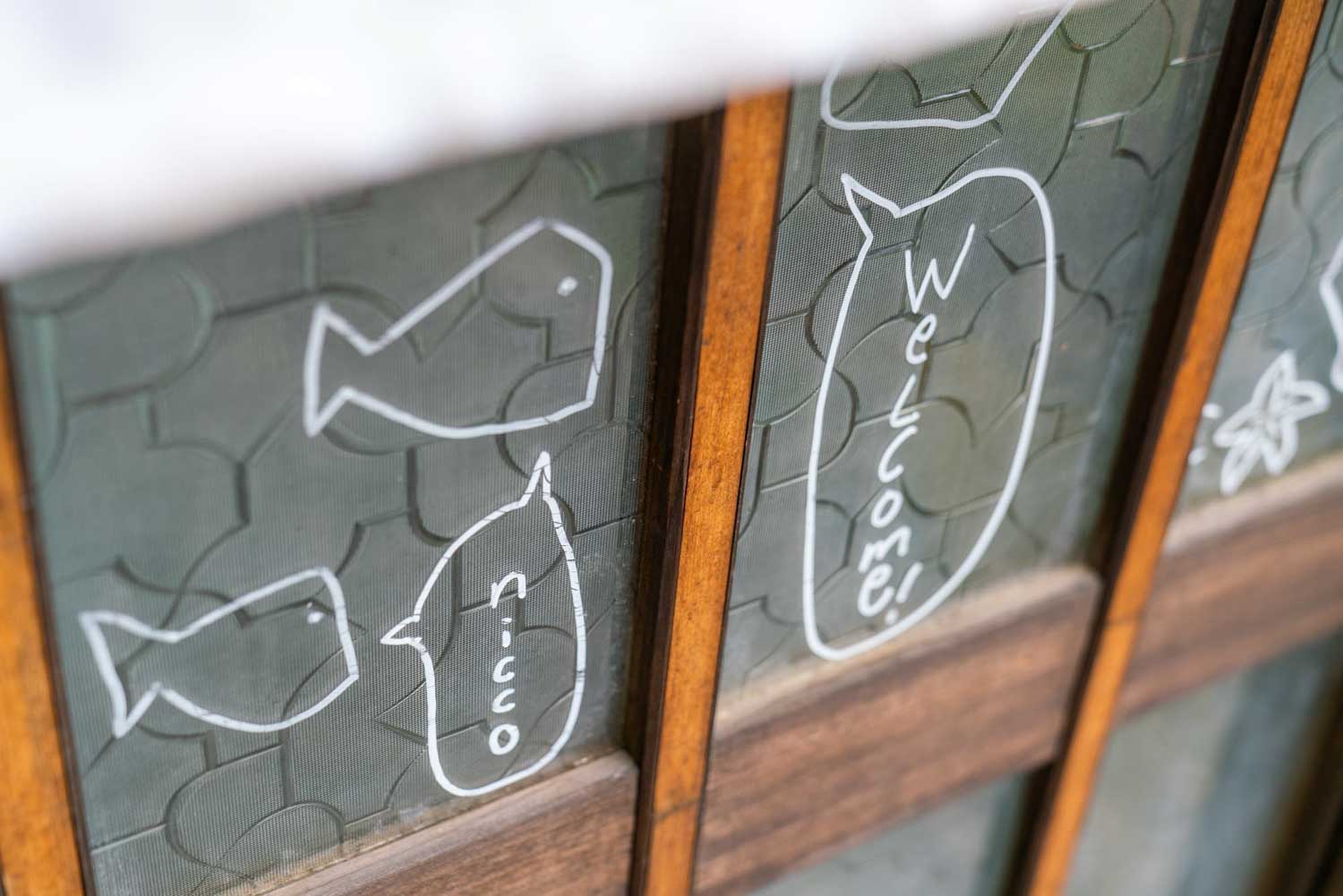 They now have a loyal clientele who come for the locally-sourced, homemade-style food with a focus on original creations for lunch and dinner and stay for the wide range of drinks available including Japanese wine, sake, and craft beer.
Watch the Traditional Flag Making Process at the Kuroda Flag Shop
Back on the mainland, be sure to stop by the Kuroda Flag Shop to see the traditional methods used in the production of flags for shrines and temples since 1904. Currently run by the 4th generation owner and his twin brother, with the 5th generation currently in the middle of his 10 years of training, you won't see a computer in sight as all flags are hand-drawn.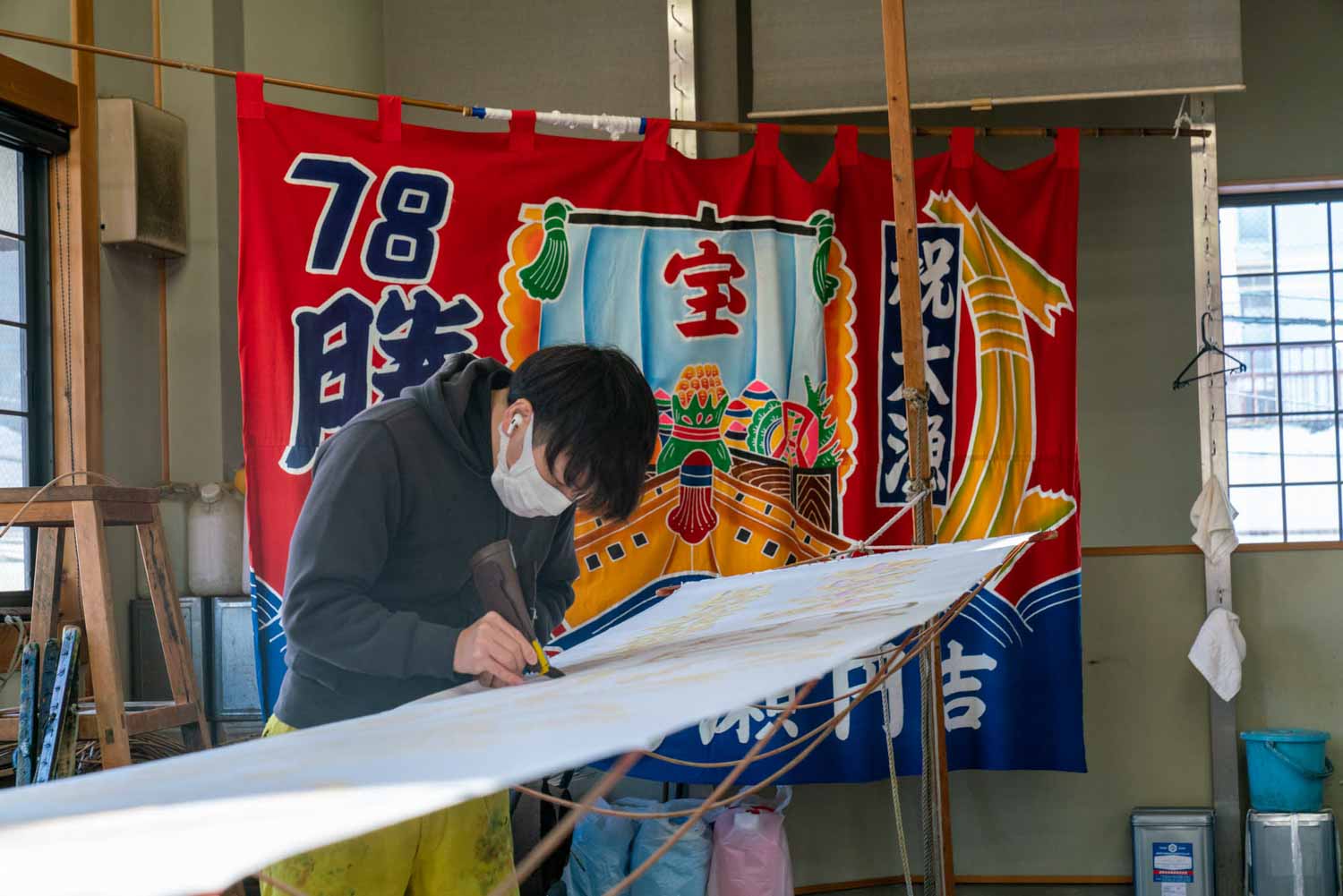 Kuroda-san jokes that the clients don't know what the flag will look like until it is finished, but each flag is painstakingly laid out, sketched, plotted, and painted with incredible accuracy. Kuroda-san is also known locally as a music aficionado, with an extensive collection of records and reel-to-reel recordings.
Don't Miss Out on the Tai Meshi!
A regional favorite, Tai Meshi consists of slices of fresh raw sea bream on rice topped with a mixture of raw egg, dashi stock, and soy sauce. It is said to have first been eaten by local pirates who happened upon the recipe by accident after a few too many drinks. It is available at a lot of local restaurants, but these are our go to's:
Hozumi-tei: Enjoy Tai Meshi in A Japanese-Style House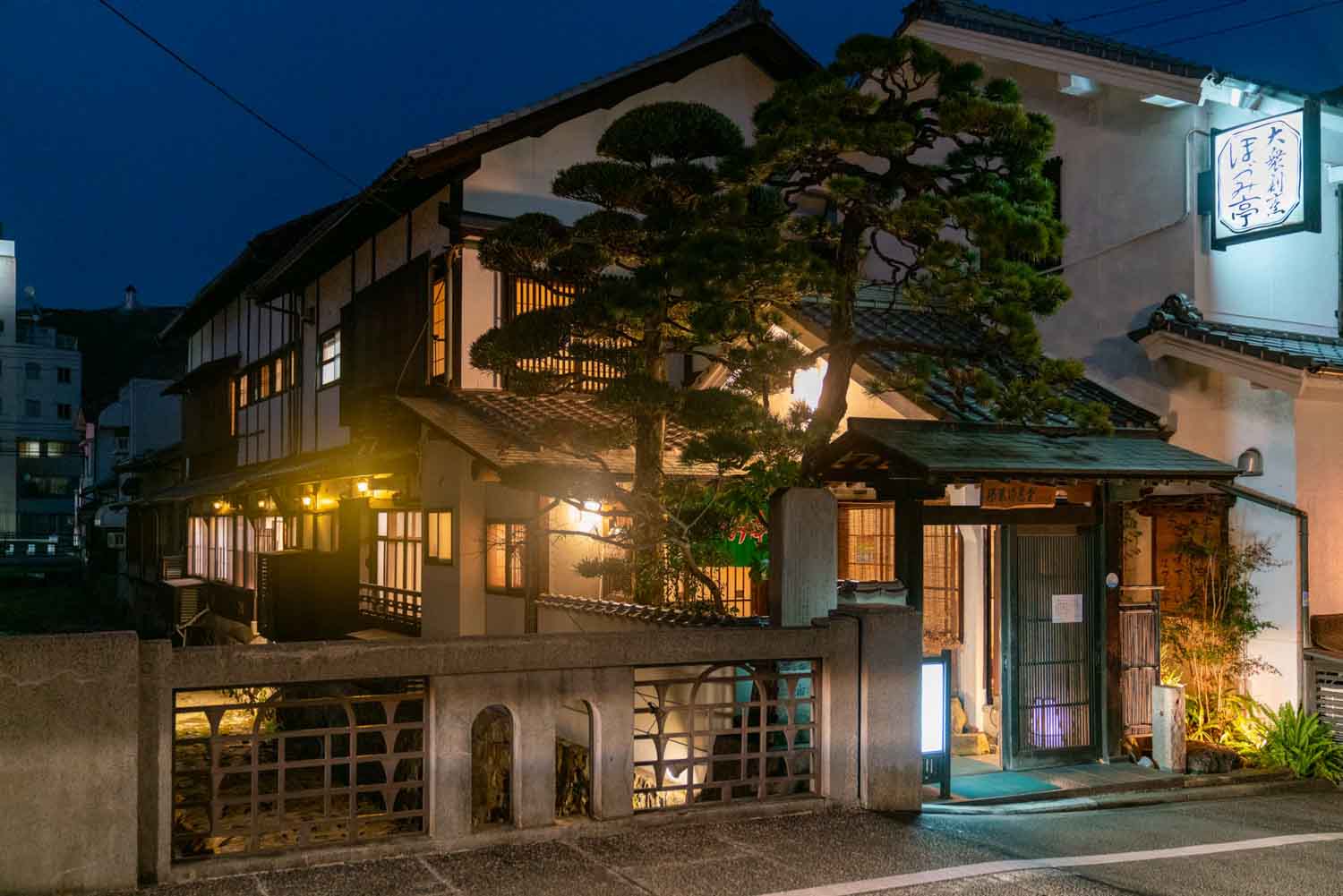 A five-minute walk from Uwajima Station, Hozumi-tei first opened as a ryokan accommodation 101 years ago but shifted to only serving meals to hungry guests 41 years ago. The restaurant still has the appearance of a Japanese-style house, and the third-generation owner serves up delicious Tai Meshi in a comfortable and friendly atmosphere.
Kadoya Bentencho: Reasonably Priced Cuisine in a Japanese Chain Restaurant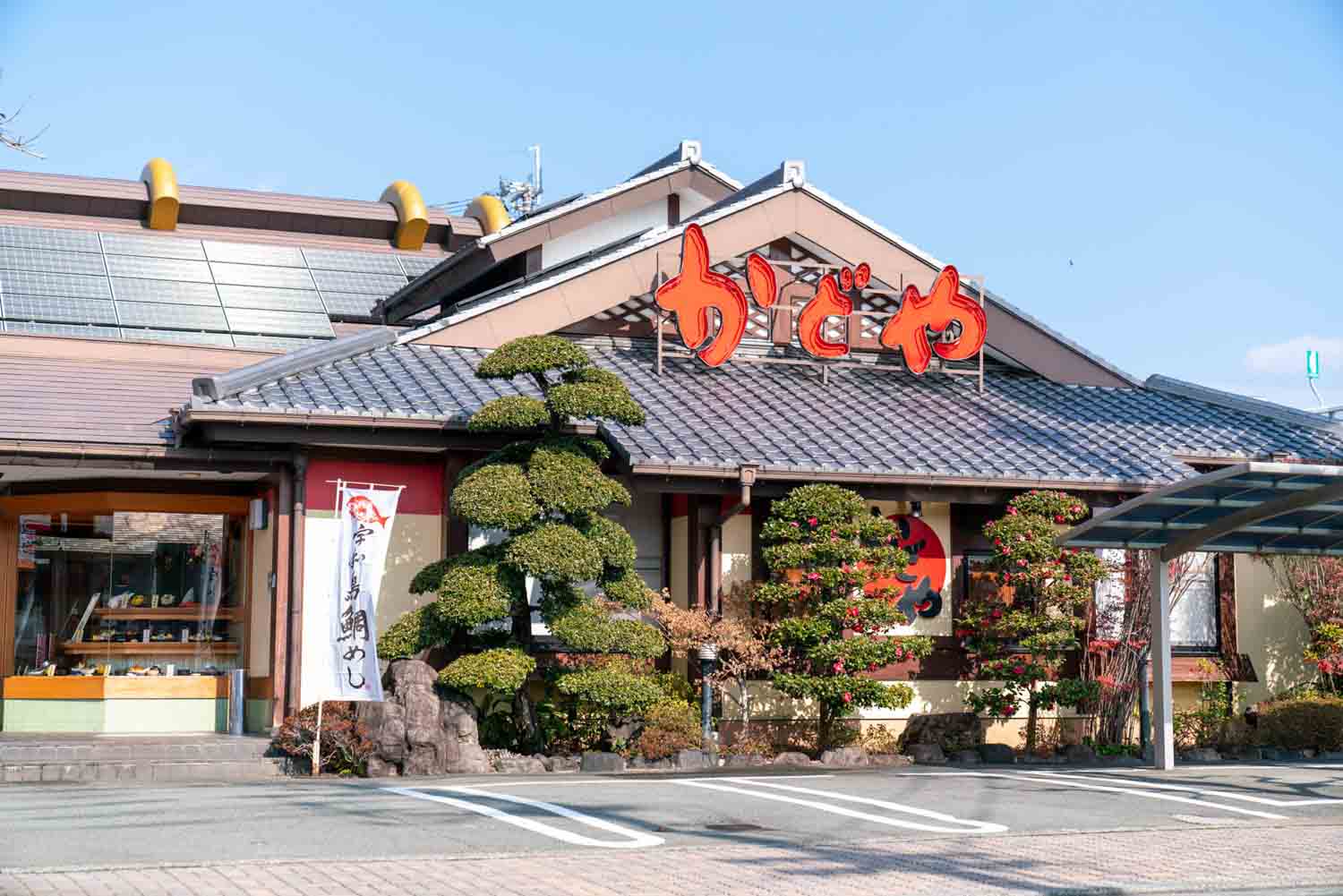 The Kadoya (かどや) local chain of restaurants was founded in 1955 and has now expanded all over the Matsuyama/Uwajima region, as well as upscale locations in Tokyo. The Bentencho branch of Kadoya feels like a regular family restaurant, with an unpretentious atmosphere, serving Tai Meshi along with a range of other seafood dishes and Kaiseki meals at reasonable prices. Another dish famous in Uwajima is called Satsuma Meshi, where mashed grilled fish and miso are mixed together into a light paste and served on barley rice.
Where to Stay in Uwajima
Kiya Ryokan (木屋旅館) is a traditional ryokan that has undergone a modern facelift and is by itself worth the trip to Uwajima to stay in. Often booked out months in advance, it is unlike any other ryokan stay in Japan, in that you have the whole building to yourself. The renovation, made by a world-class production team, opened up the space by replacing the central wooden floors with thick perspex that can be walked or even slept on, allowing a huge amount of natural light to enter what were once darkened rooms.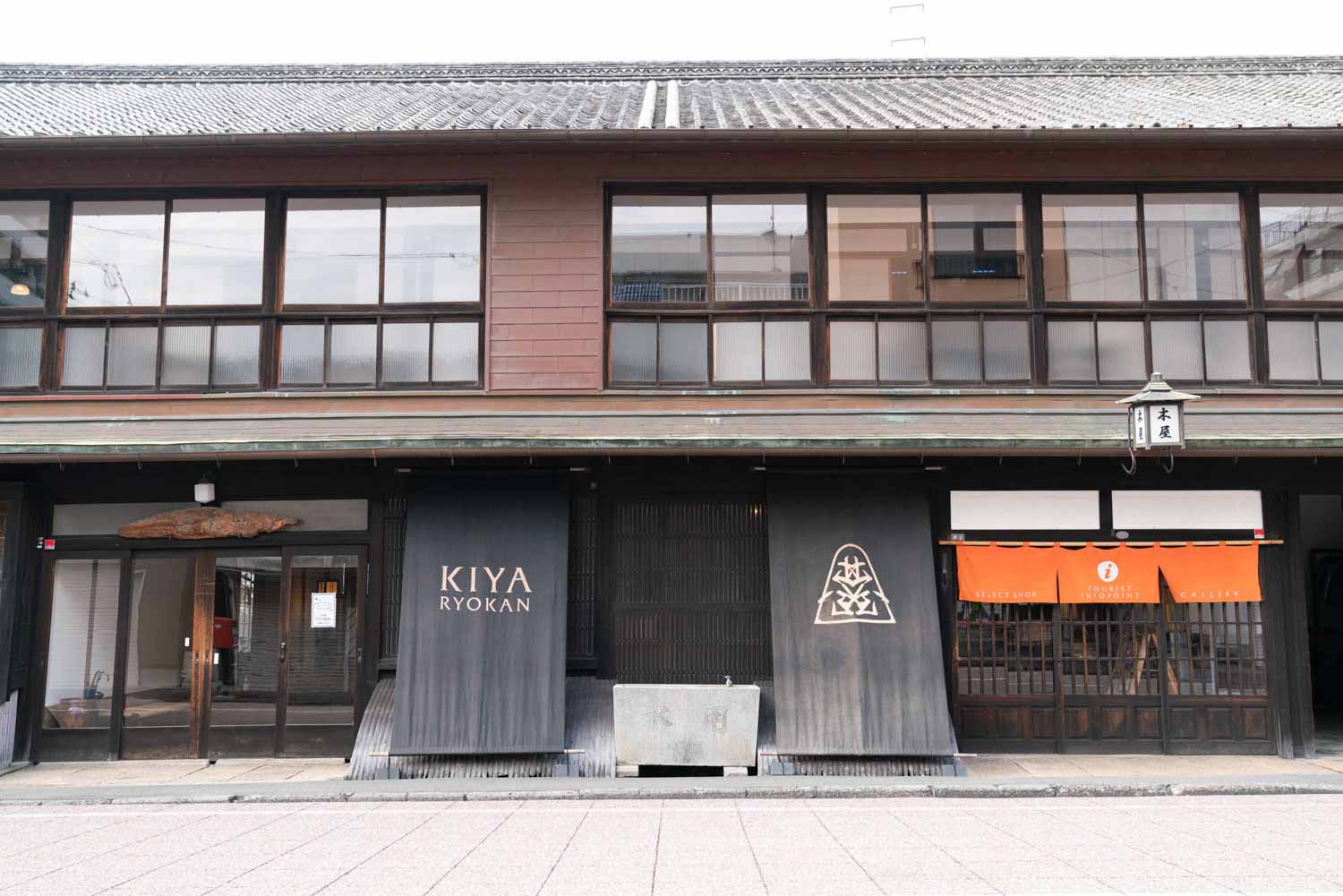 The manager, Bartholomeus Greb, has been working here for ten years and has in-depth knowledge of the region, and is happy to help with restaurant recommendations and bookings. The stay here is very much bespoke, with recommendations made based on the interests and circumstances of the guests.
For those looking for a more standard hotel experience, the JR Clement Hotel has a variety of large rooms available to suit all travelers, with rooms having either a castle view or a view of the train station. Uwajima Oriental Hotel, a five-minute walk from the station, is in the center of the city and a short walk to local nightlife such as bars and izakaya. A good choice for the budget-conscious traveler, amenities include a bath salts assortment where guests can mix and match bath salts from five different scents, as well as free mandarins during harvest season.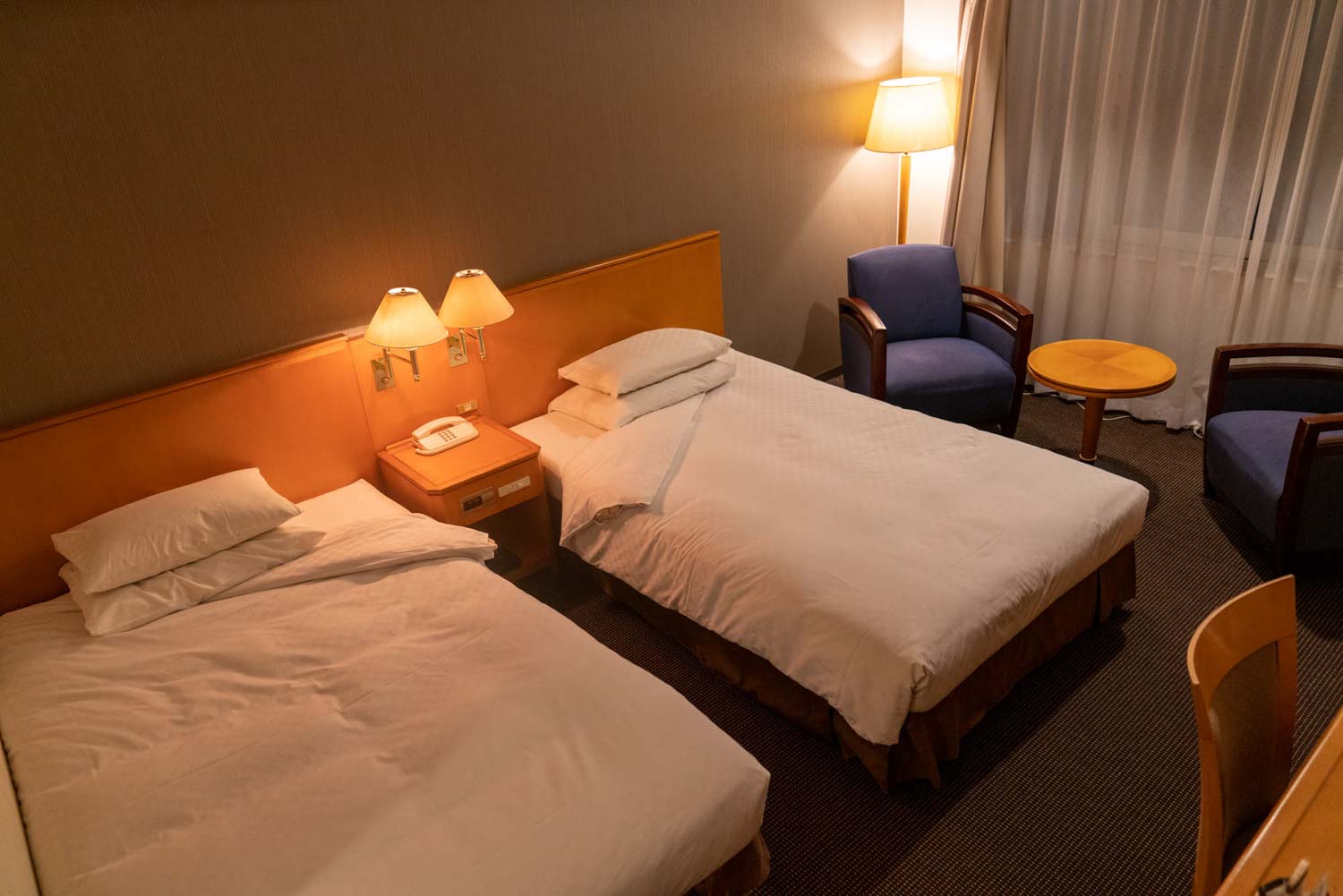 How to Access Ozu and Uwajima
Ozu and Uwajima are serviced by the JR Yosan Line limited express train from Matsuyama Station (松山駅). If you've flown into Matsuyama Airport, take the Matsuyama Airport Bus to Matsuyama Station (15 minutes) then take the train to Iyo-Ozu Station (33 minutes) or continue onto Uwajima Station (1 hour 32 minutes).
If you travel to Shikoku with plans to join a pilgrimage, enjoy driving around the Japanese countryside, or just to explore new places, the Ozu and Uwajima region of Ehime should be high on your list. With world-class seafood, luxury accommodation, relaxing experiences, and diverse local culture, it is a taste of Japan that would suit both the discerning traveler as well as those looking to find something new.
Sponsored by Ehime Prefecture