[The 2020 Sakura Festival was cancelled due to coronavirus.]
Fukuoka Castle, built in 1607, is also known as Maizuru or Seki Castle. Like many Japanese castles, much was destroyed during Japan's Meiji period, and now only remains are left among Maizuru Park.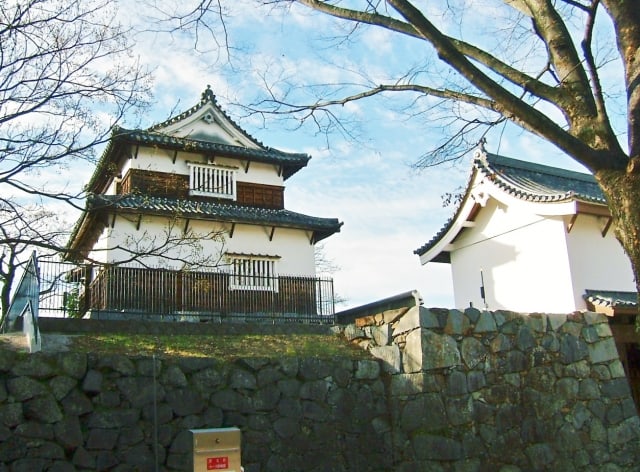 Surrounding Maizuru Park occupies central Fukuoka, near the famous Ohori Park, which was originally where the Fukuoka Castle moat was. As Kyushu's biggest, the castle originally covered a huge area. Because of its historical significance, the ruins have been declared a historic site.
The original Fukuoka Castle was mainly stonework, which gave it the alternative name "Seki (stone) Castle". Turrets called "yagura" that still remain on the grounds are preserved to this day. When first built, there were 47 such turrets. Some original walls and stone gates also remain.
Some of the old stone walls of the Fukuoka Castle
Besides Fukuoka Castle, Maizuru Park also holds some history. From 1949 until 1997 the Heiwadai Baseball Stadium was located upon these grounds, home to Fukuoka's baseball team.
In 1987 the remains of a guest house for foreign diplomats, a "korokan" dating back to the Heian Period (794-1185), were found inside the park. This is the only korokan found within Japan, adding to Maizuru Park historical significance.
Maizuru Park is a beautiful spot for cherry blossom viewing, a season which lasts from the end of March until the beginning of April. A festival celebrating the blossoms, called "Sakura Matsuri," happens around this time. Food stalls are set up, while at night the area lights up, giving some stunning views of the blossoms.
The Maizuru Park grounds not only contains Fukuoka Castle, but also an art museum. The Fukuoka Art Museum opens every day except Monday, while entry costs only 200 yen for adults and 150 yen for high school or college students (children are admitted free-of-charge). It houses a collection of modern and pre-modern art, as well as temporary exhibitions. From December 2015 until February 2016 a Monet Exhibition was held here. The grounds also feature sports grounds, including a baseball field and running track.
Fukuoka Castle and surrounding Maizuru Park are perfect places for experiencing some of the deep Fukuoka history while enjoying some scenic views throughout the year.
| | |
| --- | --- |
| Name | Fukuoka Castle |
| Category | Castle |
| Address | Jonai, Chuo Ward, Fukuoka, Fukuoka Prefecture |
| Access | [map]Jonai, Chuo Ward, Fukuoka, Fukuoka Prefecture[/map] |
| Opening Hours | Grounds always open |
| Price Range | Free entry |
| Payment options | |