Just outside the crowds of Kyoto city is a world of serene nature, vibrant culture, and deep history that you probably have never heard of before. Oita Prefecture, known mainly for its abundant onsen hot springs, is another area like Kyoto, rich in nature and history. We have carefully selected less crowded destinations in both of these fascinating areas of Japan and will cover them in a series of nine articles: "Travel like a Kyoto and Oita native to experience nature and traditional culture."
The well-heeled traveler might choose to stay in established Japanese cities like Kyoto and Tokyo simply because they are known quantities in terms of refinement and service. But to do so is to miss incredible opportunities to see and experience a lesser-traveled Japan that rivals and often surpass the big cities in natural beauty and cultural heritage. With the recent completion of the ANA Intercontinental Beppu Resort and Spa, world-class accommodations are available in Oita Prefecture, one of Japan's up and coming tourist destinations.
Beppu: Onsen and Relaxation Capital of Japan
Beppu is a city in Oita Prefecture on the northeast coast of Japan's island of Kyushu, a land known for its exceptional natural beauty and well-preserved history, especially from the Edo age of the samurai. Kyushu was formed and is still defined by its many large, active volcanoes, which are also responsible for superheating the subterranean water flowing under the island's surface. In no place is this geothermal activity more evident than Beppu, where thousands of onsen hot springs are tapped into this natural source of health and relaxation, and is the only place in Japan where 8 of the 10 types of hot springs exist in one location.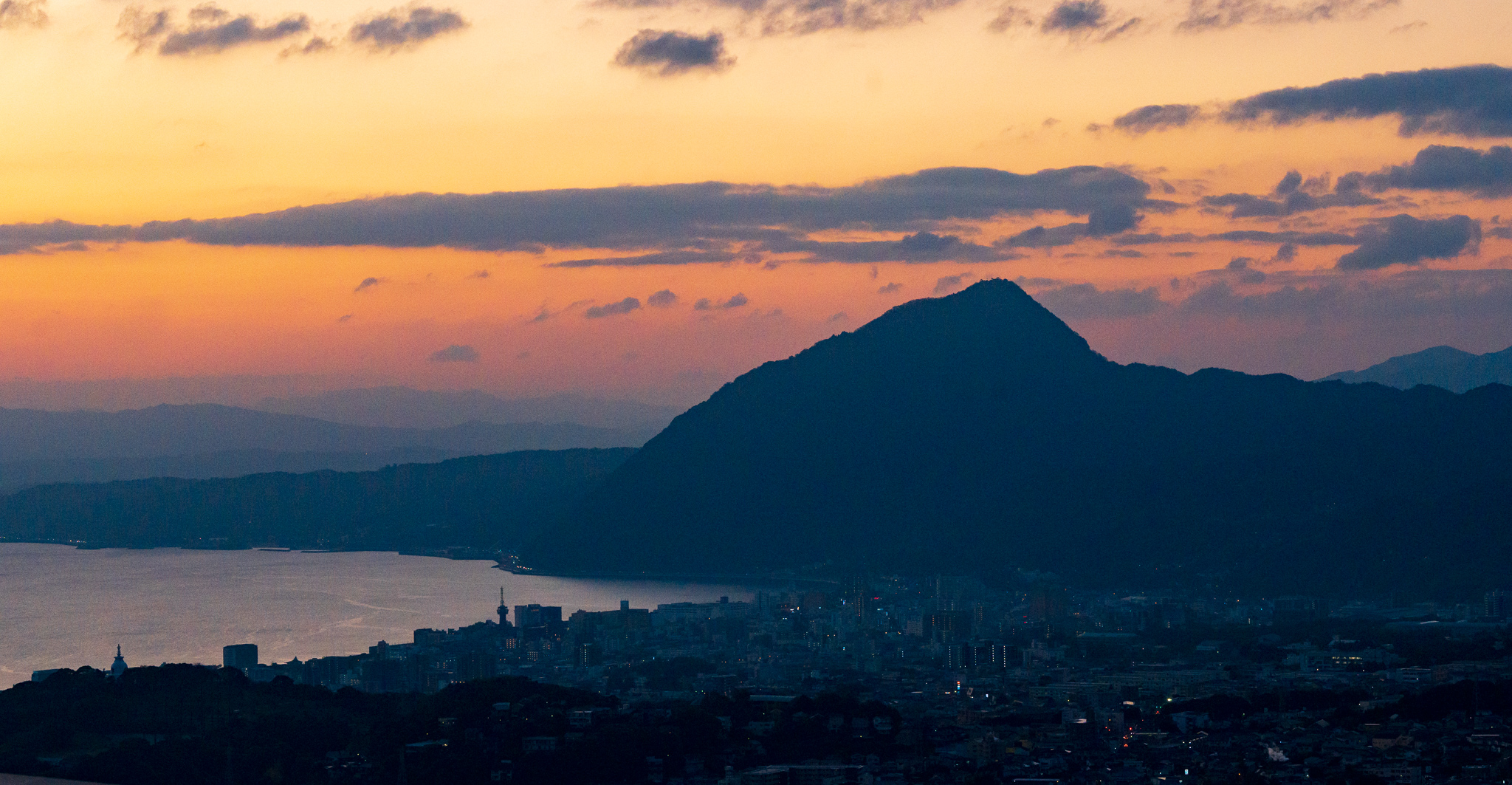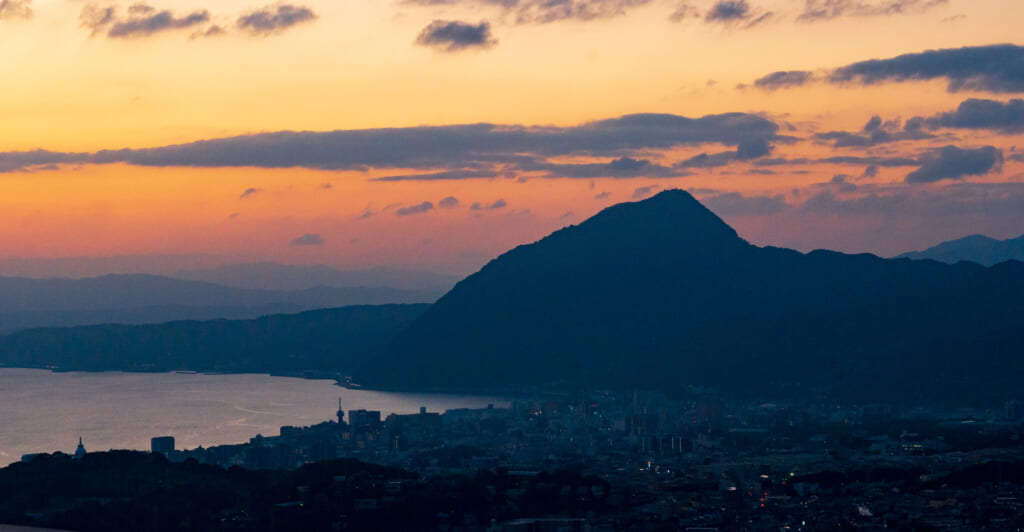 The Japanese have long known Beppu as a city where one comes to relax, enjoy great food, and indulge in the hot springs' health benefits. However, foreign travelers are only recently becoming aware of Beppu's appeal, partly because of the popularity of the area during the 2019 Rugby World Cup, which Oita Prefecture helped host. As the area's reputation spread to more overseas countries, facilities were renovated, and new luxury resorts like the ANA Intercontinental were constructed.
World-Class Luxury Accommodations Come to Oita
Stepping into the lobby of the ANA Intercontinental Beppu Resort & Spa, there is no mistaking where you are. Pillars surrounded by stones resemble the tall, straight cedars that grow in Oita's mountains, and a central water feature is a reminder of the hot springs waters that the city was literally built upon. High up on a volcanic rock-faced wall, a bamboo art object silently nod to the roles volcanoes and bamboo play in this region. In front of you, a three-story tall (about 11m) picture window gives you a panoramic view over Beppu city below.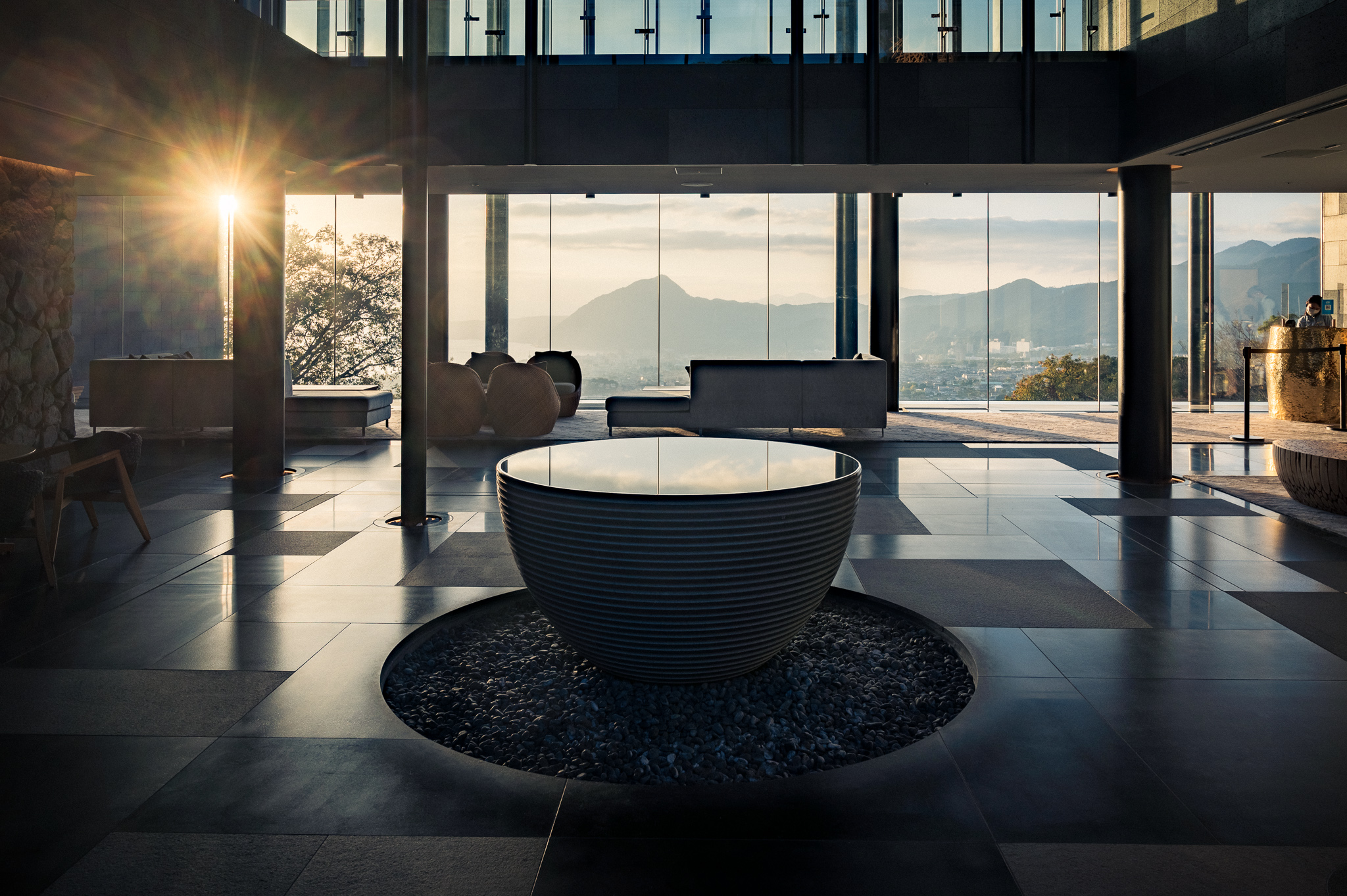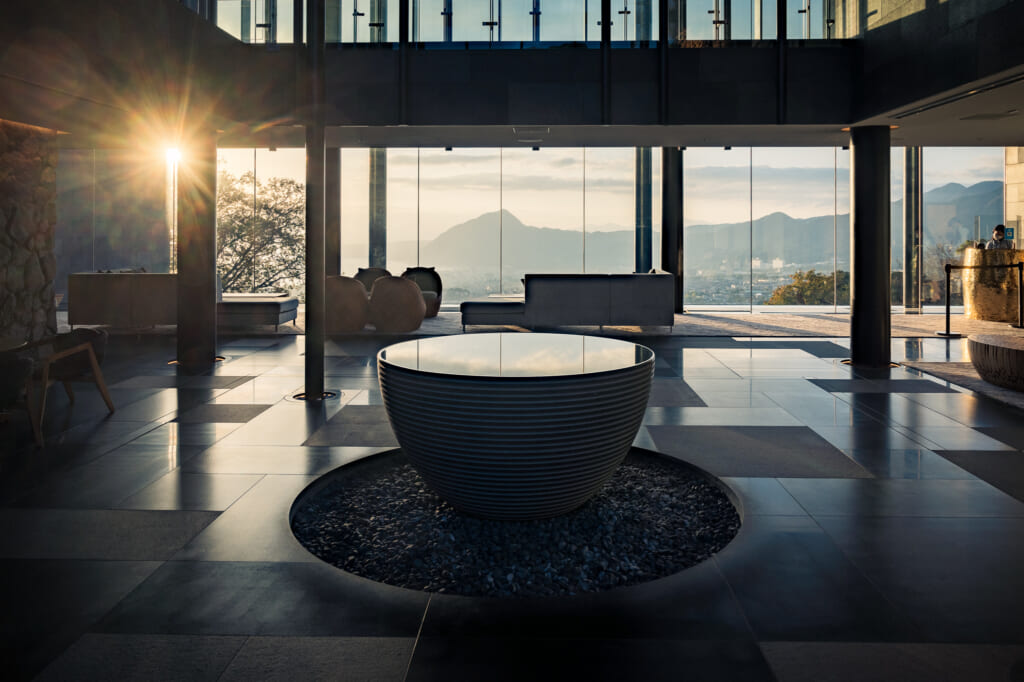 In your room, the acknowledgment of Oita and its culture continues. Woven bamboo baskets can be found as both art and functional pieces, and a divider made from hinoki (Japanese cypress) separates the enormous bathroom from the rest of your suite (a switch-operated blind can be closed for modesty if you desire). You are welcomed with a plate of sweets, including Pierre Herme macarons, on the table next to your sofa. Step out onto your private balcony and enjoy the same dramatic scenery from the lobby without the glass between you and the view.
As your room will be a place to relax between your meals and sightseeing in the area, the included amenities should keep you in comfort. A huge LCD television, stocked refrigerator, and Nespresso machine are standard in your room, as are comfy bathrobes to lounge in. The bathroom contains both a waterfall and standard shower and a jet-equipped bath, and an array of bath salts to use.
You can leave the comfort of your room in the cotton yukata provided and head down to the onsen hot spring bath on the ground level. The hot water for the bath is unique to the property and contains many minerals to soothe and heal your body. Myoban Onsen, the area surrounding the resort, is known for its mildly sulfuric hot springs that remove impurities from your skin.
If the onsen isn't relaxing enough, book a session at the Intercontinental's luxurious spa, where professional beauticians and masseuses can rejuvenate you with a list of refreshing services. Even if you don't want to use the spa, I recommend walking down the futuristically-lit hallway to browse the shop and lobby; the spa's aroma and atmosphere are an experience in relaxation by themselves.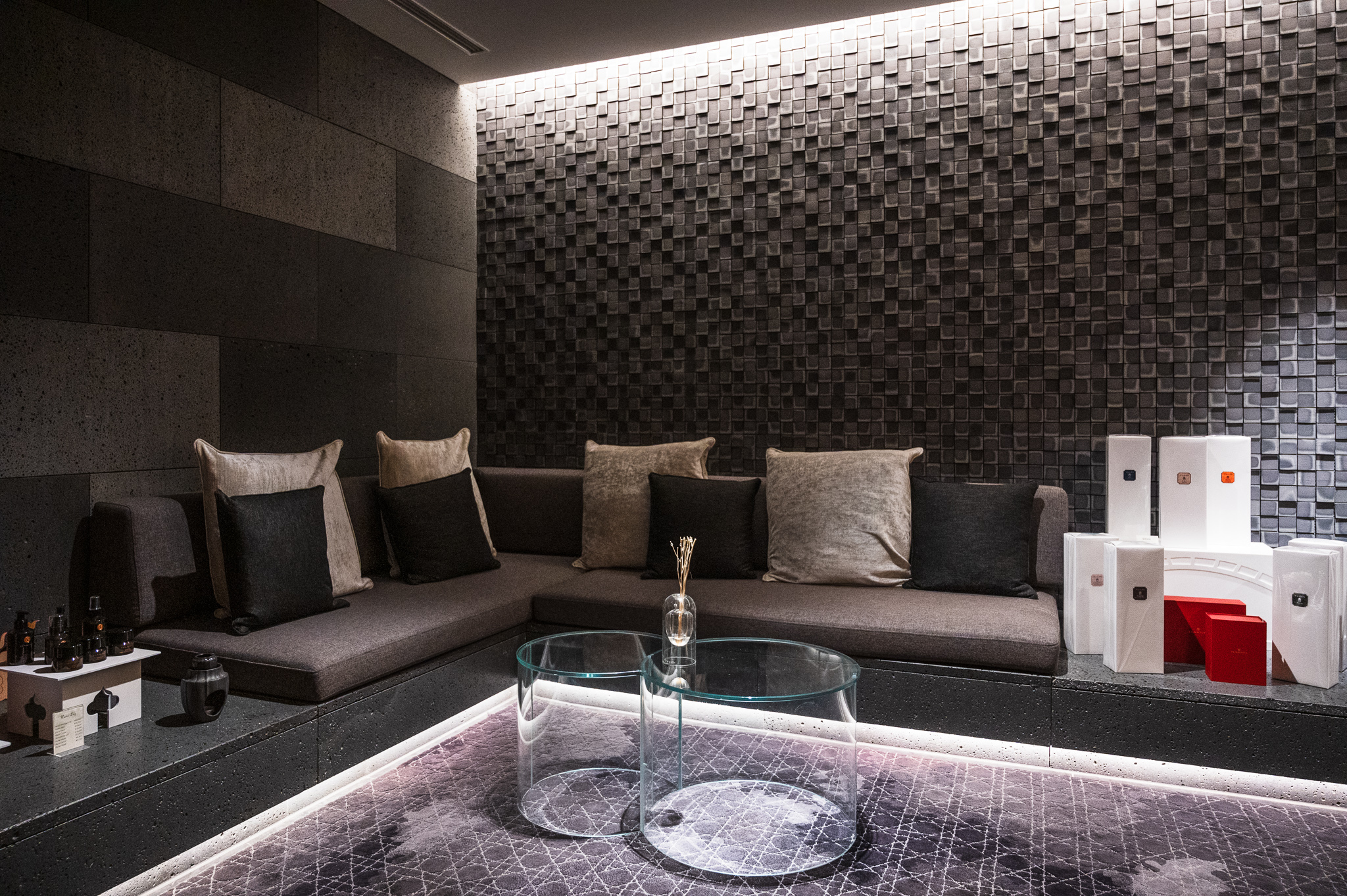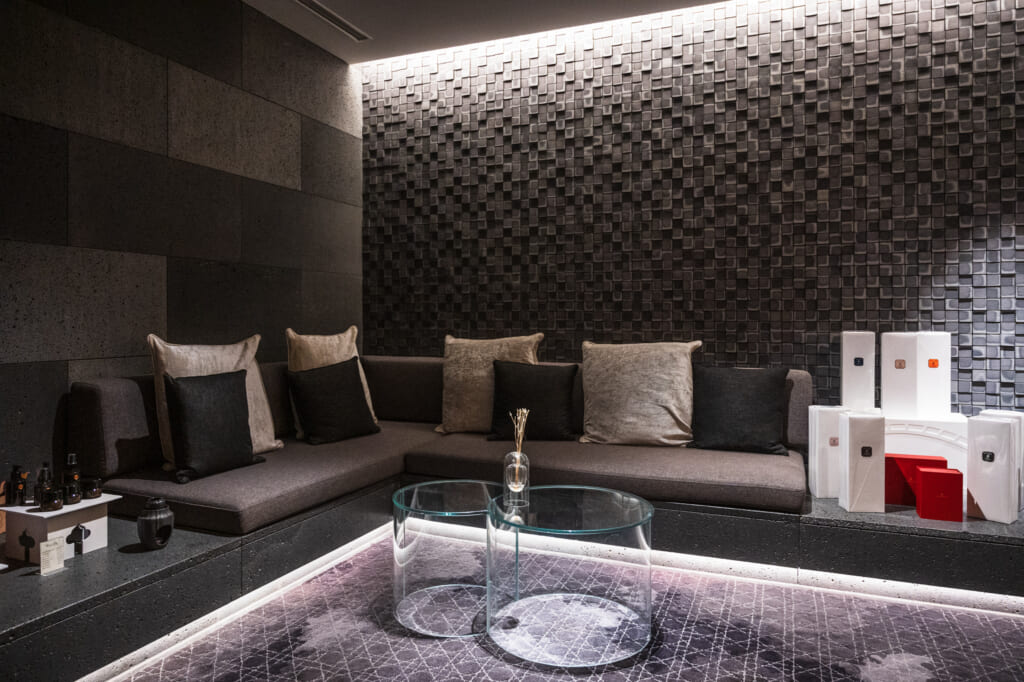 Finally, when it's time to enjoy a meal or socialize with friends, the property's restaurants, Elements: Atelier + Bar, offers European and fusion cuisine as heady as the views from their balcony seats. The Bar is a lesson in classical design with warm wood decor and an accordion glass wall that folds up to merge the balcony with the interior on warm nights. Lighter fare such as tea, coffee, and desserts are served in the resort's two lounges, Aqua and The Lounge.
There are plenty of other common areas around the resort to relax or socialize in. Sunlit lounges with full libraries of local interest books and magazines, an infinity pool with outdoor seating, and a fully equipped workout room are a few places you might choose to enjoy.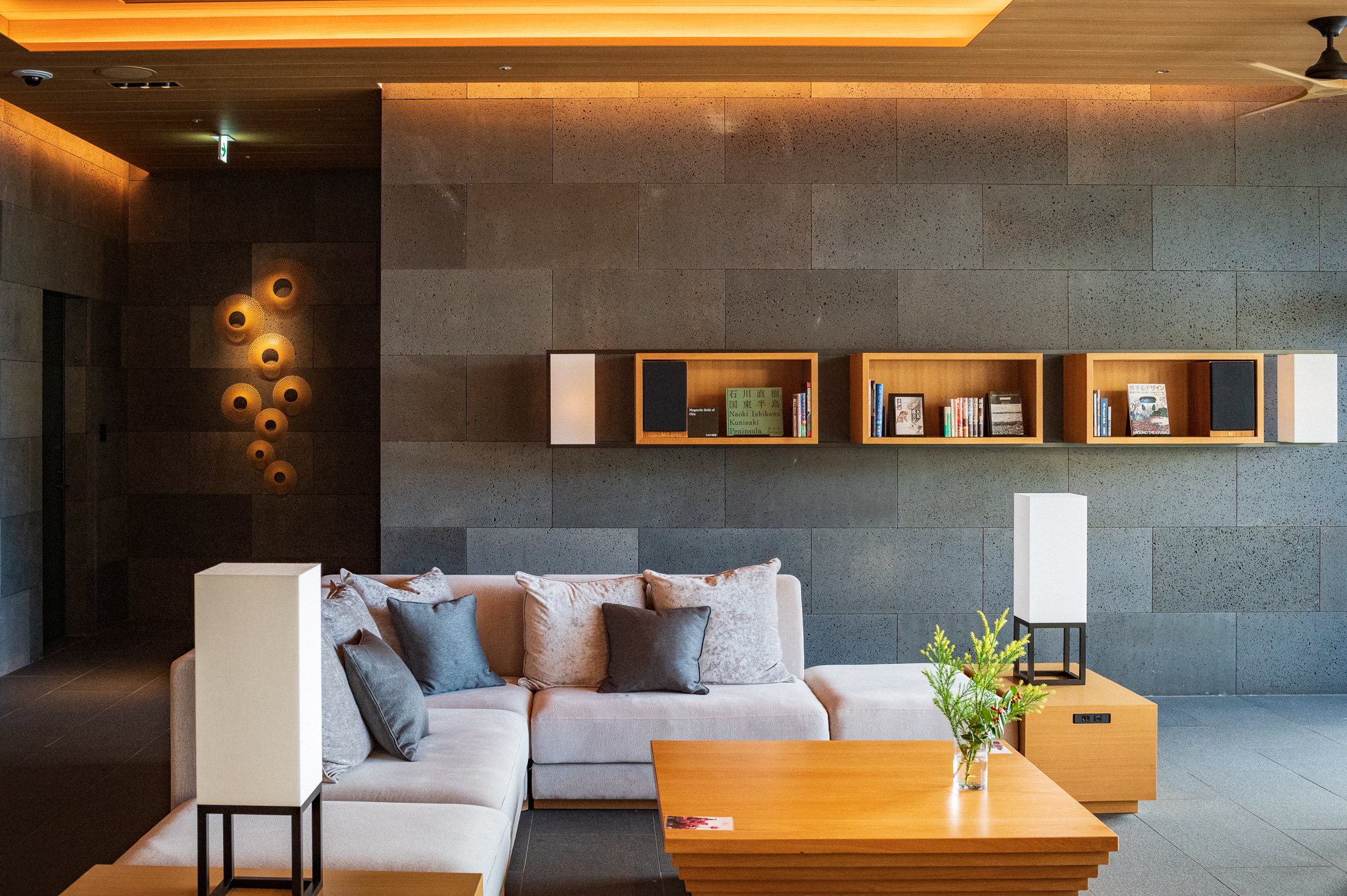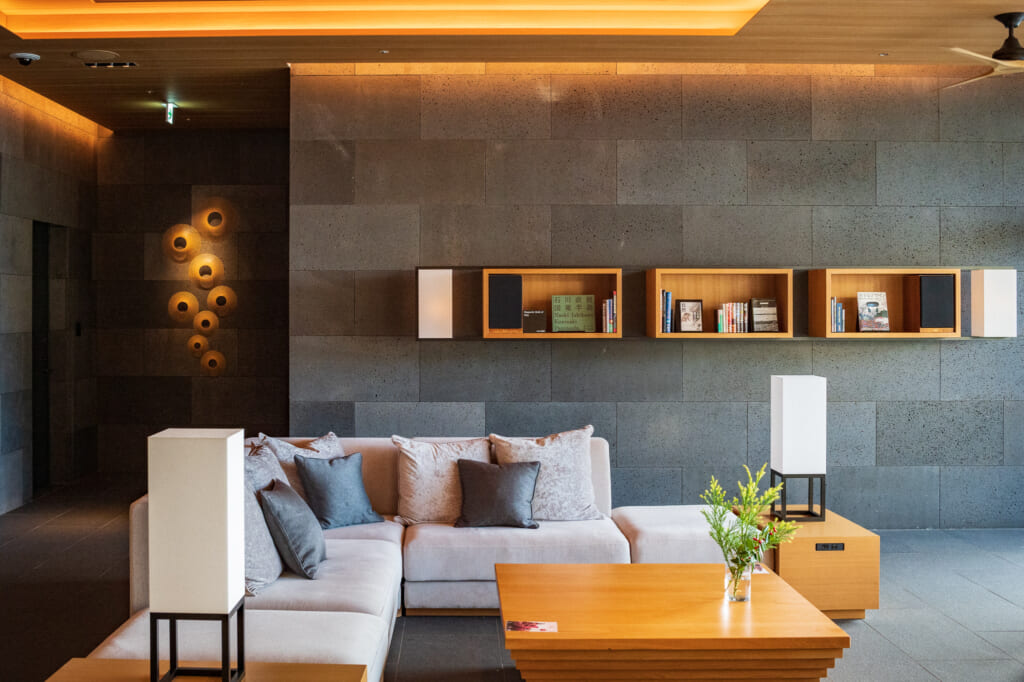 You might find it difficult to leave the luxurious surroundings of the ANA Intercontinental Beppu Resort & Spa, but you'll find many other things to do around Beppu to reward you if you do. For starters, let's visit Hyotan Onsen, the only onsen in Beppu to receive three stars in the Michelin Guide seven times in a row.
Beppu's 3-Michelin Star Onsen
The Hyotan Onsen was established in 1922 in the Kannawa area of Beppu, famous for the quality and variety of hot springs flowing underground. It became renowned as a hot spring facility to rejuvenate and refresh oneself, not only in the traditional ways of soaking in the bath but also by "bathing" in the warm sands. Hyotan also has a steam bath, similar in nature to a sauna, but the natural steam contains minerals that are said to have therapeutic properties.
Though there are other places around Kyushu for sand bathing, Hyotan Onsen is one of the few in Beppu city. The sand is naturally warmed from the steam of the underground springs, and you need to dig down below the surface before you really feel the difference in the temperature. But once you dig yourself a shallow trench and lie down in it, you'll feel engulfed in its warm heaviness. The warm sand and steam promote sweating, helping your body detoxify as you rest in the warm sand. There are medium and high-temperature sand baths available, depending on your preference. The sand bath is mixed gender and has a capacity of 30 people, so couples and families can enjoy the experience side-by-side.
Of course, Hyotan provides a variety of traditional public onsen baths, indoor and outdoor, including "waterfall" baths where hot springs water cascade from bamboo pipes overhead, hinoki (cedarwood) baths with their distinct refreshing aroma, and huge outdoor baths where you can enjoy the sun, or the moon, on your face.
For couples, families, or the newly initiated to onsen bathing and a little shy about bathing with strangers, Hyotan offers 14 private baths that can be reserved in advance. There are eight indoor baths, each uniquely designed with stone and wood elements, and six outdoor baths surrounded with natural foliage and wooden fences to maintain your privacy.
Dining Options at Hyotan Onsen
Hyotan Onsen is a relaxation facility that invites you to stay all day, and that is made possible by the restaurant facilities contained on site. In fact, if you wish, the meal can be part of the experience.
The Jigoku Steam Kitchen invites you to enjoy making your own food using the "Jigoku Steam" method. In Beppu, superheated fumes of around 100 degrees Celcius are spewed from underground, and this natural energy is used to cook in a method known as "jigoku-mushi". Purchase a basket of raw ingredients and place it in one of several steam pots in the restaurant, where steam from the hot springs will gently steam your food at high temperatures. After a few minutes, your basket can be removed from the steam pot, fully cooked in the healthiest of ways. Ingredients such as seafood, whole or half chickens, sliced beef and pork, and vegetables are all available to enjoy. You should also try the onsen tamago, a boiled egg immersed in and flavored by the waters of Hyotan Onsen.
If cooking your own food isn't your idea of a good time, not to worry; the chefs at Restaurant Yurari are happy to create something for you. Yurari serves a variety of Japanese and international-style meals, several of which use Oita's local products, such as tangy kabosu citrus or shiitake mushrooms. Toriten fried chicken is Oita's own famous style, affectionately recognized as Oita soul food by the locals. There are even vegetarian and halal options for those with special diets. Whether you choose to make your own food or let a chef make it for you, the important thing is that after eating, you can quickly return to the business of relaxation in one of Hyotan Onsen's many baths.
Beyond the onsen, the area around Beppu is home to many esteemed restaurants, including Wakaeya (in Kitsuki), which became famous for serving local lords during the Edo Period and, more recently, serving the Imperial family on seven different occasions.
A 300-Year-Old Restaurant Serving Lords and Emperors
Goto Gentaro is the 16th master of Wakaeya, located in Kitsuki city just north of Beppu. It rose to fame when it became the favorite haunt of a local feudal lord, though its 300-year history proves its reputation was earned by more than just a "thumbs up" from a local celebrity. More recently, the Imperial family has paid the restaurant a visit, seven times, in fact, during the 30-year Heisei Era that ended in 2019. Goto-san showed us the room used to serve them, complete with a small stage on which Noh (classical Japanese drama) is sometimes performed for guests.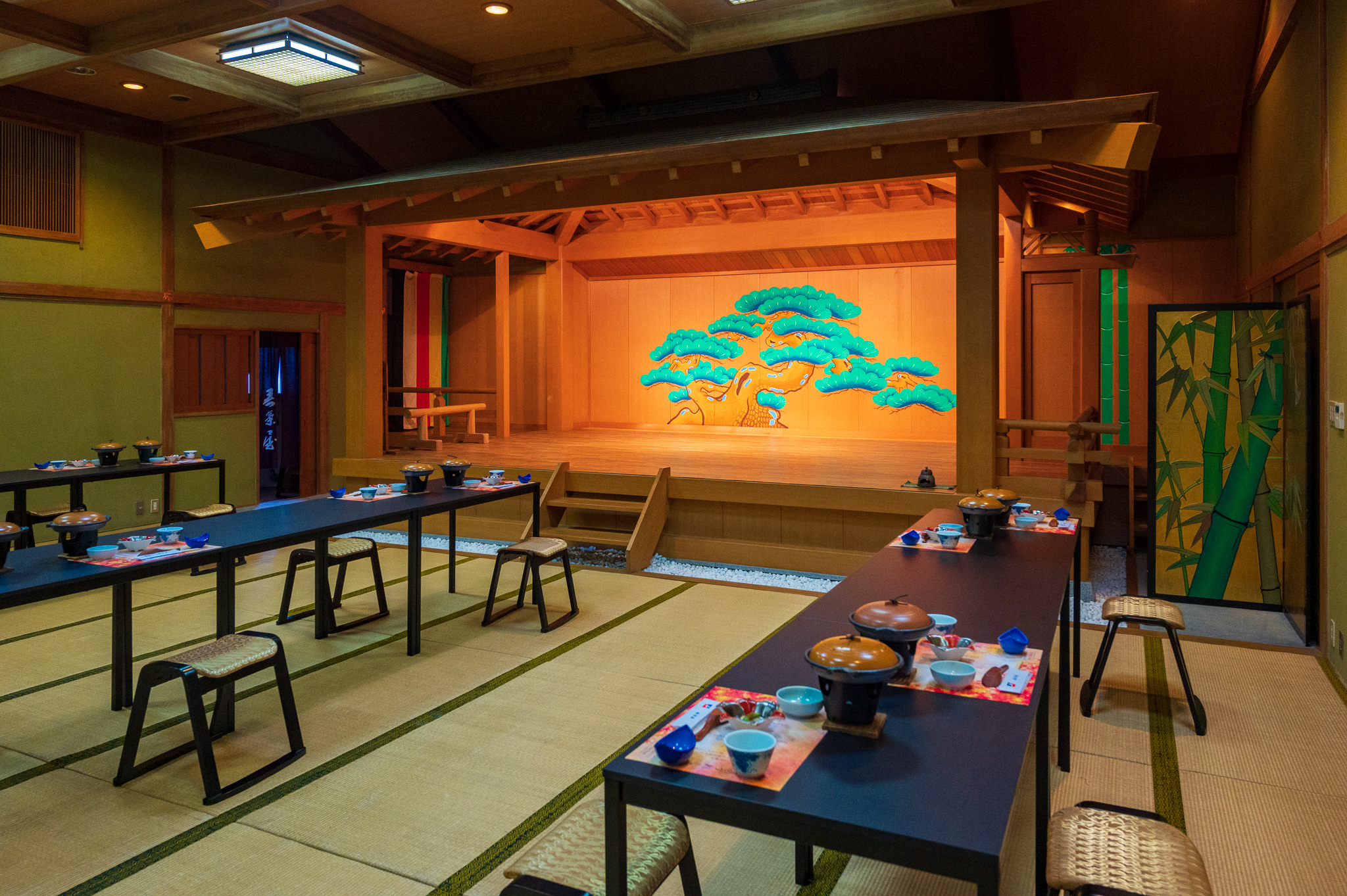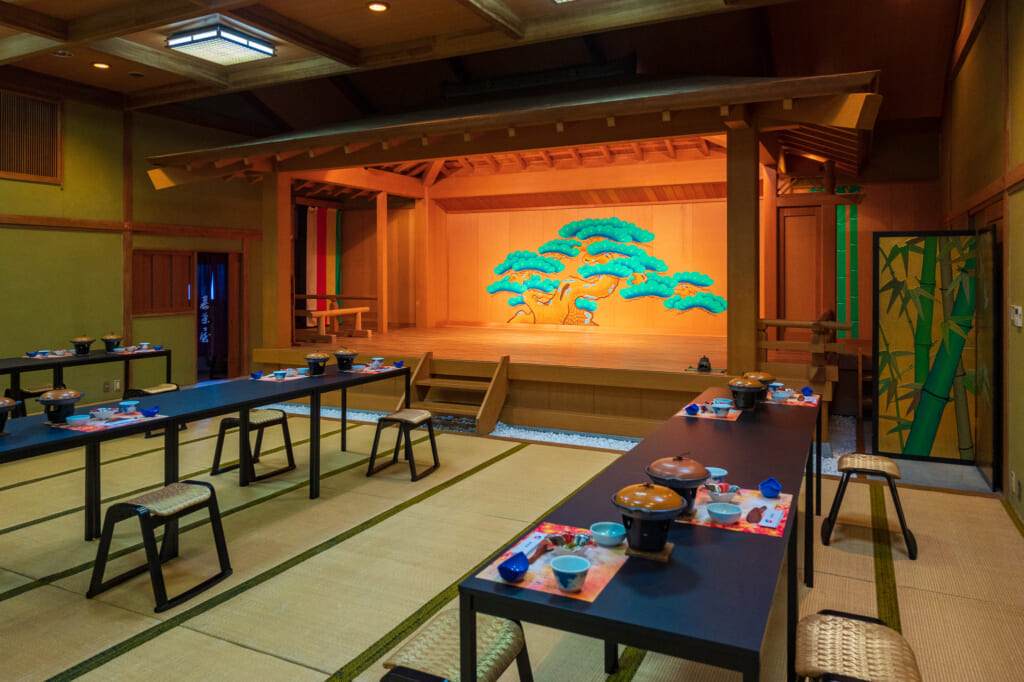 To name-drop from its list of influential customers, you might think Wakaeya serves an extravagant meal. You'd be surprised to find out that Wakaeya has a single, reasonably priced specialty dish: tai chazuke. The full name of the dish is Tai Chazuke Ureshino, with the "ureshino" added as an exclamation from the feudal lord, meaning "I'm so happy (to eat this dish)!"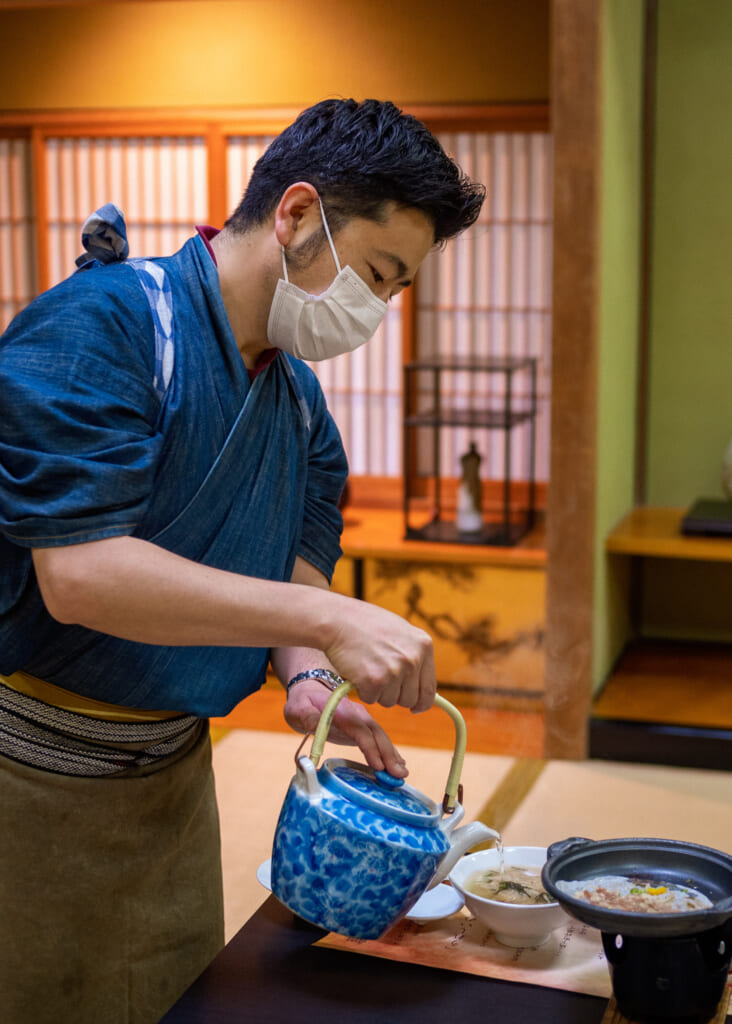 Tai chazuke is actually a simple dish: slices of tai (sea bream) over rice, flavored with a secret sauce. Green tea is poured over the top, and it is eaten like a soup. The green tea allows the flavor of the sesame-based secret sauce to shine through. The secret recipe has been handed down orally through the centuries. When asked about it, Goto-san jokingly motioned to a katana sword displayed nearby, saying the ghosts of his ancestors would have his head if he tried to reveal it to us.
Despite its humble ingredients, Wakaeya's tai chazuke is a force of gentle flavors, the nuttiness of the sesame, the astringency of the tea, the umami of the dried nori seaweed melding together to create an experience. I consumed it almost too quickly, and before I knew it, the word "Ureshino!" was on my lips as well.
How to Get to Beppu and Other Oita Destinations
With a brand new 5-star resort, a Michelin starred onsen, and a restaurant frequented by feudal lords and the Imperial family, Oita Prefecture is undoubtedly making a name for itself in the world of high-class luxury travel. Better still, visitors to Japan can easily access the Beppu area from Kyoto and Osaka using the overnight Sunflower Ferry. This ferry is like a mini cruise of Japan, traversing the calm, scenic Seto Inland Sea, gliding at sunrise into Beppu Bay. Combine a trip to Japan's Kansai region with a trip to Oita and see a side of Japan many overseas visitors never get to experience.
Alternatively, Beppu can be reached by Shinkansen bullet train to Kokura Station, transferring to the Nippo Line to reach Beppu. There are also convenient flights to Oita Airport, about 45 minutes from Beppu, from any major airport in Japan.
More About Exploring Kyoto and Oita
To learn more about rural Kyoto and Oita prefectures, please continue to read the other articles in our series.
Enjoy The Autumn Colors Outside of Kyoto City
Experience Uji Green Tea at a Tea Farm near Kyoto
Kayabuki: The Tradition of Thatched Roof Houses in Japan Near Kyoto
Swords and Samurai in the Kyoto Countryside
From Kyoto to Kyushu: A Mini Cruise on Japan's Seto Inland Sea
The Ancient Japanese Culture and Traditions of Oita Prefecture
The natural beauty of Kyushu: Oita Prefecture
The Best of Oita: Usa Jingu Shrine, Beppu Jigoku and Chinetsu Ryori
This article is sponsored by Kinki Transportation Bureau, Kyoto Prefecture and Oita Prefecture.