While it may not be as well known as some of the more mainland prefectures, since my first visit a couple of years ago, Kochi has gained a particular position in my heart as one of the most underrated prefectures in Japan, and what makes visiting Shikoku so exciting.
Kochi is the epitome of what makes exploring 'deeper' Japan so special. It's a land of hidden delights, untouched natural beauty from the cloud-tickling mountains to the crystal clear water, and as I was soon to learn, a fascinating modern cultural legacy (in the form of world-class architecture).
Nakatsu Gorge: An Introduction to Niyodo Blue
I started my trip with a visit to Nakatsu Gorge. It was my first experience witnessing the almost hypnotic blue of the area's famous Niyodo River (its water is known as Niyodo Blue). Known for its crystal-like clarity and almost electric blue color, this water is the stuff of legends, and to use the cliche — which feels quite apt here — must be seen to be believed. While I'd seen plenty of photos of the area before, it's hard to fully comprehend the reality of Niyodo River's water until you've witnessed it in the flesh. A blue so striking it feels almost supernatural.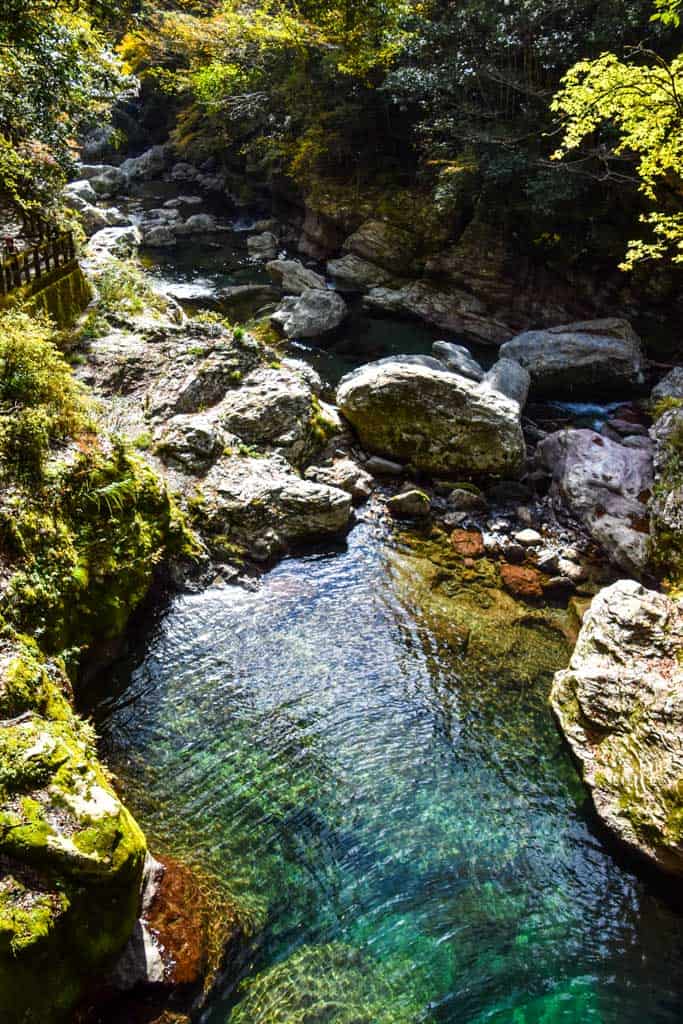 Part natural wonder, part human-made walking path, the area is the ideal combination for those traveling in groups with walkers and hikers of different abilities. It's easy enough to scale as a casual stroll, but there's potential to head off on a 'choose your own adventure' style journey.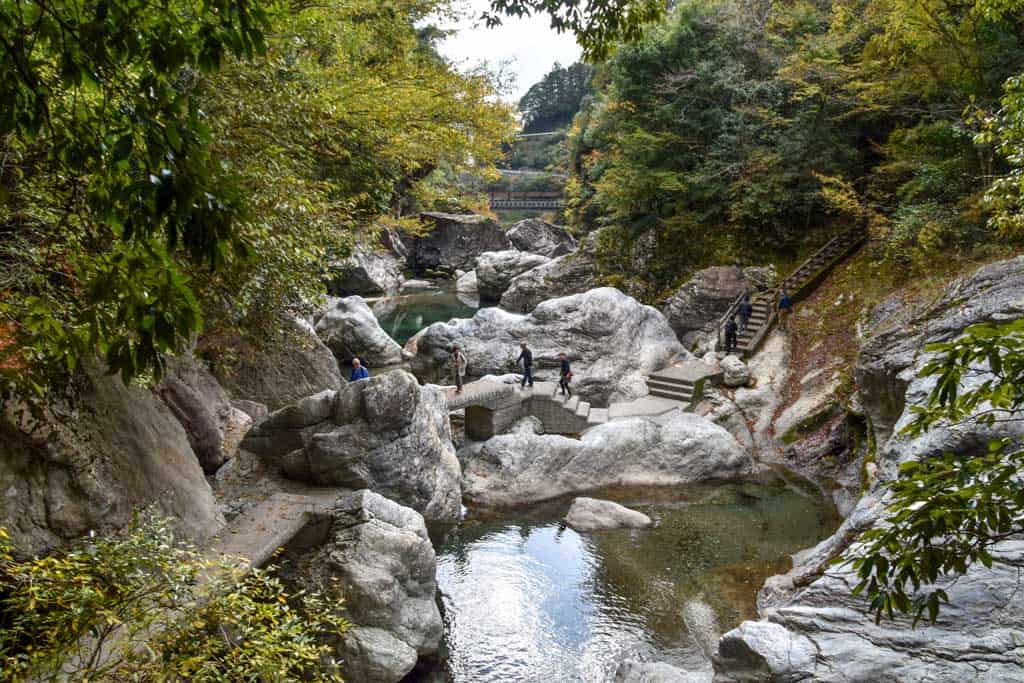 The Nakatsu Gorge trail's promenade runs at a very casual and comfortable course to explore about the two and a half kilometers. As you go deeper into the canyon, you'll find that the promenade splits off into multiple routes, some more challenging than others. While I only had a limited time here, it's possible to jam-pack a few hours with sightseeing and exploring the area, following the Niyodo River and admiring the views, including spectacular scenes from high above the hilly inclines and admiring the transitional colors of the autumn foliage.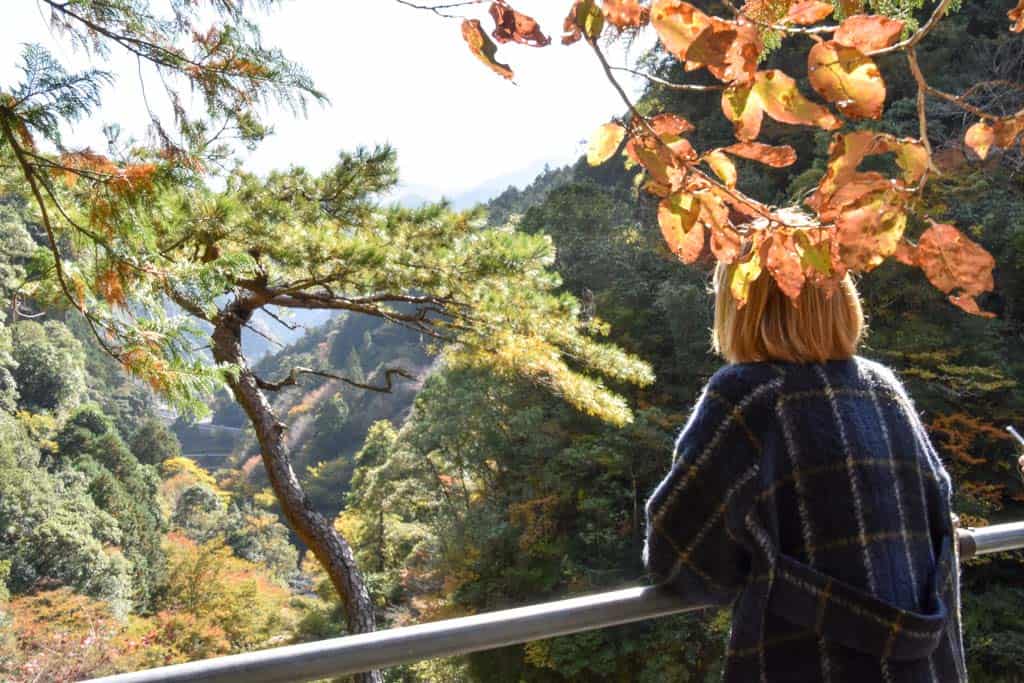 Washi Studio Kamikoya: The Art of Papermaking
The next destination was deep into the Otado valley to visit the traditional Japanese paper (washi) workshop Washi Studio Kamikoya during my visit. The workshop is a proudly family affair. It's run by Dutch artisan Rogier Uitenboogaart, his wife, and also his son, Yohei. As he told me during our paper making class, Uitenboogaart moved to Japan around four decades ago. While working as an artist back in Europe, he discovered the beauty of washi paper and decided to visit Japan to learn more about the craft, and in short, he never left.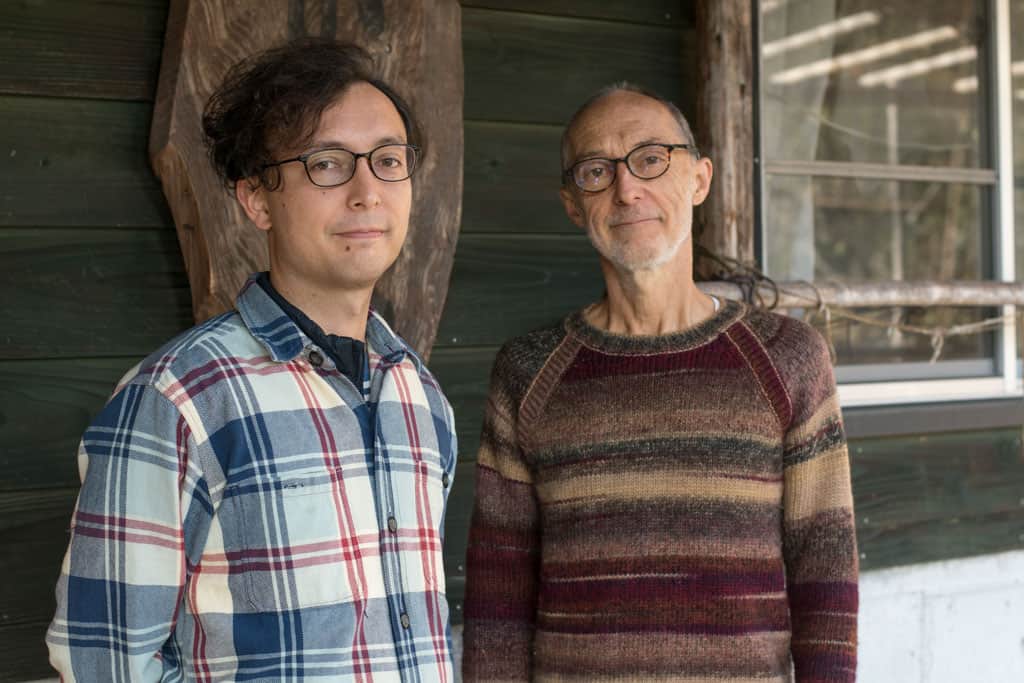 Instead, he set up his own studio-turned workshop-turned guest house overlooking the scenic valleys of regional Kochi. Here is where I found myself, under the gentle guidance of Yohei, forearms deep in a bucket of gluey, sludgy, slimy paper liquid, learning about the art of washi crafting. The workshop is surrounded by lush untapped plants, including the fibrous plant Kozo and the key element of washi paper.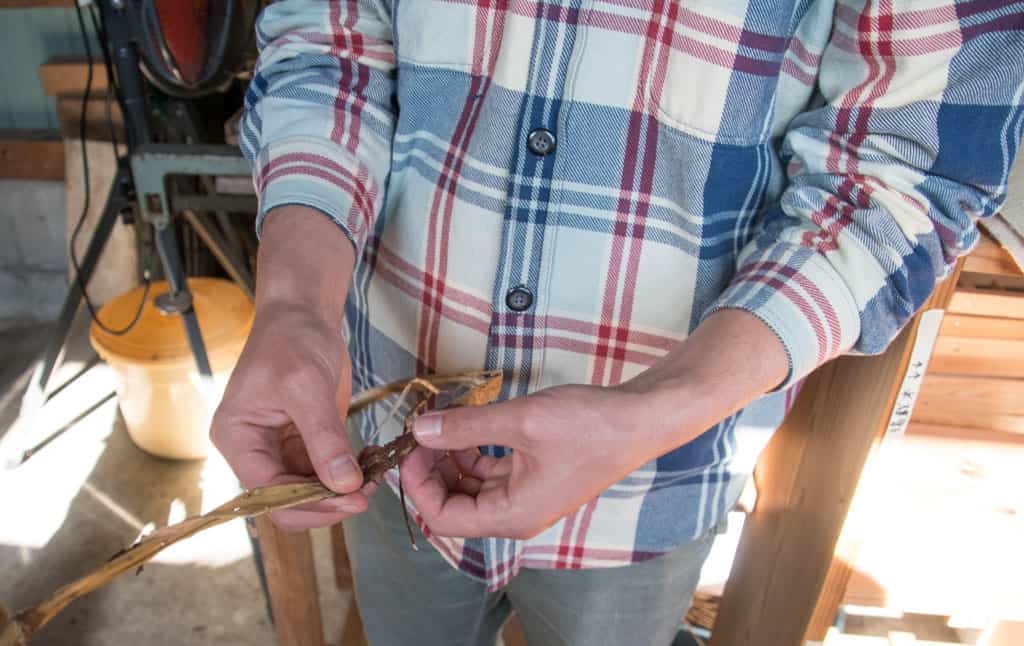 In recent years, Kamikoya has become a popular destination with regular tourists and artists alike, who make their journey here to study the art of traditional Japanese paper (washi) making alongside the Uitenboogaart family. As I come to learn, this place is particularly famous. Much of the paper they make here collaborates with architects, luxury hotels, and restaurants to provide interior fittings like shoji (sliding doors), wallpaper, and light shades. The workshop also has an online relationship with legendary Japanese architect Kengo Kuma, the man behind the new Olympic Stadium, and countless other iconic structures.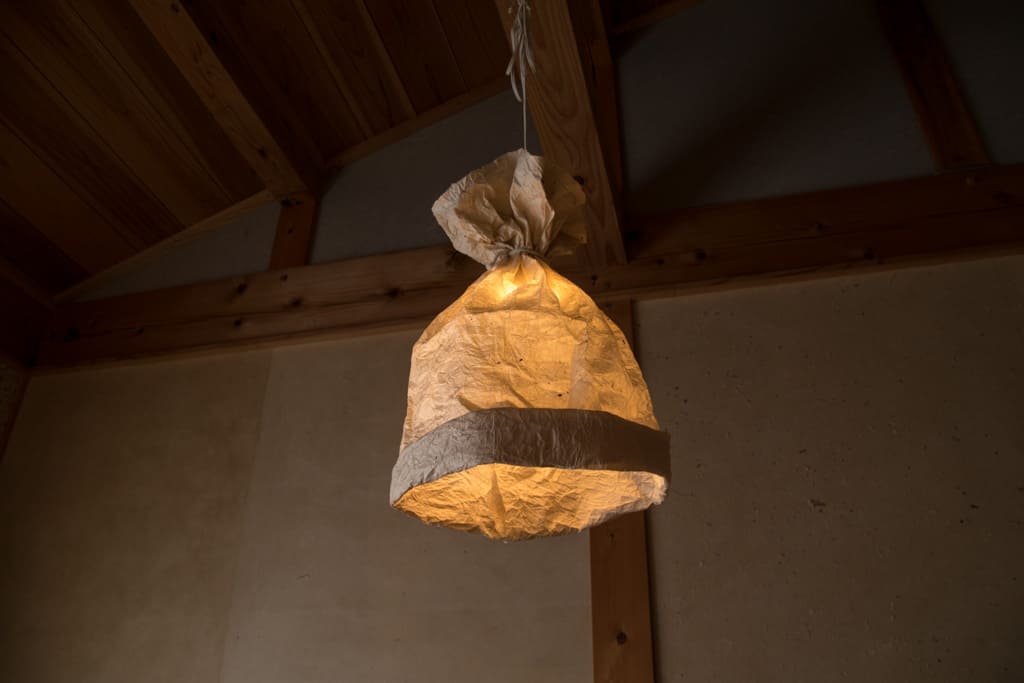 Yusuhara Town: Kengo Kuma's Playground
I was impressed to hear about Kamikoya's connection to Kuma's work, but I was fast to learn that Kengo Kuma would be the central topic of this trip. Generally considered one of the leading architects in modern Japan, Kuma and his architecture firm, Kengo Kuma and Associates, have reshaped this country's landscape in a way quite unlike anyone else. Kuma's work is known for its modern geometric, almost rhythmic lines and his love of playing with natural light and natural elements, like raw, untreated wood and other organic materials.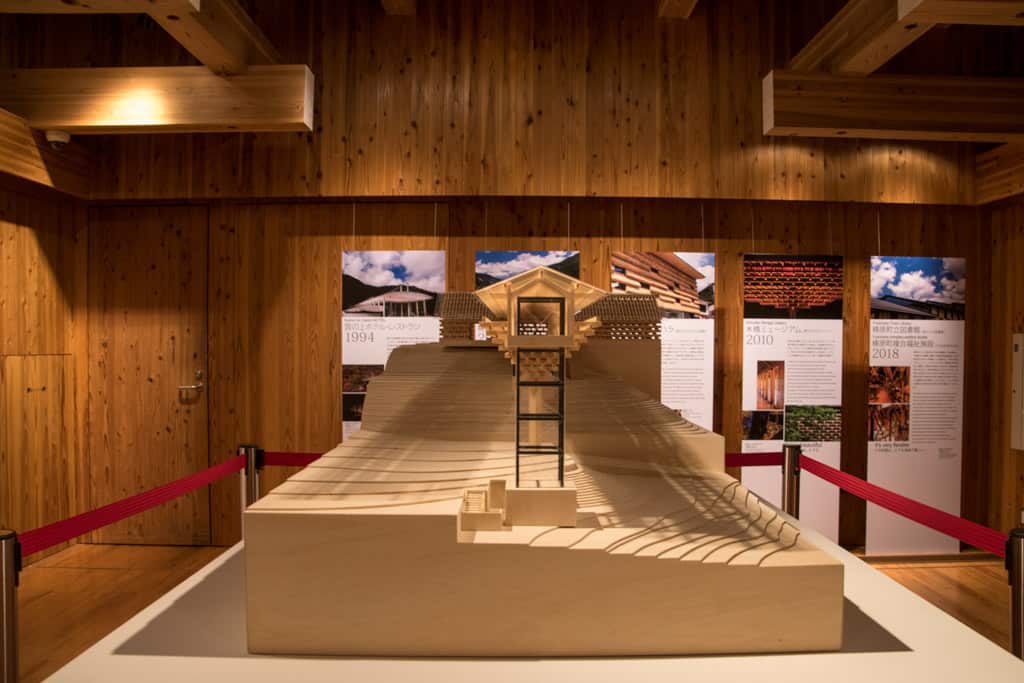 Tonight I would stay in a Kuma-designed hotel, Kumo no Ueno Hotel, but before resting, I had a busy afternoon itinerary of exploring Yusuhara Town. It is the home of Kumo no Ueno Hotel, and a small, mountainous village that has become a living breathing exhibition of Kuma's most impressive works.
The first stop was Yusuhara Machino-eki, a local market, hotel, and souvenir store. It was a stunning piece of architecture that combines traditional, rural, and natural materials with modern, stylish design ideologies. Sitting proudly in the center of town, the building features thatched-style roofing that crawls down the side of the building, emanating a feeling of warmth and drawing clear visual inspiration from the town's foliage flanked surrounds. An impressive multi-purpose piece, it was just a teaser for what I had in store.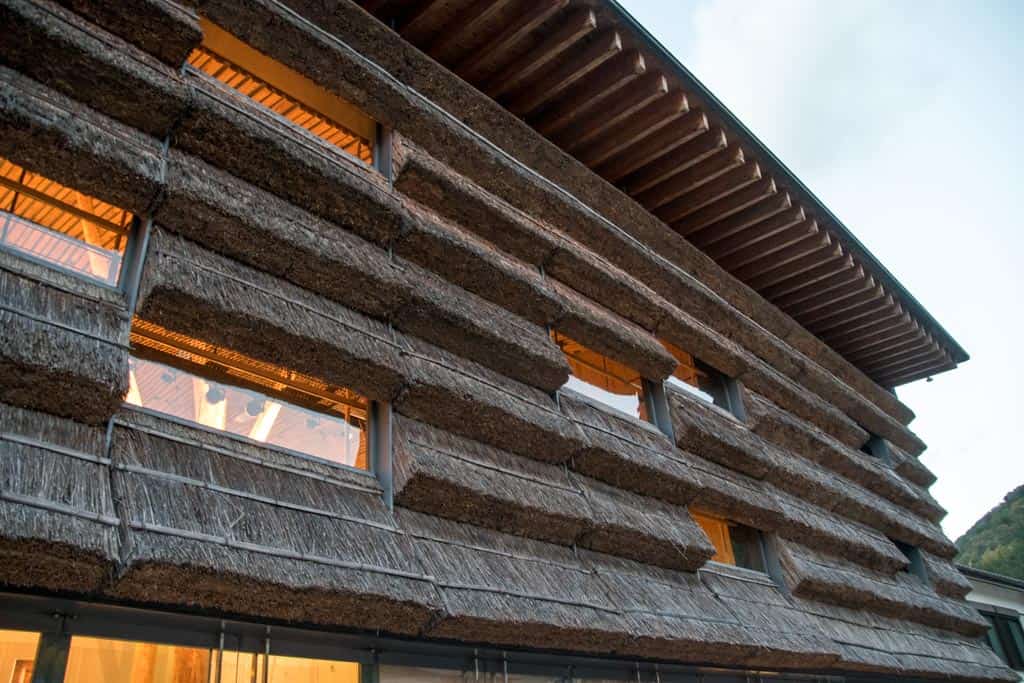 Kumo no Ueno Toshokan (Yusuhara Community Library) and the neighboring elderly care home YURURI Yusuhara is the centerpiece of Yusuhara-town. It's an entirely community-minded space surrounded by a sports facility and daycare center, as well as plenty of open space to soak up the laid back ambiance of this mountainous village. The library's interior is iconically Kuma, feeling more like a high-end bookshop or cafe than a small-town library, but that's not to say it's not inviting. It features plenty of wood, both as design flourishes and for structural purposes, and most of the materials here were sourced locally.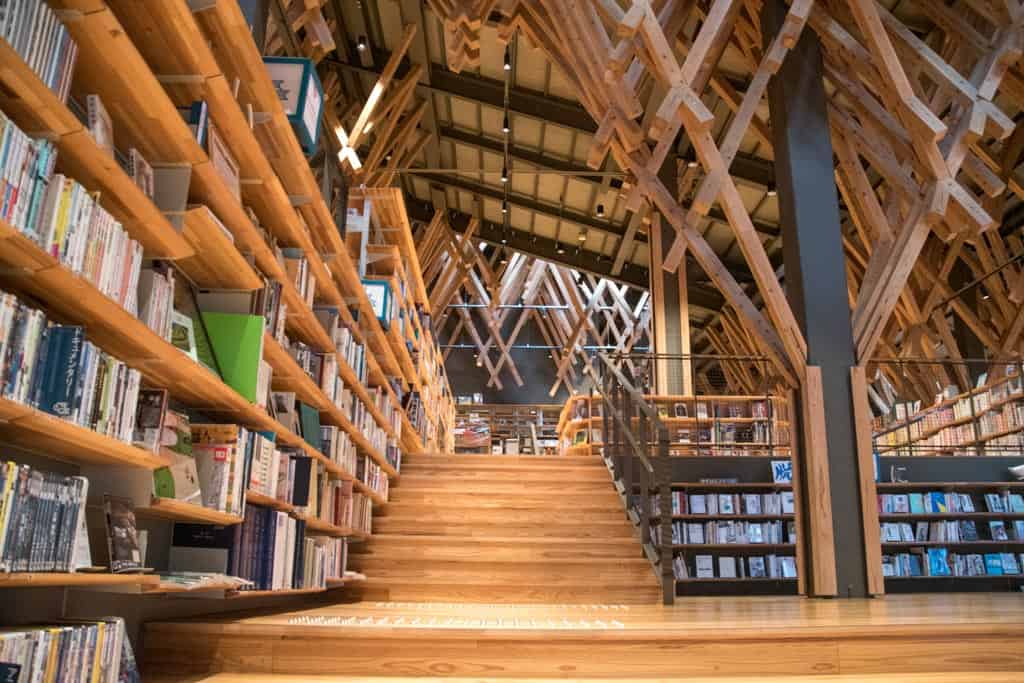 Another key feature is the undulating floors, which were designed to allow smooth traffic light flow and make the most of the space, which can host larger gatherings and events like concerts and lectures. Warm, light-filled, and timelessly elegant, it's a dream of a library that encourages community gathering and a vibrant exchange of ideas.
YURURI, the facility next door, sits somewhere between being a local community center, a temporary care home, and a nursing home, offering care and wellness facilities — like the on-site gym — in a central, socially connected, and naturally stunning location.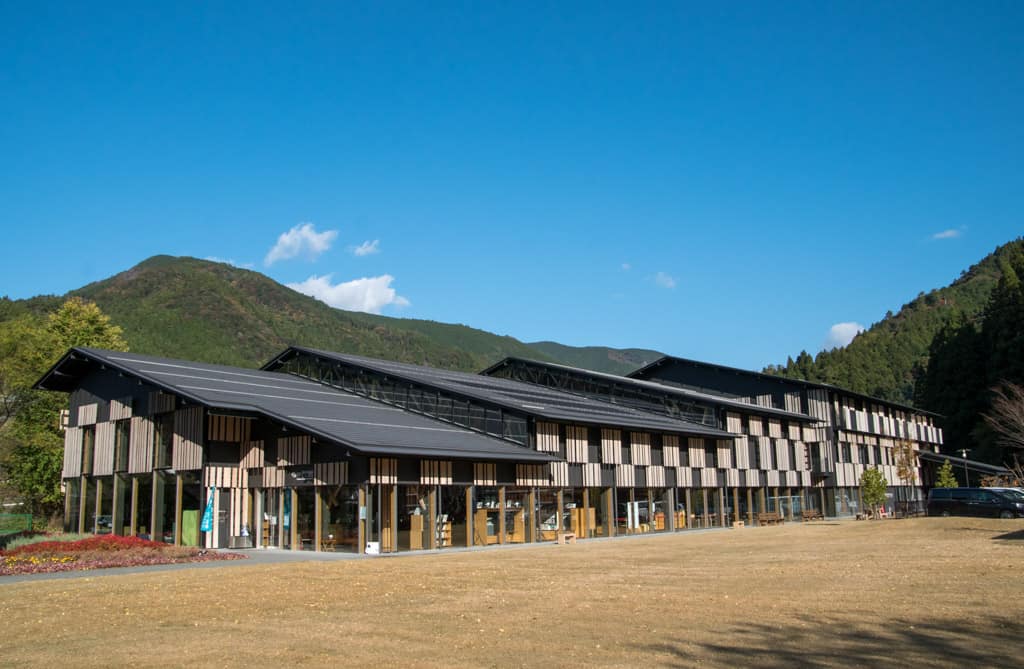 What I learned from the staff also is that in winter, when the snow gets heavy and mobility is difficult, elderly guests from Yusuhara are welcome to stay temporarily for free to ensure their safety, provide ease of accessibility to necessary facilities, and social engagement, as well as peace of mind for the families. It's an inspiring image of what a community space and aged care home could be. Please note that with the exception of a few spaces, the nursing home Yururi is not open to the public, so you will only be able to see the exterior.
Kumo

no Ueno Hotel: Dreamy Mountain Escape
With a name that translates to "hotel above the clouds," Kumo no Ueno Hotel doesn't disappoint. This Kuma designed hotel is like a livable piece of art. It features stylishly minimal rooms, a light-filled dining area with floor to ceiling glass windows, onsen baths, and a museum dedicated to Kuma's work in Yusuhara town. It's a true showcase of Kuma's innovative design ethos, melding the worlds of Yusuhara's vibrant natural surroundings with hotel luxury.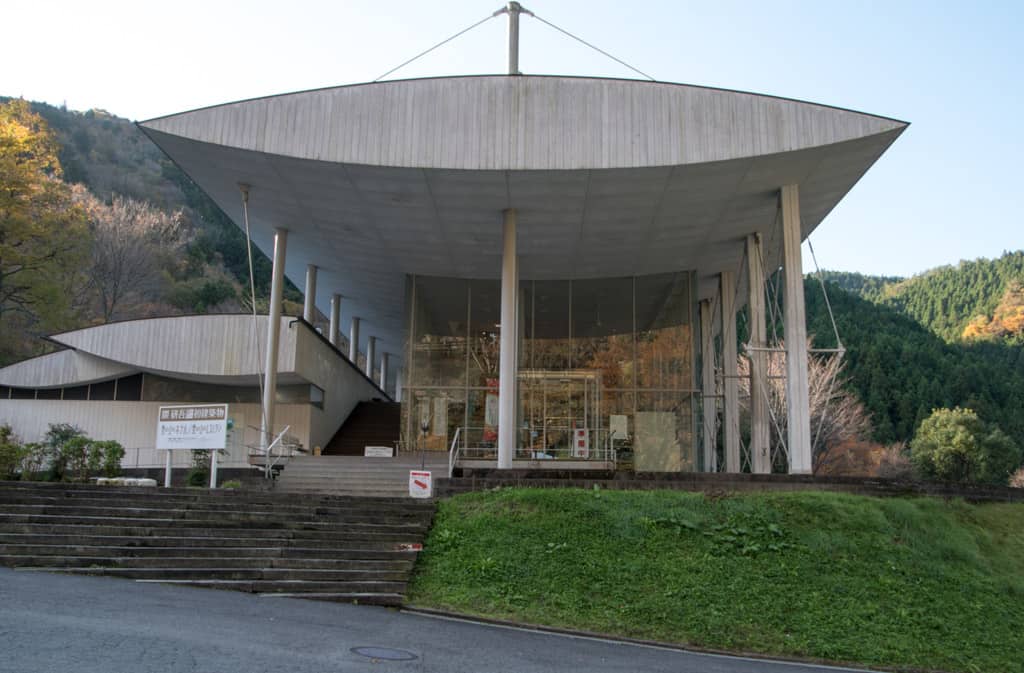 I had the pleasure of enjoying dinner and breakfast at the facility's simply designed, modern restaurant that serves up classic Japanese style multi-course cuisine, showcasing some of the best produce from across Shikoku and Japan.
※The hotel will be closed from October 2021 to the end of March 2024 for renovation (swimming pool and hot spring will be open as usual).
Getting to Yusuhara Town
From JR Kochi station, take the express to JR Susaki Station (須崎駅), then switch to the local bus. It is worth noting that there is limited access to town by local bus (the last bus for Yusuhara leaves Susaki Station at 19:09). If you can rent a car (there are plenty of car rentals at Kochi Ryoma Airport 高知龍馬空港), it's recommended. ※Train and bus schedules are subject to change.
Nakatsu Gorge 中津渓谷
Nanokawa, Niyodogawa, Agawa District, Kochi 781-1741
Website: https://visitkochijapan.com/en/see-and-do/10014
Washi Studio Kamikoya Washi Studio かみこや
1678 Otado, Yusuhara, Takaoka District, Kochi 785-0603
Opening hours: 9:00 am – 6:00 pm
Website: https://kamikoya-washi.com/en/
Kumo no Ueno Hotel 雲の上のホテル
3799-3 Tarogawa, Yusuhara, Takaoka District, Kochi 785-0621
Website: http://kumono-ue.jp/
Yusuhara Machino-eki まちの駅 ゆすはら
1196-1 Yusuhara, Yusihar-Cho, Takaoka-gun, Kochi 785-0610
Opening hours: 8:30 am – 6:00 pm
Website: http://www.town.yusuhara.kochi.jp/kanko/kuma-kengo/town-station.html
Kumo no Ueno Toshokan (Yusuhara Community Library) 雲の上の図書館
1212-2 Yusuhara, Takaoka District, Kochi 785-0610
Opening hours: 9:00am – 8:00pm (closed Tuesday)
Website: http://kumonoue-lib.jp/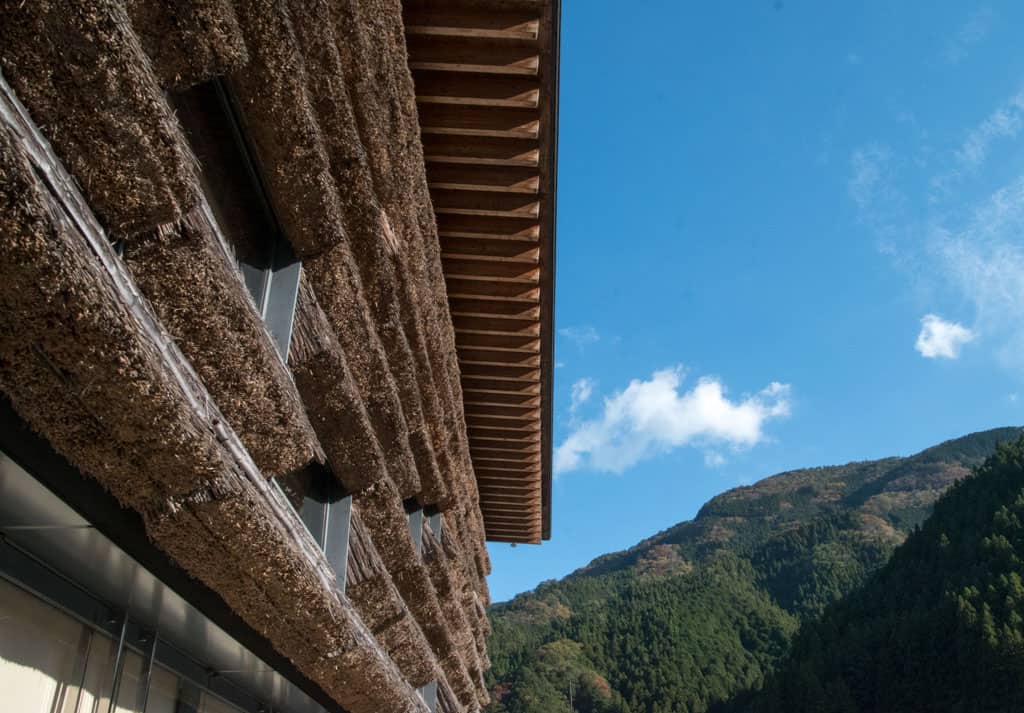 Stay up to date with the latest COVID-19 news in Japan on the JNTO advisory page, information on the multilingual hotline and medical access, or get the latest from their JNTO Official Twitter account @JapanSafeTravel.
During my visit to the mountainous Yusuhara town, nestled deep in Kochi's clouds, I came to discover a lot. I learned about the local culture and work of Kengo Kuma and how innovative design and passion for cultivating spaces that in themselves help stimulate experiences can turn a small town into a space worthy of global recognition. Yusuhara may be small in size, but in ambition, it is not. While many of Japan's regional areas face situations of depopulation and an aging population, it's clear that Yusuhara is a model village, one everyone should have the pleasure of exploring at least once.
Sponsored by Shikoku District Transport Bureau and Kochi Prefecture