Just outside the crowds of Kyoto city is a world of serene nature, vibrant culture, and deep history that you probably have never heard of before. Oita Prefecture, known mainly for its abundant onsen hot springs, is another area like Kyoto, rich in nature and history. We have carefully selected less crowded destinations in both of these fascinating areas of Japan and will cover them in a series of nine articles: "Travel like a Kyoto and Oita native to experience nature and traditional culture."
One of the pleasures of being a Japan-based travel writer is realizing that no matter how much of Japan I think I've experienced, there is always something new and unexpected to surprise me. Recently, that surprise came in the form of Keihanna Commemorative Park, less than an hour outside of Kyoto city heading towards Nara Prefecture, which I visited during prime autumn colors.
Keihanna Commemorative Park: Harmony of Science and Nature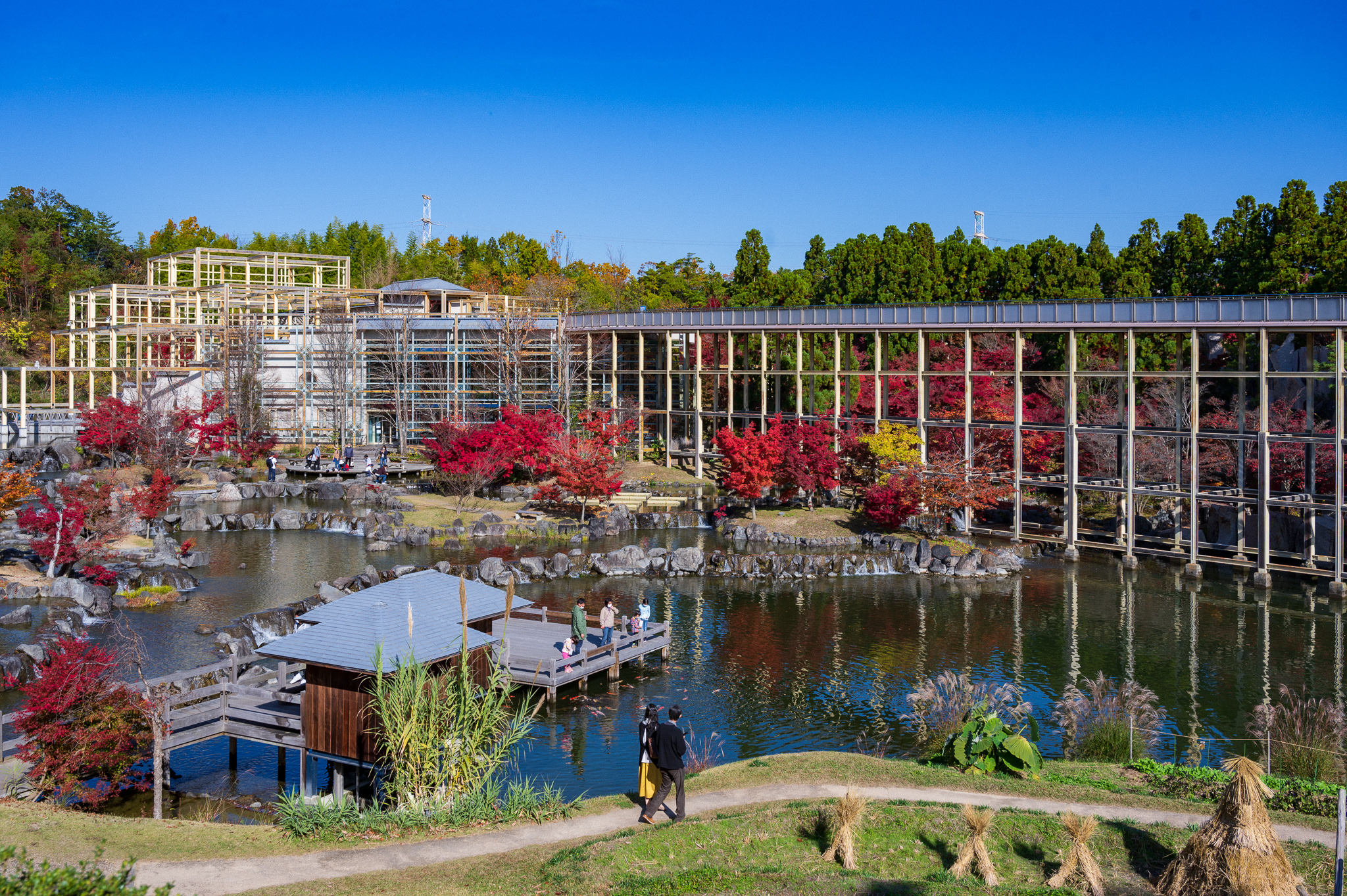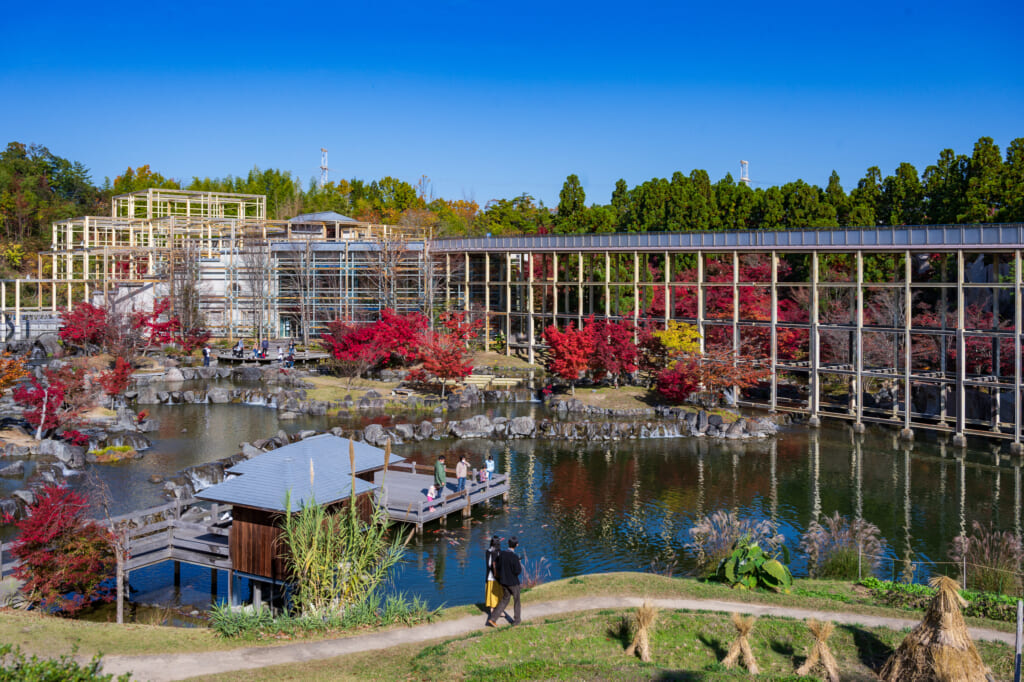 Keihanna is primarily known as a science and research area, home to research and development facilities of many Japanese companies, institutes, and universities. The park was created as both a balance and a complement to these facilities, providing a large open space for the community to use, and existing as a living example of science and nature co-existing in harmony with one another.
The park's main attraction is Suikei-en (Japanese Garden), with its spectacular fusion of human-made and natural landscapes. We were greeted at the gate by Muto-san, the man tasked with maintaining the balance of the park's landscaping through all four seasons. Sitting down on a bench with a panoramic view of the garden, Muto-san offered my fellow writer, Don, and me some warm tea while he explained the philosophy behind the garden.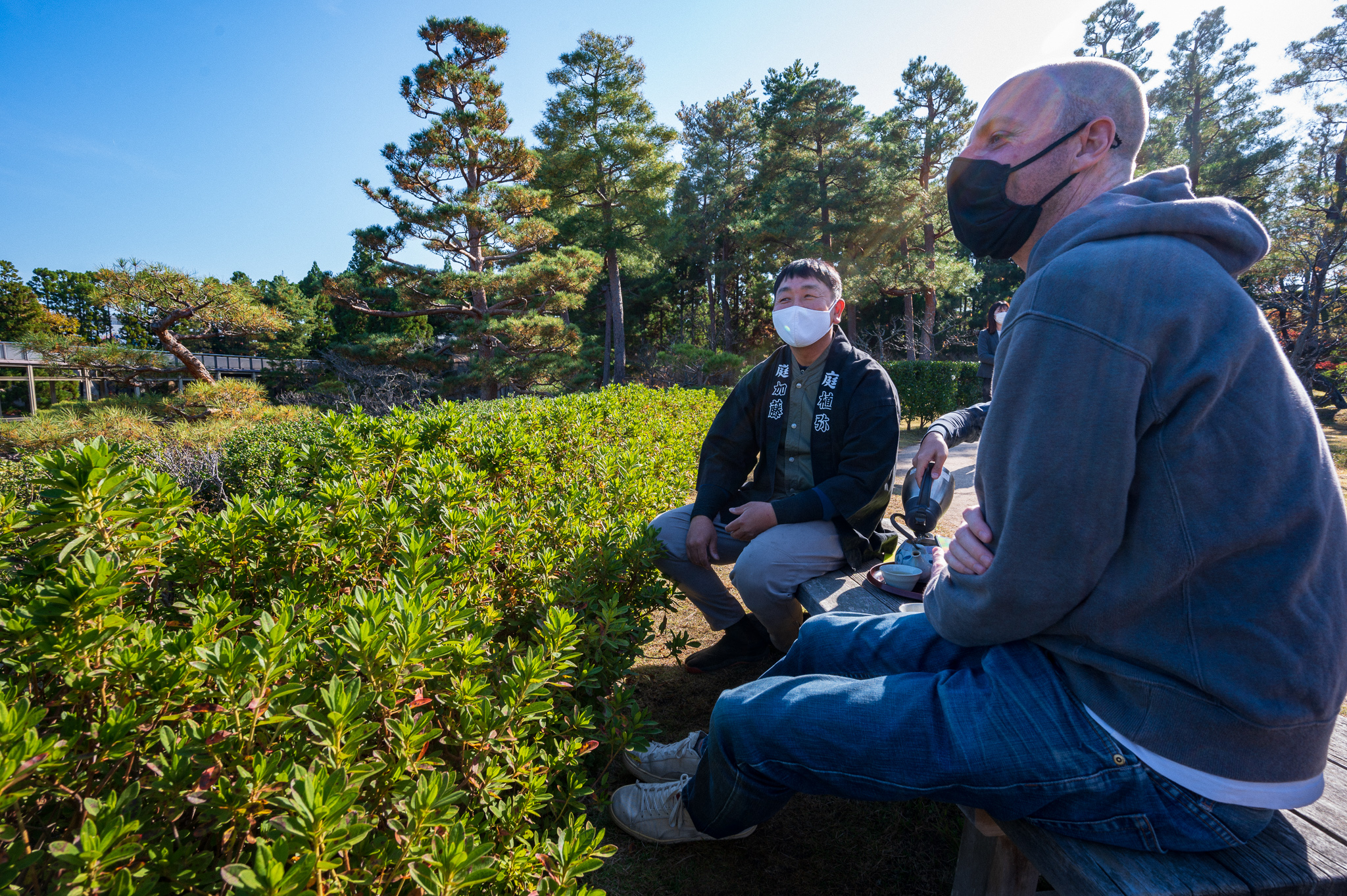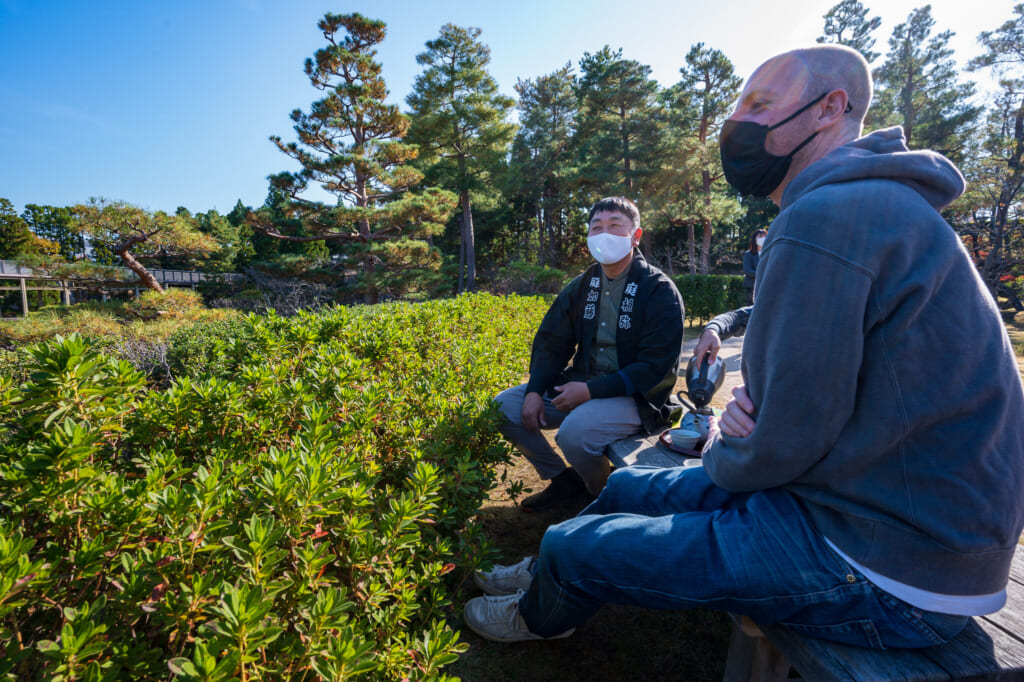 Though the natural terrain of the area was beautiful in its own right, Muto-san explained that the garden was designed with structures that would enhance the beauty of what already existed for the pleasure of those who would visit it. For example, Nagatani Pond was connected with a lower elevation pond by creating a rock formation resembling the terraced rice fields found in Japan's hilly regions. These rocks were not only beautiful to look at but provide visitors a way to interact with the natural beauty of the pond by allowing them to cross the pond over the rocks.
In another section of the garden, enormous granite stones were brought from a quarry on Inujima Island, famous for producing rocks used to build Japanese castles during the Edo Period. These stones were erected on end, standing 6 to 7 meters high and providing a dramatic backdrop to a maple forest ablaze in red autumn leaves and a cascading waterfall.
In fact, all of the natural elements added to the garden by man are carefully managed to appear completely natural. This is the magical power Muto-san possesses. Passing a Japanese maple tree adorned in brilliant fall colors, he noted that his staff always trims the tree back to the exact height it currently stands to avoid blocking the view from the observation deck.
Rice Harvest in Autumn: A Park that Brings Community Together
Across the pond, Satotanada, the Village Rice Terrace, is a real terraced rice paddy where people can see a living example of how rice is grown and harvested through the seasons. As the harvest was finished before our visit, Muto-san showed me how to make a rope from the dried rice stalks used to tie up the sheaves.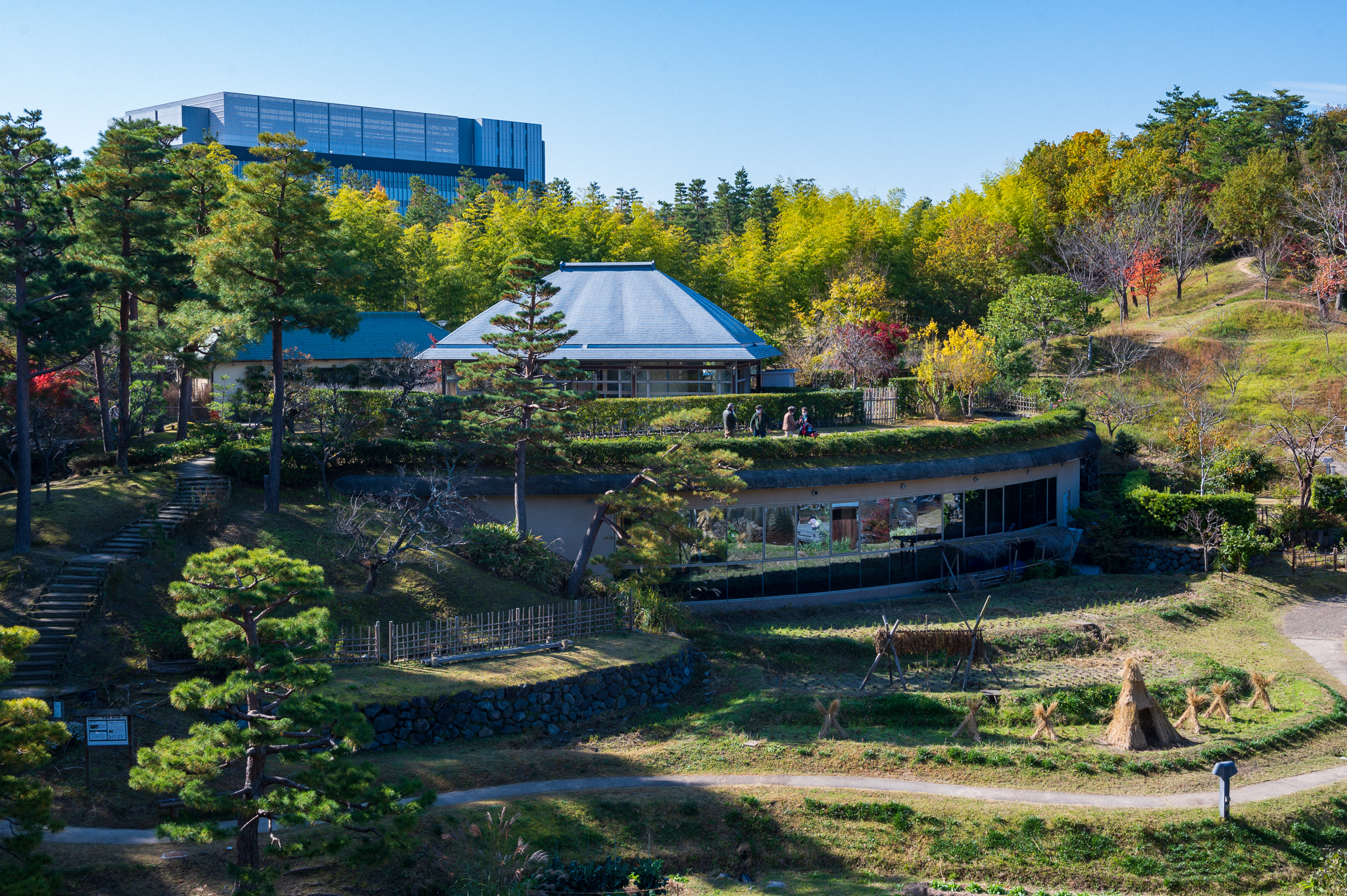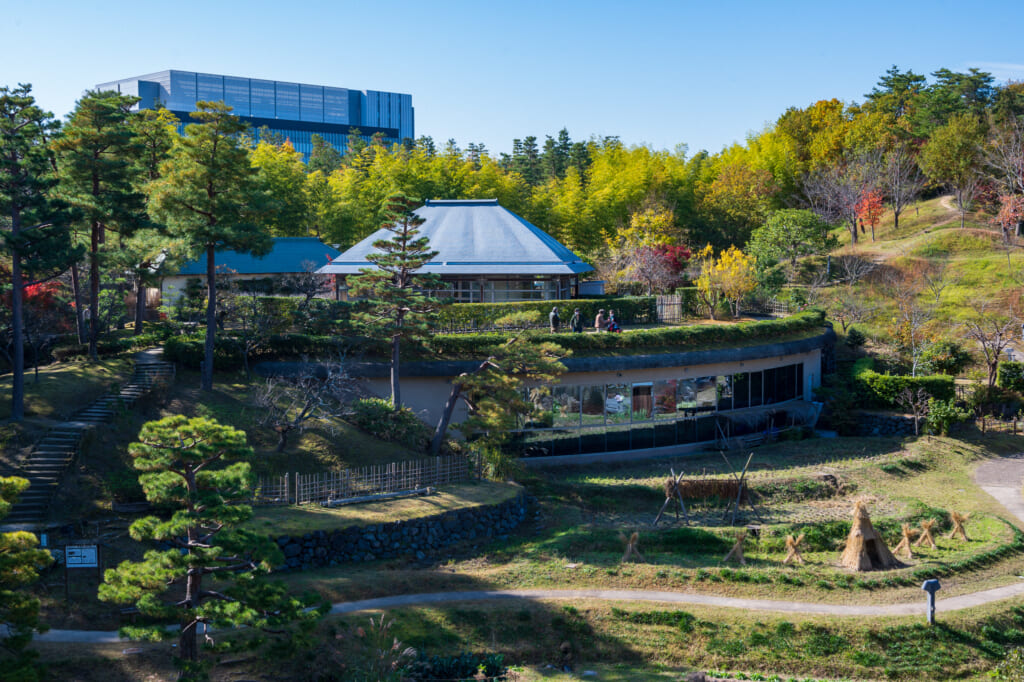 The centerpiece of Suikei-en is Kangetsukyo Bridge 観月橋, the 123-meter long bridge that crosses the pond lengthwise. The bridge's name means "Moon Viewing Bridge" as it is a perfect place to watch the moon rise over the garden, 10 meters above the pond. The bridge's lattice-like structure and attached Kangetsuro Hall resemble traditional Japanese bamboo latticework found in many ancient temples.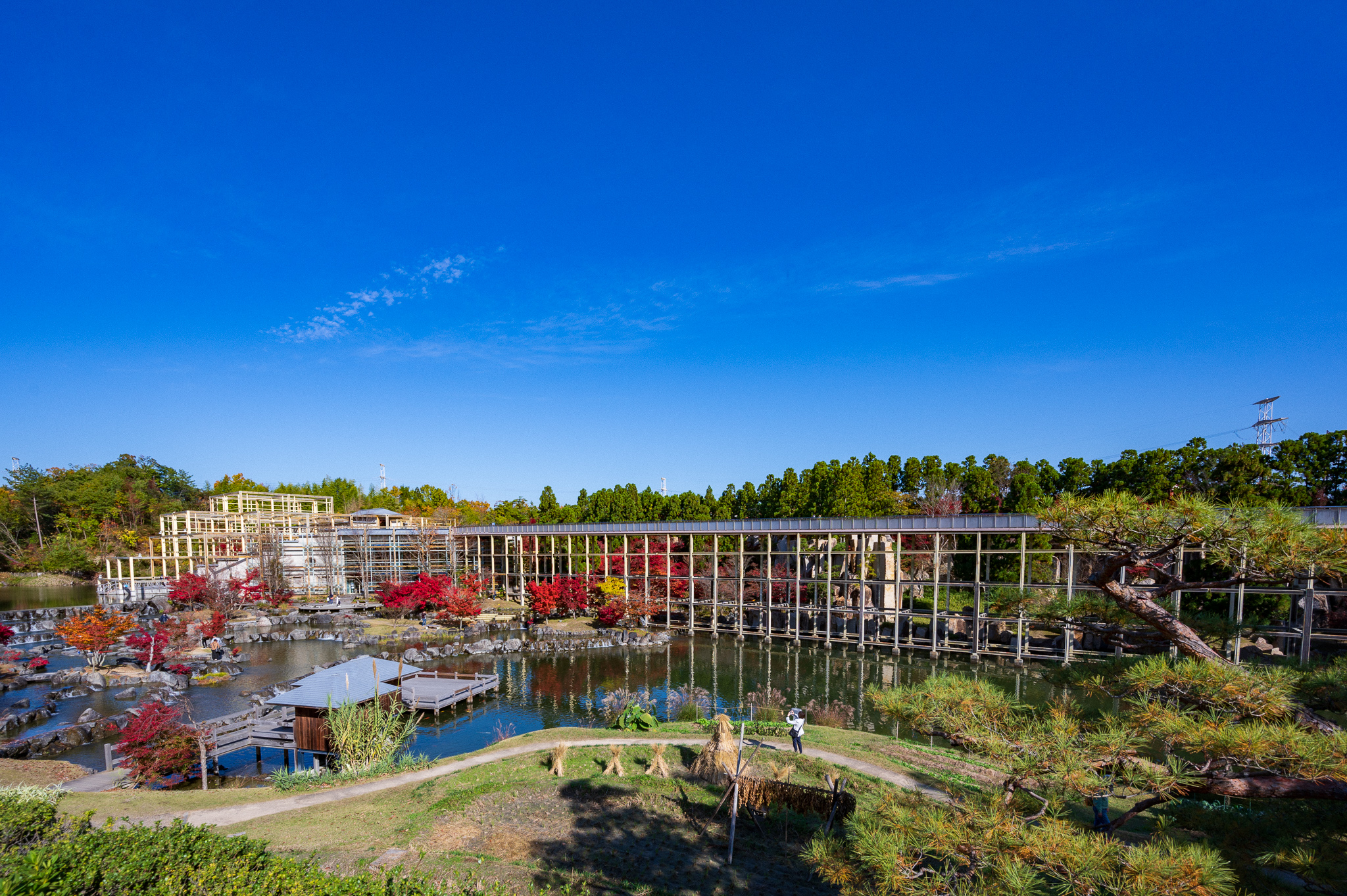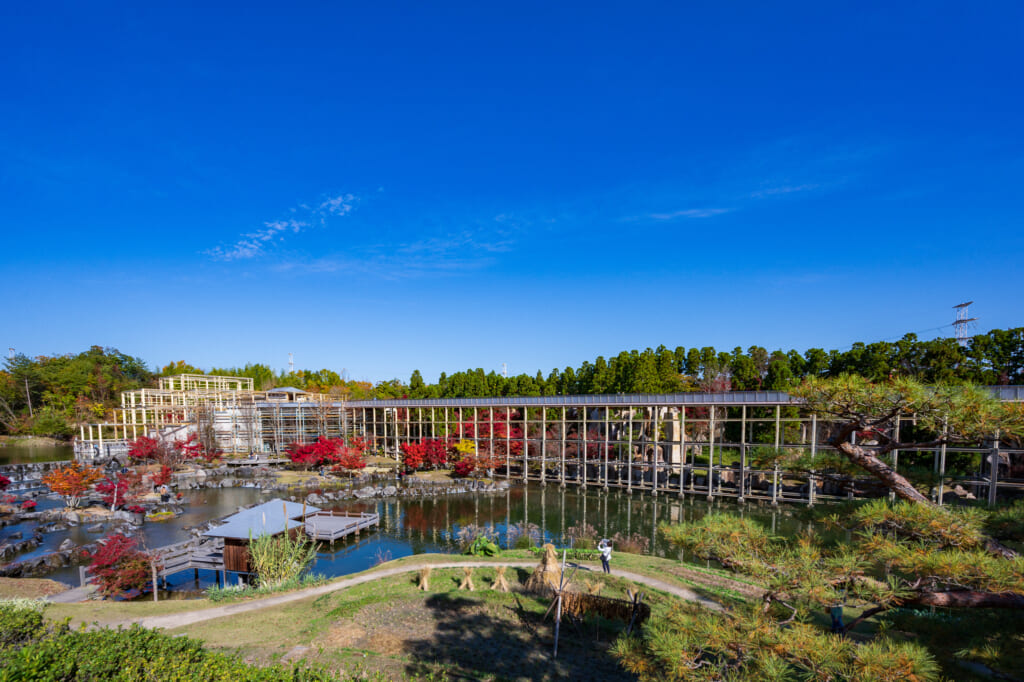 Throughout the year, the park and garden host seasonal events to encourage community participation. From displays of dolls and koi streamers to celebrate Girls and Boys Days, respectively, to seasonal illuminations ubiquitous to Japan, there is no excuse not to visit the garden any time of year. The park even uses community volunteers to help with garden maintenance, replanting flowers, and clearing undergrowth. This connection between community and sustaining the environment is one of the things that makes this park, and Japan in general, a special place.
Karesansui: Japanese Dry Landscaping Experience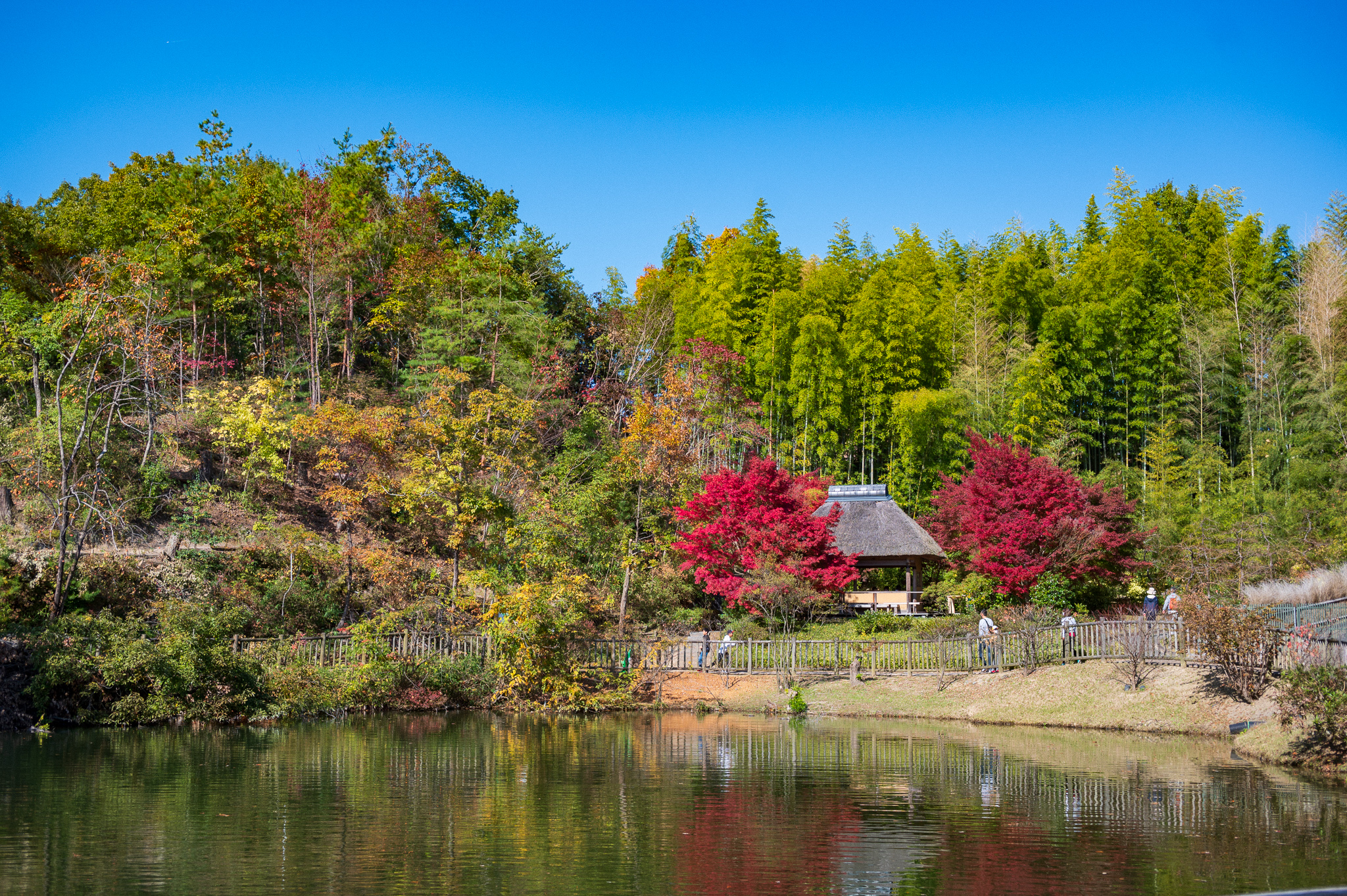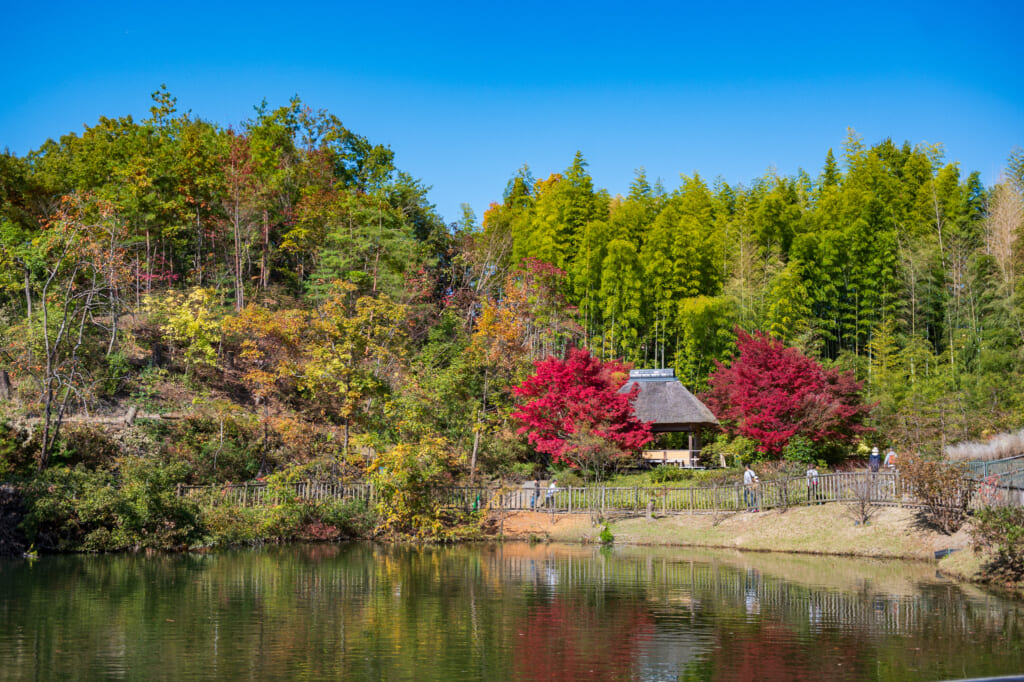 Muto-san led me to a table outside a thatched roof building in the bamboo grove. On the table, a tray of sand and a box of rocks were laid out for me. This was an exercise in karesansui, the ancient art of creating a dry landscape garden. After smoothing out the sand in the tray, Muto-san instructed me to imagine what my garden should look like and select rocks that fit my garden's image from the box. One by one, I held each rock in my hand, considering its shape, size, and texture, until I had all the rocks I needed. I then placed the stones in the sand where I "felt" they belonged. Finally, with various tiny rakes and tools, Muto-san instructed me to draw patterns in the sand that give the allusion of water, motion, and connection between objects.
I have to admit that it was an oddly therapeutic experience for me. Placing each rock, I carefully selected and traced pathways in the dry sand that felt very much like creating my own little world. It was over too quickly, but I resolved to find everything I needed to repeat the experience at home at my own pace.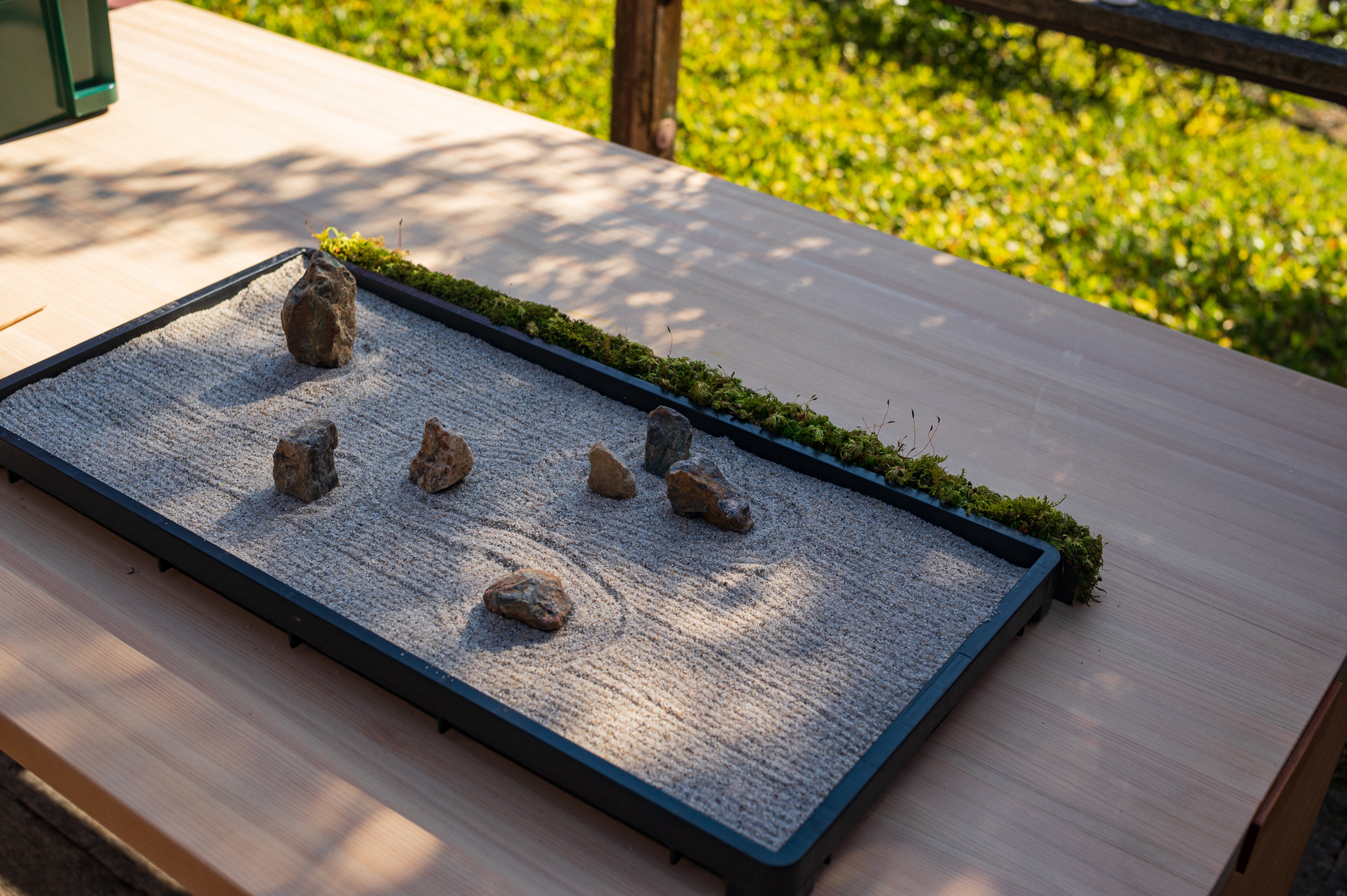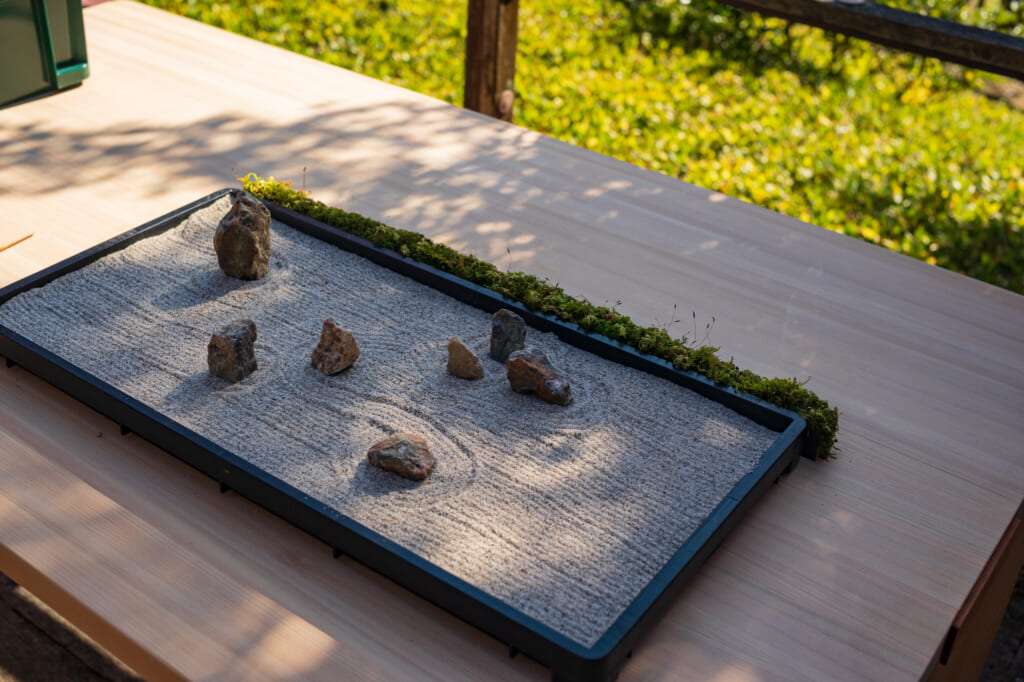 Leaving Keihanna Commemorative Park, I was astonished that such a beautiful location could elude the tourist guidebooks for so long. But such is the problem with amazing places that exist in the looming shadow of Kyoto city, one of Japan's primary tourist destinations. Nearby areas of spectacular beauty are often overlooked, even during the fall season of colorful foliage.
Experiencing Autumn in Kyoto With Five Senses: Suigetsu Kaiseki
Little did I realize, but our enjoyment of the autumn season wasn't about to end as we pulled away from the park. Our next destination was Suigetsu, a kaiseki restaurant with a history of over 100 years. Entering the restaurant, a staff of no less than four kimono-clad ladies greeted us and guided us swiftly past a small Japanese garden surrounded by the building until we reached our dining room. In front of a beautifully adorned tokonoma, the place of honor, a plate of appetizers already awaited our arrival.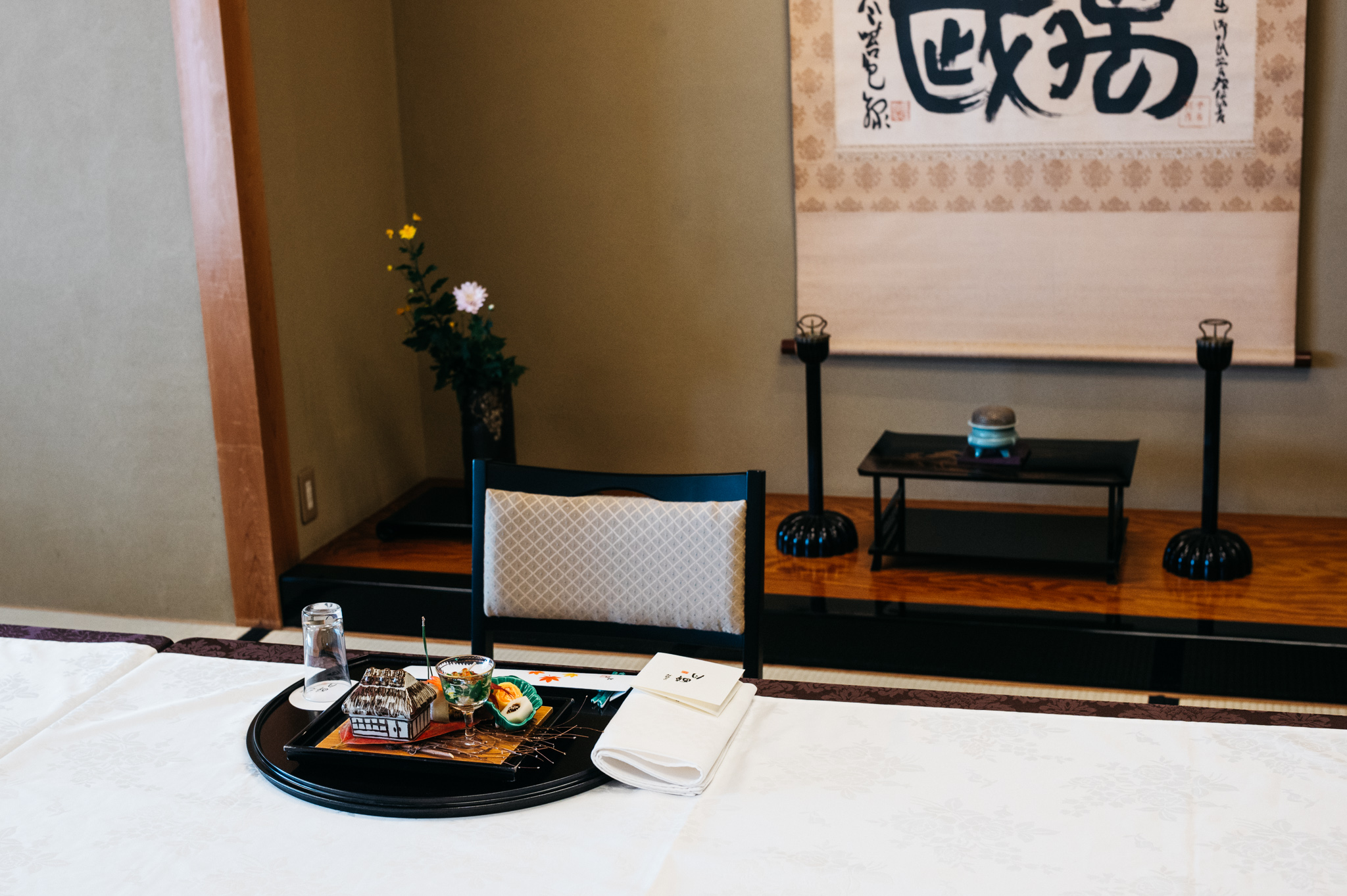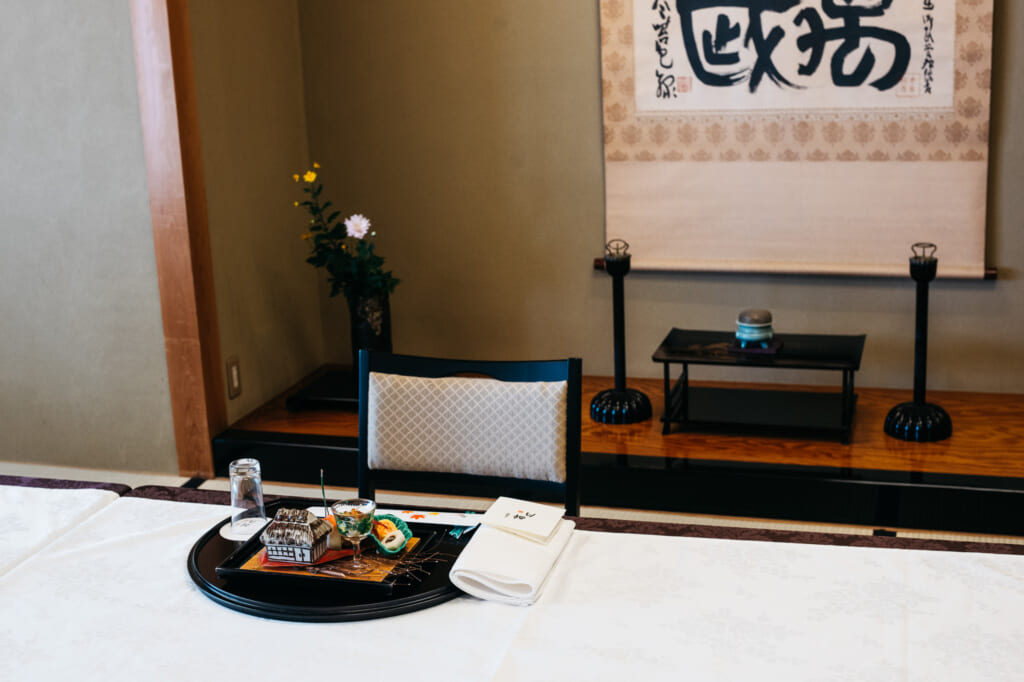 Kaiseki cuisine has its roots in tea ceremony culture, and the tea ceremony is a tradition meant to be enjoyed with all five senses. Therefore, Kaiseki is also meant to be experienced with the five senses; the taste of the food is equally on par with its presentation, aroma, and textures.
Our meal at Suigetsu was created around the theme of autumn, so on our appetizer plate alone, we found several items relating to that theme: a fresh pine needle skewering a slice of roast duck and mushroom, orange maple leaves scattered over a fried chestnut, and a ceramic dish in the shape of a thatched roof house containing a delightful sweet and sour dish made from persimmons, shiitake mushroom, daikon, and vinegar. A slice of daikon was cut into the shape of a ginkgo leaf, and the colors and patterns of the serving-ware were all carefully chosen to support the fall theme. And this was just the beginning.
It was our luck that the highly prized matsutake mushroom was in season, and it arrived in a teapot simmering with a special dashi broth, boiled hamo eel, and a ginkgo nut. A slice of the Japanese citrus sudachi came alongside the pot to add a little zing to the broth.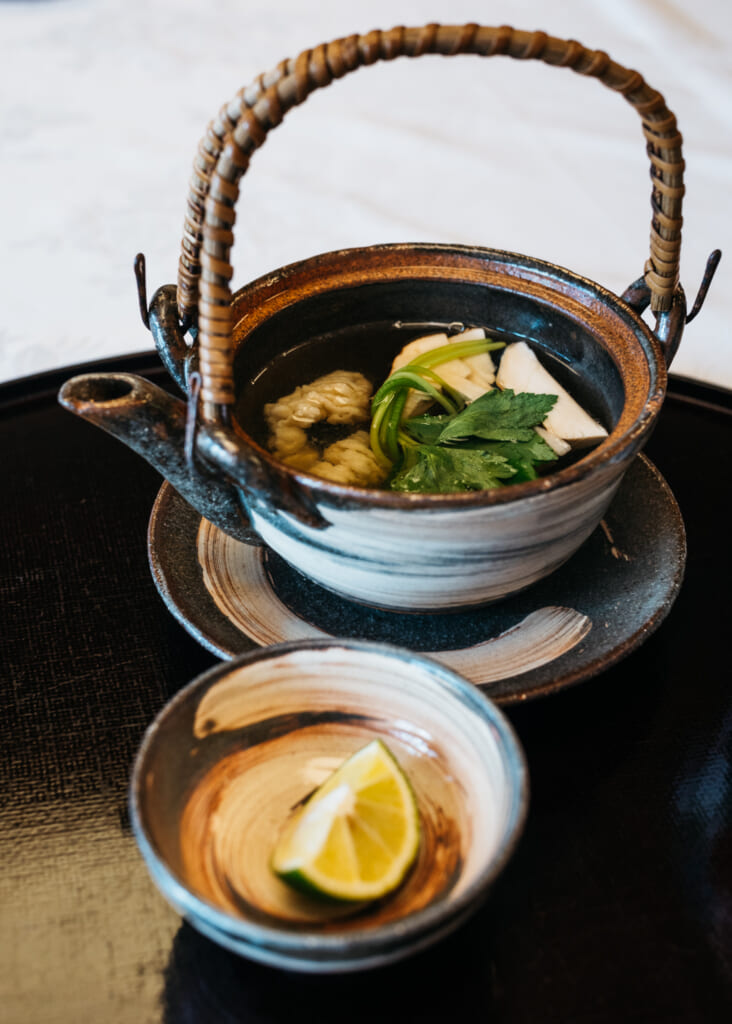 Fresh sashimi slices of tai sea bream and maguro tuna sat atop a bed of ice in a camellia decorated bowl that looked like it was borrowed from a museum exhibition. And yes, it came with freshly-ground wasabi, not the imitation paste from a tube that we have all been brainwashed to call wasabi.
A plate of fried foods quickly followed: ebi (shrimp), shishito pepper, karashi renkon (lotus root stuffed with mustard), and even a stalk of rice with tiny kernels of fried rice that could be eaten, with a bit of patience.
There was more, much more, but keeping track of the various ingredients of the countless dishes was making my head spin. I wanted to put down my notebook and actually eat… so I did. And I assume you would have done the same in my position.
Suigetsu is listed as a "comfortable" restaurant in the Michelin guide. I don't exactly know what it means except that the facilities are extraordinary and spacious, and the staff is attentive and friendly. Add to that all that you now know about the meal itself, and Suigetsu becomes an obvious stop on your foodie tour of Kyoto, especially if you have spent the day at surprising Keihanna Commemorative Park.
How To Get to Keihanna Commemorative Park
Keihanna Commemorative Park is accessible by public transportation (train, then bus) from Kyoto, Osaka, and Nara cities. Consult the access page of Keihanna Commemorative Park's website for details on the routes from the various cities. We suggest renting a car to get around the area, which will also allow you to visit Suigetsu restaurant and the nearby Wazuka area tea farms.
Sunflower Ferry: A Mini Cruise in Japan Connecting Kansai and Kyushu
This trip was full of surprises, not the least being how simple it is to travel between Kyoto (or anywhere in the Kansai region) and Kyushu by overnight ferry. The Sunflower Ferry is more like a mini cruise of Japan than a ferry, with luxurious accommodations, a refreshing onsen spa, and buffet meals. Board the ferry in the evening at Osaka port and arrive early the next morning feeling refreshed and ready to take in the sights and experiences of Kyushu. Read our full article to find out how to make the most of your ferry cruise through Japan's Seto Inland Sea.
More About Exploring Kyoto and Oita
To learn more about rural Kyoto and Oita prefectures, please continue to read the other articles in our series.
This article is sponsored by Kinki Transportation Bureau, Kyoto Prefecture and Oita Prefecture.