As I approached the tiny port of Inujima (犬島) from the mainland, the first thing I saw was the two kanji characters of its name (dog island) painted graffiti-style onto a concrete seawall. As I debarked on a floating dock moored by a giant rusting chain, the first thing I heard was the loud creaking moan of the swaying footbridge to the shore. And the first thing that came to mind, as I walked toward the ruins of its early 20th-century copper refinery, was post-industrial vintage cool. But that was only a fragment of the story.
As one of the main contemporary art-infused Setouchi Islands, Inujima is especially popular during the Setouchi Triennale, where its steampunk setting provides a dramatic stage for outdoor performances. While it may be much smaller than the primary insular venues of Naoshima and Teshima, Inujima's artful, ecological reappropriation of its dark industrial history dwarfs any other single art installation on the islands.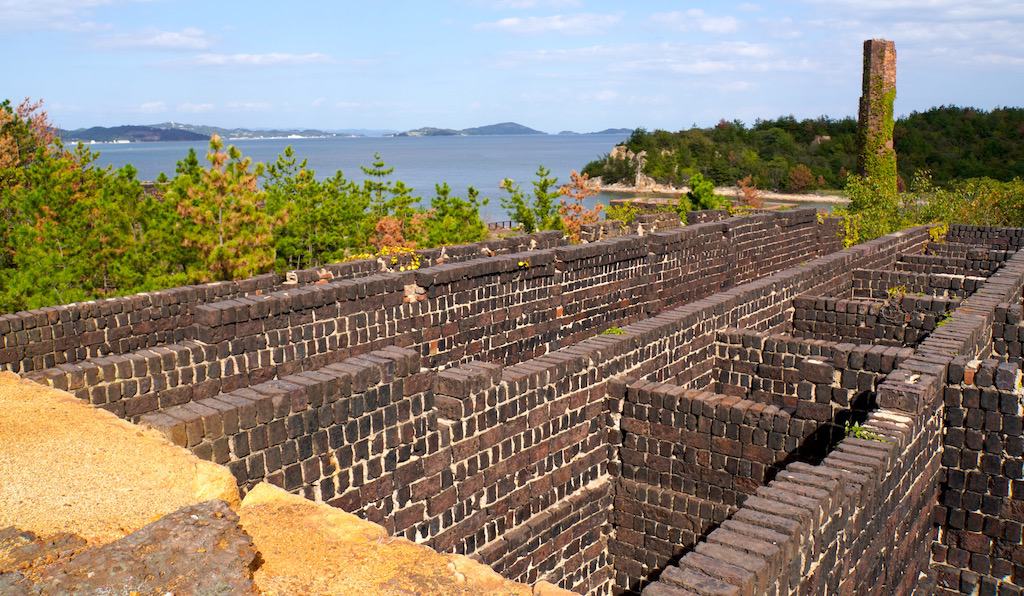 From 1909 to 1919, Inujima thrived on an industry of copper smelting, invariably polluting the environment. After the price of copper dropped, the plant was eventually abandoned, the island's population dwindled, and the remaining inhabitants resumed their rural ways. Today, Inujima counts about 30 aging residents, while the island has undergone an artistic revival.
Inujima Seirensho Art Museum
Since 2008, the refinery ruins have been converted into the Inujima Seirensho Art Museum (犬島精錬所美術館): an art site that not only hosts permanent art installations but also regulates temperature through its chimney, leverages natural light with prisms and mirrors, composts human waste to fertilize an orange grove, and reuses some black slag bricks (karami renga) from its original structure.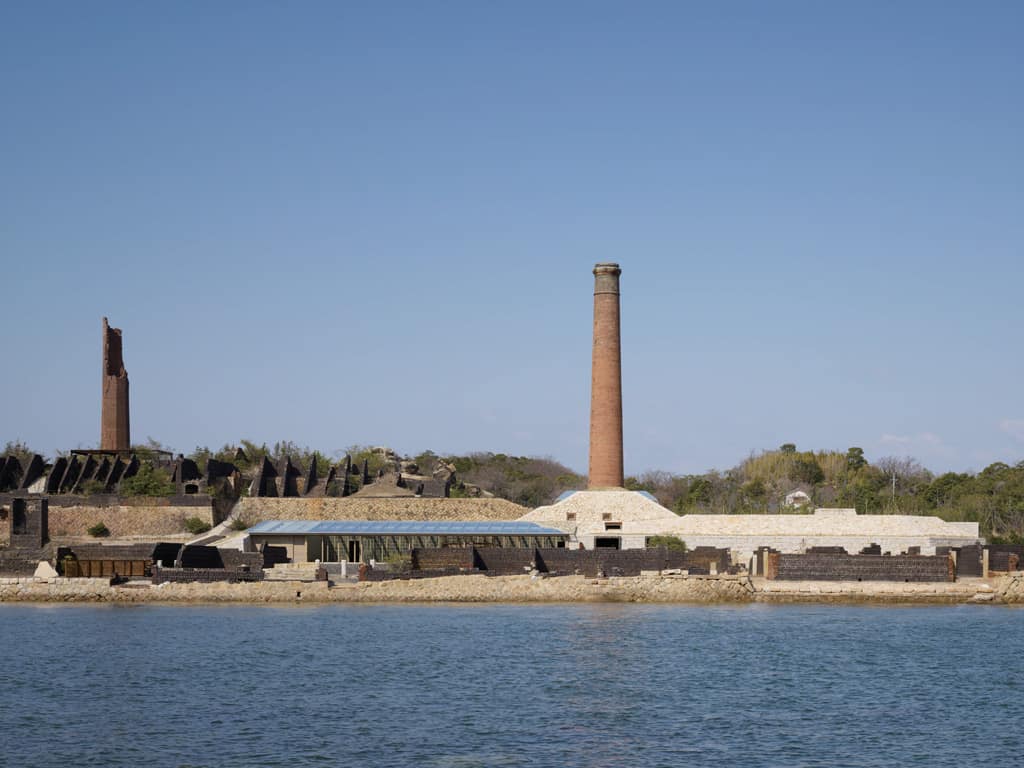 For Inujima's artfully reclaimed industrial heritage, we have to thank the artist Yukinori Yanagi, who first worked out a plan for the entire island to be developed as an art site in 1995, and the architect Hiroshi Sambuichi, who successfully transformed the ruins by "using what exists to create what is to be."
Inside the museum, Yanagi installed artworks inspired by the life and work of Japanese writer Yukio Mishima, who was a vocal critic of Japan's modernization. Making his message even more visceral, the installations feature various parts of a dismantled house that previously belonged to Mishima himself. Other than symbolic lightbulbs of the artwork, the museum uses no electric lighting nor air-conditioning – reflecting light and channeling heat through geothermal energy and solar-powered air circulation, moving it up the chimney. It's almost as fascinating to feel the changes in room temperature as it is to watch the suspended windows and doors swaying in the breeze under the greenhouse at the foot of the chimney.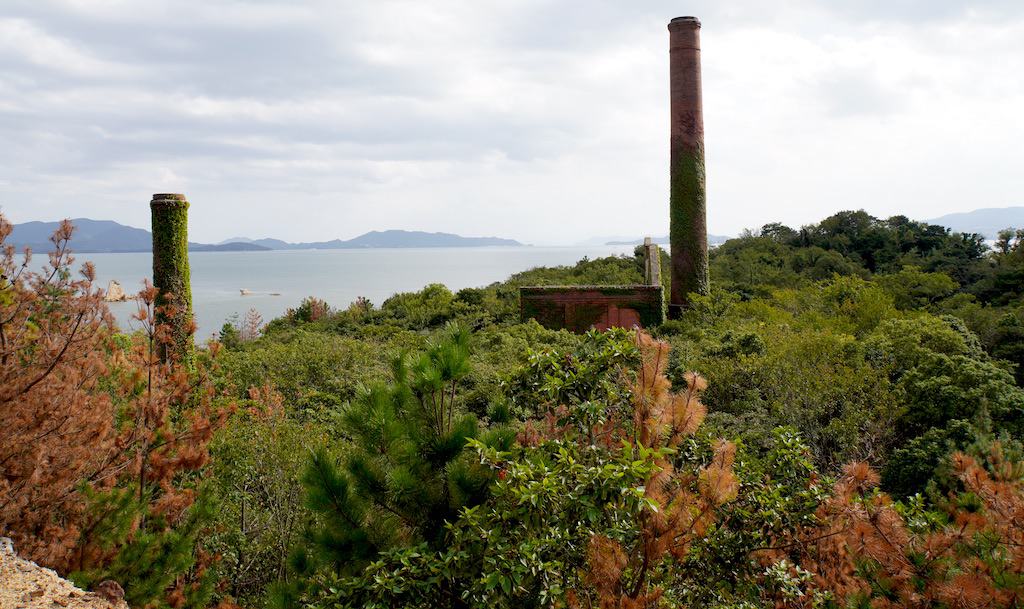 Outside, silhouettes of crumbling copper smokestacks jutting above the horizon still dominate the landscape, even as they are reclaimed by nature. And it's hard not to admire the undisturbed ruins of carefully laid brick walls, with their dark tone and burnt texture, even knowing that the black slag resulted from the dirty process of extracting copper from ore.
However, Inujima is also known for brighter stones: Inujima Mikageishi (犬島御影石) is fine-quality granite that is measured and sold, most notably for the reconstruction of castles and shrines (such as Okayama Castle, Osaka Castle, and Kamakura Hachimangu's Otorii). I got a closer look at these large, light-colored stones lining the east coast of the island as I walked back from the museum's ticket center toward the port.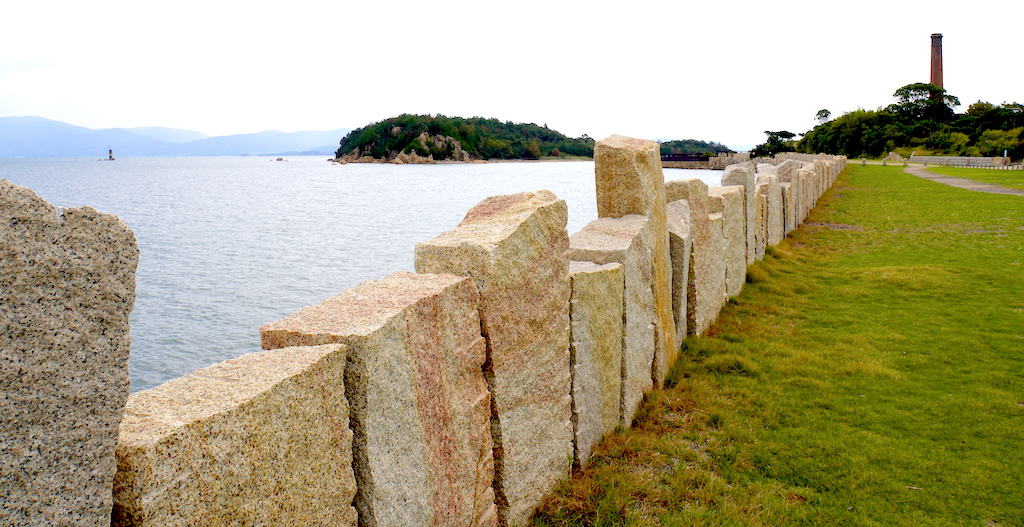 Inujima "Art House Project"
Because the island is so small, I could easily visit every art site, including all the installations of Inujima "Art House Project," (犬島「家プロジェクト」) and still have time for a drink at the café in one afternoon. This intimacy made me feel like I was a part of the island for a day, visiting the residents (and several cats and two dogs) as I made my round through the neighborhood.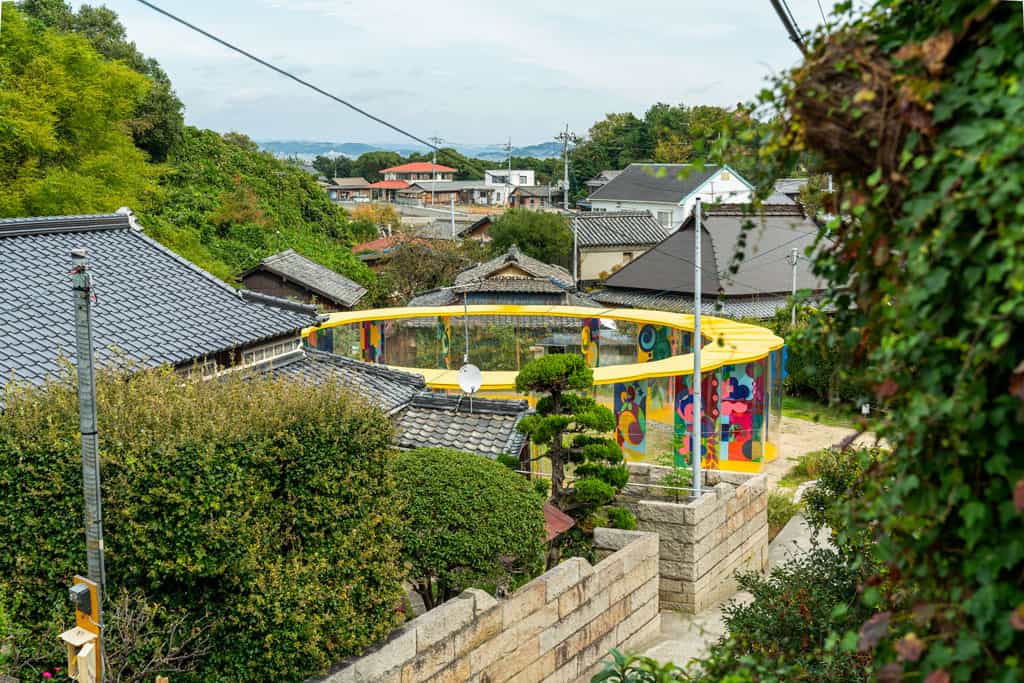 Since 2010, artistic director Yuko Hasegawa has been curating artworks by international contemporary artists to exhibit in open-air galleries designed by architect Kazuyo Sejima. Integrated into residential areas of the island, the lettered Art Houses are also part of town restoration, reusing roof tiles and old structural material from private houses. The artworks use materials such as local stones or wood, transparent acrylic glass, mirrors, or aluminum that reflect their surroundings to create new perspectives of familiar views.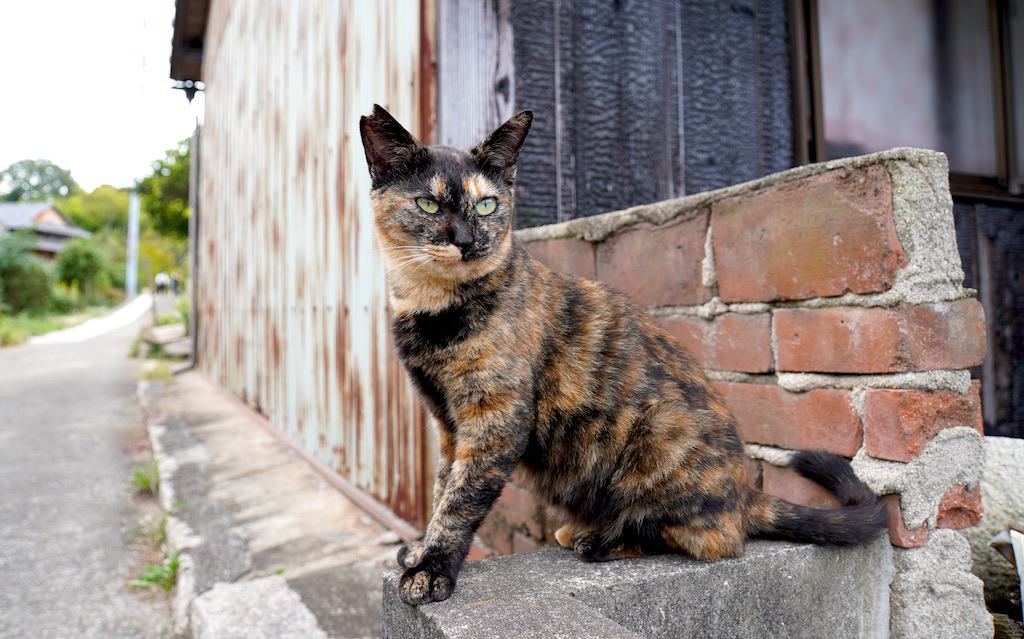 Inujima Life Garden
Since 2016, Inujima Life Garden (犬島 くらしの植物園) is a collaborative botanical garden spread over 4,500 square meters of land centered around a long-abandoned greenhouse.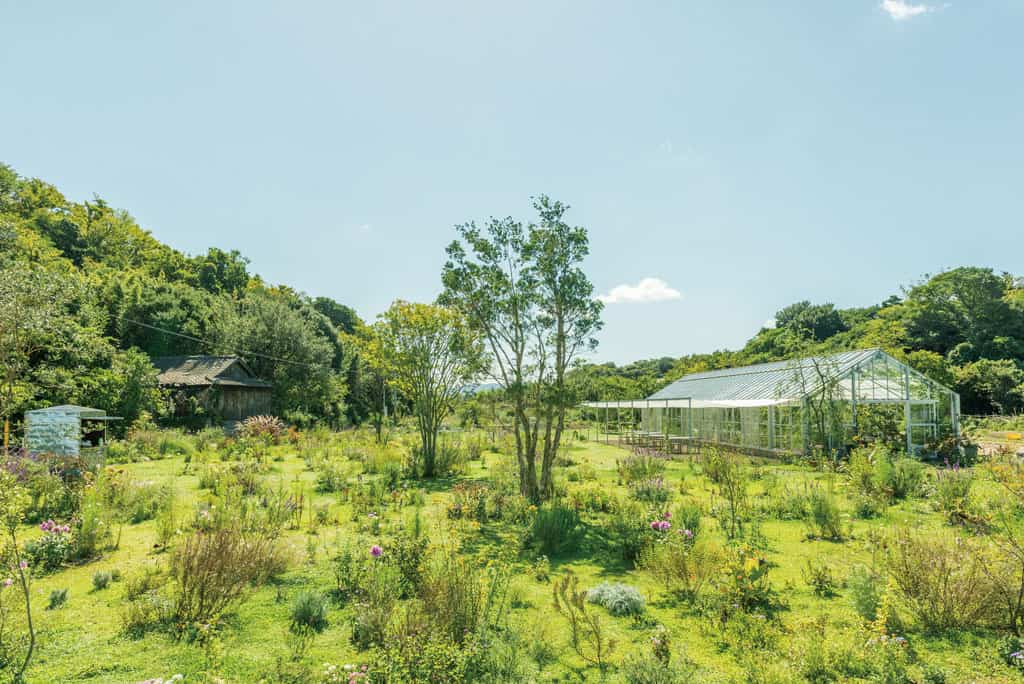 A water purification system pumps water from a well, filters through plants, and stores it in a tank. The site has a composting toilet, while chickens eat weeds and also produce fertilizer for the soil. Community workshops and activities are more frequent in spring and summer, where people work together to cultivate and maintain the garden. Life Garden is an ongoing project for people to learn to be self-sufficient and a practical model for imagining future lifestyles.
Inujima Seirensho Art Museum, Inujima "Art House Project" and Inujima Life Garden are open from 9:30 a.m. to 4:30 p.m., closed Tuesdays (March 1 – November 30) and Tuesdays to Thursdays (December 1 to the last day of February), with exceptions for national holidays. *The opening of the site will be changed from December 2020. Please visit the official website and check the calendar before visiting. A ¥2,100 admission ticket purchased at the Inujima Ticket Center near the port gives you access to all three sites.
Inujima Swimming Beach
You can walk from the Life Garden along a rocky path to a more secluded campsite on the island's southeast edge at low tide. The campsite includes numbered platforms (deck sites), showers, toilets, and direct access to a crescent-shaped swimming beach. And if you want to sit down and enjoy the scenery, an entire row of stone "Moai" chairs awaits you on the shore.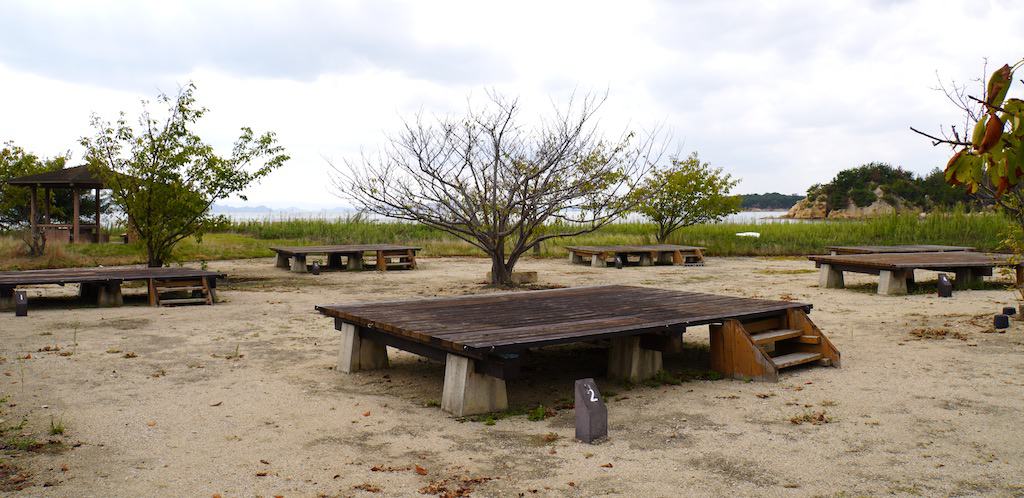 How to get to Inujima
Okayama (岡山) is a dedicated stop on the Tokaido shinkansen line, just a little over 3 hours from Tokyo, 1 hour from Kyoto, and 35 minutes from Hiroshima. It is also accessible on other train lines using a Japan Rail Pass.
To get to Inujima from Okayama station (岡山駅), take the JR train to Saidaiji 西大寺駅(17 mn), then a bus to Nishi-Hoden 西宝伝 (30 mn). From Hoden Port (宝伝港), a small boat will take you on a 10-minute journey to the island for ¥300. You can also access Inujima from the ports of Teshima (豊島) and Naoshima (直島). Complete ferry schedules are listed on the Benesse Art Site Naoshima's website.
Inujima may be the smallest among the three main Setouchi Art Islands, but the artistic and eco-architectural reclamation of its crumbling industrial heritage make it an unmistakable gem. Catch it before the next Setouchi Triennale in 2022!
Sponsored by Okayama city, Okayama