Just outside the crowds of Kyoto city is a world of serene nature, vibrant culture, and deep history that you probably have never heard of before. Oita Prefecture, known mainly for its abundant onsen hot springs, is another area like Kyoto, rich in nature and history. We have carefully selected less crowded destinations in both of these fascinating areas of Japan and will cover them in a series of nine articles: "Travel like a Kyoto and Oita native to experience nature and traditional culture."
Heading north from Kyoto city, a serene landscape of small villages and peaceful mountains stand between the ancient capital and the rugged coastline along the Sea of Japan. One such area is called Miyama 美山, the beautiful mountains, a name which required little imagination to bestow on them. Time seems to move slower here, evident in the landscape of Kayabuki no Sato, a mountain village of Kyoto which maintains a centuries-old method for maintaining traditional thatched roof houses.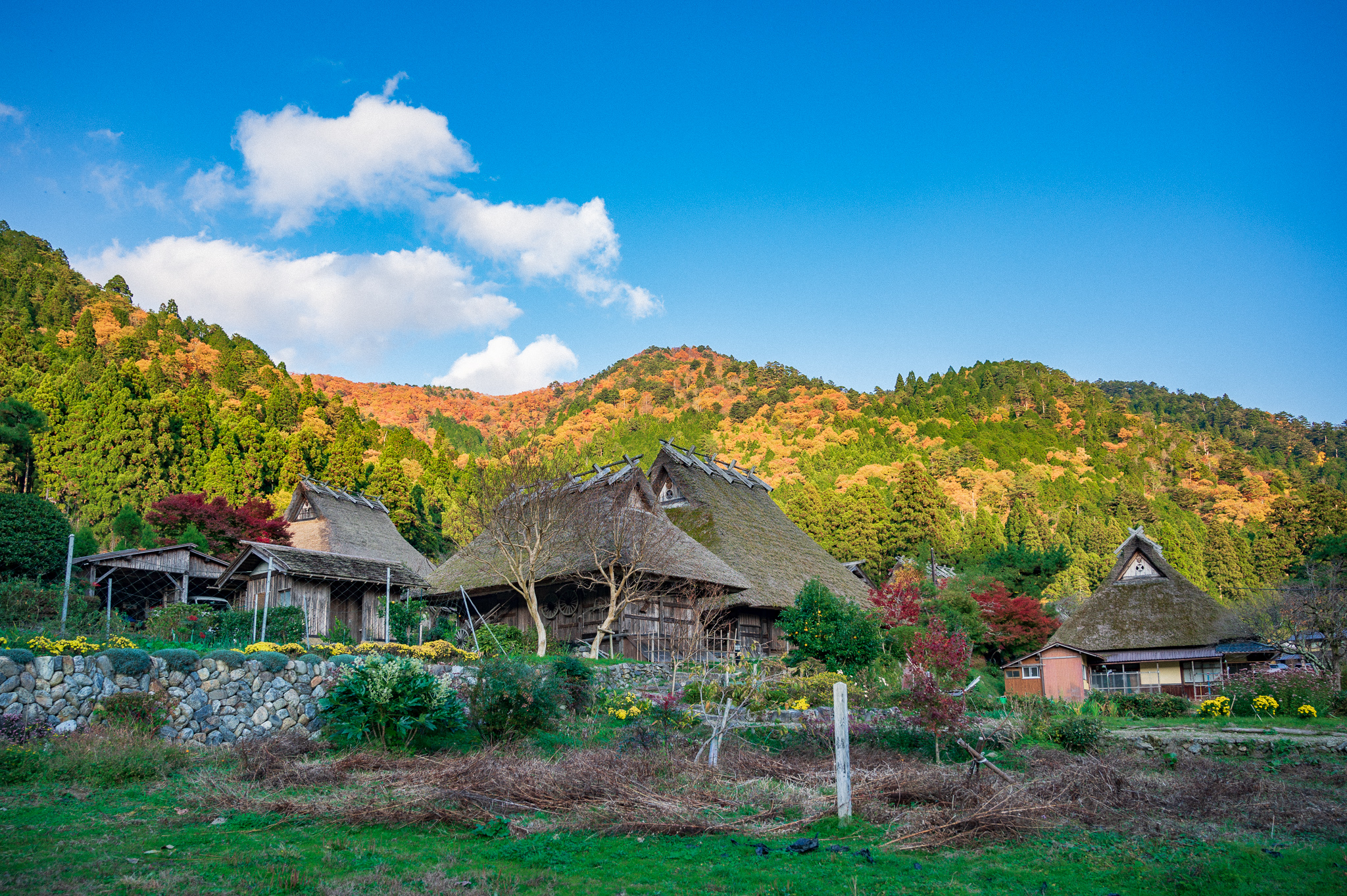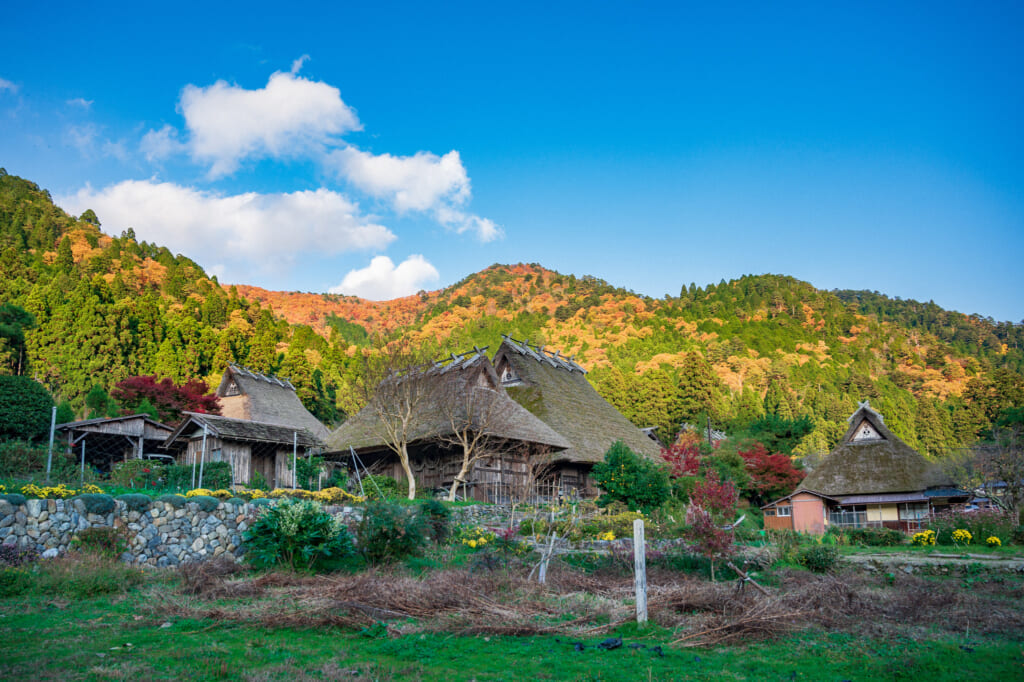 Many visitors to Japan are familiar with the gassho-zukuri style farmhouses of UNESCO World Heritage site Shirakawa-go in Gifu Prefecture. Kayabuki houses are similar, with steep high roofs made from grass, but the shape differs slightly. Because Kayabuki no Sato is not recognized by UNESCO (although it is designated as a Preservation District for Historic Buildings), it is still not well known by overseas tourists despite the beauty of the landscape and the craftsmanship of the buildings.
Our guide Michel was a transplant from France who came to Miyama to start an organic farm. Though only a resident of the area for two years, Michel already knew well about the traditional methods for building and maintaining thatched roofs. In this area, it is a common expectation that community members pitch in to help neighbors when roofs need repair or replacement, so he already had first-hand experience. In learning the process, his neighbors also taught him much about the history of the kayabuki (thatched roof) of Miyama and the people who lived under them.
Kayabuki no Sato contains about 40 thatched-roof houses, the largest concentration of such types of homes in one village in Kyoto. In feudal times, thatched roofs were seen on every peasant's cottage because they were cheap to make, and peasants were forbidden to use higher quality materials on their roofs, like tiles. Ironically, the tables have turned in modern times. The cost of building or replacing a thatched roof can easily exceed 10,000,000 yen (US $100,000), while a tile roof can be installed for a fraction of that. This means that homeowners in the area are making a financial sacrifice to carry on a local tradition for the sake of Japanese culture and the pleasure of visitors. Even the house that is now used as the Folk Museum burned down in 2000 and was rebuilt with great effort using traditional techniques.
The mottled colors of autumn's changing leaves speckled the mountains above the village, and the contrast of the warm leaves against the moss-covered roofs was a fantastic sight. Two ancient shrines are built in the hills next to the village, one nearly undetectable through the forest shroud. Michel led us through the village, pointing out the various houses now converted into shops, museums, and cafes. But mostly, Kayabuki no Sato remains as it has for centuries, populated with local people making their living from the land.
May and December are particularly interesting times to visit Kayabuki no Sato when they hold their Water Hose Festival. Due to the high potential for flammability of these wood and straw houses, the fire protection system is tested twice a year in December and May, checking the water pressure by firing water from the sprinkler systems high into the air. The event is a favorite for spectators who come hoping to get a photo op of rainbows forming over the village from the water's mist. Another seasonal favorite is the Kayabuki no Sato Snow Lantern Festival, when hundreds of lanterns light up the quiet village each January (the dates for 2021 are confirmed as Jan 30th to Feb 6th, but the scale and grandeur of the event will be much smaller than normal due to COVID-19).
Experience Making a Traditional Kayabuki Thatched Roof
Michel drove us to the Miyama Eisa where Wada-san, from a company called Yaneharu, was waiting for us. Yaneharu specializes in all types of work associated with the repair and rebuilding of thatched roofs, and Wada-san was going to teach us how to be master thatchers. Or maybe, because we only had two hours, just let us get our hands dirty.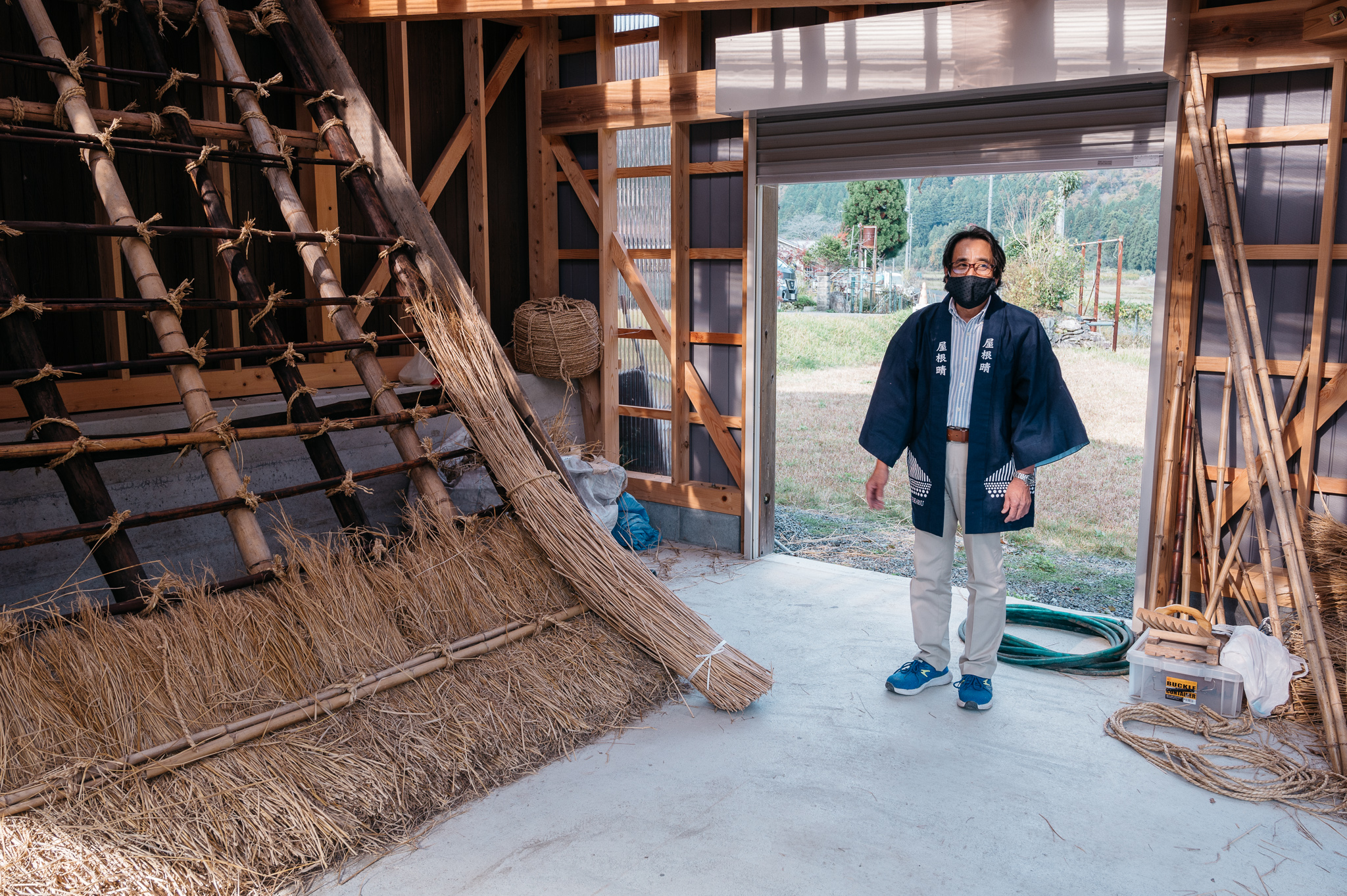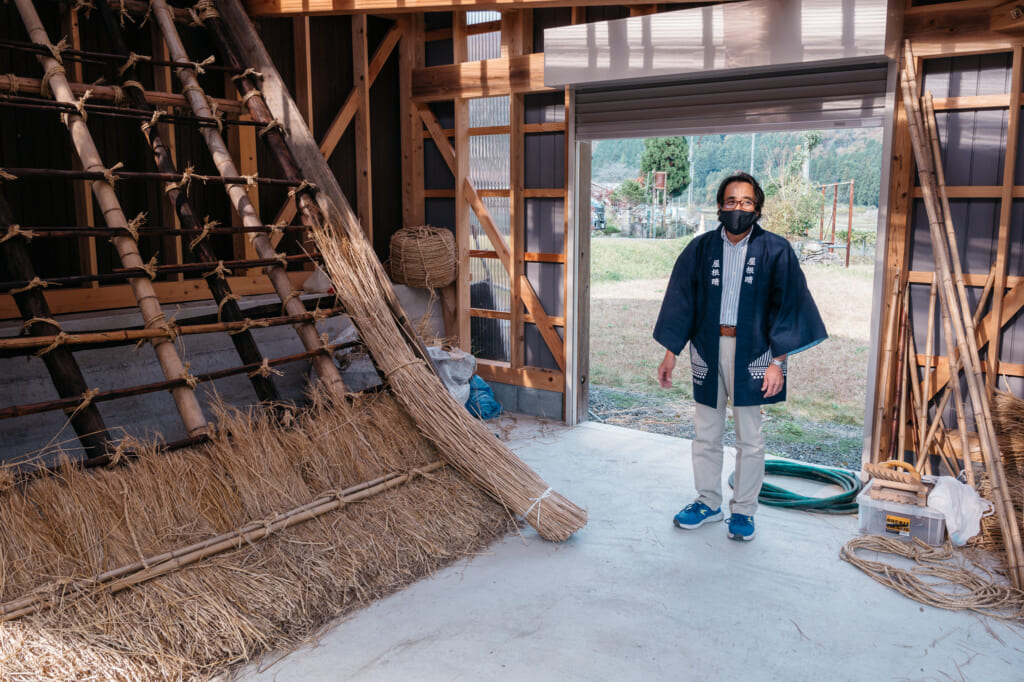 Typically, building and repairing thatched roofs is done on the rooftop, high above the ground. For practical reasons, we used a practice roof frame built in a workshop to learn how to make a thatched roof. It takes a team of people to build a roof, first laying overlapping layers of pampas grass down, then binding it to the frame with ropes. Because of the number of thatched-roof homes in the area, pampas grass is a precious commodity here, so we practiced using ordinary straw.
A team of two people works to bind the straw to the frame. One person stands outside on the roof and threads a large wooden tool that resembles a needle through the straw with the rope attached. The person inside helps guide the team member outside in getting the rope around the frame, who can then tie the rope in a knot around the straw, binding it to the frame. This process will be repeated hundreds of times in the construction of the roof, and as team members become more familiar with the process and each other, the work becomes faster. My fellow writer Don and I worked fairly quickly to add a section to the practice roof, taking turns switching from being inside and outside the roof frame.
After working hard (or hardly working), Wada-san gave us a break, bringing us hot tea and a local sweet to enjoy while sitting in the sun on the wooden deck. As we relaxed in the warm sun with the sound of the river nearby, it was easy to understand the appeal of Miyama, the beautiful mountains.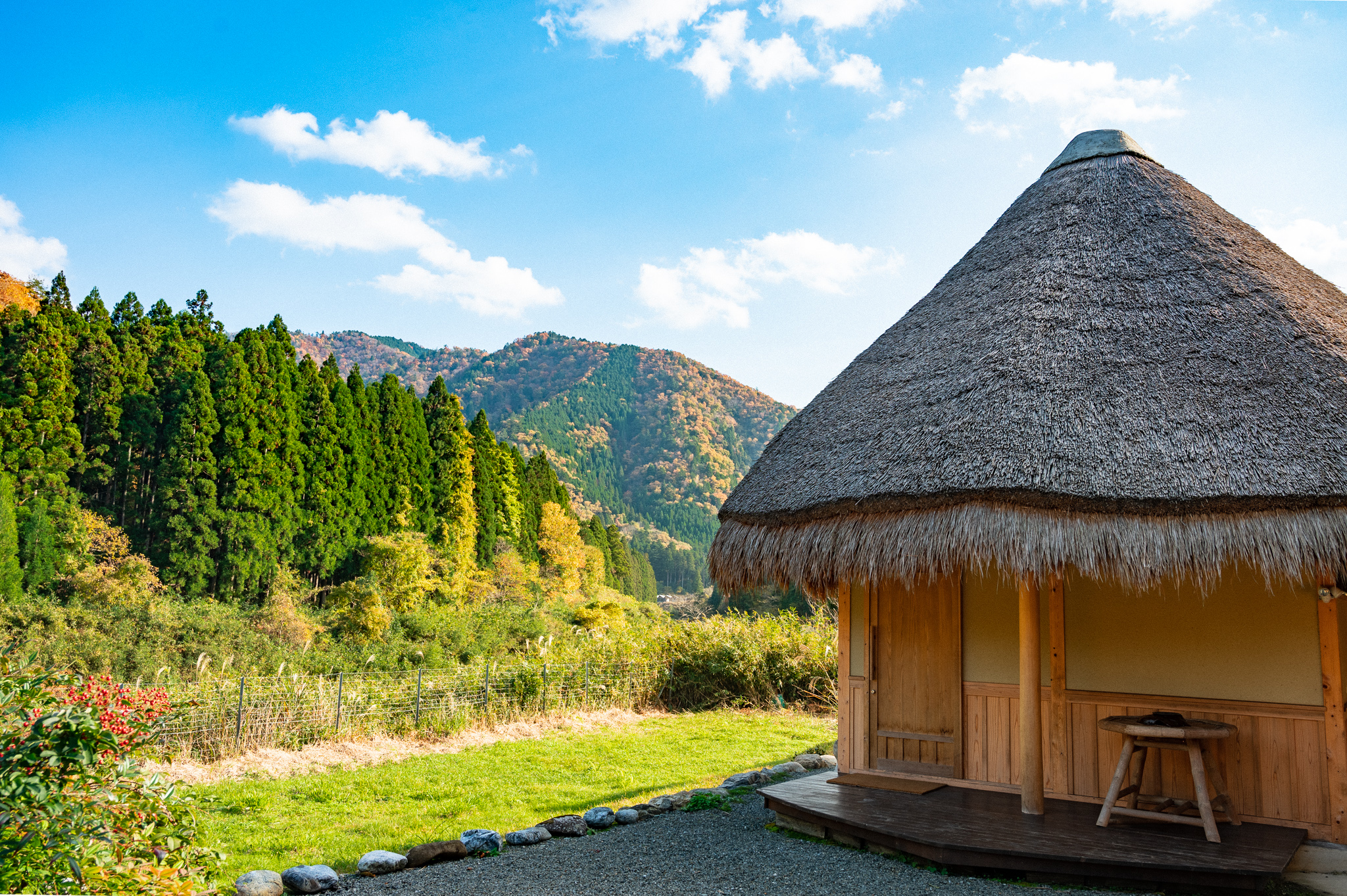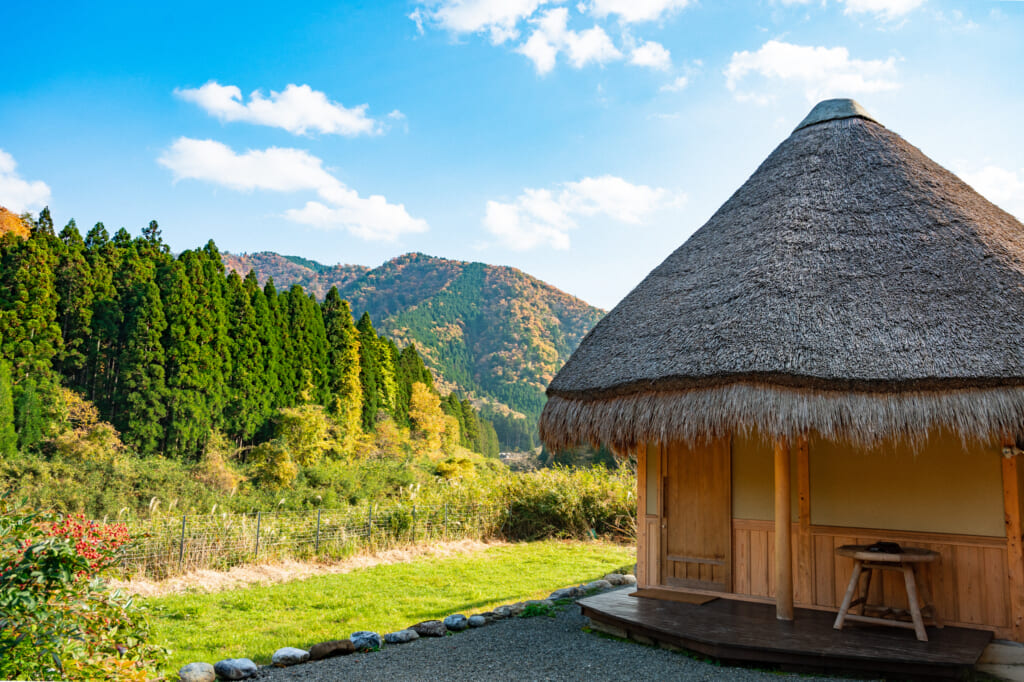 Traditional Cuisine of Miyama in a Kayabuki Restaurant
We took our lunch break at Yamazato Ryori Ryokan Isobe. This is a thatched roof ryokan and restaurant; the former can be rented entirely as accommodation for a large group. However, we were here to sample the cuisine, traditional dishes created with local ingredients, both farmed and hunted. Depending on the time of year, you might be able to try fresh ayu (sweetfish) caught in the mountain streams, rare hand-picked matsutake mushrooms, or wild boar or deer hunted by the owner.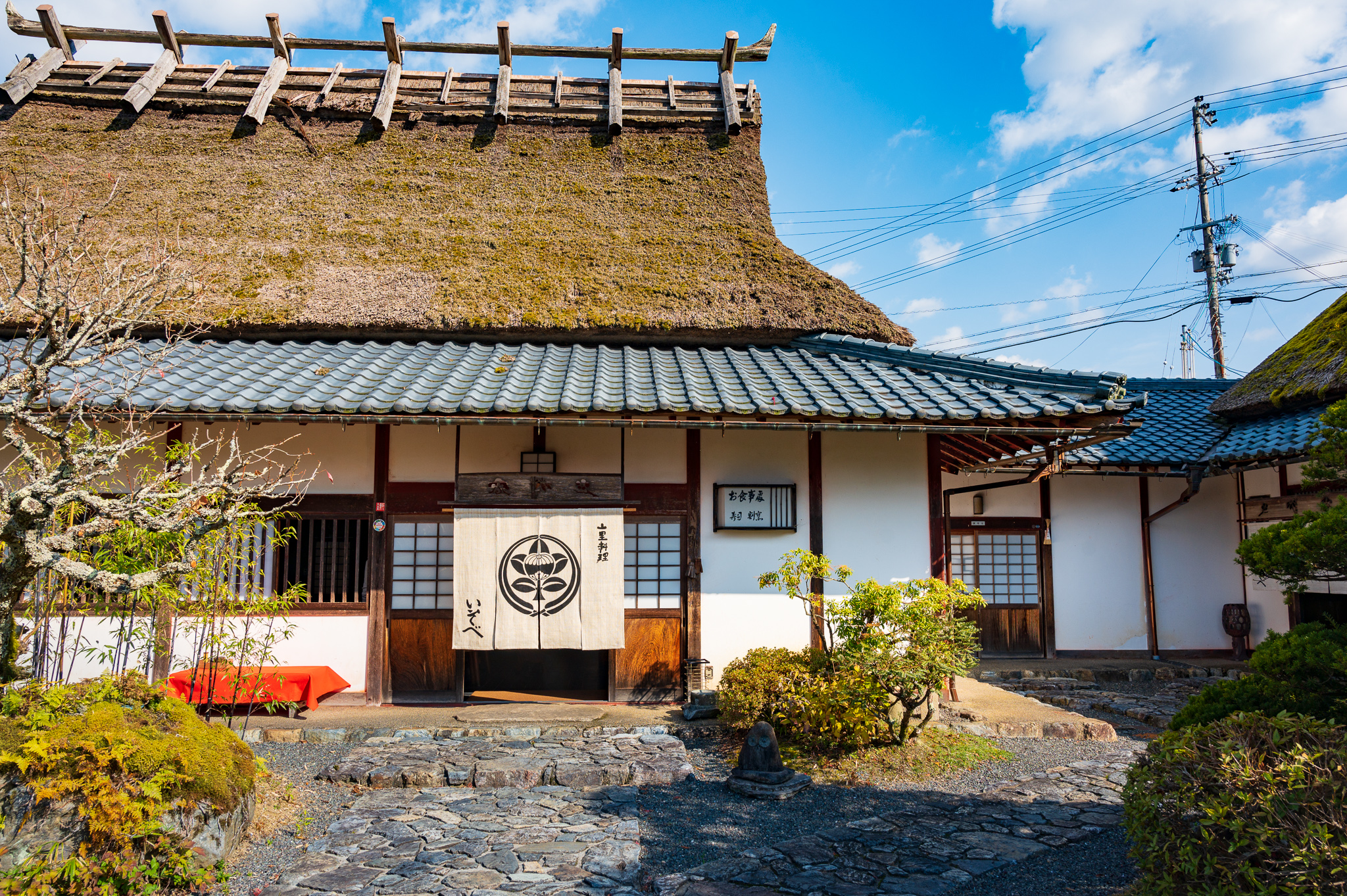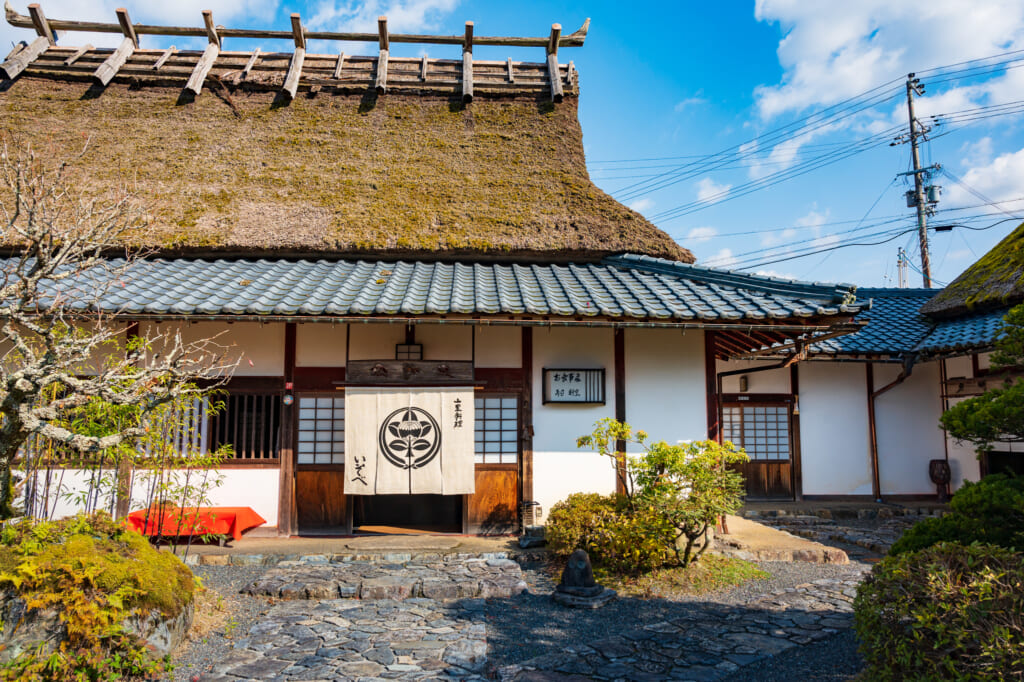 The building was moved here from another location about 40 years ago, but it has been serving travelers for centuries before that. I imagined the restaurant was a lively place in its heyday when money and alcohol flowed freely every night. Although it is no longer overflowing with customers, the restaurant still offers a delicious meal to travelers who stop by.
I ate the house version of sukiyaki, made with Miyama jidori free-range chicken and wild mountain vegetables like takenoko bamboo shoots. Sukiyaki is traditionally eaten dipped in raw egg, also from a free-range chicken farm. You can make the sukiyaki yourself over a gas burner on your table, or the staff will be happy to come and make it for you, as they did for me.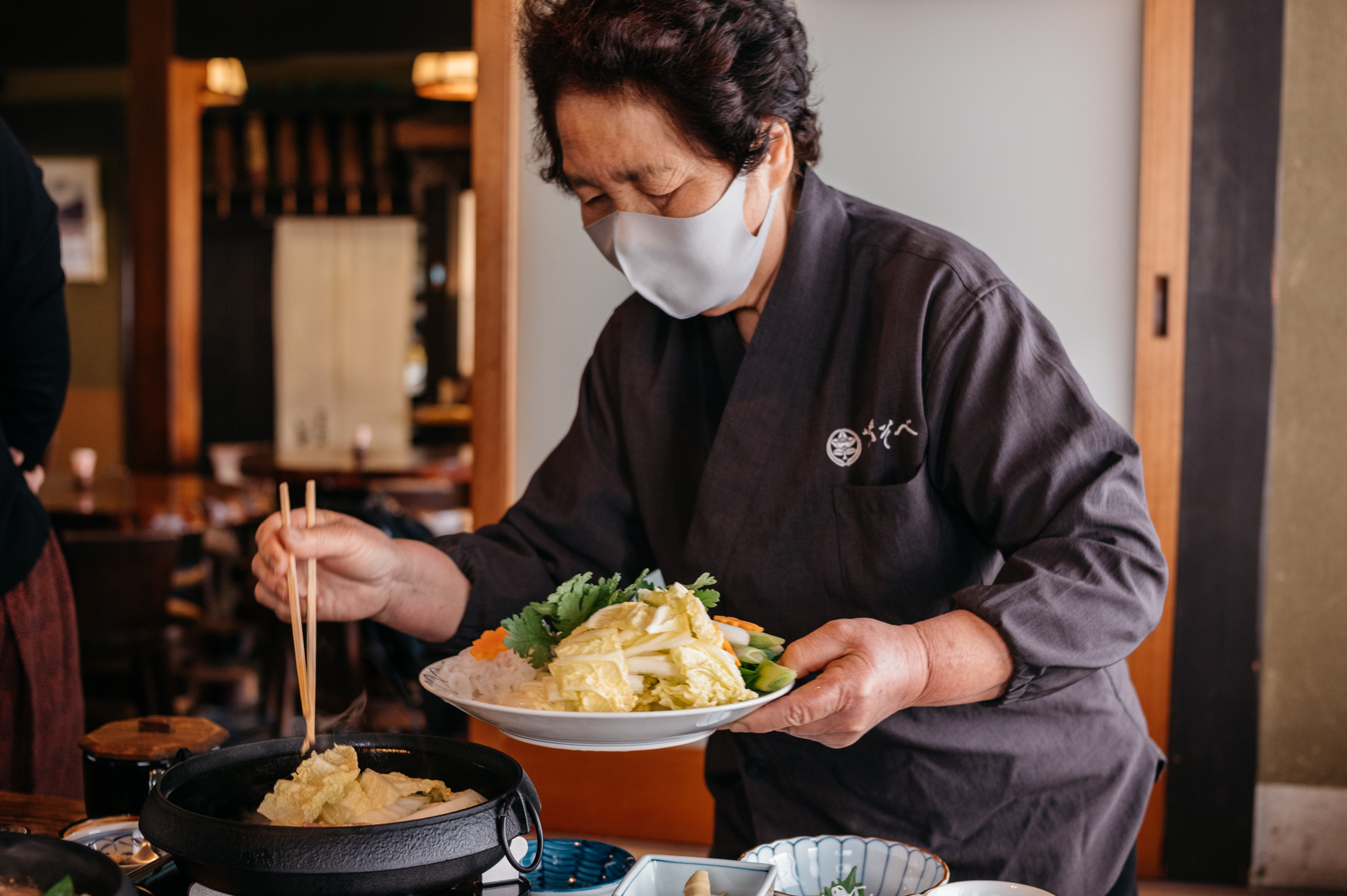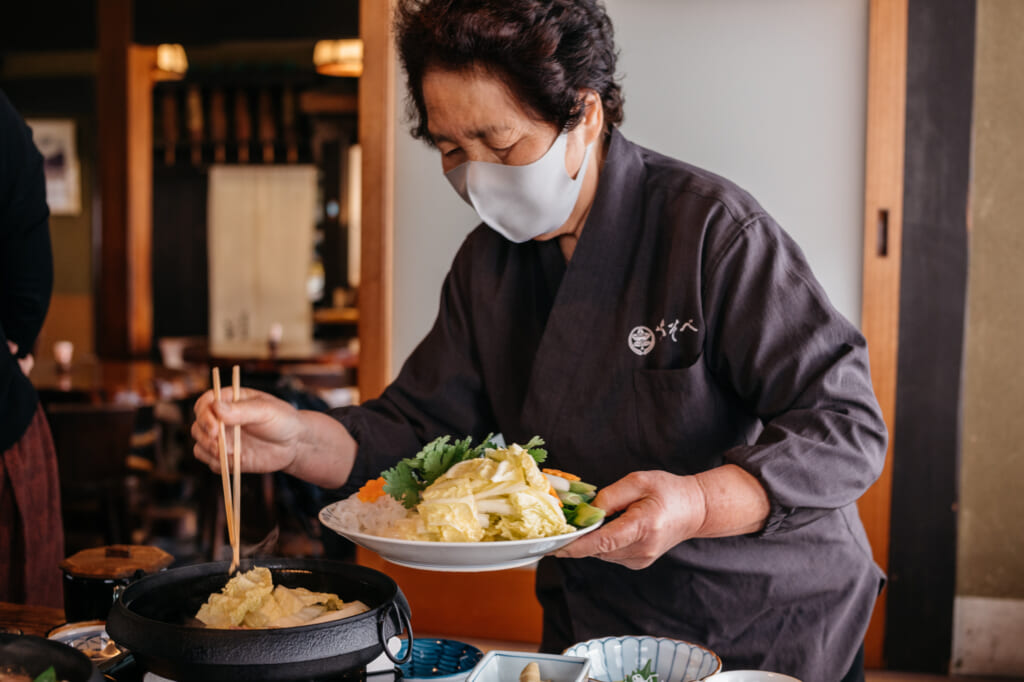 Side dishes include shrimp and vegetable tempura, various pickled vegetables, and yuba sashi, the creamy Kyoto delicacy made from soy milk. Even the simple bowl of rice is a pleasure here; the rice is grown in a nearby paddy by the ryokan's owners. The food here is genuinely Miyama cuisine: fresh, simple, and sometimes wild.
Spending the Night in a Traditional Japanese Thatched Roof House
Our accommodations for the night were to be found at yet another kayabuki. Miyama Futon + Breakfast rents out five lovely houses spread around the area for those who want the experience of spending a night or two in these historical buildings. We stayed at Mitoya, a large house that can sleep up to seven people, two on beds and five on a soft, comfortable futon. The central room contains an irori, the traditional Japanese firepit used for both cooking and warming the house. In the case of Mitoya, it is primarily used for cooking as space heaters are used in each of the separate rooms keeping the temperature cozy during the chilly nights.
A local company brought the ingredients for nabe, a hearty soup eaten in the cold months cooked in a hot pot. Don helped stoke the coals by blowing on them through a bamboo pipe, and in no time, we were feasting on a hot bowl of soup with chicken and vegetables. The company provided some side dishes to complement the nabe and a little dessert to fill up any empty places in our stomachs after the large meal.
It had been a long day, so my colleague and I took turns using the renovated bath and shower and turned in early. I awoke early in the morning to find the house shrouded in a mystical fog, creating a picture-perfect end to our experience with kayabuki thatched roof houses in Miyama.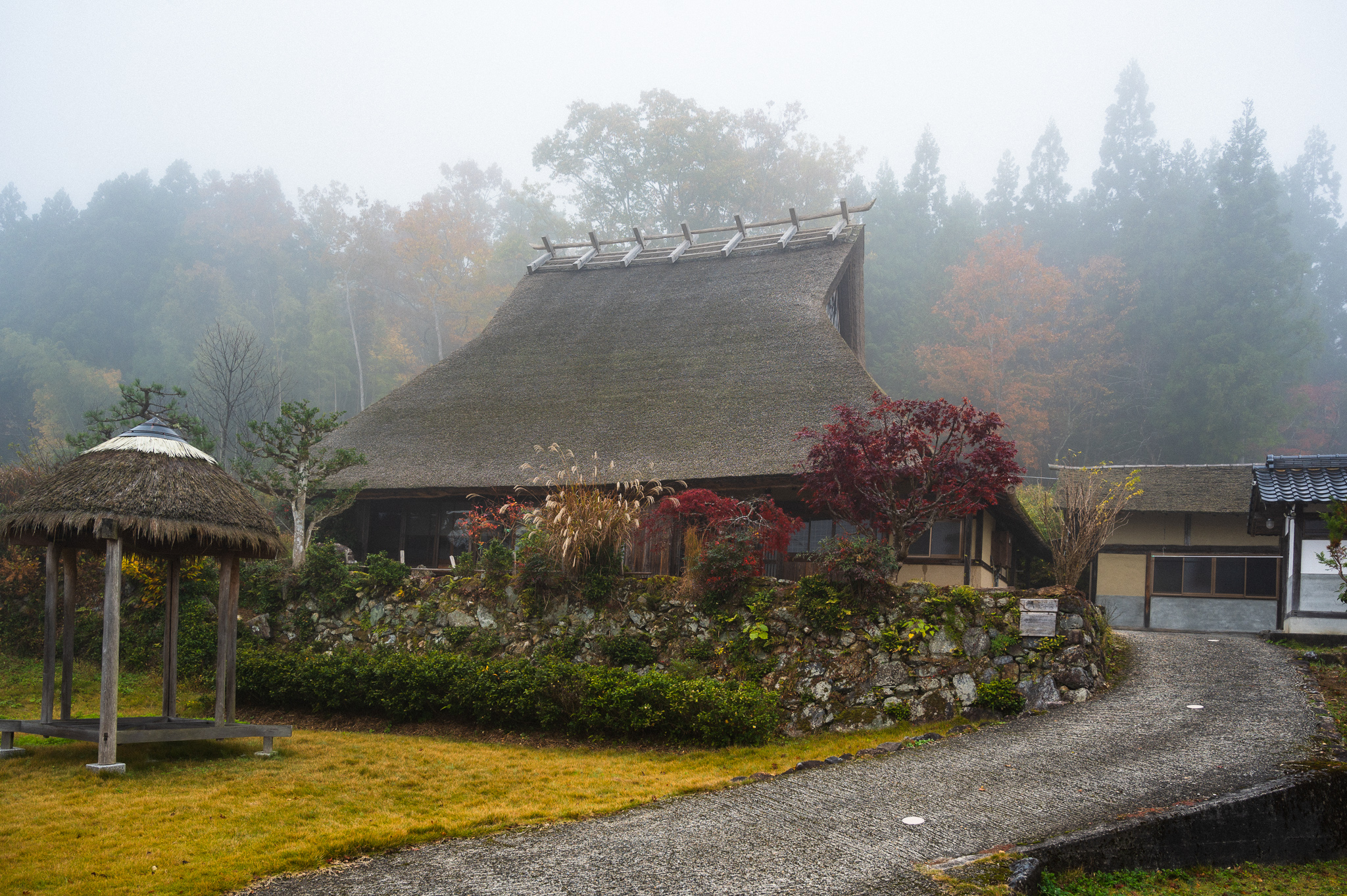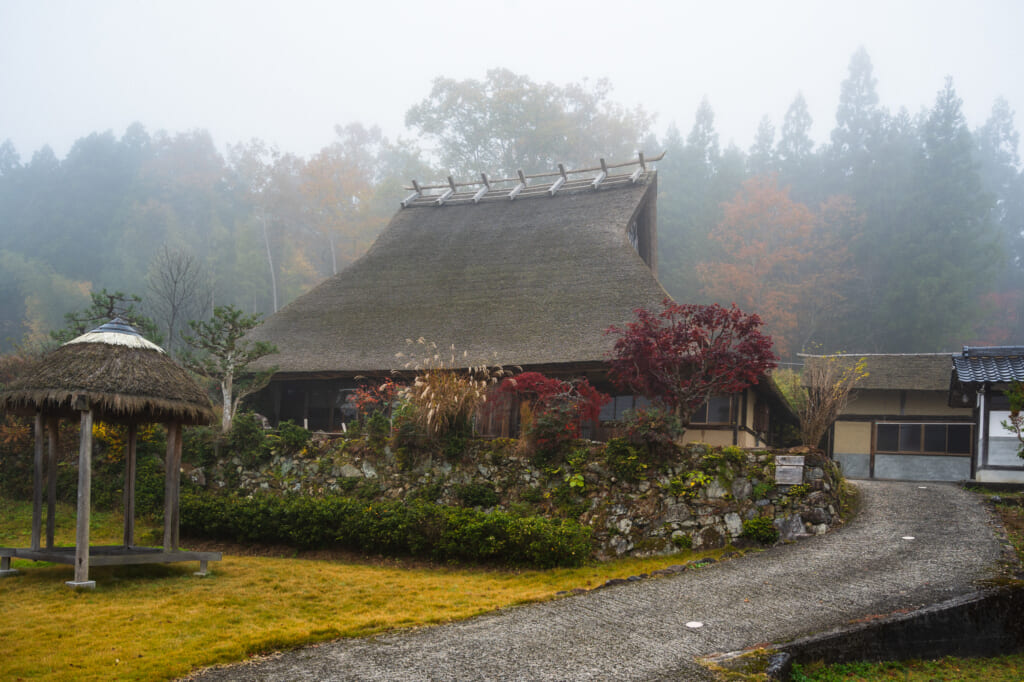 How To Get to Miyama
Miyama is about 90 minutes north of Kyoto, but the area is very mountainous and mostly undeveloped. While you can reach Miyama using the Sagano Line train from Kyoto Station to Hiyoshi Station, you'll need to take the local bus to reach the destinations described in this article. We recommend a rental car from Kyoto to explore the area conveniently and at your own pace.
Visit Kyoto and Kyushu In One Trip By a Japan Cruise
A perfect complement to touring the countryside of Kyoto is a trip to Japan's southwest island of Kyushu, also renowned for its natural beauty and traditional culture. Fortunately, reaching Kyushu from the Kansai region could not be easier using the Sunflower Ferry, an overnight ferry service from Osaka Port. Relax aboard this mini cruise in Japan, over the scenic and calm Seto Inland Sea, arriving at the city of Beppu as dawn breaks over Kyushu. For more information about the Sunflower Ferry, be sure to read the article about my experience.
More About Exploring Kyoto and Oita
To learn more about rural Kyoto and Oita prefectures, please continue to read the other articles in our series.
This article is sponsored by Kinki Transportation Bureau, Kyoto Prefecture and Oita Prefecture.