Just outside the crowds of Kyoto city is a world of serene nature, vibrant culture, and deep history that you probably have never heard of before. Oita Prefecture, known mainly for its abundant onsen hot springs, is another area like Kyoto, rich in nature and history. We have carefully selected less crowded destinations in both of these fascinating areas of Japan and will cover them in a series of nine articles: "Travel like a Kyoto and Oita native to experience nature and traditional culture."
Many visitors to Japan equate domestic travel in Japan to the Shinkansen bullet trains. Yes, I get it. The Shinkansen is fast, convenient, and if you plan your trip well, affordable. In fact, we've written a guide on how to get your money's worth from it. But there are other ways to see Japan that are unusual, slower-paced, and perhaps a little more relaxing than zipping across the country at a blinding 300kph. For example, how about a cruise on the Seto Inland Sea from Kansai to the southwestern island of Kyushu on the Sunflower Ferry?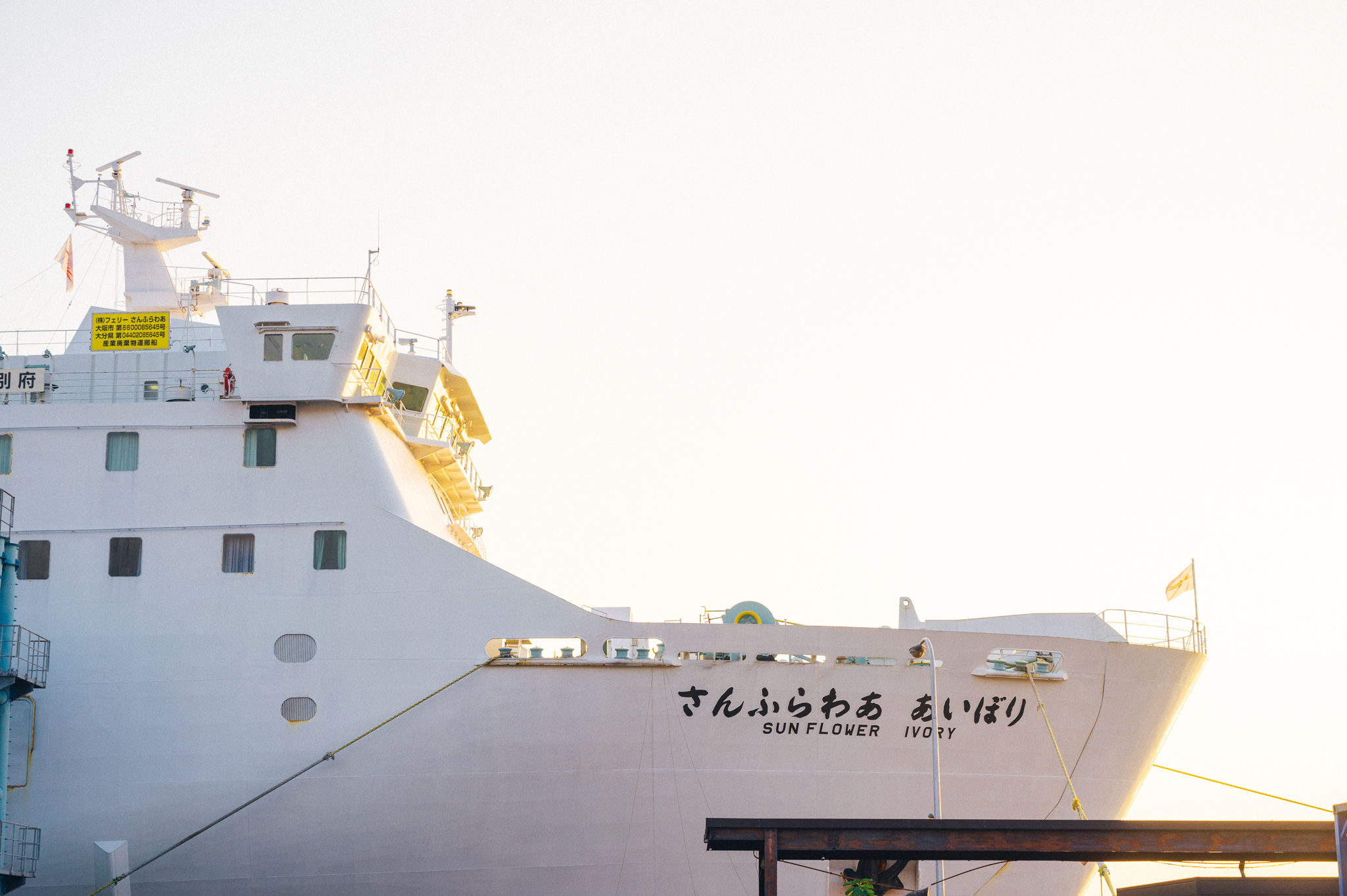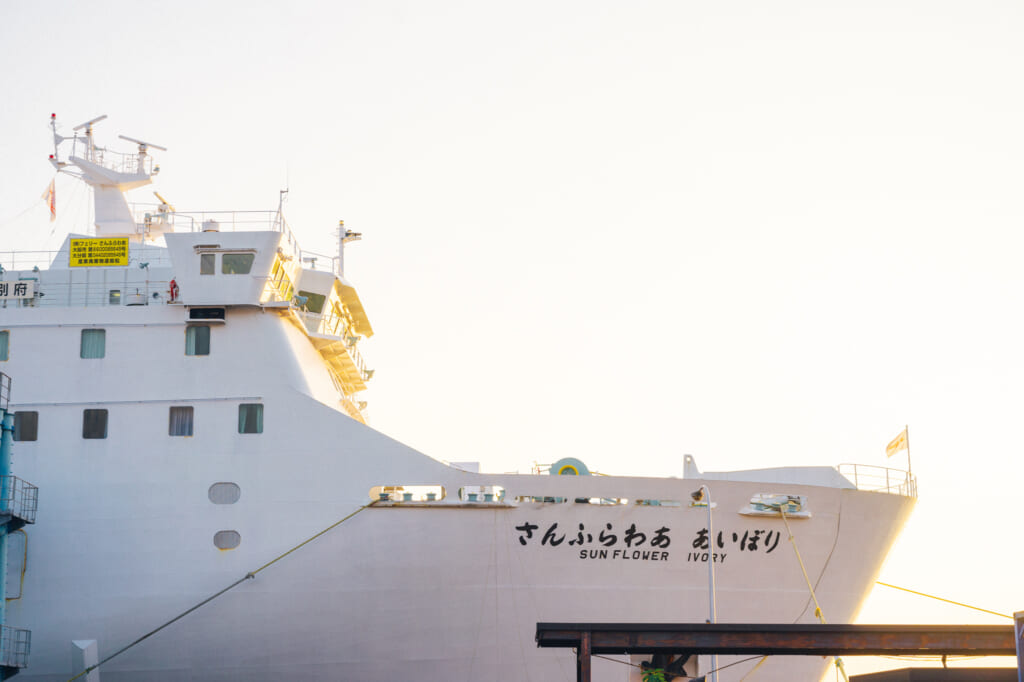 The idea of a ferry might evoke a small boat packed with commuters for some readers, but this is far from the image of Sunflower Ferry. The Sunflower fleet consists of enormous vessels from 153 to 192 meters long that can comfortably transport over 700 passengers, with dozens of private and semi-private rooms. A restaurant serving buffet meals and a relaxing spa are on board, and the decks are open for travelers to enjoy the peaceful night scenery of the Seto Inland Sea. The Sunflower Ferry's voyage is indeed a short domestic cruise connecting the popular Kansai region destinations of Kyoto and Osaka with up-and-coming destinations in Oita and Kagoshima Prefectures.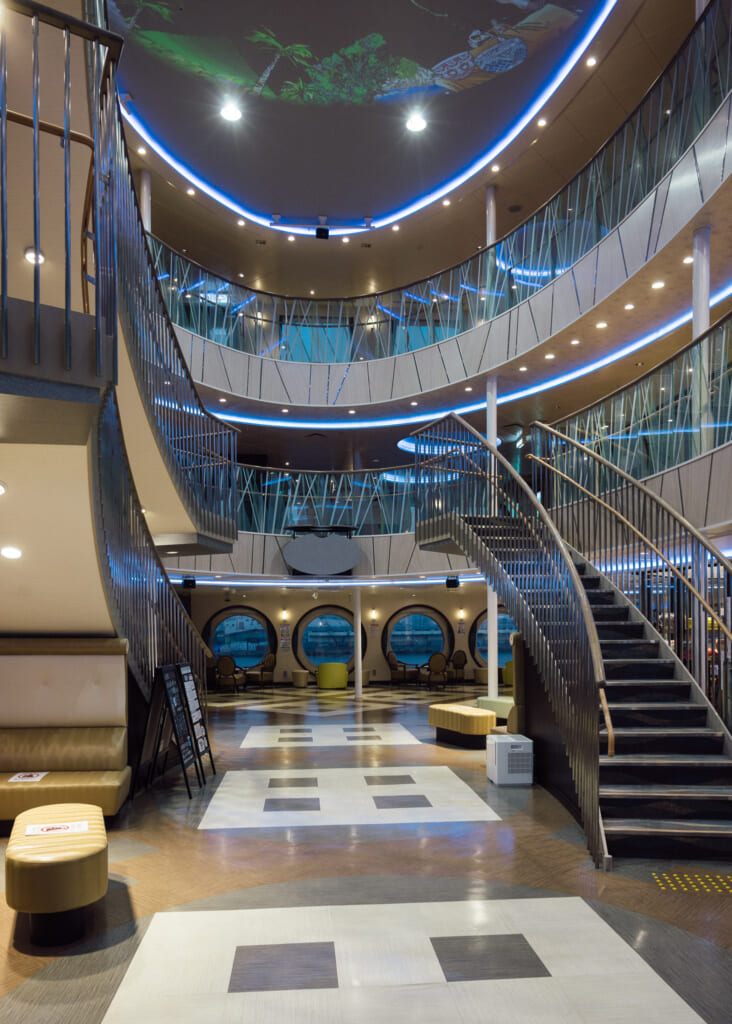 The Sunflower Ferry service consists of three routes: Kobe – Oita City, Osaka – Shibushi (Kagoshima Prefecture), and Osaka – Beppu (Oita Prefecture), the latter of which I used for this article. It is notable that none of these cities is directly accessible by Shinkansen bullet train, which gives the advantage to ferry travel already.
Each route is overnight, with a ship leaving each port in the evening and arriving in the destination port's early morning hours. Each route involving Oita Prefecture takes about 12 hours, while Osaka – Shibushi takes about 15 hours. Although the majority of the trip you'll likely be sleeping, the ships provide plenty of pleasant distractions for your waking hours.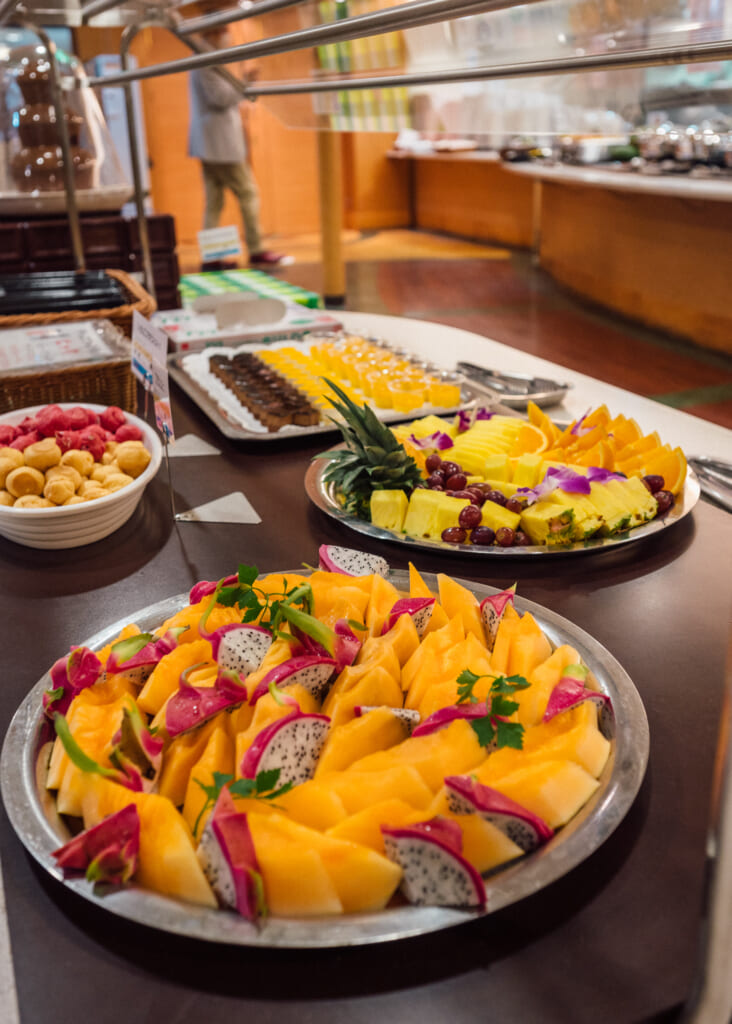 Besides sleeping quarters and common social areas, each ship has a restaurant serving buffet-style dinner and breakfast and a public bath for relaxing. Food and drink are all-you-can-eat or drink (except alcohol), and on my trip, there was even a tempting chocolate fountain for dessert.
Rates (dinner and breakfast):
Dinner
Breakfast
Adults
2,000 yen
620 yen
65 years old and above
1,650 yen
620 yen
elementary school student
1,350 yen
410 yen
Children
(from 4 years old to elementary school and preschool)
720 yen
310 yen
Strong Preventative Measures Against COVID-19 On the Cruise
Significant measures against the spread of coronavirus have been implemented on board the ship, which was very apparent during the meals. Diners were required to maintain social distance, sterilize their hands with alcohol spray, and have their temperature checked before entering the restaurant. Inside, plastic gloves were required to handle any common utensils and machines, and masks were mandatory in the food service area. I'm confident it was safe enough to perform minor surgery on a dining table if necessary.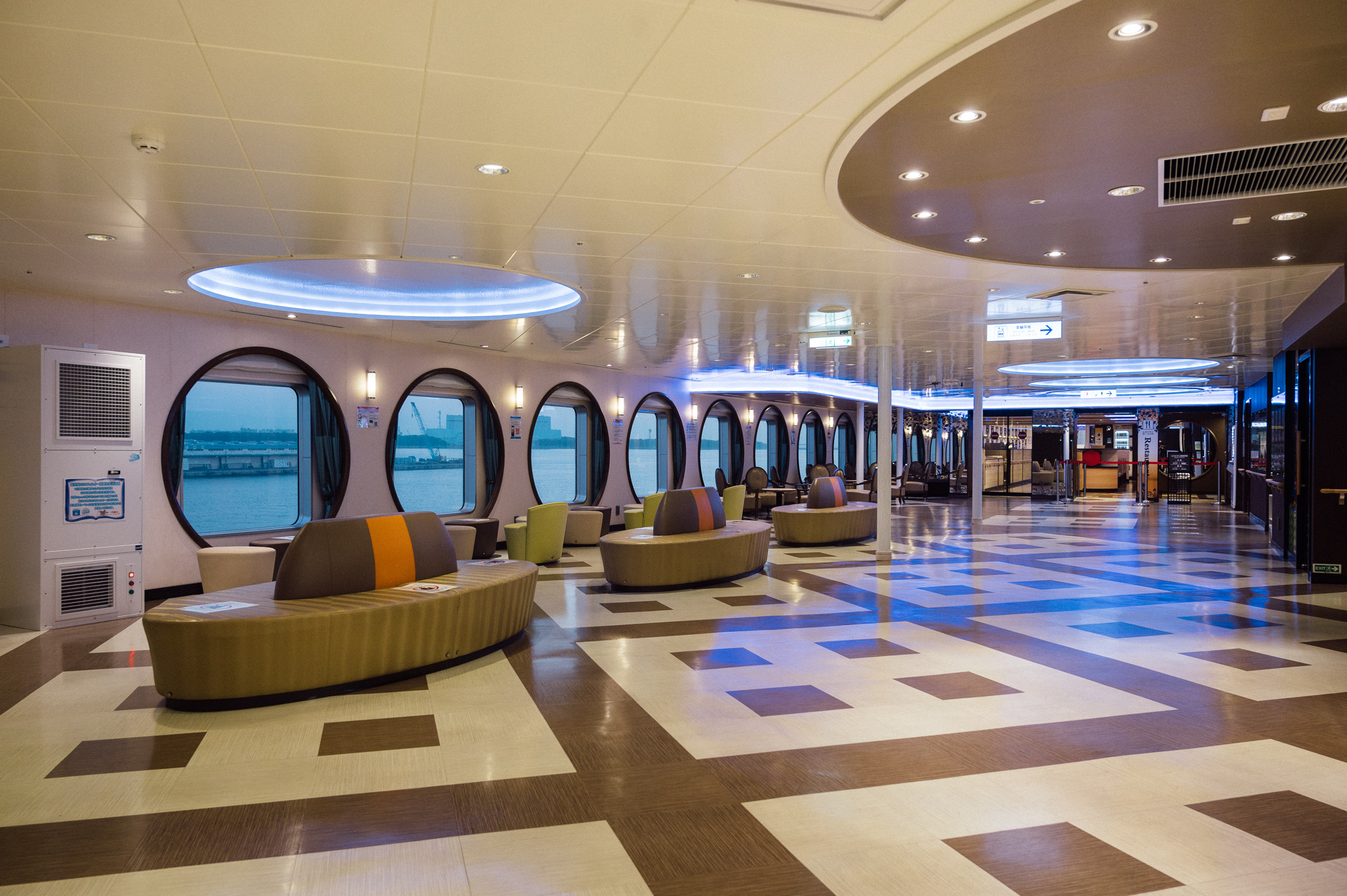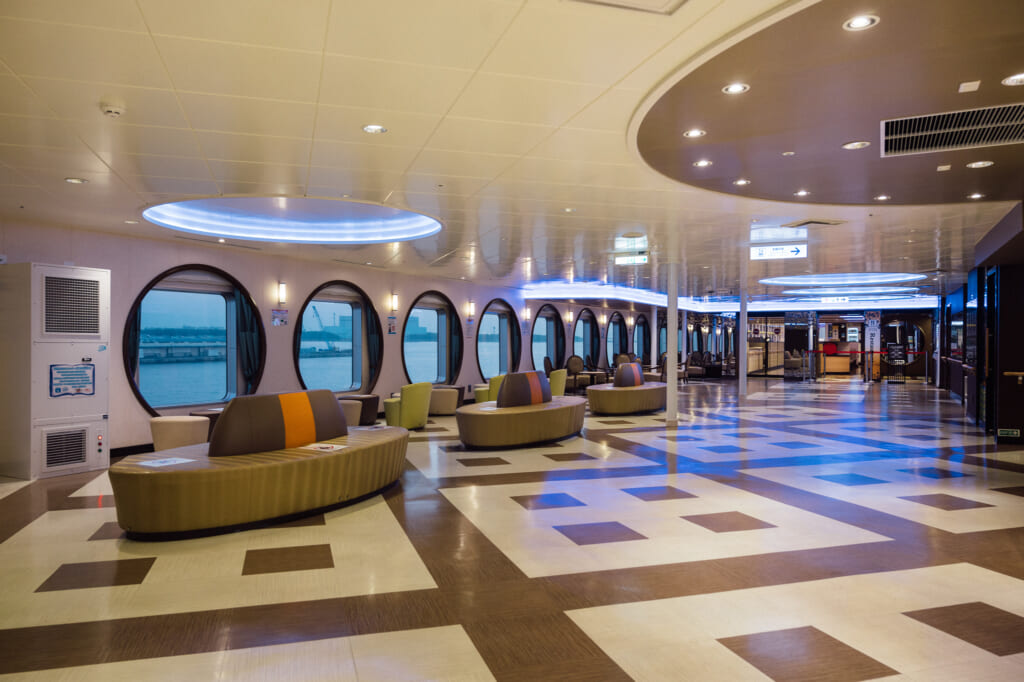 Beyond the dining room, Sunflower Ferry seems to have taken the lessons from COVID-19 mishandlings of cruise ships around the globe very seriously. All passengers and crew are screened at health check stations before boarding the vessel. Masks are required to be worn in all public spaces. New large scale HEPA-filter air conditioning units have been added in public areas around the ship and run continuously. And cleaning crews are at work around the clock cleaning public areas like sofas, tables, and handrails.
Spending The Night On Board a Cruise in Japan
Most people will spend most of their cruise sleeping, so Sunflower provides plenty of options for how and where you'll do that sleeping. The basic fare known as Tourist class allows you access to sleep in common sleeping rooms with carpeted floors, a padded mat, blanket, and pillow to use. This is an excellent inexpensive option for people traveling alone and used to staying in hostels or accommodations shared with strangers.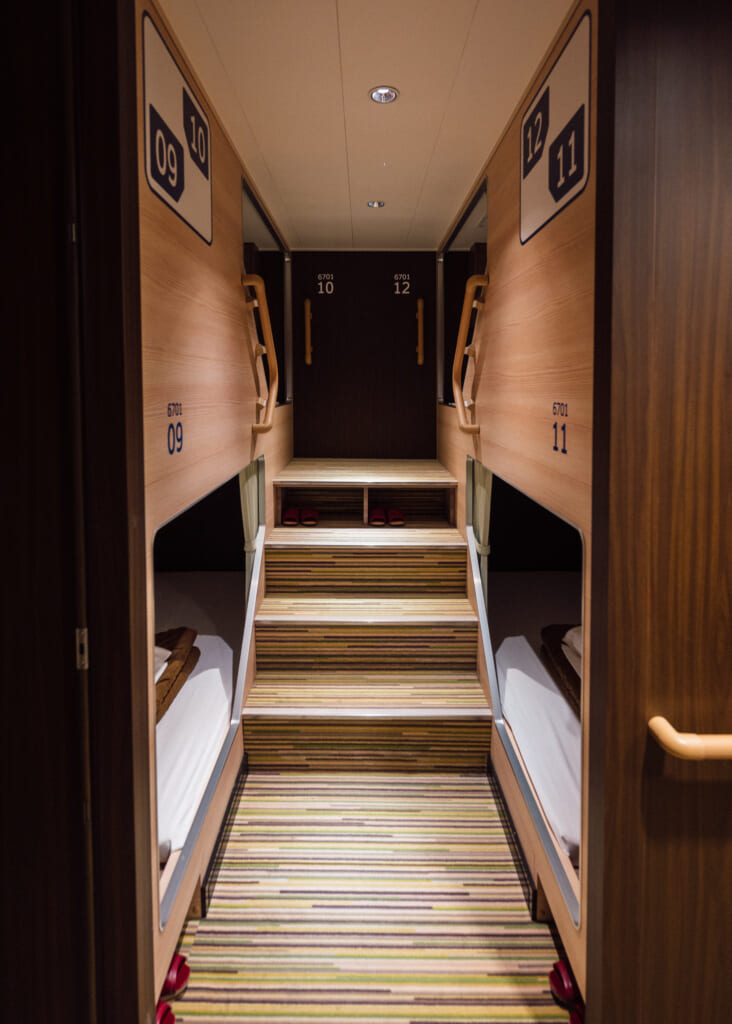 The upgrade to this is the Tourist bed, which is also a common room sleeping 8 to 16 people, but with a slightly more comfortable bed with added privacy. Next is the Tourist bed with four-person occupancy, which can basically be a private room if you are traveling in a group of 4.
Above the Tourist class are the private rooms. There are Standard rooms with single and double occupancy that include a sink and television. First-class rooms include the same amenities but have a four-person capacity for families.
Deluxe rooms are single or double occupancy and contain their own bath and toilet unit, mini-fridge, tea set, electric kettle, and hairdryer. I stayed in a Deluxe single room and found it on par with a Japanese business hotel, including a nice bag of toiletry amenities if I forgot anything.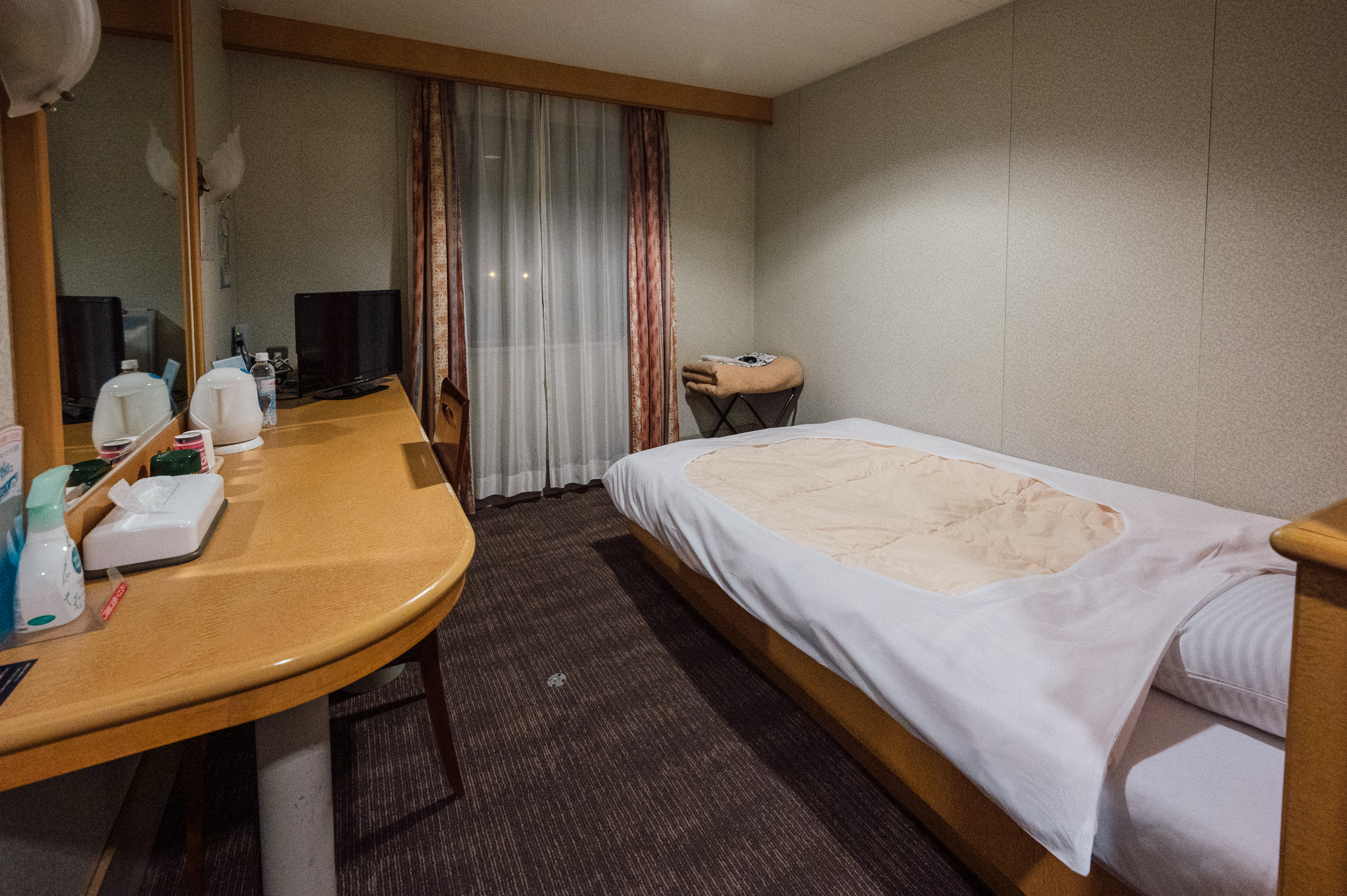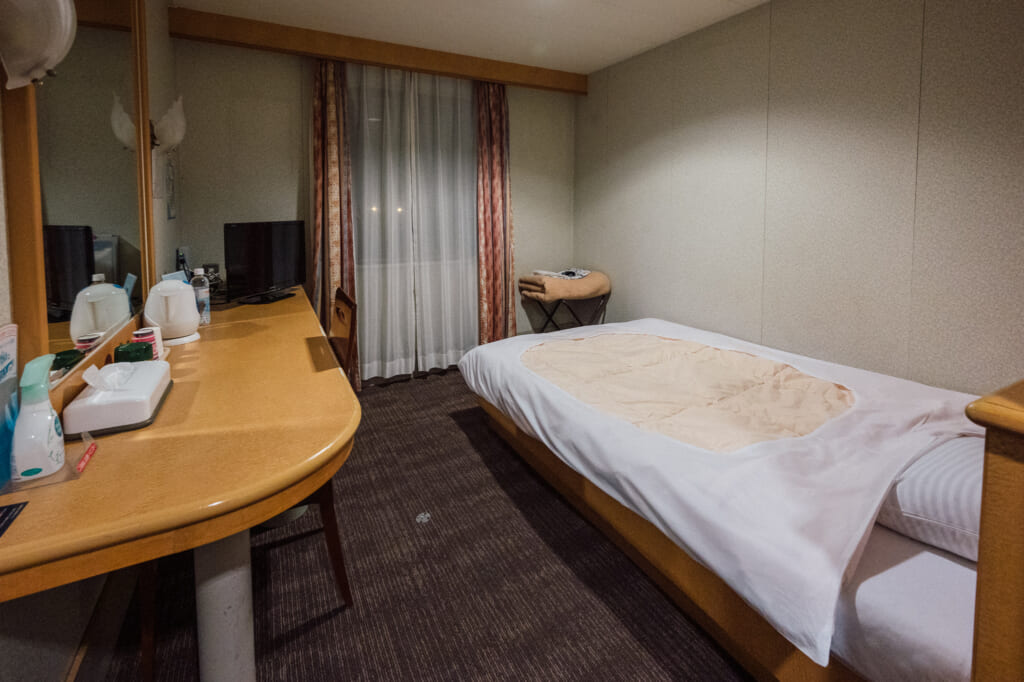 Sunflower Ferry is adapting to the needs of its changing demographics as well. Barrier-free rooms are available for those traveling with the physically handicapped or elderly, and even Japanese style tatami rooms are available for families who prefer that type of accommodation.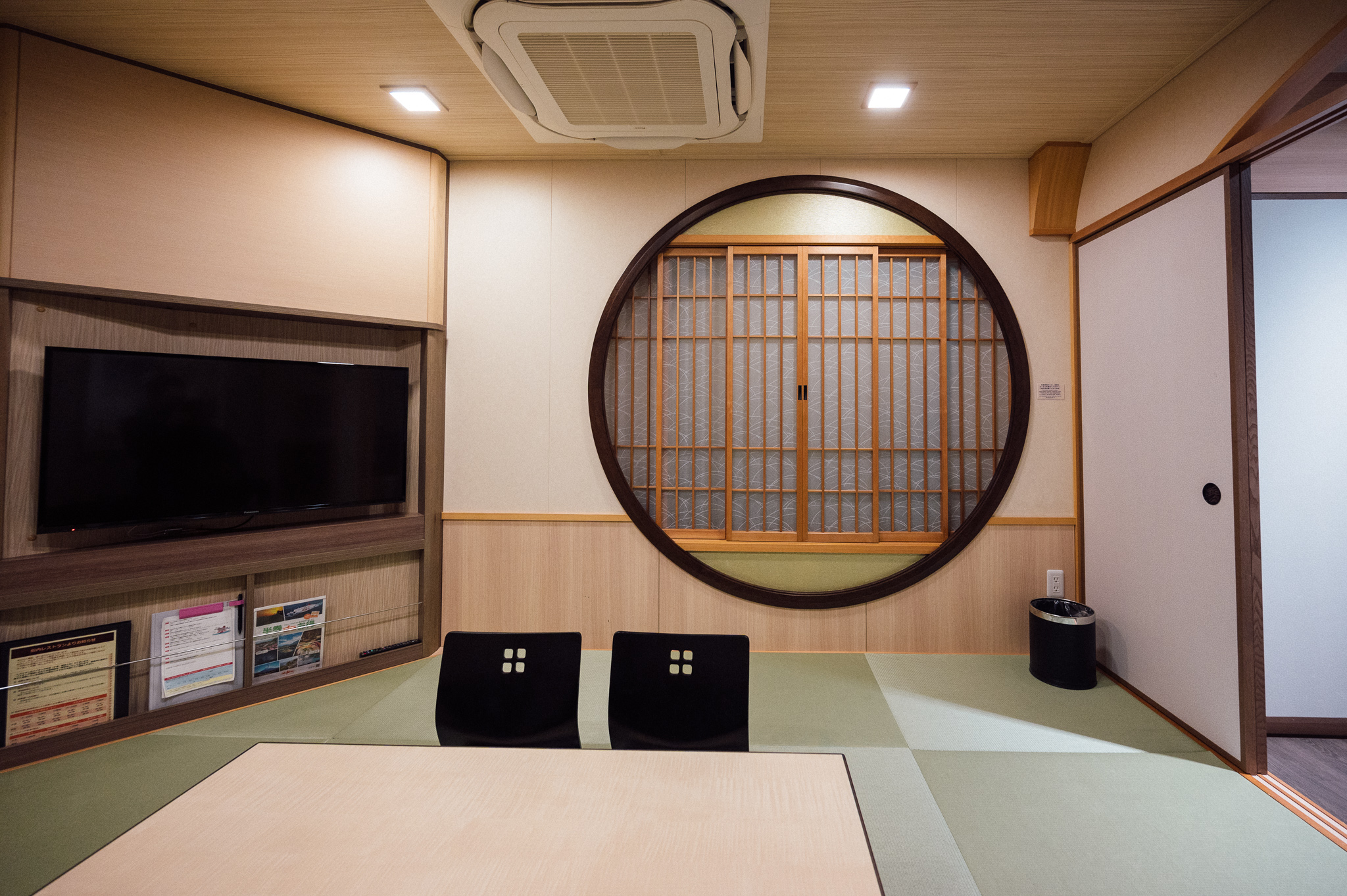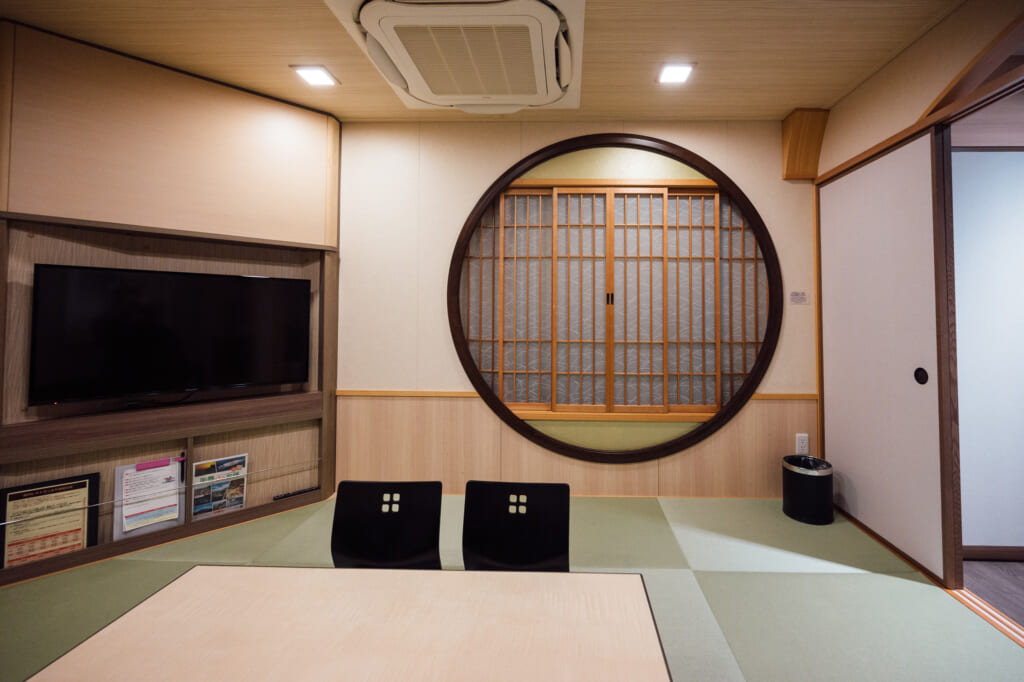 Whether it was the ship's movement or the excitement of the new experience, I admit I didn't have the best night's sleep. It certainly was no fault of the bed, which was firm but comfortable. The unexpected benefit of waking in the middle of the night was witnessing the ship passing under the last of the three picturesque bridges connecting the Seto islands to the mainland at 2 o'clock in the morning. After enjoying the view, I curled up under the covers again and fell back asleep.
The Bright Future of Sunflower Ferry Cruise in Japan
While 2020 will never be regarded as a wonderful year for any company associated with travel, the future has never looked so bright for Sunflower Ferry as it does today. By 2022, new ships will be added to the fleet replacing the older models that service the Osaka – Beppu route. Together with the latest models that have recently been put in service on the other routes, Sunflower Ferry will be a luxurious state-of-the-art alternative to domestic travel in Japan. The fleet will also run on natural gas, making a smaller footprint on the environment and supporting their goals for sustainable travel.
Why This Japan Cruise Is The Best Way To Get To Kyushu
You have many choices when it comes to traveling in Japan: train, air, bus, and sea. Sunflower Ferry understands this, and they realize that ferry won't always be chosen as the best method of travel between the Kansai region and Kyushu. However, there are some compelling reasons for people to consider ferry travel, so if any of these circumstances apply to you, consider it as a possibility.
Traveling in a Large Group
If you are on a trip to Japan with extended family, the ferry enables you to travel together and stay in the same rooms. This is particularly true if you have elderly family members traveling with you who prefer a slower travel pace. Sunflower Ferry is looking into the future of domestic travel in Japan and seeing that extended families that include three generations will be traveling together more frequently, but that doesn't mean international travelers cannot reap the benefits of these changes. Future ships may even include adjacent rooms that can be connected as a large suite for these types of family units.
Wanting Direct Access to Eastern Kyushu
Yes, the Shinkansen bullet train lines connect to Kyushu, but mainly along the western side of the island, including Fukuoka, Kumamoto, and western Kagoshima. The ferry will take you directly to the onsen resort city of Beppu or Oita city in Oita, which would typically need to be reached by rental car, bus, or train transfer from the Shinkansen line. The ferry could save you time and money if you intend to stay around that area of Kyushu.
Making Unique Memories of Japan
A Japan cruise is still a rare experience for most foreign tourists and one that can create a special lasting memory of your trip. This is especially true if you stand out on the open-air deck while passing beneath one of the three bridges on the way to your destination or waking up early to watch the sunrise over the calm ocean waters. There is something romantic with being on the sea, feeling the salty breeze in your face, and watching your destination grow slowly on the horizon as you approach.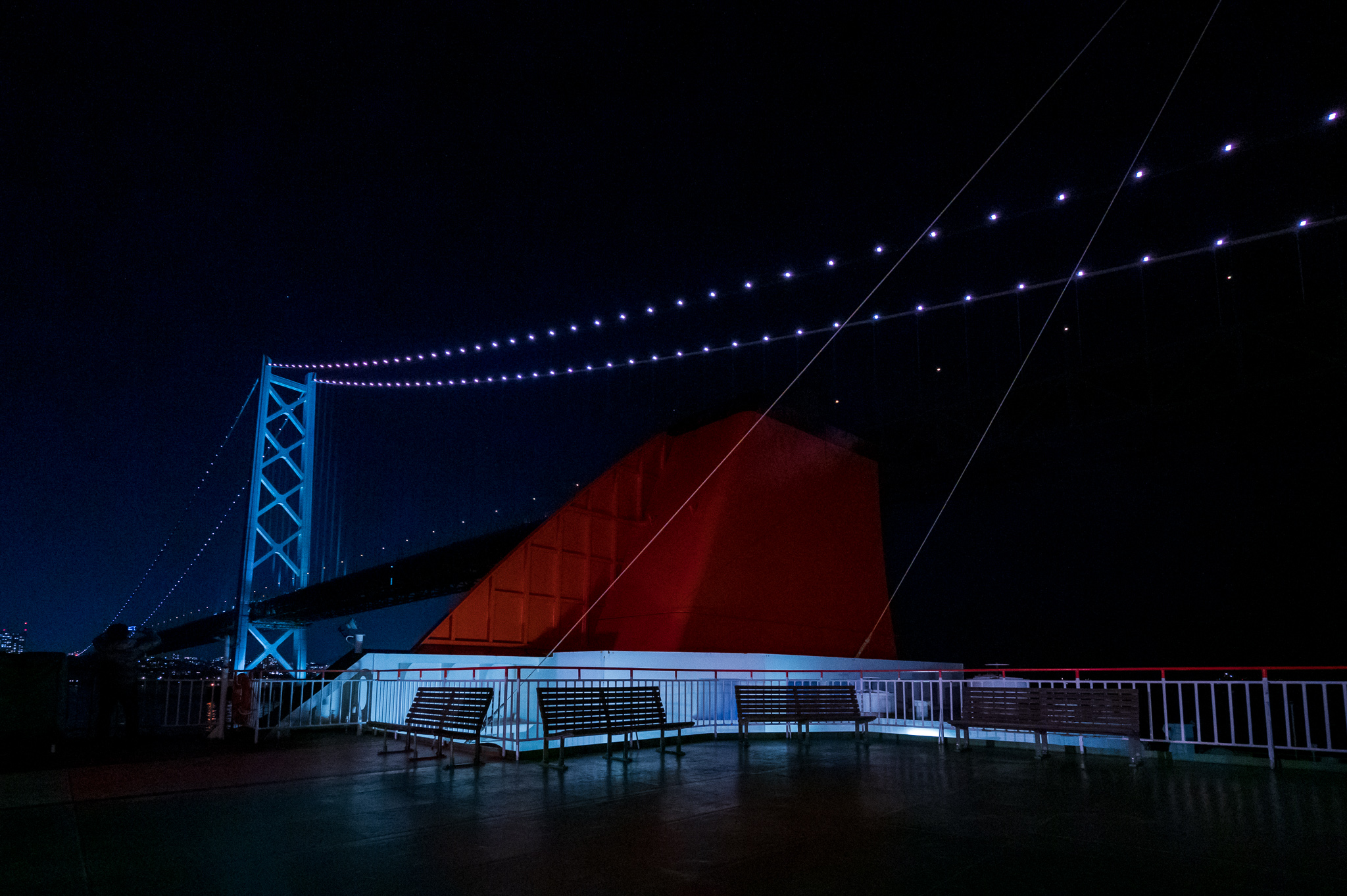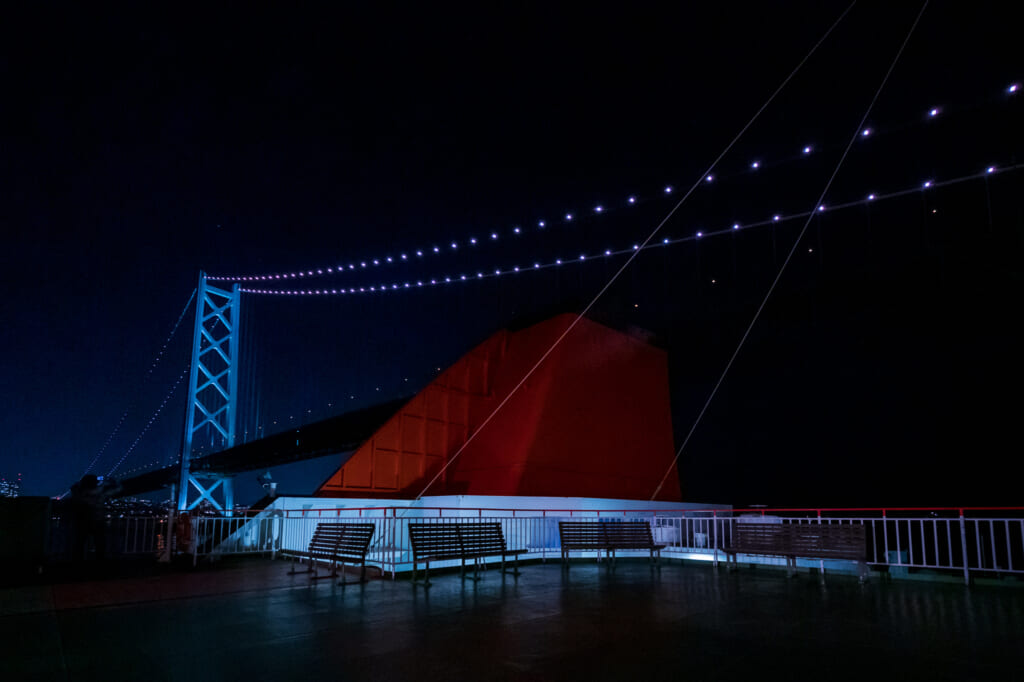 Access to the Sunflower Ferry
For the itinerary described in this article, access the Sunflower Ferry at Osaka Port, Terminal 1. From either Suminoe Koen Station on the Yotsubashi Subway line or Cosmos Square Station on the Chuo Subway line, take the Newtram to Trade Center Station and walk 5 minutes to the terminal. Reservations can be made in advance on the Sunflower Ferry Website. For the return trip, the ferry leaves from Beppu Kanko-ko, about a 10-minute taxi ride from Beppu Station.
More About Exploring Kyoto and Oita
To learn more about rural Kyoto and Oita prefectures, please continue to read the other articles in our series.
This article is sponsored by Kinki Transportation Bureau, Kyoto Prefecture and Oita Prefecture.