Sponsored by Fukushima City Tourism and Convention Association
Japan is constantly reminding me why its gardens are world famous, and Jorakuen Park (浄楽園) in Fukushima prefecture is no exception. Fukushima is one of the six prefectures of Tohoku  – a region which is renowned for its mountain scenery, onsen and kokeshi. Thanks to its setting, Jorakuen is blessed with a panoramic backdrop of mountains that perfectly suit the look and feel of this blissful  garden.
About Jorakuen
Gardens have existed in one form or another for centuries, and the content and style of Japanese gardens has evolved throughout the ages. As Buddhism and Chinese culture spread throughout Japan over the 6th century, the garden styles also began to transform, incorporating ponds and streams as focal points. Jorakuen is a 'pond stroll' garden, also known in Japanese as 'chisen kaiyushiki'. So, as you might expect, this garden is best enjoyed with a lazy walk to marvel at the wonder of nature!
Taking over 10 years to complete, Jorakuen was designed by one of Japan's top landscape gardeners – who also directed the famous Kinkaku-ji temple (golden pavilion) in Kyoto. With its stunning pine trees, lilly-pads and hydrangea, this Japanese garden proudly occupies its 25,000 m² home.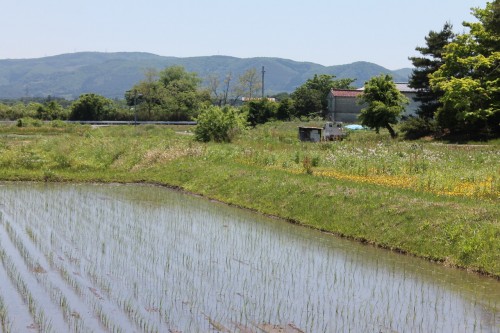 Undisputedly,  the garden is breathtaking. But even the area around Jorakuen is spectacular! The park sits between a fork in the Su River, and is surrounded by seemingly perfectly-irrigated rice fields.
The Flora of Jorakuen
Although Jorakuen is closed during winter, you can still enjoy the uniqueness that the warmer seasons bring. I visited Jorakuen during May so I was blessed with a blazing sun, moderate humidity and a sea of green. Spring showcases Japan's infamous sakura (cherry blossom) along with rhododendron and ezo azalea. Whereas autumn boasts its spectacular koyo (leaf colour changing) display.
How Does Jorakuen Look and Feel?
Jorakuen is the perfect place to relax, breathe, and just enjoy being. There were seven other people at the park when I arrived, but after 30 minutes of meandering I was the only guest left. The air felt clear. The crickets chirped in the undergrowth. The frogs croaked beside the pond. Quite honestly, it felt like heaven on earth. In all of my time in Japan, I had never enjoyed such a vast and beautiful garden by myself!
As you explore the garden, rows of pine trees accompany you along the gravelled pathways. If you follow their lead, you can enjoy the pond's splendour from every angle within 360°.
Near the entrance to the park, ducks happily sprawled themselves over and around the footpath – suggesting that they had been undisturbed for quite some time!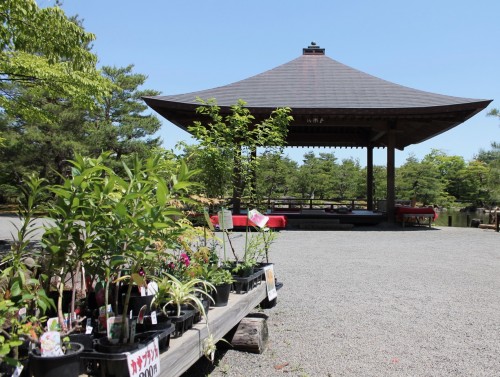 From around 300 yen you can buy your own piece of Jorakuen in the form of a potted plant or flower. I almost purchased one myself before remembering my dubious track record with house plants!
The park also features a teahouse, where you can refresh and refuel. You can buy a pot of coffee for 300 yen, eat enticing-looking soba for 650 yen, or chow-down on oden for 500 yen. If  you're not feeling hungry, then at least be sure to have the green tea which is included in the price of your entrance ticket!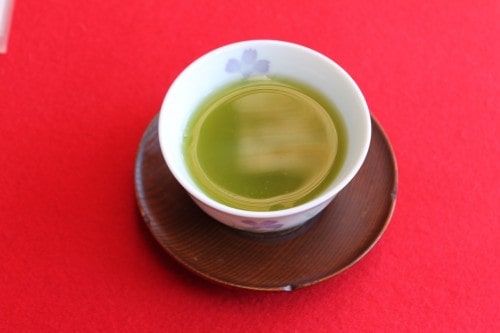 I was fortunate enough to stumble upon the teahouse and meet three Fukushima locals as well as the charming teahouse host. After a warming exchange with the locals in a mixture of Japanese and English, the host was kind enough to explain how Jorakuen adapts to the different seasons. In fact, both the staff at the teahouse, and the entrance desk, were exceptionally welcoming!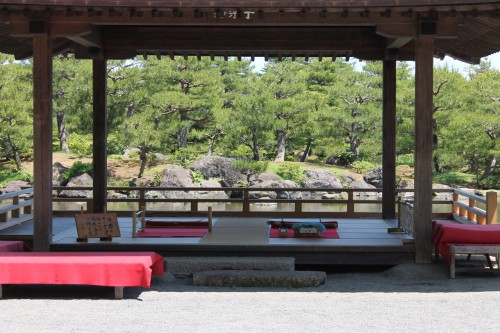 Following my heart-warming stop at the tea house, I continued to explore the garden. At times I found myself half basking in the sunshine, and half contemplating the meaning of life. This garden felt so serene – it was unspoiled, tranquil and stunning all at the same time. It's peacefulness is unrivalled by any other garden I've encountered in Japan!
Access
Bus (Option 1): From JR Fukushima Station West Exit, take the bus bound for Tsuchifune (土湯温泉). Disembark at Haranomachi (原の町). From there, walk for 10 minutes until you reach the park. Bus duration – approx. 18 mins. Cost – 470 yen.
Bus (Option 2): From JR Fukushima Station West Exit, take the bus bound for Kamiubado (上姥堂) or Takayu Onsen (高湯温泉). Disembark at Nakayachi (中谷地). From there, walk for 15 minutes until you reach the park. Bus duration approx. 17 mins. Cost – 470 yen.
Train: Around 9km/20 minutes from JR Fukushima Station via Route 5.
To reach Fukushima from Tokyo, take the Shinkansen Yamabiko from JR Tokyo Station. Departures are from platforms 20-22. Duration – approx. 90 minutes. Cost – unreserved seat 8450 yen one-way, reserved seat 8950 yen one-way
For more information about Jorakuen park visit the website here.
| | |
| --- | --- |
| Name | Jorakuen Park |
| Category | Japanese Garden |
| Address | Jorakuen, Uruihara-30 Sakuramoto, Fukushima-shi, Fukushima-ken 960-2151, Japan |
| Access | [map]Jorakuen, Uruihara-30 Sakuramoto, Fukushima-shi, Fukushima-ken 960-2151, Japan[/map] |
| Opening Hours | 20th March - 30th November: 09:00-17:00 |
| Price Range | Adults 500 yen; Group Discount (20+ people) 450 yen; Children 250 yen; Disabled 250 yen |
| Payment options | Cash |