I enjoy a sport even more than sakura hunting: It's Momiji autumn leaves hunting. At the beginning of November, the foliage of Japanese maple trees turns red before falling during winter. For this reason, Japanese people love to go to Kyoto (京都) in autumn to admire its thousands of red and orange Momiji. I join them with pleasure every year, looking for the area's hidden treasures with my camera.
After living in Kyoto for more than two years, I had the chance to discover the most popular Momiji season destinations. Next, I wanted to seek out the lesser-known gems hidden within the region where I could take the time to admire the fall colors. As I don't have a driver's license, I was looking for places accessible by public transportation, which is not so easy to find when looking in the remote region of the prefecture. Then, one of my Japanese friends told me about the small village of Ohara, only one hour from the center of Kyoto by bus. Let me tell you more about this hidden gem and discover this mythical village in the mountains of Kyoto!
What is Ohara Famous for?
This village named Ohara (大原), which means "large field," is hidden in the heart of the mountains at the base of Mount Hiei (比叡山), not far from its little sister Yase (八瀬). It is located within Kyoto, in Sakyo-ku (左京区) district, bordering the Takano River. This small rural village, often forgotten by tourists, is the ideal destination for an excursion to the heart of nature: bamboo forest, rice fields, and cedar forest stretching as far as the eye can see. No doubt, we are indeed in the Japanese countryside, far from the crowd of Shijo-Kawaramachi (四条河原町), the center of Kyoto, and its busy districts.
This little corner of paradise is full of history, mainly because it shelters several temples from the Tendai branch, enough to start a Buddhist pilgrimage during your excursion. And there is more! It is an agricultural village once famous for its firewood production. When there was neither electricity nor gas, the women of Ohara used to walk to Kyoto carrying bundles of branches or firewood on their heads to sell them. They were then known as Oharame (大原女), literally "Ohara women." Every year, the Oharame Festival honors this tradition during spring and fall, where participants parade through the city in historical costumes.
The Best Autumn Leaves Viewing Spots to See in Ohara
The countryside of Kyoto is rich in places to discover and adventures to experience. Unfortunately, when I went to Ohara, I spent the day there before coming back to Kyoto at night, so I did not have the chance to stay there. However, I had the opportunity to discover the best spots, which I would like to share with you.
Sanzen-in Temple, home of the protective jizo statues on their moss mats
Come during fall, and you will be taken into a world of warm colors as you enter the doors of Sanzen-in Temple. In mid-November, you will see hundreds of red and orange Momiji waiting for days to cool down before dropping their leaves.
「京都 大原 三千院
恋に疲れた 女がひとり」

–『女ひとり』、大沢桃子。
"At Sanzen-in in Ohara, Kyoto
There is a young woman tired of love "

– Onna Hitori (a young woman), Momoko Osawa.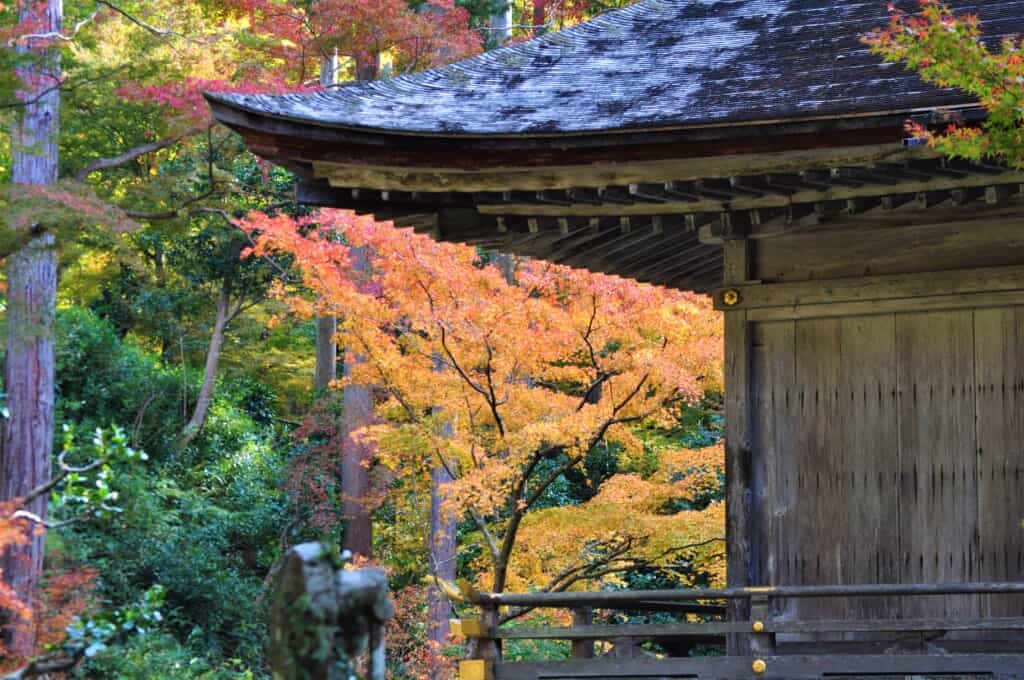 Sanzen-in Temple (三千院) is a Buddhist temple founded by the monk Saicho, who introduced Tendai Buddhism to Japan in 804. It is a so-called Monzeki temple, one of the few temples whose main priests were once members of the imperial family. In the Ojo Gokuraku-in Hall (往生極楽院), built-in 985, hides a precious treasure: a statue of Amida Buddha, along with two bodhisattvas, Kannon and Seishi. Together, they keep this place of great importance and are the most precious treasure of Ohara village.
Once you pass through the Goten-mon Gate (御殿門), you will be invited to take off your shoes to walk on the tatami mats through the temple hallways before arriving at the Shuheki-en Garden (聚碧園) and its moss paradise. It turns out that Sanzen-in Temple is famous for its moss gardens, a true invitation to contemplation and meditation. You will be able to sit on the tatami mats to enjoy this excellent green show and meditate quietly. You can even enjoy tea for an extra charge. Then you just have to close your eyes, listen to the surrounding calm, and be surprised to think that you could stay here forever.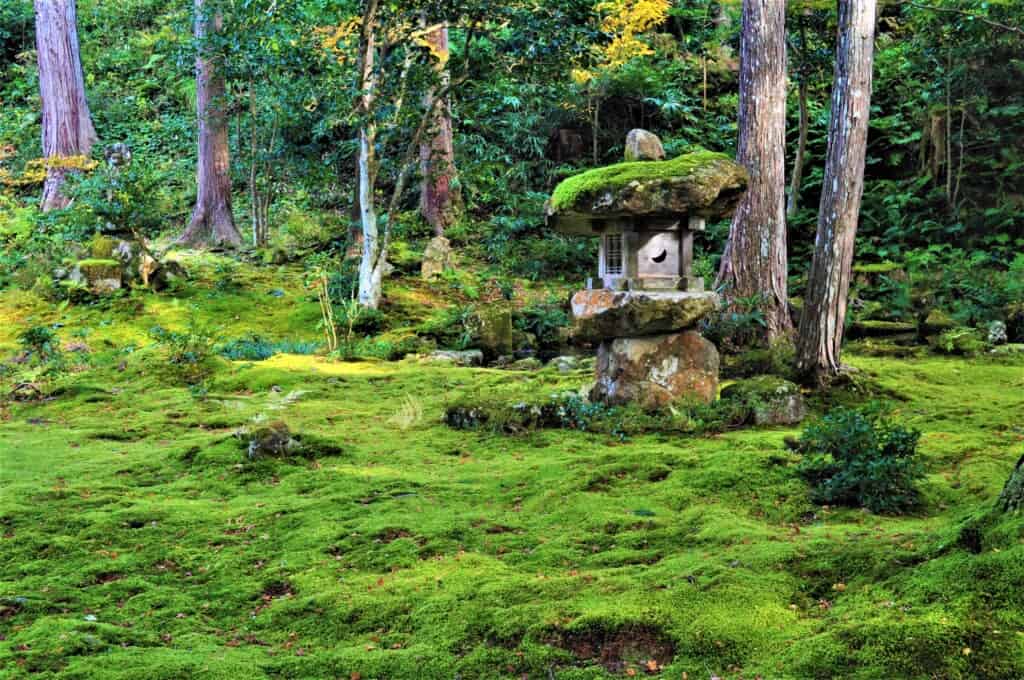 After your meditation, you can put on your shoes to explore the garden in detail: a deep green paradise like in a Studio Ghibli movie. A tranquil atmosphere and the smell of plants permeate the garden, and you may be tempted to look up to the sky to admire the different colors of the Momiji.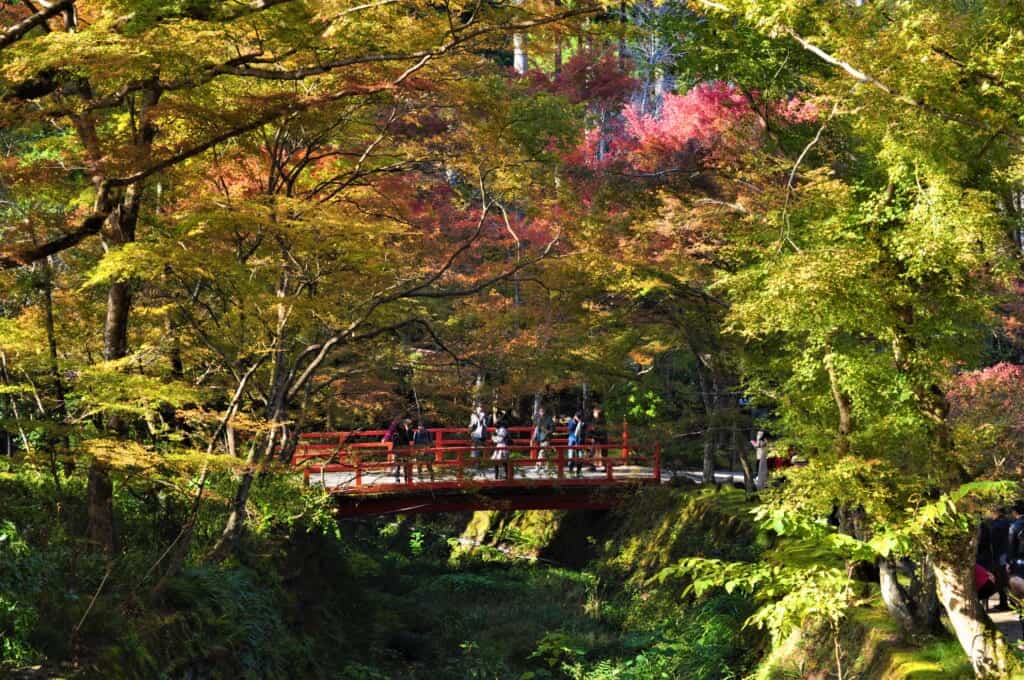 But don't make the same mistake I did! During my visit, I was so hypnotized by the Momiji that I forgot to look around. More specifically, look downwards to your feet, where you will see many small jizo statues.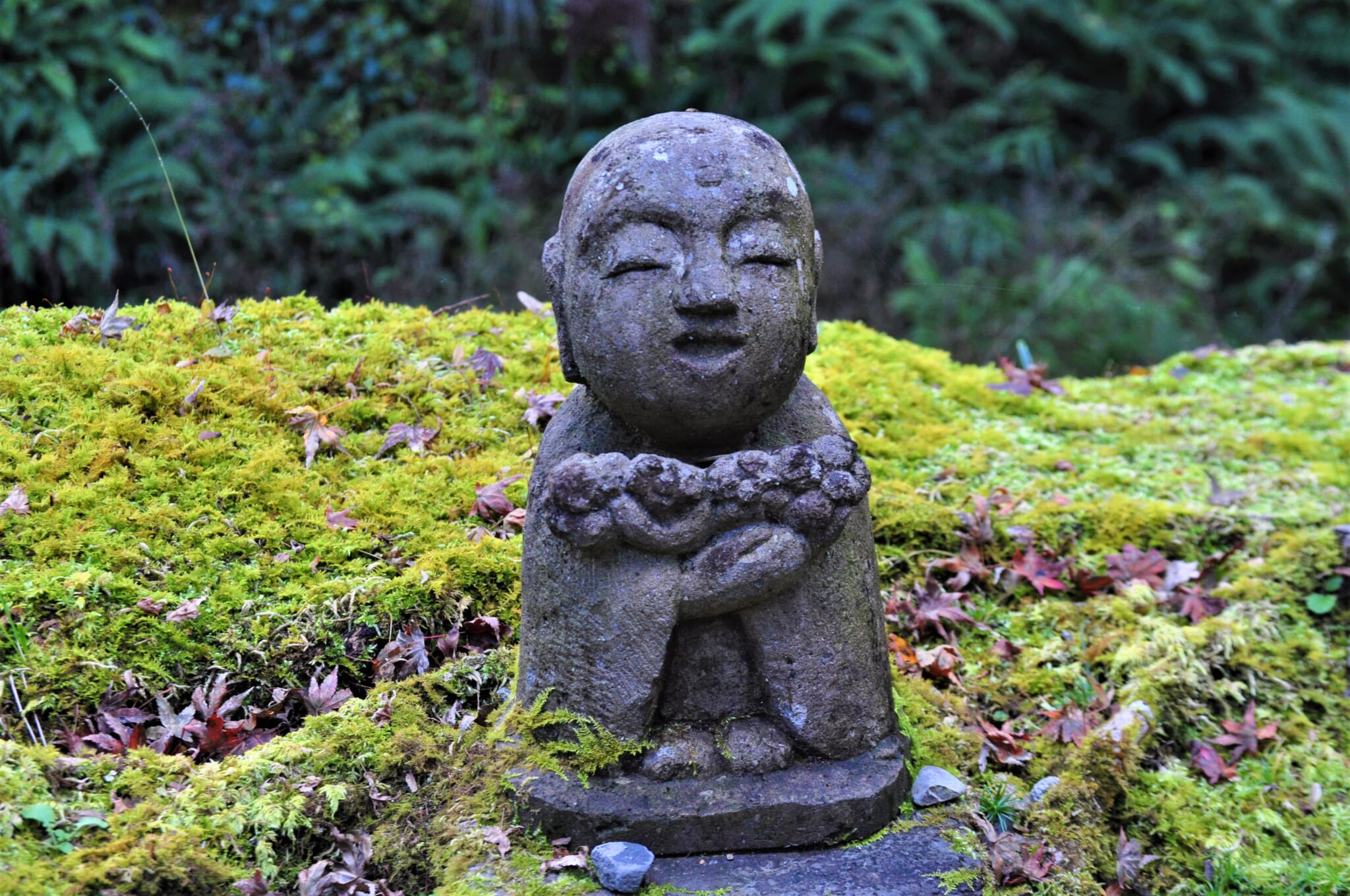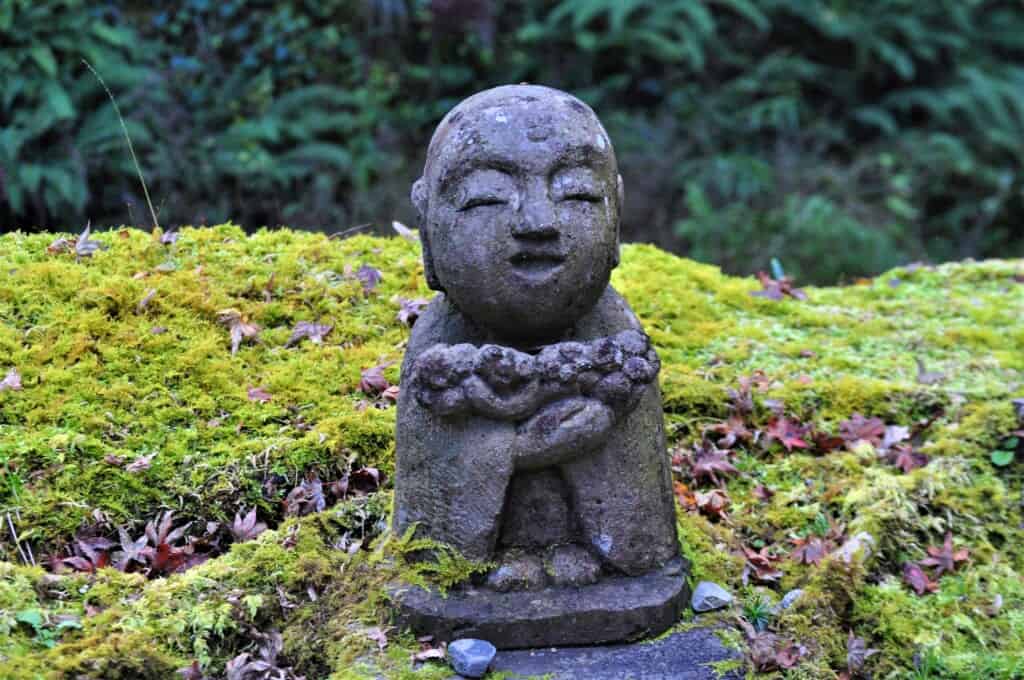 These little guys are actually bodhisattvas who protect children and travelers, and many of them are hidden under the moss, blending perfectly with the landscape. When I realized this, I had to turn back to ensure I didn't miss any, so keep your eyes open!
Do you know the star of Ohara jizo? On social networks, when we talk about Ohara village, it is without any doubt this picture that wins by its popularity: two little jizo cuddling each other and smiling under a moss blanket. This photogenic view is the pride of the Sanzen-in temple, but be careful not to miss them as I did the first time. These two statues are tiny and blend in perfectly, making finding them even more fun.
Sanzen-in is one of the most beautiful religious monuments in Ohara village. Nature is everywhere in Ohara in all seasons, but it is definitely in autumn when you can admire this delightful blend of orange-red and emerald green. Ohara is located in the North, so Momiji usually starts to turn red in mid-November, about one week earlier than in the center of Kyoto. This magical place is even well known in popular culture as it has been mentioned in several pieces of enka, the traditional Japanese song. So, when you visit, lose yourself in this ocean of nature under the watchful eye of the protective jizo!
Hosen-in temple, its autumn leaves garden, and its multi-centenary pine tree
"Another temple?" you may say. Ohara is a small traditional Japanese village, so temples were, and still are, an integral part of daily life (a bit like churches in the USA). Ohara has many temples, each with its own characteristic.
To reach the entrance of the Hosen-in temple, you will have to cross a small alley where thousands of Momiji can be seen. If you look up to the sky, you will find yourself under a tunnel of Japanese maple leaves. This part is just in front of the temple entrance and is therefore accessible for free, which probably explains why so many people were there during our visit.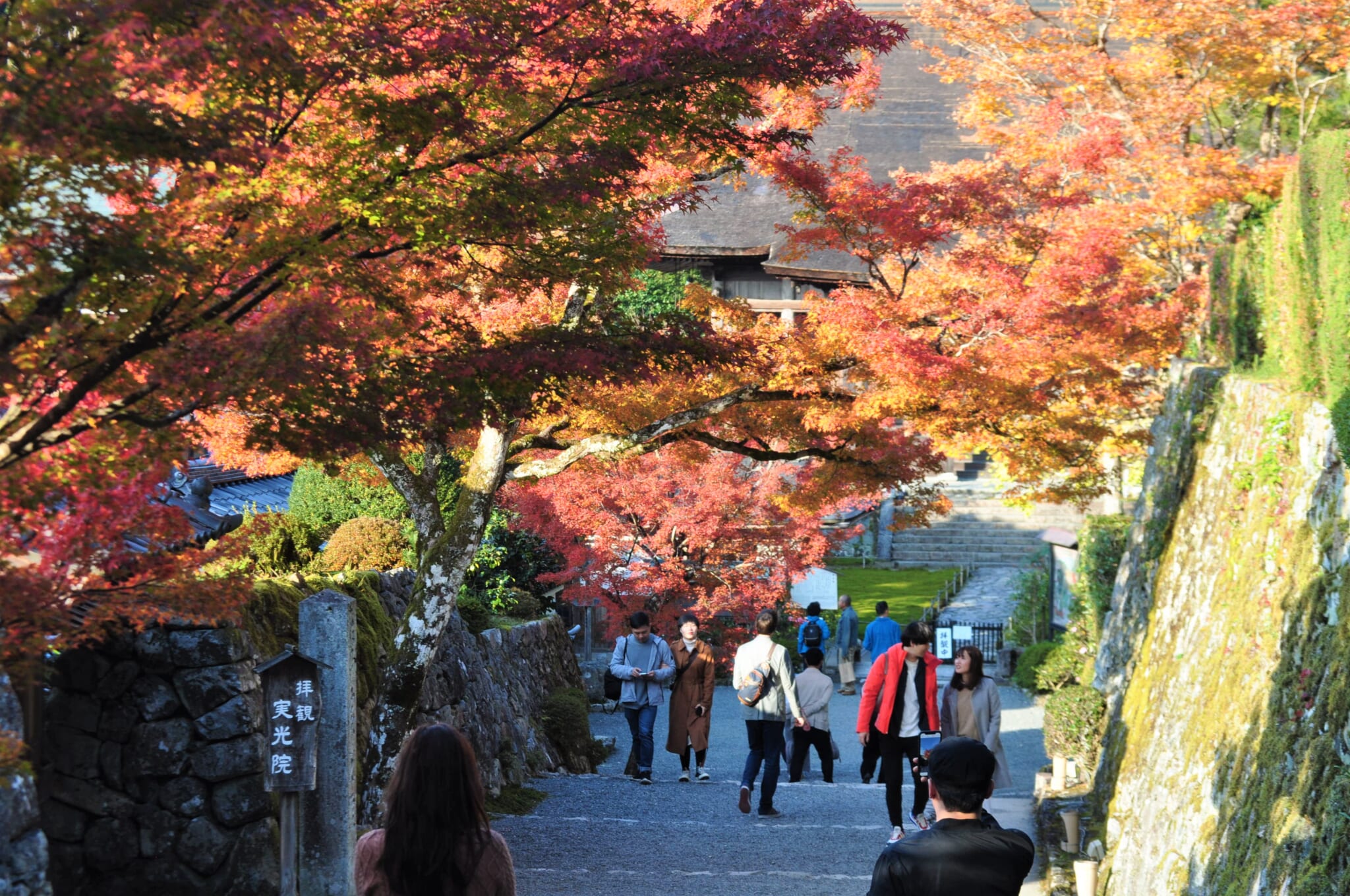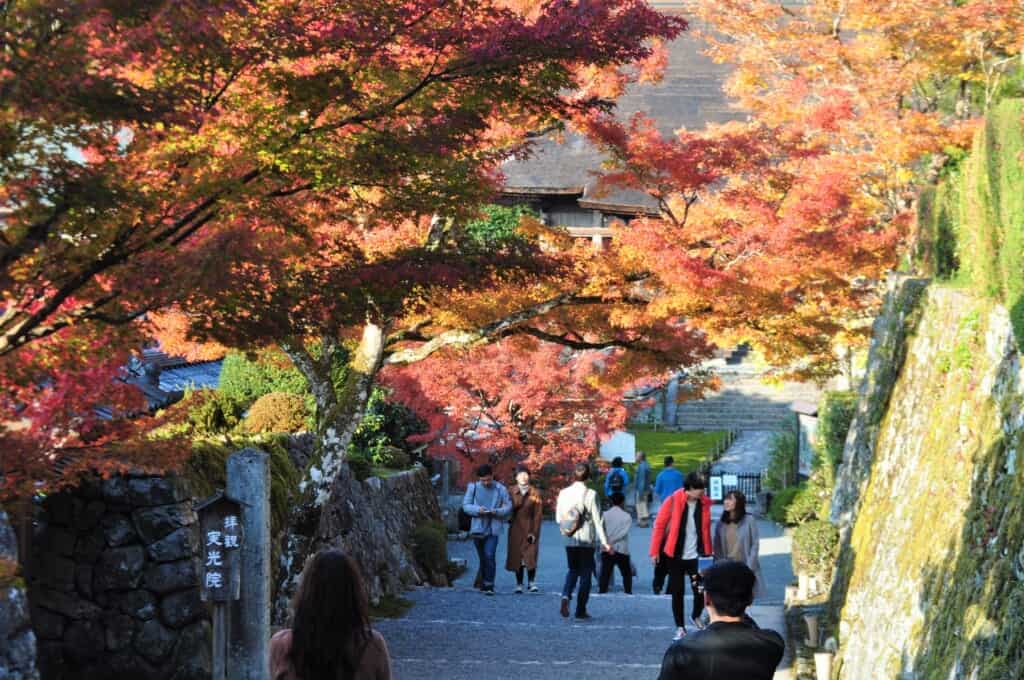 I have always been a curious person, so we decided to pay the 800 yen temple fee to go and see what was hidden inside. (Please note that some temples close early in Japan, and the last bus to Kyoto was around 5 PM).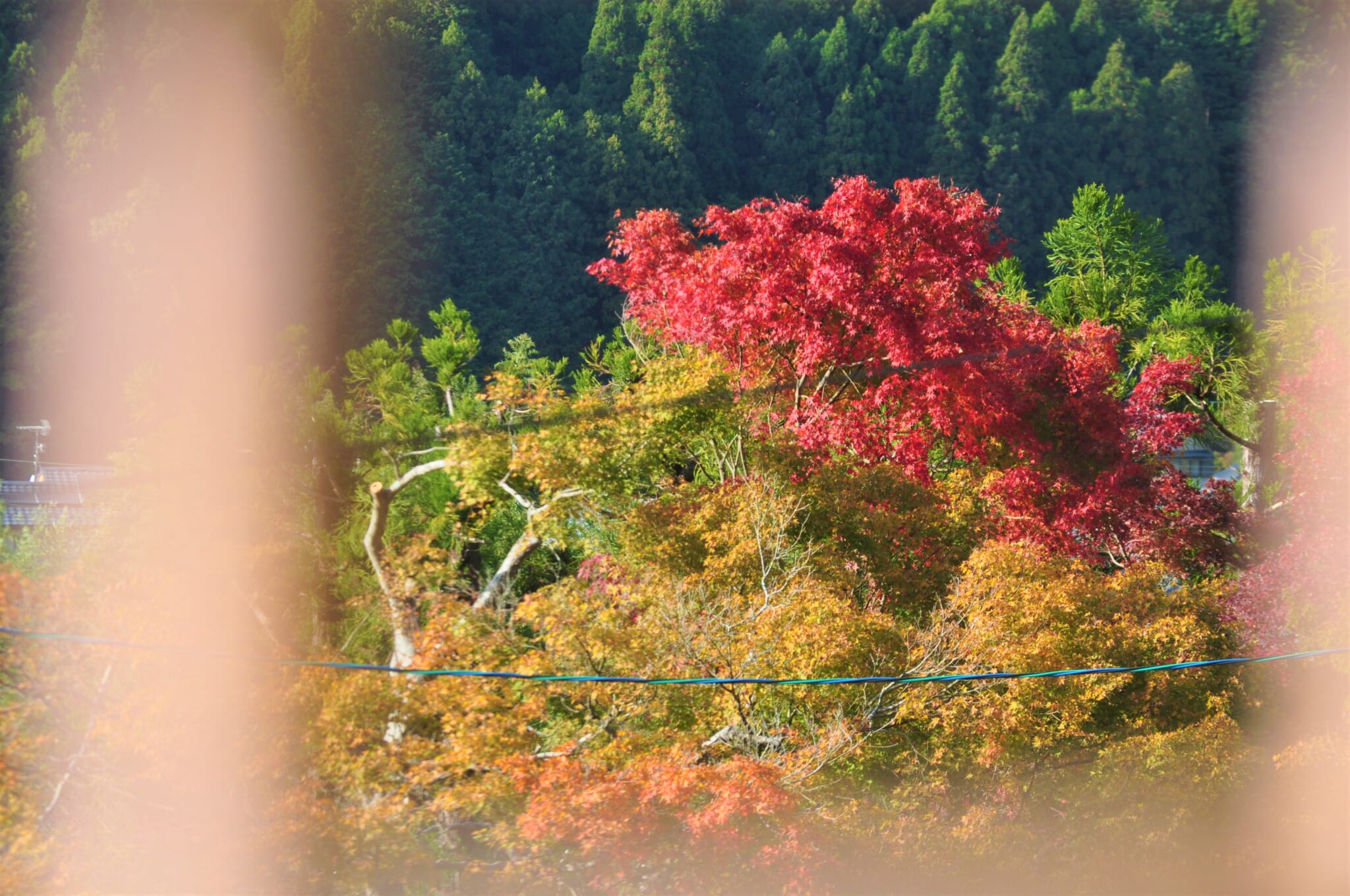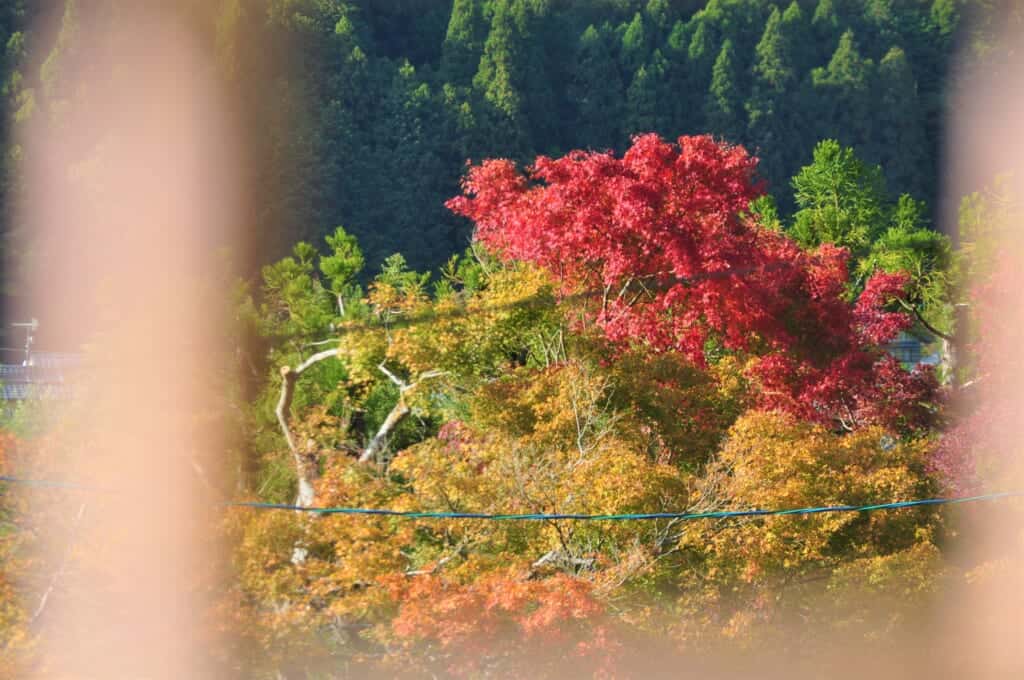 Like its neighbors, Hosen-in Temple (宝泉院) is part of the Tendai sect of Japanese Buddhism. Founded in the early 11th century to serve as housing for monks from nearby temples, it holds a dark history. Indeed, part of its ceiling is made of wooden boards stained with the blood of warriors during a storming of the Fushimi castle in 1600. Facing defeat would have been so unbearable for the disgraced warriors that they preferred suicide to appease their spirit. The boards were then recovered and incorporated into the temple ceiling, where these grieving souls now rest.
On a less dramatic side, this place is also known for the beauty of its garden. We start the visit by discovering the Horaku-en garden (宝楽園), with noticeable charm: red Momiji, moss paths, traditional Japanese dry garden, all in a spiritual calm.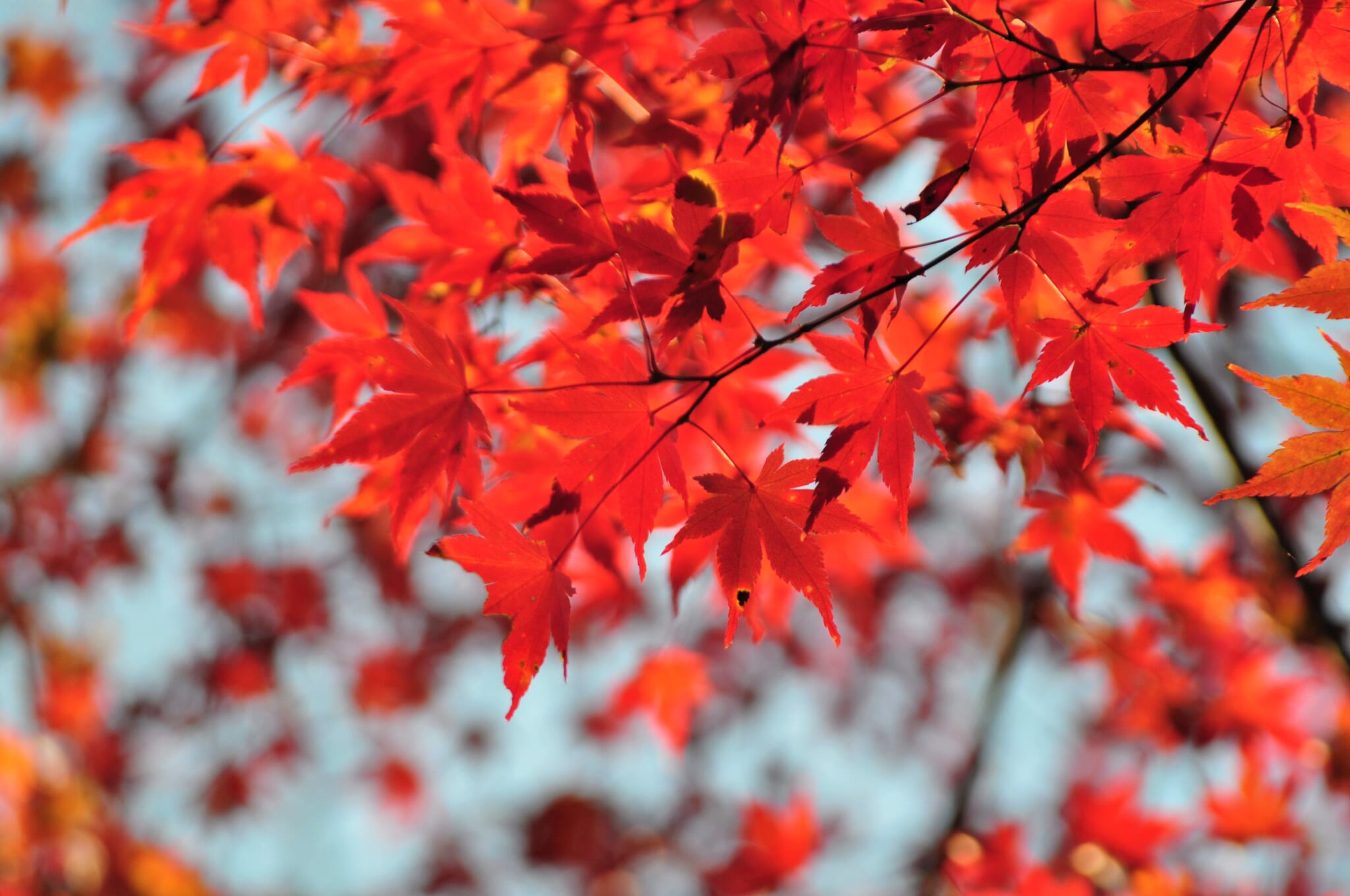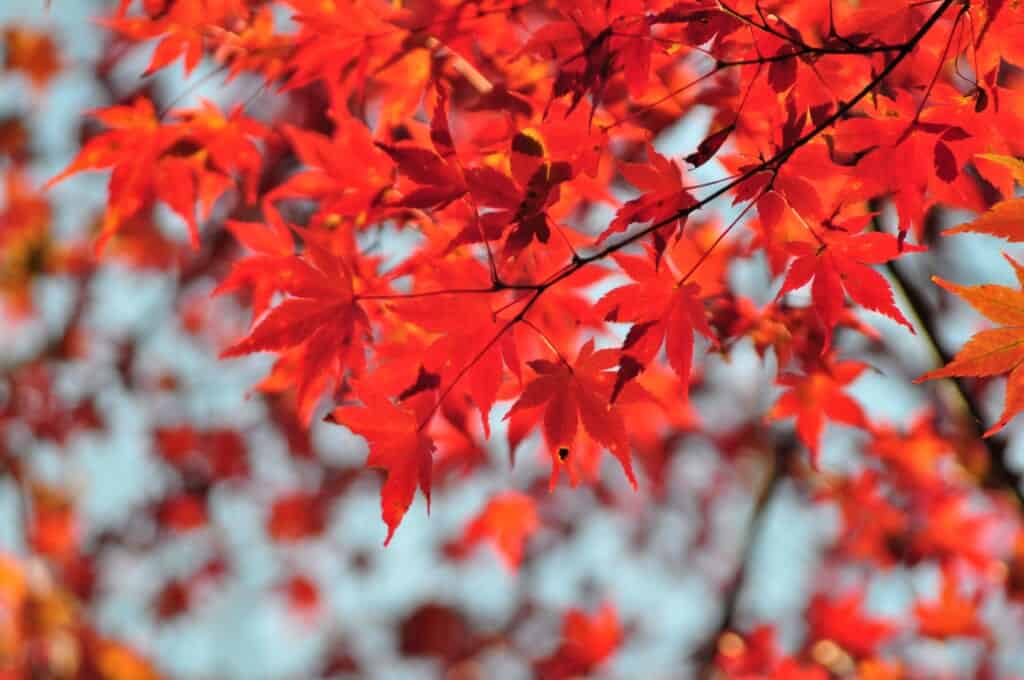 Then, you will be invited once again to take off your shoes to discover the most impressive aspect of the temple: from the main hall lined with tatami mats, you can enjoy a breathtaking view of the garden and in particular, of the mythical tree that stands there, a pine tree that is over 700 years old! You can admire its imposing structure in an intimate setting while enjoying the matcha tea and the small Japanese sweets offered there (this explains why the entrance fee was more expensive than the neighboring temples).
While sipping your bitter tea, let yourself be lulled by the rustling of the leaves in the wind, and immerse yourself in the contemplation of this magical scene. At that moment, in front of the ancient tree, which saw hundreds of battles, wars, and seasons, I thought that humans were very small in comparison. A real invitation to meditation!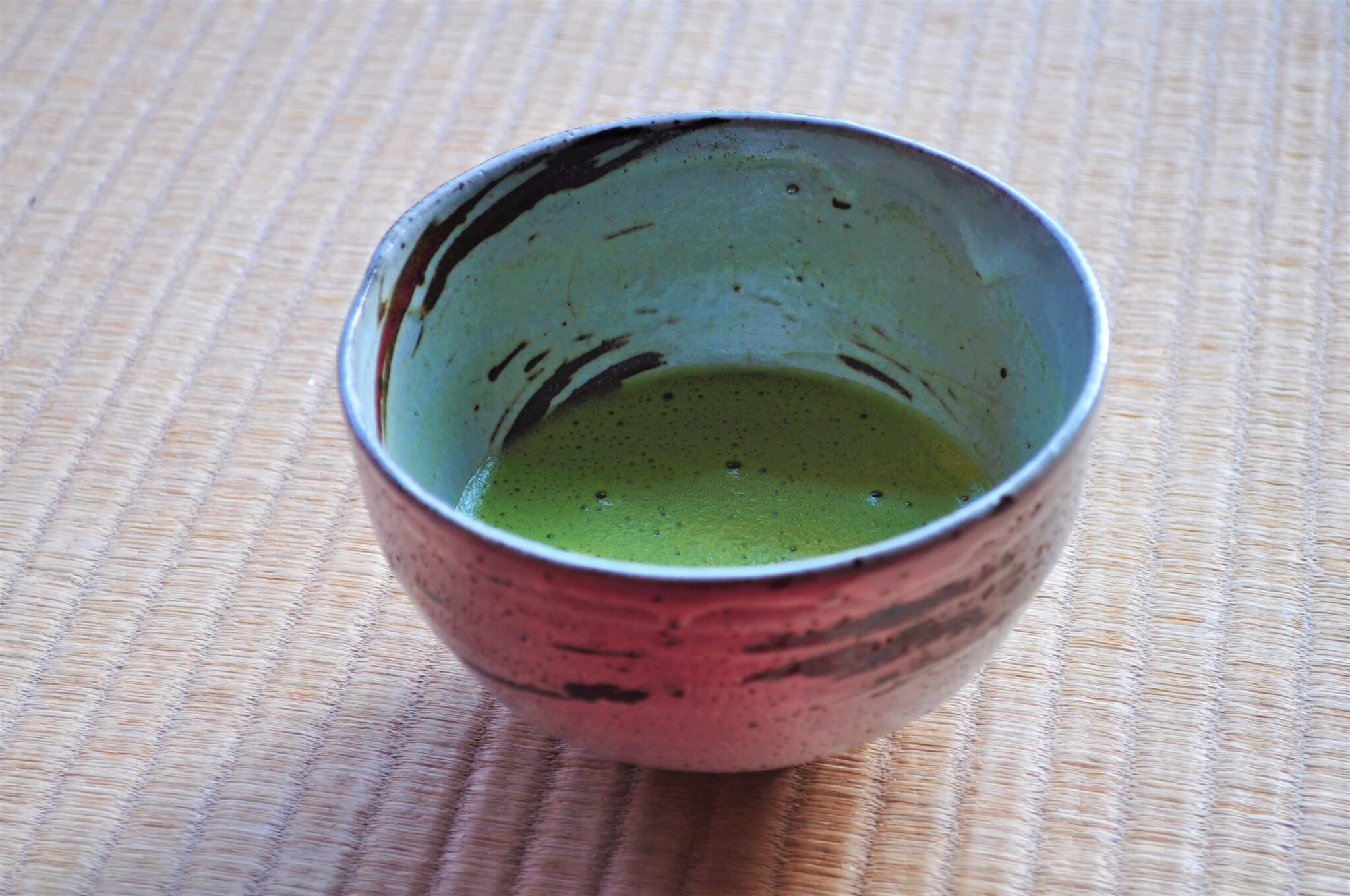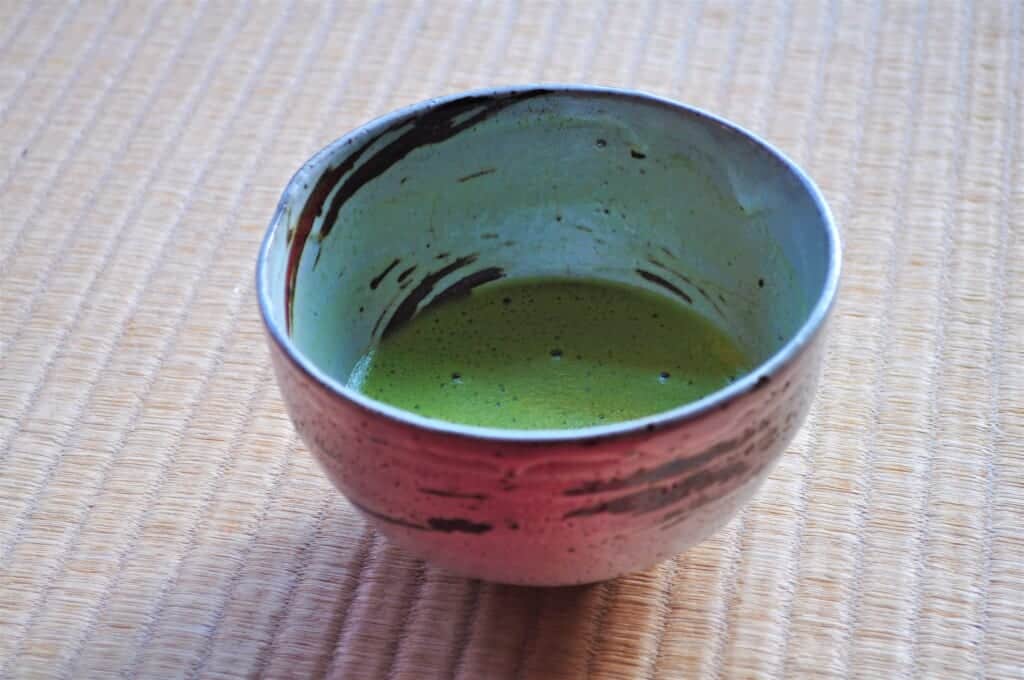 During autumn and spring, the Hosen-in temple organizes light-up tours allowing to visit the temple during the night under the light of the projectors. I would have liked to stay until the night, but as I did not plan to sleep there, I had to catch the last bus to Kyoto around 5 PM. So I didn't have the chance to go there, but I would want to do it on my next visit. This time, I would be tempted by accommodation in the onsen area in Ohara to enjoy the time more than save time.
Although it doesn't look like much, this temple turned out to be my favorite part of the trip. After a day of climbing, taking pictures, dreaming, and walking, I greatly appreciated this little moment of serenity where you can just sit on tatami mats and caress with your fingertips the moss of the garden while imagining all that this multi-centennial tree has seen during its life. Don't let the entrance fee hold you back; the matcha tea was delicious and worth a few extra yen. Definitely worth a visit!
What is the Local Cuisine of Ohara?
With its ideal location in the mountains of Kyoto, the small village of Ohara lives today mainly from tourism and agriculture. Therefore, it has an authentic culture and culinary richness that most gourmets will want to taste.
Shiso, Ohara's specialty
For foodies, Ohara is famous for its tsukemono, vegetable pickles that Japanese people love to eat. They often eat it with rice, and many variations exist in Japan depending on the vegetables and the regions. As I am not usually a big fan of tsukemono, I didn't know much about it until now. But it was while talking with a little Japanese granny during my visit, that I learned that the star of Ohara's tsukemono was shiso, which is produced in the surrounding mountains.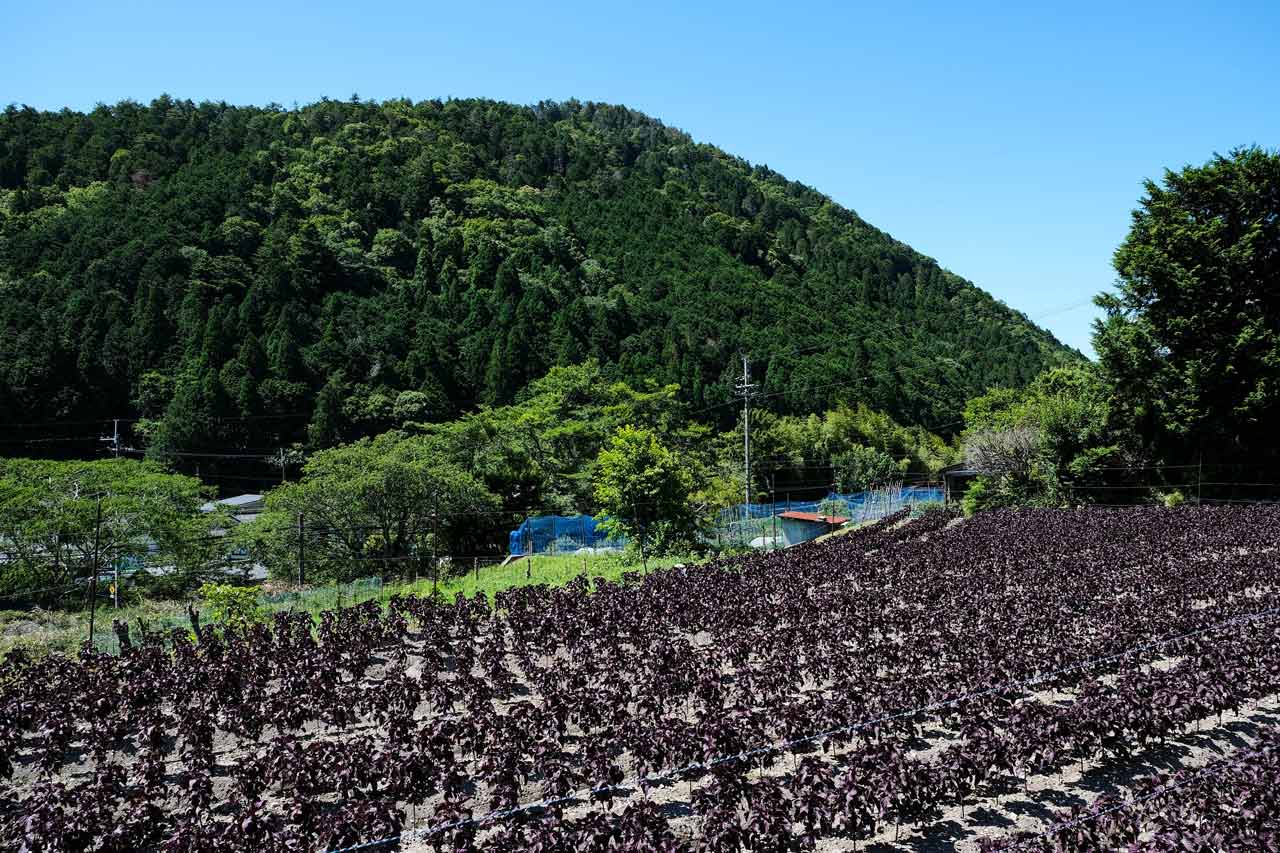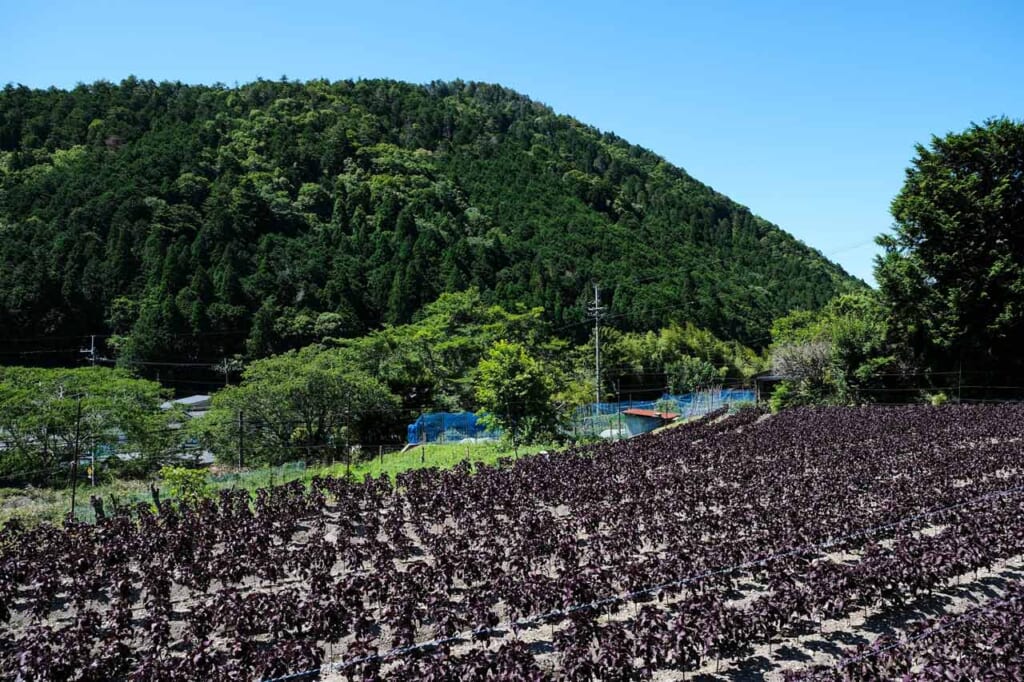 As I said, I am not usually a big fan of tsukemono, and usually, it's not the first place I go when I am shopping. But being an absolute fan of ice cream, I quickly changed my mind when I saw a beautiful shiso ice cream offered for only 300 yen. As you can imagine, we went to Ohara in autumn in the middle of November, and as it was already cool, the ice cream didn't seem suitable for this season. But it was without any regrets, I enjoyed this pink, slightly sweetened ice cream with such a particular taste. To the eye, it looks like a blueberry ice cream, but it has a slightly acidic and floral flavor. I had never tasted this flavor before, and I recommend that gourmets try it without hesitation. It is far from the traditional vanilla chocolate.
Best Places to Eat in Ohara
The same question every traveler asks: "Will I be able to find a good restaurant there?" When I travel, I try to look at the tourist spots in advance to get organized. But for the meals, I decide when the time comes. Take the time to wander through the shop windows and compare prices and menus. For me, this is what traveling is all about!
Seasonal Cuisine at Shino Shoumon
I chose Shino Shoumon (志野松門), a restaurant with an old building built more than 150 years ago, that offers vegan-friendly dishes which is sourced directly from Ohara farmers. Each day, the varieties of vegetables vary and are only offered in limited numbers, so it supports local production.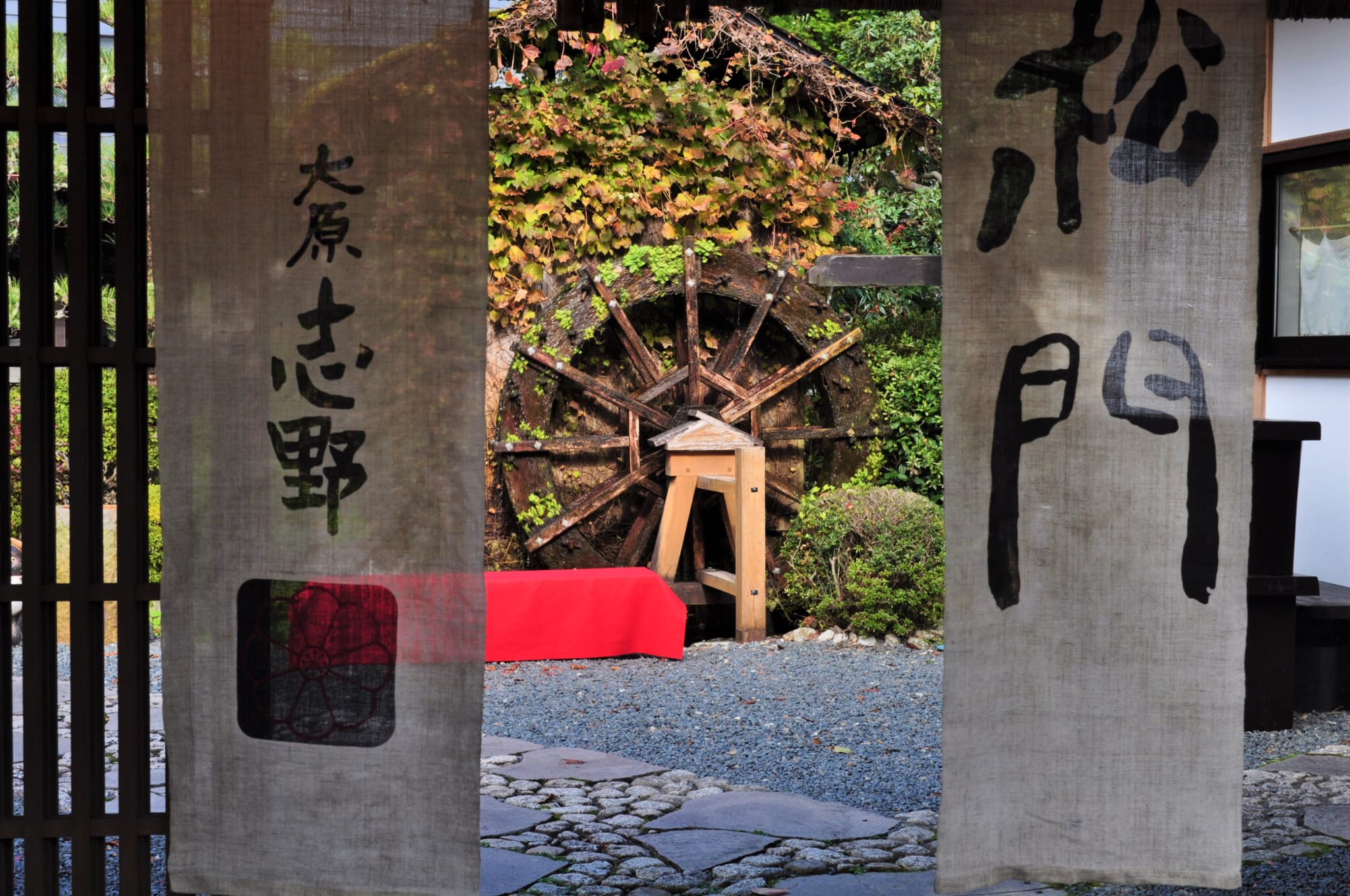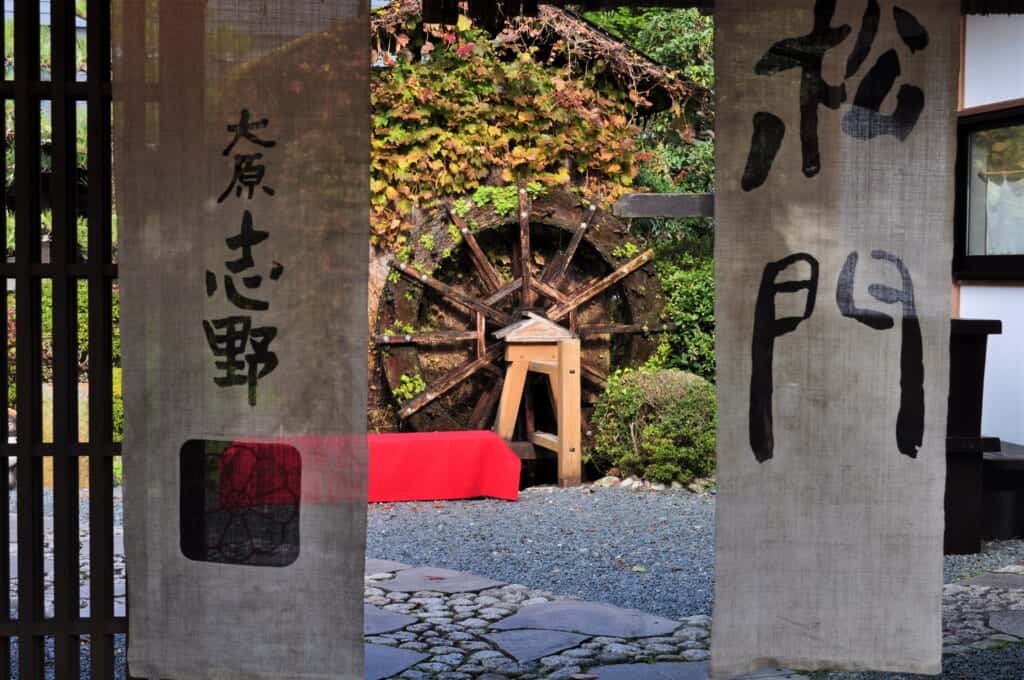 Being a big fan of unagi (Japanese style grilled eel), my husband chose the unagi-don (grilled eel in a bowl of rice). As for me, I wanted to try a vegan dish: the assortment of seasonal vegetables and tofu. I tasted several kinds of local tsukemono, deliciously marinated, fresh, and light (even if I said that I was not a fan of tsukemono, remember?). A real delight! And as there is no meat in this dish, it will suit vegans and vegetarians.
To sum up, the region's producers grow delicious local seasonal vegetables in a charming setting with a view of the garden, all with a warm welcome and for a reasonable price. What more could you ask for?
If you are not a fan of eel or vegetables, you will find many other restaurants in Ohara with more classical dishes: soba, udon, and others. But if you are curious and want to support the local small farmers, this is the perfect place after a morning of the visit.
How to Access Ohara
It's possible to get to Ohara using the Bus & Subway Pass suggested by Kyoto city. For a modest of 1,100 yen, you have unlimited travel on buses and subways in Kyoto, as well as to Ohara.
From Kyoto Station (京都駅):

Take the Karasuma line (烏丸線) to the Kokusaikaikan terminus (国際会館駅) (20 minutes, 290 yen). Then take bus 19 to Ohara (大原) (20 minutes, 360 yen).
Or, take bus 17 direct to Ohara (大原) (50 minutes, 560 yen).

From Shijo-Kawaramachi (四条河原町):

Take bus 17 to Ohara (大原) (45 minutes, 530 yen).
Ohara Village in Kyoto is full of hidden treasures less than 20 kilometers from downtown Kyoto. Often unknown to the western public, it offers a lot of activities that nature lovers will appreciate: its historical temples, its culinary land, its traditional gardens, and its magnificent Momiji make it a destination not to be missed during your next visit to Kyoto.