The Beatles cannot have been unheard by many upon this world and, as a British citizen, it is becoming increasingly obvious that I will not be able to escape them whether inside or outside the country. To me, they are an annoying reminder of the songs that were drilled into us at school while preparing for those dodgy end-of-year concerts. But, as if by magic, hearing the familiar tones of 'Yesterday' at the cafe Penny Lane Bakery suddenly turned me into a fan.
At this cafe, the extravagant bar, the familiar softness of the sofas, the wallpaper, and even the perfectly down lit atmosphere reminded me of a high end British pub, but with ridiculously cheap pastries served, of course, with nothing but Beatles music. Taking just one step into Utsunomiya's Penny Lane took me straight back to England in the most magical and, if I am honest, pleasantly unexpected way. I loved it – this cafe really creates a perfectly small slice of Britain at the heart of Japan.

Penny Lane Bakery is one among many Penny Lane properties. Holding various locations throughout Tochigi Prefecture with another in Ibaraki Prefecture, Penny Lane infuses the landscape with its own sense of British style and Beatles memorabilia. The cafe has its roots Tochigi's northern city Nasu. Being the only restaurant-cafe among the three, it offers exclusive breakfast, lunch and dinner menus. Following its roaring success, the franchise branched off to form the Bakery Cafe in Utsunomiya (Tsuruta) and a much smaller bakery in Okamoto which, despite being void of any seating, provides a nice stop-off point if you are close enough for a bite.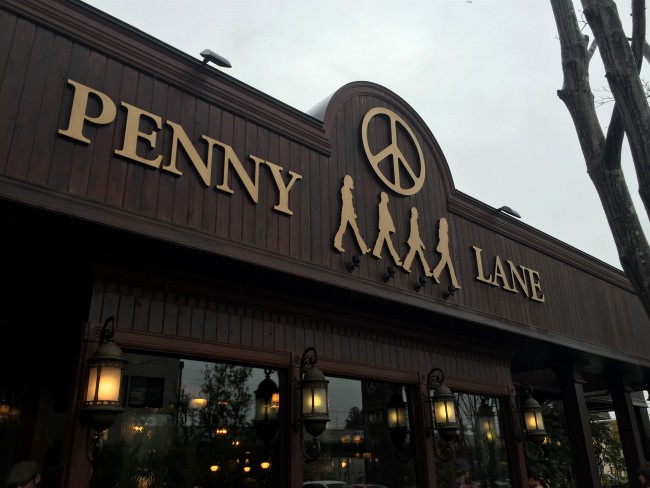 Each cafe holds something special for any hardcore Beatles enthusiast, or indeed anyone interested in British culture. The theme is impressively ingrained into each bakery's every aspect, including the small peace signs decorating the pastries, the classic guitars upon the wall, and of course, the non-stop Beatles soundtrack echoing through the background. The comfortable, dark leather sofas and matching wooden tables, decorated ceiling panels, stained glass doors and floral wallpaper all nostalgically recall a fancy British pub, only without the booze. If you are looking for a small slice of surprisingly authentic Britain, look no further. Each Penny Lane cafe has it all.

You not only get to experience some classic, British pub decor. A large selection of pastries, soups, sandwiches, cakes, muffins and breads is ready for your indulgence. You can even choose from the ever so rare rye or seeded breads that you may find somewhat hard finding inside Japan. One trip is just not enough for the vast selection of shapes, sizes and flavours that this bakery offers. And, with a large muffin costing only ¥240, and a chocolate filled croissant only ¥150, it will not break the bank either. Couple this with your choice from an extensive list of cafe-style beverages, and you have got yourself the perfect pick-me-up.
For me, there is just no day more satisfying than one spent on comfortable sofas, consuming vast quantities of quality coffee and bread, with the opportunity to grab my wicker basket for another round at any time. Like with most eateries in Japan, the ice cold water was on tap and, once we sat down, we were not bothered by anyone. This really is a cafe for relaxing and wiling away the hours. In fact, the only reason you might possibly want to leave is if, like us, you think you have just heard your fourth "Yellow submarine." As we all know, four is far too many submarines for a single day.

If you are so inclined to venture north from Tokyo, I would highly recommend Penny Lane, Utsunomiya Bakery Cafe. For fans of The Beatles, the cafe offers a wide selection of memorabilia available alongside jams and other confectioneries. It truly is an experience that I would not pass up.
[cft format=0]