Sponsored by Tourism Oita
Anyone who is already familiar with some of Japan's onsen (hot spring) culture, will know that there are few better ways to rejuvenate yourself than a long bath at the end of the day. But for the epitome of Japan's revitalisation, have you ever  thought about visiting some of Japan's best onsen? Like the carbonated hot springs of Nagayu Onsen in Oita Prefecture, which are rated one of Japan's 'Top 100 onsen' places? Well, Yukimiso (友喜美荘) is just one example of a beautiful ryokan (Japanese inn) in Nagayu Onsen that allows you to experience these incredible hot springs. In this article, I get a taste of Nagayu Onsen by staying at Yukimiso for one night.
A Warm Welcome to Yukimiso Ryokan
By the time that I arrived at Yukimiso, I was hot, flustered and pretty exhausted. And I was very much looking forward to some onsen time! As I parked my car, my host came outside to greet me and help me with my things. This was a lovely greeting, because despite only being in Kyushu for less than 10 hours I had managed to accumulate a lot of stuff already! At the reception, my host asked me to wait while she prepared the key for the room. She returned with a petite rectangular biwa (plum fruit) dessert and ice cold tea. After gratefully devouring both items she showed me around the facilities and led me to my room.
The Room at Yukimiso Ryokan
My room at Yukimiso was large and well-equipped with everything I needed. From a yukata (to wear when heading to/from the onsen) and toiletries, to tea-making facilities (yes I needed tea!).
Similarly to many other traditional ryokan, the room had three sections. The section at the back of the room behind the second set of shoji (sliding doors) had drink facilities and a seating area for two people. The main area in the middle of the room is also used for the futon (for sleeping) and was the largest of three sections. This section also had zaisu (legless chairs), along with a television, air-conditioning/heating unit, wardrobes, a safe and a few lamps to soften the evening atmosphere. The area at the entrance of the room had a large wardrobe for futons and pillows, which connected to a W.C and a sink. As per traditional ryokans, bathing here takes place in the onsen!
Is Carbonated Water OK for Bathing?
Yes! This hot spring water, which contains carbon dioxide (CO2), is said to boost circulation, as well as softening and improving the appearance of skin. The water can also help to improve digestion – although as with anything, this should be in moderation! One glass a day is enough to get some of the benefits. At Yukimiso Ryokan, the carbonated water is also used for cooking rice, giving it a fluffier texture than normal. Of course though, the main place to enjoy this water is in the hot spring!
Onsen at Yukimiso Ryokan
Yukimiso Ryokan has gender-separated outdoor and indoor onsen which are located at the end of the building, away from the main entrance. On both occasions that I tested these onsen, the outdoor bath proved to be slightly cooler than the indoor one, so if you're more sensitive to the heat, I recommend trying the outside one first. I personally preferred the indoor onsen because it is slightly deeper. However, in the outdoor onsen you have the added benefit of being able to sit beneath the stars at night and listen to the crickets chirping.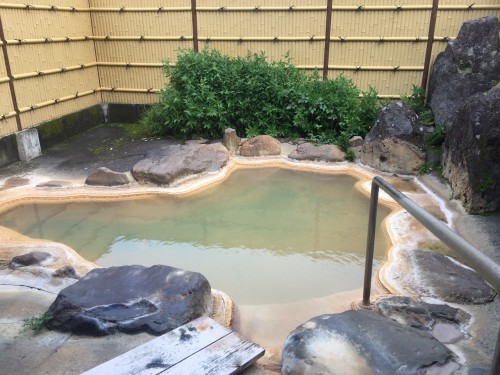 Hospitality at Yukimiso Ryokan
The highlight of my stay at Yukimiso was the incredible hospitality I received from the wonderful owners, in the form of friendliness and fantastic food. My host really took the time to ensure that everything was well and even did her best to explain the food to me in English! Ryokans are usually quite famous for their exceptional service, and Yukimiso was definitely no exception!
Dinner and Breakfast
In ryokans, dinner tends to be served quite early, between 6pm and 7pm, whilst breakfast is usually served between 7am and 8am. Most ryokans will include the price of breakfast and dinner within the cost of your stay. Also, the portion sizes tend to be pretty large, I usually am unable to eat lunch during the day if I have had dinner and then breakfast at a ryokan!
The cuisine at Yukimiso is a traditional Japanese ryori style. This cuisine is comprised of multiple small dishes with local ingredients, brought out in a pre-determined order.  For dinner alone I enjoyed tempura, hot spring rice, grilled sardine, eel sushi, tofu, pumpkin pie and much more!
Breakfast was also traditional Japanese style with salmon, miso soup, tofu, rice, tamago (egg roll) and ocha (tea).
Famous Sites around Nagayu Onsen
Nagayu Onsen is the place to go for nature lovers and outdoor enthusiasts. It is based in the city of Taketa – a city with famous castle ruins left from its construction during the Edo period. Taketa City is also near the incredible Azo-Kuju National Park which has popular attractions such as the Tadewara Marshland and Kuju Flower Park.  Next to Yukimiso is Nagayu Lake, which is only a 2-minute walk down the hill.
Bookings/Enquiries
One night's stay at Yukimiso including breakfast and dinner costs around 17,000 yen. For bookings and enquiries at Yukimiso, or elsewhere in Nagayu Onsen, please contact Taketa City Tourism Association on info@taketan.jp
Access
By Car
To experience the scenery in and around Nagayu Onsen at your own pace I highly recommend renting a car. You can rent one straight from Oita Airport for less than 20,000 yen for three days.
From Oita Airport, drive south towards Taketa. To keep costs down, be sure to avoiding the toll road. Duration approx 90 minutes. Distance: approx. 90 km.
From Oita, drive south down Route 442 towards Taketa. Duration: approx 60 mins. Distance: approx 35 km.
| | |
| --- | --- |
| Name | Yukimiso Onsen |
| Category | Ryokan |
| Address | 7497-1 Naoirimachi Ōaza Nagayu, Taketa-shi, Ōita-ken 878-0402 |
| Access | [map]7497-1 Naoirimachi Ōaza Nagayu, Taketa-shi, Ōita-ken 878-0402[/map] |
| Opening Hours | Checkin: after 15:00, Checkout: by 10:00 |
| Price Range | Enquire for full price list |
| Payment options | |