When I think about Okinawa, the first word that comes to mind is "paradise". Its turquoise blue ocean contrasts with the white sand of the beaches. The deep green tropical plants intensify the hibiscus red tones. Traditional orange and reddish roofs glowing on top of white facades. It's well known that Okinawans are proud of their land, and they have good reasons for it. That's why many of the yachimun craftsmen (yachimun means pottery in the Okinawan dialect) choose to draw inspiration from the beauty of their islands.
During one of my visits to Yachimun no Sato, I visited the Fuji Pottery Workshop, founded by Kanako Fujioka. She is the only yachimun craftswoman I met during my stay in Yomitan village. She comes from a long family tradition in the art of Japanese pottery. Kanako-san imbues the essence of Okinawa in her works, and now on the Voyapon Store, you can purchase some of her products to add to your tableware and enjoy a little piece of Okinawa in your home.
The Family Legacy of Traditional Japanese Pottery Artisans
One of the most popular craftsmen in traditional Japanese pottery is, undoubtedly, Jiro Kinjo. In fact, in 1985, he became the first person from Okinawa to become a Living National Treasure, a term for those designated as keepers of important intangible cultural properties.
Kinjo's pottery is characterized by engraved designs depicting the marine world of Okinawa. His drawing style has served as an inspiration for many Okinawan pottery artisans. After his death, his legacy still lives on. Many of his descendants, known as the Kinjo Ichimon (the Kinjo family), have followed in his footsteps, making a name for themselves in the traditional Japanese pottery.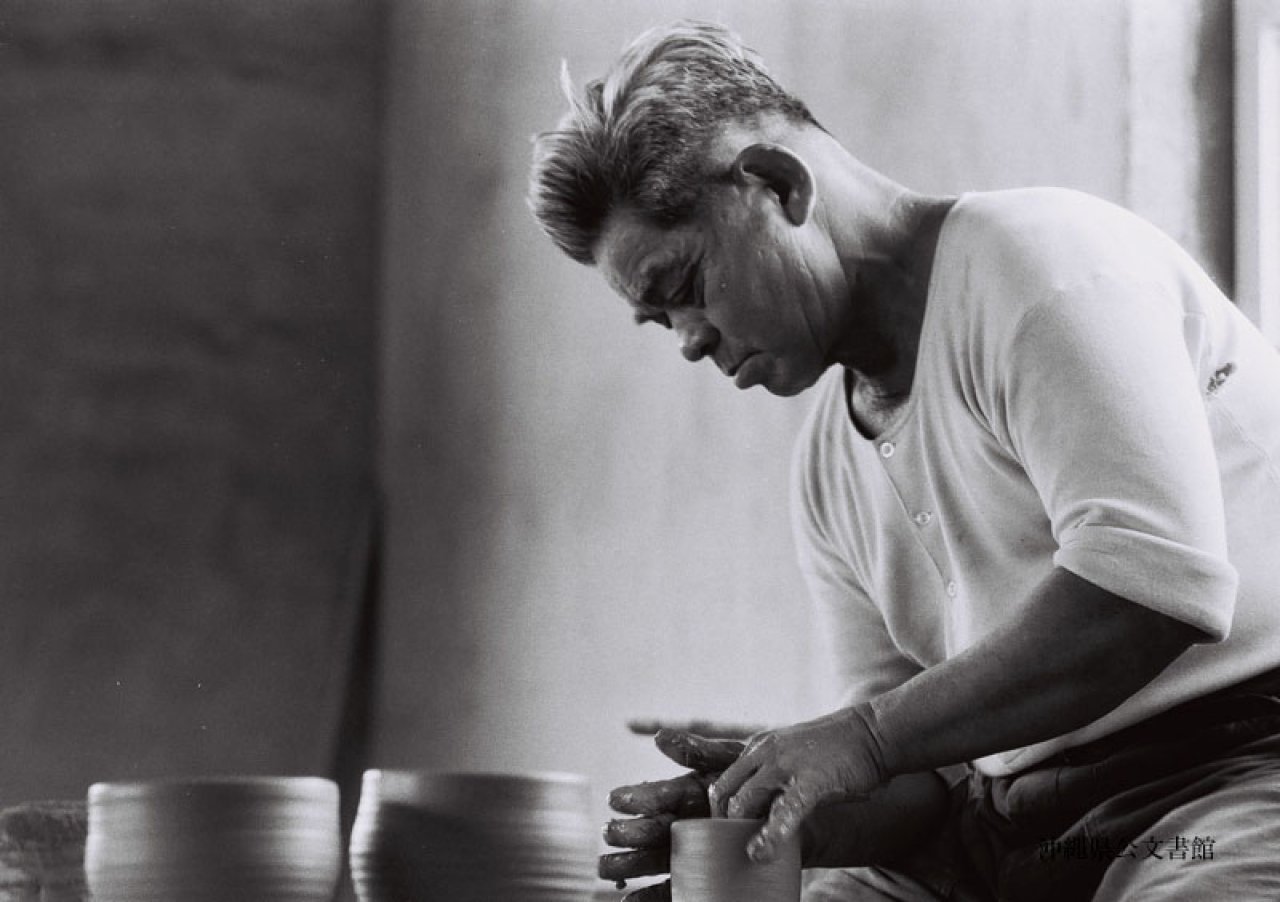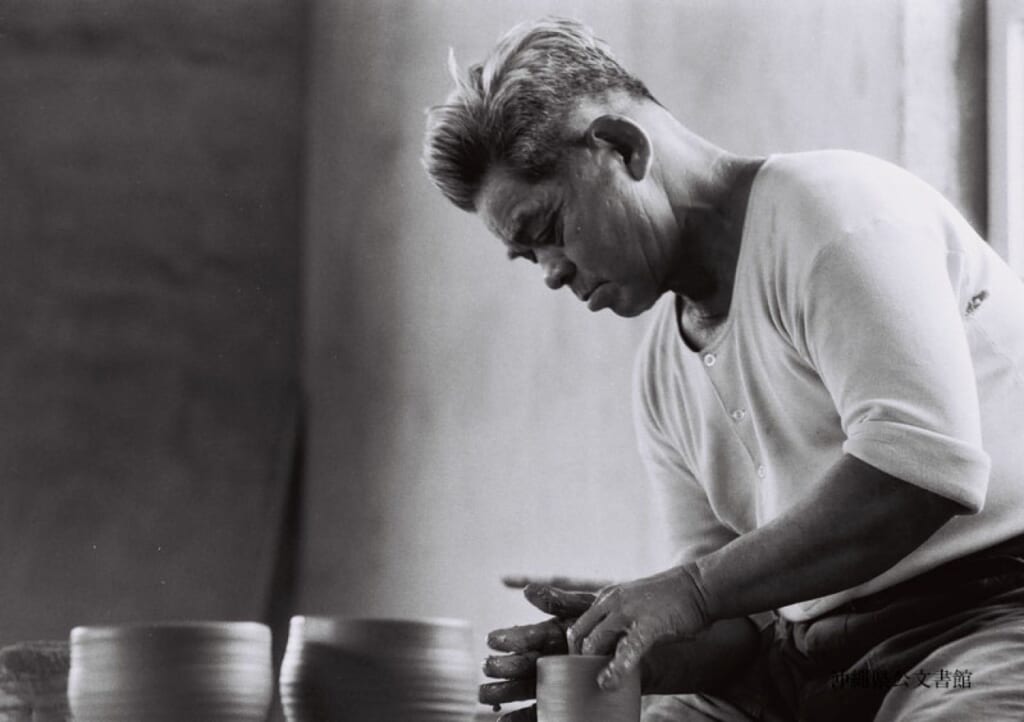 Kanako Fujioka, one of Kinjo's granddaughters, seems to carries the talent and passion for ceramics in her DNA. Her parents, Satoshi Miyagi and Sumiko, also dedicated their lives to this art. "After my father's death, I was working alongside my mother in her workshop for 25 years." In 2015, after receiving some suggestions from her buyers, Kanako decided to open her own workshop in Yachimun no Sato together with her husband to create her own style of ceramics and designs. "One of the hallmarks of my family is the fish, but I also wanted to depict other elements that are part of Okinawa in my works. At first, I thought I wasn't going to be very successful because my drawing style is more feminine, but the feedback I received was very positive, and that really helped me to go my own way."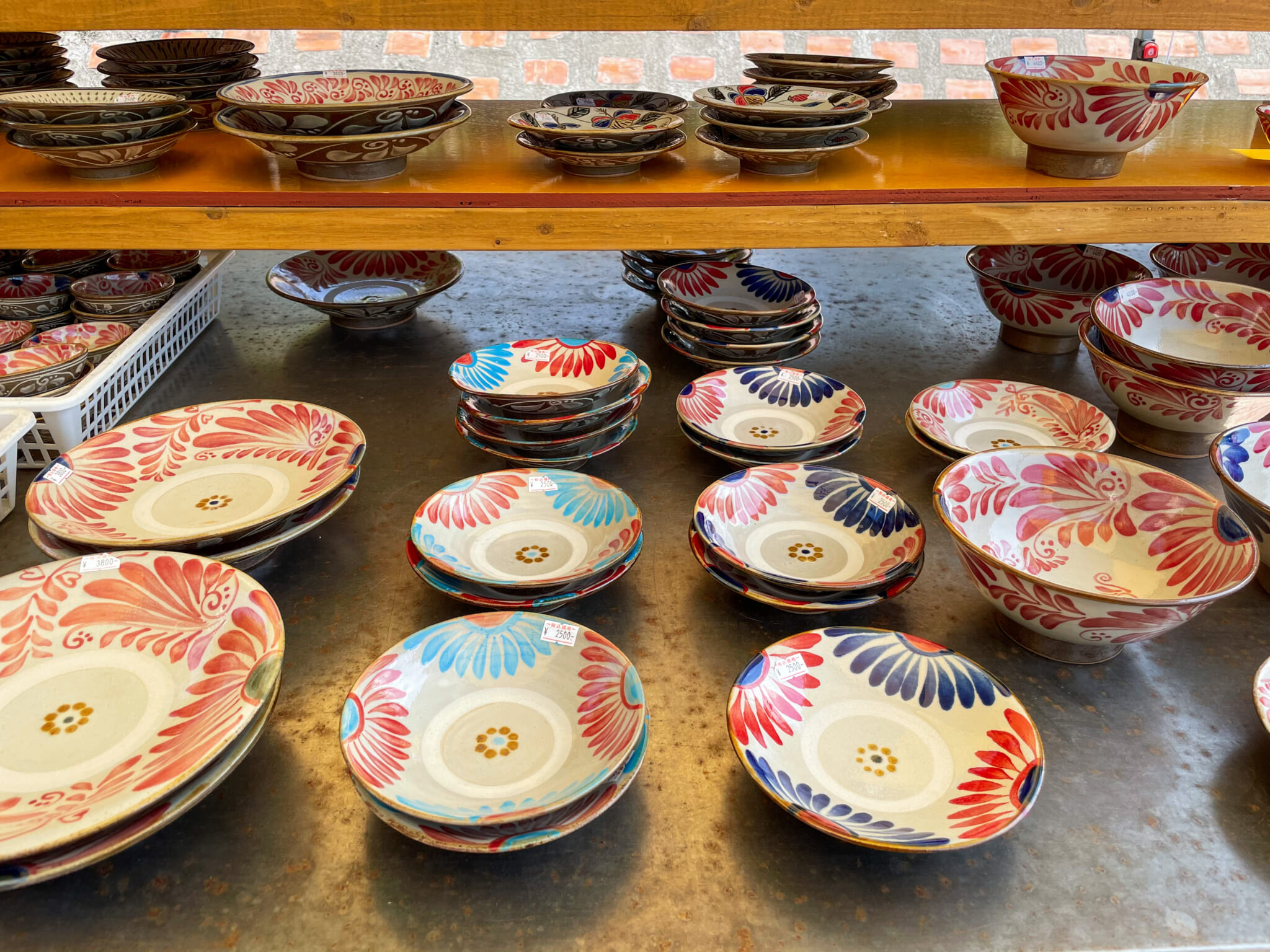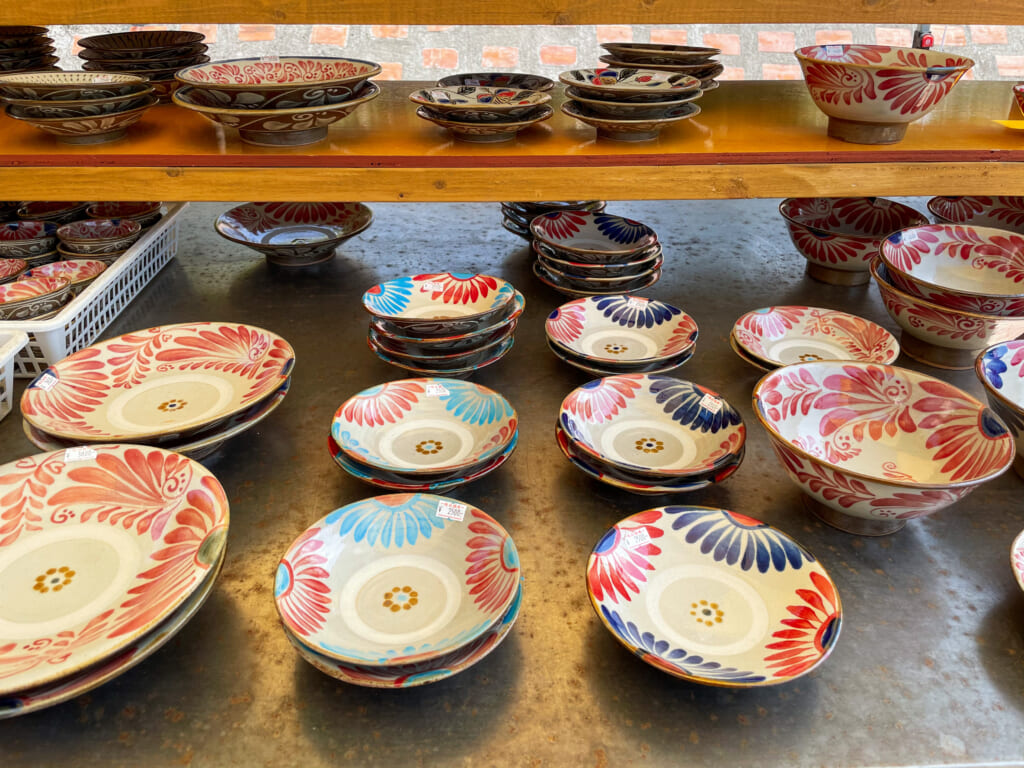 Although her grandfather inspires her pottery, Kanako Fujioka's unique essence is present in all of her works —the smiling whales and turtles, hibiscus, and other flowers native to Okinawa, and the bright colors she uses to evoke the tropical atmosphere of Okinawa.
Japanese Pottery and Its Connection to People
Kanako-san explains her professional beginnings: "I grew up in my parents' workshop, so I was already familiar with yachimun at an early age. I learned about ceramics by watching others. I spent many hours in the workshop watching how my parents and other artisans worked the clay and molded it on the pottery wheels. Next, they would draw the designs and fire the ceramics in the kiln. Then one day, I started doing it myself, and here I am now."
After visiting other artisans' workshops, what surprises me most about Fuji Pottery Workshop is that it's very bright and perfectly organized. The workflow is also divided among individuals, and Kanako-san is mainly engaged in drawing and coloring the ceramics. "One of the main features of our workshop is the carving technique. Our ceramics are made of red clay covered with another layer of white clay. When I carve the outline of the drawing, the red clay is exposed. It's a technique that my grandfather also used."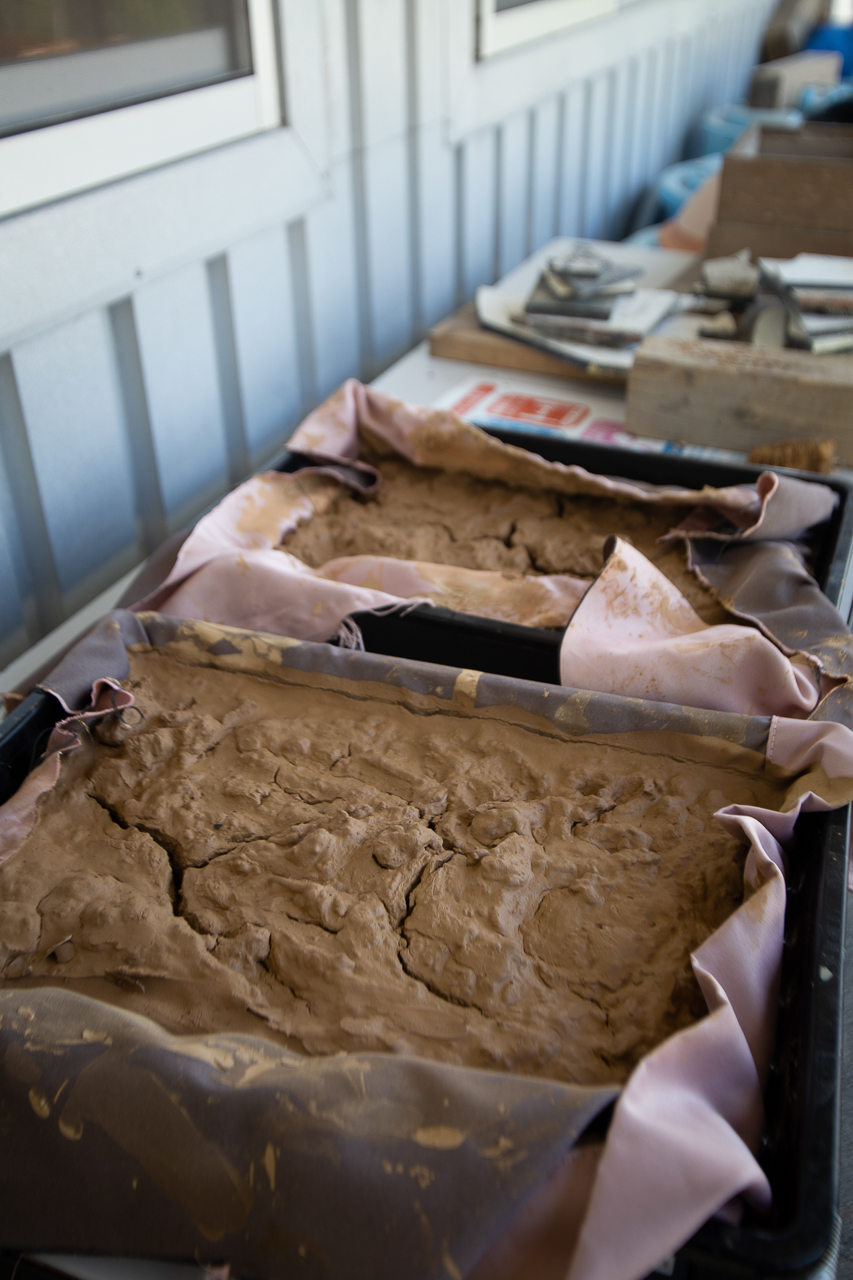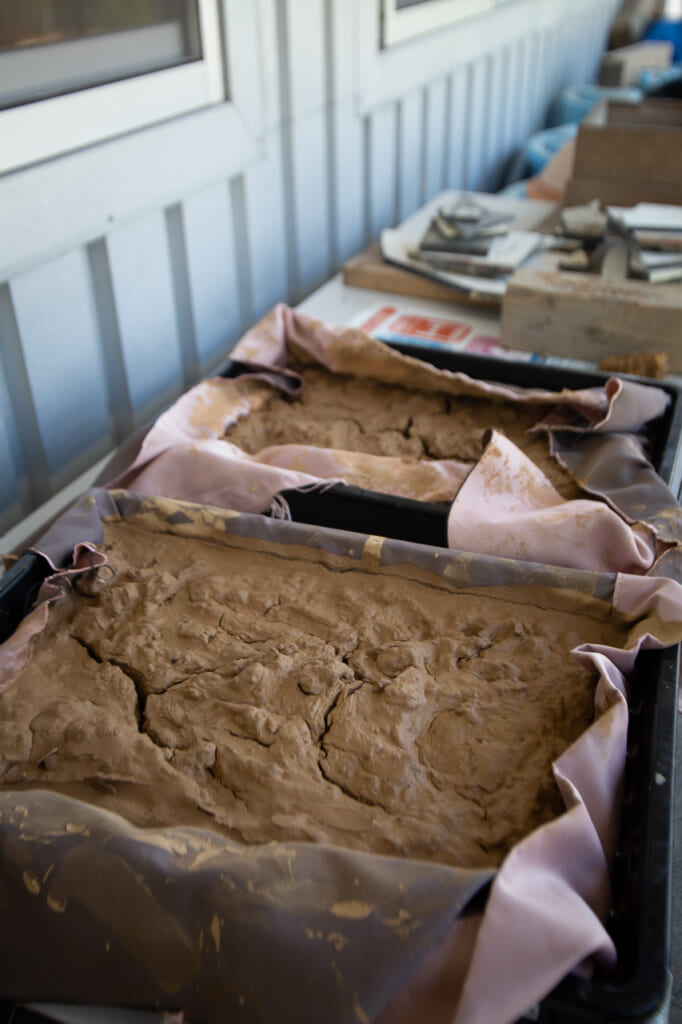 Kanako-san places her carving tools on the table and grabs a plate that her son molded. In a matter of minutes, the plate is filled with fish and flowers. It's painstaking and delicate work, but she's able to do it as she explains the process to me. I could spend hours watching how she does it. And she laughs when I tell her that I wouldn't be able to carve a single line. "I made mistakes sometimes, too. And when that happens, I put that ceramic aside and start the next one. It's not worth wasting time thinking about our mistakes."
Colorful plates, bowls, and cups are perfectly lined up in the workshop. Kanako-san's products are especially popular with women who come to the Fuji Pottery Workshop looking for new pieces to add to their tableware. "One of my work's greatest satisfactions is the connection with people. Although I haven't been able to travel to many places, my ceramics can do it. Pottery is my way of creating bonds with people from different countries and cultures." explains Kanako-san. "Some customers regularly come to my workshop, and I get to witness the new stages and changes in their lives. We are growing together."
The Future of Okinawa's Traditional Pottery
Kanako-san explains that she also receives custom orders in addition to the ceramics she sells in the store. This type of work is one of her greatest challenges as a master craftswoman. "My goal is always to give my best to meet the needs of my customers. Even if I'm tired or having a bad day, I can't afford mistakes. I must maintain the quality of my work, and the result has to be perfect." (…) "For example, when my customers use my plates, it's important that the food looks delicious on them and that they have the right shape and weight. While my customers enjoy the food, they are also enjoying my ceramics. And if they are happy, I am happy too."
Pottery is part of Okinawa's history and enjoys great popularity throughout Japan. Many Japanese families have some Okinawan tableware, and it's one of the region's most popular souvenirs. But Kanako-san is concerned about the future of this traditional craft. "Okinawa's resources are limited, and someday they will disappear. Even if materials can be obtained from other places, the process will be different, and the result will also change. Currently, Okinawan pottery is still very popular. My son is also learning this craft, and I hope that during his artisan generation, everything will remain the same as it's now."
How to Get to Yomitan Village
Naha Airport serves as the portal to all of the Okinawa islands and is just a few stops along on the monorail to reach the city of Naha. From Naha city, get on the bus from Kencho Kitaguchi (県庁北口) to Akanukuu mae (via Sobe) 赤犬子宮前, then walk 20 minutes to Yomitan Village (1 hour 30 minutes). A rental car will take approximately 50 minutes to reach Yomitan Village, and provides more flexibility and freedom to explore the island if you're traveling outside the city.
During my visit to the Fuji Pottery Workshop, I learned about the importance of history, tradition, materials, creation process, and teamwork… But Kanako-san also taught me something that's perhaps the most important: the bonds created with people through pottery. Many of us use handmade plates, cups, and other ceramic pieces daily, and although you may never have thought about it, these objects are linked to the person who created them. Behind a plate holds the stories of its artisans, who put a piece of their soul, effort, and passion in each ceramic piece. And for that reason, I think it's vital to carefully choose these objects that are so essential and important in our daily lives. Now, the Voyapon Store offers the possibility for you to enjoy this Japanese pottery made in Fuji Pottery Workshop wherever you are.
Sponsored by Yomitan village