Like many of the traditional crafts of the ancient Ryukyu Kingdom (琉球王国), Okinawan glass is also part of a story of war, hard work, resilience, and rebirth. Nowadays, some artisans on these islands located in southern Japan continue to make Okinawan glass (also known as Ryukyu glass 琉球グラス) inheriting the spirit of their predecessors who had recovered from the war. Handmade glasses are part of everyday life for Okinawans, especially for enjoying awamori (泡盛), Okinawa's own alcohol. Ryukyu glass is, undoubtedly, the most famous and valued glass in Japan.
During my trip to Yomitan Village in Okinawa, I visited Ryukyu Glass Workshop Shizuku, a handmade glass studio established by artisan Naoki Kaneshi in 2014. The nature of the islands inspires his glass, and its vivid colors sparkle in the sunlight. In addition, Ryukyu Glass Workshop Shizuku also offers the experience of creating your own glass. But if you want to enjoy the beauty of Okinawan glass without having to wait for your next trip, on the Voyapon Store you can purchase some of Ryukyu Glass Workshop Shizuku's products whenever you want.
The Beginning of the Okinawan Glass and the History of a War
Before the Meiji Era (1868-1912), most glass in Okinawa was imported from mainland Japan by sea on merchant ships. But because many of the products were often damaged during the sea voyage, some artisans from Osaka and Nagasaki decided to establish their own glass factories in Okinawa. They began to produce some items such as medicine bottles, glasses, gas lamps, or bottles for alcohol and beverages until the spring of 1945 when the American army arrived on the shores of Yomitan village, causing the beginning of the Battle of Okinawa.
Kaneshi-san tells me snippets of the battle that forever changed the history of the Ryukyu Kingdom. "The island and its manufacturing were devastated during the war. Many of the artisans had to flee or were detained by American troops. Workshops and glassware were turned into rubble." When the war ended, Okinawans began to rebuild their little world, setting an example of courage and hope. Many artisans re-opened their glass workshops and resumed production. But due to a lack of resources, they had to use whatever materials were available after the devastation caused by the bloody battle.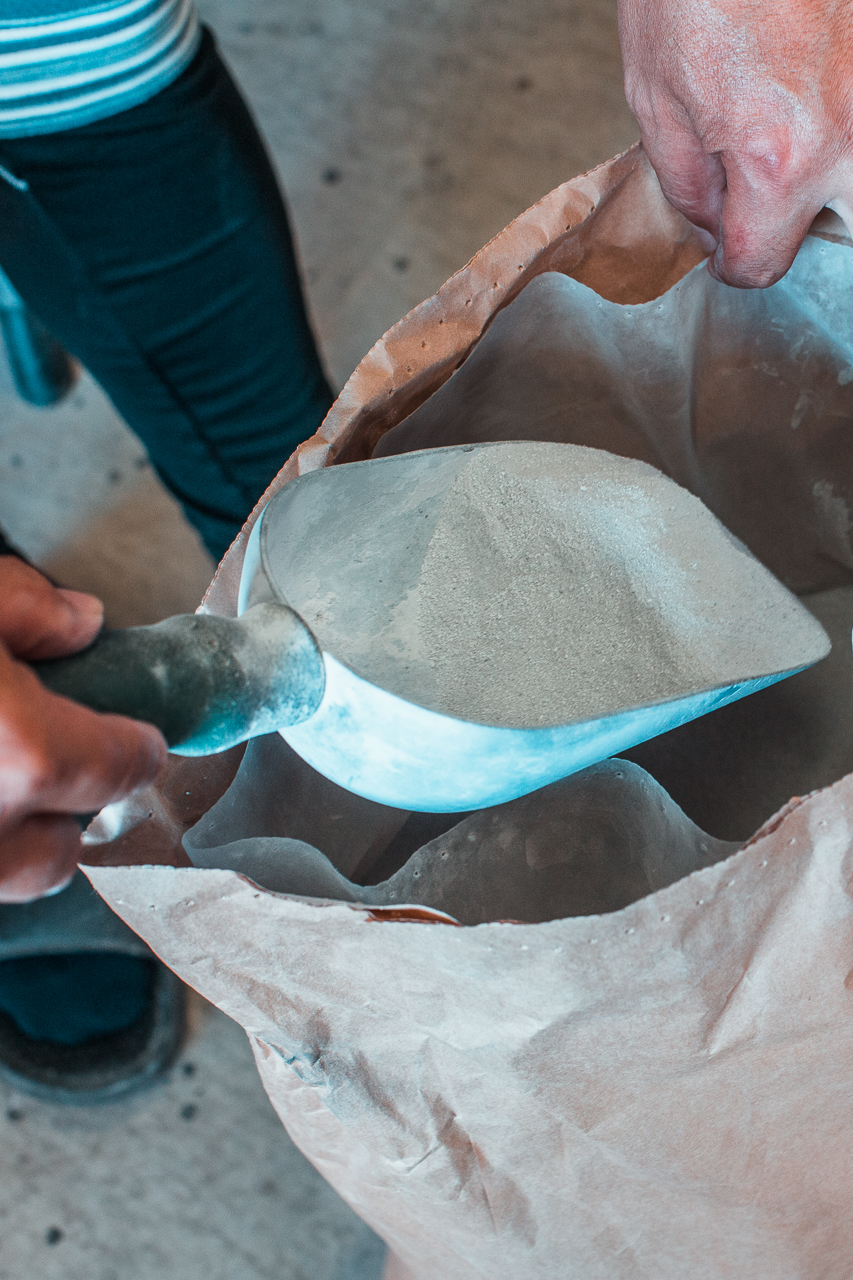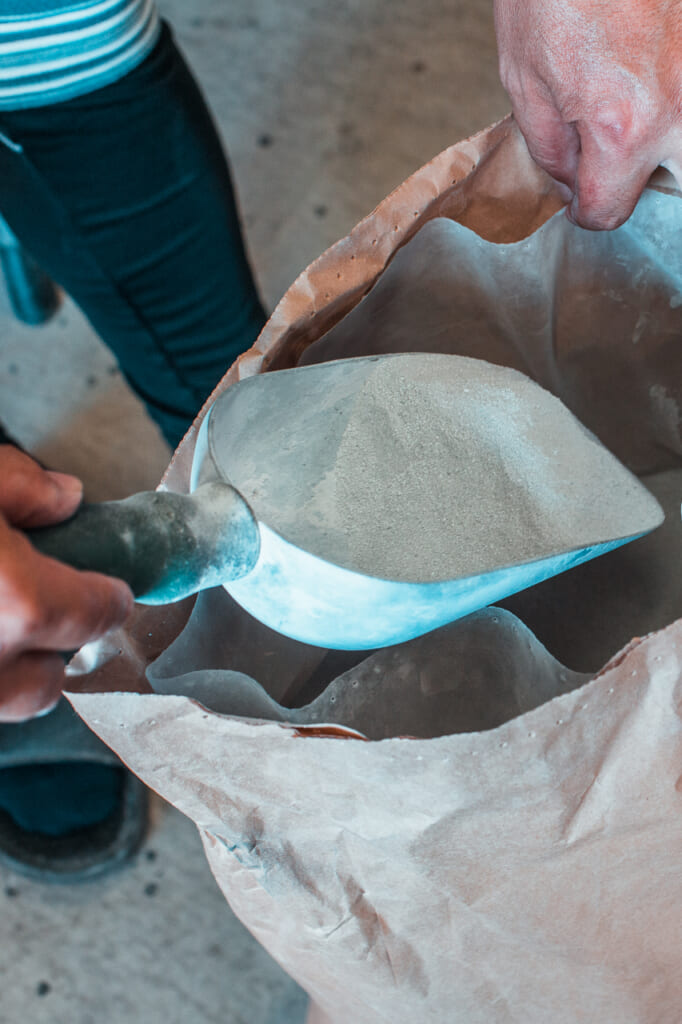 "The artisans began to use empty Cola and beer bottles thrown away by the Americans who occupied the island. Even today, it is still common to find antique soda bottles in the sea." Hearing those words from Kaneshi-san, I'm reminded of the colorful shards of some glass that I found among the sand in Yomitan's beaches. "Craftsmen would melt the bottles and blow the glass to create new recycled glassware. This was the birth of Ryukyu glass, as it is known today," explains Naoki Kaneshi. From that moment, Okinawan glass became part of the culture of this prefecture and one of the economic bases of its traditional crafts.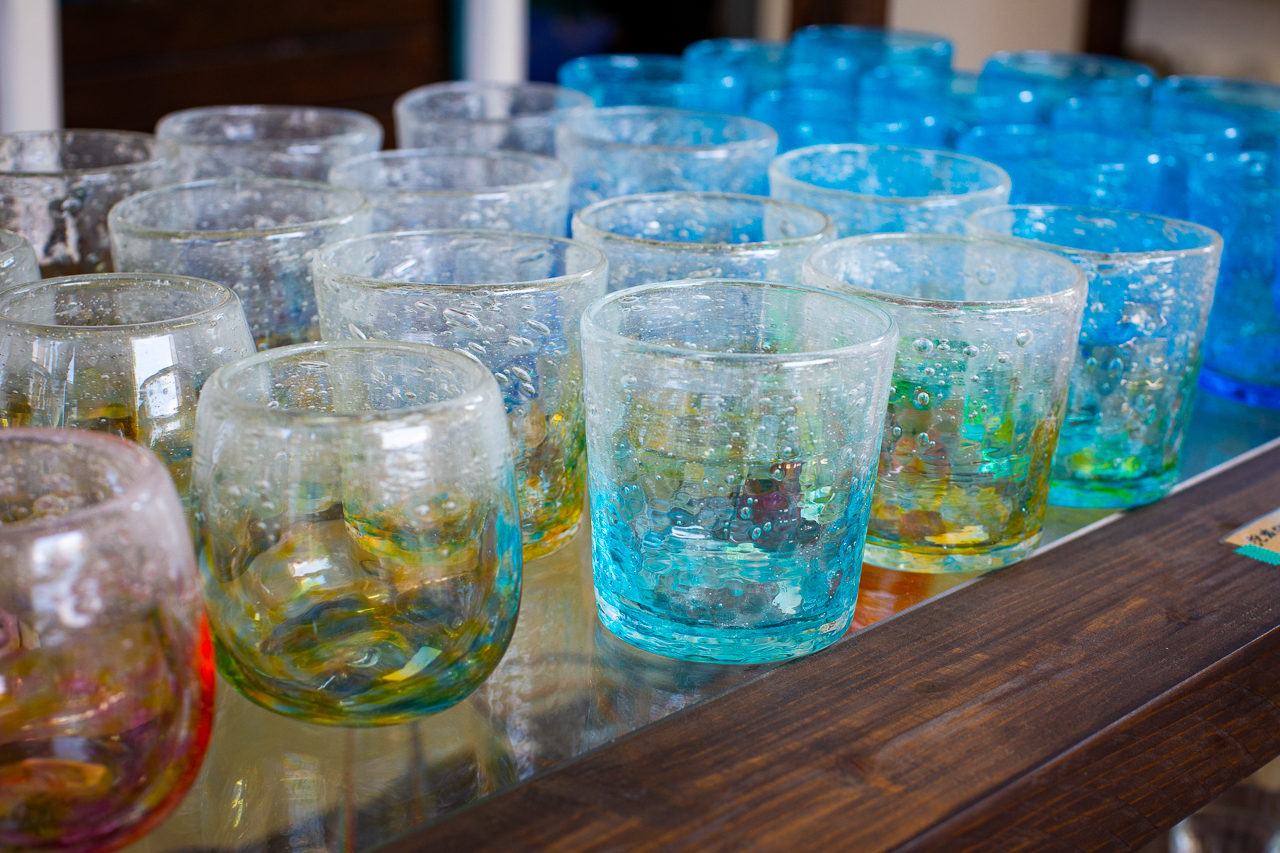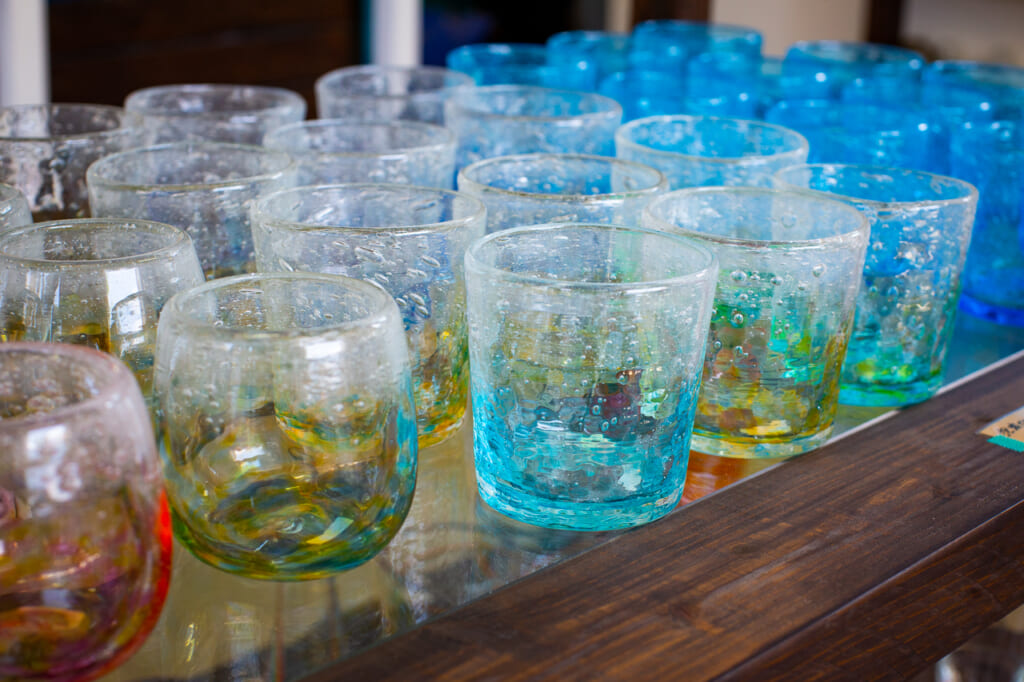 Naoki Kaneshi: A Life Dedicated to Okinawan Glass
Naoki Kaneshi started in this craft when he was just 15 years old. "My dream was to become a chef. So I started working in my uncle's glass workshop to save money so I could enroll in a cooking school. But as I started in the workshop, I realized that this profession had similarities to cooking. Both start from basic ingredients to create something that people can enjoy, and creativity and technique are key elements in the process." Kaneshi-san discovered his true calling. From that moment, he decided to put down the chef's hat and pick up artisan gloves and dedicate his life to Okinawan glass.
One of Kaneshi-san's dreams was to establish his workshop and his own kiln. His devotion to his work is so great that he even sleeps in his workshop. When he wakes up, he takes out of the kiln the products he made the day before, which needed to cool down, not to be damaged by the change in temperature. He then cleans them and prepares them for sale. When finished, he begins the next day's work. This is a long day's work, especially during the summertime, when the hot days add to the high temperatures in the workshop kilns, it can feel like it may never end. All in all, Kaneshi-san likes his profession: "It makes me happy that people want to buy the things I make. When my customers upload photos of some of my products to social networks, and I see how they enjoy them, I feel as if a part of my life has become a part of their lives as well."
One of the best memories for Naoki Kaneshi and his wife was their trip to Italy. During their time in Venice, they learned in much detail about the Venetian glass technique, perhaps the most famous type of glass in the world. This trip really served as a source of learning and inspiration. "One of the souvenirs I brought back from Venice was some Murano glassware. When I returned to Okinawa, I tried to create something similar using the Ryukyu glass technique. It became one of my greatest achievements as a glass craftsman." As he speaks, Kaneshi-san proudly shows me some beautiful and unique pink glasses resulting from the fusion of Venetian glass and Okinawan glass techniques.
But although currently, the Ryukyu glasses remain one of the most famous souvenirs of Okinawa, Kaneshi-san has doubts about the future of this craft: "There are fewer and fewer people who want to become artisans. I do not know if in ten years, the people here will still make this type of glass. Ryukyu glass is a symbol of Okinawa and I want to continue in this profession until I have no strength left."
How to Make Your Own Okinawa Glass at Ryukyu Glass Workshop Shizuku
When Okinawa was returned to Japan in 1972, tourists began revisiting the islands, and Ryukyu glasses quickly became a popular souvenir due to their natural shape and bright colors. As a result, some glass workshops decided to offer their customers the experience of creating their own glasses. Nowadays, almost every tourist who visits Okinawa returns home with a handmade glass as a souvenir of their trip.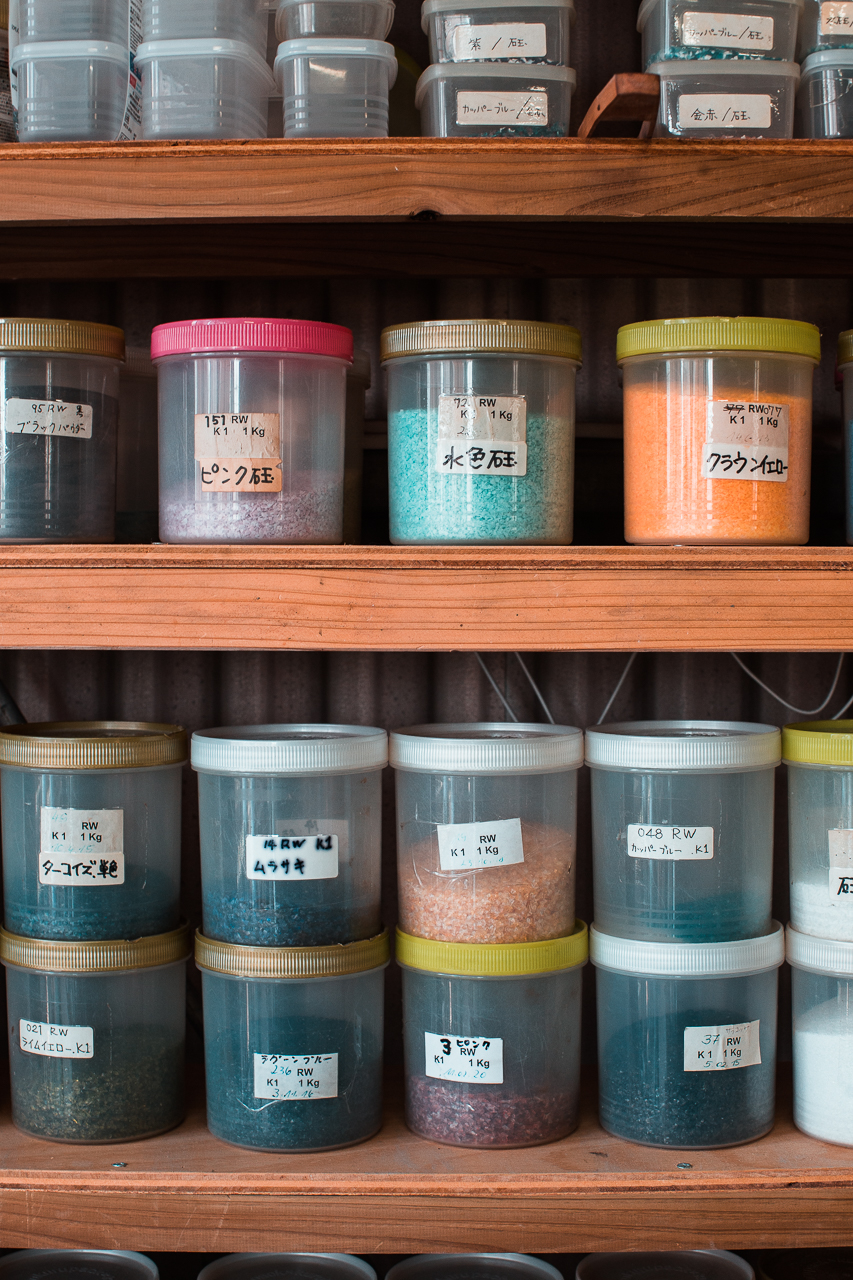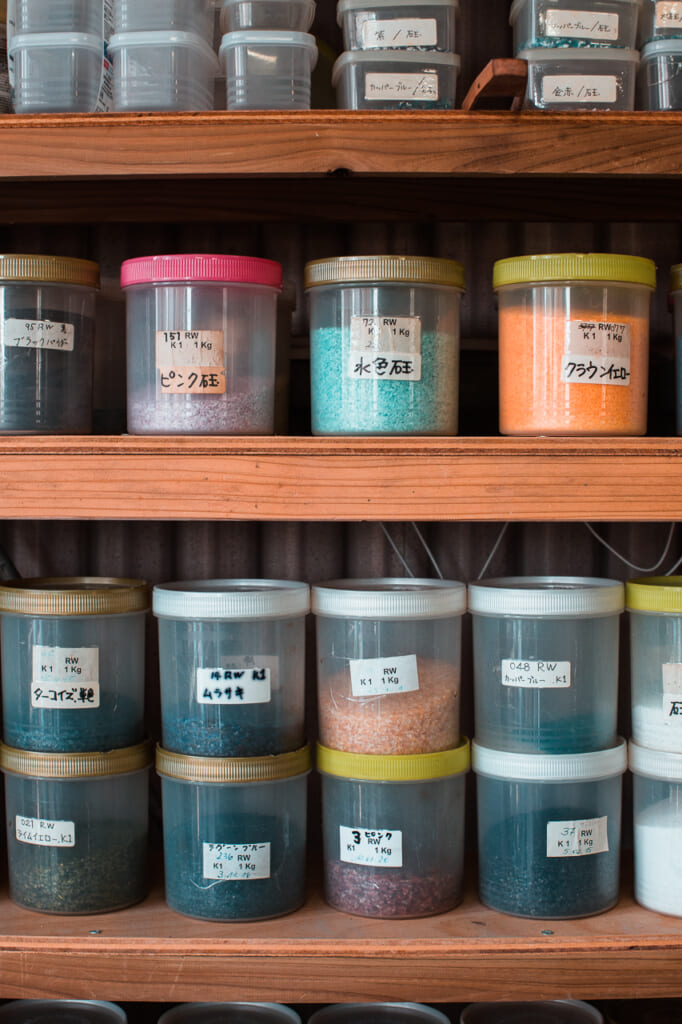 Every day, dozens of tourists visit Ryukyu Glass Workshop Shizuku. With the help of Kaneshi-san, they can personally experience part of the working process of a craftsman. Perhaps one of the most difficult steps is to choose the type of glass and its color as the options are nearly endless. Then it's time to blow the glass, fire it in the kiln and shape it. Although it is a complex process, with help from Kaneshi-san, it becomes simple. After waiting 24 hours, the glass is ready to be picked up from the workshop. Enjoying that glass that has been sculpted from your own hands and which is, at the same time, part of the history and culture of Okinawa is one of the best memories you can have on a trip to the most tropical islands of Japan.
How to Get to Yomitan Village
Naha Airport serves as the portal to all of the Okinawa islands and is just a few stops along on the monorail to reach the city of Naha. From Naha city, get on the bus from Kencho Kitaguchi (県庁北口) to Akanukuu mae (via Sobe) 赤犬子宮前, then walk 20 minutes to Yomitan Village (1 hour 30 minutes). A rental car will take approximately 50 minutes to reach Yomitan Village, and provides more flexibility and freedom to explore the island if you're traveling outside the city.
The harsh episodes that Okinawa has suffered throughout its history and living on an island where resources were limited have made recycling and the use of available resources part of the culture and lifestyle of Okinawans. As a result, unique traditional arts have emerged in Okinawa, very different from mainland Japan. One of the main objectives of Naoki Kaneshi is to make Okinawan crafts and the history of the Ryukyu Kingdom known throughout the globe so that they will never disappear. On the Voyapon Store, you can purchase some of the Ryukyu Glass Workshop Shizuku, perfect to enjoy a small part of Okinawa without leaving home and help preserve its history.
Sponsored by Yomitan village