Handmade pottery is one of the oldest crafts in Japan. It's a combination of art and tradition that reflects Japanese cultural values through the artisans' technique, who dedicate their entire lives to the clay.
Ceramics are still a big part of Japanese culture and are used daily. Each region has its own pottery style, with unique and special characteristics. But one of the most popular styles is Okinawan pottery. Okinawa is a prefecture made up of some 160 islands in southern Japan, between Kyushu and Taiwan. There, I had the opportunity to visit Nakama Pottery Workshop and Utsuwabito Gallery & Shop, established by Isao Nakama, a ceramic artist from Yomitan village. His ceramics are inspired by the unique essence of Okinawa and can be purchased from anywhere in the world through the Voyapon Store.
Okinawan Handmade Pottery: The Path from Apprentice to Master
Isao Nakama welcomes me at Utsuwabito Gallery & Shop, his pottery shop, located in the blessed enclave of Yomitan village with breathtaking views of the sea. Here, besides buying Nakama-san's pottery, you can also enjoy drinks and homemade cakes facing Okinawa's turquoise ocean. Isao Nakama is a quiet and shy man, but his words flow freely when he talks about pottery, showing his passion for this art.
He began his path in handmade pottery during his second year in high school when he joined the pottery club, where he went on to become its president. "My art teacher saw my pottery and advised me to keep on doing it. He always had confidence in my potential and abilities."
Graduation came, and while most of his classmates knew what they would do after high school, Nakama-san still didn't know what he wanted to do in his life. "My art teacher told me I had two options. He had two acquaintances who were into ceramics. One of them owned a Shigaraki-yaki pottery workshop, a type of stoneware pottery made in Shiga Prefecture famous for tanuki figures. The other person was Jorge Itokazu, a master potter who had his workshop here in Yomitan village." Nakama-san decided to stay in his hometown and began his apprenticeship at Jorge Itokazu's side.
Discovering his Calling in Japanese Handmade Pottery
Nakama-san spent five years working in Itokazu's studio and then decided to continue his handmade pottery apprenticeship with Shinman Yamada. Master Yamada was one of the artists who established Yuntanza Noborigama, the first step kiln in Yachimun no Sato. In Yamada's workshop, Nakama-san found the meaning of his pottery path. "One day, my oyakata (a term used by apprentices to refer to their master) showed me a 150-year-old piece of pottery. As I looked at it in more detail, I noticed a fingerprint of the person who created it. Up to that point, I had never thought of pottery as a way to make a living. But something changed inside me when I discovered that fingerprint, and I imagined the person who had made that pottery 150 years ago."
After a few years of apprenticeship and hard work in Shinman Yamada's workshop, Nakama-san decided to establish his own pottery studio. "One of the most moving moments in my life as a craftsman was when Shinman Yamada told me that my ceramics were good. Oyakata usually doesn't compliment their apprentices, so I will always remember his words."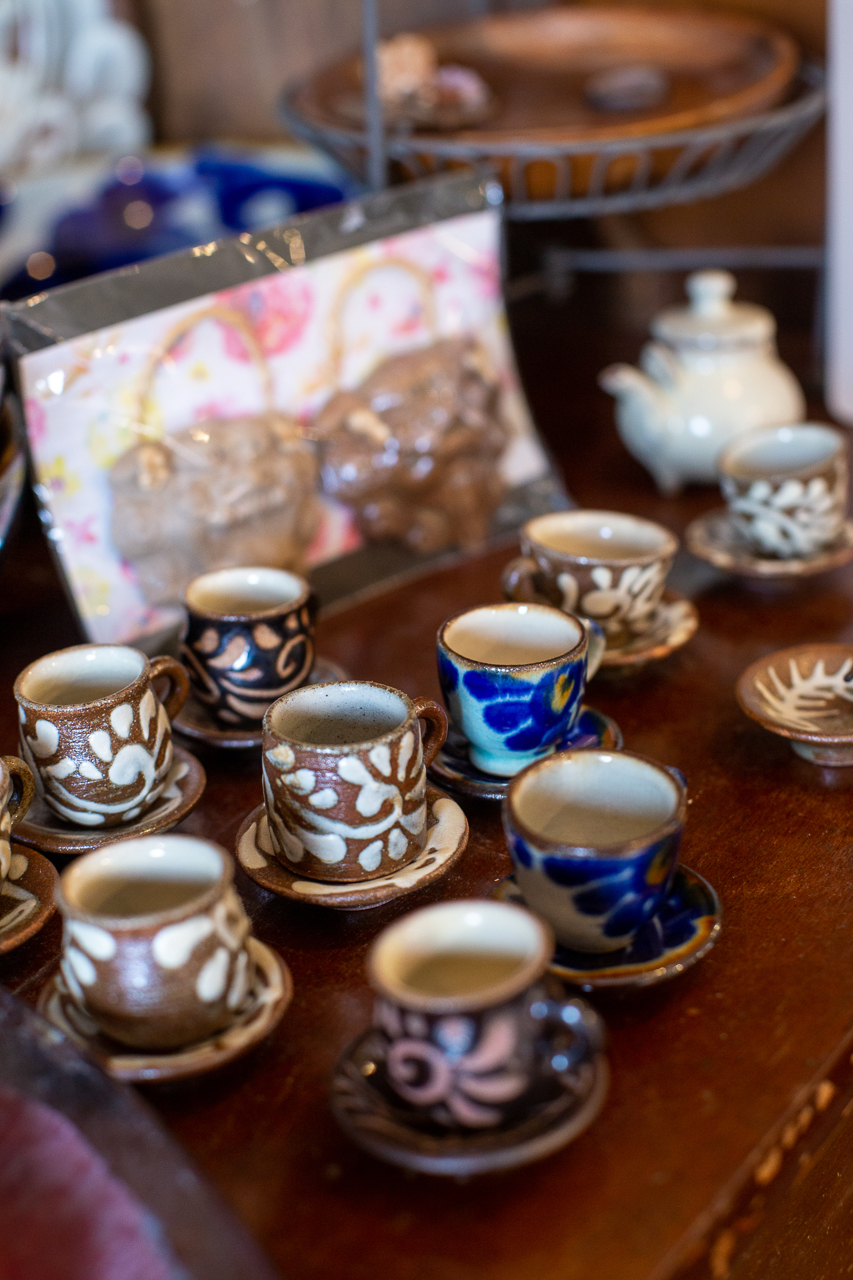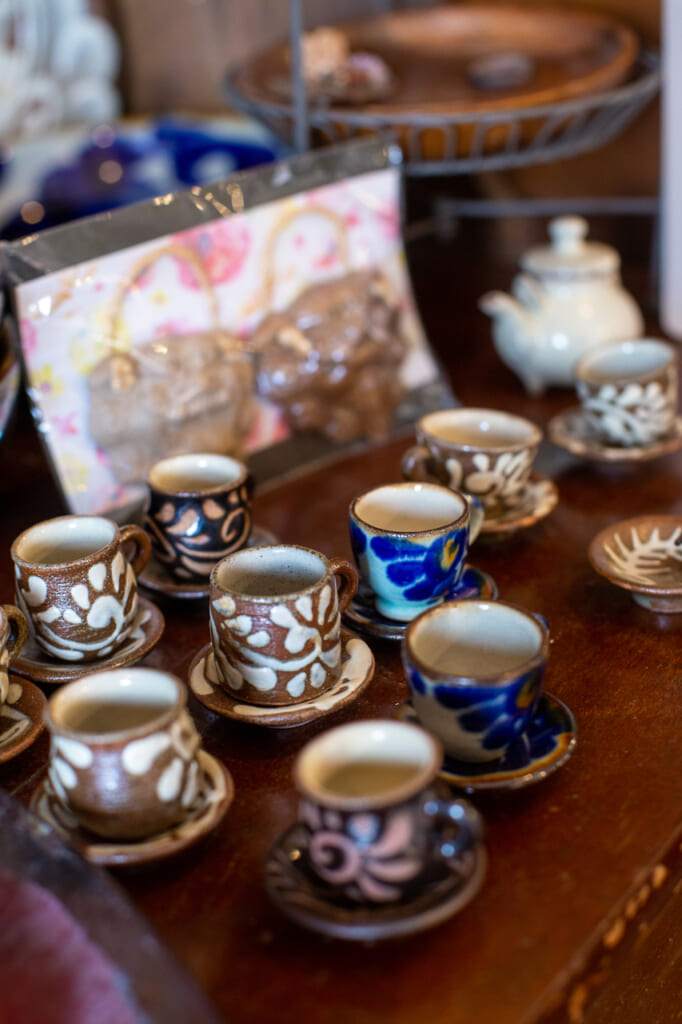 Shortly after starting his own workshop with his brother, Nakama-san won the First Prize at the Contemporary Okinawan Ceramics Exhibition in 2002. This is a significant competition for ceramic masters, and Isao Nakama became a winner at just 21 years old. "After winning this award, one of the first things I did was visit my former art teacher. He helped me find my path and passion for handmade pottery. He always believed in me."
Japanese Handmade Pottery and its Connection to Science
Most people think that the work of ceramic artisans is simply shaping clay on the wheel and firing it in the kiln. But the reality is that this is only 20% of the task happens in a workshop. The work of a craftsman doesn't follow a specific routine. Preparing the clay and glaze, shaping the objects on the wheel, drawing the designs, firing the pottery on the kiln, applying the glaze, cleaning… These are just some of the tasks that are performed in a pottery workshop. But Nakama-san explains that there is also something fundamental and necessary for a craftsman: learning.
One of the things Nakama enjoys most about yachimun (pottery in the Okinawan dialect) is studying its origin. "Clay is formed from a sedimentary rock that decomposes over time because of different natural and atmospheric phenomena such as rain, sun, and typhoons. I then shape the clay with my hands, decorate it using other natural elements and fire it in my kiln. After this process, the clay obtained through the decomposition of the rock becomes solid and hard again. It's the cycle of life."
When Nakama-san talks about the origin and science of handmade pottery, there's no trace left of the quiet man I had in front of me at the beginning of our conversation. His eyes sparkle with excitement as he talks about his passion. Nakama-san explains that some minerals are essential for the human body. "Those minerals are also essential for ceramics. Everything is connected somehow, and I find it very interesting to study it. Every day I discover something new, I'm continuously learning."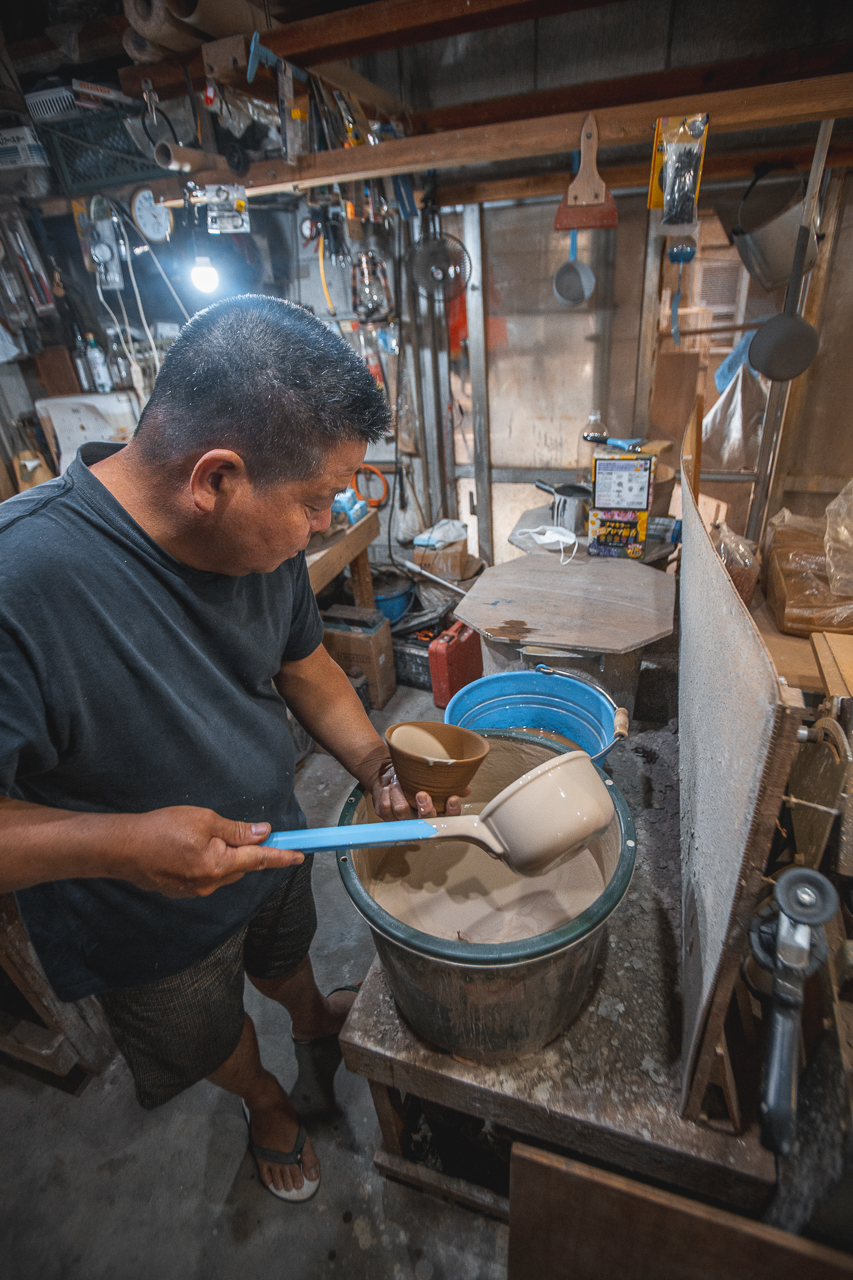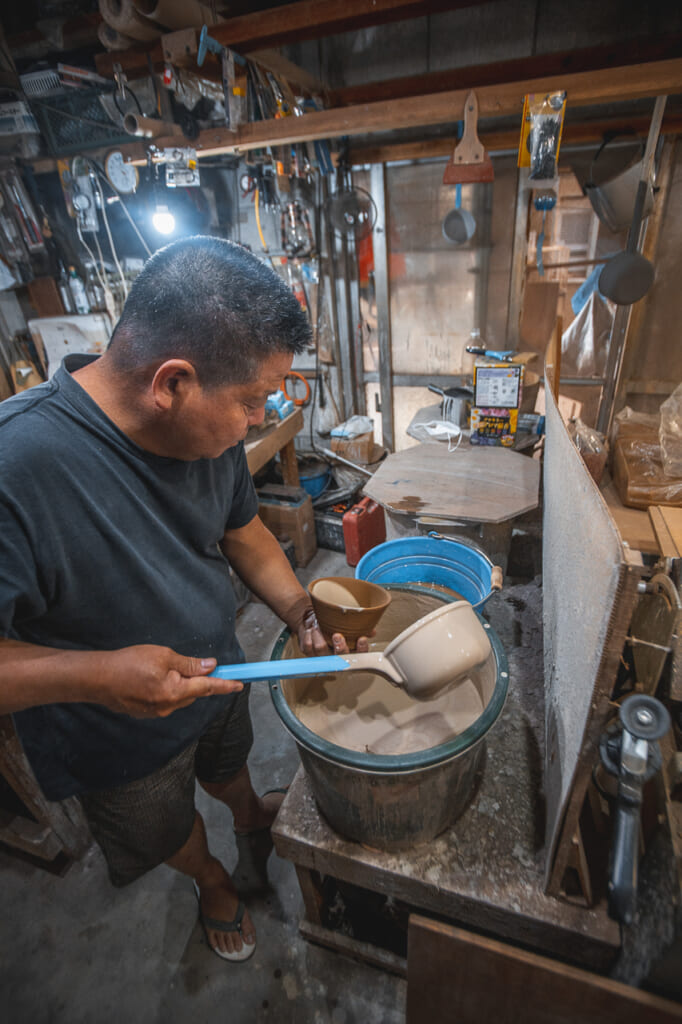 Even though ceramics are connected to science and nature, Nakama-San explains that they could not exist without the work of a craftsman. "Most ceramics are composed of the same elements and minerals. But if you give each artisan the same piece of clay and ask them to create a plate, the end result will be totally different. We all start from a piece of clay, but the result will depend on our experience, personality, and interests. In each ceramic, we also add in a part of our soul. In my works, I capture my thoughts and my ideas, and the greatest reward is when people value my pottery and want to take it home."
How to Get to Yomitan Village
Naha Airport serves as the portal to all of the Okinawa islands and is just a few stops along on the monorail to reach the city of Naha. From Naha city, get on the bus from Kencho Kitaguchi (県庁北口) to Akanukuu mae (via Sobe) 赤犬子宮前, then walk 20 minutes to Yomitan Village (1 hour 30 minutes). A rental car will take approximately 50 minutes to reach Yomitan Village, and provides more flexibility and freedom to explore the island if you're traveling outside the city.
Isao Nakama told me that his life has been marked by wonderful people who have helped him discover his vocation and find his way in pottery. He also wants to help new generations of artisans to make a living from this craft. One of the biggest problems with handmade pottery is that fewer and fewer people want to become artisans. Therefore, it's important to spread the tradition of Okinawan pottery to all corners of the world so that it doesn't disappear in the future. At Voyapon Store you can purchase some of Nakama Pottery Workshop's ceramics to incorporate them into your home, wherever you are. It's a unique opportunity to contribute to the legacy of handmade pottery and the essence of Okinawa to continue passing from generation to generation.
Sponsored by Yomitan village