Shigaraki (信楽町) is a village in Shiga Prefecture (滋賀県), east of Kyoto. The Prefecture is not only home to the biggest lake in Japan, Lake Biwako, but the Japanese also associate Shigaraki with a surprising speciality. Clay racoons (known as tanuki in Japanese) are produced in the heart of this small pottery village but have become popular across Japan.
That being said, there's much more to Shigaraki than pottery. The village has become a model for an integration project aimed at people with mental impairments. Since the end of the Second World War, a specialised centre has enabled those with disabilities to lead a full and active life, with the practice of pottery production playing a key role.
I had the opportunity to visit the centre as part of the Art Brut Creation Nippon event, an art and culture festival highlighting the work of disabled people. The event was held from 7th to 9th February 2020 in Shiga Prefecture, in conjunction with the Japanese Ministry of Culture and the Japan Cultural Expo.
Shigaraki Pottery Village and The Famous Tanuki Statues
Shigaraki's Tanuki Statues
If you have already been to Japan, you will no doubt have noticed the ceramic statues in front of many houses and shops, resembling plump animals with traditional straw hats (known as amigasa), often with a bottle of sake… and prominent testicles. Fans of Ghibli films will know tanuki as one of the heroes in Pompoko, from the animation by Isao Takahata.
Tanuki, a figure that loosely resembles a racoon, features in well-known Japanese folklore (yokai). According to these beliefs, tanuki can change shape and often take on a more mischievous, human persona (albeit generally inoffensive and playful).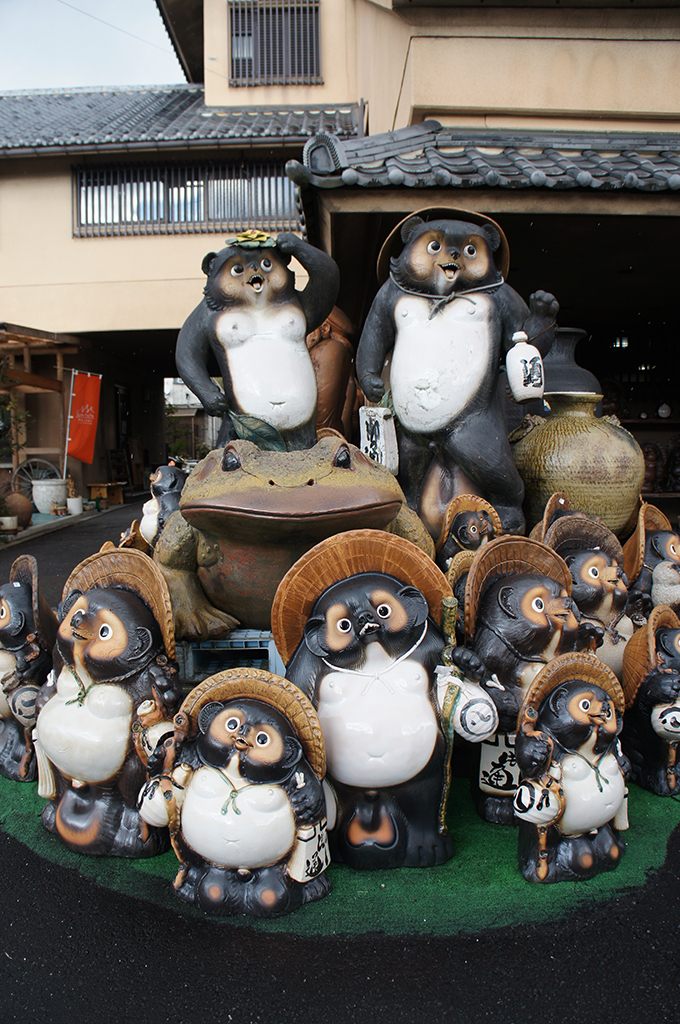 This vibrant figure enjoys impressive popularity thanks to its magic powers and human personality. These traits are expertly represented in the figurines and are regarded as a typical local product from Shigaraki.
A Village Dedicated To Japanese Pottery
In this peaceful village, situated in a mountainous region that's known for its cold winters, pottery workshops are everywhere. Walking through the winding streets, it seems as if all the buildings in Shigaraki are either workshops or pottery sellers. Tanuki figurines and large clay pots are dotted along the side of the road which, along with various-sized chimneys, adds to an atmosphere of ceramics and pottery production.
A large, steeped kiln, built into the side of the hill and reminiscent of the noborigama style, can be seen throughout the area. It dates from the Edo Period (1603-1868) but is no longer used in pottery production as more modern techniques are favoured. Entering the impressive chamber of the furnace, you are immediately struck by the walls which are blackened from repeated exposure to the very high temperatures.
Where To Drink A Coffee Or Buy Pottery In Shigaraki
Near the kiln, don't forget to stop at Ogama's Cafe-Shop-Gallery-Workshop where you can browse and purchase pottery. It's a charming place to take in the local atmosphere and enjoy sipping a coffee from local Shigaraki ceramic cups.
The village has several small shops and galleries. Amongst them, I recommend a visit to Tanikangama (谷寛窯), 5 minutes walk from the steeped kiln. You can see many high-quality works on display from several renowned pottery producers that have used the kiln over the years.
It's also worth visiting Uzan-Yoh (卯山窯), where you will find beautifully-presented, delicate ceramics alongside larger pieces.
For those who like TV dramas, several filming locations around Shigaraki were used in the series, Scarlet (スカーレット), broadcast on the national channel NHK from September 2019 to March 2020.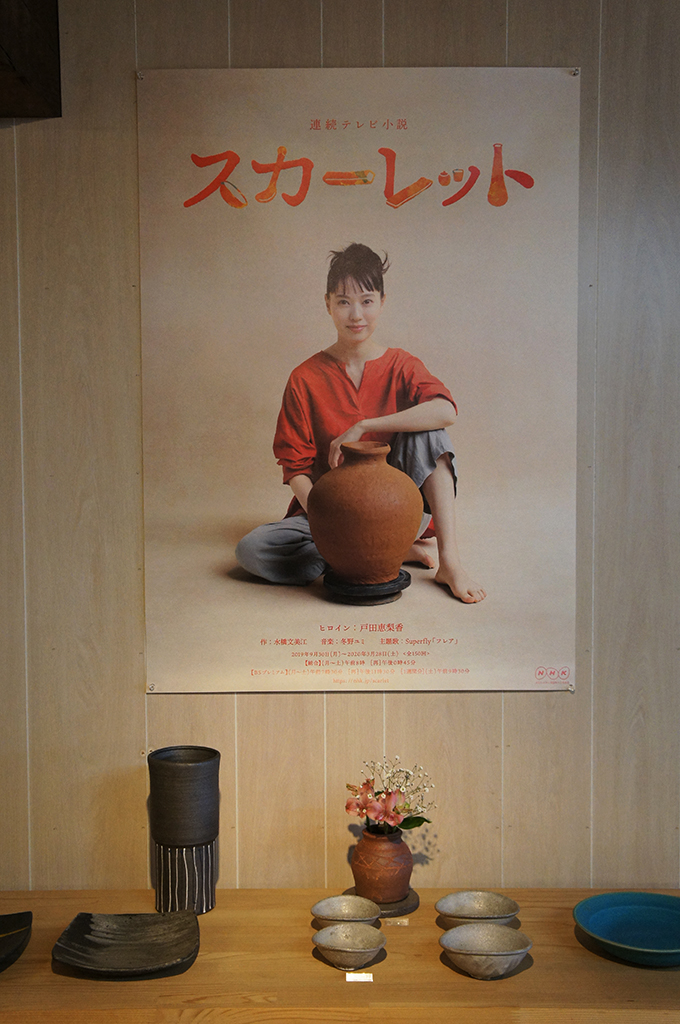 Meeting Shigaraki's Talented Mentally Disabled Pottery Producers
Shigaraki is not only home to pottery producers and their workshops. Since the start of the 1950s, a centre has been welcoming those with mental impairments and pioneering an integration project by involving them in work.
Even though the project initially had some resistance from local people, Daisuke Ishino, an employee and lifelong resident of Shigaraki, grew up regarding the residents of the centre as full-fledged members of village society. They are just adults who are a little different; who might speak with a stronger tone or prefer to join in with children's games, but they have a place in the local community.
Shigaraki Seinenryo Information Centre
Shigaraki Seinenryo (信楽青年寮) literally means "dormitory for the young people of Shigaraki" and the first residents, in the years immediately after the war, were about 15 years old. These days, however, the average age of the residents is around 65 years.
Even though we visited the centre on a Sunday, typically a day of rest, many residents welcomed us into their workshops and proudly showed us their work.
The benefits of the centre are really two-fold. Firstly, disabled people have the opportunity to express themselves through the creation of personalised works. But, secondly, they can learn pottery techniques to create useful items (such as cups and plates) that can be sold to pay for activities at the centre. Some of the centre's residents are able to work as regular staff members at the village's workshop.
Shigaraki Ceramic Cultural Centre Park: Introduction to Clay Workshop
The Shigaraki Ceramic Cultural Park (滋賀県立陶芸の森), founded in 1990, is a cultural centre dedicated to the art of ceramics. The large park offers residential visits for international artists, holds exhibitions of contemporary works and organises workshops.
We spent time in one of the introduction to clay workshops, which are generally offered to children and disabled people. The workshops are an opportunity to (re)discover the pleasure of mixing clay in a light-hearted and creative way whilst also learning to work with others.
We were assigned to tables of 4 or 5 people and in the spirit of an international event, neither one of us spoke the same language. Some members of the group were disabled (such as the residents of the centre who came with us) but others weren't. Each table was given about 20 kilos of clay and asked to work together in order to create a piece. There were various final creations, some of which were very surprising!
Certain collaborations were more successful than others. Some groups worked together to create pieces such as a beautiful forest or the village of Shigaraki, complete with tanuki figurines, whereas others adopted a more individual approach. On my table, we created a monster; comprised of many individual aspects, it mainly came together in the last 5 minutes as we panicked to finish the task.
Everyone approached the experience with good humour and this certainly helped us to communicate in spite of our differences. On my table, there was an Indonesian Artist, a Thai Art Curator and a Web writer from Hong Kong.
Art Brut Creation Nippon – Disabled Person's Art and Culture Festival
During the Art Brut Creation Nippon festival, I had the opportunity to discover Shigaraki; its ceramics and the initiatives aimed at helping those with mental impairments. The international event showcases the art of disabled people, especially those with a mental impairment. However, much is done to ensure that the facilities are fully accessible for those with a physical impairment too, such as the use of sign language, written transcripts of announcements and adjustments for wheelchair access. What's more, the question of social problems was not ignored. Ikiwaraiichiza (生笑一座), a group from Kita Kyushu, is made up of people who were previously homeless, and regularly visits schools in order to raise awareness of social issues through the use of humour.
This event covered 5 different areas: the discovery of Shigaraki and the Seinenryo Centre, Art Brut exhibition, theatre production, film showings and an open forum. Several French celebrities such as Martine Lusardy, Director of Halle Saint Pierre (art and cultural space in central Paris) and Jean-Marc Ayrault, a former Prime Minister and Mayor of Nantes, participated in the forum.
For those unfamiliar with Art Brut, it is a style of art made by people who are untrained in the arts and often is an expression of raw emotion. Art Brut is often created by children, the mental ill or handicapped, or people who are incarcerated. The event was an opportunity to discover Art Brut and its various interpretations made by the mentally disabled , particularly in Japan. However, as Japan prepares to host the Olympic Games and the Paralympics in Tokyo in 2020, it was a chance for the country to reflect on its public policies regarding disabled people.
Shigaraki: Access and Practical Information
For more information about Shigaraki, please visit the Shigaraki tourist association website (in Japanese). You can also find information about the village and the rest of Shigaraki prefecture on the official Shiga Tourist Office website (in French) or the English version (more detailed).
Shigaraki Village can be explored on foot but please follow the following directions to get to Shigaraki Station.
From Kyoto Station, take the JR Tokaido line then the JR Kusatsu line to Kibukawa (貴生川駅) before changing to the Shigarakikogen Tetsudo line to Shigaraki station. The journey takes around 1 hour and 30 minutes from Kyoto and can also be accessed on the same line from Osaka station in around 2 hours.
Article written in participation with Shiga Prefecture.
Translated by Mark Webster