Sponsored by Seibu Holdings Inc.
Shiga Prefecture, next to the ultra-famous Kyoto, is not the most famous destination in Japan, yet Shiga has a number of attractions which make for an unforgettable trip. Only 10 minutes by train from the former imperial capital Kyoto, you can see Japan's largest lake, Lake Biwa.
Among other things, there are several places which should not be missed. For example: Omihachiman has retained the charm of the Edo Period (1603-1868), Hikone is famous for its castle which is considered one of the most beautiful and ancient castles of Japan, Chikubu Island located in the center of Lake Biwa is regarded as a sacred island, and finally Taga-Taisha Shrine offers an elegant atmosphere. Tired of the crowded Kyoto streets and temples? Why not get out of the crowd to enjoy a serene atmosphere and the picturesque beauty of the buildings and landscapes nearby.
Omihachiman: A Walk between Edo and Today
The small town of Omihachiman dates back to the sixteenth century and was an important trading town in those days. Today the canal is no longer used for transporting goods but is an ideal place for walking or boating.
A cable car departs from the historic district to reach the summit of Mt. Hachiman, from there you can enjoy breathtaking views of Lake Biwa. It is a popular setting for romantic walks, and you can also find the small Zuiryu-Ji Temple.
A 15-minute walk (or 5 minutes by bus) from the historic district is La Collina. This incredible building made of grass by Terunobu Fujimori is mainly dedicated to baumkuchen, a very popular German pastry in Japan. The place is worth visiting, offering an incredibly bucolic setting, which gives the impression of having passed through the other side of the mirror into the land of tales and legends.
Hikone Castle: Take a Look at Feudal Japan
Established 410 years ago, Hikone Castle is one of the few Japanese castles whose building is still original. It is also one of five castles considered as a National Treasure of Japan. The beautiful architecture is not its only asset: it is located on a hilltop which offers a beautiful view of Lake Biwa, and visitors can walk around its vast enclosure, admiring the red foliage of the maples in autumn and the cherry blossoms in spring.
Below the castle, the Genkyu-en Garden, dating from the 17th century, can pleasantly extend your visit. You must give yourself enough time to look at the meticulous arrangement of the landscape around the large pond nearby, the shoreline is joined by many bridges stretching over the water. The castle is beautifully staged as part of the "borrowed landscape."
Chikubu-shima Island : a Sacred Island out of Time
Accessible from Hikone port, this tiny island is a magical place. According to the legend, the goddess Benzaiten descended on the island more than 1300 years ago. That's why Emperor Shomu ordered that a temple be built there. Chikubu Island today remains a sacred Buddhist and Shinto place, where pilgrims come from all over Japan to gather. The main building of Tsukubu Suma Shrine is classified as a National Treasure.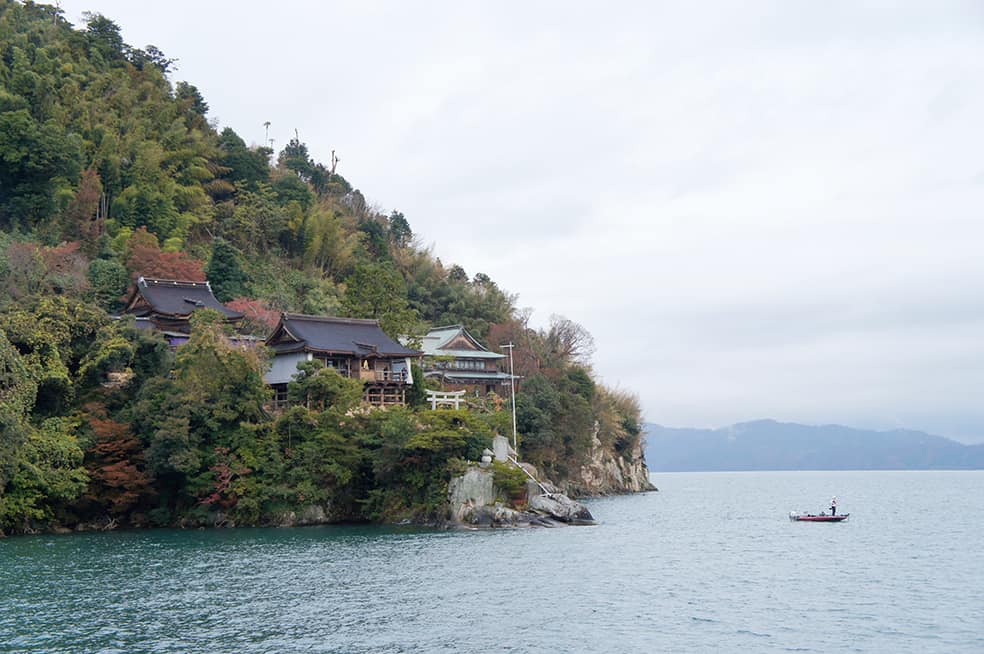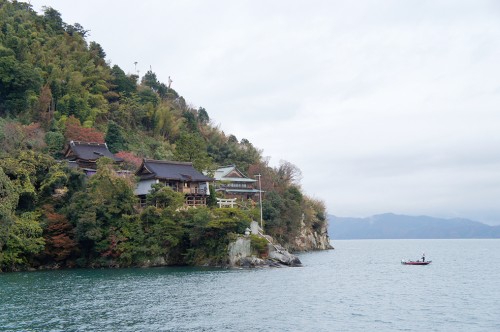 At Hogon-Ji Temple, adorable daruma are made to represent Benzaiten. At the Tsukubu Suma Shrine, guests can try to throw small cups through a torii facing the sea.
The visit to these places of worship and the incredible landscape of this island, resting on the waters of the lake and covered with dense vegetation, as well as the boat crossing to get here; each of these aspects helps to make a visit to Chikubu Island an escape from of the confines of time, a moment to take a breath and take in the surroundings.
Taga-Taisha Shrine: a Shrine from Ancient Times
Located in a village, at the end of a small train line of the company Ohmi Railway, Taga-Taisha Shrine is a hidden jewel, even if it is, in the end, only about twenty minutes by train from Hikone.
Dedicated to longevity, happy marriage and luck, it was founded in 620. In addition to the main building of dark wood embellished with gilding, there is a small shrine dedicated to Inari with its vermillion torii, a noh theater scene, and other beautiful surprises, all lined with tall trees. The quiet environment of the place, unknown to tourists, allows you to taste the authentic atmosphere of Shinto places of worship.
Where to Sleep?
Otsu City by Lake Biwa is only 10 minutes by train from Kyoto. Therefore it is the ideal place to stay for both visiting Shiga and Kyoto. You can also get out of the crowds and enjoy quiet evenings while contemplating the largest lake in Japan.
The Lake Biwa Otsu Prince Hotel is perhaps the best place to admire the view from, as all the windows of the rooms and restaurants at the 37-story hotel offer panoramic lake views. It has all the comforts of a luxury hotel, including excellent restaurants.
General Information
For more tourist information to prepare a trip around Lake Biwa, you can visit the Shiga Tourism website.
Shiga is known for its frequent rainbows, you can check out the "rainbow weather" information on this page.
The tourist office Omihachiman offers a pdf brochure in English to discover the many places to visit, find out about the calendar of events and other practical information.
The Hikone Travel Guide website should be consulted when planning a visit or a stay in Hikone. You will find practical information (access, rates, accommodation, events, sightseeing ideas around), and comprehensive information on the history and culture of Hikone.
More information on Taga-Taisha Shrine website (only in Japanese). Free entry.
How to Get There?
Otsu is 10 minutes from Kyoto by train on the JR lines. About 2 hours and 40 min. from Tokyo by shinkansen with a transfer in Kyoto – the trip is covered by the JR Pass.
Omihachiman is about 30 minutes by train from Kyoto and 1 hour from Osaka by train on JR lines.
Hikone, finally, is about 45 minutes from Kyoto and 1 hour 15 min. from Osaka by train on JR lines.
Shiga has a local alternative to the JR railways. Ohmi Railway trains connect tourist towns such as Omihachiman and Hikone with smaller towns like  Taga Taisha Shrine. These local lines, which roam quietly in small retro-looking, colorful box cars, are in and of themselves a blast to the past, and offering a glimpse of Japan from the Showa Period (1926-1989).
Ohmi Railway's website is available in English. The 2-Day Pass, at ¥ 2,000 for foreigners, allows unlimited travel on the Ohmi Railway lines, but also on the company's 7 bus lines, including visiting Omihachiman, and the Hikone Tourist Bus.
Original article by Clémentine Cintré
Translated by Aika Ikeda