Tottori prefecture is located on Honshu island, between mountains and the Sea of Japan. It is still quite rural and is one of the less populated of Japan but has lots of charms. Its most touristic places are Tottori sand dunes and Mt. Daisen (大仙), both of which I visited eight years ago. However, Tottori has much more on offer. I was glad to go there again to discover the prefecture better and enjoy autumn.
How to Enjoy Autumn Foliage in Mount Daisen
Mt. Daisen peaks at 1,729 and is nicknamed "the little Mt. Fuji" because of its shape and the surrounding plains. This sleepy volcano, the highest of Chugoku, is one of Japan's 100 most famous mountains, popular for ski and hiking lovers for its abundant nature. In autumn, Mount Daisen is one of the must-see destinations when traveling to Tottori. To walk there is to enjoy its landscapes and the mystical atmosphere that reigns there.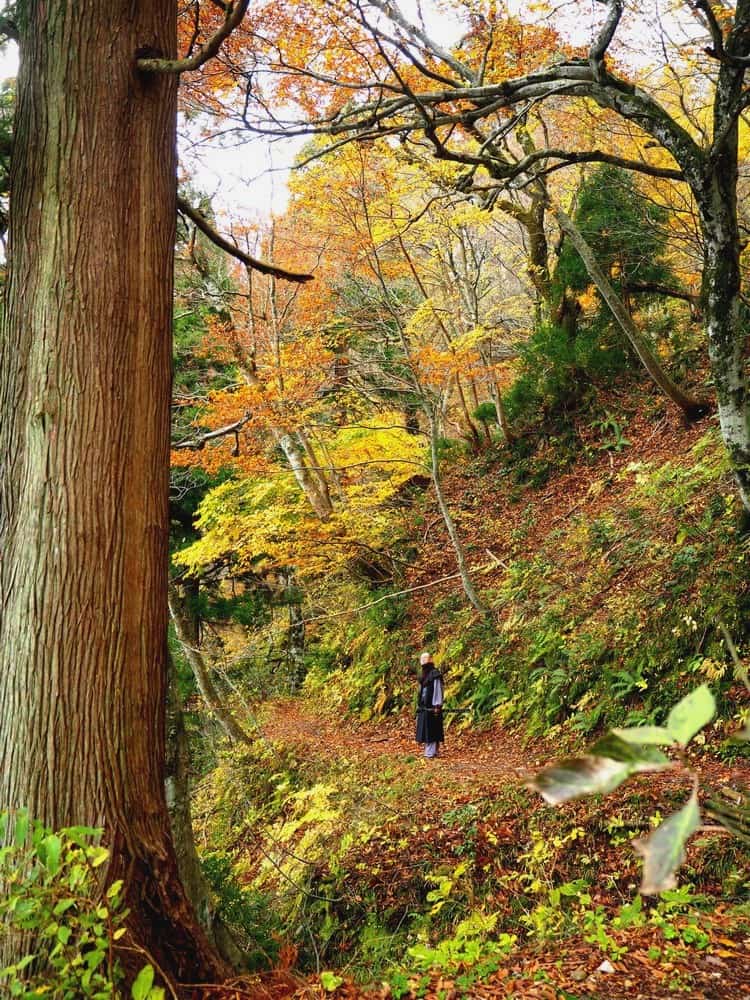 Take Your Senses on a Journey by Learning Zazen at Tottori
Visiting is good, but can be tiring, so you might as well take a break and try zazen. Unlike my first visit here, during which I simply walked to Daisen-ji temple, this time I took the time to learn about zazen. In the company of the monk, we had a break in the middle of our walk to stop at Amida-do temple (阿弥陀堂). It is estimated that it was built 900 years ago, making it the oldest temple on Mount Daisen, designated a National Treasure. The wood is original and beautifully maintained. Inside, large statues of deities sit enthroned in the center.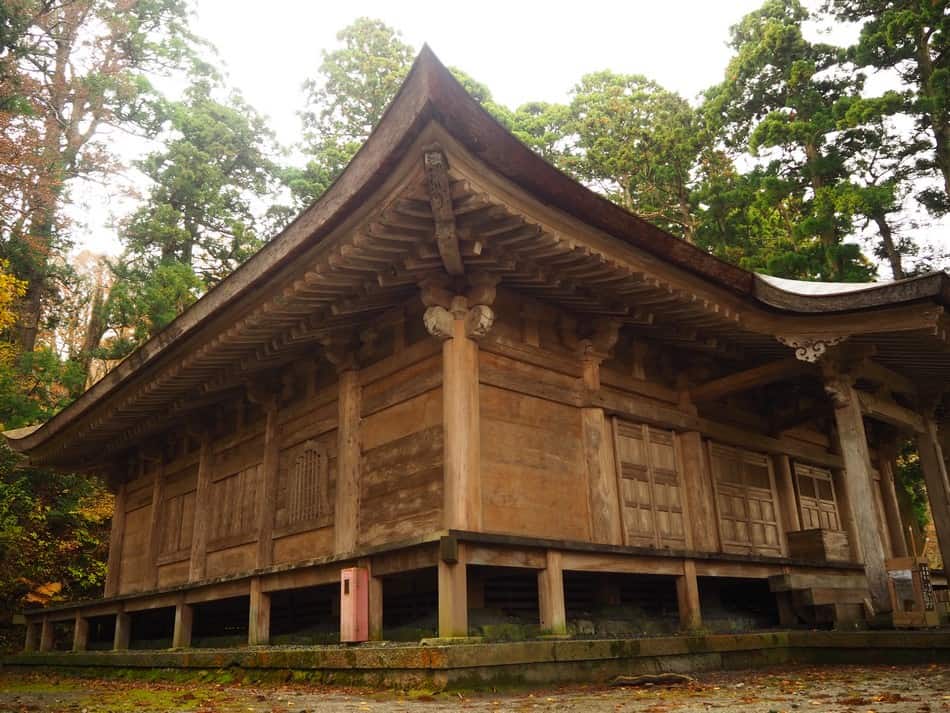 On the ground, old tatami mats rippled from the humidity. The purpose of zazen is to relieve stress and reconnect the heart to the mind. There is something magical about doing this in nature, with only the wind and animals in the background. I followed his advice to try and relax as much as possible. Sitting cross-legged, with my hands clasped in the manner of Buddha, my back straight, and my eyes half-closed, I concentrated on counting from 1 to 10. It was not an easy exercise, but I am glad that I managed to really disconnect during those 15 minutes. If you can't concentrate, you can raise your hand to call the monk who will then give two light strokes on the back to refocus you.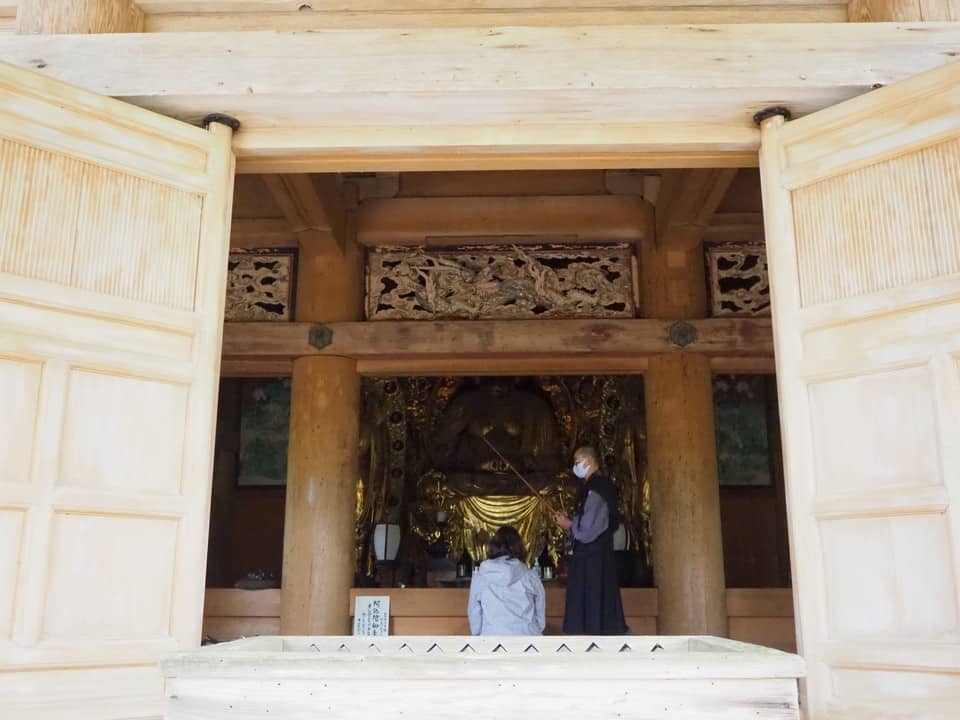 How to Get to Daisen-ji and Amida-do: 54 minutes by bus from Yonago station, then 20 minutes on foot from Daisenji bus stop or 30 minutes by car from Yonago IC by taking the Yonago highway.
Taste the Buddhist Cuisine of Mount Daisen
Next to the Daisen-ji temple is Sanrakuso, an establishment that allows you to live a unique experience: sleeping under the same roof as the monks. It is, therefore, possible to stay there, but also simply to eat there. Since the monks have a vegetarian diet following their beliefs, you can try shojin ryori, Buddhist cuisine. Japanese and foreigners often think that this meal is expensive, but it is not. There are certainly hearty, fancy-looking menus, but also feature simpler dishes like curried udon noodles. To discover this Buddhist cuisine, you will have to think about booking in advance.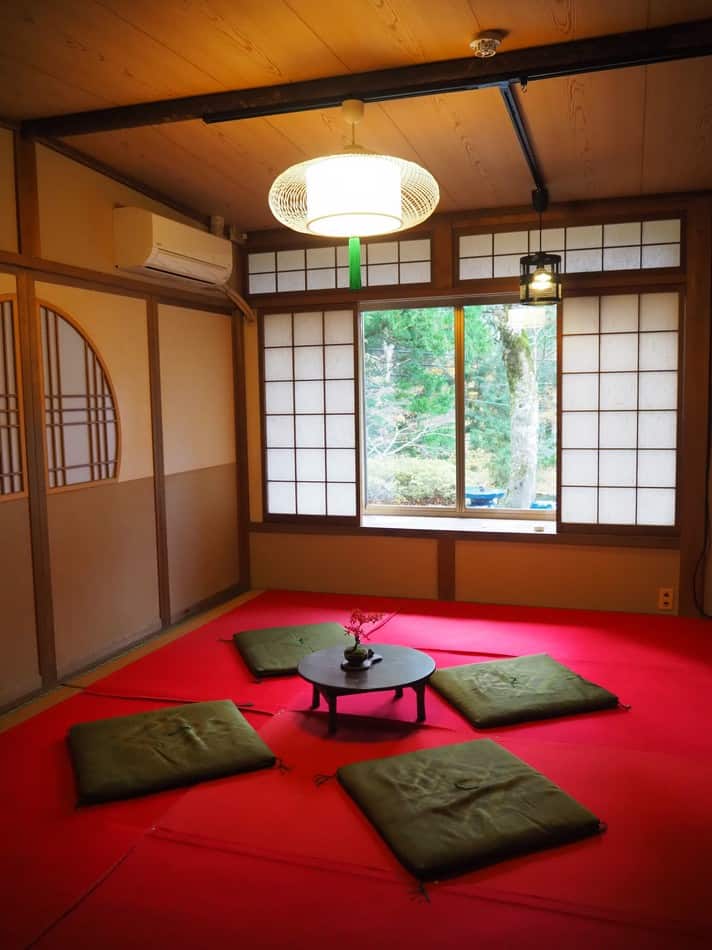 At the foot of Daisen-ji temple is the small tea house, Tenguchaya. It literally means "the tea house of the Tengu," the tengu being is a hybrid creature from Japanese mythology well-known for its long nose. Mt. Daisen one is represented as a crow who, as a good guardian, keep out impure people who try to get onto this sacred mountain. It is possible to eat from their featured vegetarian menu or simply have a rest.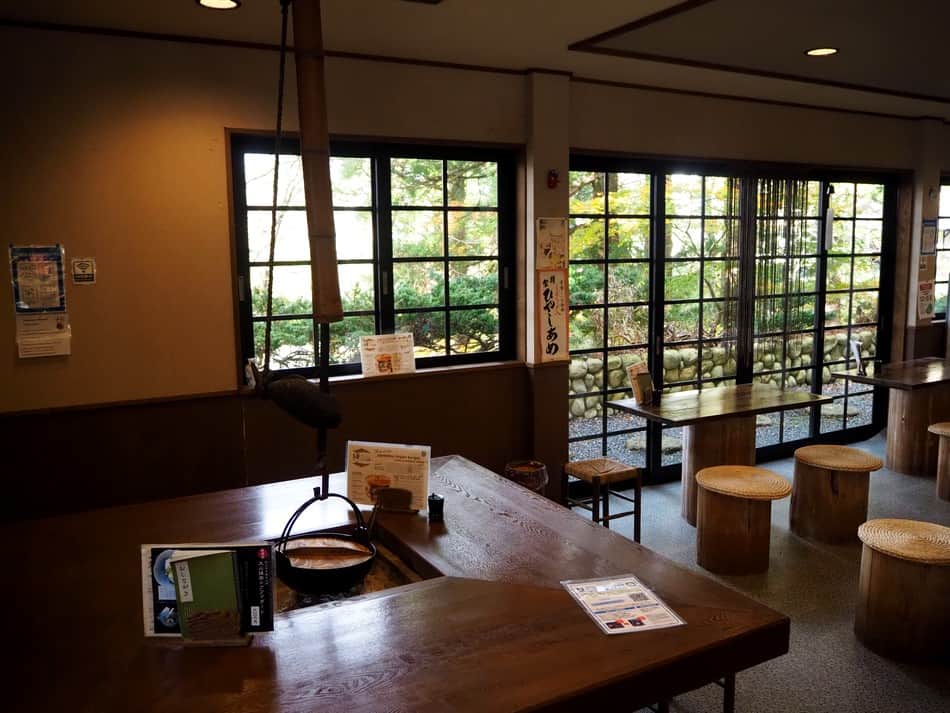 How to go to Sanrakuso and Tenguchaya: It takes around 50 minutes from Hoki Daisen station by a Nihon Kotsu bus; or 30 minutes by taxi from Yonago station.
How to Enjoy the Rest of Tottori in the Autumn
When autumn comes, the trees take on the colors of fire, transforming the landscapes of Japan. Between the momiji autumn leaves in Mt. Mitoku and matsuba crab season in November, there are many reasons to visit Tottori in autumn!
Make a Pilgrimage to Mt. Mitoku
Mt. Mitoku (三徳山) is located in Misasa city, famous for its hot springs, onsen. To climb Mount Mitoku is to purify the body and mind to be reborn. We follow in the footsteps of pilgrims of old through the hike of the seven temples, necessary for the purification of the five senses. Mount Mitoku is a preserved site where human intervention is rare, and paths can be narrow, steep, and slippery. Being on the gods' territory, even if we use roots and trees to climb, we must do so while respecting nature. Therefore, it is important to be well equipped with hiking shoes and gloves. If the soles of your shoes are slippery, you can wear straw sandals which will better adapt to the mountain terrain.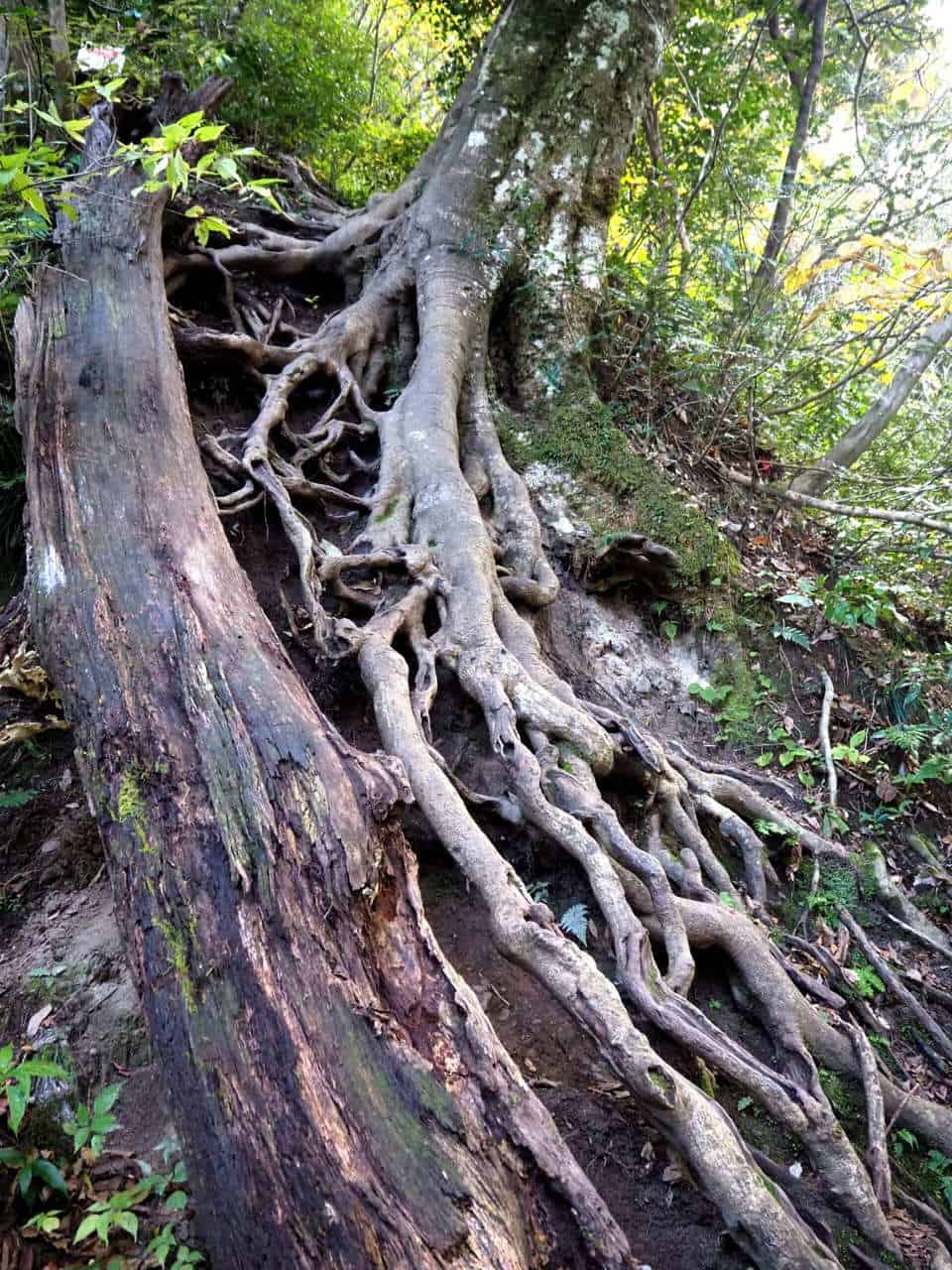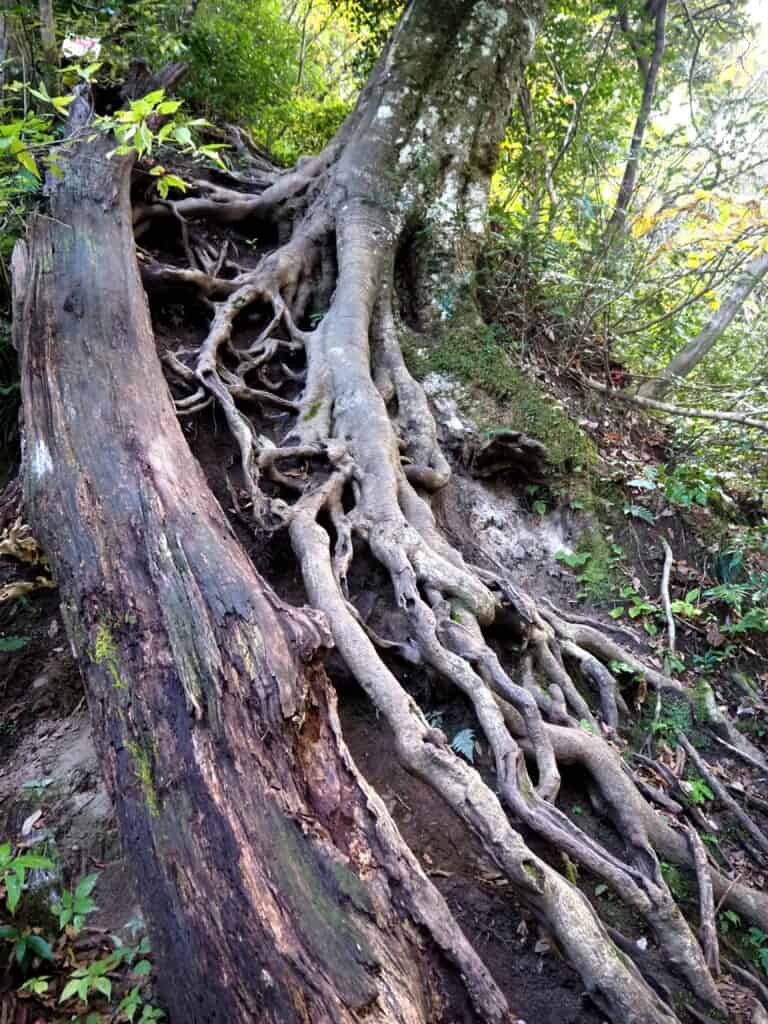 It is said that the panorama from temples purifies the view. After doing this experience, I agree with it. I loved sitting at Monju-do Temple with my feet hanging in the air. Going around the temple would allow you to obtain the three virtues of Mount Mitoku: wisdom, happiness, and longevity. I don't think I've ever been so enraptured by nature as during this climb. Admittedly, this one is challenging, but it is worth it, and I do not regret having done it. The view of the surrounding mountains was amazing and I was overwhelmed by the fall colors.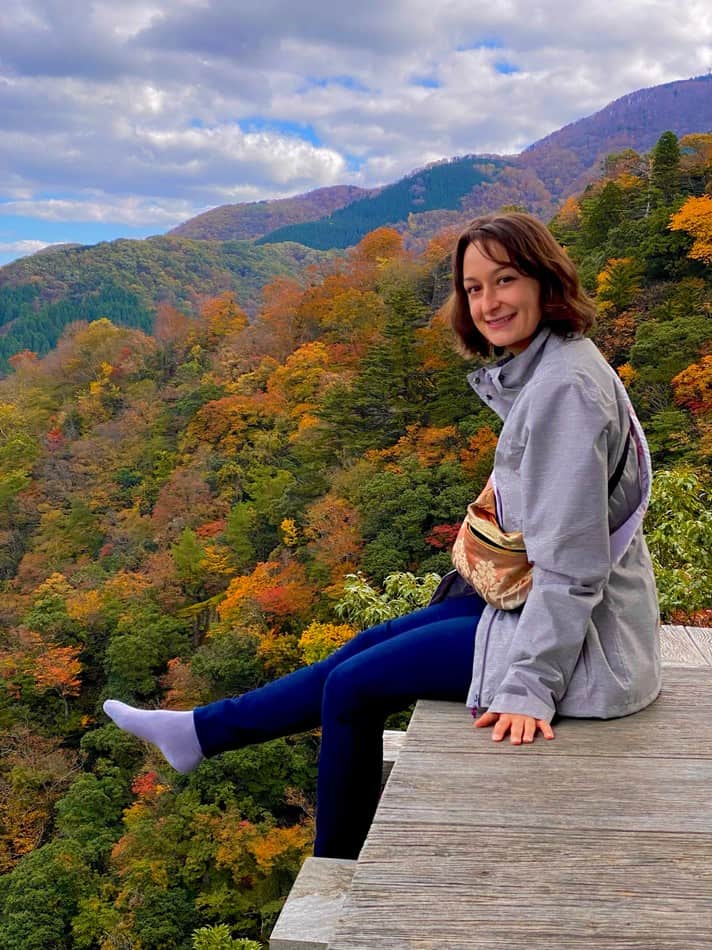 This pilgrimage in nature end at the foot of Nageire-do (投入堂), classified as a National Treasure. This temple embedded in the cliff is so impressive to see and well kept for centuries. Dating from the 12th century, this architectural feat is astonishing for its time.
Admire Amedaki Waterfalls
I have always loved waterfalls, so I was looking forward to discovering Amedaki, the waterfall of rain (雨滝). Once out of the taxi, I took the stairs that led to the foot of the mountain. Its wood was covered in moss, a bright green moss that spoke of the lush flora and the moisture-laden air. Through the trees, I could make out a tall, thin waterfall, then in the distance, I saw the great Amedaki waterfall. What a nice surprise to discover two waterfalls instead of one! It is a green setting between mountain and forest, formed of green moss, red and yellow maples, and this pure white water that poured between the rocks. It is truly an oasis of calm livening by a beautiful color palette. If you come to Tottori in autumn, you might as well come and drink in the beauty of this place.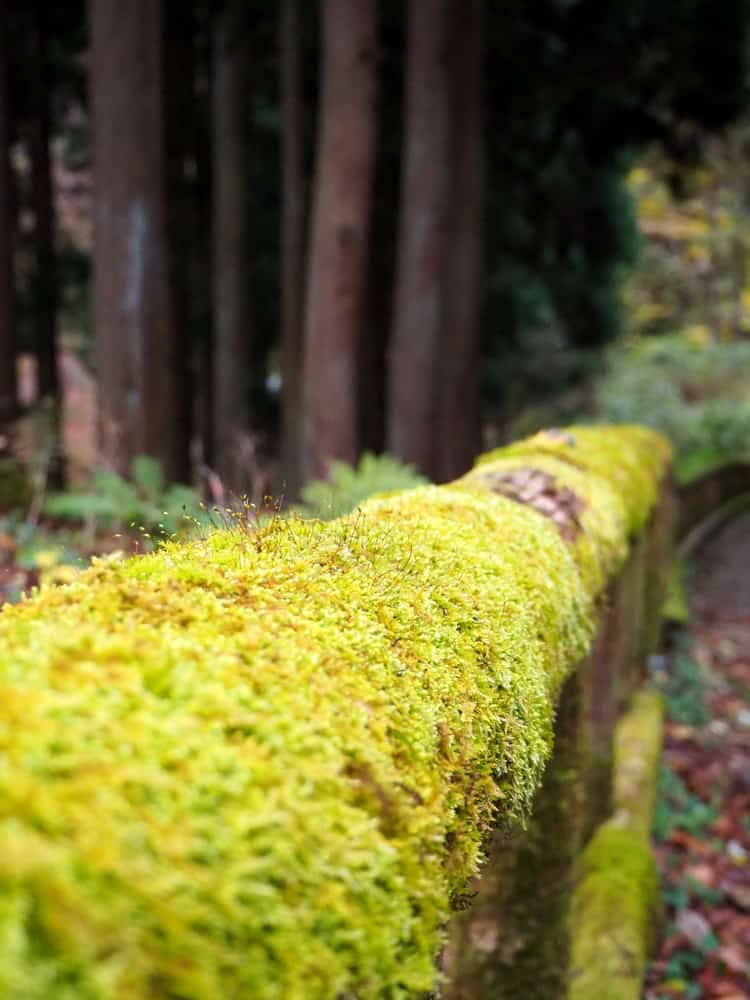 Amedaki Falls is located around 20 km from Tottori city. "Ame" means rain, and "daki" is a derivative of "taki" which means "waterfall", so literally, the waterfall rain. It is so named because of the power and sound of its waterfall reminiscent of rain. This characteristic also gives it the nickname of the male waterfall in contrast to its neighbor, the Nunobiki waterfall whose waterfall is finer and quieter. At the height of 40 meters, the flow of Amedaki is impressive. As I approached, I could feel a few droplets watering my face. Her water was so beautiful and clear, apparently, it would be sacred and have benefits for the skin. This waterfall is the starting point for a hike leading to 48 other waterfalls!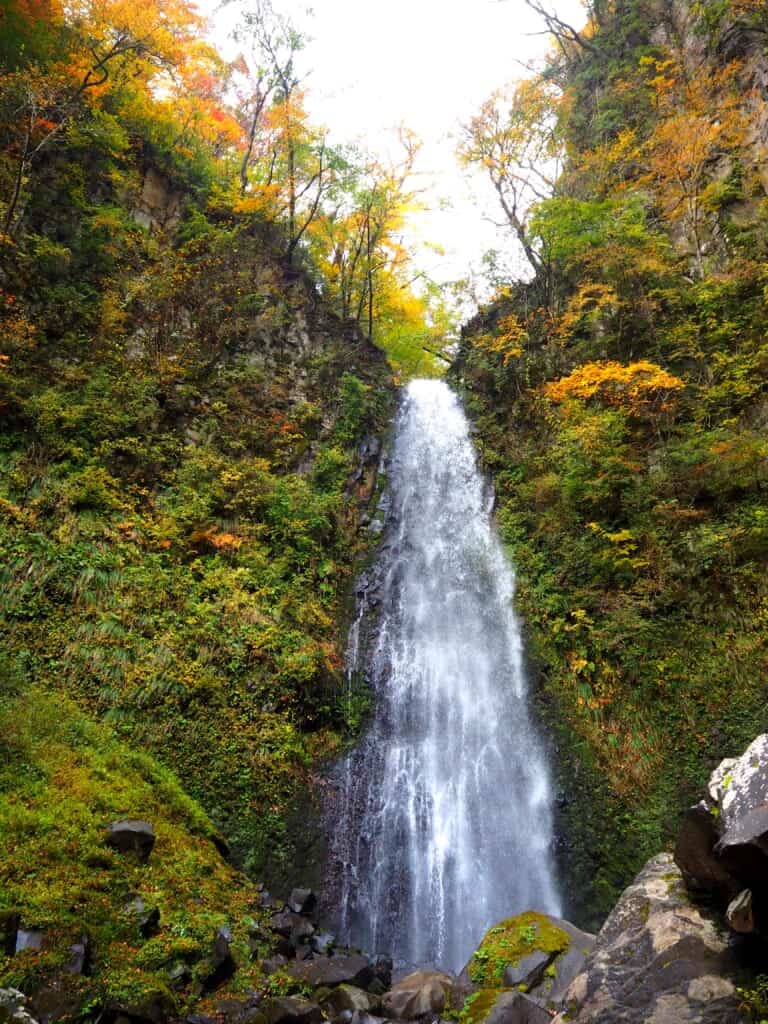 How to go to Amedaki Falls: At JR Tottori station, take the bus Hinomaru bounding for Amedaki and get off at Amedaki stop (around 1h). From the bus stop, walk around 20 minutes to reach the waterfall.
Taste Tottori Seasonal Crabs
Traveling to Tottori in autumn is also the opportunity to taste seasonal dishes! Its proximity to the Sea of Japan makes it possible to catch the delicious crabs which became one of the specialties of Tottori. Karoichi Seafood Market is full of these big crabs which are caught from November to March. These are matsuba crabs, the males of which are twice as large as the females. A lady explained to me that to recognize a good crab, it must be very red, have all its legs, and have a flat abdomen. She asked me if I wanted to touch some, before finally putting one entirely in my hand. It is a friendly market where the people are always up for a chat.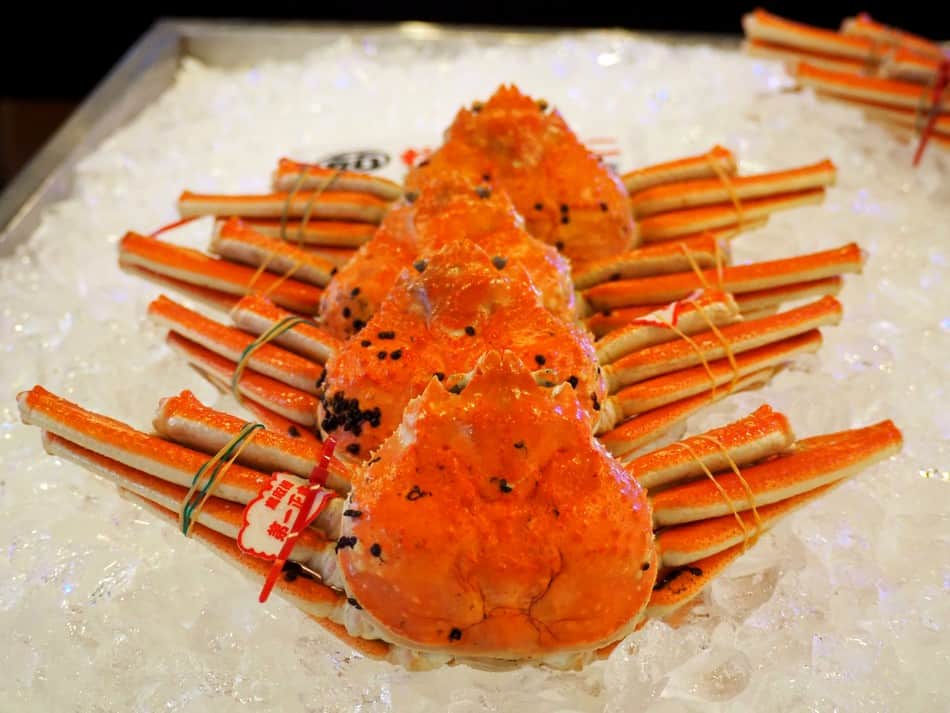 A short walk from the market, I had lunch at a restaurant that serves mainly crab. We had a choice of mushi-gani , steamed crab, and yaki-gani, grilled crab. I chose the latter which is more practical to eat because the crab is already cut, unlike the mushi-kani whose legs have to be cut and you must get the flesh out. The crab is very expensive in Japan, so it's only the second time I had the opportunity to eat it, and I really enjoyed it.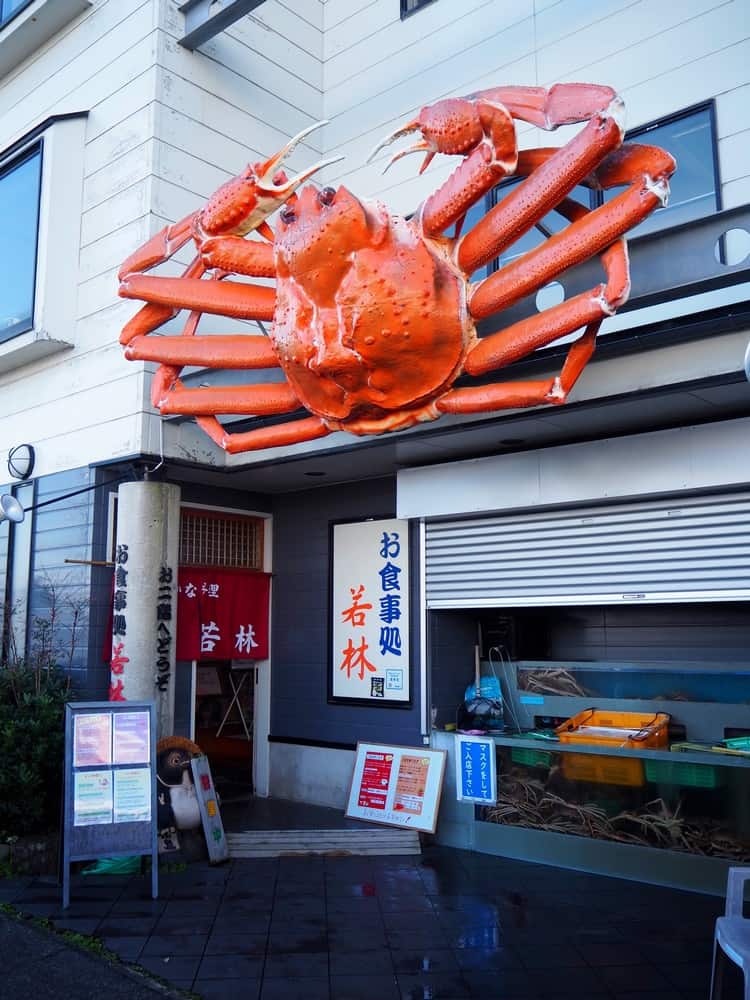 How to get to the Karoichi seafood market: 10 minutes by taxi from Tottori station, or 20 minutes by taxi or by bus from Tottori airport.
Hakuto-jinja, the Inaba White Rabbit Shrine
On the coast of Tottori Prefecture, Hakuto-jinja overlooks the Sea of ​​Japan and is one of the oldest shrines in Japan. It must be for this reason that its big shimenawa reminds me of the larger one of Izumo Taisha shrine. Hakuto jinja is attached to the ancient legend from Japanese mythology, that of the white rabbit of Inaba. Although the shrine is small in size, it is renowned as much for healing skin diseases and wounds as it is for finding love, plus you can see rabbits everywhere!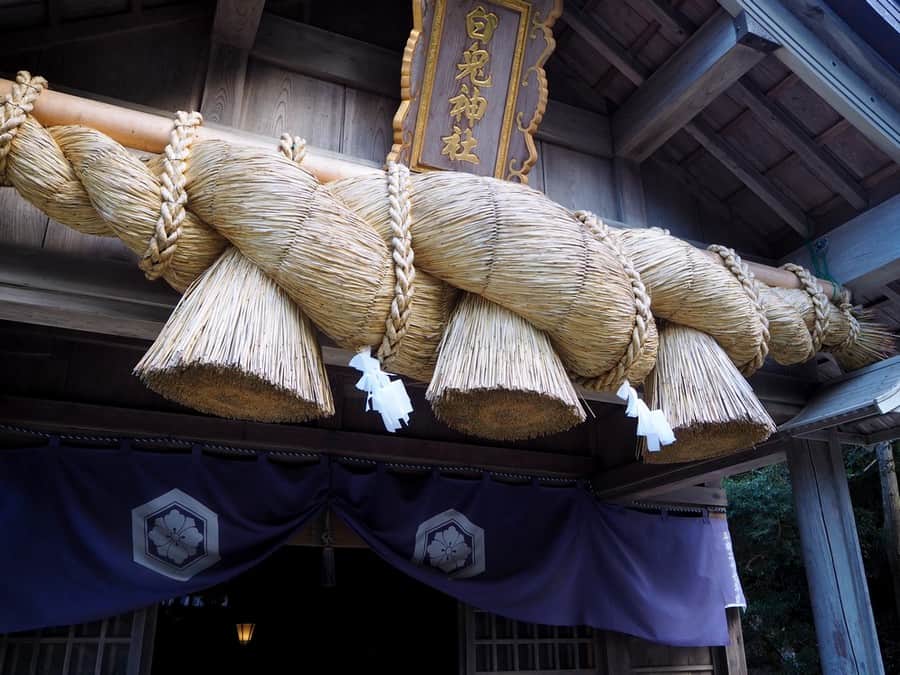 The legend of the white rabbit of Inaba goes like this: One day he was stranded on the island of Oki. In order to get back to Inaba, he asked sharks to line up so he could count them by jumping on their backs to see if there were more rabbits or sharks. Seeing that the sharks believed him, he began to mock them by admitting that he just wanted to cross. Right before reaching his goal, a shark caught him and skinned him. The wounded rabbit only received help from Okuninushi, who advised him to bathe in fresh water, which made his coat grow back. Recovered from his wounds, the rabbit predicted to Okuninushi that he would be chosen by a princess that he and his brothers had gone to woo.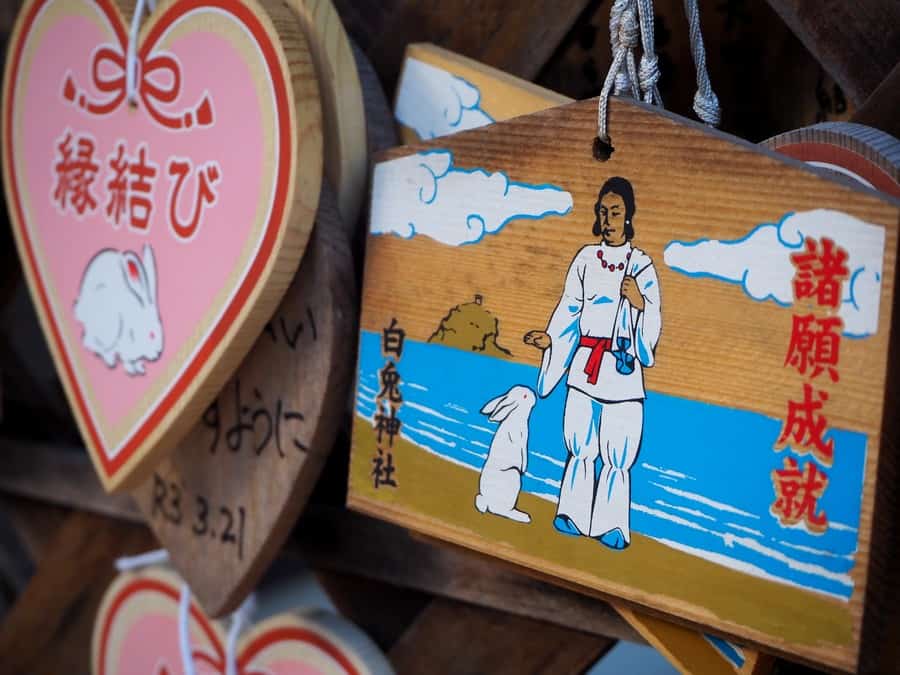 How to get to Hakuto shrine: It takes around 40 minutes by Hinomaru bus from Tottori station (get off at the Hakuto-jinja-mae bus stop).
Marumo Onsen Ryokan
Traveling is also about having some rest. After enjoying the beauty of autumn, try Tottori's onsen! I went to Marumo Ryokan, a traditional Japanese hostel which has an onsen coming from its source! Located downtown close to JR Tottori station, it is the perfect place to access public transport. In this ryokan, rooms do not have a number but plant names: sakura, ume, momiji… My western room was named botan which means peony and has a view of the little inside garden of the ryokan. Public baths were in an annex, the red noren pointed out women's onsen and the blue one men's onsen. Immersed in the hot bath, I could enjoy the view of the little garden.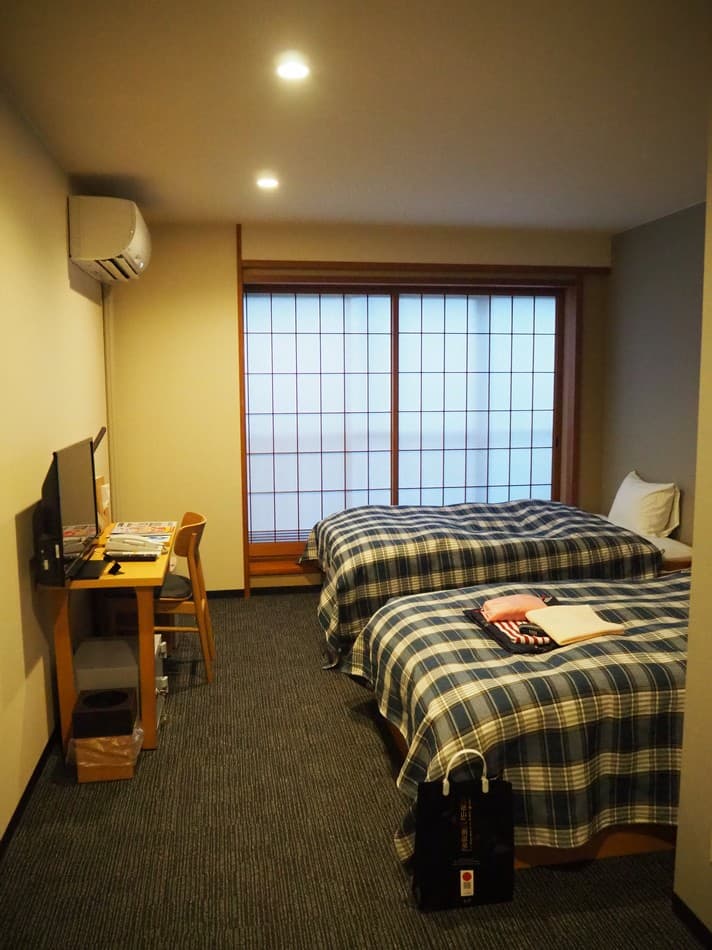 How to get to Marumo Ryokan: Walk 5 minutes from Tottori station.
How to get to Tottori?
From Tokyo Haneda, you can take a 1 hour and 20-minute flight directly to Tottori airport.
Tottori is accessible by train from Kansai: From Shin-Osaka station, take the Express Railway Limited Express Super Hakuto bound for Chizu (around 2h50). This train is not accessible with the Japan Rail Pass, but you can use it by taking the Limited Express Hamakaze from Osaka. However, be careful with its timetable because it does not circulate a lot.
I have a great memory of these three days in Tottori and I am happy that I could visit better the prefecture. I think fall is definitely the best season to take a trip there. Tottori is also an important place for culture pop of some famous Japanese manga like Detective Conan and Gegege no Kitaro!
Article sponsored by Tottori prefecture