I finally made peace with the fact that I must endure a wait for the fall colors to arrive in Japan, otherwise known as koyo season (紅葉), my favorite time of the year. Once the world-famous sakura season ends in April, things start to go a little south weather-wise. First comes the rainy season in early June until the end of July, followed by a sweltering and humid summer, making me almost miss the rainy season's constantly wet days. But when the autumn season arrives, all that wait finally pays off. We, the residents of Japan, have nearly four months of relatively dry, pleasant weather to enjoy the colorful festival of the koyo autumn season.
What is Koyo Season in Japan?
Although many people are familiar with the sakura season in Japan, the equally mesmerizing and even more colorful autumn leaves season, which is my favorite, is often overshadowed by the more attention-seeking sakura. Koyo — written as 紅葉 in Kanji and read as kōyō — literally means "red leaves" in Japanese, or as 黄葉 meaning "yellow leaves." Sakura marks the beginning of spring whereas the koyo season serves as the bridge between the humid summer of Japan and its winter.
When is the Best Time to View the Fall Colors in Japan?
I often recommend people visit Japan during the fall colors season to have the best weather and relatively fewer crowds than the popular sakura season. The weather during the fall colors season in Japan is usually nice and dry enough for outdoor activities. My excitement for the koyo season in Japan is so high that I often adjust my work schedule during October and November to prioritize the autumn season and travel as much as I can to explore the best autumn leaves viewing spots in Japan. The daily visits to observe the day-by-day changes that the leaves go through during the autumn foliage season is my favorite outdoor activity in Japan.
The autumn colors season in Japan usually starts as early as in September in the northernmost island of Japan — Hokkaido and lasts through mid-December in popular Kanto and Kansai regions where the fall colors often show up in the latter part of November. There is a regularly updated online calendar to check the timing forecast for best times to view fall colors across Japan based on prefecture and popular autumn colors viewing spots. This autumn colors forecast calendar almost serves as my bible during the autumn foliage season and helps me plan my "fall foliage exploration trips."
My Favorite Rural and Urban Destinations to Experience the Fall Colors in Japan
Although most of my travels are rural and nature destinations, I especially enjoy spending time in my favorite Japanese cities during the autumn leaves season. The large parks, temples with gardens, and illumination events make the cities some of the best places for an atmospheric autumn foliage viewing experience. As a result, I plan my autumn travels to cover both the rural areas and cities to get the most out of the koyo season.
Nikko: Ancient Temples, Waterfalls, and Autumn Foliage Hiking Trails
Nikko (日光), located in Tochigi Prefecture in the Kanto area, is most known for its historical center and ancient temples and is a popular cultural destination for Japanese and overseas visitors. This Nikko region, officially designated as a national park, is one of my favorite outdoor destinations in Japan. I try to visit the region in mid-October every year when the Oku-Nikko (奥日光 meaning inner Nikko) area greets the fall colors earlier than most other places in the Kanto area, including Tokyo.
Nikko is easily accessible as a day trip for those based in Tokyo, but I often spend the night at Nikko town to cover more ground. It is a vast national park home to a wide network of hiking trails, iconic waterfalls such as Kegon Falls (among other smaller but equally beautiful waterfalls), and two marshlands of Senjogahara and Odashirogahara.
I often start my walk at Ryuzu Falls to cover the areas with the best fall scenery. The twin falls are not as high as others in the park, but they offer picture-perfect views when surrounded by the vibrant colors of the fall season. My favorite hiking trail in Oku-Nikko passes Ryuzu Falls and leads into a forested area. The trail then passes by Senjogahara Marshland — one of mainland Japan's most extensive highland marshlands and ends at Yunoko Onsen. There is a very short detour to Yudaki waterfall right before entering Yunoko Onsen that one must not skip, especially during the autumn leave season.
You can refer to Nikko Official Guide for the hiking map of the Oku-Nikko area with course descriptions. Since the weather often impacts the trail conditions, it is advisable to check which trails are open at the Nikko Tourist Information Center located at Tobu-Nikko Train Station.
Best time to visit for fall colors: The fall colors reach their peak in the Oku-Nikko region in mid-October
Transportation: Nikko Pass All Area is a great pass that covers train travel from Asakusa to Nikko and the bus pass to travel in the Nikko area. The pass is valid for four days and currently costs 4,600 Yen. It is available for foreign passport holders, including foreign residents of Japan.
Kanazawa: Fall Colors at One of the Most Beautiful Gardens in Japan
I am envious of anyone who has not yet been to Kanazawa (金沢), as you are in for a delightful surprise. During my first visit to the city in Ishikawa prefecture, my original plan of two days turned into ten days. With its historical and modern museums, a decent range of eateries, trendy accommodation options, and the old city vibe with samurai roots, Kanazawa feels like the best of Kyoto and Tokyo packed together with fewer crowds. During my first visit to Kanazawa, I was not yet a resident of Japan and knew very little about the autumn season in Japan. Therefore, I was pleasantly surprised to see the city in a very colorful state in early December, which is already considered winter in most destinations within the northern hemisphere.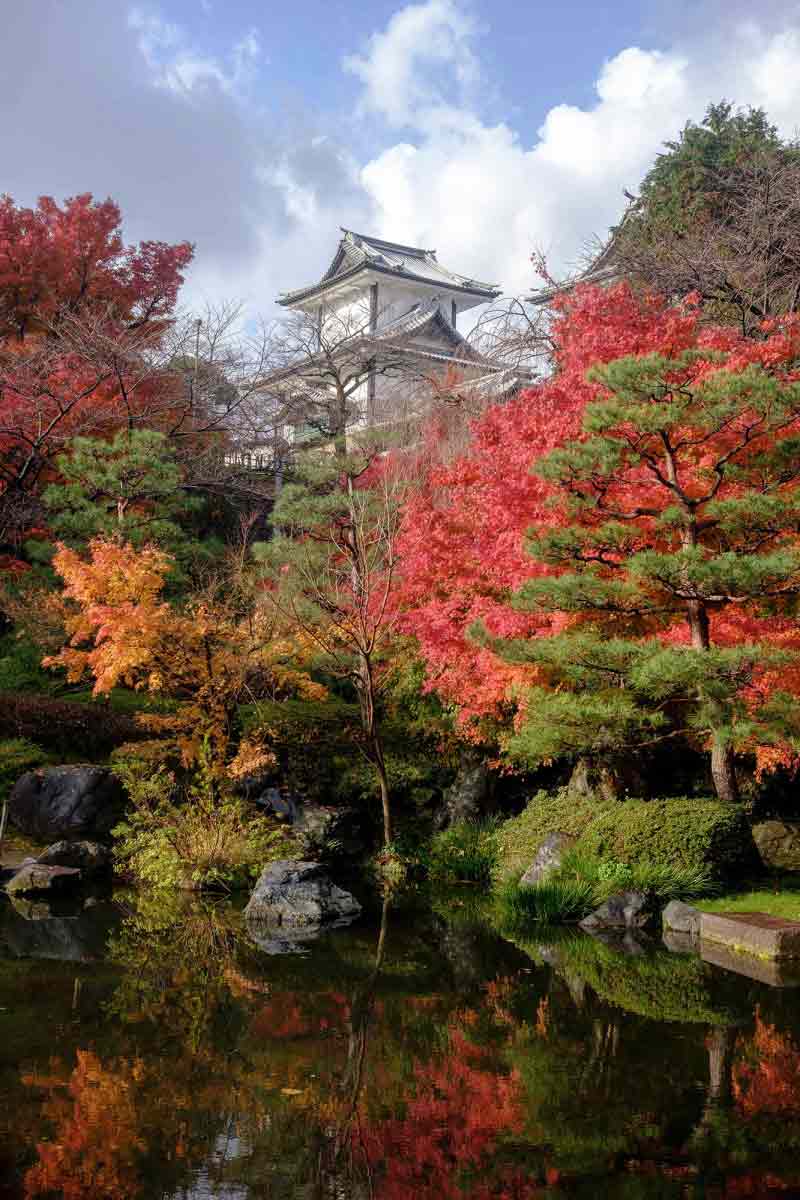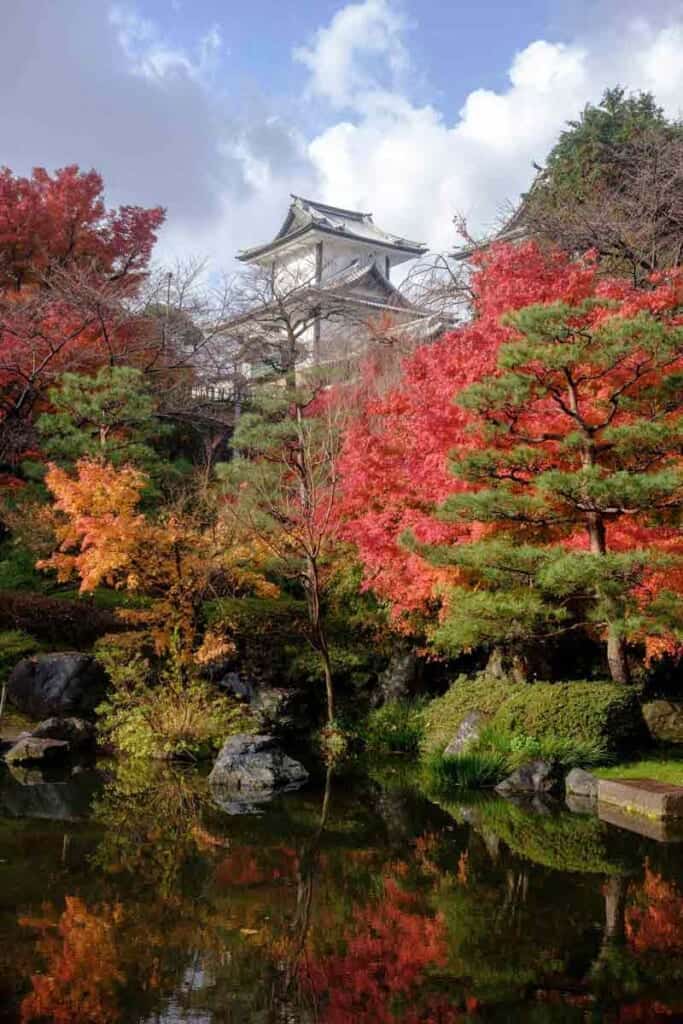 One of the prime spots to experience Kanazawa's fall colors is at Kenrokuen Garden (兼六園), considered one of the most beautiful gardens in Japan. During the koyo season starting in mid-November, the garden and its ponds are illuminated at night. While the illumination event adds a magical tone to the beauty of the gardens, I still prefer to experience the fall colors under sunshine, which adds warmth to the autumn colors. Kanazawa Castle is a famous attraction on its own right regardless of the season and is another wonderful place to experience the fall colors in Kanazawa. However, my favorite is the D. T. Suzuki Museum. The museum is dedicated to the life and works of Kanazawa-born Buddhist philosopher Suzuki Daisetsu Teitaro. It is an excellent example of modernist architecture, and its back garden is my favorite secret fall foliage viewing spot in Kanazawa.
Best time to visit for fall colors: Mid-November to early December
Transportation: There is a direct Shinkansen line from Tokyo to Kanazawa that takes anywhere from 2 hours 30 min. to 3 hours
Kamikochi: Autumn Colors Hiking Paradise in Japan
Kamikochi (上高地) — a hiking paradise of Japan in Nagano Prefecture — is almost intimidatingly beautiful in the autumn colors season. The area is home to some of the highest mountains in Japan that watch over you with their often snow-covered peaks. Kamikochi, located in Chubu Sangaku National Park, offers both easy and low altitude trails for those wanting to experience the fall colors with minimal effort or vertical challenges for more experienced climbers.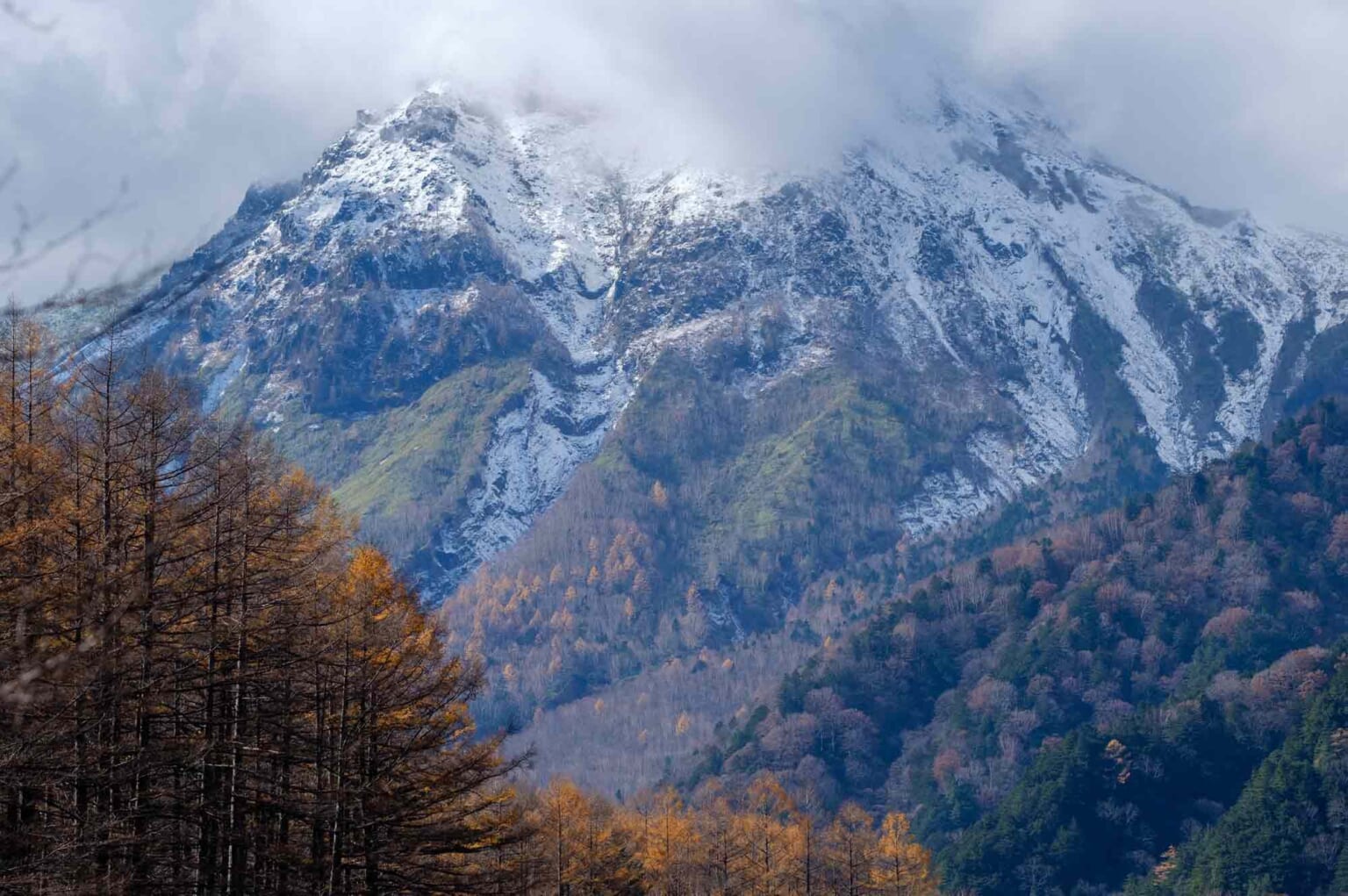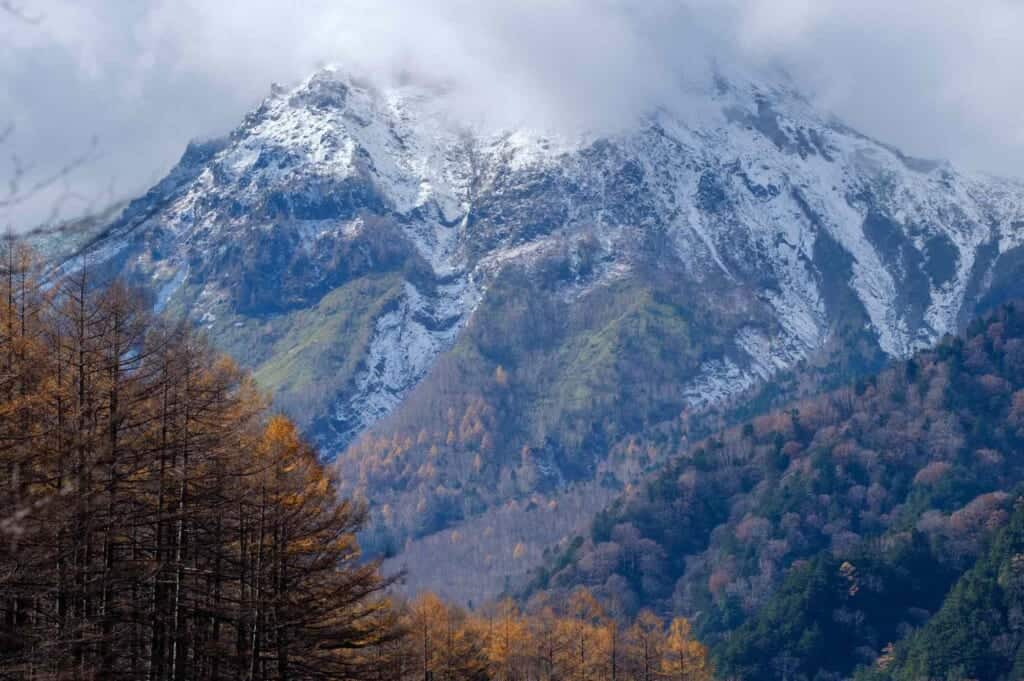 The autumn colors in Kamikochi start early in September in the peaks and reach the lower sections by late October. It's a popular destination for autumn leaves fans and, therefore, often a crowded place, especially during the autumn colors season. However, it's still worth a visit. You may easily forget about the crowds once you lay your eyes at Kappa Bridge with the colored peaks of the Japanese Alps in the background.
Best time to visit for fall colors: September through early November, depending on the altitude
Transportation: There are overnight buses directly traveling to Kamikochi departing from Tokyo. For those who prefer train travel, you can travel to Matsumoto City and then change to the bus for Kamikochi. More information on how to travel Kamikochi.
Tohoku: Unspoiled Natural Scenery in Japan
Tohoku (東北) is rightfully praised as one of the best regions to experience the unspoiled nature in Japan, and therefore one of the best koyo viewing destinations in the country. Located directly beneath northerly Hokkaido, Tohoku is home to six prefectures, including Aomori, Akita, Iwate, Miyagi, Fukushima, and Yamagata. Each one of the prefectures in Tohoku packs numerous autumn foliage spots offering a unique fall colors experience.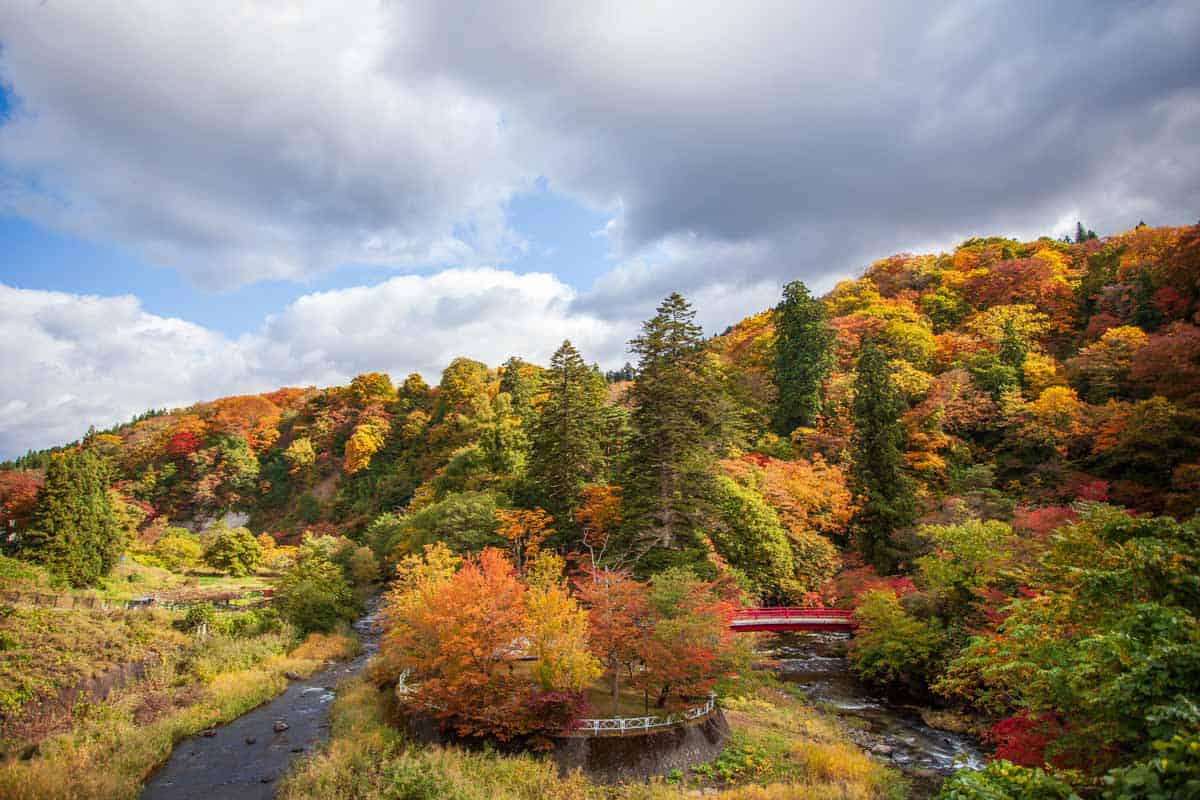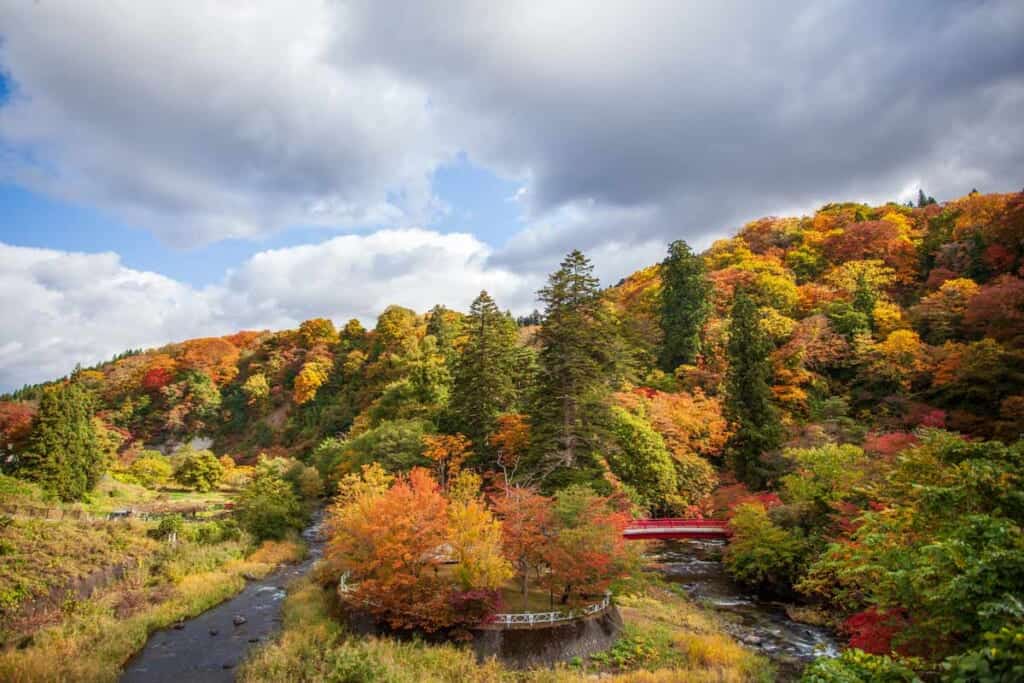 My favorites include Oirase Stream in Aomori Prefecture, Nyuto Onsen area in Akita, and Nakano Momiji Mountain in Aomori. Given its large size, the fall colors can start as early as the beginning of October in the northern prefectures and end in mid-November in the southern regions.
Best time to visit for fall colors: Koyo season starts in early October in the northern prefectures and lasts until mid-November in the southern prefectures. Please refer to the autumn forecast for each prefecture on the Kishou Website.
Transportation: Tohoku is served by numerous airports and Shinkansen, making it easy to move from major stations like Tokyo to its six prefectures. It takes between three to five hours to reach Tokoku's prefectures of Aomori, Akita, Iwate, Miyagi, Fukushima, and Yamagata by Shinkansen.
Kyoto: An Elegant Autumn Foliage Destination in Japan's Ancient Capital
It saddens me that it is nowadays impossible to talk about Kyoto without someone mentioning the dreaded concept of over-tourism. However, despite all the city's issues due to the increased touristic interest, it is still a marvelous city and a classic destination that will never fall out of fashion, at least for me.
With its parks and hundreds of temples with unique gardens, Kyoto is one of the best destinations to experience the fall colors in Japan. The city, which is already one of the most elegant cities globally, becomes even more charming with the touch of autumn colors.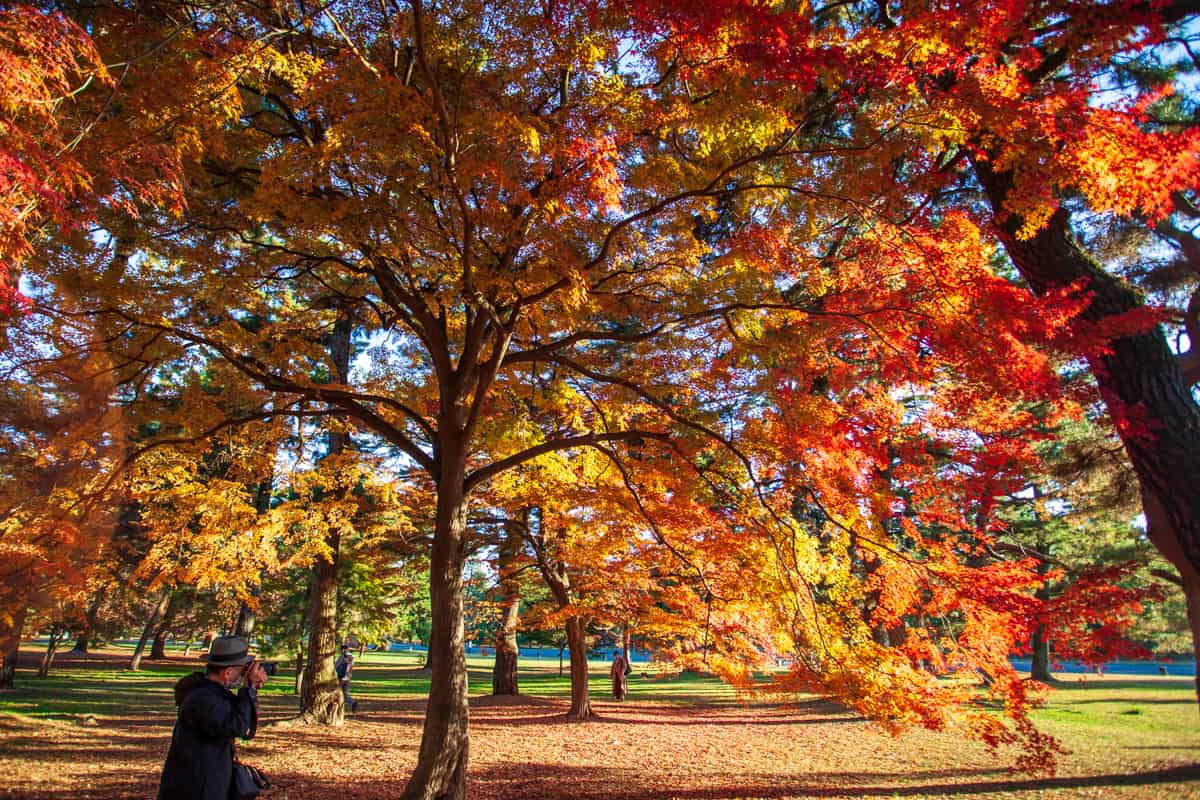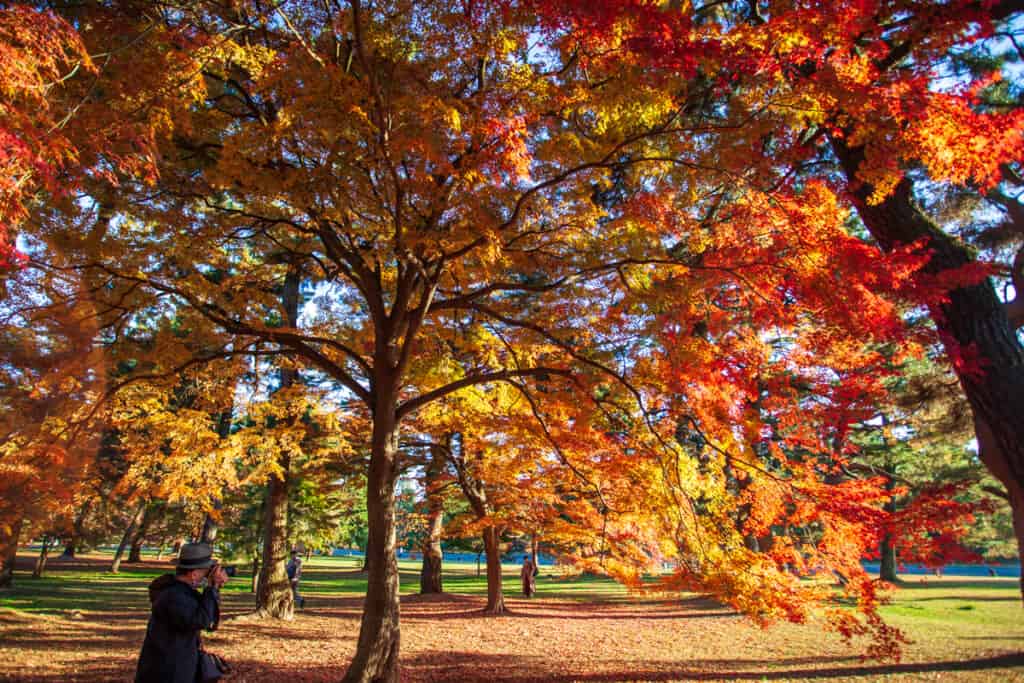 During my autumn foliage viewing visits to Kyoto, I often start my days with hours-long strolls at Kyoto Imperial Palace Park. This spacious and centrally-located garden is among my favorite koyo destinations, not only in Kyoto but in all of Japan. I genuinely enjoy getting lost among the fall colors while witnessing the daily morning routines of Kyoto locals. My favorite activity is watching the locals who bike through the park to work in their business suits. They often cannot resist the beauty of the fall colors and get off their bike to take photos and enjoy the colors.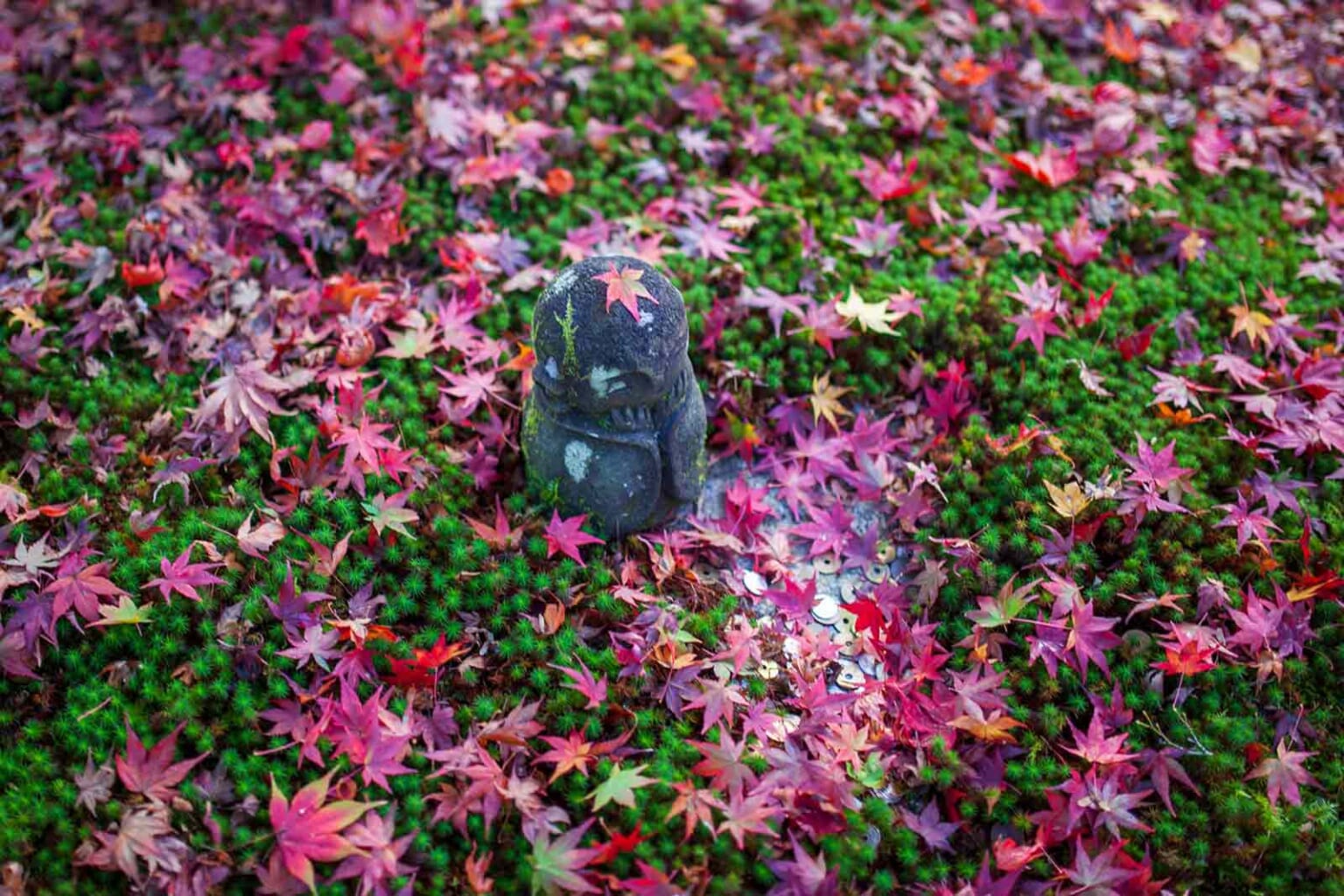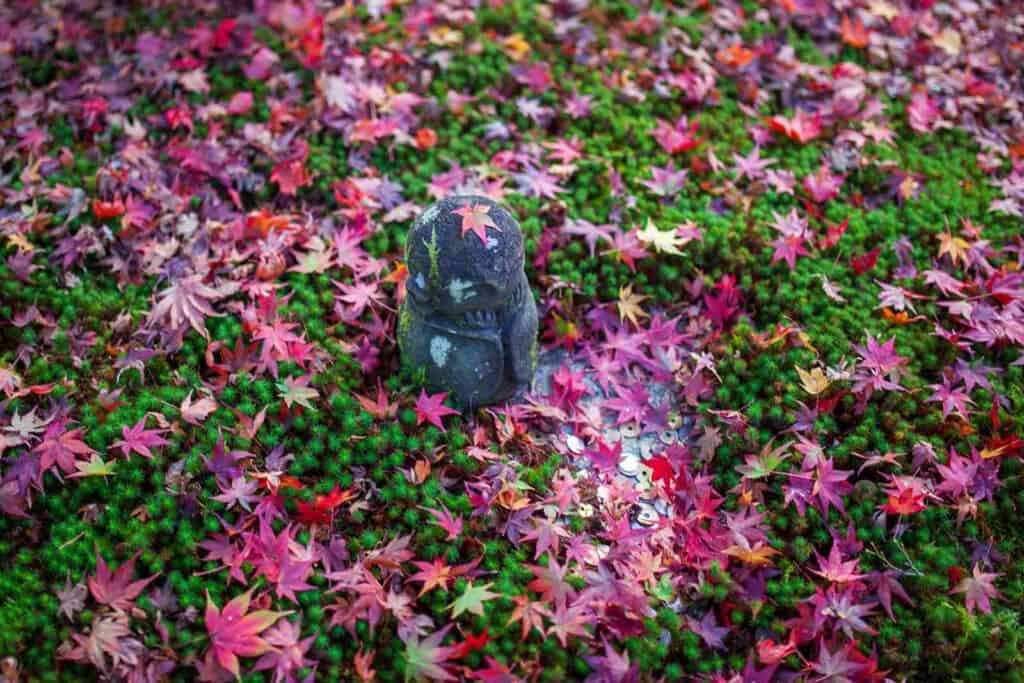 The elegant Enkou-ji Temple (圓光寺) is another favorite of mine in Kyoto for fall color viewing. The temple is best visited early in the morning (and with an advance reservation during the koyo season). I also often visit Kodai-ji Temple (高台寺) multiple times during each visit to Kyoto, especially during the fall colors season.
Best time to visit for fall colors: Mid-November to early December
Transportation: Accessible from Tokyo with Shinkansen in less than 2h 30min
Tokyo: The Best Autumn Foliage in Japan's Capital City
Tokyo and the term underrated rarely go together, but I think Tokyo is among one of the most underrated destinations in Japan in terms of the fall colors. The metropole is home to extensive parks that hosts hundreds of old and well-grown trees, each offering different fall colors viewing experience.
Showa Memorial Park (Showa Kinen Koen, 昭和記念公園), which greets the colors a little earlier than most other parks in Tokyo in early November, is famous for its ginkgo alley guarded by tens of ginkgo trees. The alley in Showa Memorial Park is as beautiful as the more famous Jingu Gaien Ginkgo Avenue located in the Aoyama district of Tokyo.
My favorite autumn color viewing spot in Tokyo is Shinjuku Gyoen (新宿御苑) — one of the most popular parks in Tokyo — which surprisingly offers one of the most intimate fall color viewing experiences in Tokyo if you go early in the morning. Mizumoto Park (水元公園) in Katsushika is the largest park in Tokyo and another favorite to view the fall colors in Tokyo. The park is so big that one can easily pretend to be in a national park and not in one of the world's biggest and busiest cities.
Best time to visit for fall colors: Mid-November to early December
Transportation: Easily accessible with Shinkansen, plane or bus, being the most connected city within Japan
How to Access the Best Fall Color Destination in Japan
Many of the autumn foliage destinations listed above are easily accessible via the Shinkansen to and from Kyoto, Kanazawa, and Tokyo or by special trains to Nikko. For Tohoku destinations and Kamikochi, overnight direct buses or a combination of train and bus travel are the most commonly used options.
There are many places to experience the fall colors in Japan, and my list of favorites keeps growing each season. While my love for fall colors is probably already evident by now, I waited for my biggest confession until the end of the article. I would happily give up the entire sakura season if we can use that time to extend the koyo season in Japan.