ℹ Advertorial
There are plenty of charming towns built around canal systems in Japan—think Kurashiki, Sawara, and Otaru—but only Yanagawa deserves to be called the "Venice of Japan." Located on the southern island of Kyushu, an approximately one-hour train ride from Fukuoka City, Yanagawa features an extensive network of canals. It is said that if you add up the lengths of both wide and the narrow waterways, Yanagawa city's canals total just under 500 kilometers.
Eager to explore this remarkable "City of Water," I make use of the transportation from Fukuoka airport provided by my hotel in Yanagawa, the Tachibanatei Ohana. The Ohana, as it's known for short, is not only the most luxurious accommodation in Yanagawa, but it also has great historical significance to the area. It strikes me as a must-see.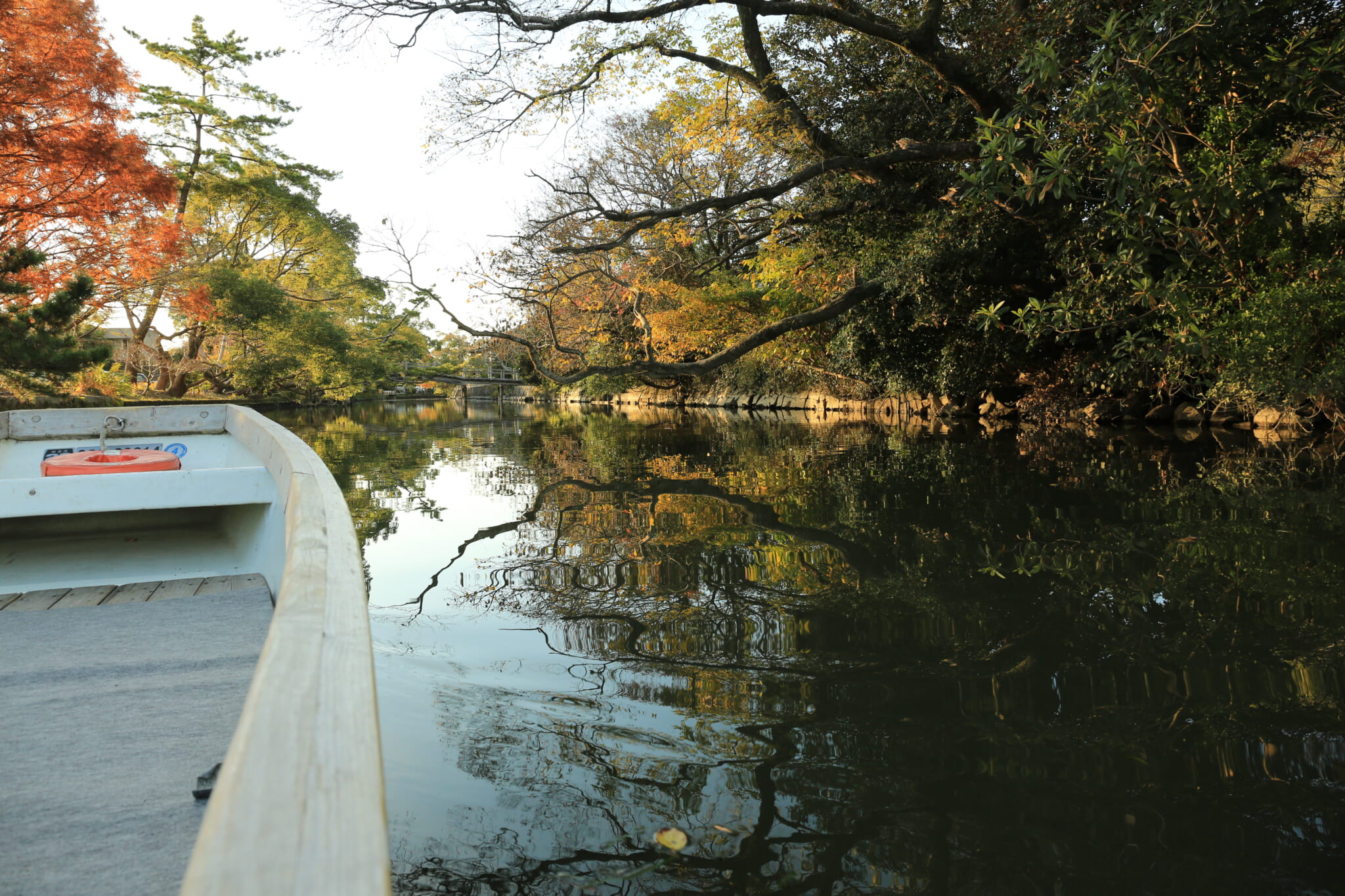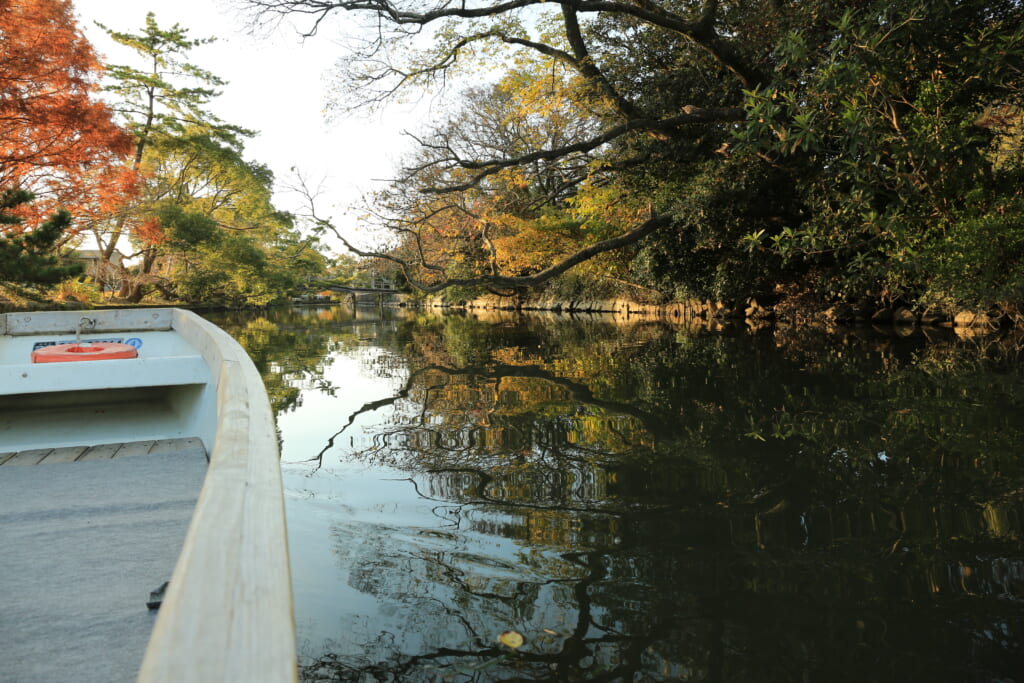 When I pull into town, I'm already enchanted. In Yanagawa, canals appear here and there, with sun glinting off their glassy surfaces, reflecting on the gunnels of long graceful wooden boats that bob at their moorings. Swaying willows—for which Yanagawa (Willow River) is named—reflect in the waters, and because the complex canal system seems to discourage car traffic, the town is very quiet. The occasional pod of children, let out from school, runs down the street, someone out strolling whistles a tune, and a marmalade cat snoozes in the sunlight.
I enter the gates to Ohana, to drop off my bags, but am momentarily confused about which of the varied buildings holds the front desk. The property includes an array of structures, including traditionally tiled Japanese buildings, a large French Renaissance-style mansion with Mansard roof, and a more conventional hotel-like facility.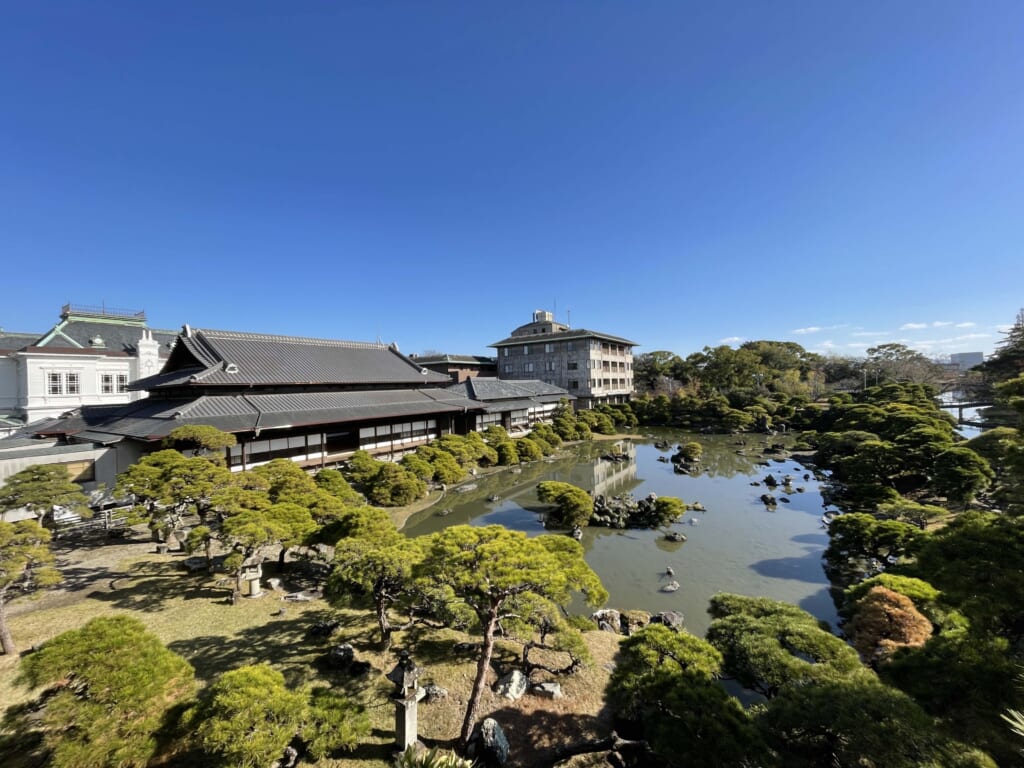 The latter is the one I head for, correctly as it turns out, and I check in. The lobby smells invitingly of coffee, as there's a small café off to one side, and the interior is intriguingly late 1960s-style. However, once I hop the elevator, and find my room, the inside décor is a chic and modern combo of Japanese features and western furnishings, including a decadent chaise lounge. From my room, I have a fantastic birds-eye view of the emerald centerpiece of Ohana, the Shotoen Garden. As it's early winter, the central pond, surrounded by 280 glistening black pines, is animated with splashing migratory ducks. To have an uninterrupted view of this designated National Scenic Spot, and its shimmering view of mirrored clouds, is a supreme luxury.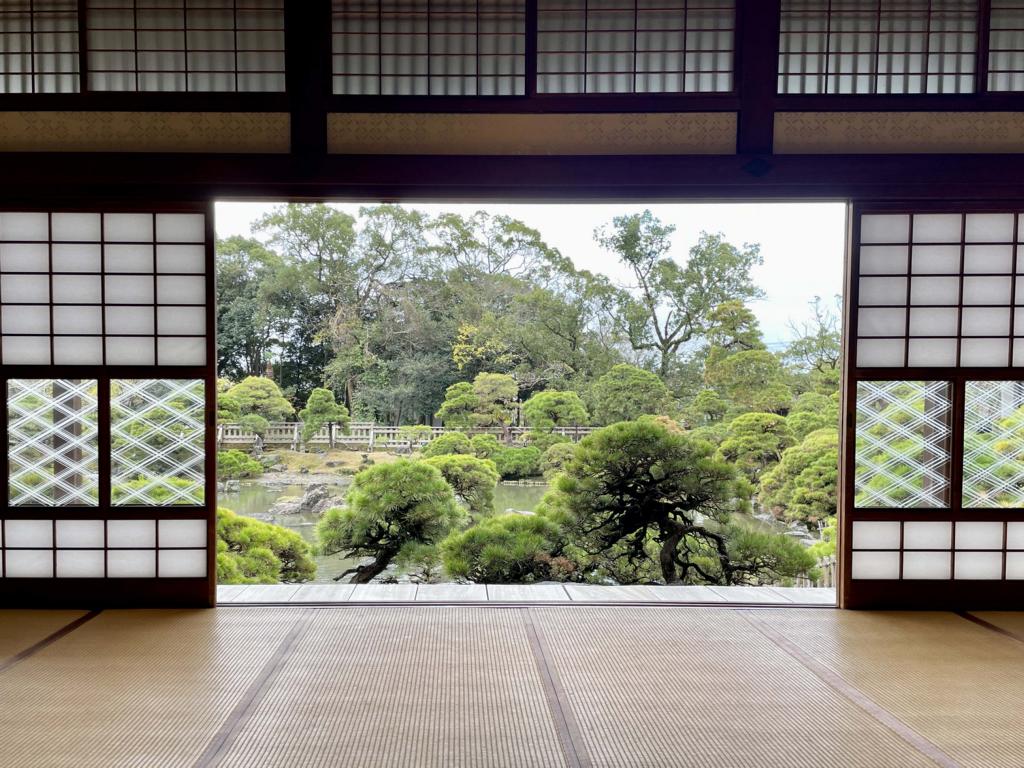 The Tachibana family, from which the hotel takes its formal name, were feudal lords in the Yanagawa area from many centuries back, occupying Yanagawa Castle, which some canals were built to protect. In 1738, the fifth lord of the domain, Sadayoshi Tachibana, moved the castle garden to its current location, and set up a residence there, which locals began to refer to as Ohana, or honorable flower.
During the Edo Period (1603-1868), the Tokugawa shogunate commanded feudal lords to move their primary residences to Edo (current day Tokyo), to strengthen a unified rule in Japan. However, even when the Tokugawa shogunate was ousted by Imperial forces, most feudal lords chose to stay in Tokyo. However, the 14th head of the family, Tomoharu Tachibana, made the surprising choice to return to his ancestral home. He built himself a lavish estate, much of which constitutes the Ohana today. The Western-style Seiyokan with its mansard roof and dramatic landscaping of cycads, the Ohiroma (a room with 100 tatami mats), traditional living and servants' quarters, and a gatehouse were all completed in 1910, and guests are free to explore them.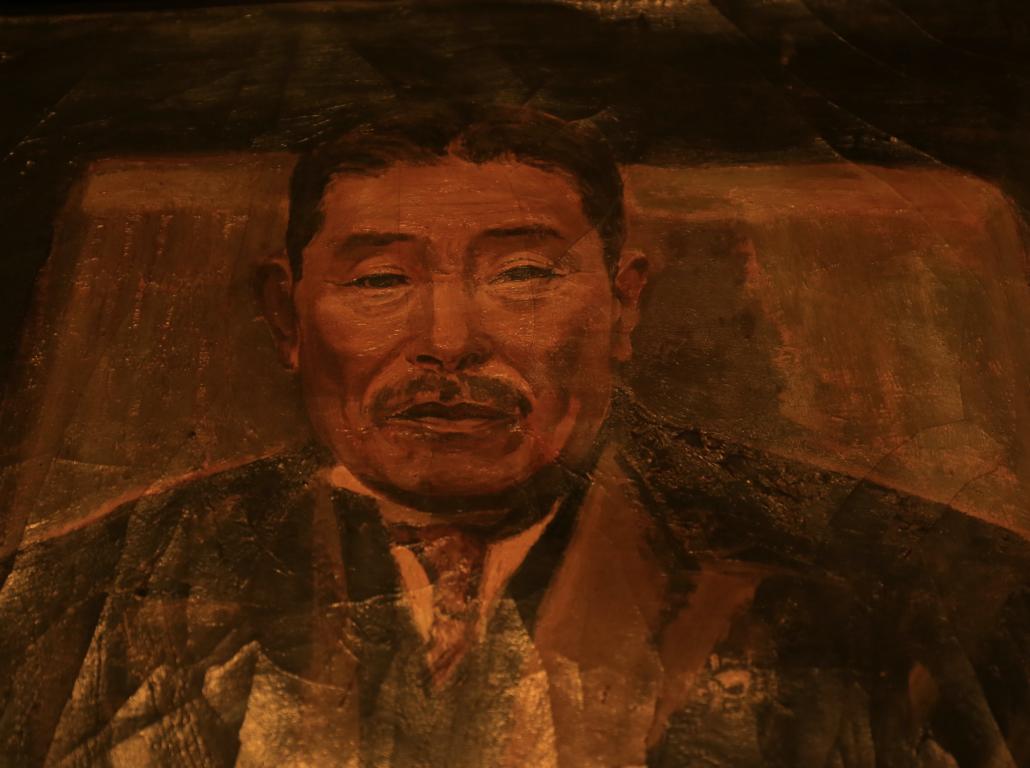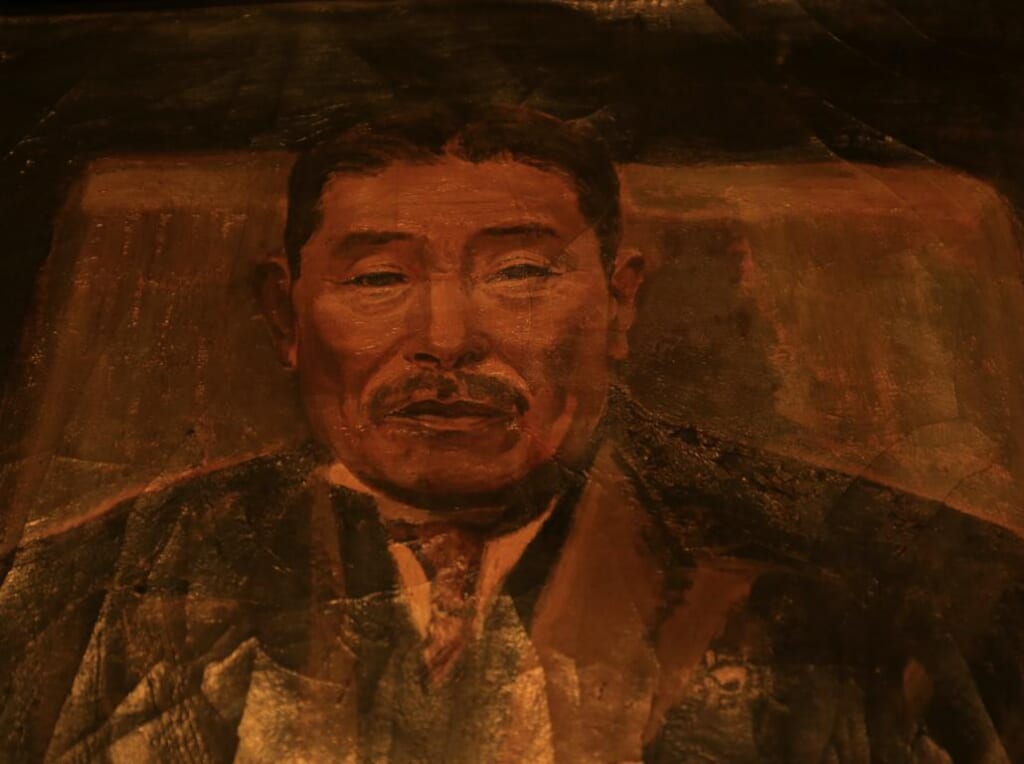 I wander by myself a bit, happening upon a room that appears like an installation art project, with hundreds of hanging ornaments. I learn these are called, somewhat obviously, Sagemon (hanging things). A charming hotel staff member appears to explain that these sewn ornaments are made to celebrate the birth of a girl. Most have 51 figures dangling, each denoting a year in a girl's life, a tradition established back when 51 was a very advanced age. The figures, attached to a circular ring, each have a symbolic meaning: a crawling child for fast growth, a cicada for patience, a goldfish for beauty, a red pepper to ward off evil, etc. Yanagawa, I learn, treasures its women, and there are numerous ceremonies to celebrate them.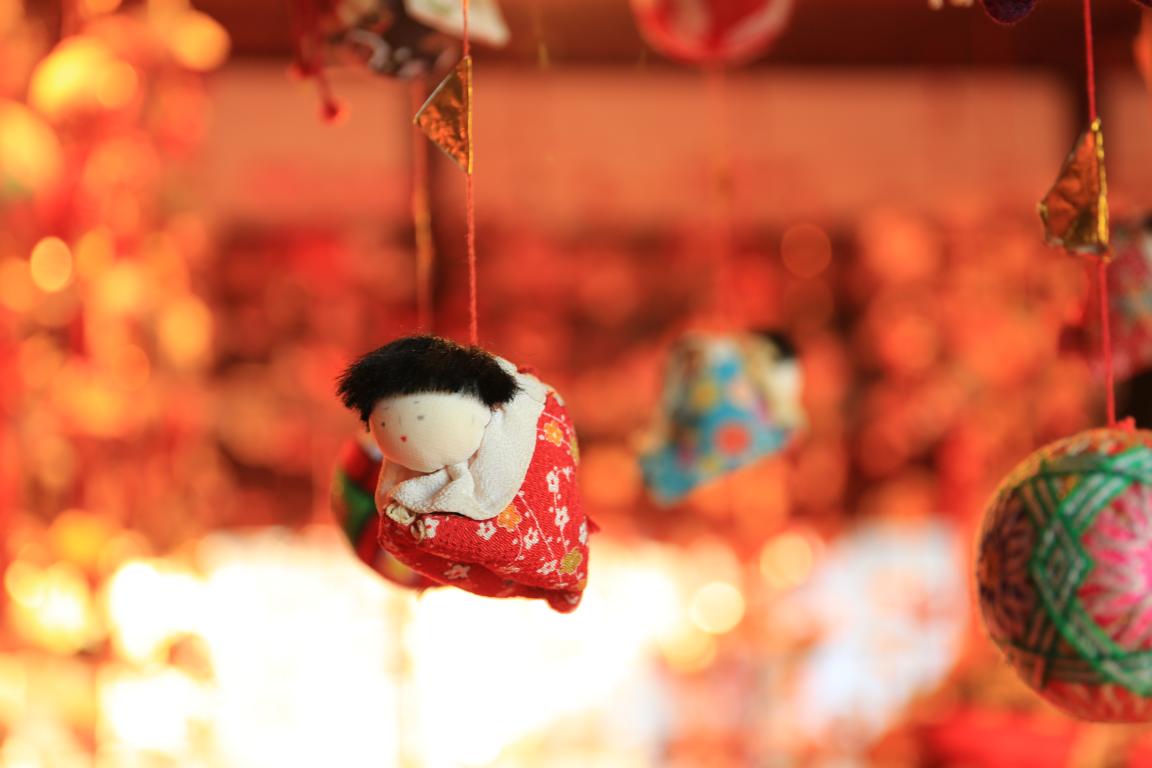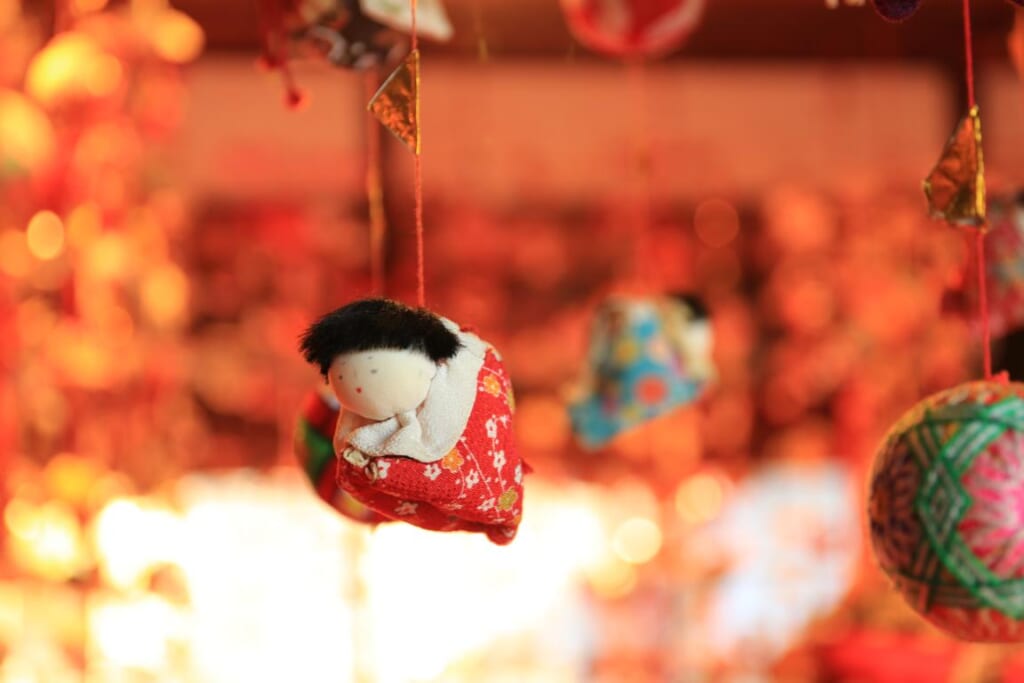 Various staff members are eager to show off the premises, and no one more so than energetic Manager Nakamura. He leads me to the famous Ohiroma, which has a fabulous ikebana display that seems to turn the room of tatami mats into a landscape of flowers. Here, I am offered a bowl of tea, sourced from Yame, which grows some of Japan's most prized leaves. To sip this nuanced green flavor while gazing on Shotoen Garden in such an enormous room transports me back centuries and slows time.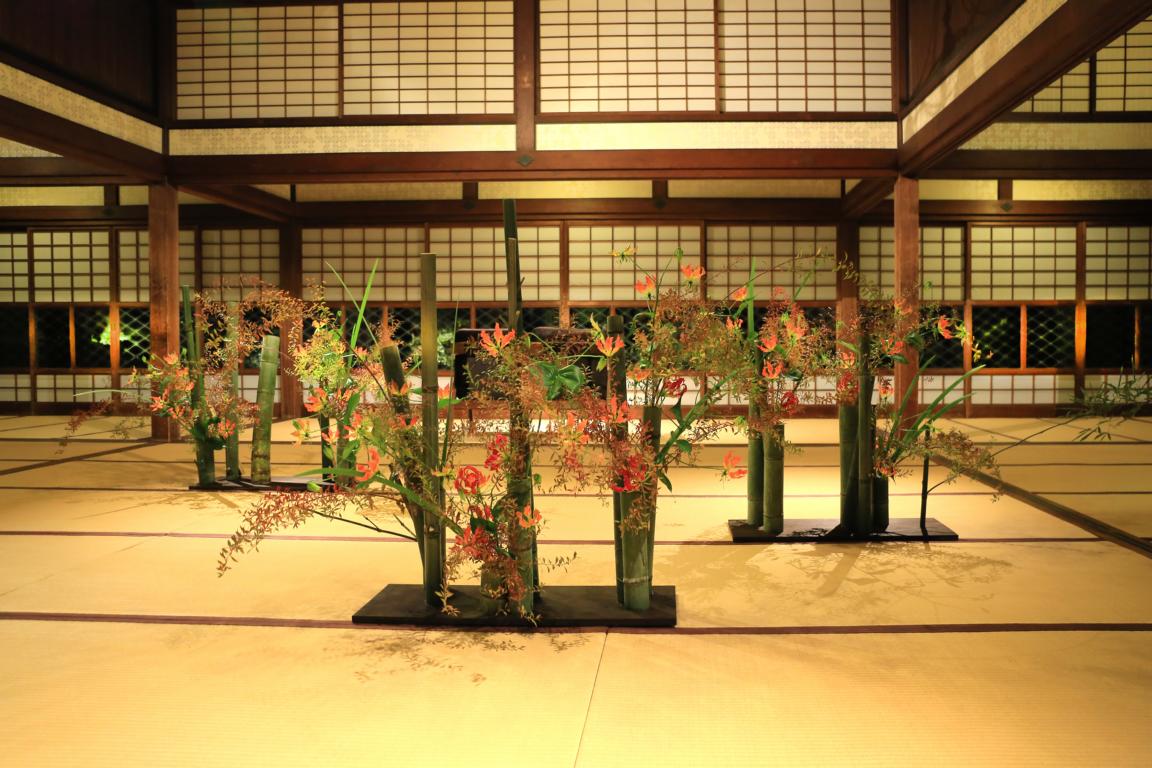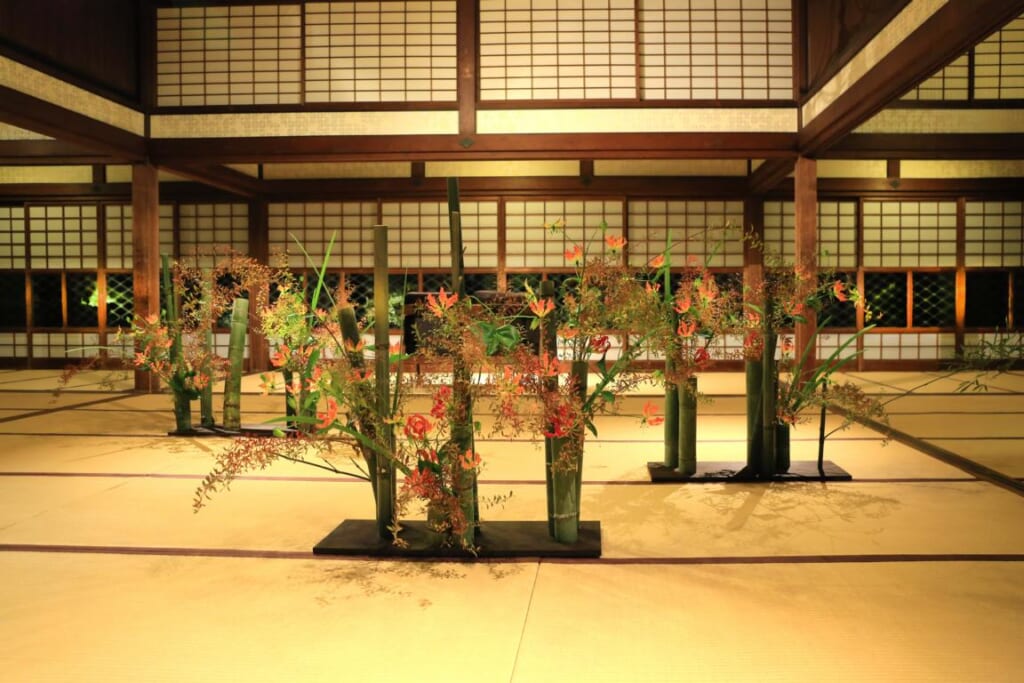 Nakamura has worked at the Ohana for most of his life, and he is entrusted to fill in the Tachibana clan story.
He covers centuries, as he shows me around the Seiyokan, hung with family portraits and filled with several antiques, but the highlight of his stories, for me at least, is when he begins to talk about Ayako Tachibana, the 16th Tachibana head, born the year her grandfather's estate was completed, in 1910.
Since her father was a count, Ayako ought to have been brought up like a princess, but she favored sports such as tennis, skiing, and hunting with her father. Her competitive spirit fit in with the shifting ideologies of Japan. She married Kazuo Shimamura, and a single glance at their wedding photo lets you know their sense of fun and strength of character were key to the Tachibana's family survival. As Japan inched toward war, I recall Nakamura saying that Ayako's refrain was "Don't worry, things will work out." After WWII, the family moved back to Yanagawa, and despite many hardships, including new taxation laws, opened the hotel and restaurant in a bid to protect what was left of the family estate.
When I head back to my room, I find online some video footage of Ayako and Shimamura, visiting Ohana after their marriage. The roads, then without any buildings on them, were lined with thousands of locals, bowing as the young couple passed in a car. This story of a tenacious family, shifting through the ages, moves me, and I see the place I'm staying in a different, historically nuanced, light.
It is late afternoon, but I decide to take a first river ride before the light fails. Leaving the hotel grounds, I locate a river cruise company within minutes, and hire a gondolier and donko-bune, as the boats are called. My river boatman turns out to be a river boatwoman, though, wielding her bamboo pole and smile with the ease of an Oxford punter.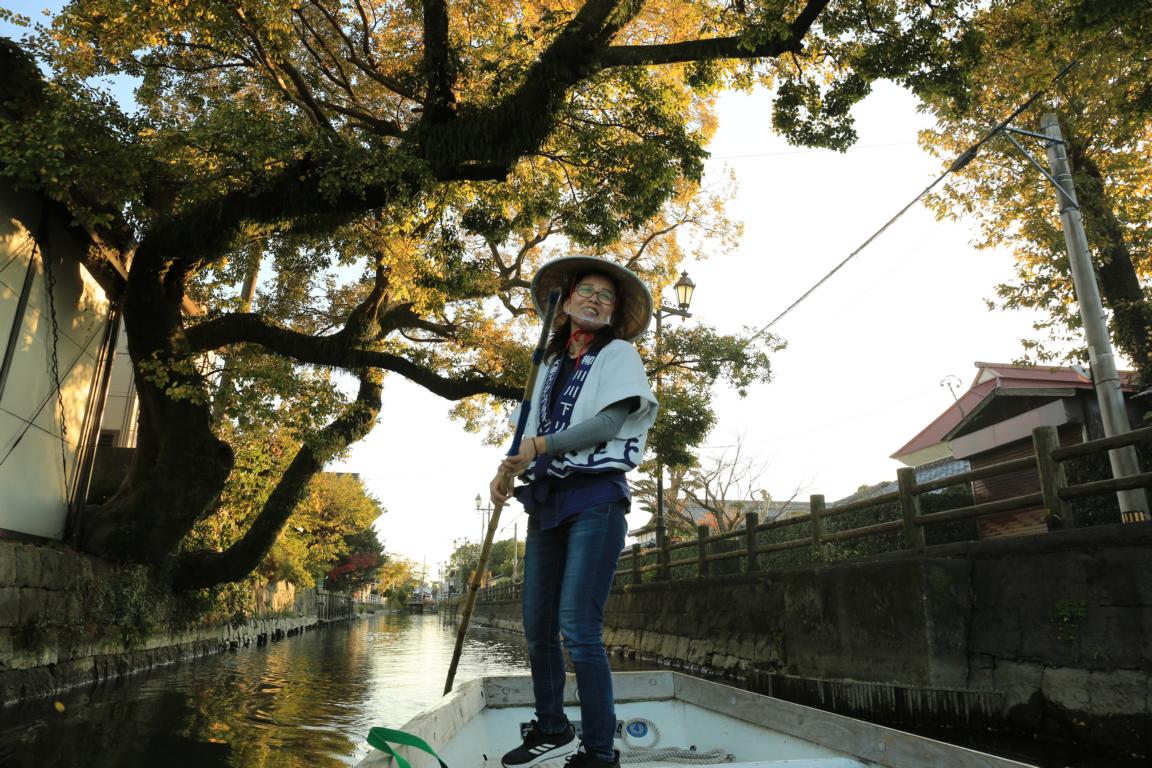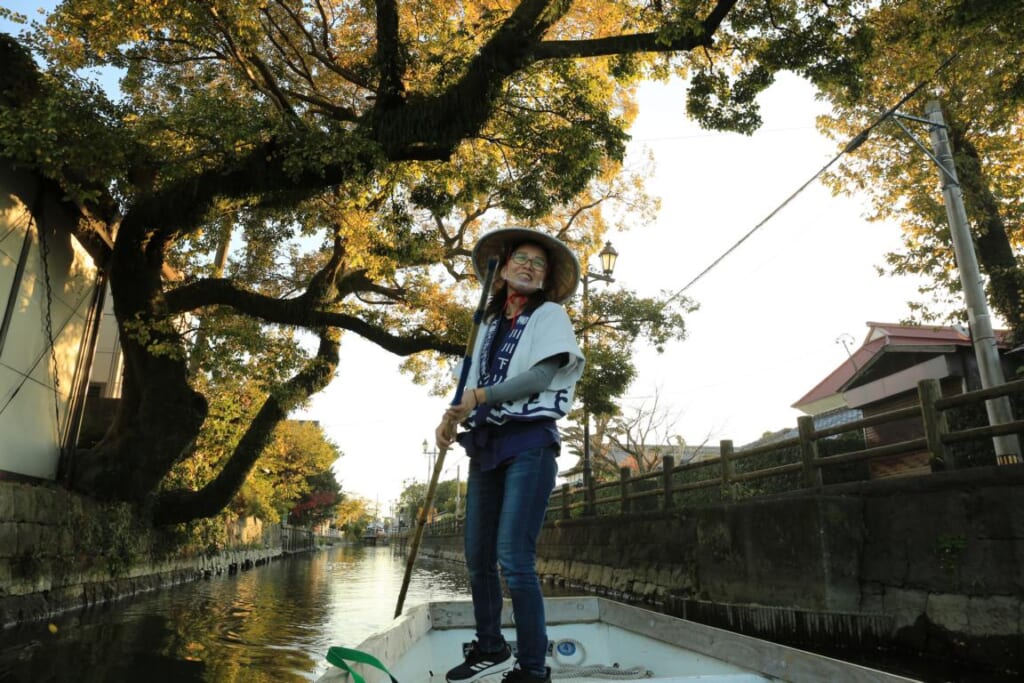 Donko-bune are fairly stable, so I board easily, and my captain pushes off. The late hour means two things: I have the boat almost to myself, and the waters are still and smooth as mercury as we slice down the canals. The last autumn leaves, the occasional great blue heron, and the beauty of some of the town's older structures are doubled by the waters. When we come to a low bridge, I'm instructed to curl and tuck low, so as not to hit my head. My agile gondolier gives a solid push, then hunkers down to join me, but lets me know some boatmen actually leap out of the boat up onto the bridge, then run to the other side of the bridge, and rejoin their craft with a risky, perfectly timed jump.
It's wicked, I know, but I ask if she is capable of this. She nods. Then she lets me know the canal waters are low, so the feat will be uniquely hard because the jump distance will be increased. She is not certain she can make it. I understand, but before I know it, she has the next bridge in her sights, and nimbly, with perfect timing, manages to leave the boat, run across the bridge, then she sticks her landing from the bridge back into the boat. I'm thoroughly impressed.  She admits to having fallen in the canal a few times.
Gondoliers have numerous skills to master, among them a bevy of songs they must be able to belt out, about the Yanagawa canals. Though I know it might be wonderful to hear these, I have asked a lot of my helmsman, so opt for the profound quiet of exploring the area behind the Ohana hotel, instead.
The town of Yanagawa is fairly small, and most restaurants within walking distance feature unagi no seiromushi, or steamed eel on rice. Eel in Japan is a revelation—sweet, soft, and utterly delicious—but my hotel package includes dinner, and a short Noh performance. I get refreshed, and head to the tidy dining room. Once the lavish course of delicious fare—think organic veggies, wild duck, and local sake—settles in, I'm ready for the night's main attraction.
As soon as I enter the Ohiroma, I'm stunned to discover an entire Noh stage has been installed, and that the room was in fact designed for this magical transformation. It is rare to have the chance to see Noh, but to watch it performed in close proximity, literally close enough to hear the slide of the actor's tabi sock, is an extraordinary opportunity. When guests chose this option at reservation, the hotel then summons Noh actors, both local and from other reaches of the country to their stage. The performance, seen by candlelight, transports the stage and audience into a spiritual realm, and Ohana becomes a space of timelessness.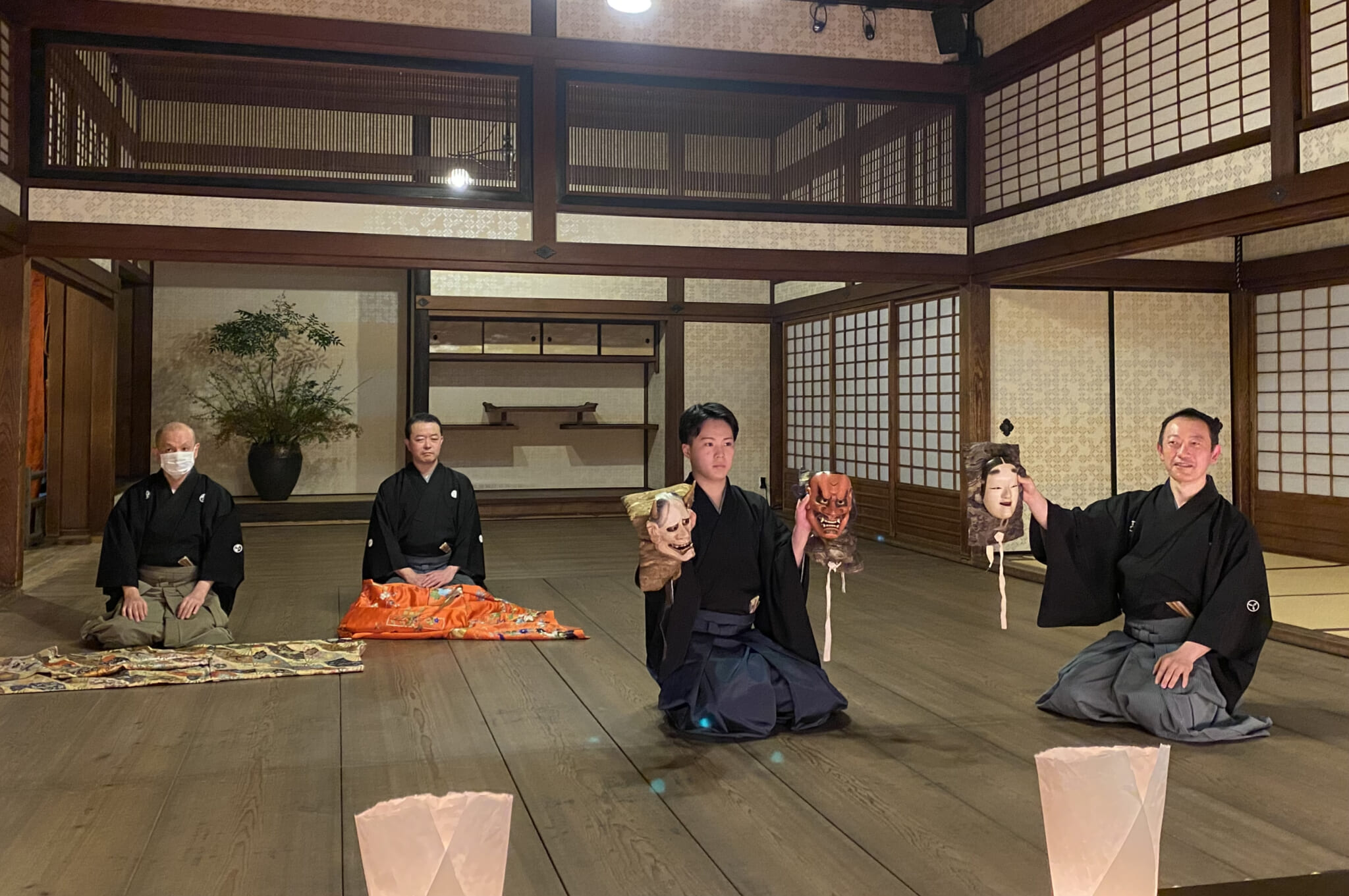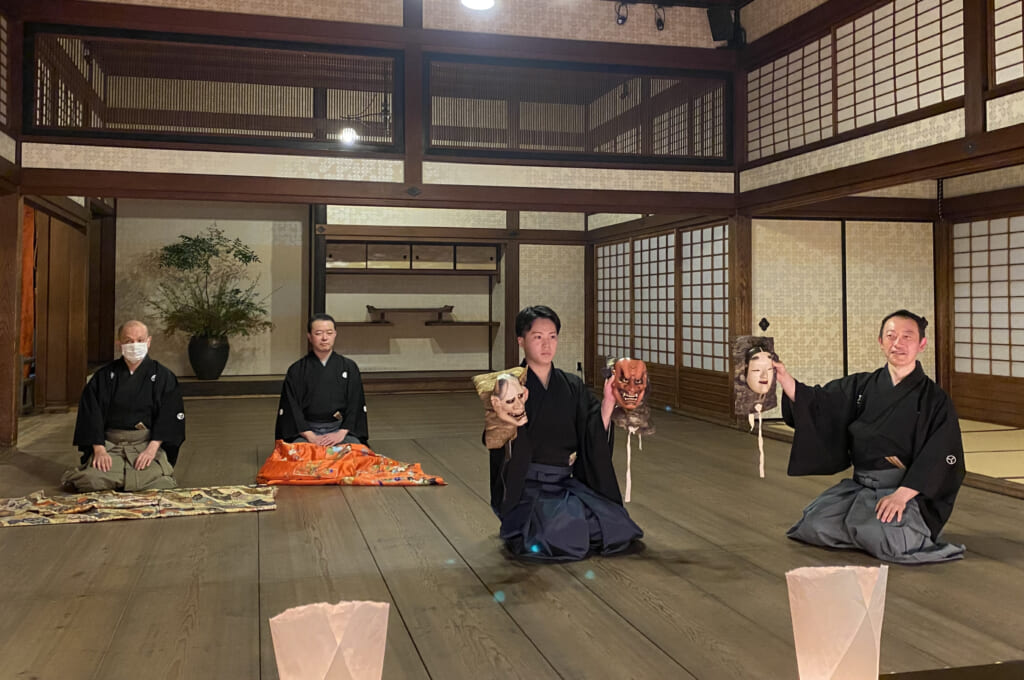 Later, back in the present, the actors offer a chance to view their revered Noh masks up close. Then, to my great surprise, I am allowed to put one on. Only then do I have full appreciation for the skills of the actors, since I can hardly see a thing out the eyeholes. I try to move forward but have no visual confirmation of where my feet are; perhaps this is how the actors achieve a sense of otherworldliness, I think.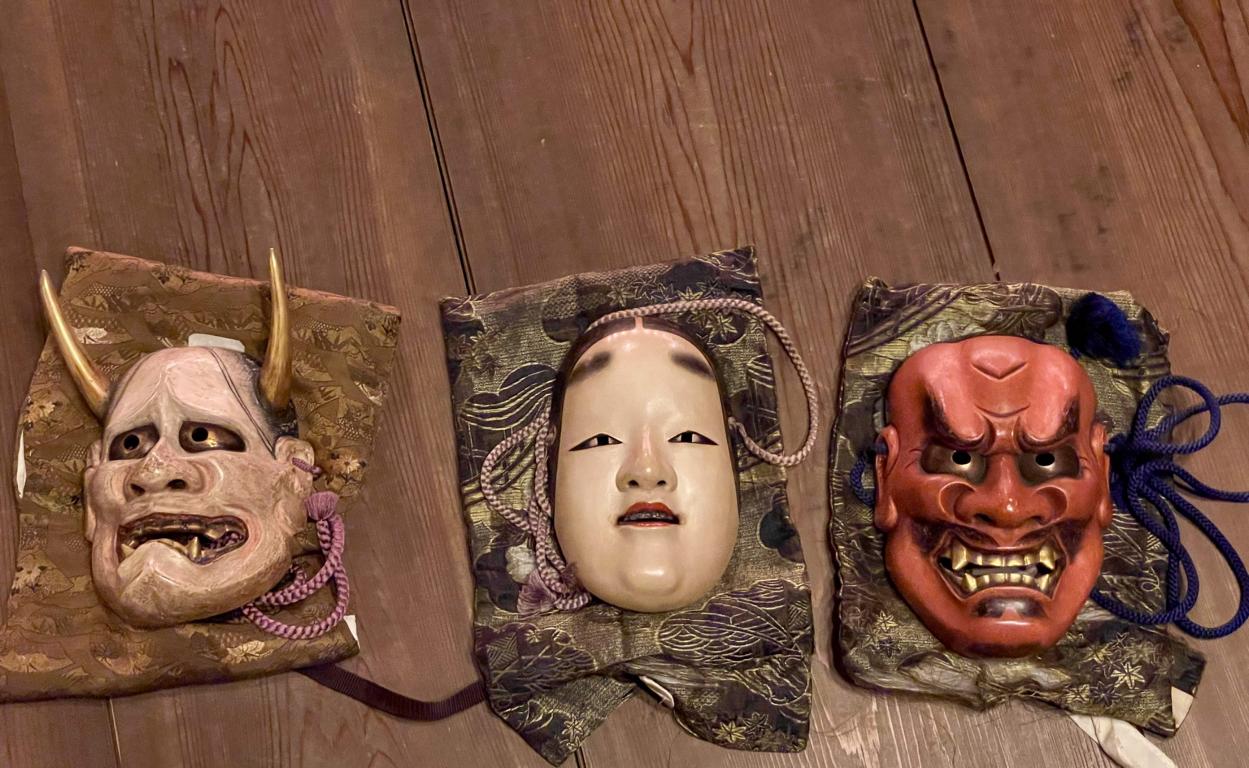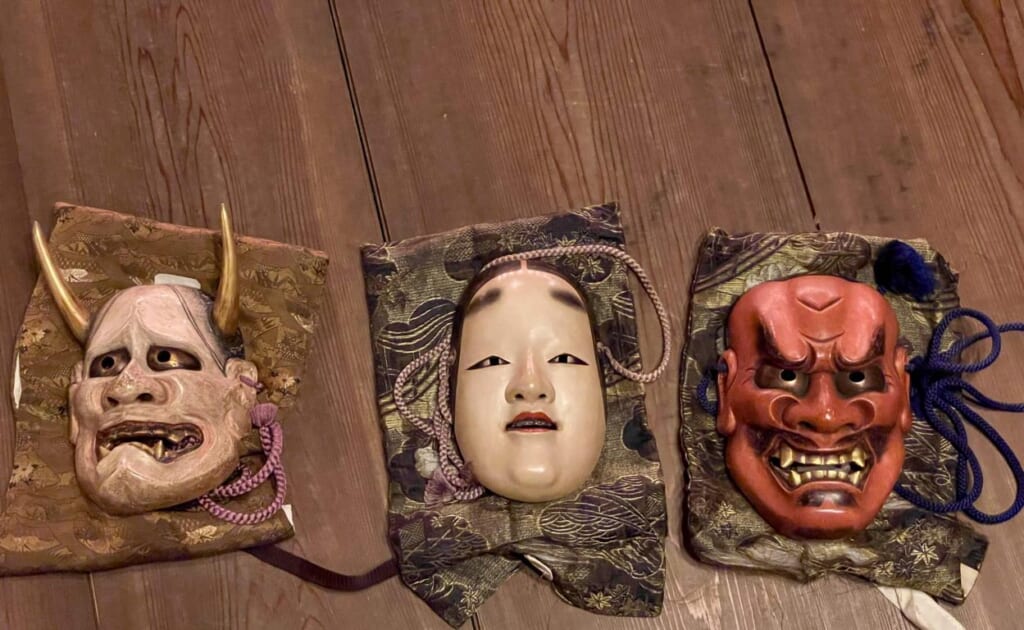 The evening ends on a thoughtful note as I make my way back to my room. An estate like this, while doubtless extremely complicated to maintain, is of untold cultural value. I muse on my fortune to see it come alive. As I sink into the glorious soft bed (the hotel offers rooms with Japanese traditional bedding, too), I hear a soft rain fall outside on the black pines, swelling the canals.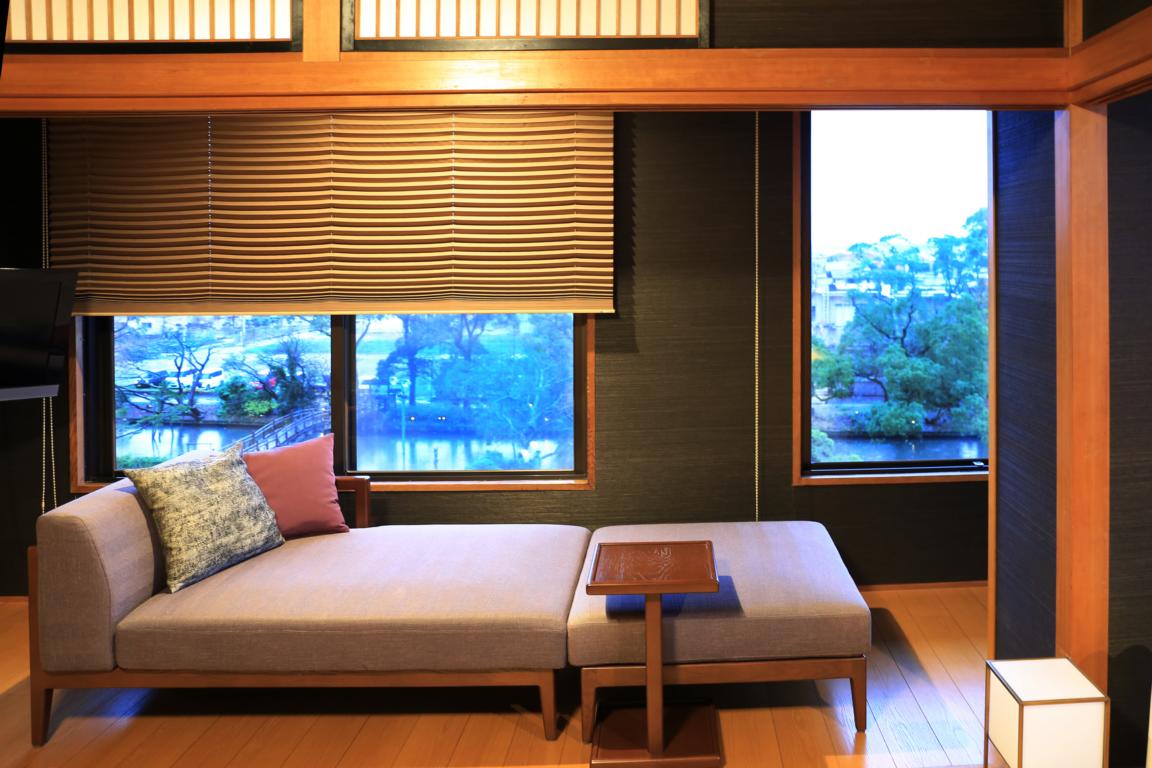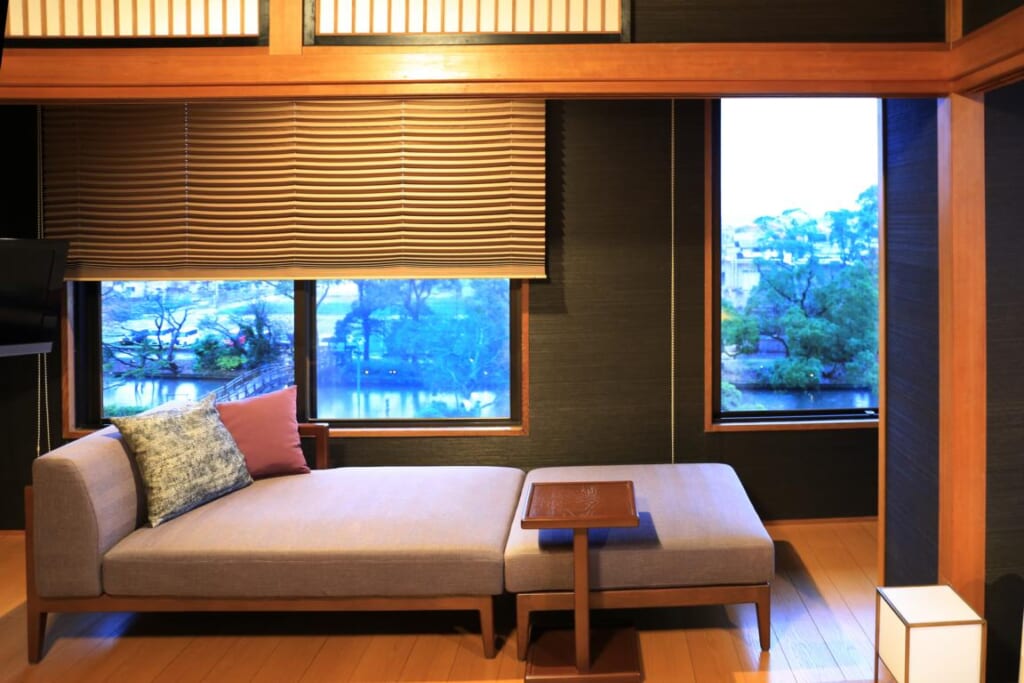 The following morning, I have selected the option to have an early breakfast on one of the hotel's own donko-bune, docked right at the back gate. Climbing aboard, I take my seat and snuggle under the thick warm blanket provided with Yutanpo, an old-fashioned hot water bottle for added heat. As the boat eases from the dock, I sip tea, the steam from my breath curling white in the newly risen sun. My little breakfast table is set with traditional rice gruel topped with a lightly steamed egg, a filet of whitefish, pickles, and miso soup, and is as tasty as it is healthy.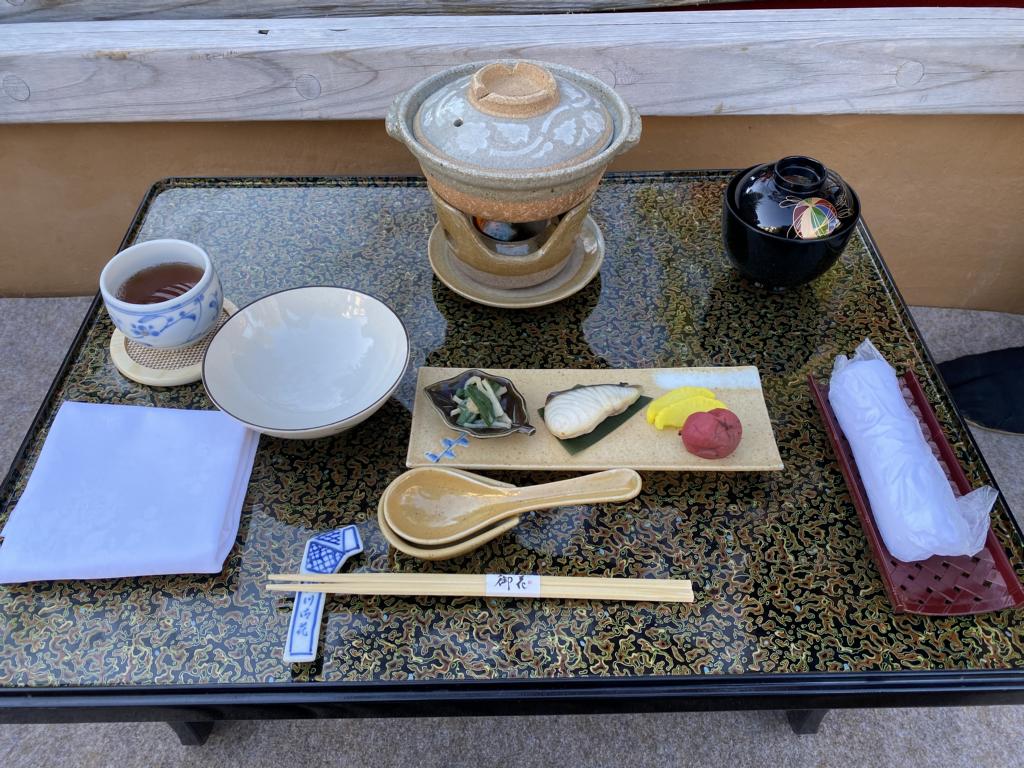 Again, the limpid sensation of moving silently over the glassy waters, this time though the still-sleepy town, surprises me by how wonderful it feels. While Yanagawa is rightfully famous for this feature, I note how unique it is to be out on the waters before the other donko-bune operators have begun their work.
As we head back again, the punter sings a song of Yanagawa, and I note, as we glide past private homes, shrines, and even a flotilla selling sundries and ice cream, that the day has begun.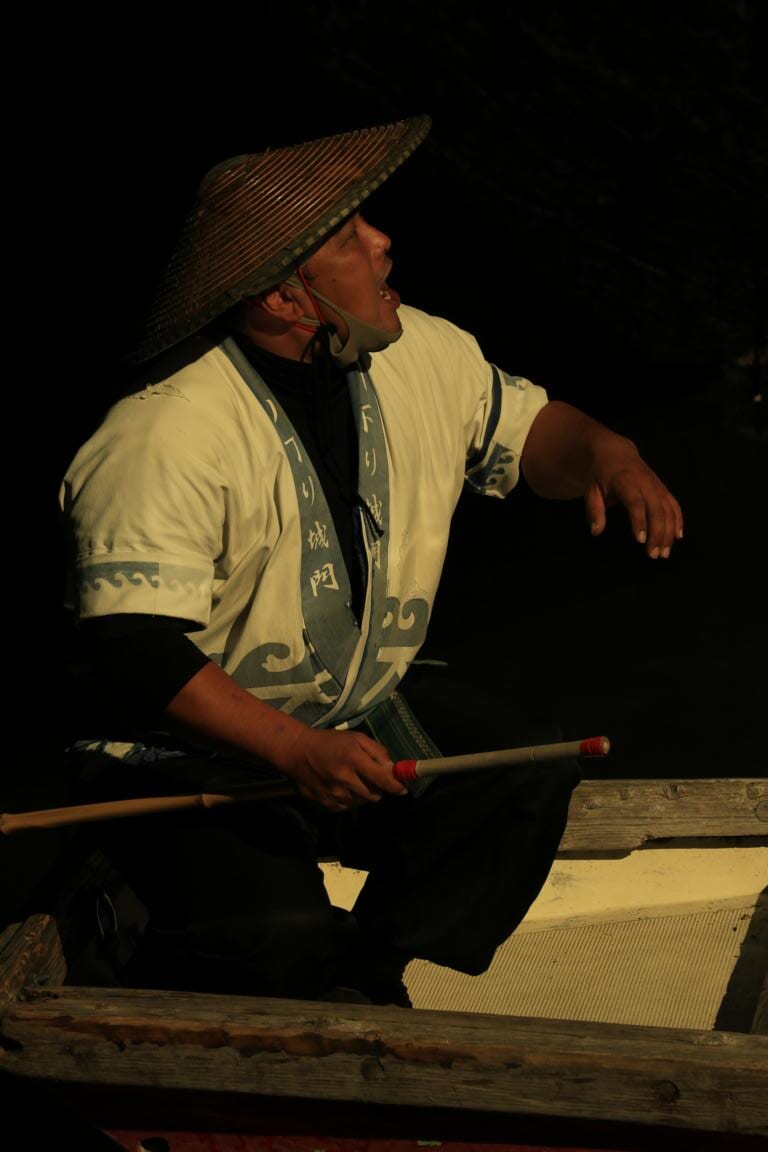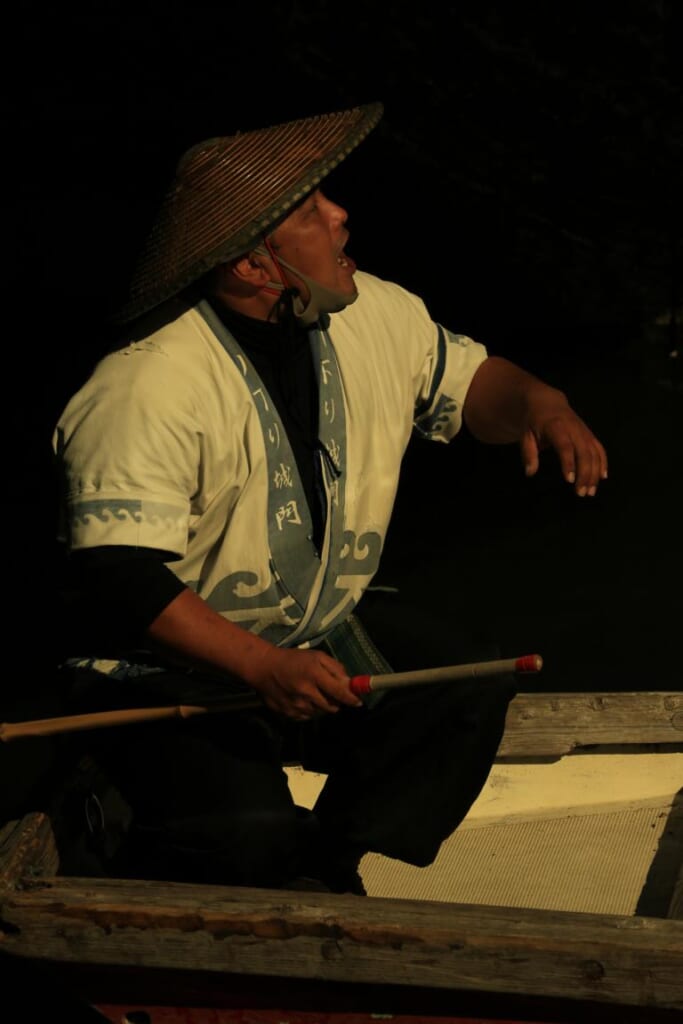 Back at the landing dock, I have the chance to meet the 18th generation of the Tachibana family and current president of Tachibanatei Ohana, Chizuka Tachibana. Chizuka bears an undeniable resemblance to her grandmother, Ayako, and seems the perfect nail—slender, dynamic, and sharp—to hold the family estate together. She lets me know that Ohana has several new and exciting options for visitors, including a visit to the Tachibana orchards, which over the decades has contributed greatly to the economy of the area, and which are still run by her uncle, Tamio Tachibana. In addition, visitors to Ohana can experience having their journey blessed at Mihashira Shrine, where the head priest is also…you guessed it…a member of the Tachibana family.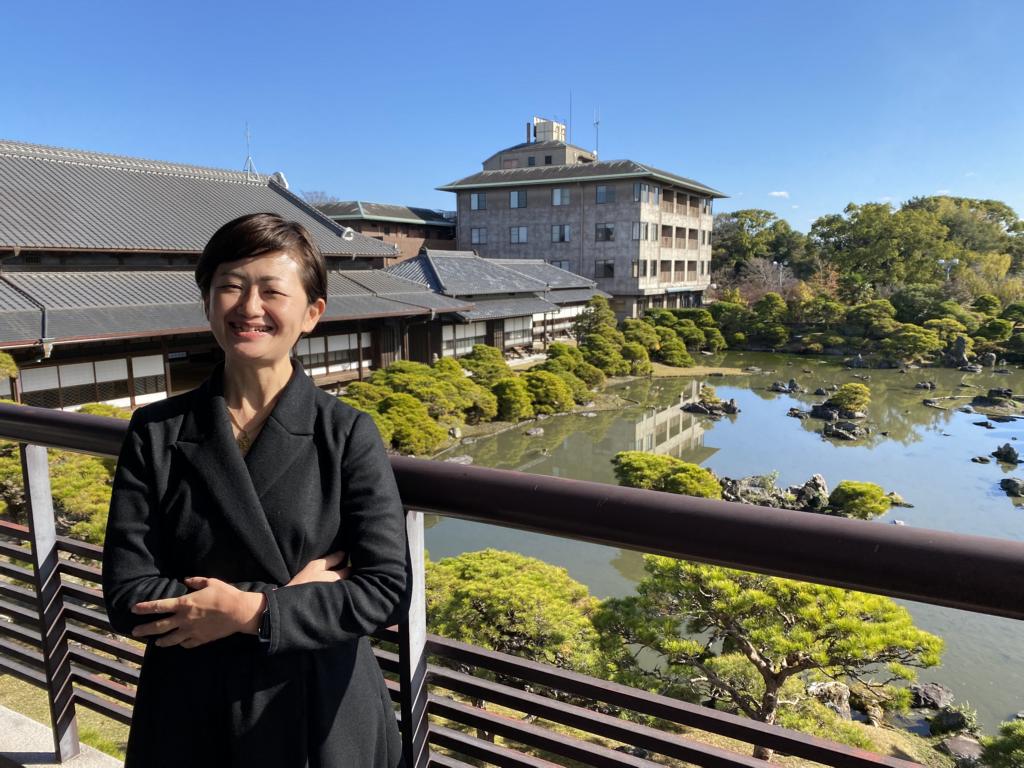 While a stay at Ohana is the luxurious way to explore Yanagawa and support its legacy, if you are making a daytrip, you will find some parts of the hotel are open to the public. A small museum next to the hotel is also worth a quick look, as it holds many Tachibana family heirlooms, and there are more than four companies offering canal rides.