Sponsored by Kyushu District Transport Bureau
Japan's mountainous landscape is made up of rich, volcanic soil which, combined with innovation and heritage, has given birth to some of the finest products in the country. The climate is mild and benefits from warm sea breezes, so green tea plantations flourish while moderate rainfall produces excellent quality rice.
Driving around the region, we marvelled at row upon row of dome-shaped greenhouses which our local driver told us were for growing strawberries. I began to understand what it takes to produce items for a nation like Japan; a densely populated country that demands the highest quality.
Fukuoka Prefecture, in northern Kyushu, is not only an agricultural heartland, but it has a thriving sake scene and local crafts that will leave you amazed. The techniques, passed down through generations, rely on understanding the land and the seasons that govern it. With so many things to explore, there's no wonder that people come from all over to discover the region's secrets for themselves.
I spent a weekend exploring rural Fukuoka; from the origins of green tea in a hillside Buddhist temple to a local sake brewery exporting to the United States. I was in awe of the region's natural beauty and the innovative spirit of its people.
Reiganji Temple and the Origins of Green Tea
Green tea is known for health benefits including weight loss, increased brain activity and improved skin health which might be one reason that more than 70% of Japanese people drink it on a daily basis (according to a World Green Tea Association survey). Aside from being good for you, it's a refreshing, energising drink that can be enjoyed hot or cold.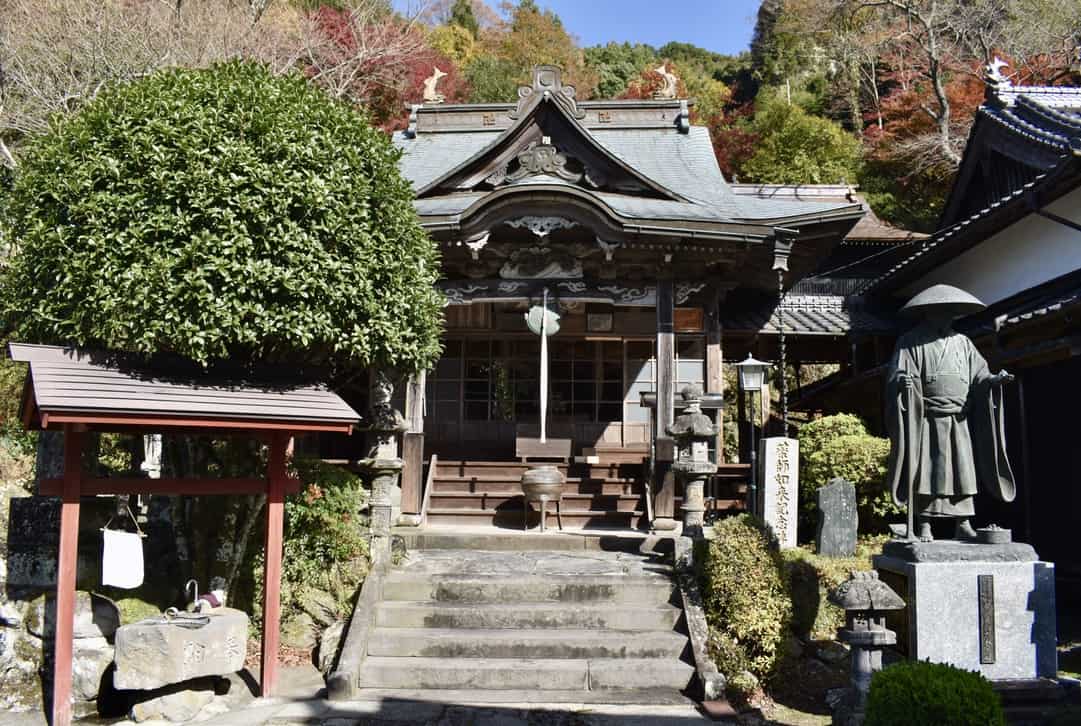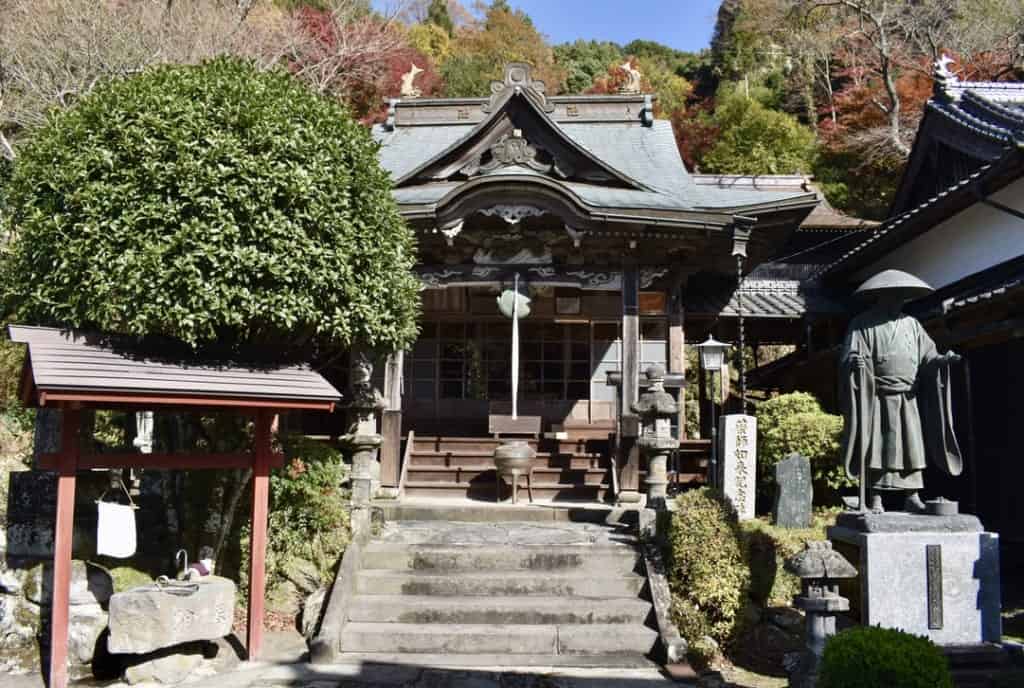 Green tea was first brought to Japan from China in 1406 by the Zen Buddhist monk, Eirin Suzui, and planted at the site of Reiganji Temple, a remote spot overlooking a stunning steeped valley on the Kasahara River. During the 1700 and 1800s, interest in the tea spread amongst local people and then amongst foreign traders who started to buy it through the nearby port city of Nagasaki. Today, Gyokuro tea, a popular type of tea from Yame in Fukuoka, is known for its mild, sweet taste which stems from its innovative cultivation.
Reiganji Temple, about 70km from Fukuoka, is surrounded by thick bamboo forests and small farms. On a clear autumnal morning, I made the journey along the winding mountainous road to the site of the temple. Locals burned discarded branches from fruit trees and a thick, woody haze hung in the air.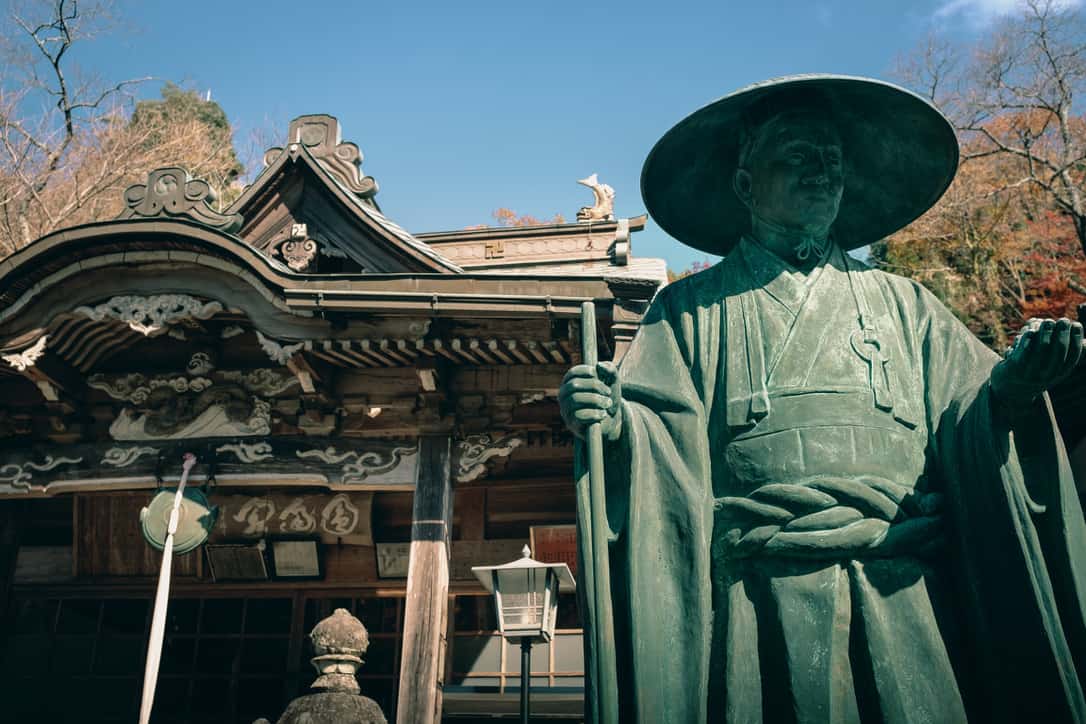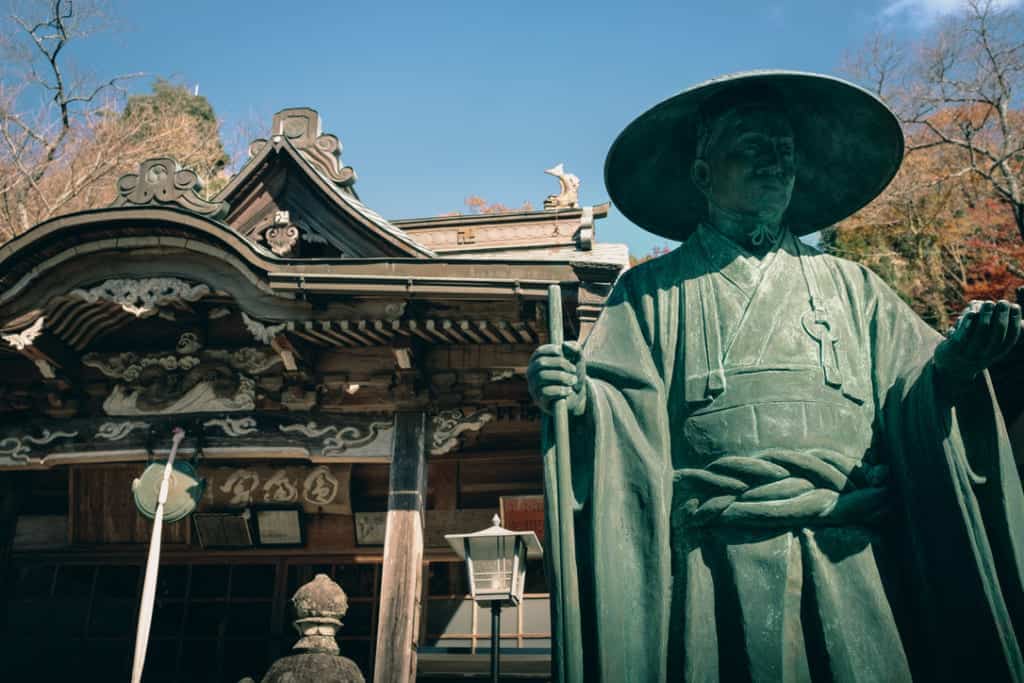 In addition to the main temple, there are two pagodas overlooking the valley below. A mysterious rock – one of only a few formations in Japan that remains unexplained – looms over the valley and a tree, thought to date back hundreds of years, occupies a proud position at the temple's entrance.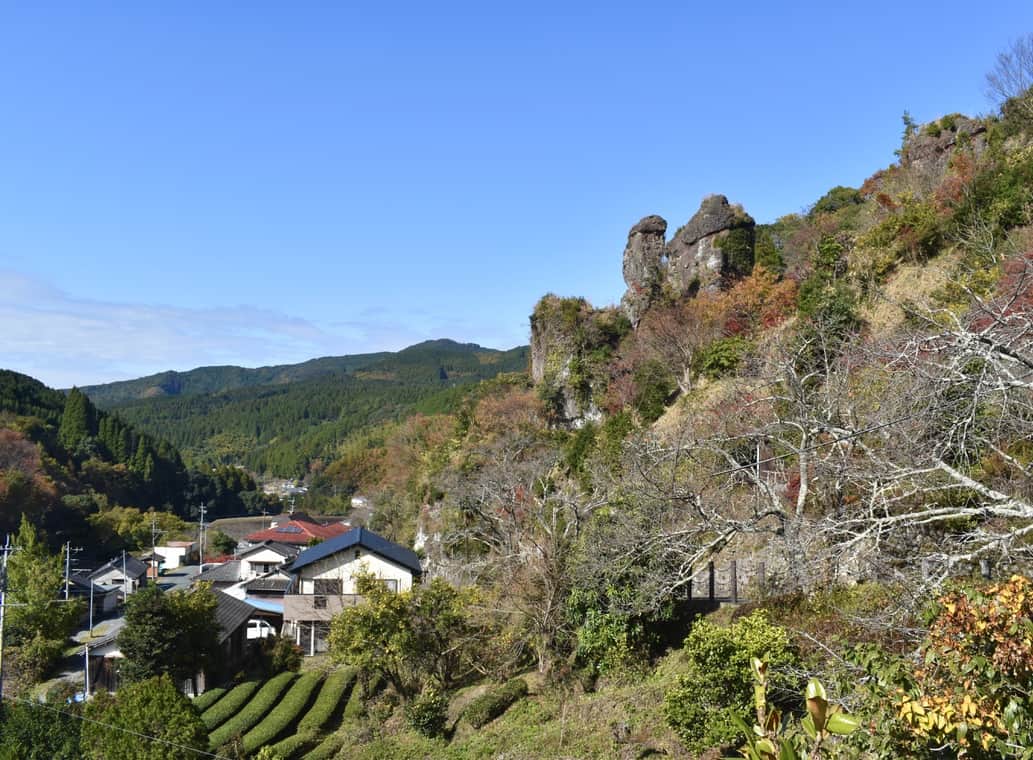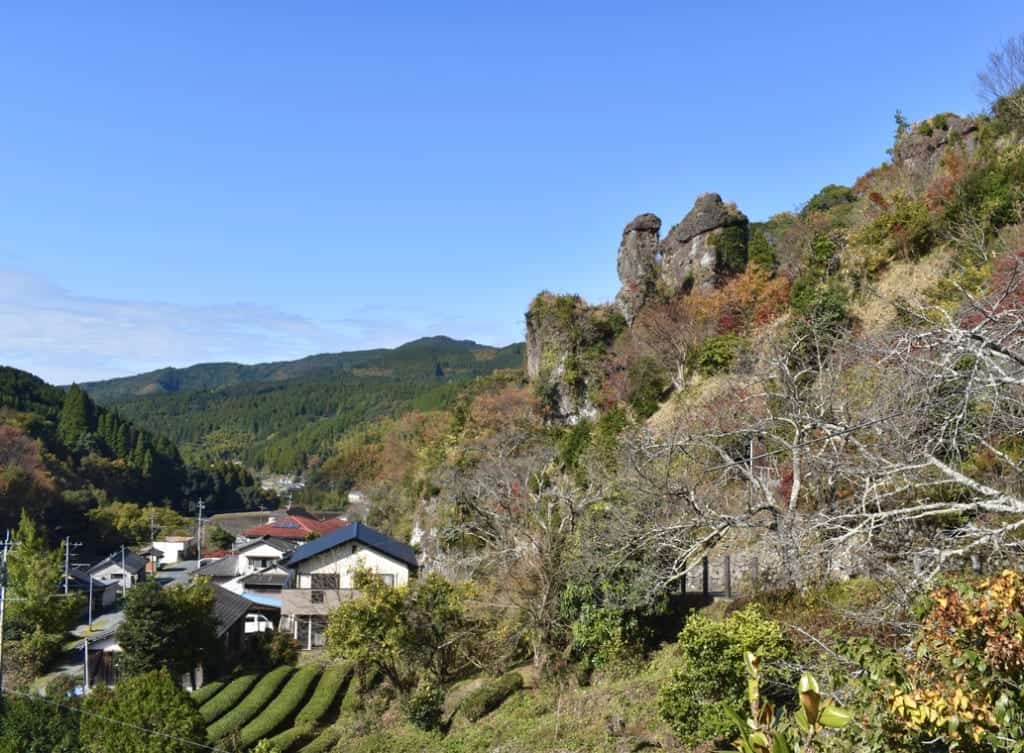 We were warmly greeted by the Buddhist monk who lives there and shown in for our meditation session. The temple was divided into a series of tatami rooms by sliding wooden doors that looked out on to a small patch of golden maple trees. Square cushions, known as zabuton, marked our places on the floor. Each person received two cushions; one remained on the floor while the other was folded in half and placed at the back of the first cushion in order to facilitate a more comfortable posture. We crossed our legs, one on top of the other, and adopted a comfortable position on our zabuton. The monk explained the meditation procedure and provided a handy instruction sheet in both English and Japanese which explained how to adopt the correct posture. We removed any manmade items such as watches for the duration of the mediation. The monk explained that incense would burn during the meditation and this would allow him to keep track of the time. A series of chimes signified the start and end of the mediation.
Before we began, we rocked from side to side in order to find our gravitational centre. The monk then showed us a hand position whereby you place your thumbs a small distance apart with the aim of keeping this position for the duration of the meditation. If you lose focus or fall asleep, your thumbs will naturally close which will alert the zen master that you've entered a state of sleep.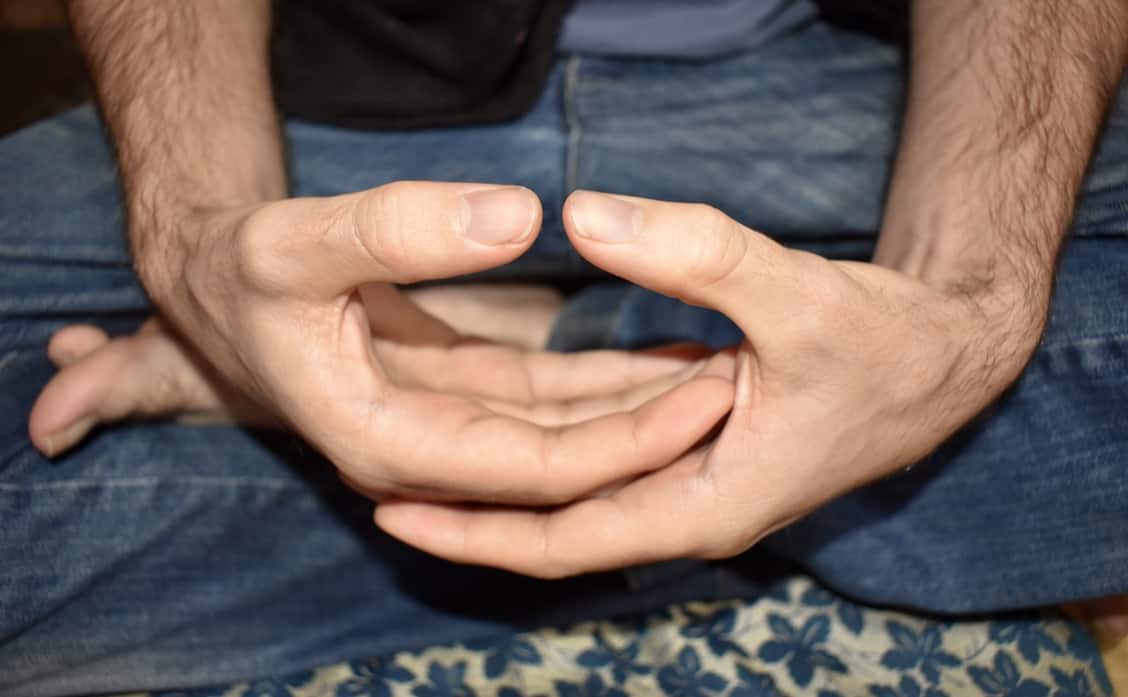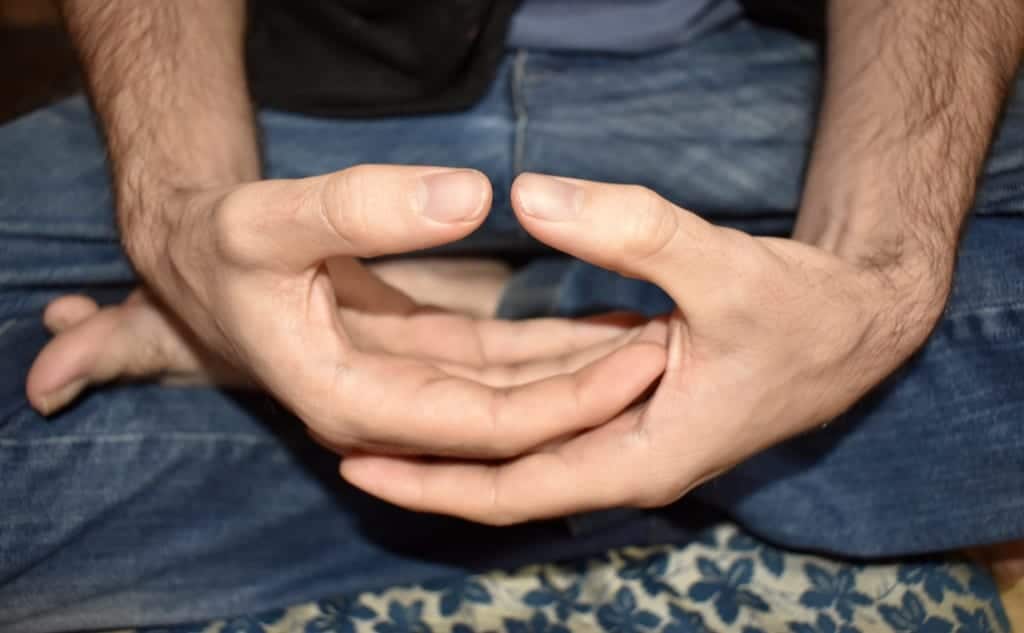 We meditated for five minutes which passed by very quickly, the only sounds being the chirping of birds from the temple's garden. Following the meditation, the monk spoke about the strict training that he was undergoing in order to achieve the status of zen master, including a week-long period of constant meditation, which was fascinating to hear about over a cup of hot green tea.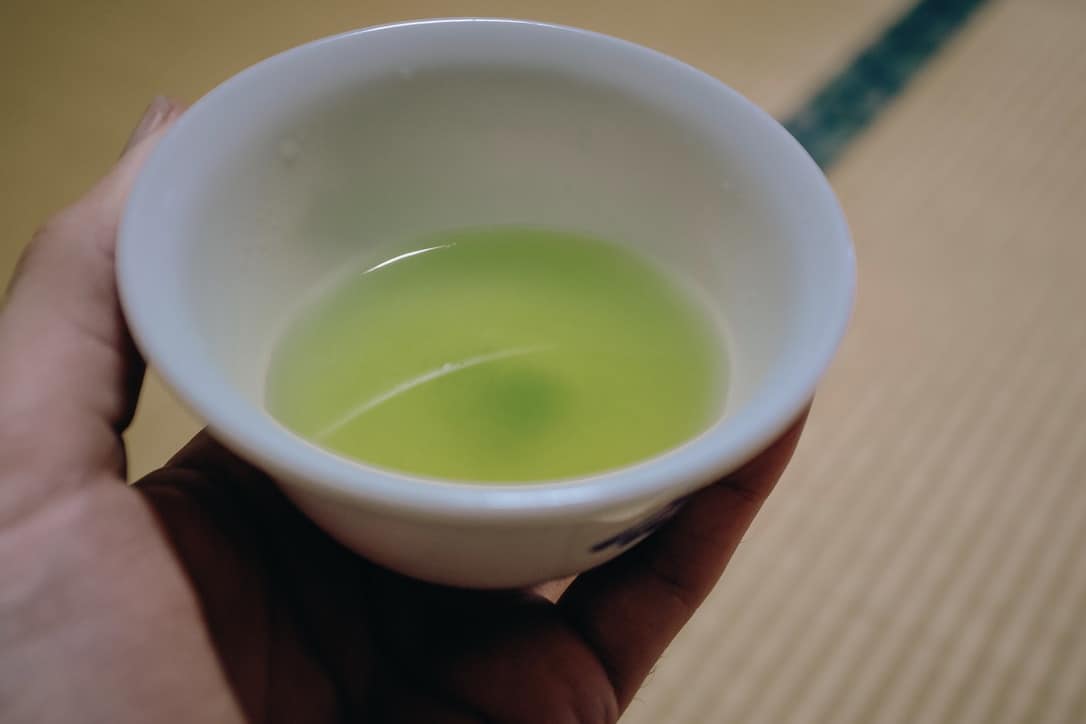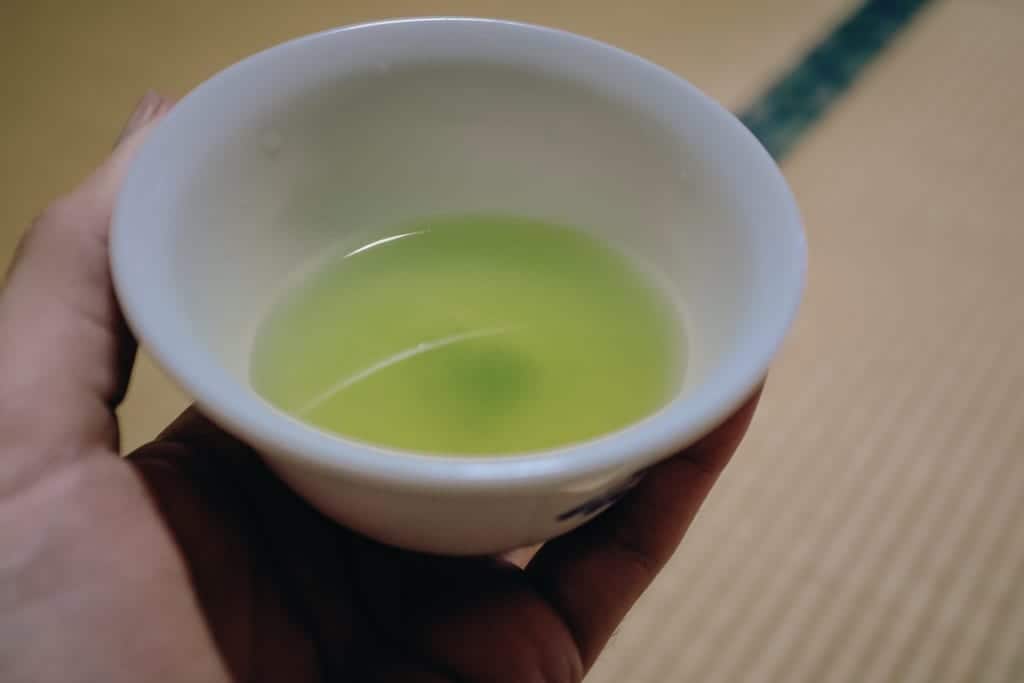 The peace and tranquility brought a calmness which is so often lacking in busy lives. I could easily imagine how the monk Suzui came to the conclusion that it was such a special place in the 1400s.
Tea Culture Hall: A Modern Space to Experience Tea Culture
We felt relaxed and focussed as we made the journey to the Tea Culture Hall over a mountainous bypass. Located in the stunning surroundings of Hoshinofurusato Park, the Tea Culture Hall is a modern space, adorned with local stone and Japanese maple trees, where visitors can learn more about green tea and try their delicious, creative recipes in the restaurant. It was lunchtime and we were keen to experience some of the tea-inspired dishes, which were modern adaptations of Japanese favourites. They included Katsu curry with a green tea sauce, hot green tea soba noodles and tempura in green tea batter. It was the first time I tried yuzu kosho, pepper and citrus, which features on many tables throughout this part of Japan. The sweet, sour and slightly spicy flavour gives any dish a refreshing, tangy taste.
Visitors can also try tea grinding for an additional fee. Dried tea leaves are added to a stone mill and then slowly ground to produce a bright green powder, commonly known as matcha. We met a young family who explained that they were visiting the culture hall so their two children could learn more about the process of making tea. They were staying nearby at the campsite which is located within the park and had taken advantage of a government scheme where people receive discounts for visiting local, rural attractions such as the culture hall. "It's important for our children to know about the history of green tea in Japan", the mother said.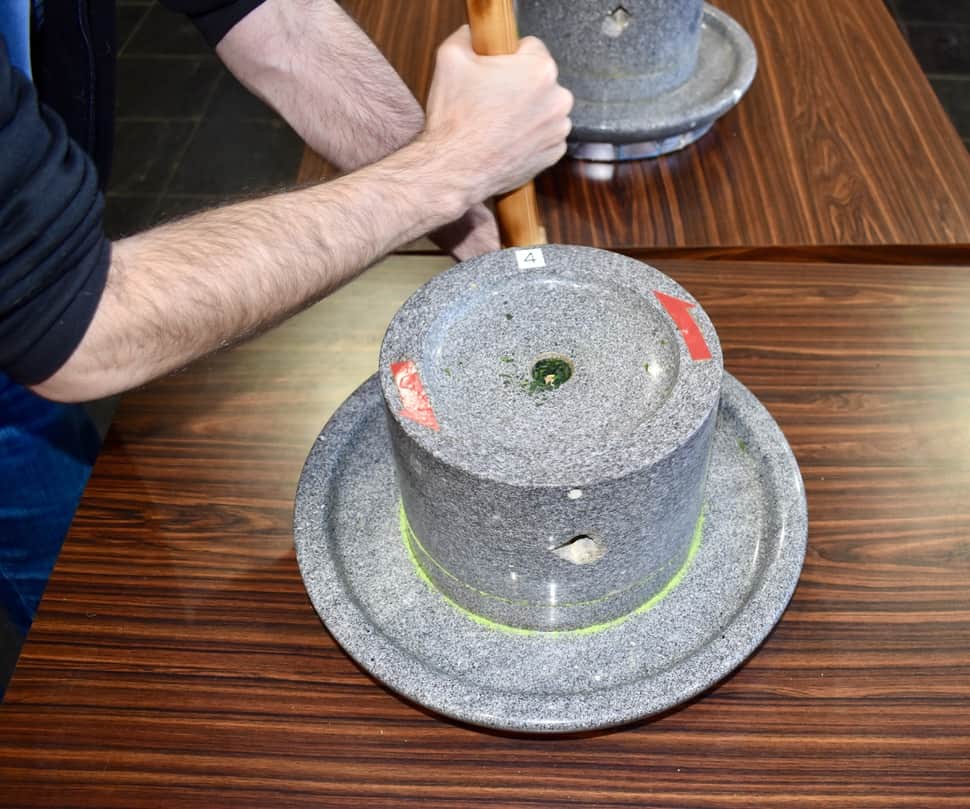 On leaving the building, we passed through the gift shop and admired the Yame Cola, a unique soft drink with a green tea twist. It was just one of the impressive ways that they are trying to make green tea appealing to young people and hopefully it will be a feature on shelves across Japan in the future.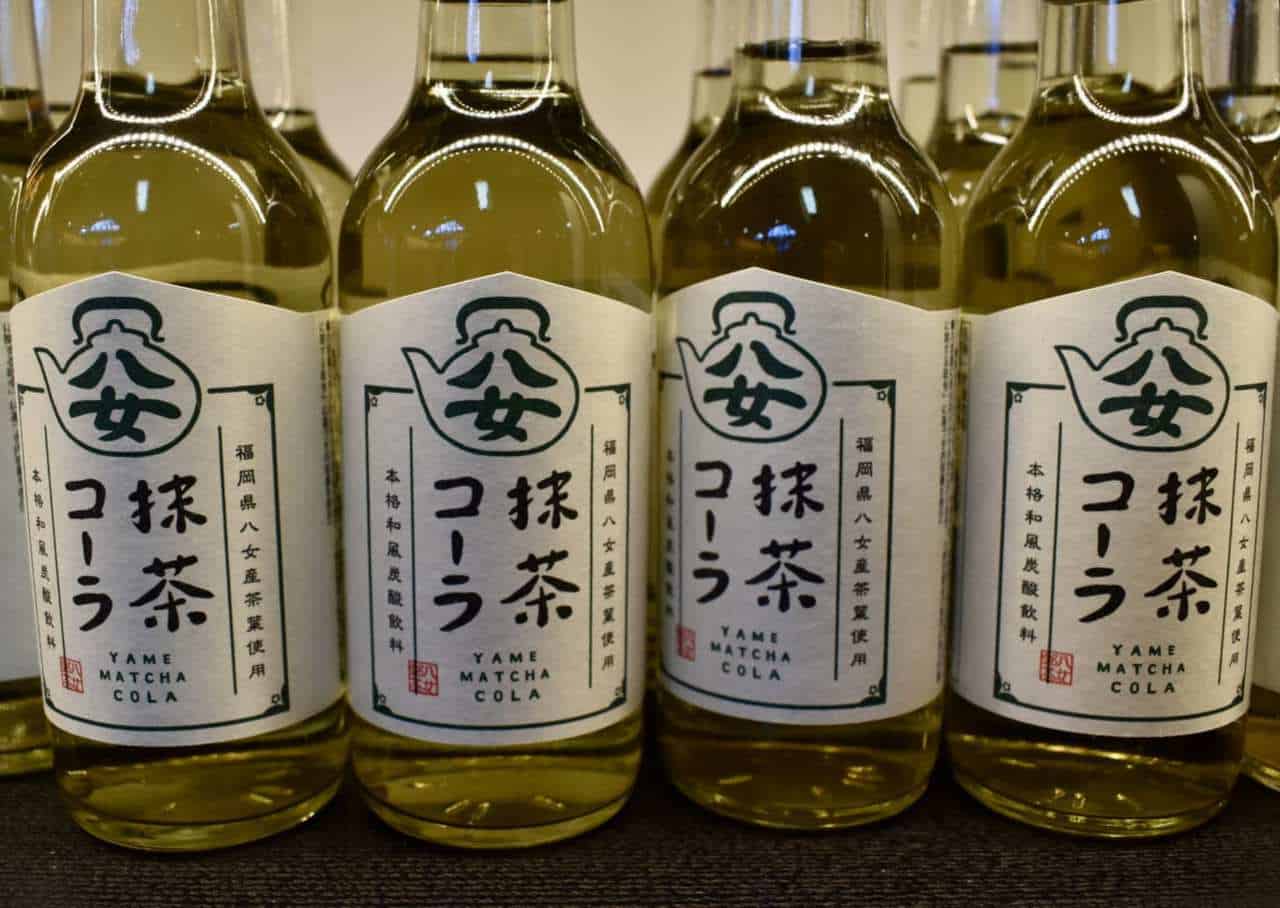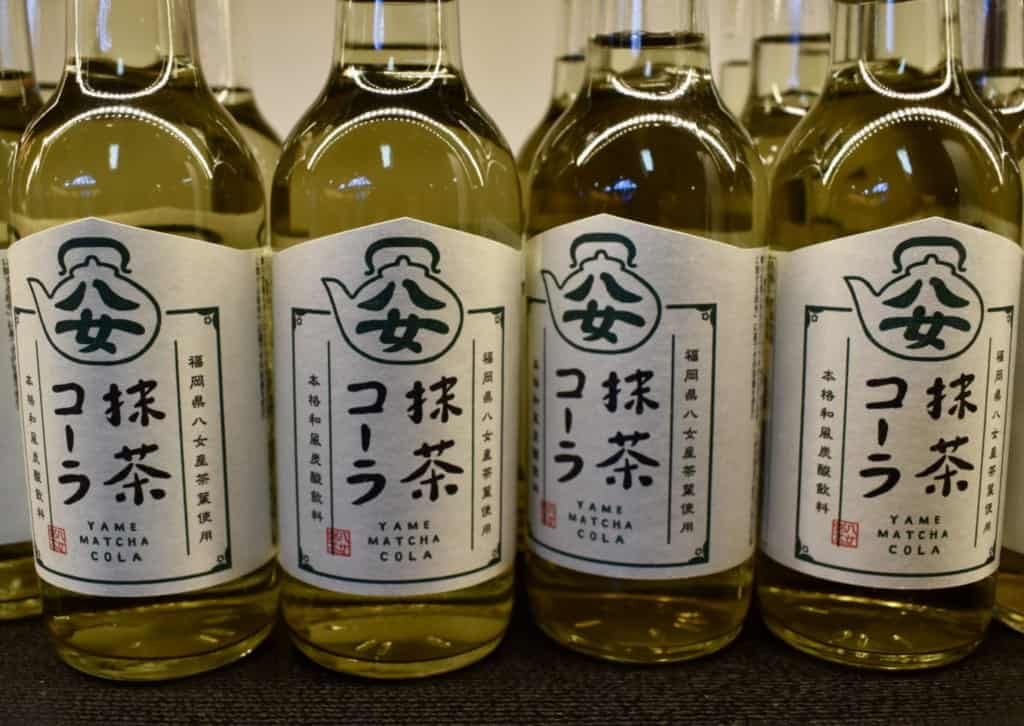 Yame Central Tea Garden: Waves of Tea Stretching into the Distance
Yame Central Tea Garden is a sprawling 70-hectare plantation of gentle green waves of tea. The plantation accounts for nearly half of all the Gyokuro green tea produced in Japan. The bushes are kept covered with bamboo mats from the beginning of May for a period of 20 days so their leaves develop a higher concentration of chlorophyll making the leaves a darker shade of green. When the leaves are picked, they are immediately steamed to seal in the freshness before being fluffed with hot air, pressed and dried until they contain just 30% of their original water content. The leaves are then dried once again and rolled into dark green needles. The tea is regarded as the finest green tea in Japan.
We were the only group visiting the plantation on a warm, sunny day which accentuated the colour of the leaves as they swayed gently in the breeze. The landscape was curved and the waves of tea plantations created a surreal image. It's possible to do tours which have to be booked in advance but visitors can still get an excellent view from the roadside.
Kitaya Sake Brewery: A Local Business with a Global Outlook
Sake is a wonderfully versatile drink that is made from rice. It is produced by adding koji, mould spores which convert starch into sugars, to partially cooked rice in order to start the fermentation process.
The temperature of the rice is then carefully controlled before fresh spring water and yeast are added to create a milky mixture. Sake can be consumed unpasteurized and even containing some of the original rice but the preferred way to enjoy it is as a clear, distilled liquid. Sake is aged for around 4 months, which is traditionally done in large wooden barrels that contribute to the flavour. Breweries normally display balls made of shrubs outside the doorway that turn from green to brown as the sake ages. When the ball is brown, the sake is ready.
Kitaya Brewery won the first prize at the International Wine Challenge for their Daiginjyo sake in 2013, one of the finest types of sake. Kitaya occupies a prominent position in Japan's sake industry and they currently produce 28 brands of sake and 20 brands of shochu (made from rice, yeast, and sweet potatoes).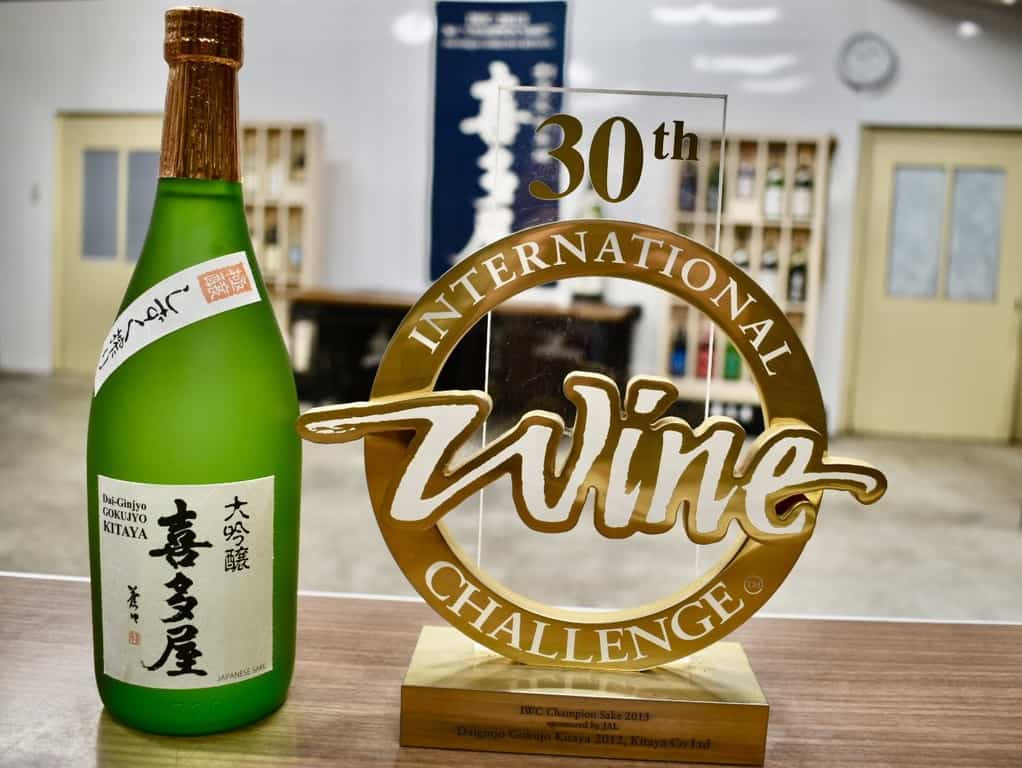 Next year, the company will celebrate 200 years since its founding and we had the pleasure of taking a private tour with Mr. Kinoshita, company President and part of the 7th generation of Sake Masters at Kitaya. An extremely charismatic man with a beaming smile, he warmly welcomed us at the sliding wooden entrance to the brewery. There was no mistaking the smell of sake as it filled the air.
From the small wooden brewery, the business has a global outlook and currently exports around 12% of their products to countries such as the USA, Hong Kong, and China. Mr. Kinoshita shows us the main varieties of sake and beams as he picks up a bottle with a golden label that says IWC Winner. In 2013, the company gained international success when its daiginjyo sake won the first prize at the International Wine Challenge (IWC). Their success has not stopped there however as Mr. Kinoshita proudly tells us that his daughter is currently studying Biochemistry at Kyushu University with the hope of creating a new type of yeast that will be used to make a new sake for this year's Tokyo Olympics which is a further example of the innovative spirit of the people in this part of Japan.
Unique Products in Yame
'Unagi no Nedoko' roughly translates as 'Where the Eel Sleeps' but visitors won't find any eels behind its clay walls. Instead, this seemingly small shop in a historic Yame street is brimming with innovative local products from Kyushu. They have everything from hanten jackets (thick men's jackets worn over yukatas in the winter) to kitchen products and even boots made of wetsuit material that are filled with hot water.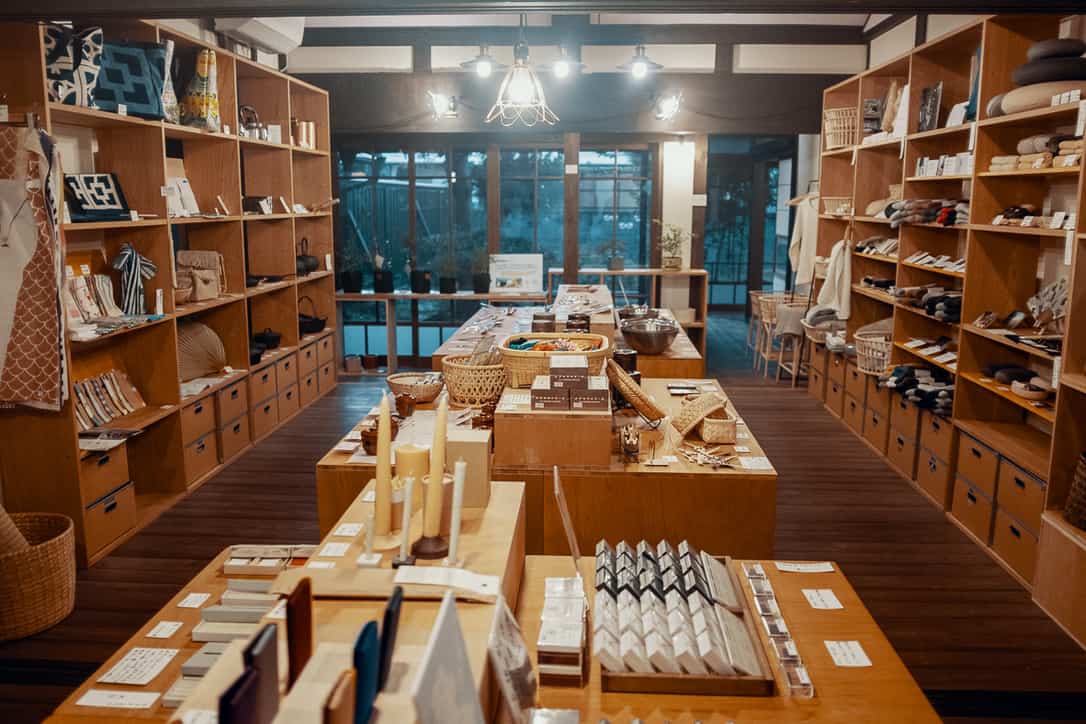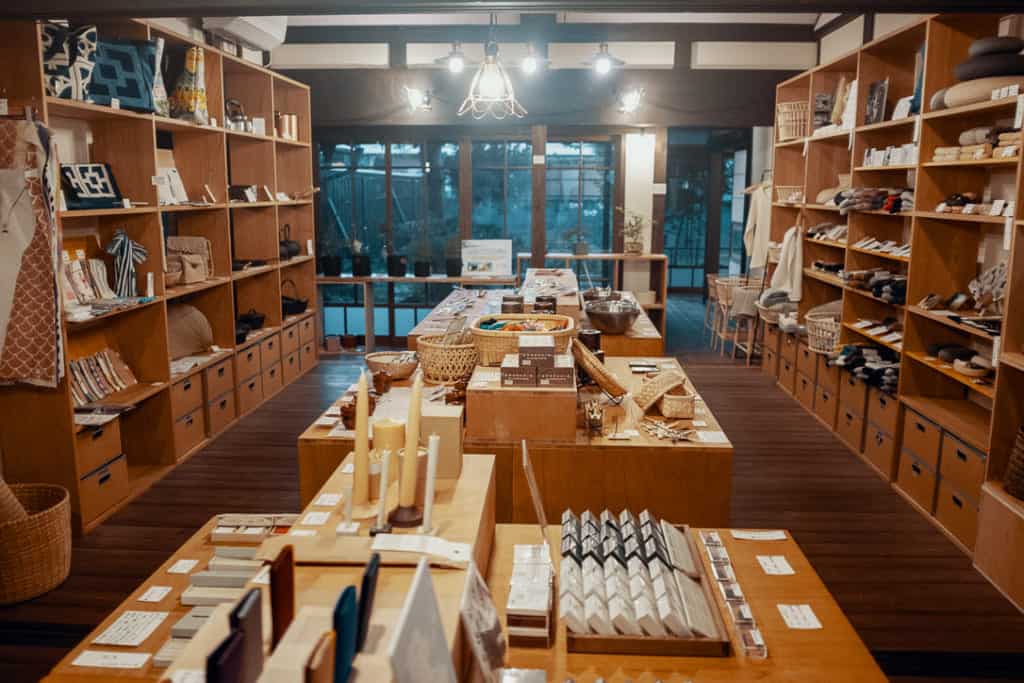 The business was started in 2012 by two friends in order to promote products from Kyushu and bring economic benefits to the makers. Since then, they have opened an antenna shop nearby which specialises in bringing products from other parts of Japan, and abroad, to Kyushu. The antenna store also features a coffee shop that sources locally-produced coffee. Rei, the wife of one of the founders, speaks enthusiastically in fluent English about the inspiration behind some of the products and proudly says that they currently work with over 100 independent makers. "It's not only about bringing economic benefits to the makers but also about raising the profile of Kyushu and getting people to come here", she continues. Some businesses are established and sell online already while others are unknown outside of Yame.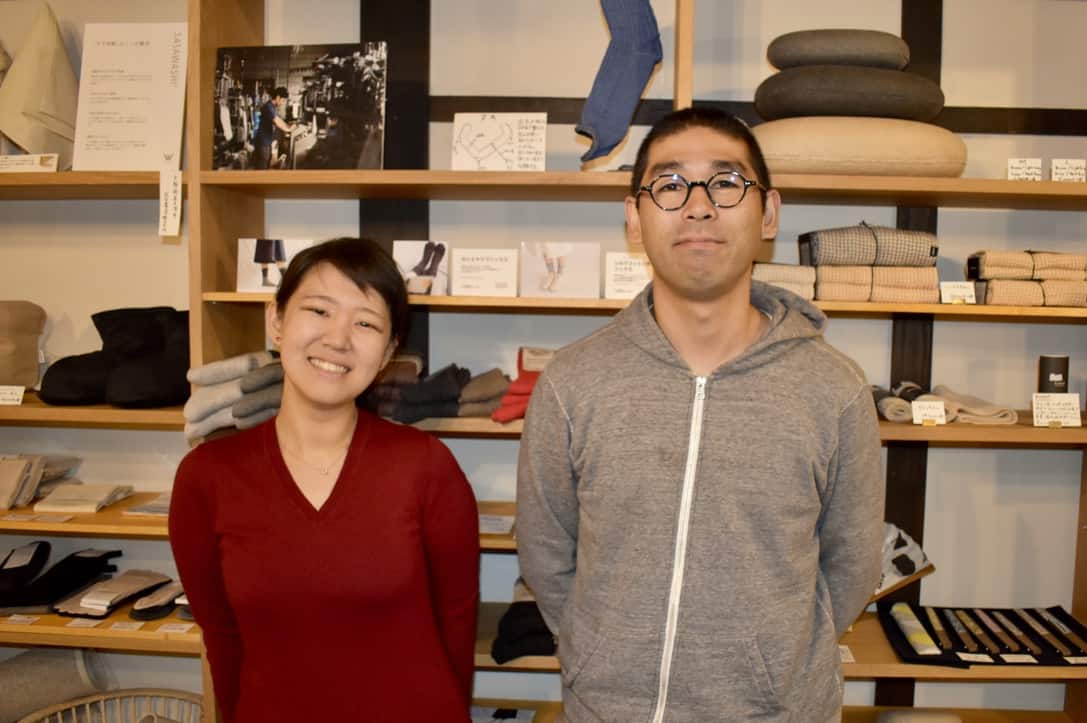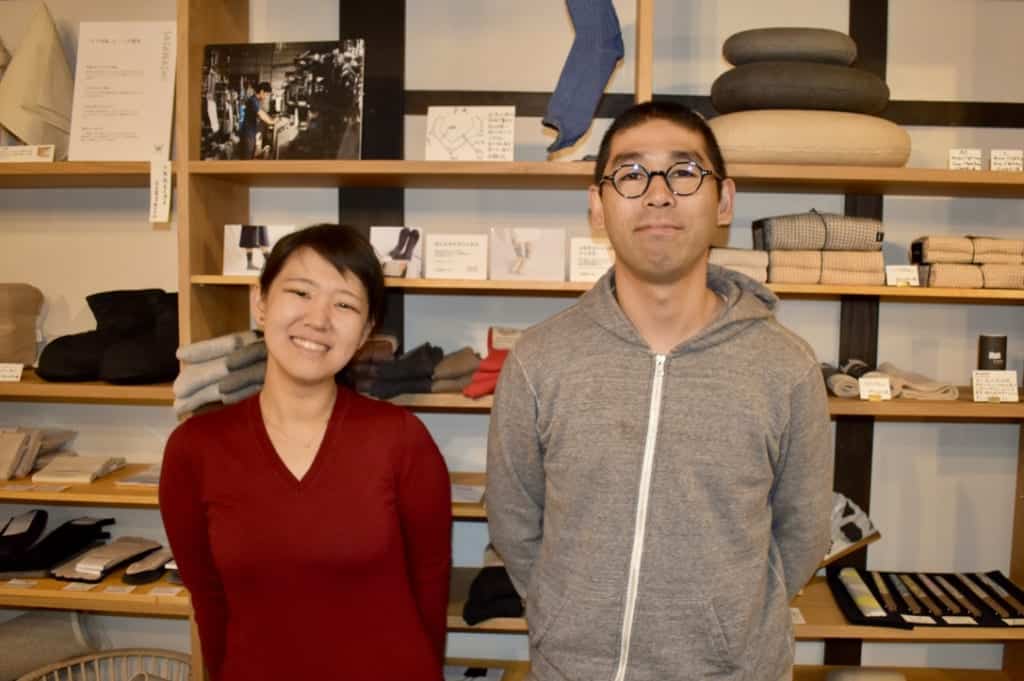 A short drive from the store, the Yame Traditional Craft Centre houses a comprehensive collection of traditional crafts from Yame and the surrounding area, as well as Japan's largest Buddhist altar and a huge stone lantern at the entrance. Visitors are free to wander around the modern space, a former train station, and learn about the town's heritage of paper-making, lanterns and bamboo weaving, to name just a few. There is also an exhibition space for local people to sell their products and an interesting gift shop.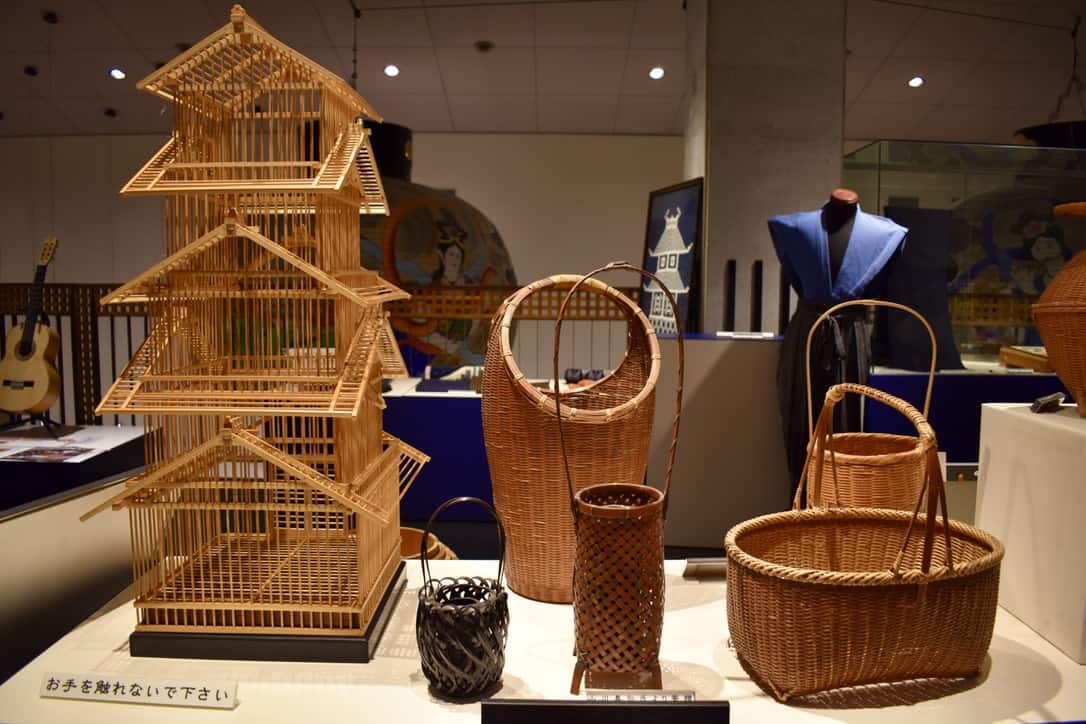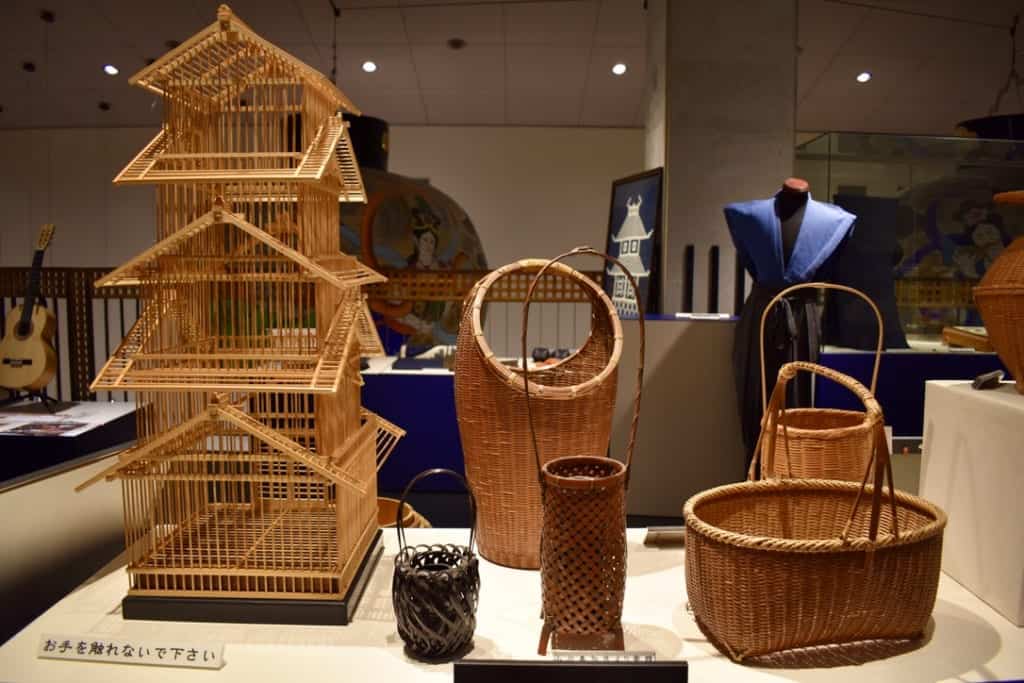 Ikenoyamasou: Enjoy Local Produce in a Traditional Ryokan
After exploring the prefecture, it's hard to think of a better end to the day than a traditional ryokan, or Japanese inn. Ikenoyamasou is set around a natural lake and guests can choose from one of their 28 lodges on the campsite or to stay in one of their tatami rooms in the main building.
Meals were served in the main dining room and featured a kaiseki dinner consisting of beautifully-presented Japanese dishes, from fresh trout and local sashimi (raw fish) to a steaming hot pot of seasonal vegetables and pork.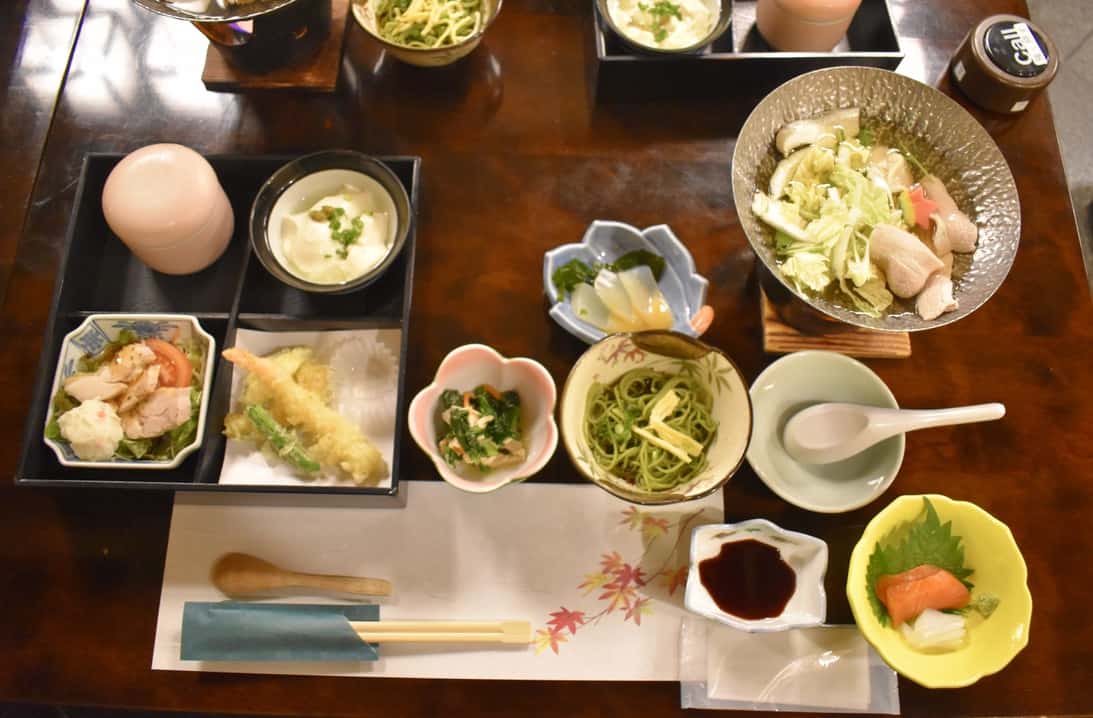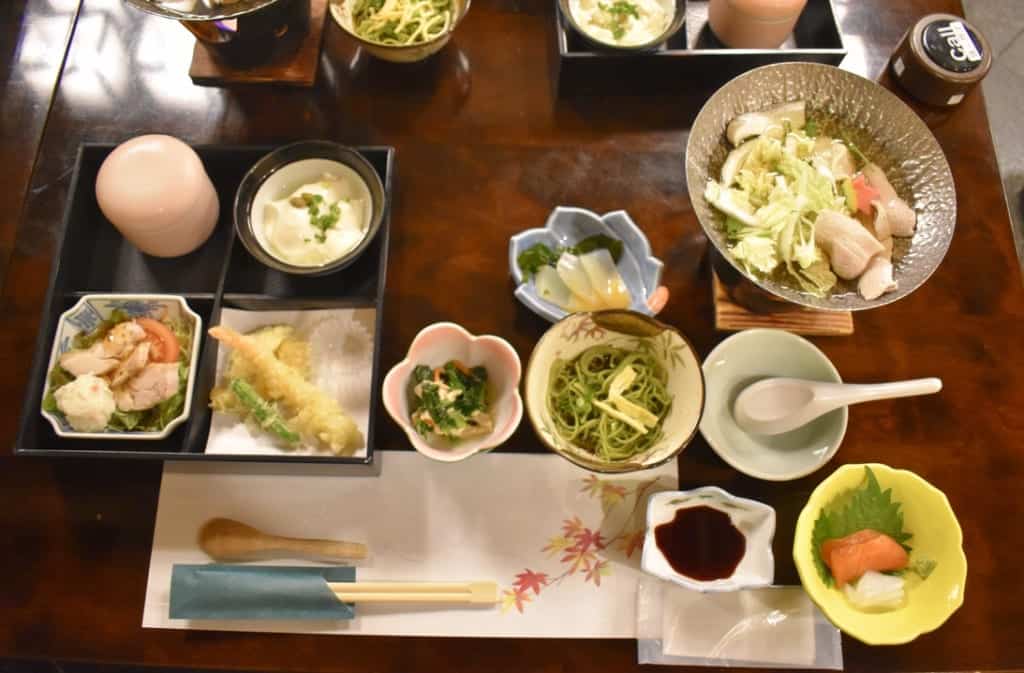 I finished the day with a relaxing soak in the thick, steaming hot spring while small orange leaves gently rained down from a Japanese maple tree above me. It was a truly magical experience that I will always remember.
I have yet to encounter a country that matches Japan's sense of hospitality and attention to detail. A journey around Fukuoka prefecture provides an authentic connection to nature and you begin to get a sense of what makes Japan so special. If you venture away from Japan's cities, you will discover unique secrets that often go unseen. But once you find them, you certainly won't be able to keep them to yourself.
How to Get to Fukuoka Prefecture
The region is conveniently connected to the rest of Japan by Fukuoka airport while the Shinkansen (commonly known as the bullet train) makes the journey from Tokyo to Fukuoka in around 5 hours. The Kyushu Expressway takes you to smaller towns across the island and I would recommend travelling by car in order to explore smaller places.