Sponsored by Okayama city, Okayama
I admit it. By the time I had descended from Okayama Castle after viewing the spectacular summer light show, I could feel my heart getting dokidoki in my chest as I crossed to bridge to the South entrance of Korakuen. After all, Korakuen is known as one of the Three Great Gardens in all of Japan alongside Kenrokuen in Kanazawa and Kairokuen in Mito. And I had been dreaming of coming here after witnessing the beauty of Kenrokuen over 10 years ago.
And I had been here earlier, in the daylight hours, enjoying the peaceful loveliness of Korakuen's sprawling yet organized grandeur. I stood on Yuishinzan Hill in the center of the garden and surveyed the panoramic view as if I were Lord Ikeda himself, surveying what I had created. When one thinks of Japanese gardens, you don't often imagine large pristine fields of grass, a staple of Western parks where picnics and impromptu sports competitions are the norm. Yet much of Korakuen is filled with vast lawns separating intimate smaller gardens, tea houses and groves of trees. And as I was soon to learn, there was a practical purpose for these wide open spaces as well.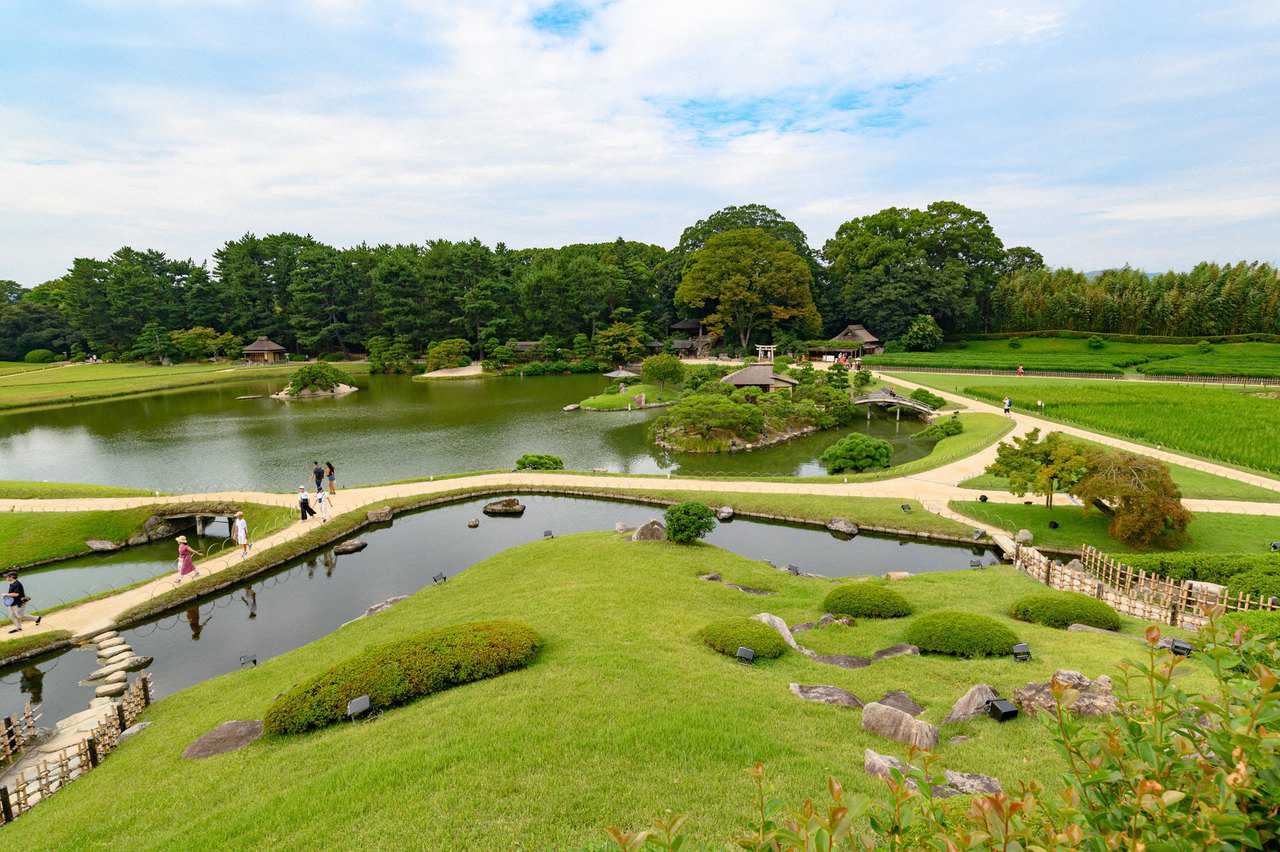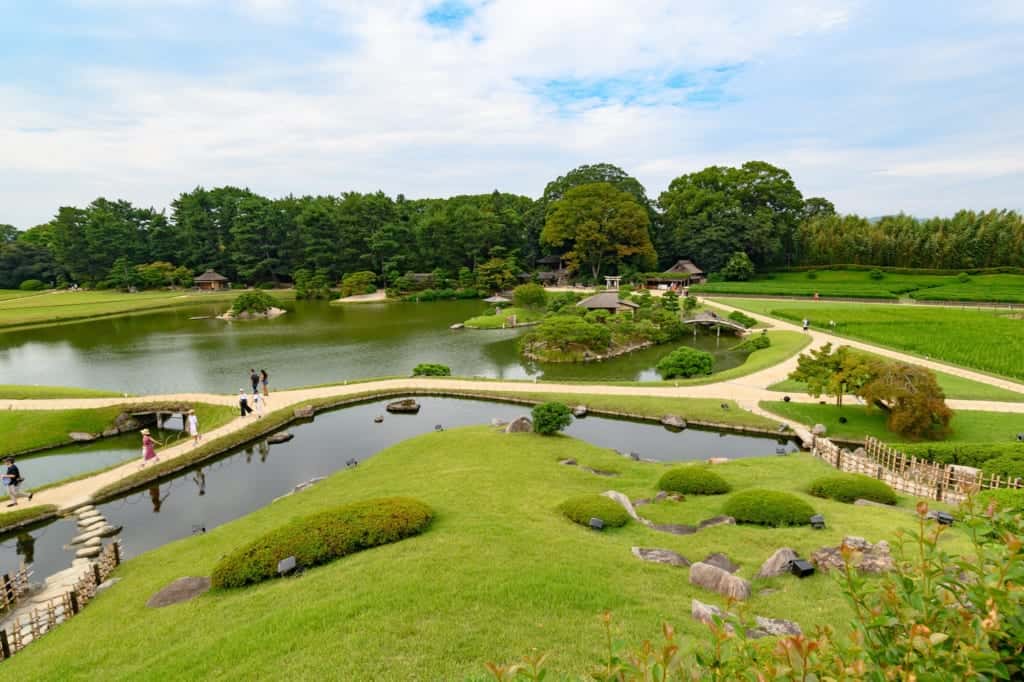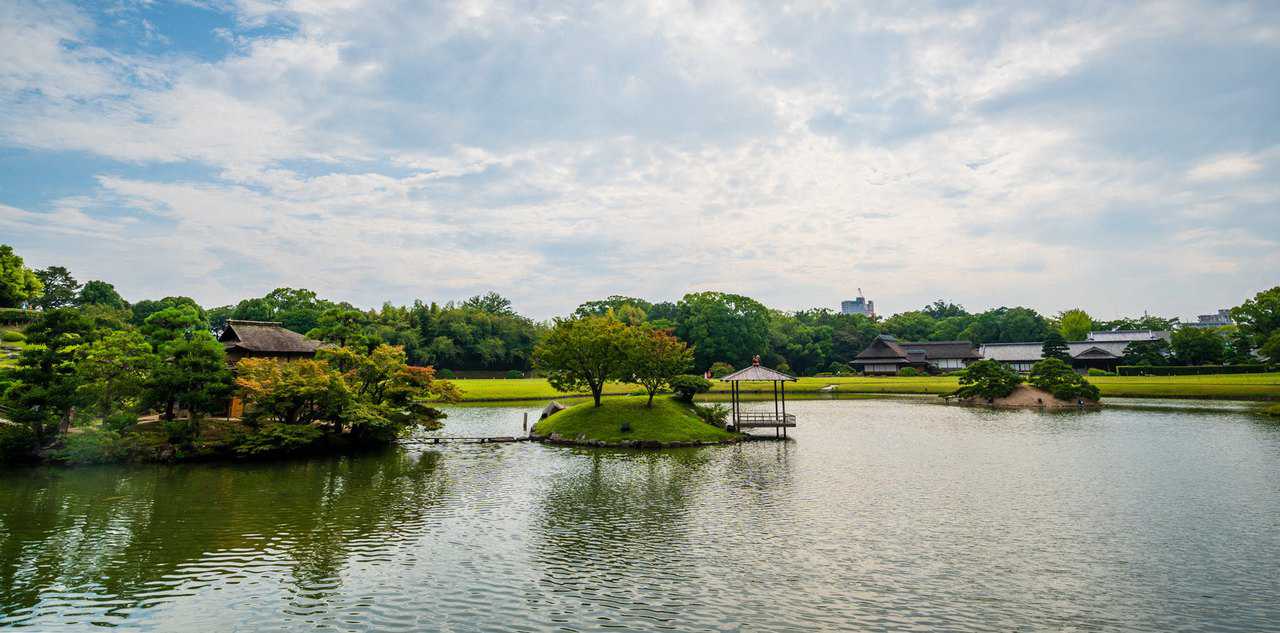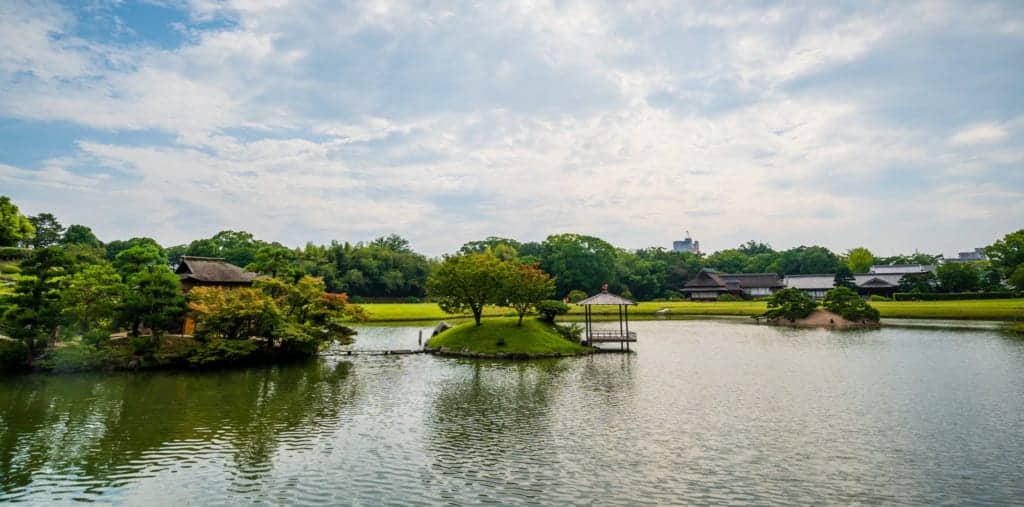 A Japanese Garden of Many Pleasures
When Lord Ikeda ordered the construction of Korakuen in 1683, he envisioned a place that was more than a show of vanity, but a place of true usefulness. Early plans showed that one of the first constructions of the garden was a vegetable garden, hardly the type of garden you would expect a feudal lord to show off. Additional features that were unusual for a Daimyo's garden were a horseback riding ground, a tea plantation and a Noh stage. The latter feature was a particular joy for Lord Ikeda as he not only enjoyed Noh theatre, but he was also an accomplished performer.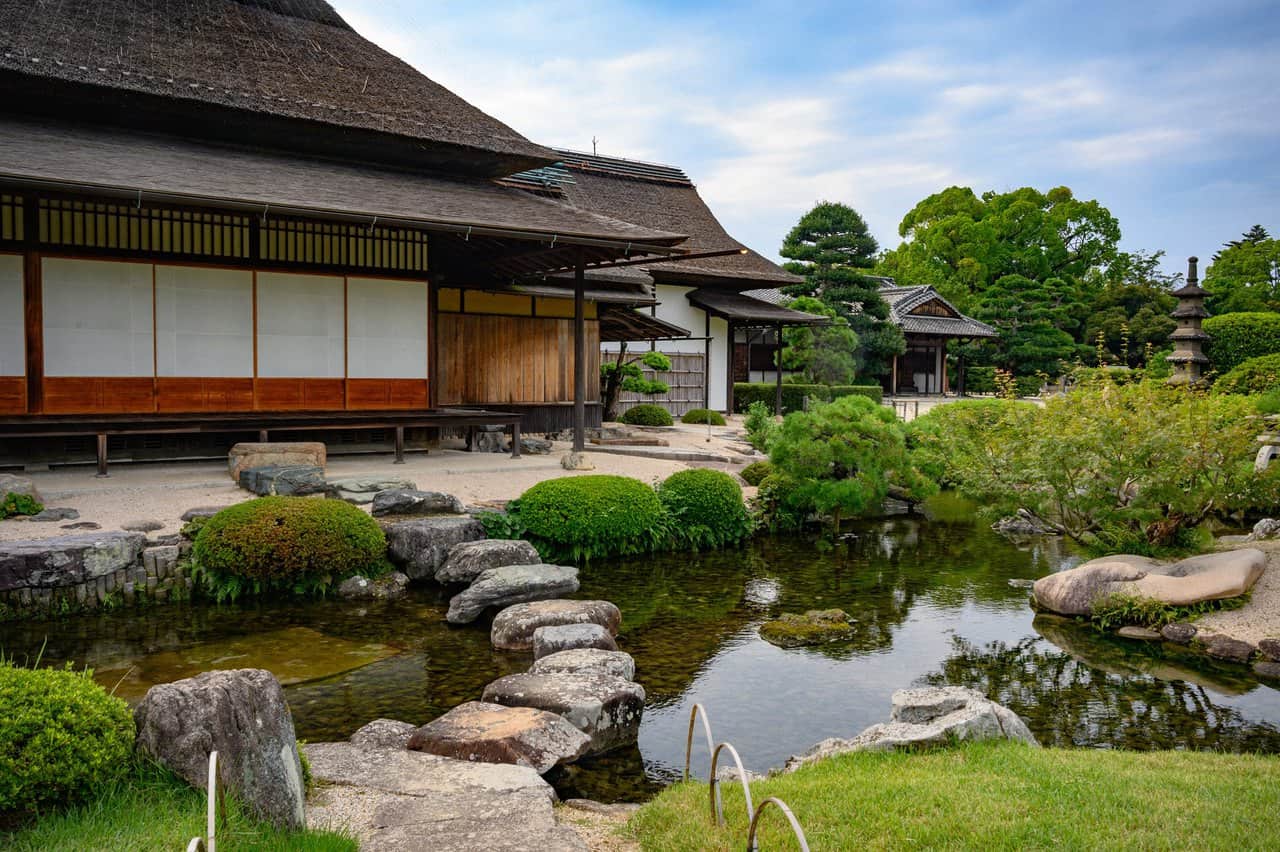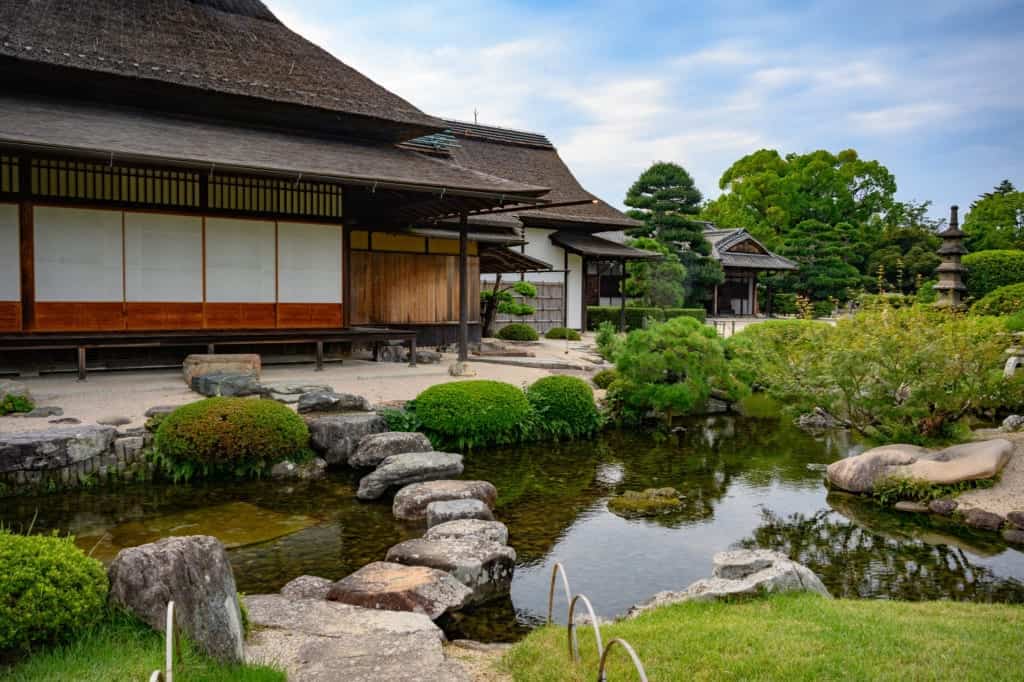 No doubt Lord Ikeda created the garden at least partially as a place to entertain powerful guests to his domain, such as the other Daimyo from around Japan. But he did not neglect his own personal pleasures, nor the pleasure of his own people, as the garden was occasionally opened for commoners to visit. Sawa-no-ike Pond, in the middle of the garden contains three small islands, each designed to resemble an island in Lake Biwa near Kyoto. From Renchi-ken Rest House, Lord Ikeda could relax and enjoy his favorite view of the pond. Or perhaps he would sit in the shade of Ryuten Pavilion, built directly over the meandering stream Kyokusui, and cool his feet in the running water.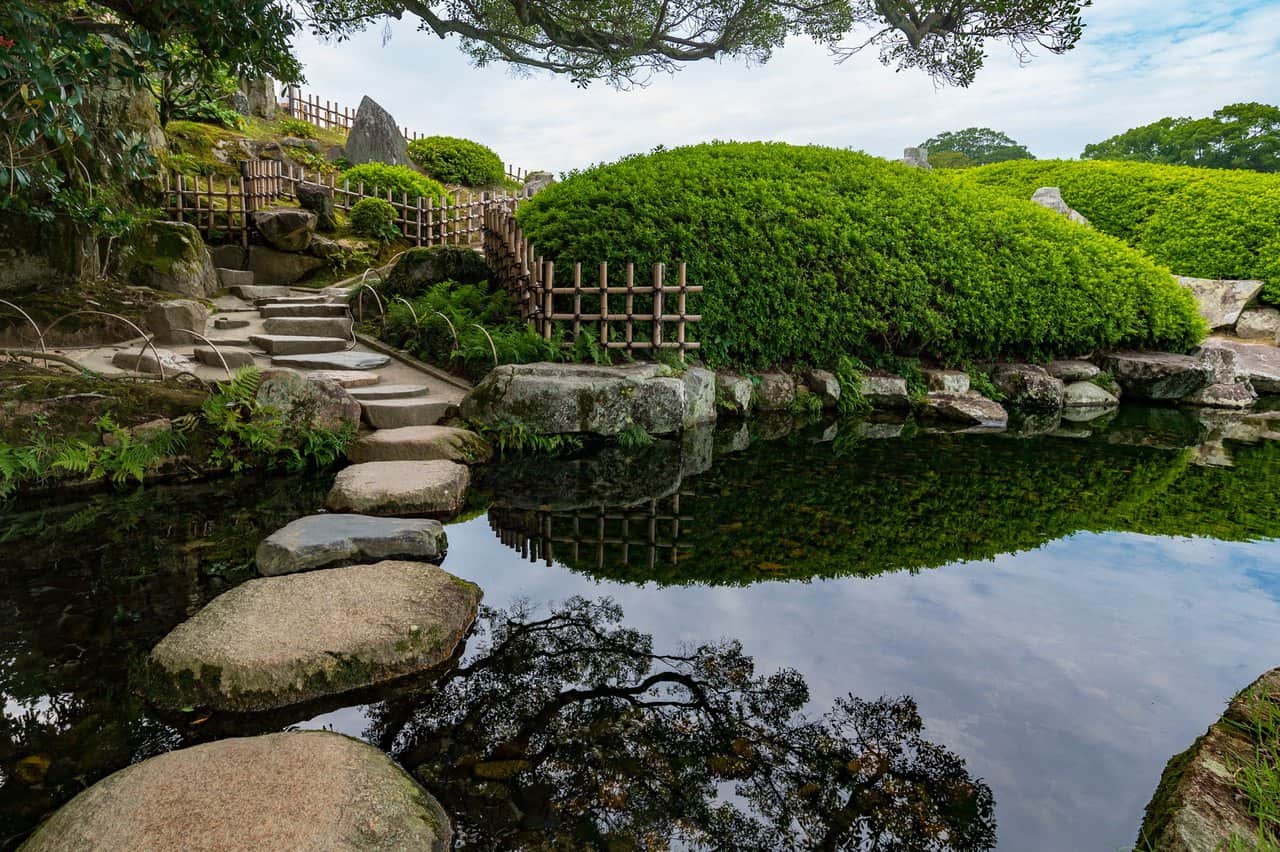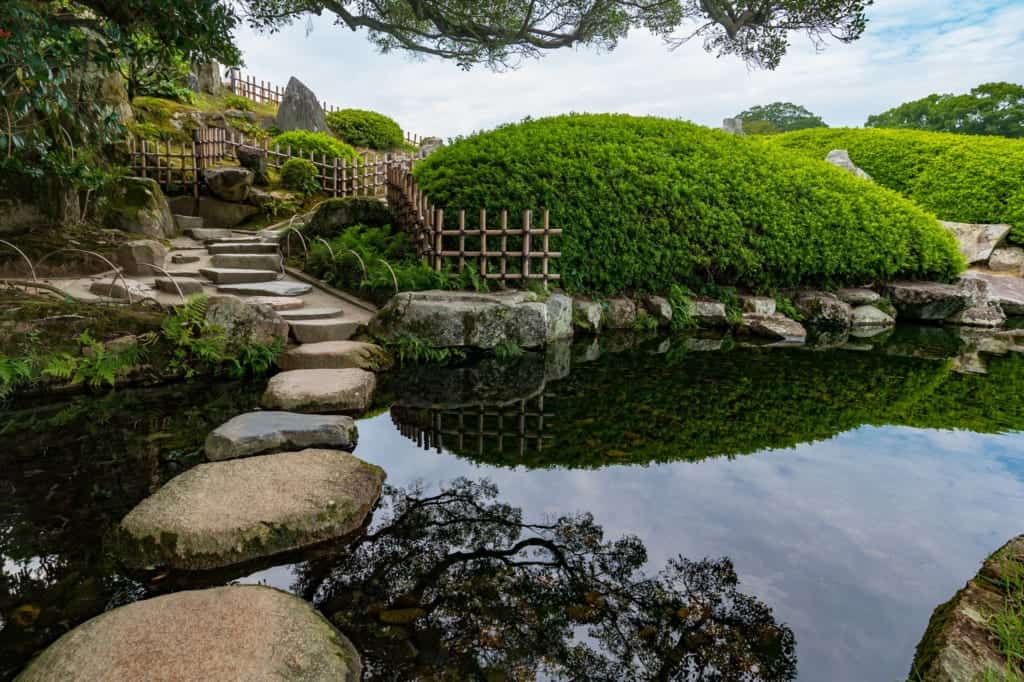 Like all great Japanese gardens, Korakuen is a garden for all seasons. Fall brings vivid red and orange colors to the maples growing on Yuishinzan Hill, while Winter a dusting of white powder, making the vast lawns look like fields of snow. Spring, of course is the most famous season, with the abundant cherry trees blooming all over the garden. And here in Summer, a variety of flowers blossom over the various summer months adding color to the brilliant green grass, rice and tea fields.
Korakuen Summer Fantasy Garden
Though many of the flowers have already finished blooming by August, a special event called Summer Fantasy Garden is held every evening for the entire month. In conjunction with a special illumination of nearby Okayama Castle, the garden is lit with an abundance of colorful lights and sculptures. Colorful cubes of light float on Sawa-no-ike and dance slowly around the pond synchronized to a musical score during periodic performances.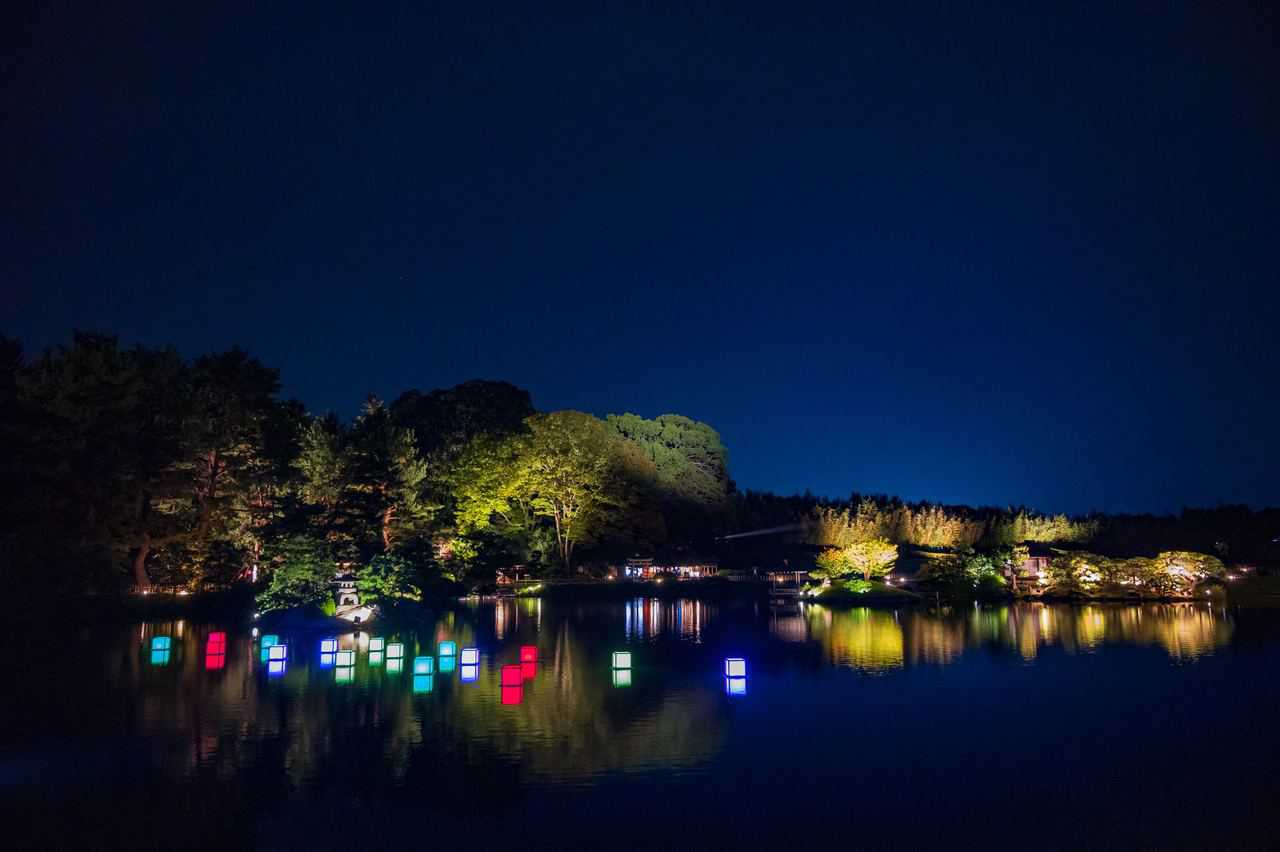 Take-akari, hollow bamboo carved with intricate designs and lit internally are also arranged around the garden, extraordinary accessories to an already breathtaking view.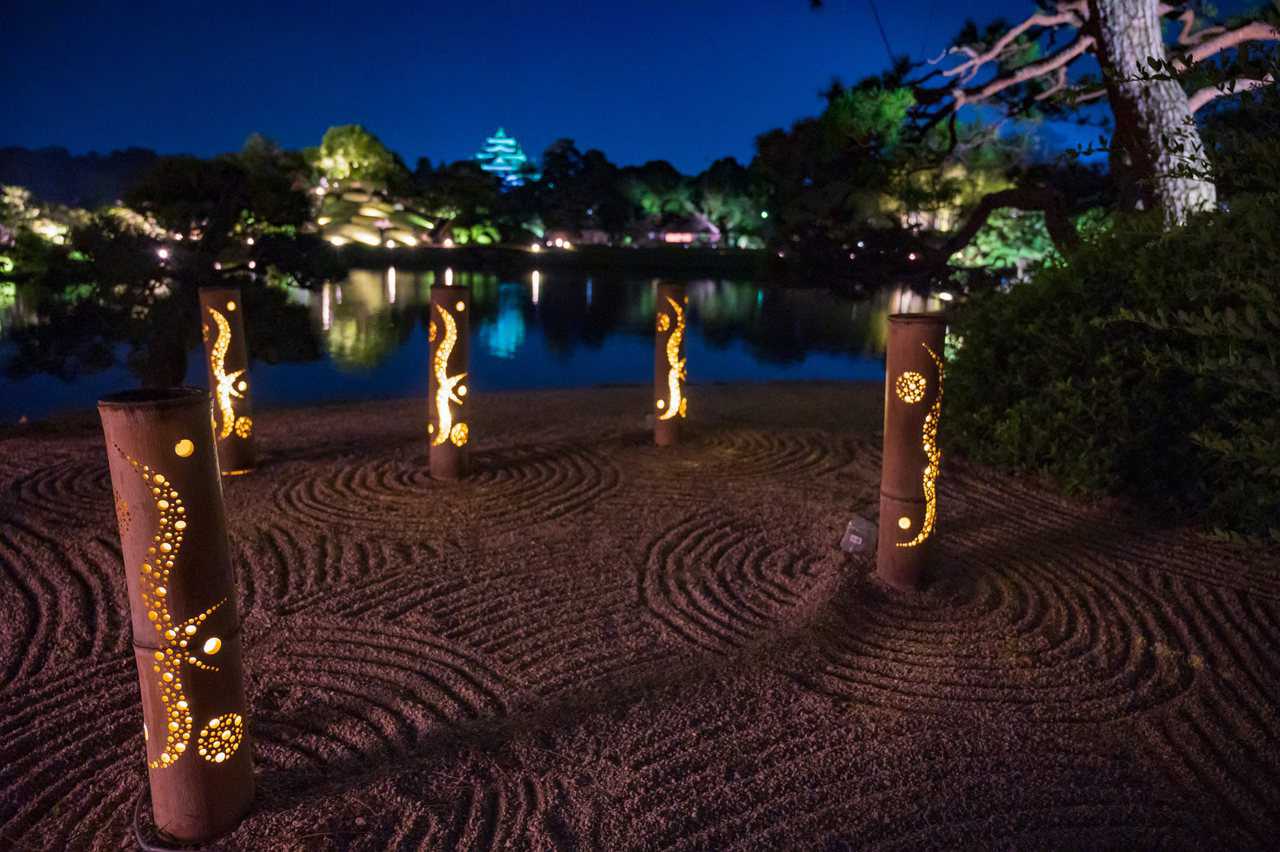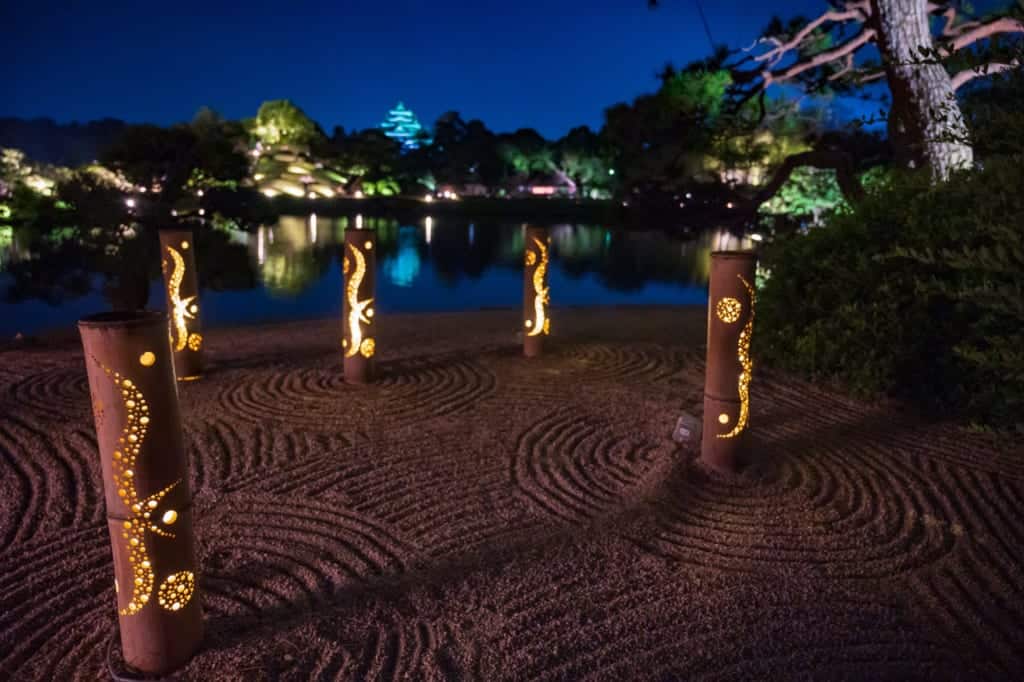 Perhaps most extraordinary for such an elegant garden, several of the vast lawn areas near Ryuten Pavilion are opened to the public all month transforming this section of the Korakuen into a Beer Garden. Tables and chairs are set up on the grass and a dozen or more stalls selling food and drink, including a large selection of craft beers, are available. As I listened to the chatter of the happy crowds enjoying this world-class garden on a night under the stars, I couldn't help but think Lord Ikeda would approve of such a sight, the people of his domain enjoying the garden he created for simple pleasures such as this.
Okayama City: Closer Than You Think
Okayama City by Shinkansen is closer than you might imagine, just a little over 3 hours from Tokyo, an hour from Kyoto and a mere 35 minutes from Hiroshima. You can also reach the amazing art museums of Naoshima Island within an hour and a half by train and ferry.
Using a JR Rail Pass, Okayama is an easy destination for a day trip or overnight adventure to experience a part of Japan that is less traveled but no less fascinating than the popular tourist destinations.
| | |
| --- | --- |
| Name | Okayama Korakuen |
| Category | Japanese Garden |
| Address | 1-5 Kōrakuen, Kita-ku, Okayama, 703-8257 |
| Access | [map]1-5 Kōrakuen, Kita-ku, Okayama, 703-8257[/map] |
| Opening Hours | 07:30 to 21:30 |
| Price Range | 400 yen (adult) 140 yen 6-14 , over 65 years old |
| Payment options | Cash |