Spring is a wonderful time for nature lovers. Trees blossom with flowers, landscapes turn green, and we switch our heavy winter coats for a lighter jacket. Spring is an extraordinary time in Japan when nature becomes vivid with color and intensity. The most famous flowers that blossom during this period of the year are ume (plum blossom – 梅), sakura (cherry blossom – さくら/ 桜) and momo (peach blossom – 桃花). This article will introduce their differences, their meaning, and where you can enjoy them in Japan.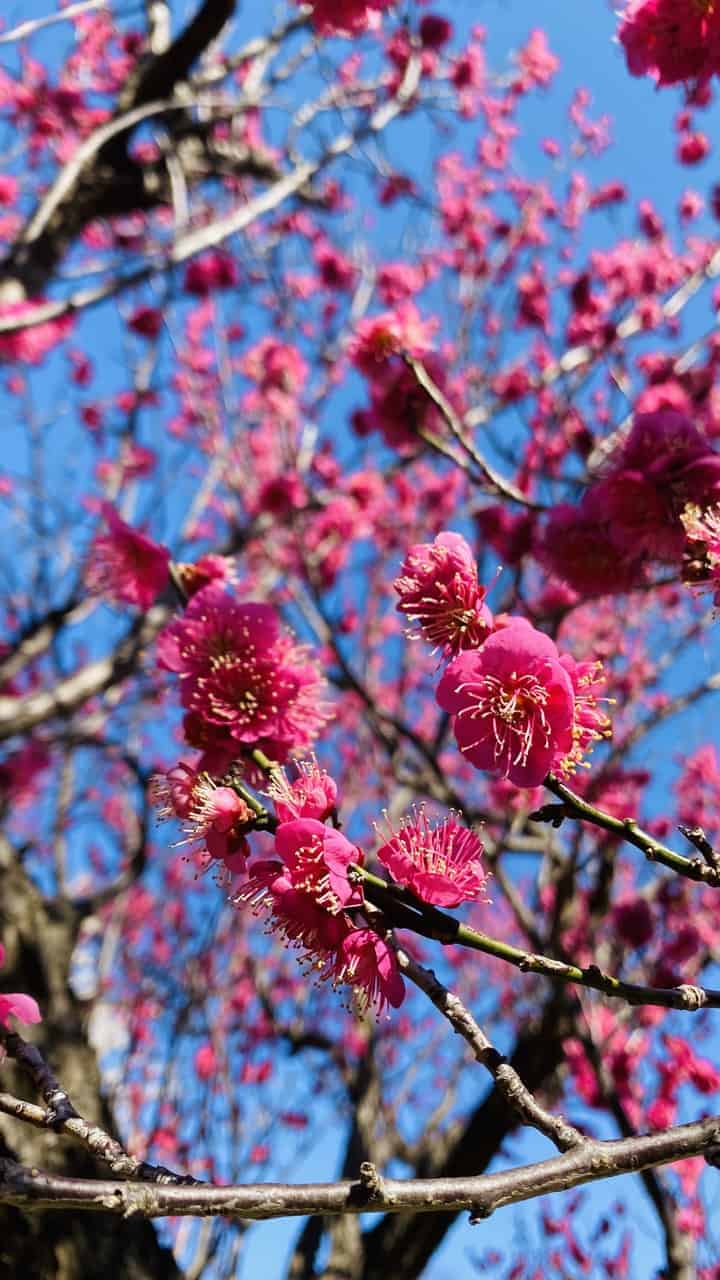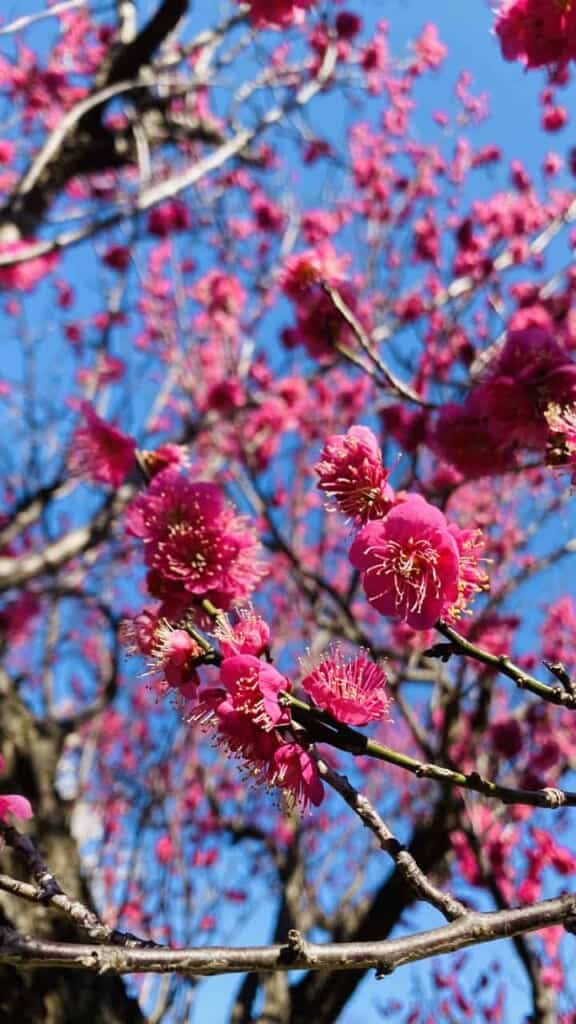 Ume Plum Blossom in Japan
The small ume flower (plum) is considered a late winter flower, blooming in early February until the end of March.
What is the Ume Blossom Like?
The ume blossom can come in a variety of shades, from deep pink, red, and white. Its smooth petals have a rounded shape and the flower is short-stemmed. You will recognize these flowers for their sweet and fruity fragrance.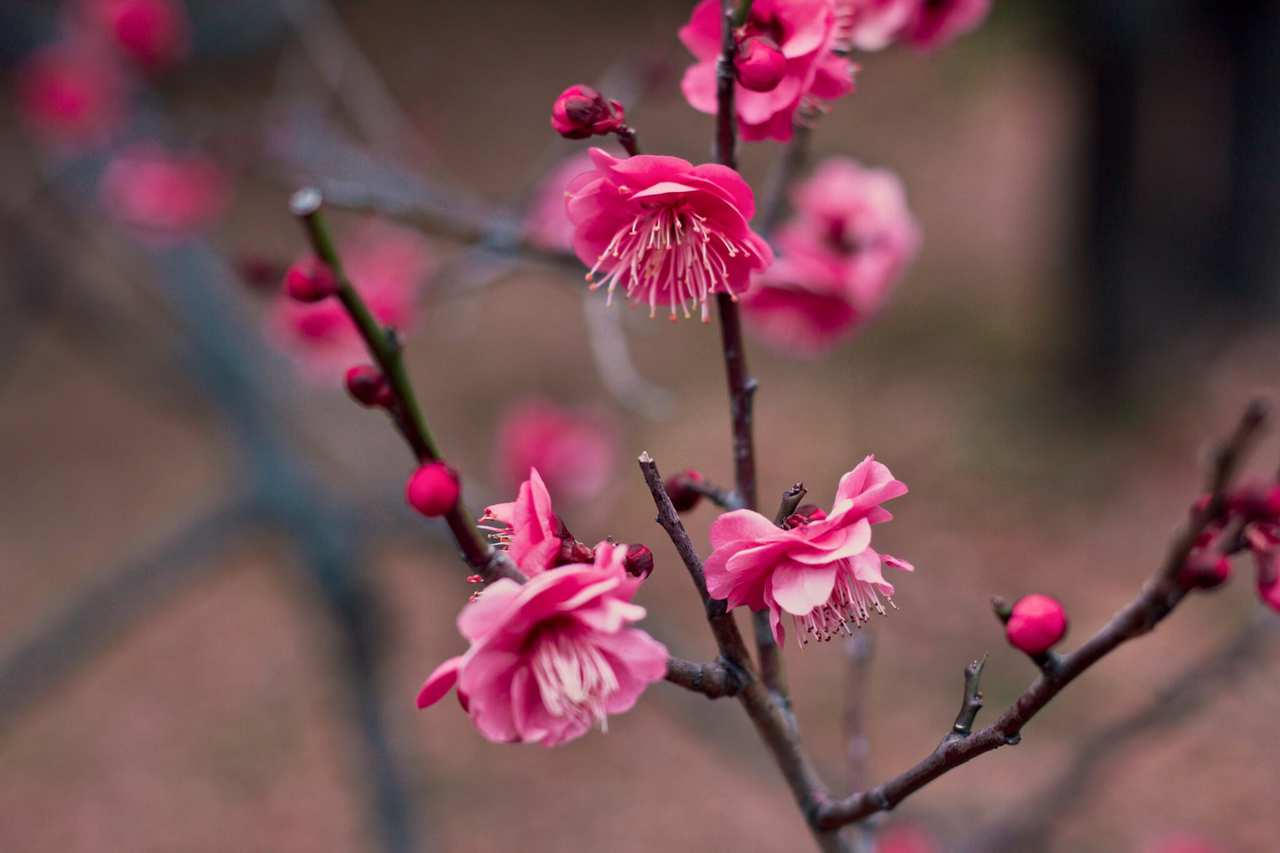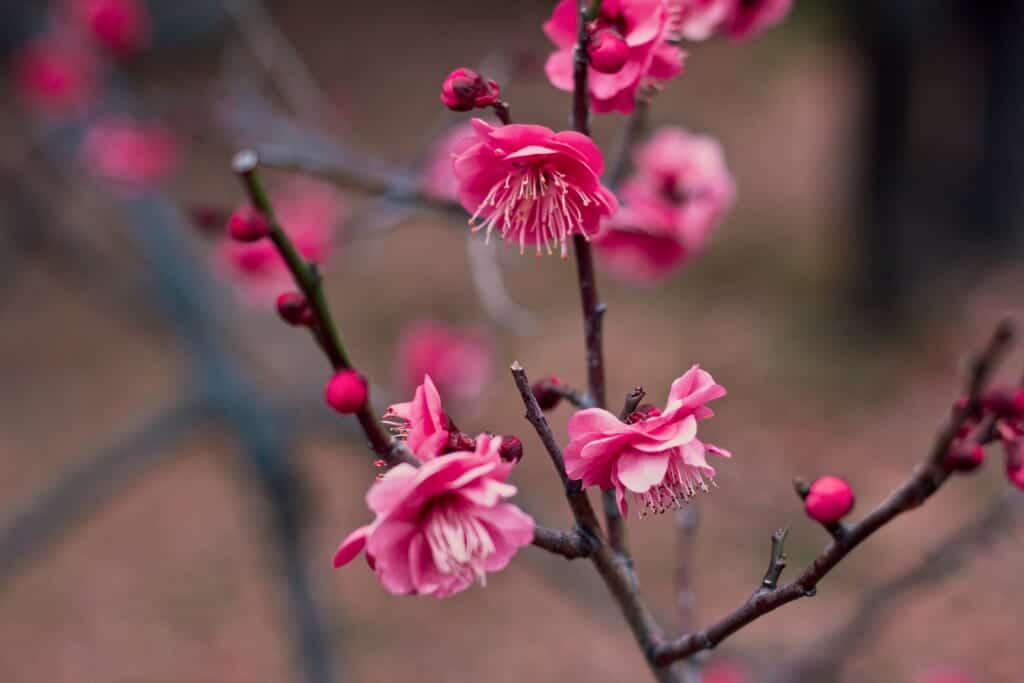 The Meaning Behind the Ume Blossom
These flowers were imported to Japan from China 1500 years ago. Although the sakura cherry blossom is the most well-known flower to partake in Japan's famous hanami flower-viewing season, the tradition of ume viewing arose during the Nara Period when Japan's wealthiest gazed upon the ume flowers in their private gardens.
Ume blossom has many meanings and uses within Japanese culture. These flowers are associated with good fortune and health as they are strong enough to grow in the cold winter. They are also considered a talisman against evil spirits, which is why you can find ume trees in many Japanese temples.
Thanks to their beauty and early flowering season, they have appeared in many poems, plays, and other art forms. To see pink and red flowers within the white snow in February is a visual delight, another reason why many artists wanted to capture this wonder of nature in their creations.
In addition, ume flowers represent elegance and dignity, which is why you can see ume flowers in many kimono patterns and designs.
Where to See Ume in Japan?
If you are traveling to Japan between February and March, you will see many flowering plum trees throughout the country. Some of the best known places are Asuka Mikasa in Hokkaido, Kairakuen in Ibaraki or Koishikawa Korakuen Garden in Tokyo.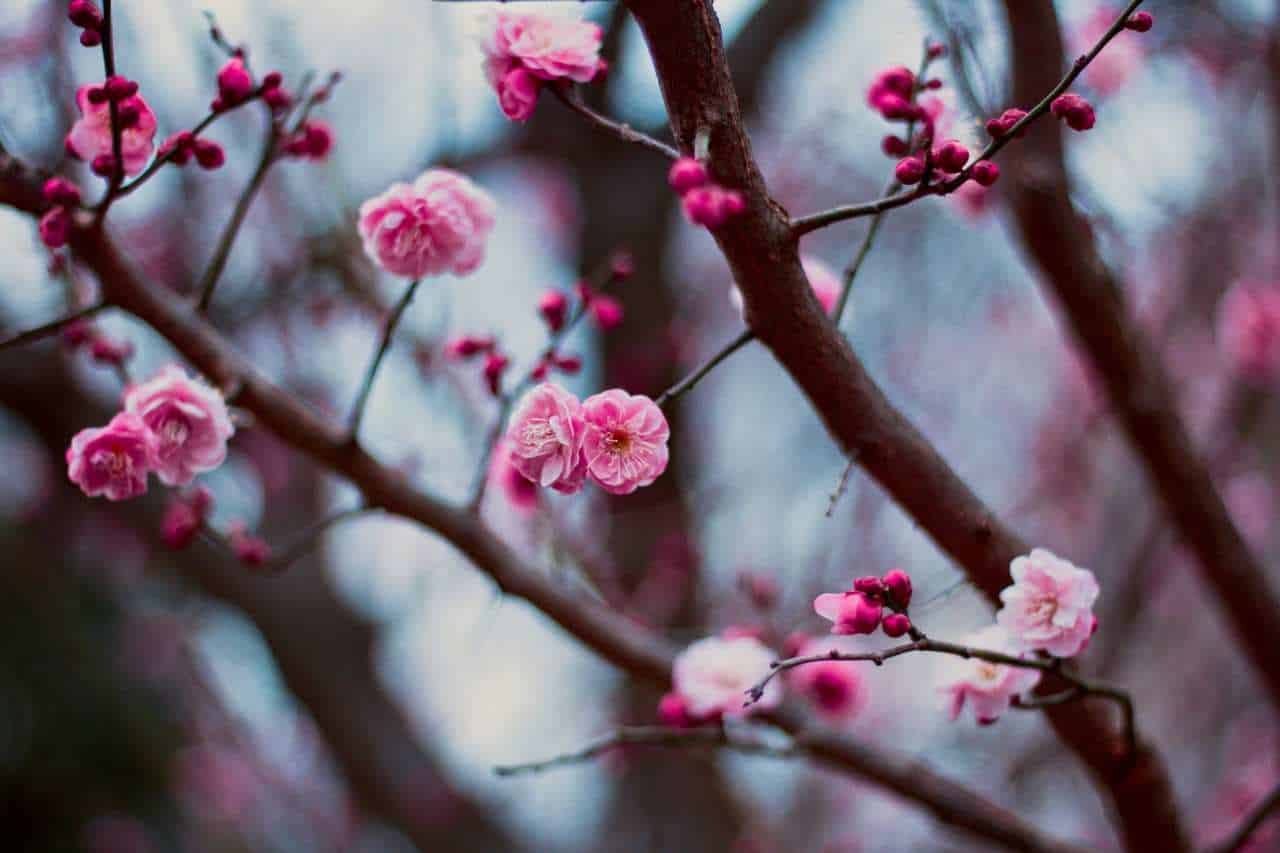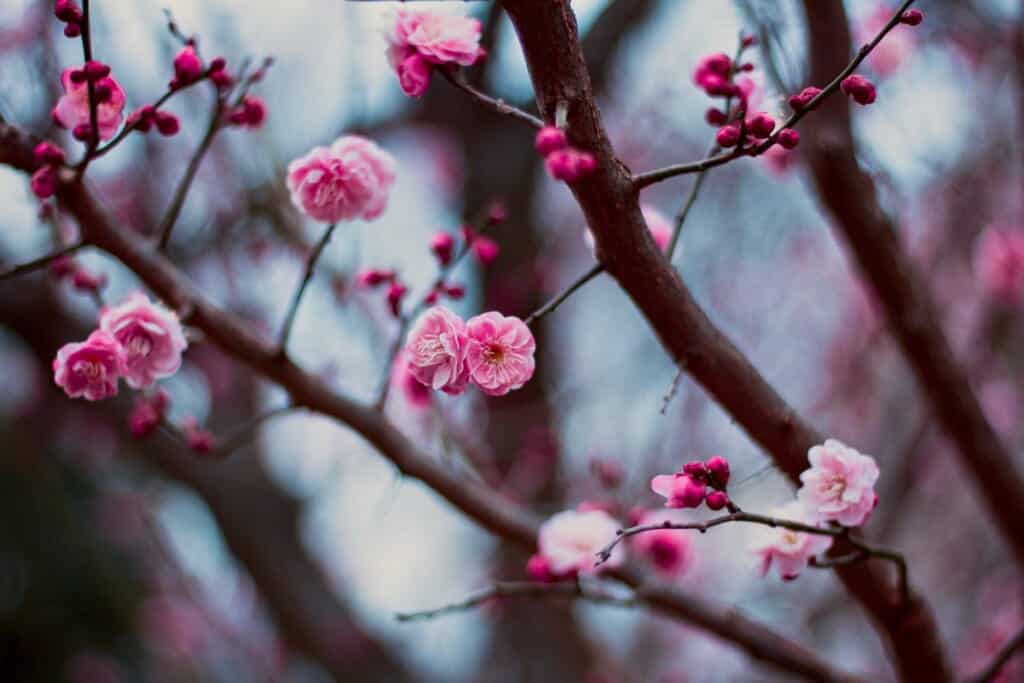 Sakura Cherry Blossom in Japan
The most well-known Japanese flower to Western tourists is, without a doubt, sakura. Japanese people also have incalculable love for them. This sakura blossom represents the Japanese spring and appears between March and April in the central area of the Japanese archipelago.
What is the Sakura Blossom Like?
Japanese cherry blossoms are white or light pink. Its petal's shape can look a bit like a heart, and they have a small cut at the end. More than one flower can germinate from the same bud.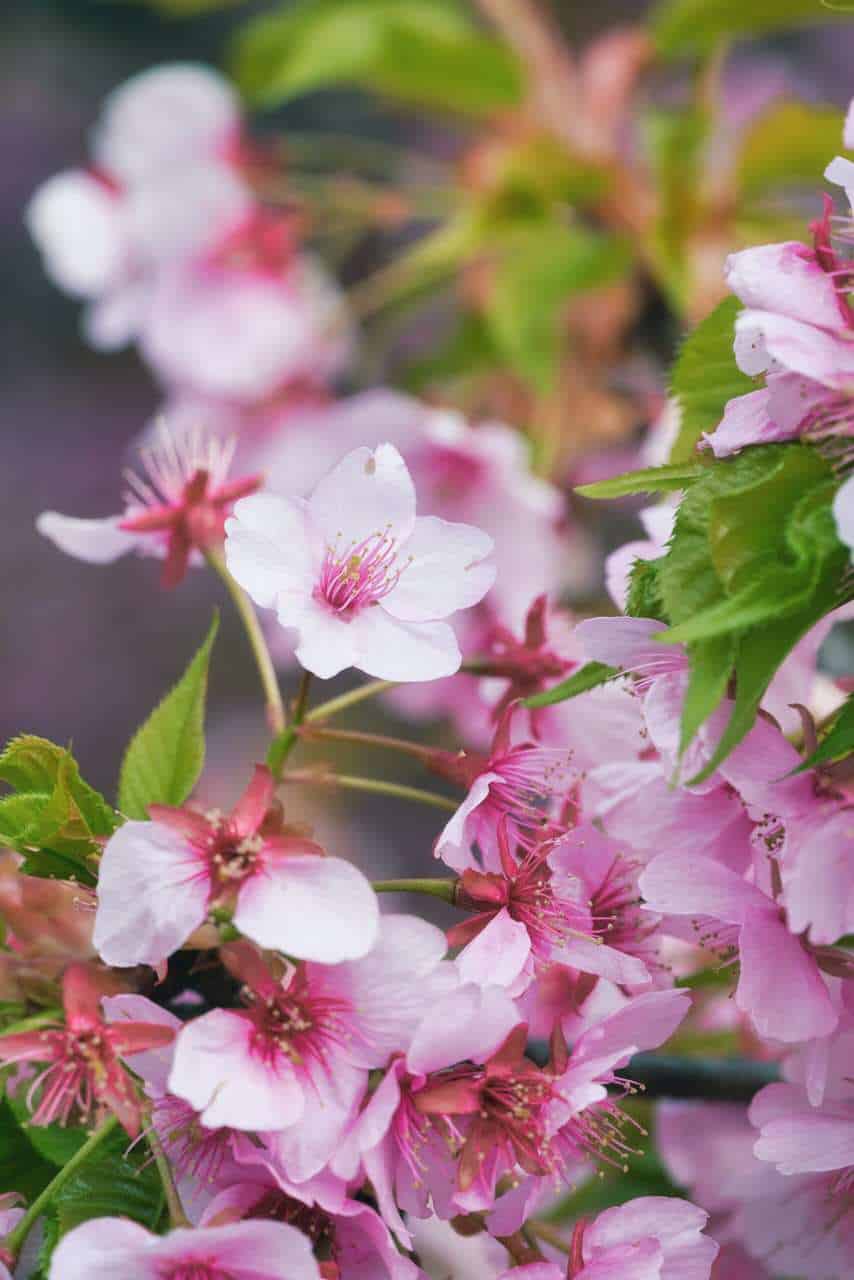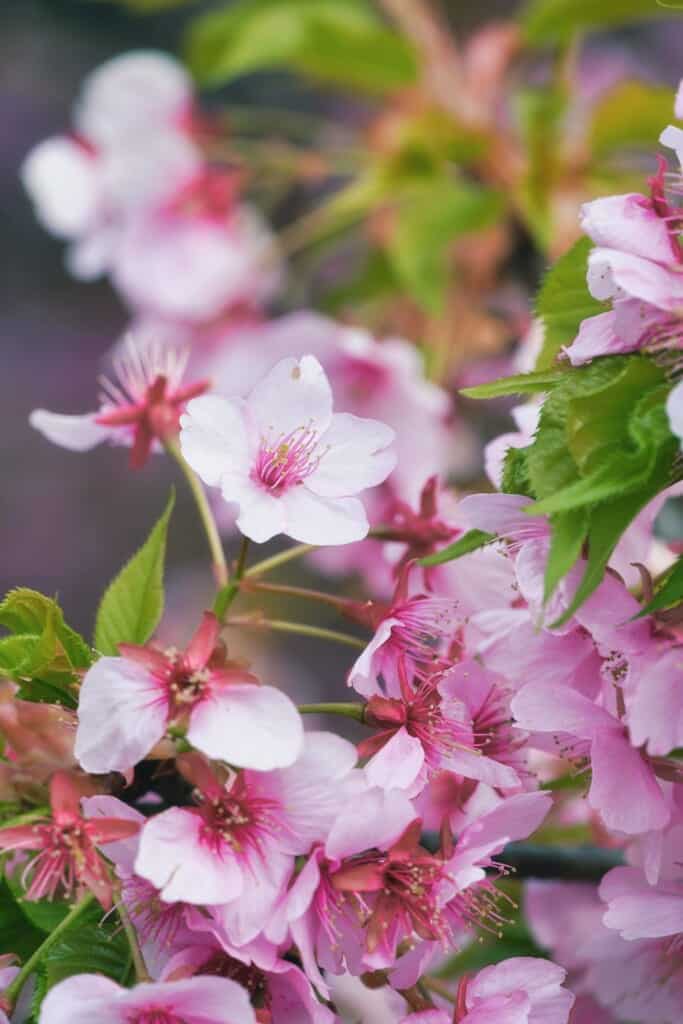 The Meaning Behind the Sakura
Although Japan's national flower is the chrysanthemum, many public institutions use the sakura flower as its representative flower, including the Japanese 100 yen coin since 1967.
When these flowers begin to sprout, it's a signal that spring has arrived. Despite representing the hope of good weather, they also represent the ephemerality of life, since once it has reached its maximum flowering point, its petals fall after a few days.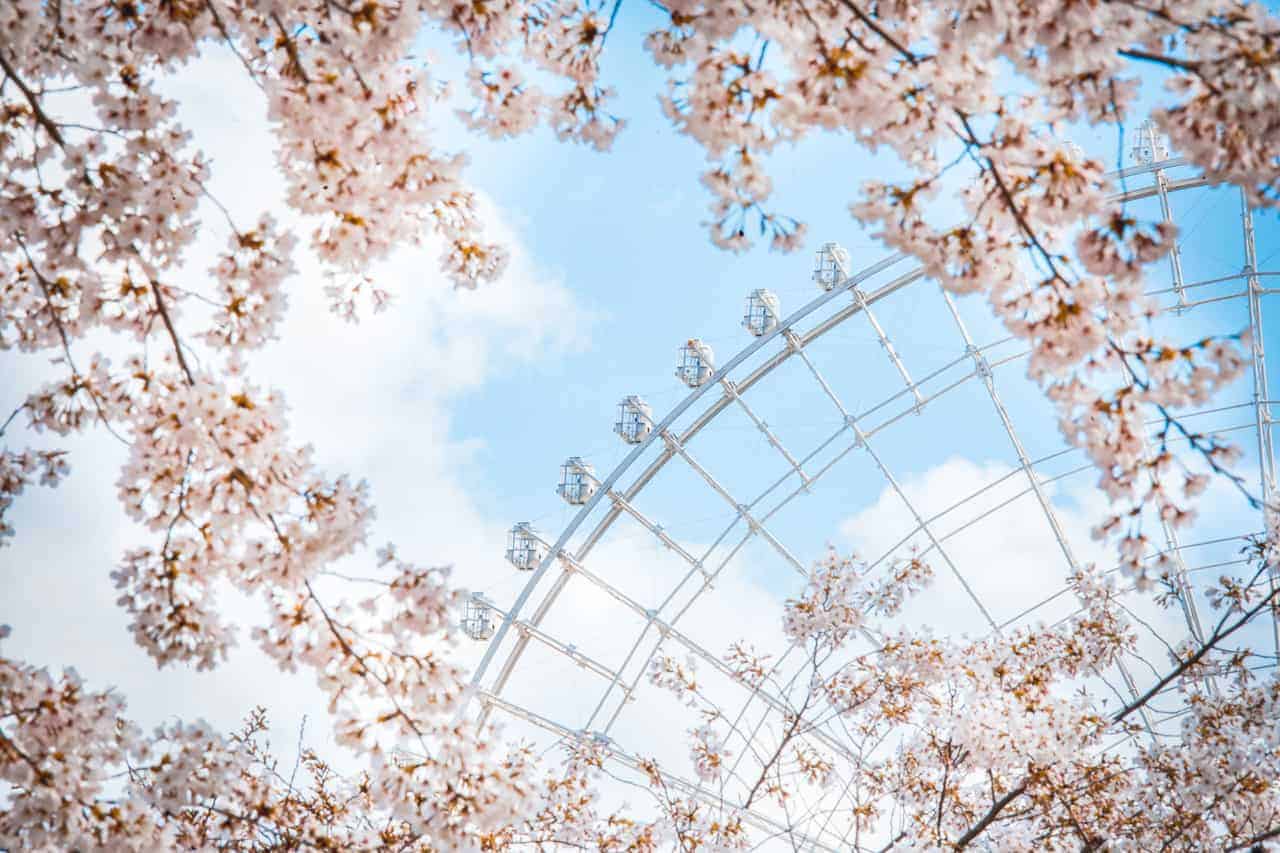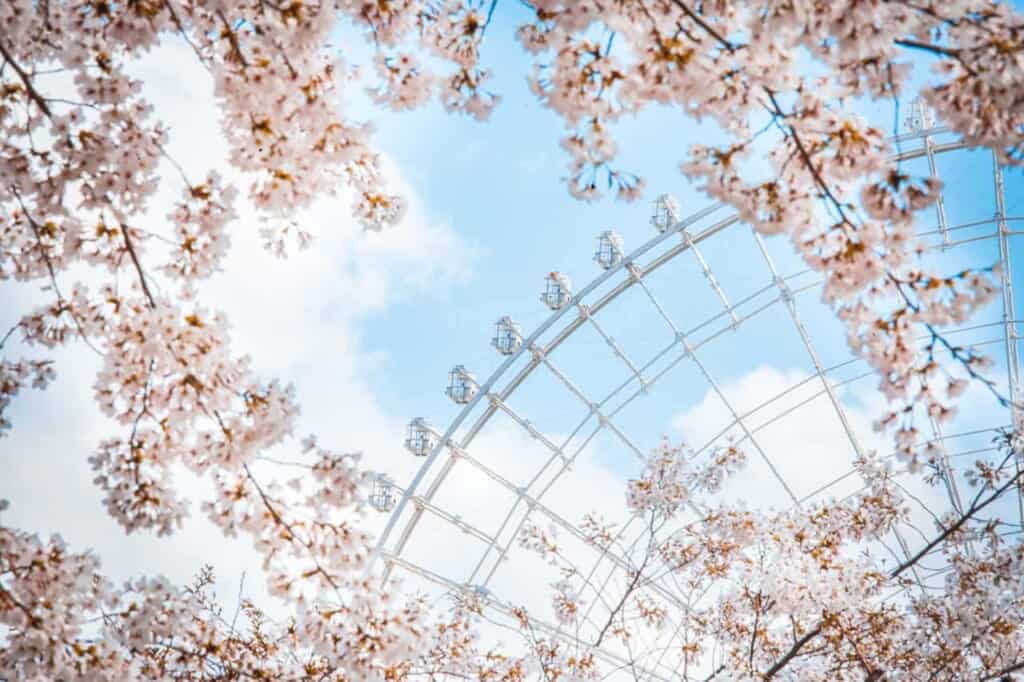 Where to See Sakura Blossom in Japan?
If you visit Japan when the sakura is blooming, you will be able to find many good places to see them. We have visited Shizuoka, Kanagawa, Saitama, Oita, Tokyo, Nara, Nagasaki, and the surroundings of Mount Fuji, among others.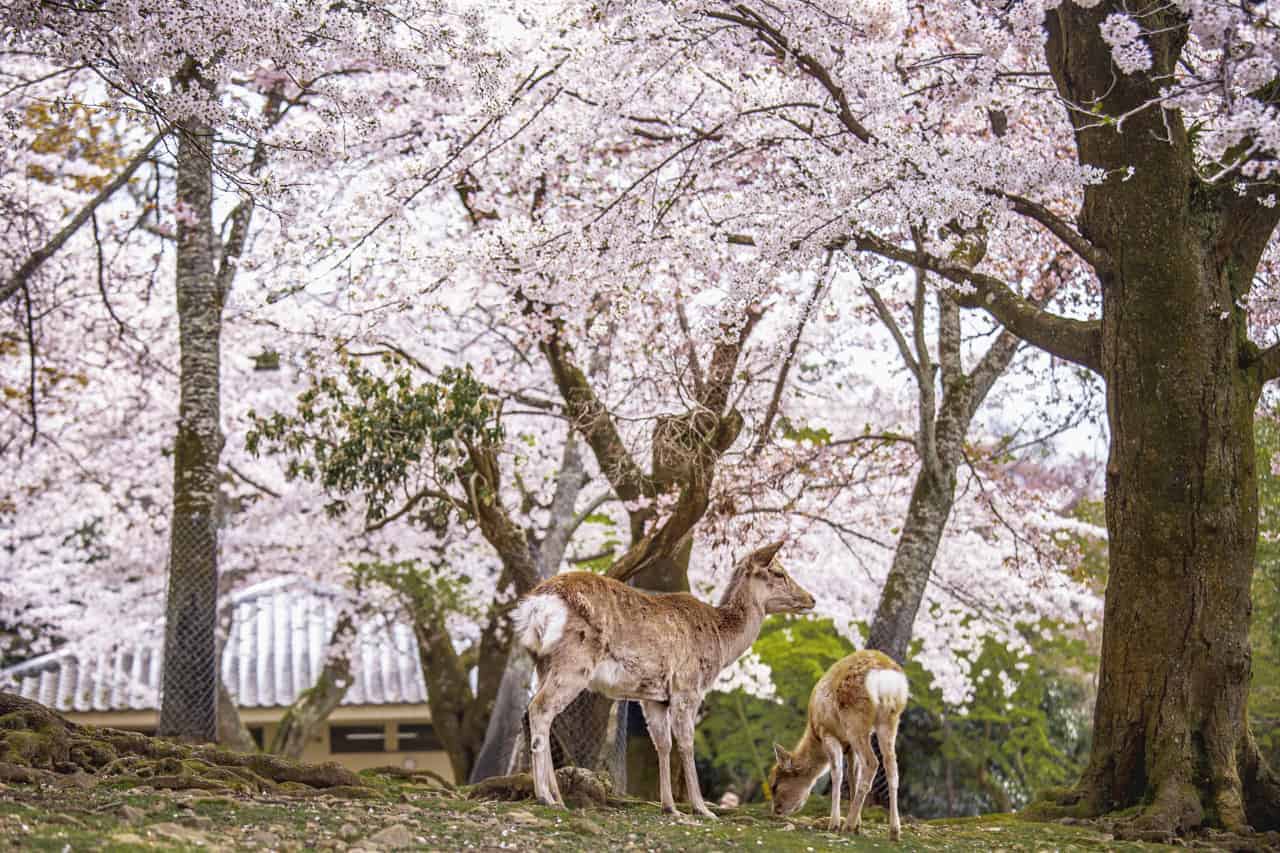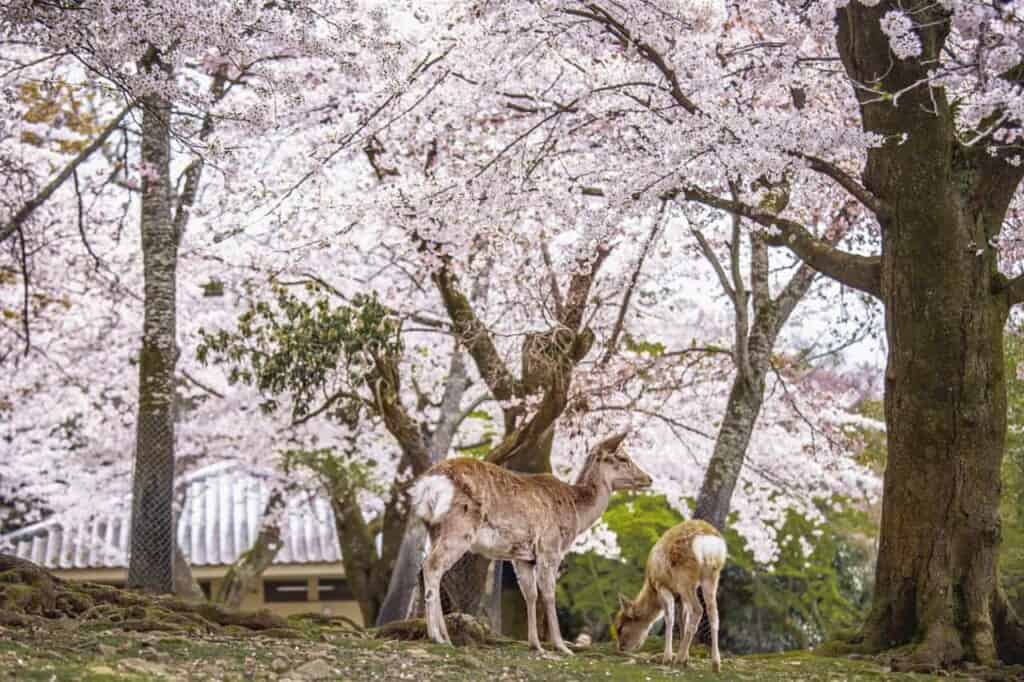 Momo Peach Blossoms in Japan
Peach blossoms maybe Japan's least-known blossom during springtime, though it doesn't disappoint as far as blossom-viewing goes in Japan. With colors similar to the ume flower or the shape of the sakura blossom, the peach flower season runs between March and April.
What is the Momo Peach Blossom Like?
Like the ume plum flowers, peach blossoms can be pink, bright red, or white. They grow close together along short branches and more than two flowers can grow on the same stem. Its petals are large and with sharp ends.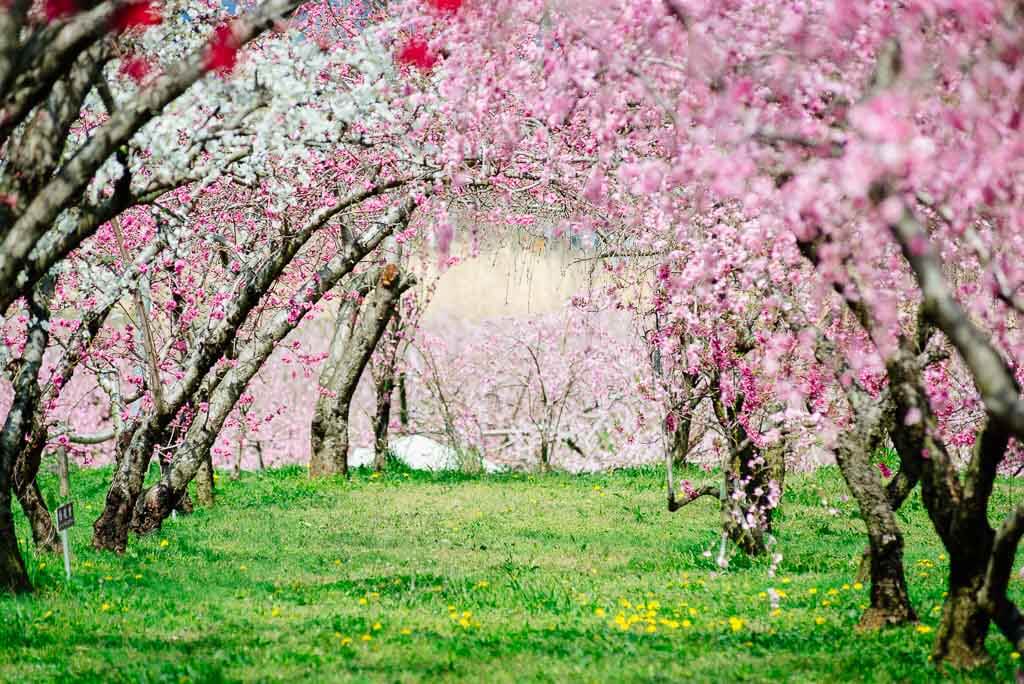 The Meaning Behind the Momo Peach Blossom
It is said that the peach and its flower can both expel evil spirits and grant long life. We can see this belief in popular culture with Izanami's myth who escapes from the world of the dead by throwing peaches at his pursuers, or the Momotaro's legend, a Japanese folk tale that tells the story of a child born from a peach that is capable of defeating a demon.
That is why the peach branches are the main decoration of the Hina Matsuri festival. This holiday celebrated on March 3rd, is dedicated to girls to their good growth and long life.
Where to See Peach Blossoms in Japan?
You can find peach trees in the rural areas of Ibaraki, Nagano, or Yamanashi. Our writer Todd had the opportunity to visit Fuefuki city, which has hectares of peach fields.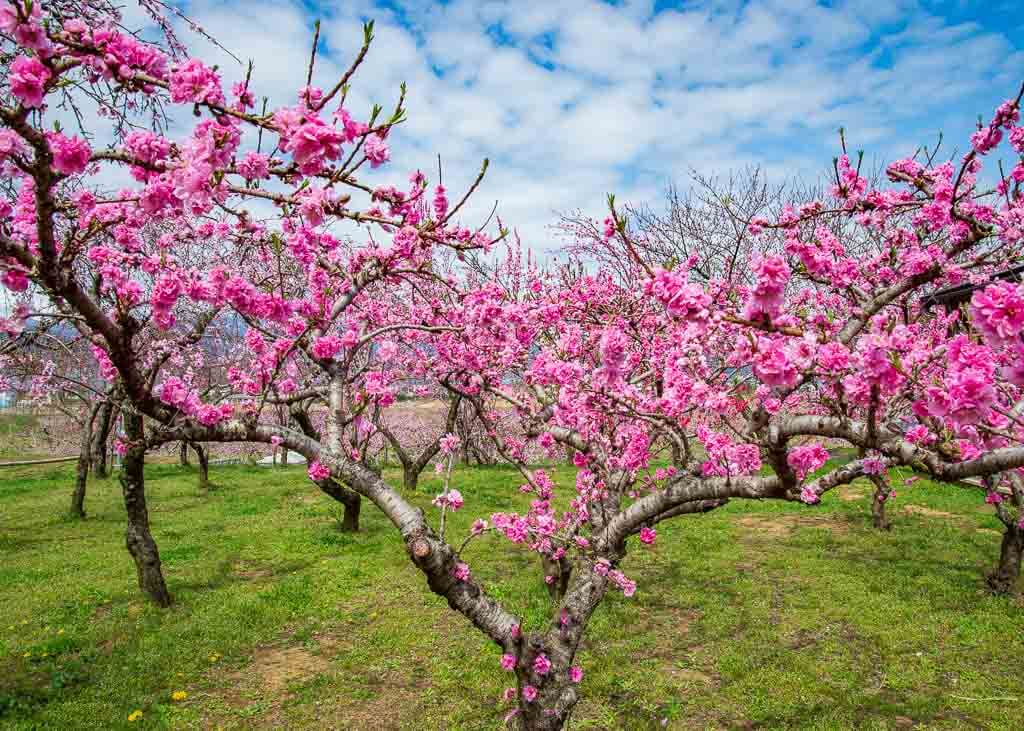 The canola flowers.
The moon in the east
The sun in the west

–Yosa Buson
As Yosa Buson shows us in his haiku, Japanese spring days are long and lively. Accompanied with ume, sakura, and momo, they are an explosion of color and happiness. If you have the opportunity to visit Japan between February to April, don't hesitate to add one of these places to your list of activities to enjoy a Japanese-style spring.