Perhaps it's an obvious statement, but allow me to make it anyways: Japan loves its sakura. With a sakura blossom forecast plotted out on a map for all of Japan to see (from the Earth Communication website and Sakura Navi), it's easy to anticipate their fullest bloom no matter where you are in Japan.
It was the beginning of sakura season when I first arrived in Tokyo as a tourist. It was still chilly, but the opening of the sakura buds signaled a change in the air as I navigated the growing crowds coming to greet the iconic blossoms. I walked past groups of people on bright, blue picnic mats eating gloriously packaged bento boxes and drinking with enthusiasm under a shower of pale pink blossoms. As a tourist (and with a lot less foresight), I came much less prepared than they were. As I sat on the bare ground with my bento box packaged in thin plastic from the grocery store, I felt I was only an outsider peeking in on the festivities. And I badly wanted to be included in the fun.
Sakura Cherry Blossoms at Keiseki Park in Oita Prefecture
Fast forward a few years later; I've had the opportunity to visit some of the most popular cherry blossom destinations in Kyushu while living here. It's also afforded me the luxury to visit some lesser-visited parks. So, when I was looking for a new spot away from the hustle and bustle that sakura blossom season tends to bring, a friend suggested that I visit Keiseki Park (溪石園, Keiseki-en). Keiseki Park is a 20,000 square meter park on the outskirts of Nakatsu city, Oita.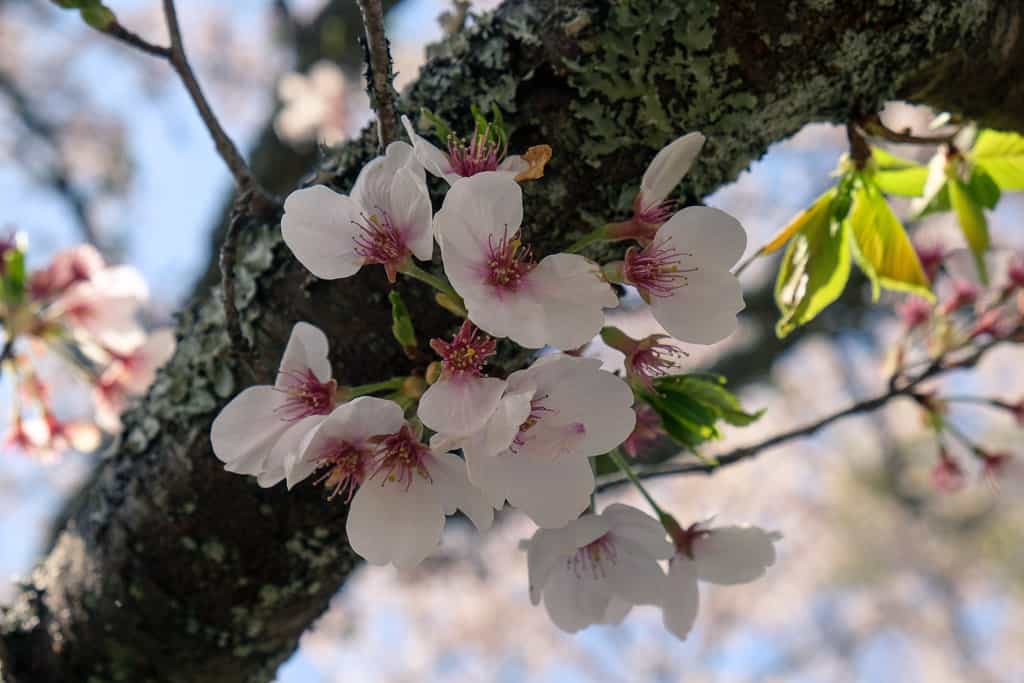 Keiseki Park is about a 35-minute drive from the Nakatsu JR station. Built in 1987 to commemorate the Yabakei Dam's completion, Keiseki Park is a relatively new park full of rock gardens, streams, ponds, and waterfalls. Most notably, the cherry and maple trees are the park's staple, and seasonal shifts bring a flood of pink blossoms or amber-red autumn leaves.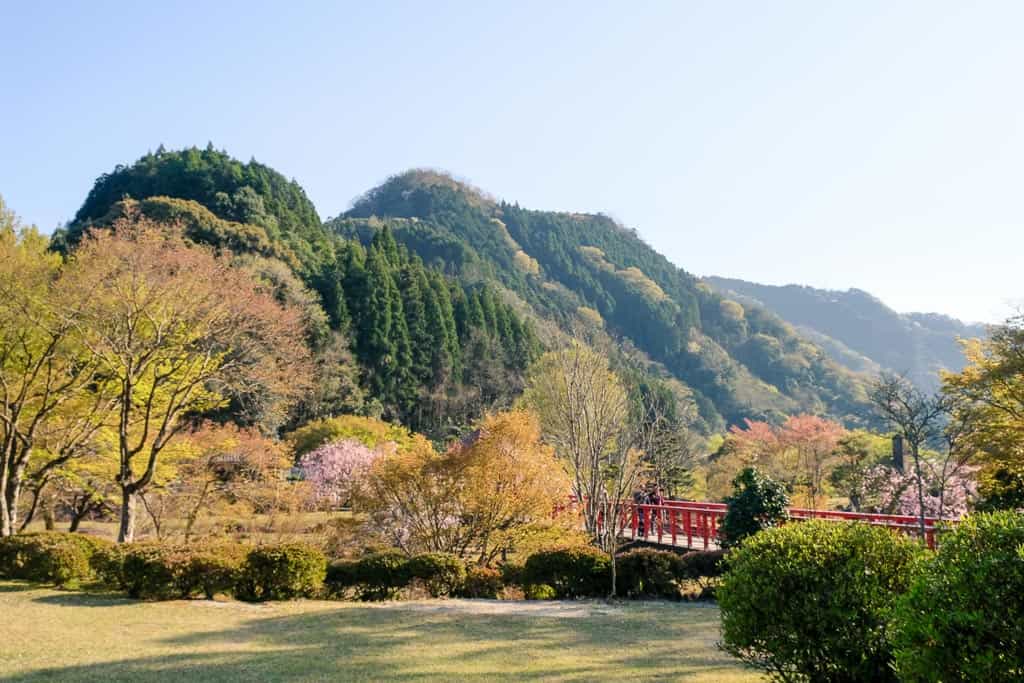 I took some backroads I'm still amazed to find on Google maps (but worth the lovely countryside views), and arrived at the park in its full bloom. A wide variety of cherry blossoms, from delicate white petals, to robust, deep rouge explosions, were scattered throughout the park. Many of the trees looked to be some kind of hybrid, with clumps of different coloured flowers hanging from a single branch like some friendly witch's magical sakura experiment.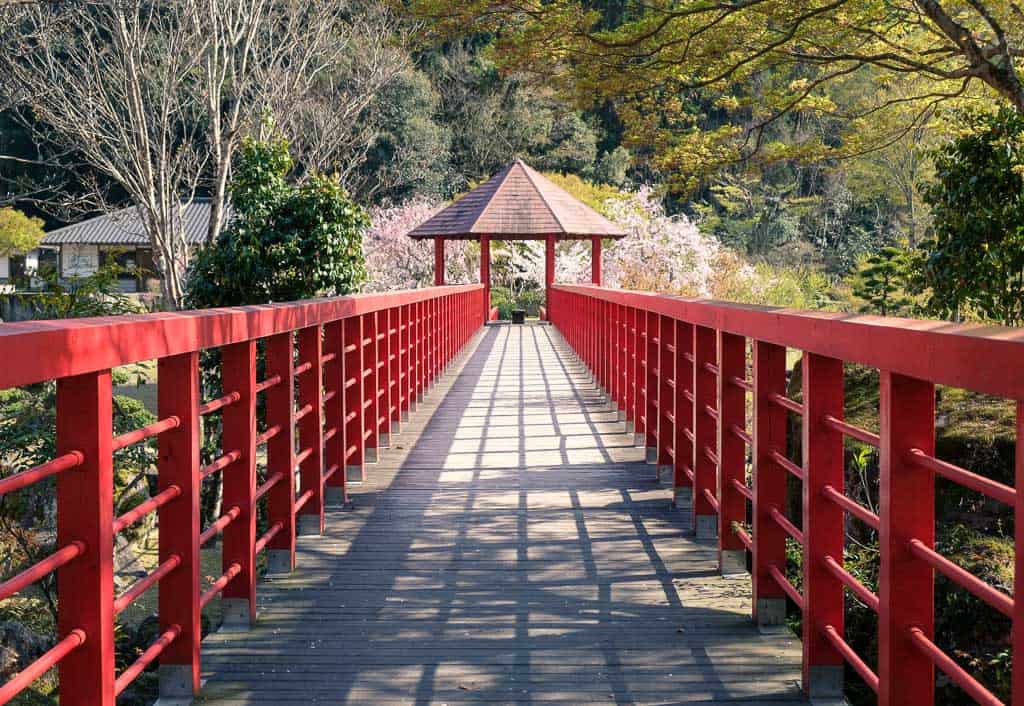 Along the banks overlooking the Yabakei river is a classic row of Japanese cherry trees, their near-white petals floating down onto the pathway like a gentle spring snow. Just lovely. With few visitors and spacious grounds, there is no need to struggle with the crowds that you'd normally be competing with to get your sakura blossom shots.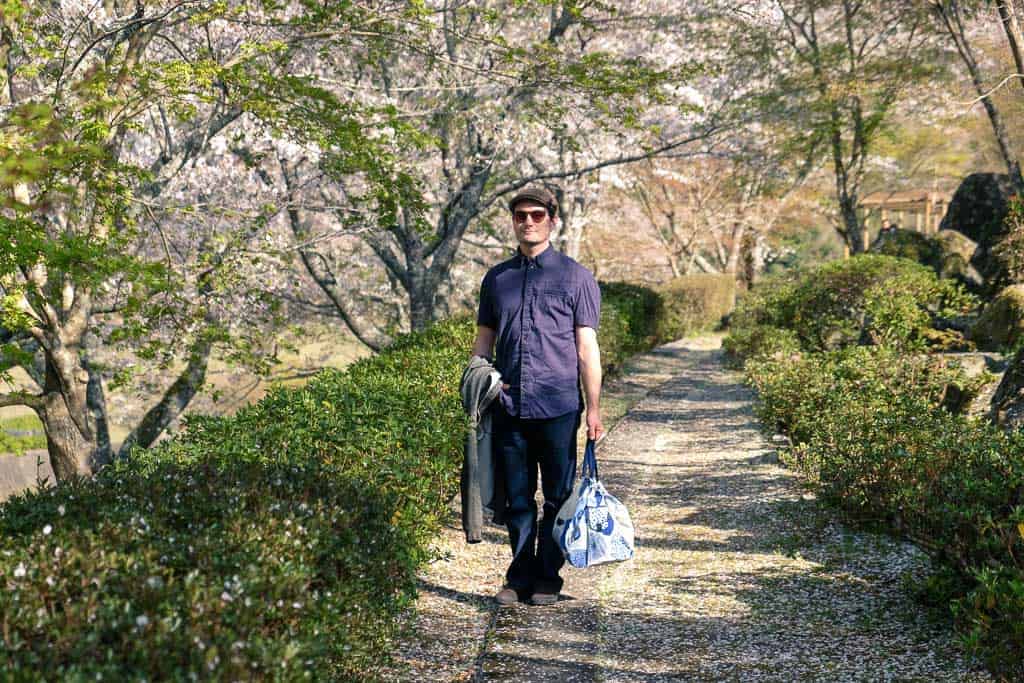 Unfortunately, picnicking isn't allowed on the garden grounds, which is a slight disappointment. However, the teahouse on-site offers food, and a small area outdoors if you do happen to bring your own food. The teahouse is normally open from 9:00 am to 6:00 pm, but was closed when I arrived on a Sunday. You'll want to check in advance for their hours if you're keen on a lunch during your visit.
While I had to take my picnicking dreams elsewhere, Keiseki Park was still a worthwhile visit I'll be making again next sakura blossom season (according to the latest 2022 forecast, it will be in late March in Kyushu). In just a short drive, you can have the pleasure of walking through a sakura garden that feels like it's all your own.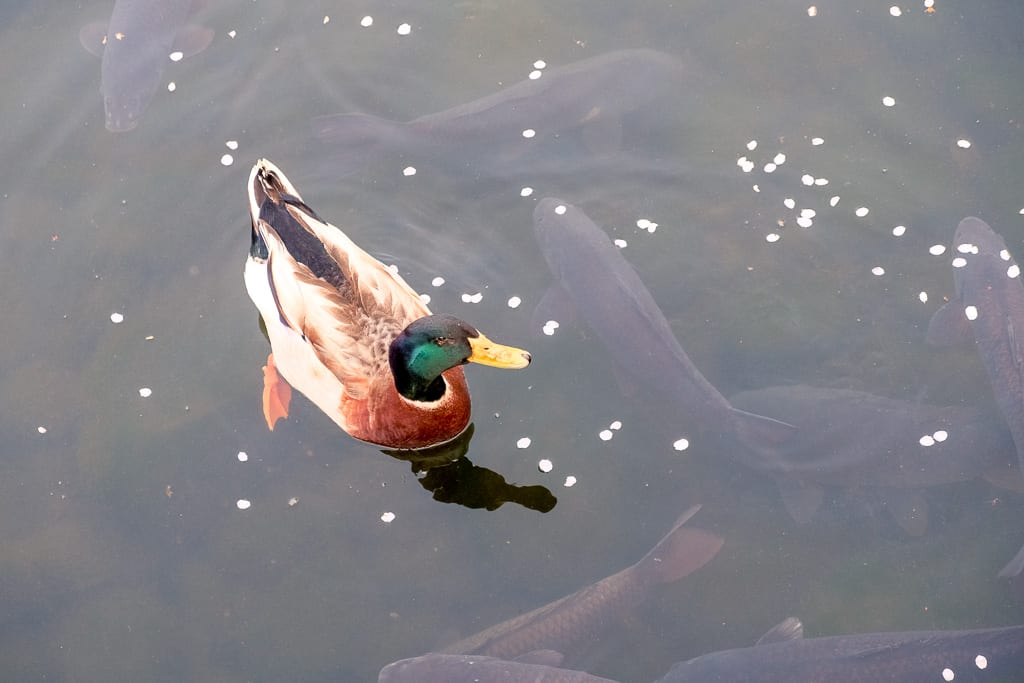 Spring Flowers Continues to the Cliffs of Hon-Yabakei
Just as the Japanese follow the seasonal blooms of cherry blossoms, a visit to the nearby Hon-Yabakei cliff face with their Nemophila (often called Baby Blue Eyes) also attract many admirers. Planted early in the year by the organized effort of the Yabakei locals, the thick rows of the Baby Blue Eyes can begin or conclude your floral journey through the Nakatsu landscape.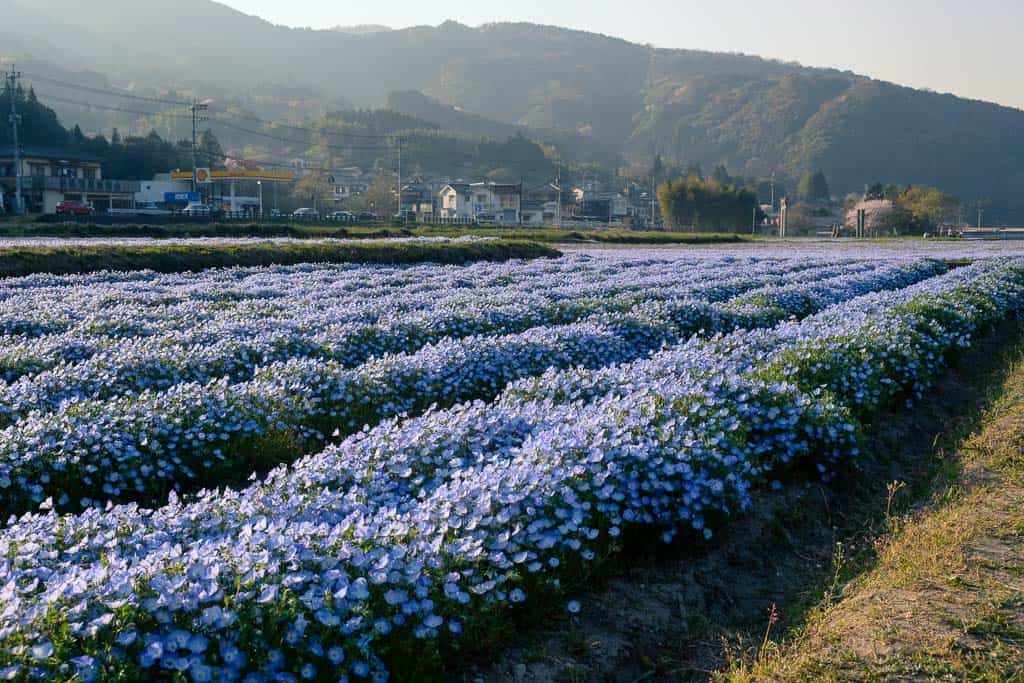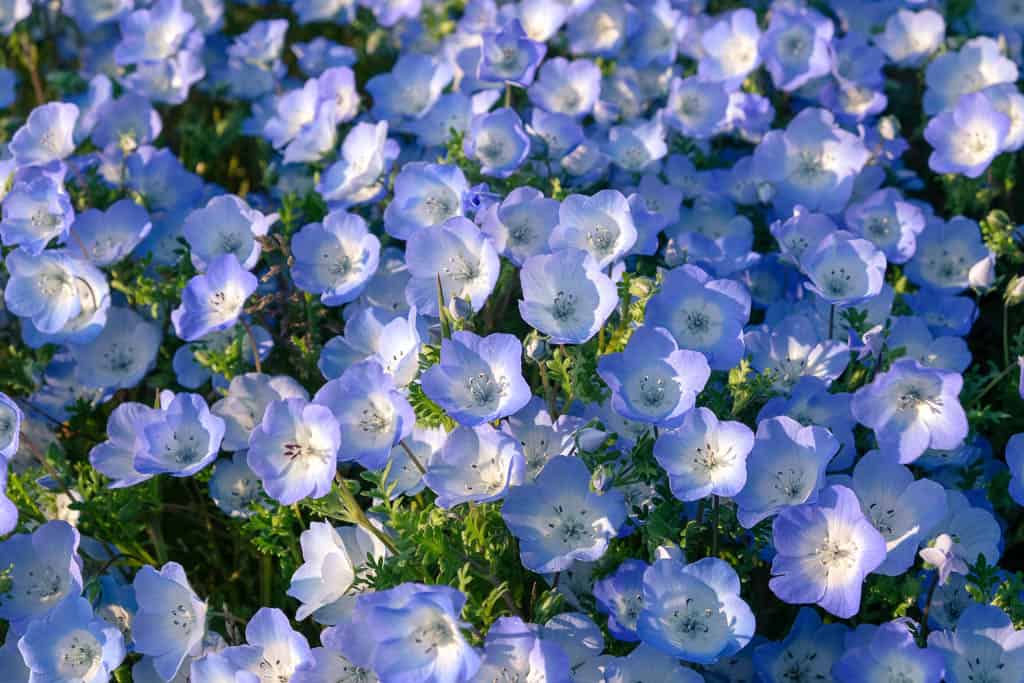 Even if the flowers aren't enough of a draw for you to make the visit, I'd suspect that the dramatic rock face would do the trick. When I first saw Hon-Yabakei a few years ago on passing, I was shocked by its sudden appearance and had to pull over to take a closer look. I always look for an old man's crooked lips and cyclops eye in one of the pillars. What can you see? 🤔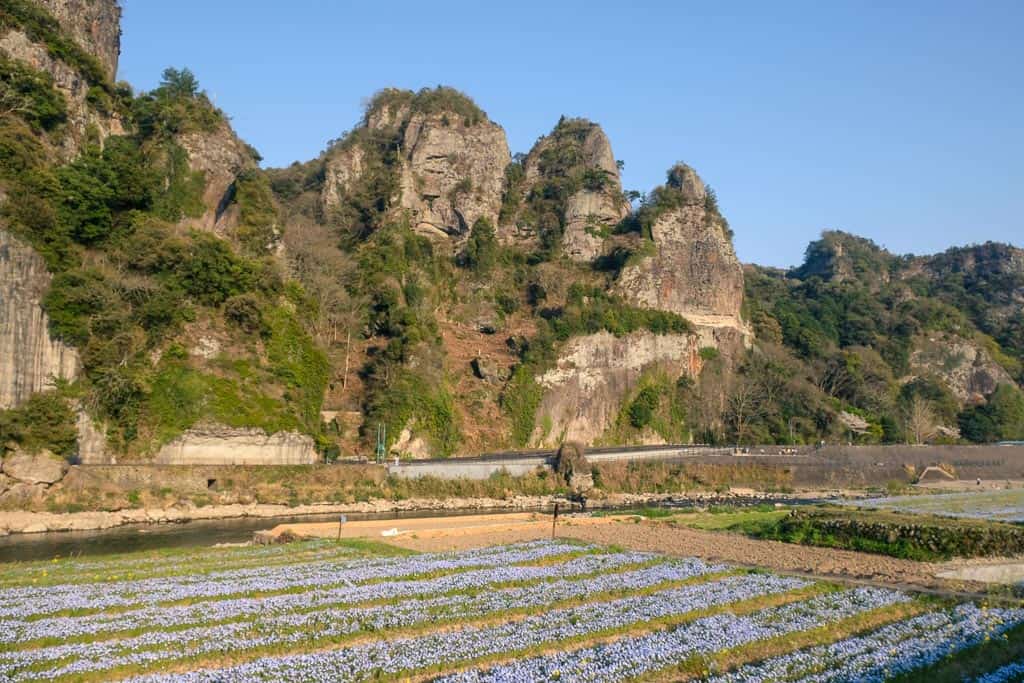 The hand-carved tunnel of Ao-no-Domon is also an impressive sight. I'd been told by some locals that it was carved by a man who had committed murder early in his life. This man spent the next 30 years atoning for his sin by carving the tunnel with a chisel to provide easier access to an important shrine nearby. Ironically, he became rich in his later years by charging a toll on the tunnel. Honestly, I'm not sure if this part of the story is true or not but I enjoy it nonetheless.
If you're keen on reading more about what to visit in the area, here's more about the Yabakei gorge in Nakatsu.
Getting to Hon-Yabakei and Keiseki Park in Oita
Public transport is limited here, so getting to your destinations by car will be your best option to explore the area. If you're leaving from Nakatsu JR Station, Hon-Yabakei is about a 25-minute drive from Nakatsu, and Keiseki Park a 35-minute drive.
If you're leaving from Oita Station, it takes roughly the same amount of time to get to both Hon-Yabakei and Keiseki Park, with an hour and half drive with tolls (2 hours without tolls).
If you're looking for a coffee spot, there's a lovely coffee shop in the Nakatsu foothills. *Please note that the restaurant mentioned in the article is no longer open. The walking tour of Nakatsu city is also a wonderful visit for history buffs. Happy Sakura viewing everyone! 🌸