If anyone is looking for a Rastafarian-inspired Japanese restaurant, look no further than Satta Yard in Nakatsu. About a 50-minute drive from the city and into the quiet hills of Nakatsu will bring you to some of the healthiest (and tastiest) vegan curries around. It might feel like a bit of a trek, but it takes a special kind of business to choose a location so far-flung and still manage to keep its doors open. Plus, it makes for a lovely Sunday afternoon drive, which is precisely what I did.
Vegan Curry in the Remote Mountains of Oita
With mountains misty and light with rain, I made the drive down the narrow and winding roads to Satta Yard. When I arrived, I wondered if I'm at the right place– there's a woodshed with stacks of dried sticks in front, and a child's bicycle sits by the entrance door. It felt more like I had arrived at someone's home. A thin chimney pipe exhales a wisp of smoke, hinting at the cooking taking place within.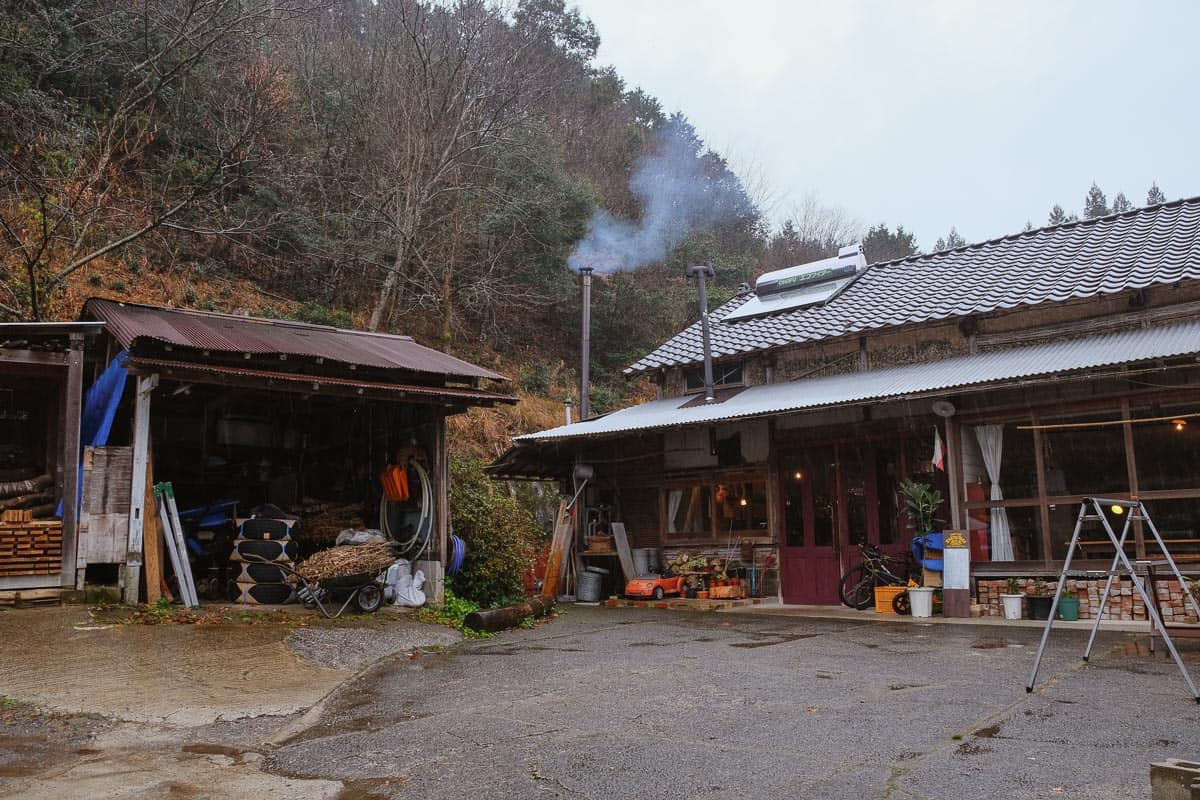 Based on the foundations of the Rastafarian diet called Ital cooking, Satta Yard focuses on providing meals free from additives, chemicals, and most meat. Inside, the interior remains cozy and warm, with all the quirks and charms of a DIY restoration. With misaligned wood panels, unfinished floors, and a rickety old wood stove burning away in the corner, its hip, rustic interior is strangely the perfect setting for its modern, high-tech kitchen in the back of the restaurant.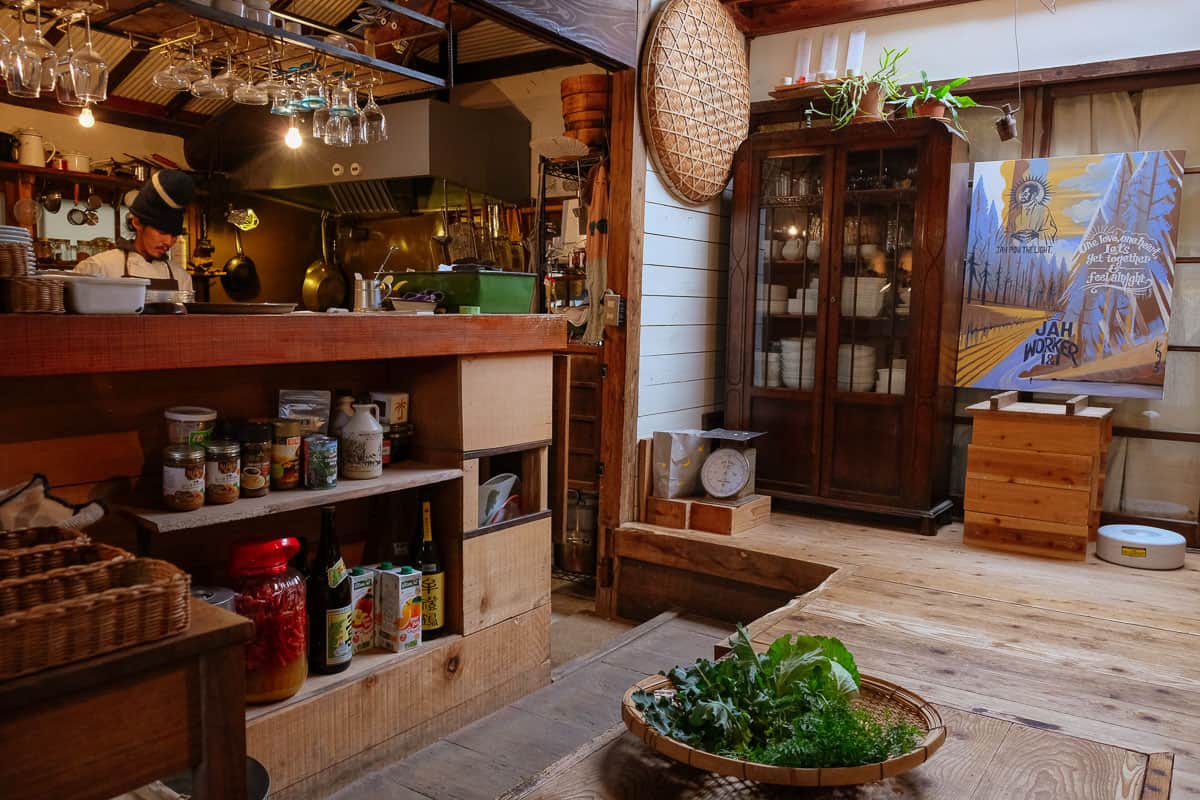 I order the curry of the day and watch as a man works away in the kitchen. He's wearing a tall, knitted hat that's stacked up high on his head; I can only guess there's a mass of hair underneath. Together with a woman, the pair busily manage the restaurant together.
After a short time, my curry arrives. Packed with vegetables and roots that are either in season or from local sources, my curry comes with a colourful bouquet of lotus root, roasted carrots, sweet potatoes, daikon radish and pink beets. It's a perfect marriage of vegetables and a lightly spiced sauce that doesn't leave the body feeling heavy.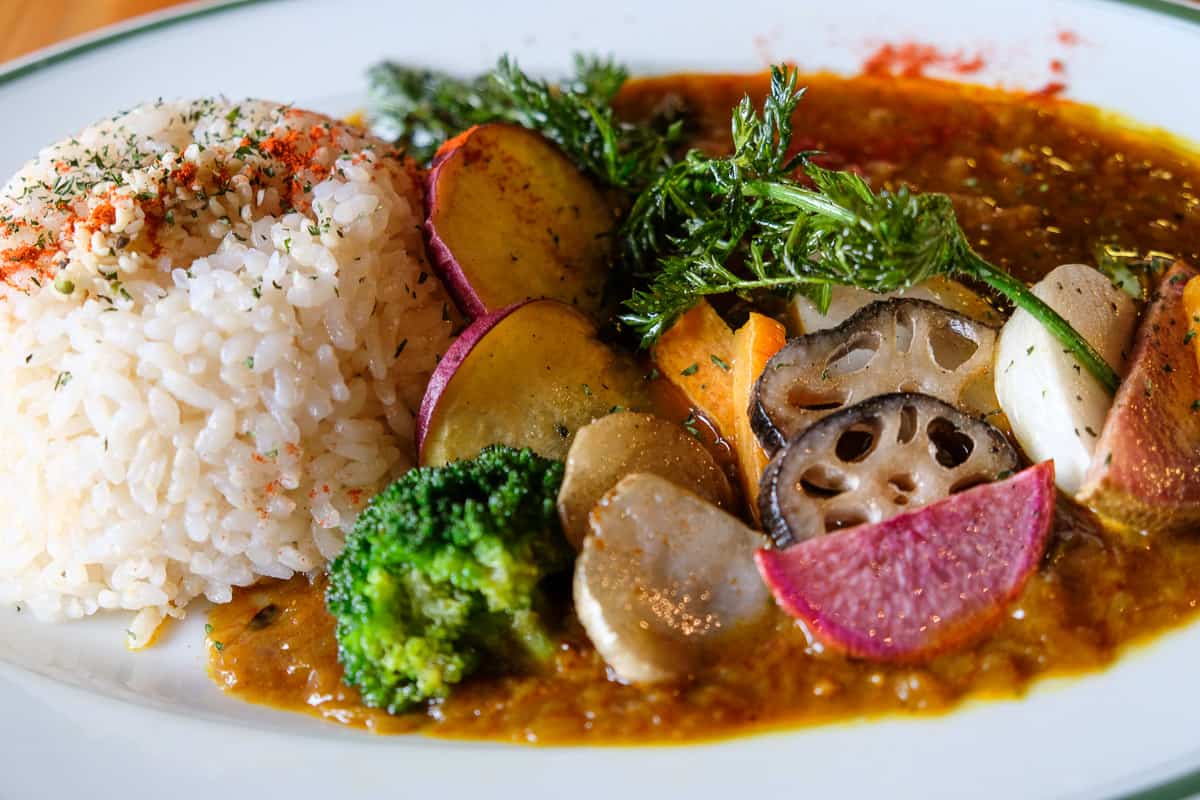 Coffee and Dessert in the Japanese Mountains
After lunch, I venture back outside. The rain has subsided a bit, and I get back into my car for a 3-minute drive to Mametake, a roaster and cafe. Perched atop a hill in solitary, Mametake is a perfectly square building of wood and green and turquoise window frames.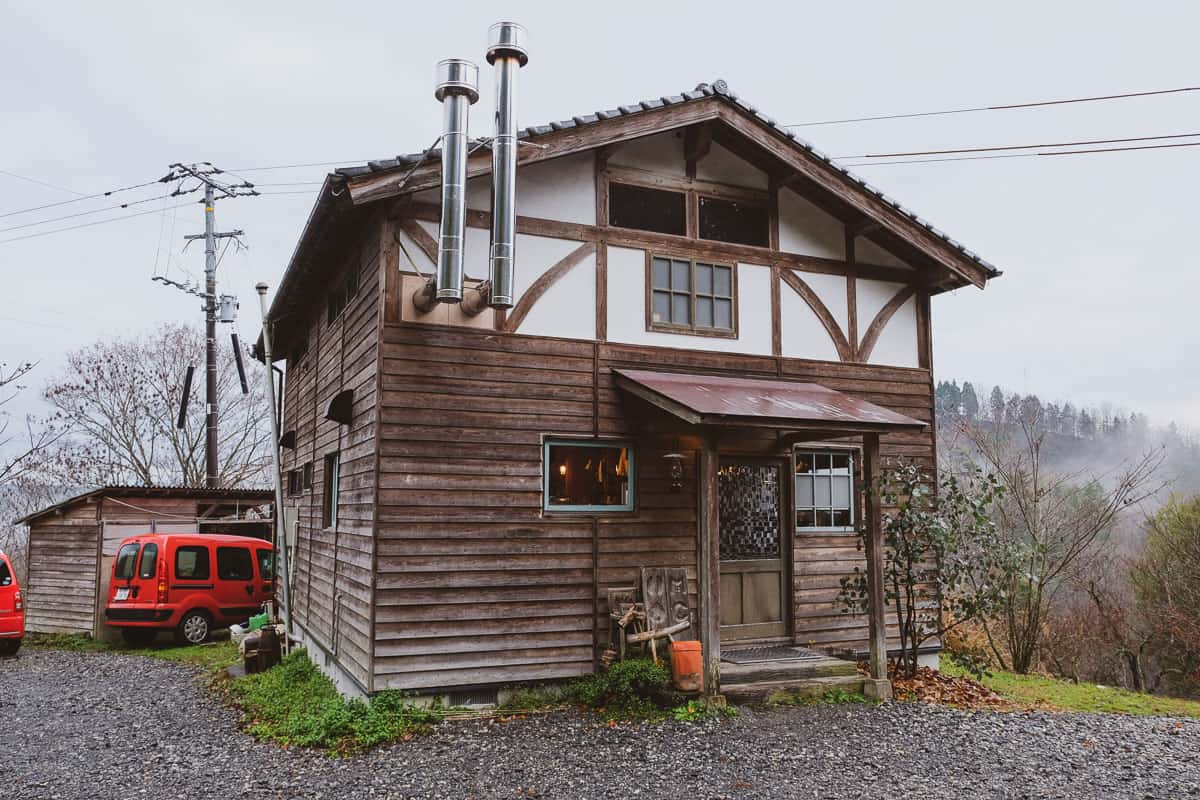 It has the look of a cabin taking refuge in the mountains. Inside, it's lit with warm, honey light, and feels like I've entered someone's studio home. Inside, a coffee roaster hums. There's a delicate glass case with bags of coffee beans for sale and a thin silver tray displaying small baked goods.
The cafe is sectioned off into several parts, with the coffee bar on one end of the cafe, the roaster, a small gift shop of tiny calendars with charming illustrations, and a reading lounge area. Sitting down, I order coffee and homemade apple pie. There are baskets of blankets set aside, and anyone can settle in for a book and coffee (and dessert!) for what might easily become lengthy time. While sitting, I face out the window that displays the landscape below. With a roll of mist skimming the tops of the forest below, it's easy to get lost in thought in a place like this.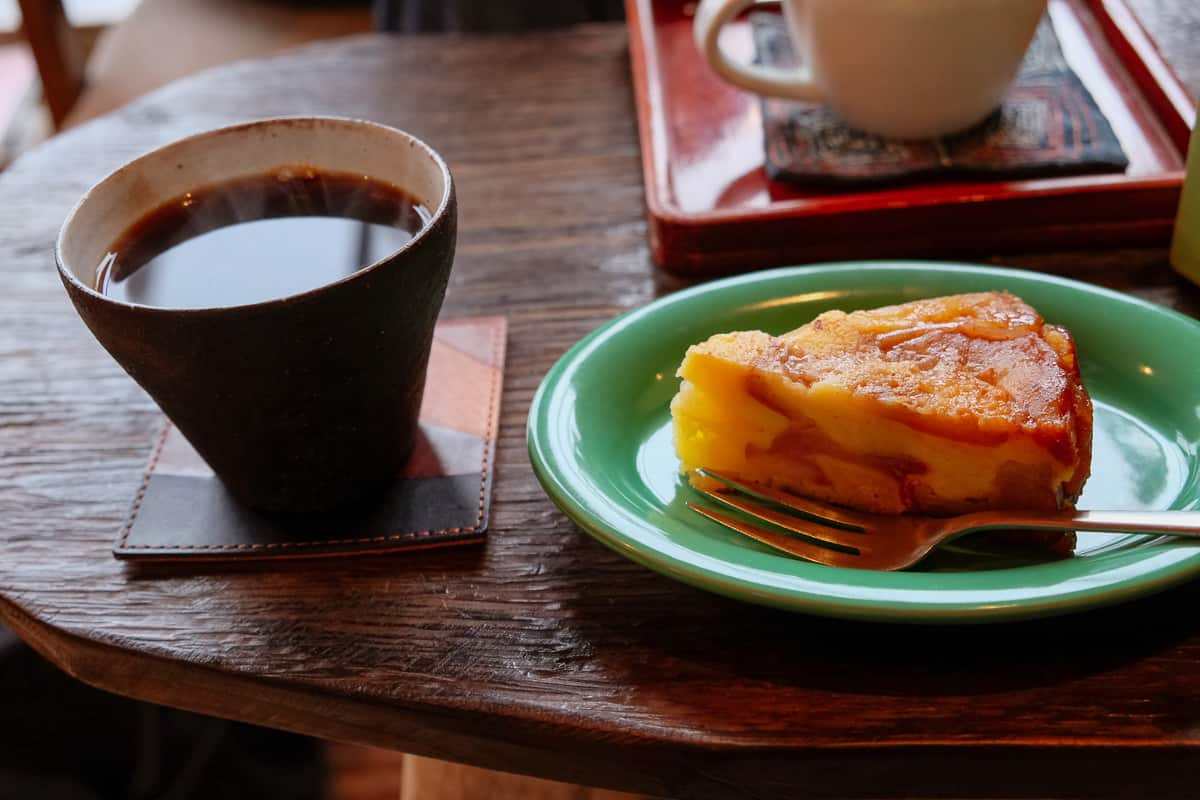 I've had a wonderful afternoon of a healthy, light lunch capped with coffee and dessert. It's a rarity to come by such food and drink experience and be surrounded by nature. If you plan on making the trip down, I'd suggest dedicating the better part of the afternoon to leisurely experience the peace and calm as I experienced it. Check well in advance the business hours for both, as holidays and other events can affect opening hours. Happy Sunday afternoon!
Open: 10:00–17:00; Wednesday–Sunday (closed Mon. & Tues.)
Website:
mametake.com/top
Getting to Satta Yard and Mametake
The most convenient way to get to Satta Yard and Mametake is by car. About a 50-minute drive from the JR Nakatsu station, a car will also provide easy access to other sights in the area. A 1-minute walk from the station will get you to the closet car rental shop.