Today's Japan is conveniently connected from end to end with high speed trains, underwater tunnels and frequent local flights, but in Old Japan, it was much more difficult to travel. Culinary specialties based on local foods, local traditions, and even dialects developed in pockets of Japan isolated from one another by treacherous mountain ranges or rough seas. Today, we can enjoy the uniqueness of the distinctions between the regions as we travel through Japan. Follow us to the charming prefectures of Tokushima and Kagawa on Shikoku island to discover the traditional crafts of this region and meet a few of the local artisans.
All practical information can be found at the end of the article, on the clickable map.
A beginner's class in indigo dyeing
We start our journey in Tokushima, well-known for being the birthplace of indigo dyeing in Japan. Watered by the Yoshino River, the region stood out as early as the Heian period (about 800-1200AD) as a place with fertile soil, able to grow high quality indigo plants. The famous dye extracted from these plants was quickly adopted for both its practical uses (as an insect repellent) and aesthetic qualities.
In the historic district of Udatsu in a town called Mima, I expanded my knowledge of the "Japanese blue" with a hands-on experience in dyeing. Entering a small workshop, I was welcomed by a smiling staff and the rather pungent smell of indigo dye coming from the large tanks right in the center of the room.
As I quickly learned, the indigo dye is the result of the plant's fermentation process, which explained the "interesting" odor in the room. The lesson starts with an explanation of the chemical process happening during this fermentation along with the various ingredients needed to create it. And as you might already know, fermentation is synonymous with the birth of micro-bacteria that need to be carefully taken care of, much like pets. I learned, for example, that these tiny bacteria are cared for and "fed" with sake among other things!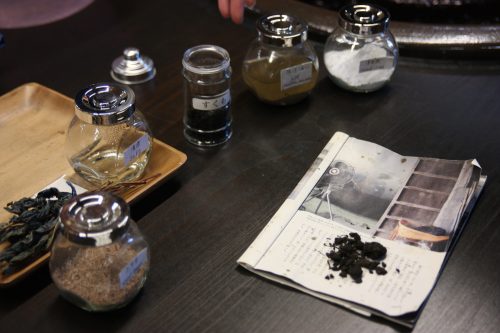 Before rolling up your sleeves and getting to the dyeing itself, you will start by choosing the type of pattern you would like to create on your handkerchief (the easiest piece of fabric to dye for a beginner). You will be taught several different folding and knotting techniques, each resulting in different patterns that will remain white during the dyeing.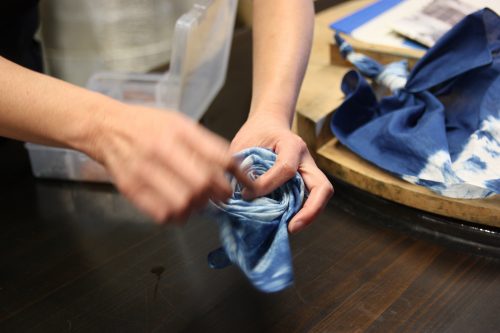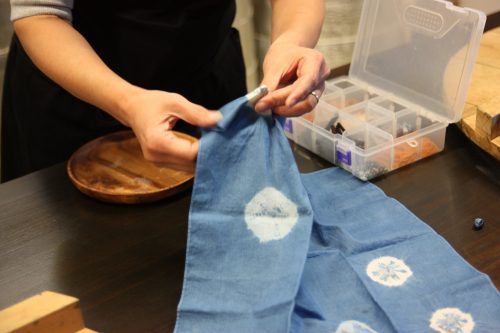 After tying your fabric, you will then immerse the handkerchief in the tank full of indigo dye for a couple of minutes.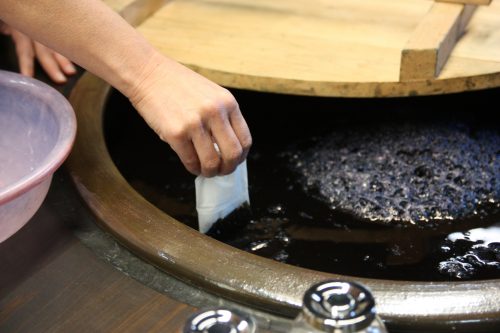 Each time you repeat the dyeing process, the indigo becomes a darker shade of blue. Depending on the indigo hue you wish to obtain, you will need to repeat the process a certain amount of times (three times in my case).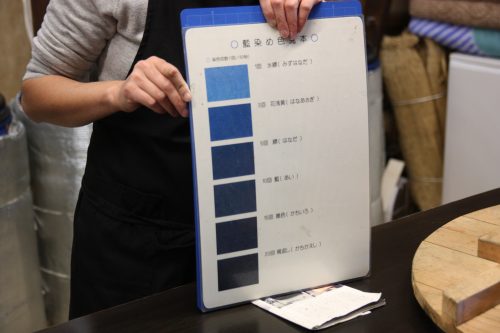 You will be offered a pair of plastic gloves to wear before starting the workshop but you are also free to go for it with bare hands, as a way to keep an ephemeral little souvenir from your time here!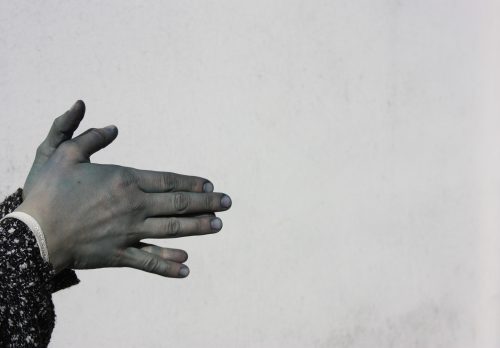 Once you have untied all the knots and rinsed your handkerchief in clear water, you will have an idea of the final shade of indigo of your creation, which will only be completely revealed once the fabric has dried thoroughly.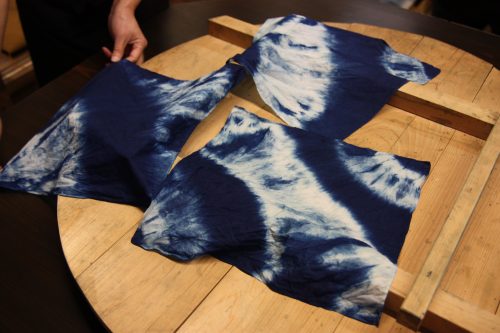 A rather simple workshop, but one that will allow you to bring home a unique souvenir from the region!
Exploring a Japanese umbrella workshop
Mima is full of interesting traditional artisans, so our next stop is the Traditional Crafts Center, to learn all about the art of making elegant Japanese umbrellas. The workshop is filled with examples of lovely umbrellas of all sizes and shapes.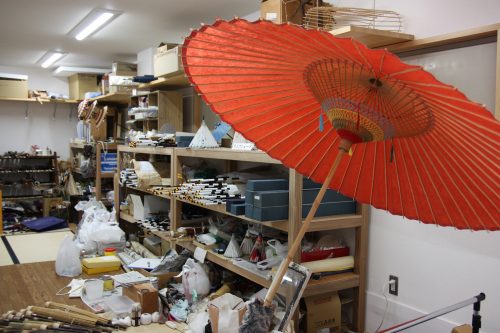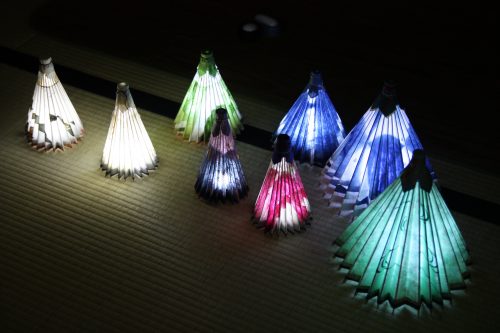 Some umbrellas are still a work in progress, while others are carefully decorated and displayed in exquisite arrangements. Best of all, you will get the chance to meet with a local craftsman, who will answer all the questions you might have about the umbrella making process.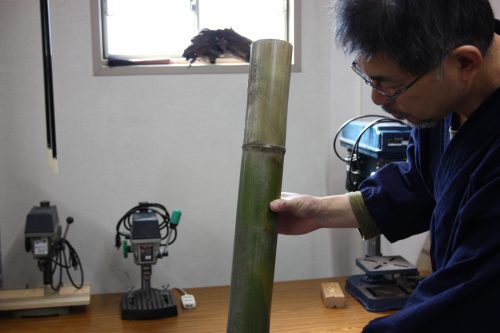 He might explain that the umbrella handle and spokes are primarily made of bamboo, with the spokes covered in a translucent rice paper.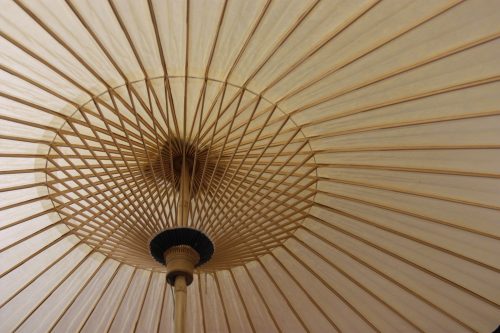 It is actually from a single piece of bamboo that all the spokes are being cut from by hand, with no machine being able to achieve such a level of precision as a master's hand.
All the tools and machines used by the craftsman have been tailor-made to best match the specific needs of this traditional craft.
Among this fascinating treasure trove, you will also learn about what differentiates a men's from a women's umbrella, how they are made water resistant or even discovering the elements that are part of the structure and those that are purely aesthetic.
Speaking of aesthetics, Mima is also the perfect place to meet a local artisan specializing in the decoration of umbrellas. From minimal to the most complex designs, he brings a unique personality to each umbrella he works on.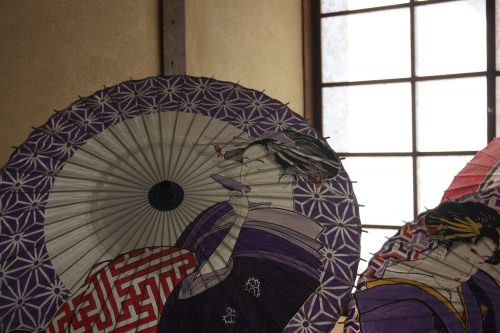 Though the decoration remains a form of traditional craftsmanship, the production techniques have evolved slightly over time. The artist now uses a computer to more accurately design stencils that match the rounded shape of umbrellas.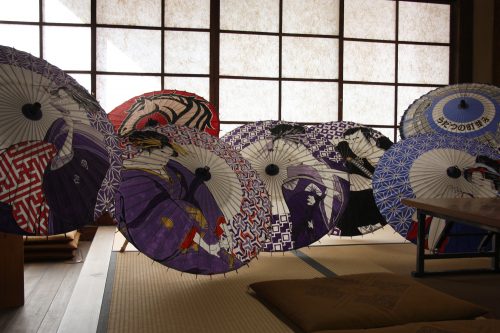 Note that it is possible to book a workshop in umbrella decorating at Mima's Tourist Office.
Temari embroidery
Over in neighboring Kagawa Prefecture, you will be able to learn the basics of the refined art that is Temari embroidering – small balls made of decorated fabric, also called Sanuki Kagari Temari in the region. Though today's temari are commonly used as decorative objects, they were first designed as toys for children to play with.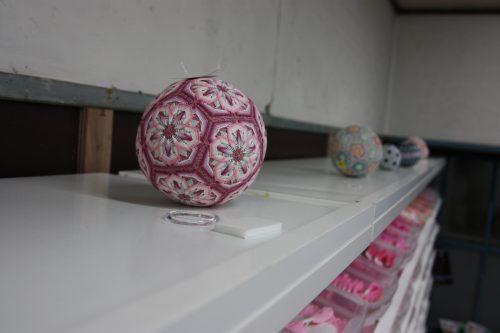 Temari making is a traditional craft originally from China that is practiced throughout the entire country, but was given local flavor here in Kagawa (formerly known as Sanuki), where the abundant cotton of the region replaced the silk as a base material for Temari making.
Let's go to the Sanuki Kagari Temari Preservation Association located in Takamatsu city to discover how, even today, the cotton threads used for making temari are still colored by hand with natural dyes.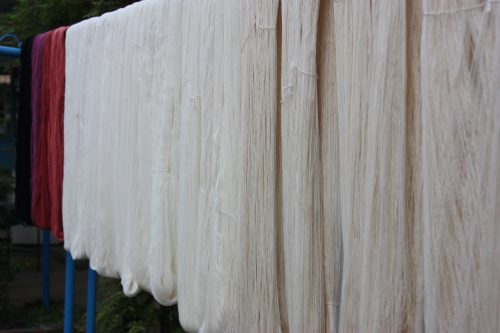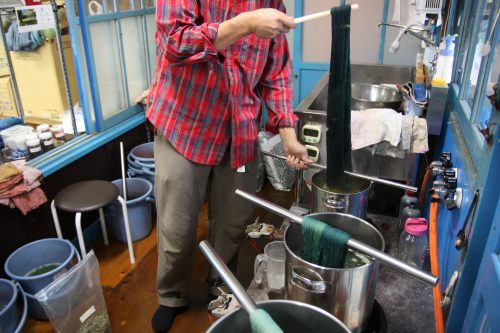 Welcomed by a team of passionate people, you will be able to move freely from one workshop to the next, to observe the craftsmen working and to admire a few elaborate Temari, which are true works of art.
Once seated at the table of the sun-bathed embroidery workshop, you will be faced with a wall of drawers filled with cotton thread of every color imaginable, and you will have to select the ones you want to use.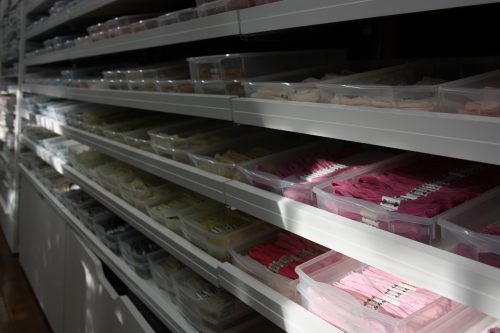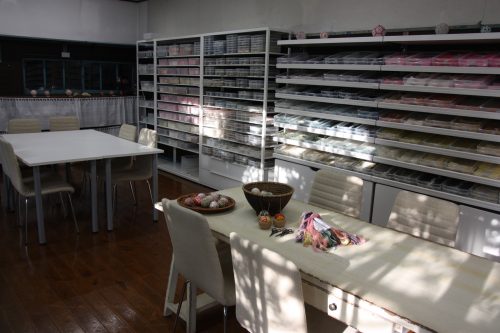 Even though the pattern you will be embroidering might look simple, it will still require a bit of patience and dexterity to complete it.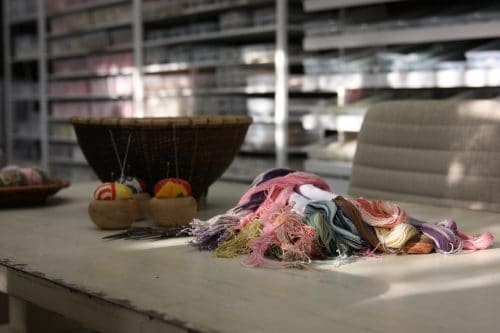 It is quite incredible to think that the very same techniques and patterns that you have used have been used for centuries by generations of Japanese craftspeople!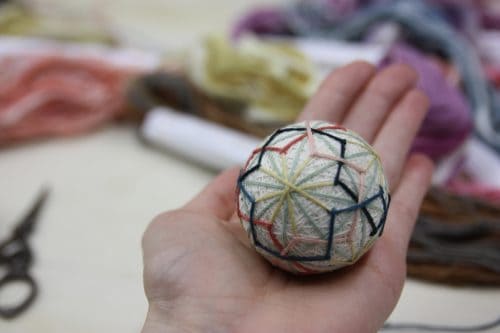 Temari embroidering is a perfect workshop to create pause in our fast paced lives, from which you will leave both relaxed and proud of your creation.
These are only a few of the traditional crafts made in the Shikoku region of Japan which you can experience for yourself. There are plenty of other sights and experiences in Shikoku to make a journey there worth your while.