Ah, Spring! Sometimes it feels like the eyes of the world are waiting on the first signs of Spring in Japan, when bare naked cherry trees around the country are suddenly clothed in puffy clouds of pink and white. Yes, cherry blossoms are the most famous of Japan's spring flowers, but are they the most beautiful? I think not. In fact, if you're more neon 80's than pastel 00's, then perhaps the gorgeous peach blossom is more your style.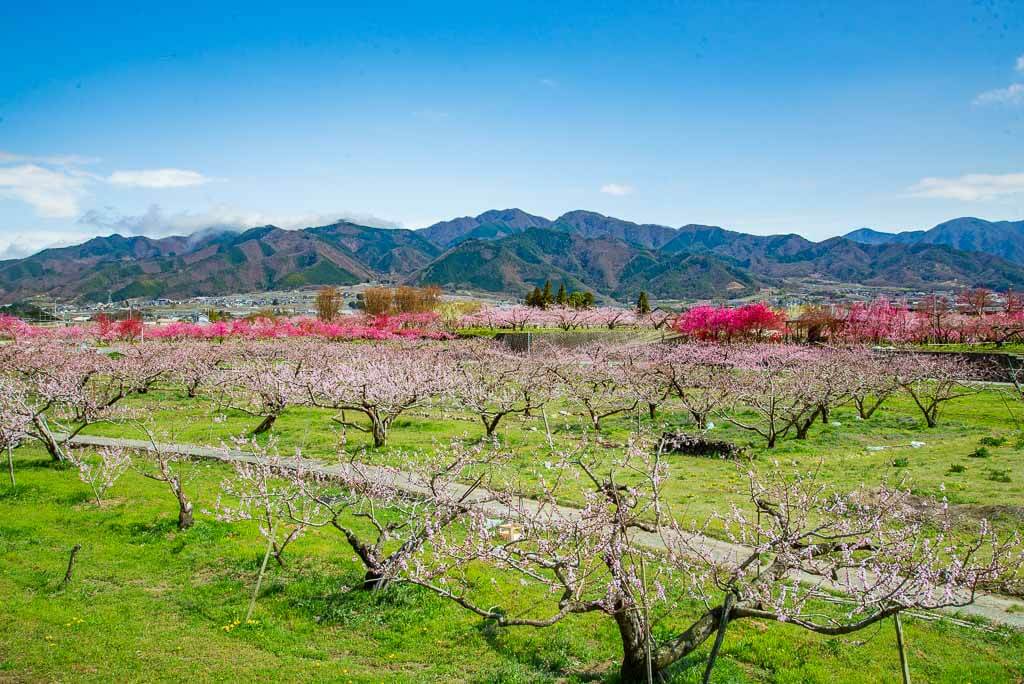 While cherry blossoms can be found up and down Japan, you might have to do a little searching to find places you can enjoy peach blossom 花見 hanami, the Japanese pastime of picnicking under the trees while enjoying the sights and scents of nature and the company of friends. Fortunately, you don't need to go far from Tokyo to find a place to enjoy peach blossoms. In Yamanashi Prefecture, Tokyo's neighbor to the west, Fuefuki city boasts acres of peach farms that are an easy day trip from central Tokyo.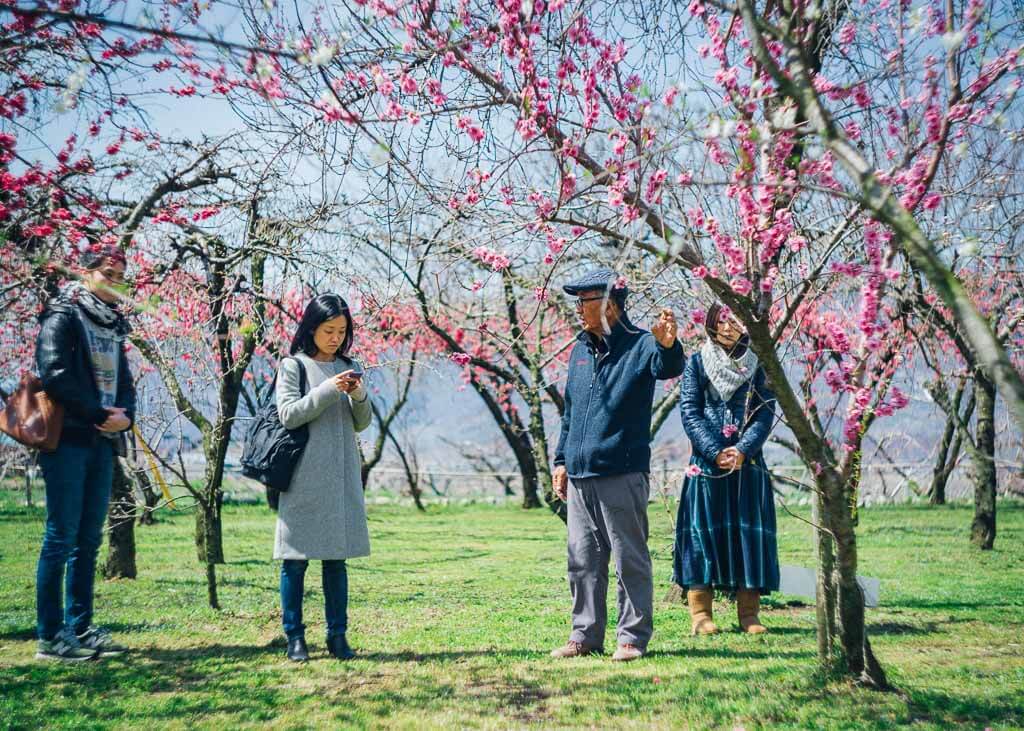 Where Can You see Peach Blossoms in Japan?
I visited Marukita Hanamomo-en (まるきたはなもも園), a peach farm in Fuefuki that offers tours and hanami during peach blossom season. Peach trees start blossoming 2-3 weeks before cherry trees, usually in early March, and reach their peak in about 2 weeks. Instead of exploding into puffy clouds of small pink or white flowers, peach trees tend to have larger blossoms that grow along the main branches of the trees and burst into bright reds and pinks, as well as pastel pink and white. Some varieties hang downward, creating blossom tunnels while others reach high into the big blue Yamanashi skies.
The day we visited the farm, we were fortunate to have the owner of the farm, Aruga-san, take a group of us on a guided tour, which he tries to do whenever visitors stop by. Otherwise, you will be given a map of the farm and you can walk around and enjoy the blossoms at your leisure. Aruga-san hand-picked 50 specific varieties of peach trees and imported them from around the world, the largest variety of peaches in all of Japan. Each tree is lovingly tended to so they produce large peaches, sweet and blemish-free. Of course, peaches here cost quite a bit more than peaches in other countries, but they are grown to be presented as gifts, not necessarily eaten at home. Peaches that do not meet the farm's rigorous standards will be sold at a discount or made into products that do not require cosmetic perfection.
Sadly, if you are here to enjoy the peach blossoms, there won't be any fresh fruit for you to purchase anyway. Fruit won't be harvested until mid-summer when the blossoms are long gone. However, the farm does offer a pot of chrysanthemum tea and some sweets, and you can also purchase some fresh-cut stems of peach blossoms or some peach jam or preserved peach slices from last year's harvest.
There are picnic tables on the farm that you can use to enjoy your lunch (which you need to bring yourself as the farm does not have a restaurant). One of the prime locations overlooks a grove of colorful trees where, during peak blossoming season, tunnels of peach blossoms can be found among the green grass of Spring.
This year (2020), hanami will be offered at Marukita Hanamomo-en from March 10 to April 10, so reserve time on your schedule to make a day trip to this lovely place and enjoy an early spring treat.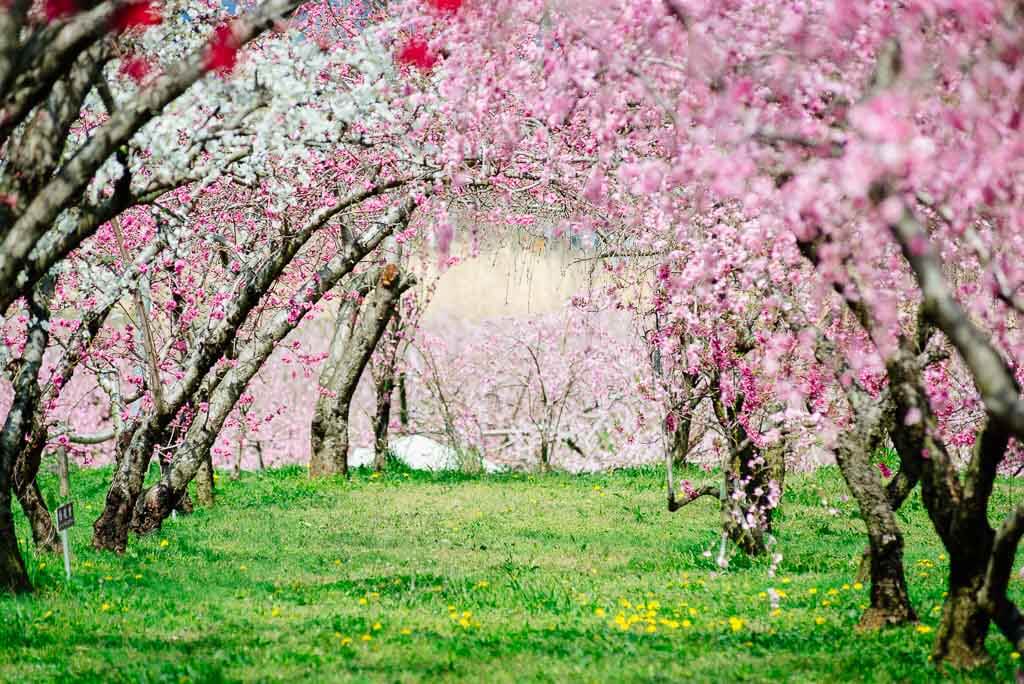 Yamanashi: Japan's Wine Country
After your hanami under the trees, you may not yet be ready to head back to the Tokyo city crowds. Yamanashi has quickly developed a maturing wine industry, thanks to its expertise in growing grapes.
In a 5-minute driving radius of Kitamaru Hanamomo-en, there are more than a dozen wineries in the foothills of Fuefuki. On this particular day, we attended a jazz concert at the lovely Marufuji Winery, though special events like this are held only irregularly.
I grew up in Northern California, about an hour from what was then known as California's Wine Country. Before the Napa and Sonoma valleys were heavily commercialized, many wineries were family-owned and offered tastings for a small fee, sometimes even free. The wineries here in Yamanashi have that vibe, free of pretention and full of delicious beverages.
Getting To Fuefuki's Peach Farms
The easiest way to get to Fuefuki from Tokyo is to simply take the Chuo Expressway westbound toward Nagoya. Fuefuki city is right off the expressway a little over an hour outside Tokyo.
If you get to March and you can't wait any longer for spring blossoms, perhaps a quick trip over to Yamanashi to revel in the sights of peach blossoms will tide you over until the sakura bloom later in the month. Or perhaps, you will simply fall in love with the gorgeous colors of peach blossoms.