Sponsored by Nikko City Tourism Association
Lately, it seems that people visiting Japan are increasingly taking the time to visit the small city of Nikko, which is located in Tochigi Prefecture. Nikko just celebrated its own special anniversary! This year marks the 401st anniversary of Nikko Toshogu Shrine, possibly the most impressive of all Japan's Shinto Shrines. It was built to commemorate and serve as the resting place of Tokugawa Ieyasu, the first shogun of the Edo Period and founder of a powerful dynasty that held power in Japan for over 250 years.  Along with Rinnoji and Futarasan Shrines, it makes up a rather large area that is collectively considered a UNESCO World Heritage Site. It is not to be missed!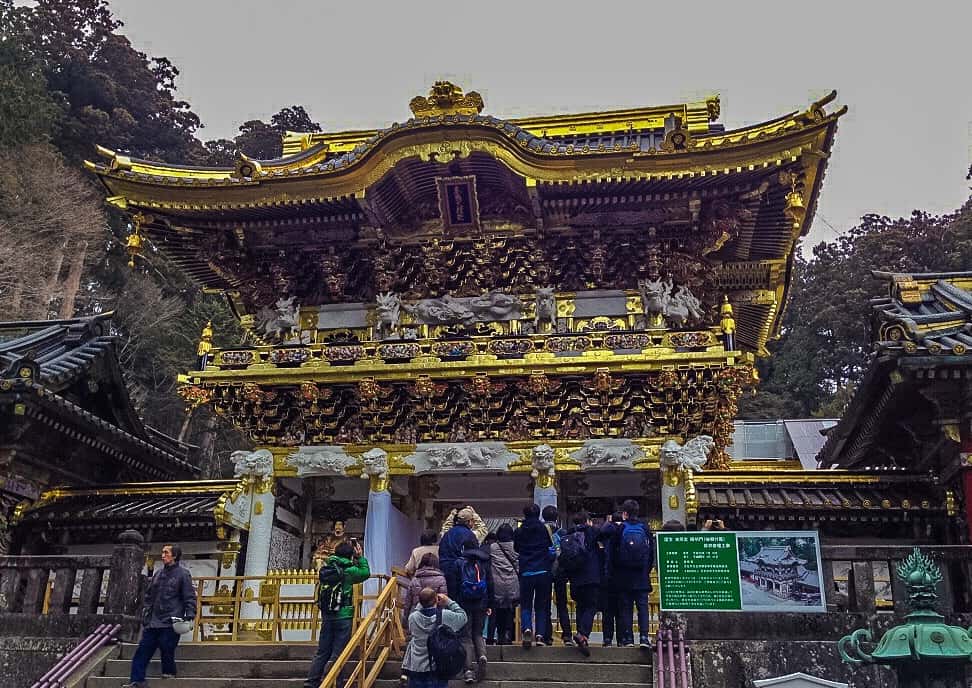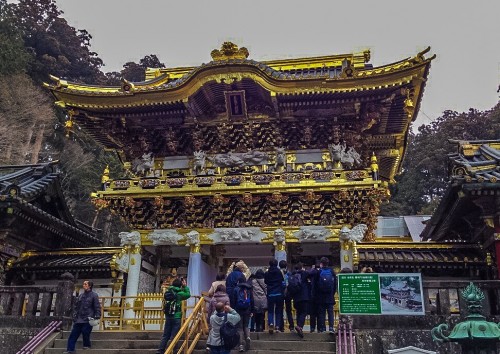 On the Way to Toshogu Shrine
Now is a great time to go to Nikko! The snow has melted and spring is in the air once again. Toshogu is a great first stop for your Nikko trip, and, as a bonus, getting there is easy! If you arrive via Tobu Nikko station, the shrine is a straight shot. A 30 minute walk down Nikko's main street will get you to this very scenic and pretty site. Additionally, there are conveniently marked World Heritage Buses that can take you there as well, from both Tobu Nikko and nearby JR Nikko station. Nikko, though considered to be a "city," has a quite different atmosphere from other Japanese cities. But nonetheless, tourists should feel free to browse the numerous shops selling local antiques, crafts and art.
A Bridge to the Edo Period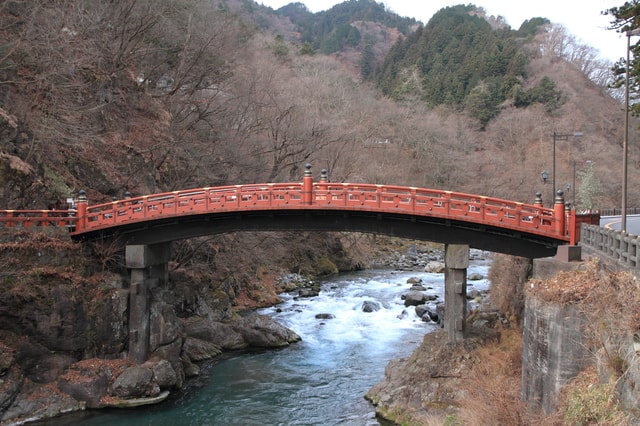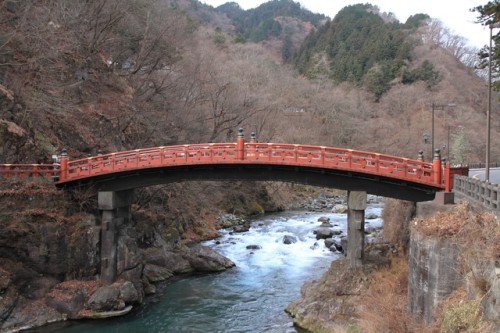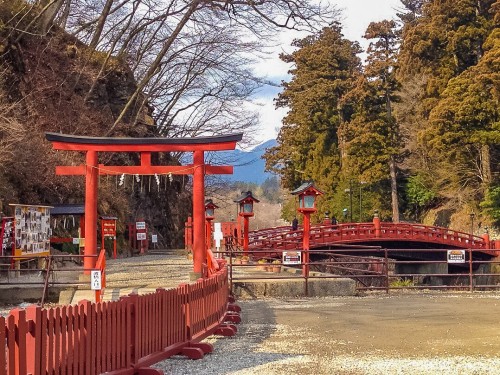 The first stop on your Toshogu tour will no doubt be the Shinkyo Bridge, which is considered a part of Futarasan shrine, though it is located outside the main complex. For those wishing to walk across the bridge, you can choose to spend ¥300, cross and get your fortune (though only in Japanese at this time). But if you decide not to enter the actual premises, you can still get some great picture opportunities. The water is beautiful and clear, and you can see the mountains in the distance. Nikko is quite a mountainous area, and the elevation is quite high. As you get closer to Toshogu, the elevation is actually as high as the top of Tokyo Sky Tree!
After the ascent up the stone steps and with the sound of running water around me, I reached the large Torii gate that serves as the entrance to Toshogu. On the left is the path to Futarasan, which we will come back to shortly. If you turn around from that point, you will see a stage and the giant Gojunoto Pagoda. The stage is the setting for many seasonal events which happen each month, including last month's Setsubun Festival celebrating the coming of spring.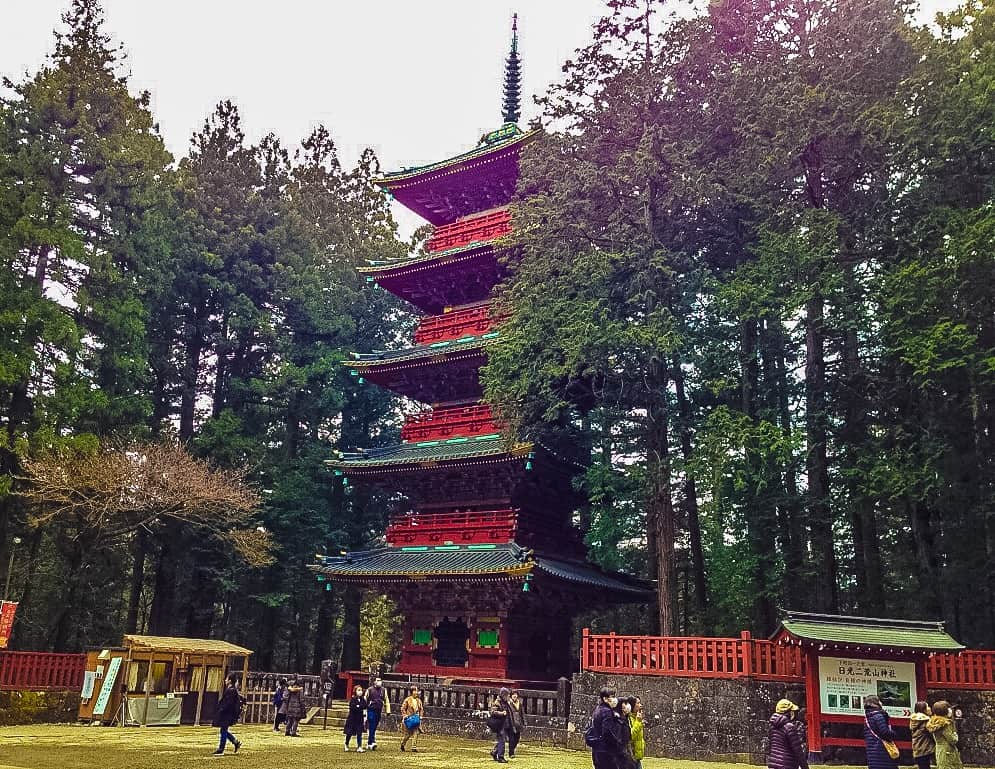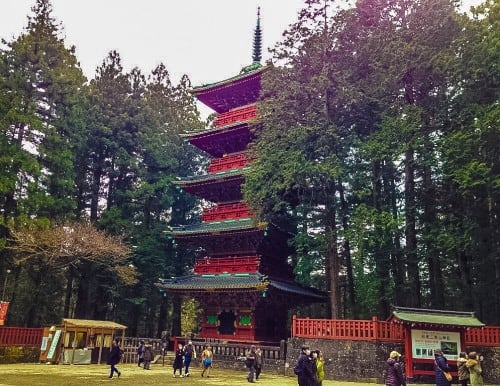 The "Gojunoto" is a beautiful 5 story pagoda originally built in the 17th century and restored in the 1800s. It adds an air of majesty to the setting, though the best is still yet to come.
A Golden Village
Once I got to Toshogu proper everything started to get bigger, starting with the steps, and then the crowds. There are many beautiful old buildings designed with red and gold. One particular design called the Sanzaru, or "Three Monkeys," tends to remind people of the "See no evil, hear no evil, speak no evil" adage, which is actually Japanese in origin.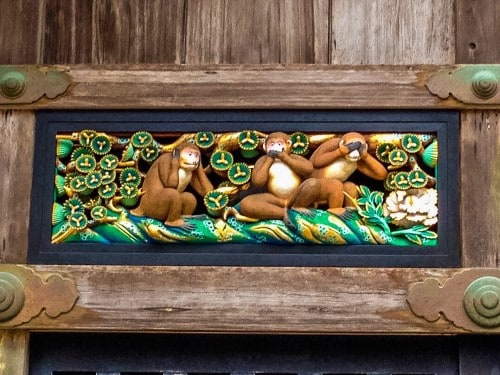 This area is known for its clean and clear water, so please help yourself to a drink! You can find drinking fountains and wells, not just in Toshogu but all over the premises. There are also more fortune telling "Omikuji" for sale, as well as various good luck charms.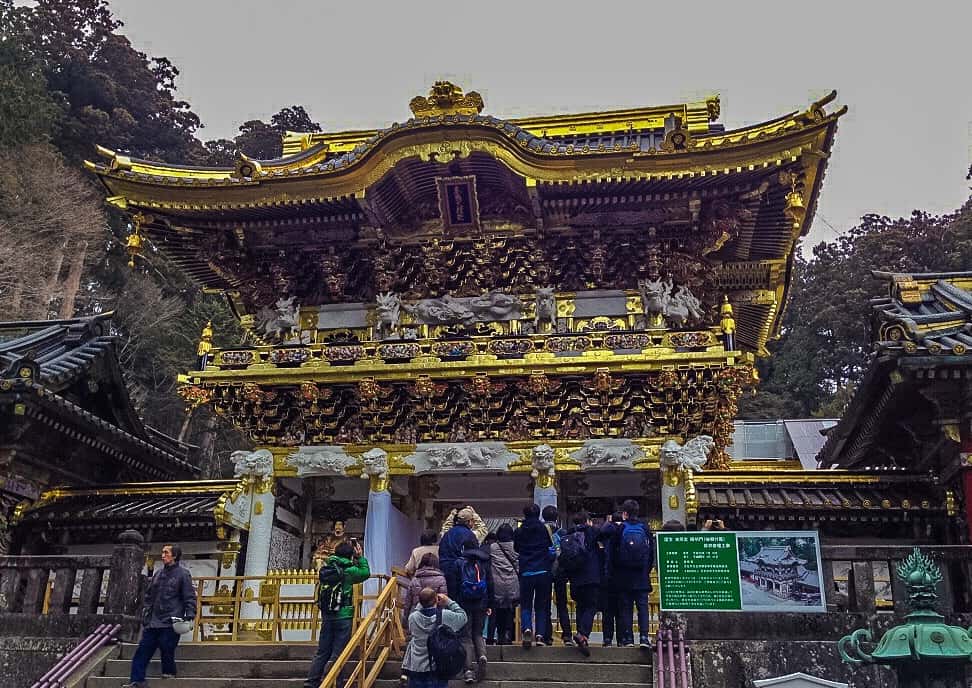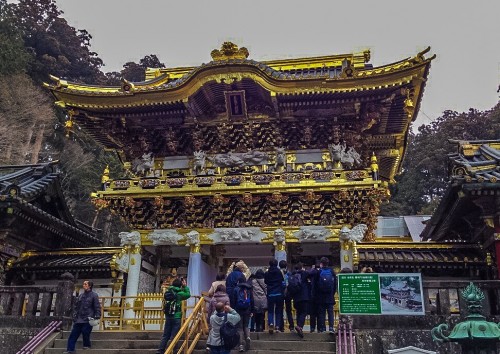 Following the path, I could see, for the first time, the grand Yomeimon Gate. Up until recently, this gate was being renovated–but now it looks fantastic! There are big bells on both sides, and the gate itself bears the likeness of dragons and statues of historical Japanese nobles.
Around Yomeimon are various other smaller buildings hosting a variety of treasures. But be advised that in order to enter some of them you will need to take off your shoes. With that in mind, cubbies are located conveniently, so you do not need to carry them with you!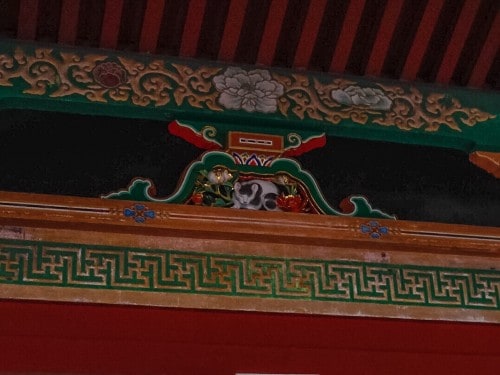 Higher and Higher!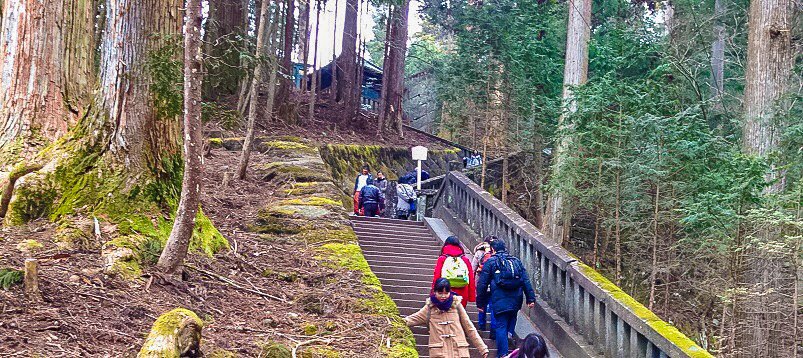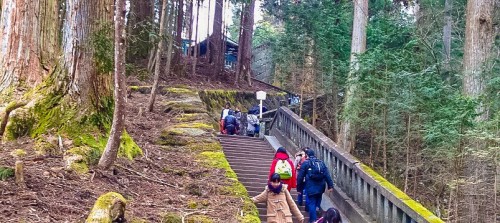 It does not take long for the place to become packed with individuals and tour groups, and so I ascended the stone steps to Okumiya slowly. It is a bit more of a climb, so please take your time and enjoy the beautiful scenery on your way up!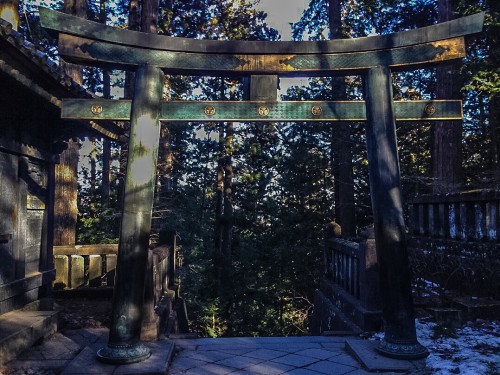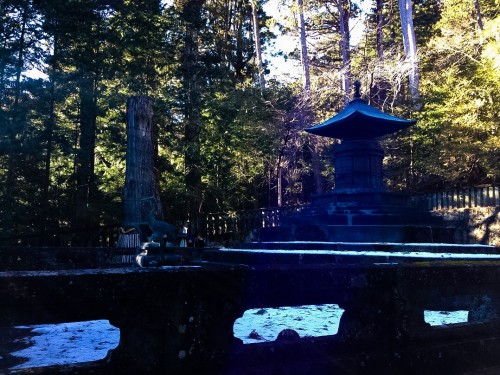 Finally, I arrived at the shrine. Okumiya is a small shrine containing some valuable treasures of the Tokugawa clan. You can take a wooden walkway around the perimeter of the shrine, and you will have the chance to buy more trinkets before your trip back down.
Futarasan Shrine– A Second Helping of History and Culture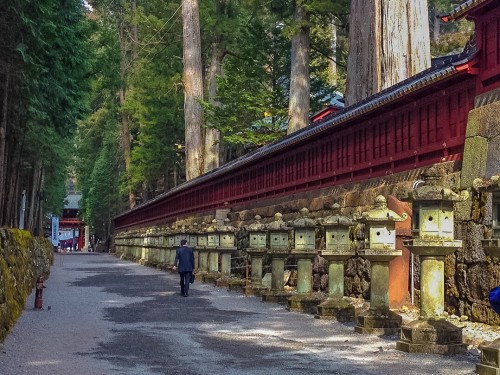 Futarasan Shrine is a good deal older than the rest of the complex, and is a worthy addition to your trip. The first striking thing about Futarasan is the long line of lanterns that line the walls. It does seem like a holy place, and you will often see people bow in front of the big torii gate before entering. Again, the sounds of water can be heard throughout the complex and the trees are lush and green (even in March!).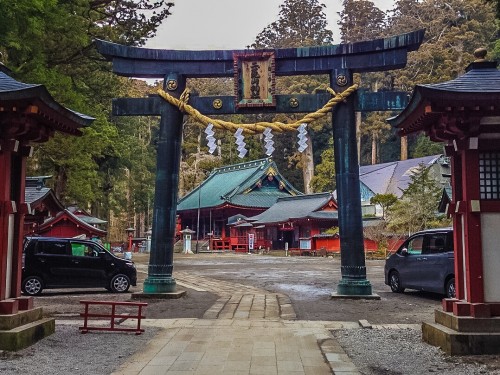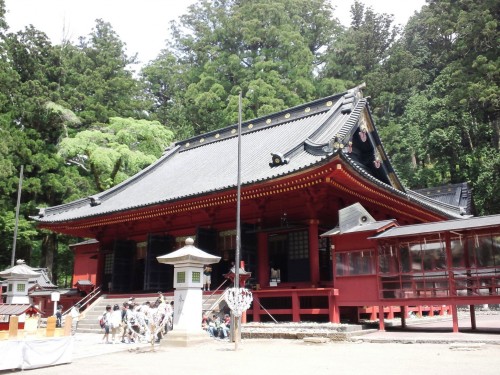 Futarasan Shrine is a complex of buildings, including a large shrine and the Koun Maneki statue, that people pray to for good luck. If you pay ¥200, you can go farther inside to see the Mitomo shrine and the Daikokuten. In an outcropping of rocks is an ancient sword that shines like a mirror. There is also a café on the premises if you would like some coffee or simply a moment of rest.
With the Yomeimon Gate restoration having just been completed, and the shrine celebrating its 400-year anniversary in 2016, now is a great time to go to Toshogu! It is easily accessible from Tokyo and other major cities, and is a great way to see some of Nikko. Of course, Nikko has much more to offer, so be sure to stay tuned for more!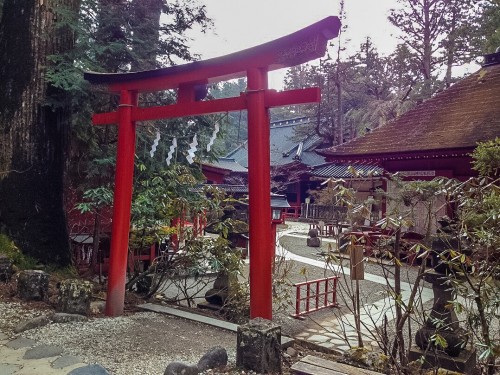 Access
JR Nikko Line
If you have a Japan Rail Pass, you can take a train from Tokyo via Utsunomiya station to go to Nikko station. To get to Utsunomiya, you have several options: Tohoku Shinkansen, JR Utsunomiya line or JR Shonan Shinjuku line. From Utsunomiya station, take the JR Nikko line train bound for Nikko station (About 40 minutes, ¥760)
Tobu Nikko Line
You can also take the Tobu railway! Tobu operates an express train you can take from Asakusa, Tokyo Sky Tree, Shinjuku or Ikebukuro. (2-3 hours, ¥3000-¥4000)
For more details, please check out this information.
http://nikko-travel.jp/english/access/
| | |
| --- | --- |
| Name | Nikko Toshogu |
| Category | Temple |
| Address | 2301 Sannai, Nikko, Tochigi Prefecture 321-1431 |
| Access | [map]2301 Sannai, Nikko, Tochigi Prefecture 321-1431[/map] |
| Opening Hours | 8:00-17:00 (4/1-10/31) 8:00-16:00 (Winter) |
| Price Range | ¥1300 for Toshogu. ¥200 for inner part of Futarasan. |
| Payment options | Cash |