Sponsored by Daisen Town.
Rising up above the Sea of Japan in Tottori Prefecture, Mt Daisen is a sacred mountain that has been revered for centuries. A place of worship with a unique atmosphere, inviting you to meditate, rest and contemplate. The ideal setting to try the shukubo experience, literally meaning "staying with the monks", just around the corner from the Daisenji temple at Sanrakuso.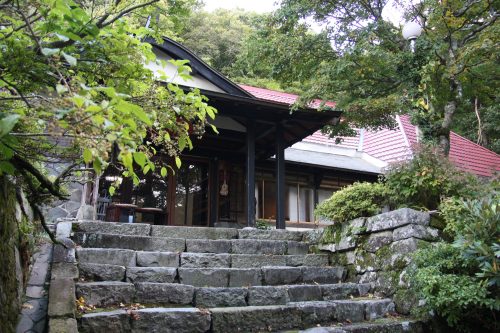 The shukubo experience
You may have heard about it, you may have always dreamt of it, you may have never dared to try it… Spending the night in a buddhist temple is a one of a kind experience in Japan, which might yet seem a bit intimidating. If you probably imagine a rather austere environment with many rules to follow, the reality is way more welcoming than that! Whether you are Japanese or from abroad, a man or a woman, alone or with your family, an atheist or not… Everyone is welcomed to stay at a buddhist temple in Japan.
Like with the majority of ryokan like accommodations – but even more so in such a religious place – you will be invited to take your shoes off before entering, to respect the proposed timings for dinner and breakfast, to not disturb the tranquility and quietness… But you will mostly be invited to spend a soothing moment, far away from the hustle and bustle of big cities, and get a taste of the buddhist monks' lifestyle. Most of the time, you will even be able to take part in religious rituals such as zen meditation or sutra writing.
Spending the night at Sanrakuso
If I cannot speak for all the shukubo in the archipelago, I can however share with you my experience at Sanrakuso, a temple inn nestled in the heart of nature at the foot of Mt Daisen. Adjacent to the Kansho-in temple, this shukubo will only reveal itself once you have climbed the stairs leading to it. Stairs made of stone, opening a path through the vegetation, on which rain was streaming down on the day I was arriving, escorted by the heavy rains of a typhoon. And I couldn't wish for a better place to find shelter!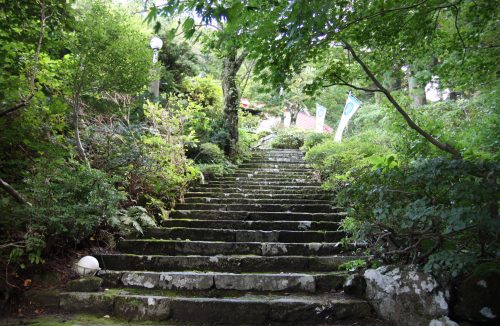 Once in the warm and dry lobby of Sanrakuso, I was immediately wrapped in silence et incense vapors. After a very thoughtful welcome from my host, Goken, I was guided to my room through the long corridors of the vast building.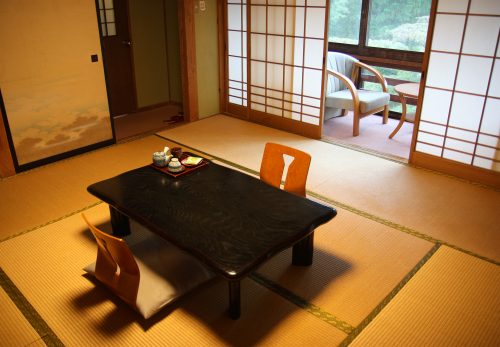 Decorated in a traditional Japanese style, with tatami, sliding doors covered in rice paper and a carefully arranged alcove, the rooms also come with all the comfort of more modern equipments: television, air conditioning and wifi. Once I had stored my backpack and put on some dry clothes, I was making the most of the hot water left in the room to prepare a cup of green tea, that I would sip comfortably seated in one of the lounge armchairs.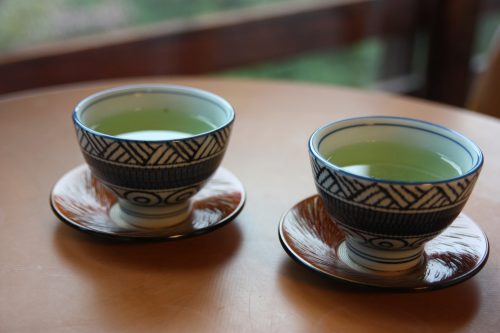 Facing an ocean of green, and maybe with the sound of rain sliding on the roof, you will start emptying your head, without even noticing it. A genuine break, far from the city, the agitation and the challenges of daily life.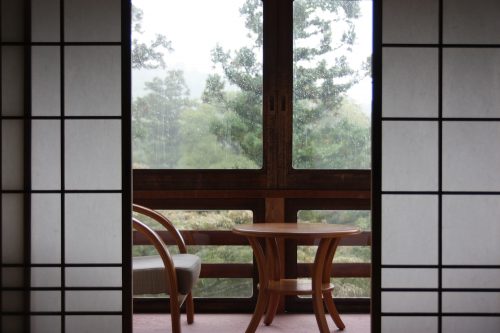 A moment of calm and rest that you can extend in one of Sanrakuso's hot bath. As it is often the case with this type of traditional Japanese inn, bathrooms and restrooms are shared (one for men and one for women). And as often, you will find there a hot bath to relax in and soothe your muscles after a day spent visiting and hiking around.
Tasting the cuisine of buddhist monks: shojin ryori
Once you are out of the bath, with your yukata on, head to the lobby at the agreed timing for dinner, from where you will be led to a private dining room.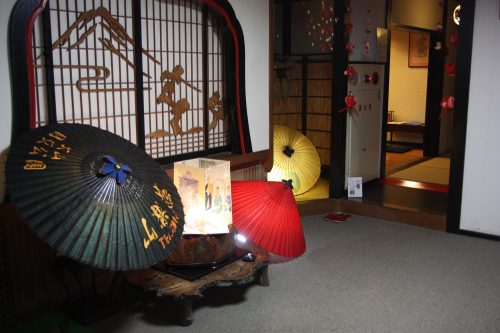 It is right here, in a beautiful setting and a view on the surrounding nature, that you will have the opportunity to try out the cuisine that buddhist monks cook and eat: shojin ryori. A vegan cuisine, using no product of animal origin, made to best prepare the body and soul to the study and practice of Buddhism.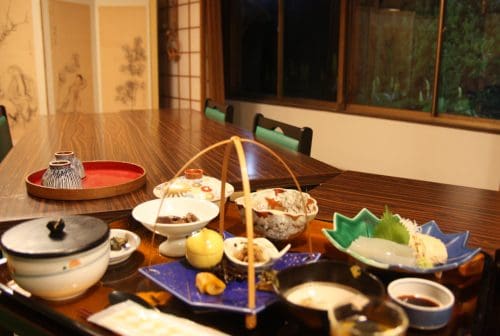 The shojin ryori meals served at Sanrakuso are prepared with local ingredients from Mt Daisen. The soil being a bit less fertile there than in the valley, you will mostly find in your plate root vegetables or mushrooms. You will also find tofu as another main ingredient of your dinner, which you will be able to taste in many different ways. For example, it is used to recreate meat or fish substitutes, called "modoki ryori". It was with a lot of curiosity that I could taste an alternative to squid sashimi, which I found way more pleasant to the palate than the original one.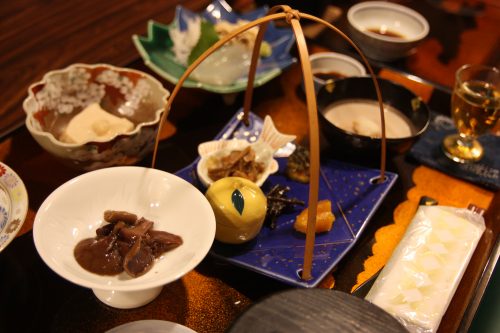 And if this cuisine is a traditional buddhist and vegan one, it isn't frugal. A myriad of small dishes will be carefully placed in front of you, with beautiful tableware. Flavors, colors or even textures, each and every bite is a discovery. If it might not be the case in every shukubo, alcohol is offered here, to pair your meal with a glass of beer or sake. A dinner which is overall very generous, but easy to digest.
And while you will be discovering all these local specialties with surprise and delight, your room will be prepared for the night with a futon. A night that was in my case very quiet, with only a few sounds from nature to be heard.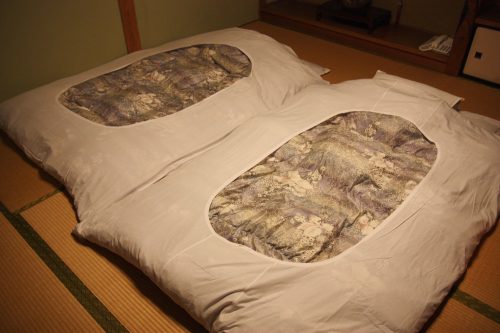 For breakfast, you will be served a few classics from the traditional Japanese breakfast (minus the fish): green tea, rice bowl, vegetables and miso soup.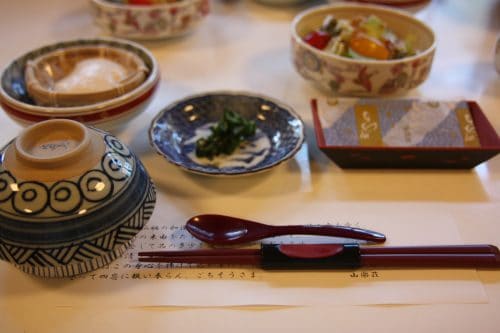 Even though it isn't usually served there, I also had the opportunity to taste a unique creation of Sanrakuso, a classic of Western cuisine with a shojin ryori twist: a vegan burger called  "zen burger".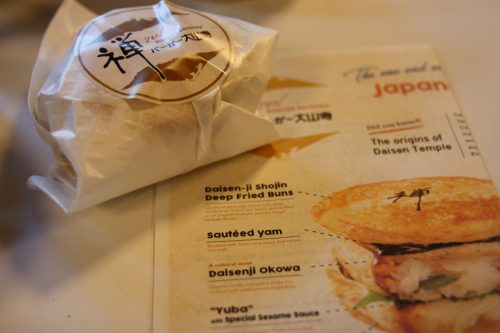 Wondering what's inside? Tofu buns, sautéed yam with soy sauce, a rice and vegetables "patty", a crunchy lotus root, some tofu skin (yuba) and a special sesame sauce. A creation with surprising textures and the perfect seasoning, that you can try for yourself at the nearby Tengu-Chaya cafe, which belongs to the same owners, right next to Daisen-ji Temple.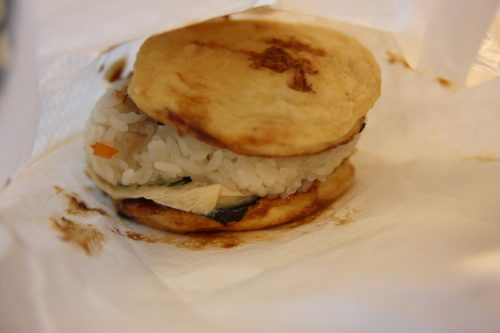 I could not take part in such activities when I visited, but note that Sanrakuso offers its guests to join zazen meditation sessions or initiation to sutra writing. Two activities that will allow you to discover further the monastic life, for 500 yens only (booking required).
A quiet and soothing atmosphere, hosts that are as lovely as they are discreet, a healthy and delicious cuisine… In a nutshell, this first stay at a shukubo will definitely remain one of my best memories of my stay in Japan.
More information and online booking on the website of Sanrakuso.
Getting there
The most convenient way to get there is with a car. You will need about 30 minutes from Yonago station.
If you would like to travel by bus, the "Daisen Loop Bus" will drive you from Yonago station to Daisen's Tourist Information Center with no connection. Shukubo Sanrakuso is only located 8 minutes by foot from there (remember this is on the mountainside, this isn't a flat road!)
If you plan to use this bus line – which goes across all the main attractions at the foot of Mt Daisen – for more than one trip, you should consider buying a one day pass for 1000 yens at Yonago station's Tourist information desk. Feel free to ask them for help with your itinerary, they will gladly help you out!
More information at the following link.
[cft format=0]