Sponsored by Nakaumi Shinjiko Daisen DMO
Let's suppose you came to the San'in Chuo Region of Shimane and Tottori Prefectures to put a major dent in your Travel Japan bucket list: Matsue Castle, Izumo Taisha Grand Shrine, Adachi Museum of Art and of course the Tottori Sand Dunes. But now that you have seen the most important attractions of the region, you are looking for something a little different, a story to tell your friends that will make them say "Only in Japan!" As luck would have it, you happen to be in the region of a friendly "ghost hunting tour", courtesy of the popular manga artist Mizuki Shigeru. Mr. Mizuki's characters were not exactly ghosts, but yokai, which in Japanese represents the supernatural world of ghosts, goblins and other monsters. You can start your hunt for these interesting creatures on a cruise down the Kamogawa River to Lake Nakaumi, eventually reaching Yonago City where you will board a train to Sakaiminato, home of many of the creatures which sprang from the curious mind of Mr. Mizuki.
Cruise on Kamogawa River and Nakaumi Lake in Yonago
Our first destination is a stop on the Kamogawa River to see Sendo-san, who is a bit of a celebrity in Yonago. Everyone in Yonago knows his small boat, which allows visitors to discover the city via the Kamogawa River and on to Lake Nakaumi. The boarding bridge is located in front of a kura, an ancient warehouse dating back to the Meiji era.
On the quay, we are greeted by statues representing kappa, legendary amphibious creatures that populate lakes and rivers. The mood is now set; we are now in a land where myths come to life, where the famous mangaka (comic book artist) Mizuki Shigeru who grew up here created a universe populated by yokai.
The weather was threatening, but our captain and guide still set sail, taking care to give us colorful capes to protect us from the rain, which we wore over our mandatory life vests. A friendly group of local children waited on the bridge for our boat to pass, so they could greet us.
During the guided tour, we discovered some historical buildings of this ancient merchant city, including site where a large castle stood before it was dismantled and sold off by the government during the Meiji era.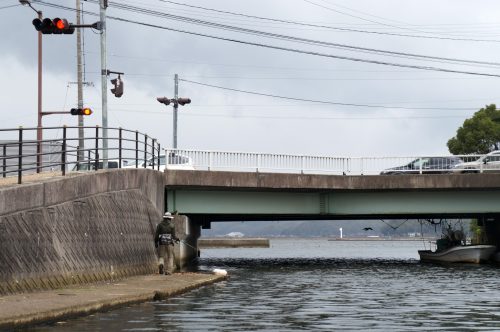 After a few minutes on the Kamogawa River, we arrive at Lake Nakaumi. The narrow river opens onto a large stretch of water surrounded by mountains. The wind rises and a heavy rain begins to fall, shrouding the mountains in a haze that gives them the air of a sumie ink painting. Though the weather was imperfect on this particular day, we enjoyed the cruise nonetheless.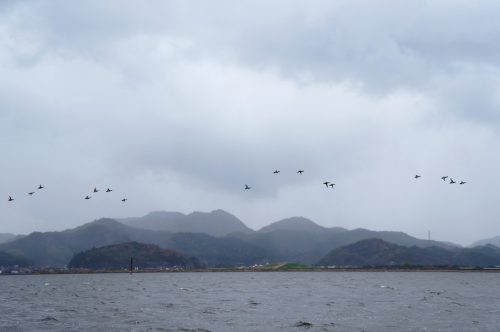 Throughout our cruise on Lake Nakaumi, numerous migrating ducks flew by our side. When the weather is better, Sendo-san gives his passengers a little food to attract them.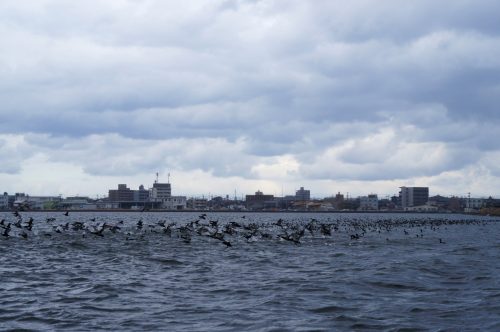 The cruise lasts about 50 minutes and costs 1200¥ for adults and 600¥ for children. There are two departures in a day, at 10am and 2pm, which may be canceled in the event of bad weather. More information is on the website of Yonago (only in Japanese).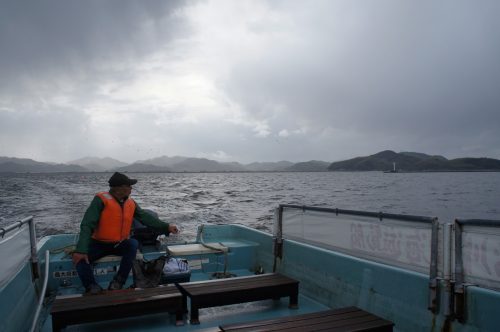 Manga enthusiasts probably know Mizuki Shigeru (1922-2015), the author of "Gegege no Kitaro" (published in English under the title "Kitaro of the Graveyard"), "NonNonBâ" (which won the Angouleme Prize), and many other books about yokai – the supernatural creatures of Japanese folklore, said to be responsible for everything from playing tricks on people to causing major calamities.
His hometown of Sakaiminato paid tribute to him by creating the Mizuki Shigeru Road: an 800m long street where 177 bronze statues are displayed, representing some of the yokai designed by the master.
I went there on a Sunday and the sheer numbers of people testified to the popularity of the manga master and his works. His work transcends the generations so that everyone from toddlers to ninety-year-olds was laughing and enjoying his characters as they walked down the street.
Like most other visitors, I turned the walk into a photo rally in search of the scariest, cutest or funniest yokai. Here are a few of my favorites.
Neko Musume (literally the "cat-girl", called Cat Girl in the English version) is a character from the Gegege no Kitaro manga. It's a little girl who turns into a cat monster when she is angry or hungry.
Like many others, Nurikabe is a manga character based on a traditional yokai. A stroll down Mizuki Shigeru Road is not only a dive into the works of the master but also into the world of Japanese legends, which Mizuki learned about from the stories of a local woman while growing up here. Represented as a kind of wall with human characteristics, Nurikabe appears in the path of nocturnal travelers and extends to infinity, preventing them from continuing their journey.
Ohaguro bettari is another traditional yokai. The figure of this graceful woman wearing a bridal kimono attracts men, but they are frightened when they discover her face: featureless save a huge mouth with blackened teeth.
This little guy is not exactly a yokai, but a very familiar creature in Okinawan culture: a shisa. From the same family as the komainu, which are often used to guard shrines, it is also seen as an image built into the eaves of traditional roofs.
The Mizuki Shigeru Road has the atmosphere of an amusement park; there are many souvenir shops and products bearing the image of Kitaro and his companions, a shrine, a fountain inhabited by kappa, and a museum. Everywhere you look, there is some kind of Mizuki creation to be discovered! At night, the street is illuminated with lights and turns into a magical place, so if you have time, return again later to see it.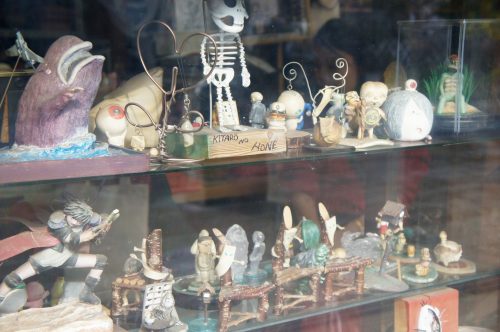 Finally, for those who enjoy a fun and free challenge, there is a "stamp rally" to collect various yokai stamps around the street. In the end you will have a wonderful souvenir of the memories of your manga "ghost hunting" tour.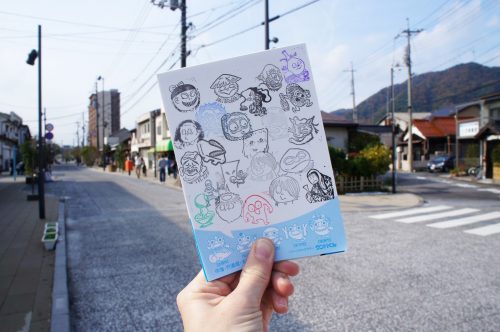 Visiting the San'in Chuo Region
For more information and to plan your trip to the San'in Region, visit this website. Here you'll find information on places to visit, sample itineraries, and transportation information.
You can also download the En-musubi Smart Navigator system app (縁ナビ) from the App Store and Google play (available in English).
You can find practical information about transportation on the San'in Official Tourism Guide in English too.
To get to Matsue from Hiroshima, discount bus tickets are available for foreign visitors. Upon presentation of your passport, the ticket will cost you only ¥ 500, so it would be a shame to miss out on visiting the San'in region during a stay in Hiroshima / Miyajima! They are sold on the spot, and you can buy on the day of the trip or the day before. You will find practical information on this document.