Sponsored by Tourism Oita
Who hasn't dreamed of traveling back in time? Whilst the machine that would allow for such an extraordinary trip has unfortunately not been engineered, thanks to Showa no Machi that doesn't mean it is impossible! With a simple visit to Showa no Machi, the shopping district of Bungotakada, Oita prefecture on Kyushu island, you can feel as though sent back to the time of the Showa era.
Showa Era Nostalgia
The Showa Era, or the era of Enlightened peace, is a landmark period starting from December 29th, 1926 until January 7th, 1989. This period matches the beginning and end of Emperor Hirohito's reign. This long period covers such wide events from Japan's expansion pre World War 2, the second World War itself, the occupation period, and then the bubble.
After 1952, Japan began its period of economic recovery, gradually becoming one of the World's most powerful countries. It is precisely this prosperous time of Japan's history that Bungotakada wishes to celebrate with its Showa no Machi shopping district.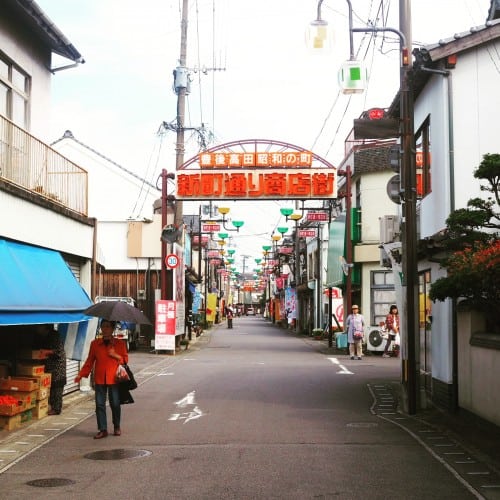 This Showa Era preservation displays many nostalgic shops, and became a full-fledged touristic spot in 2002. The tall arcade gates with huge orange letters proclaiming "Bungotakada Showa no Machi shopping district" act as the entrance to Showa no Machi. Furthermore, the streets are decorated nostalgically with orange and green street lamps.
Stroll and Retro Shopping in Showa no Machi
Showa no Machi's atmosphere is quite calm, especially during week days. In this shopping district, it seems like time has stopped. If your after some 50's or 60's flair for your pad, you will find many souvenirs here. The electrical goods shop does not sell any flat-screen televisions nor up to date items but rather cathode-ray tube televisions and old record-players.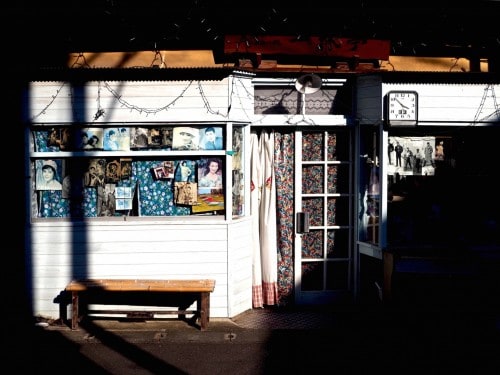 Neighborhood maps are easy to find in every shop. In my opinion, one particular shop is not to miss. Marked as number 11 on the map, "Zakkashou komiya" sells nostalgic gadgets and toys of all kinds. A real shoppers paradise for everyone, young and old.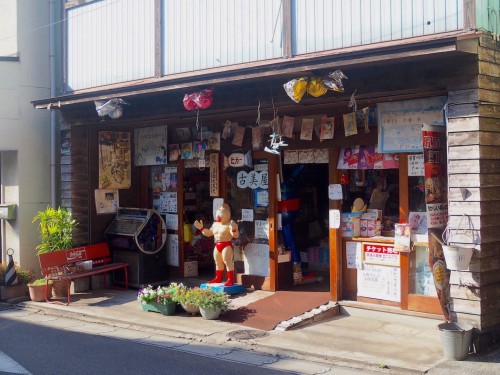 Undoubtedly Astroboy and old Japanese animation aficionados will be thrilled with all these treasures. Although Some of the older authentic pieces are quite expensive. For instance a thermometer for kids with a Astroboy figurine will cost 52 US dollars, and just the figurine itself will be around 40 US dollars.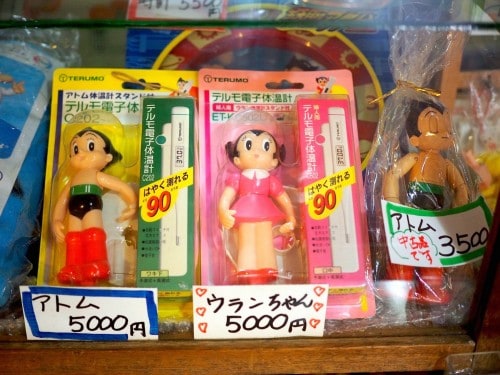 Here is an old wooden pinball machine at one corner of the shop. It's only 100 yen (80 cents) for one game, who could resist?
Toys and '60's Everyday Life Museum
For those who are passionate about old toys and vintage items of all kinds, Showa no Machi is certainly a paradise. Additionally, The owners of the city's toy store also hosts two museums. You will find both very close to the district's bus station. Here old cars are displayed out in the yard. Hironobu Komiya, the museum's director, is considered Japan's largest toy collector. Over the years he has gathered more than 250,000 Showa Era's objects. 50,000 of them are on display in Bungotakada.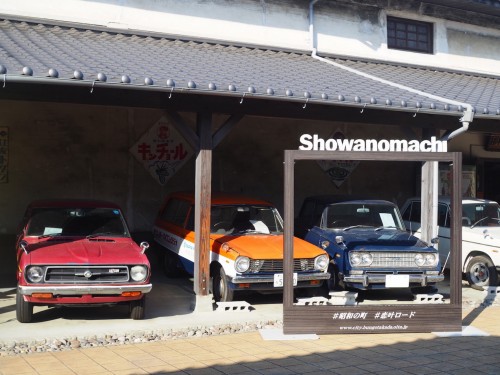 To enter both of the museums the entrance fee is 620 yen (about 5 US dollars).
The first museum, Dagashiya no yume museum, which translates literally to "The dreams of the candy", is dedicated to toys from 1955 to 1965. It may seem like the inside is not very big, however what is really impressive is how things are displayed. Also the total number of objects is quiet impressive. There is even a recreation of a Japanese household's living-room, complete with a large collection of vinyl records. As a result the Japanese visitors will undoubtedly remember their childhood when visiting. As for the foreign tourists, this is probably the best way to imagine how life was for a Japanese child at that time.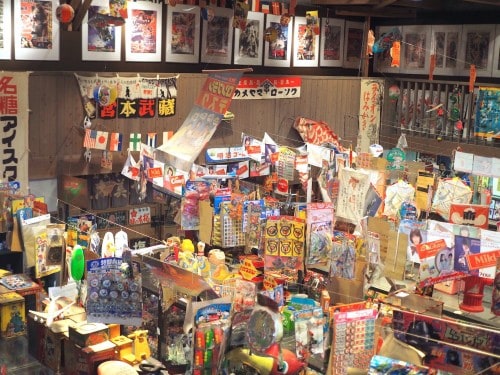 The second museum is Showa no Yume Town 3rd, which translates to "The dream city of Showa Era, Third street". Here visitors can experience the life of that time through audio installations. Additionally you can see a recreation of a Showa era school classroom. Although a bit embellished compared to the reality, its a real good way to feel life of the 1960's. It is quite fascinating to make such a time travel trip!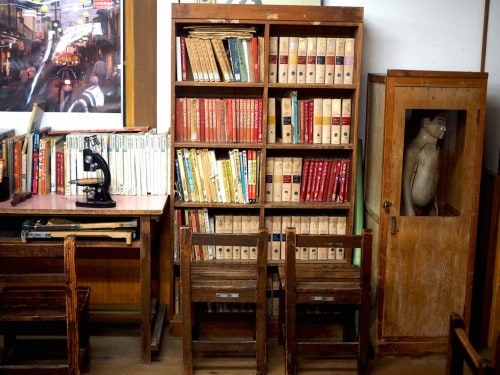 Lunch in a Soba Restaurant, Bungotakada's Local Food
Bungotakada is one of the leading producers of soba noodles in Japan. The buckwheat noodles of this region are also called "Takadasoba". Luckily a taxi driver gave me a good hint about the best soba restaurant in Showa no Machi, and I was not disappointed. In the restaurant called "高田そば 翔" (Kakeru takadasoba), prices are comparatively high for soba (ranging from 1200 to 2200 yen, or 10 to 20 US dollars). But if your on a budget there is no need to break the piggy bank! The cheapest dish, a cold soba served with shrimp and vegetable tempura, is really delicious and generous in size. The Soba noodles here are really tasty and firm and the tempura crispy to perfection.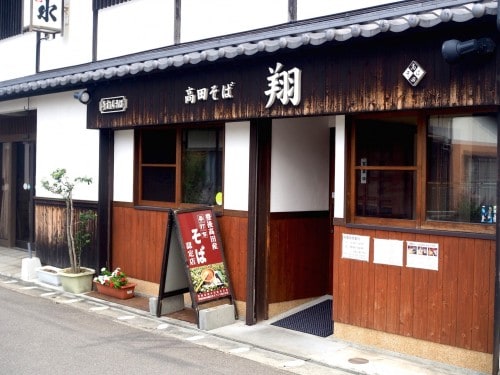 As for dessert, I was recommended to try the アイスキャンディ (Ice Candy), a typical 50's ice cream that cannot be found anywhere else except in Showa no Machi. So in a shop a few steps from the restaurant at the beginning of the main street, I found myself some Ice Candy. We have several flavors to choose from milk, matcha (green tea), or azuki (red beans). Because the saleswoman told me that azuki is the most popular one, I decided to follow the popular choice and handed over my 150 yen for the ice cream. The ice creams shape, leaning on the stick, is how one will recognize it. Whole pieces of the red bean are placed inside, and the taste is quite surprising! Perhaps the milk or the matcha flavors would have been better matches for me.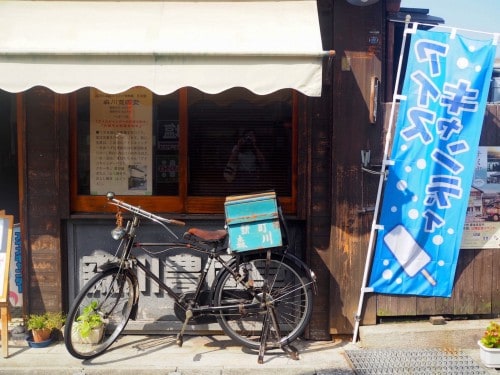 Yuki, the Neighborhood's Shiba Dog Mascot
It is impossible to wander around Showa no Machi without running into Yuki, the Shiba dog. Yuki is the super cute official mascot of the neighborhood. Furthermore, his owners hold a Japanese traditional shoe shop and sell Yuki-themed products. Today Yuki is 14 years old but still "in good shape" according to his owners. One can recognize him from his red collar scarf. Because Yuki is a star, he appreciates and welcomes you to take his picture.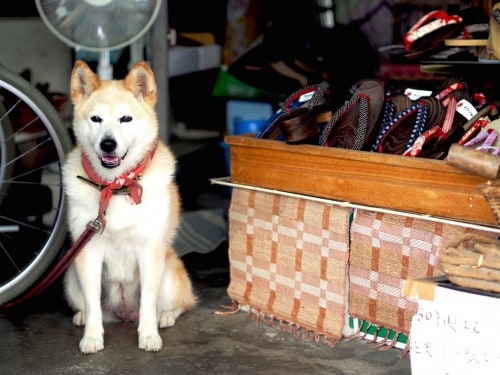 How to Get There?
A direct bus runs from Oita airport to Show no Machi. The time of travel is about 1:30, costing 1400 yen. Alternatively, the closest bus and train station is Usa Station (and a 10 minutes drive from there).
How to Move around in the Neighborhood?
When visiting Showa no machi, walking around on foot is really easy and recommended because it best allows one not to miss all the charming details of the city. Furthermore, on weekends and holidays, a beautiful bus from 1957 runs free. It's a nice opportunity to visit the place in style.