Did you know that life-sized versions of Thomas the Tank Engine and James the Red Engine run in Japan? Known for Mount Fuji and its production of tea, Shizuoka Prefecture is a local area in Japan full of nature. There, at Shizuoka's Oigawa Railway, you can ride inside Thomas and his friends!
Due to the Coronavirus pandemic, overseas visitors are not currently able to purchase tickets online.
How did Thomas the Tank Engine Get So Popular in Japan?
In 2014 Thomas first began his service in Shizuoka, Japan. Thomas' friend James joined him in 2015. The two of them became a featured topic in the Japanese media and beyond, becoming so popular that tickets completely sold out every day. After this very successful run, people have been waiting for another opportunity to ride Thomas and James. However, this year only Thomas is running for a limited period over the summer and early autumn. Let Thomas take you on an amazing trip!
What can you see from the Oigawa Railway?
The Oigawa Railway is known as the best railway for viewing Shizuoka's local fields of tea. Spread before you along the wayside of the train are views of tea plantations and the stunning natural scenery. The steam locomotives run in Japan all year round, and Oigawa Railway has become especially popular among railway enthusiasts. The locomotives travel about 65 km along the Oi River, which flows from Japan's Southern Alps, giving you breathtaking views the entire trip.
*Note that Thomas travels 37.2 km from Shin-Kanaya Station to Senzu Station.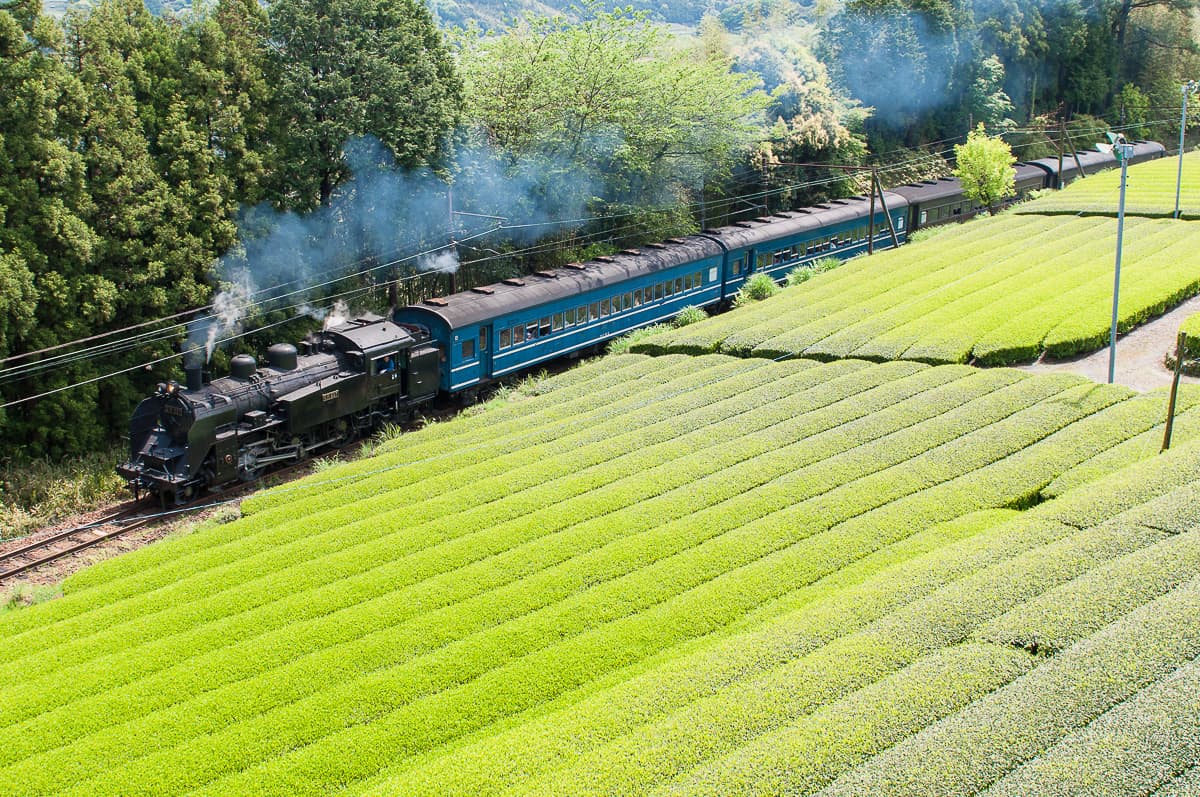 Thomas is Fun for the Whole Family!
Last year many families from Japan brought their children to ride Thomas. Many of them were full of excitement the entire trip.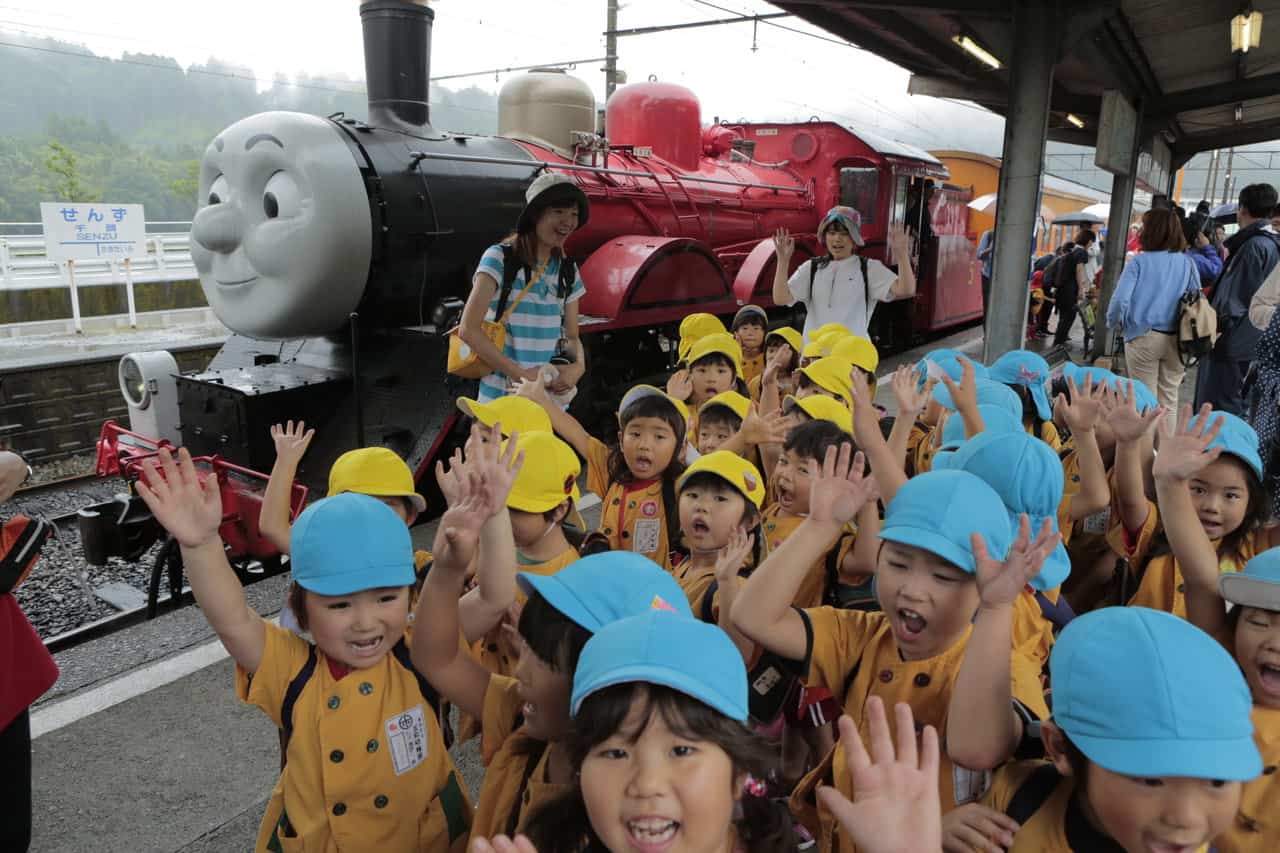 Not to mention, in addition to Thomas and James, you can take pictures with Hiro and Percy!
Enjoy a Part of Japan's Train Culture, the "ekiben"!
Lunch boxes are very popular throughout Japan. The Thomas Lunch Box, available on Thomas, is very popular with children! It contains fried shrimp, hamburger steak, octopus shaped sausage, fried potatoes, and rolled sushi.
*Please note that the lunch box menu and its package may have been changed from the 2015 edition.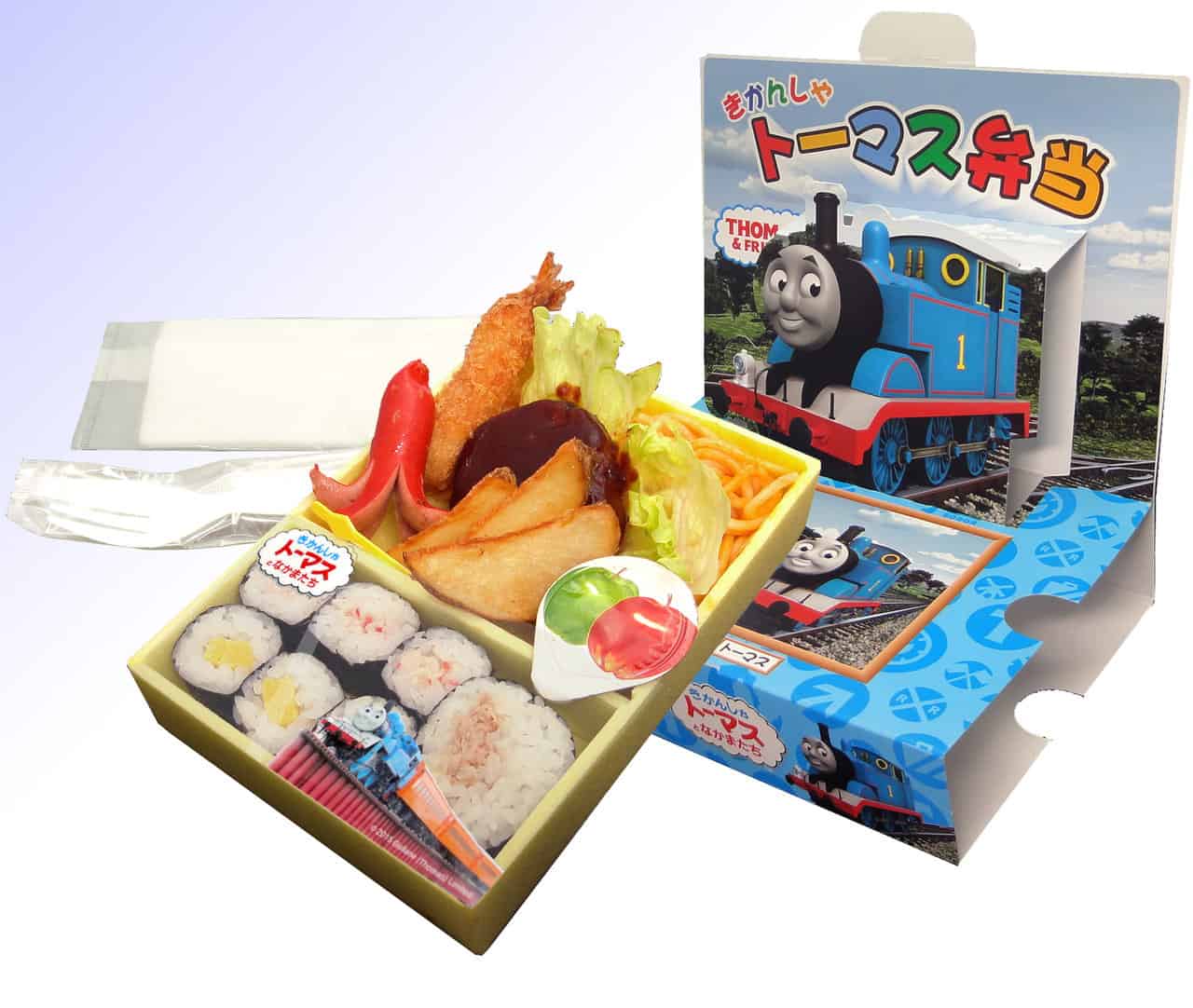 Adults can also enjoy cuisine from Japan made from local Shizuoka ingredients.
How to Get to Oigawa Railway
Oigawa Railway is about 2 hours from Tokyo and 1 hour and 15 minutes from Nagoya.
From Tokyo, ride the JR Tokaido Shinkansen (the Hikari or Kodama trains) to Shizuoka. From there, change train lines to JR Tokaido and ride the train to Kanaya station.
From Osaka or Kyoto, ride the JR Tokaido Shinkansen (Kodama train only) to Kakegawa. From there, change train lines to JR Tokaido and ride the train to Kanaya station. Next, take the Oigawa Main Line from Kanaya to Shin-Kanaya (just one stop!). Thomas and other steam locomotives will be there waiting.
Thomas takes about 70 minutes to travel the 37.2 km from Shin-Kanaya Station to Senzu station.
*Note that the Japan Rail Pass cannot be used on Oigawa Railway.
The service generally runs from the end of June through mid-October; However, it is still undecided as to when reservations will open, so keep up with the latest information from the Oigawa Railway homepage. Get ready to ride Thomas the Tank Engine in Japan!
Oigawa Railway Business Information
Fare (One way between Shin-Kanaya to Senzu)
Adult fare: 1,750Yen + extra charge for Thomas or James 820 Yen = 2,570 Yen
Child fare: 880 Yen + extra charge for Thomas or James 410 Yen = 1,290 Yen
Operating Times for Thomas the Tank Engine* (all operating dates are common)
Departure from Shin-Kanaya at 10:38 (Arrival at Senzu at 11:46)
Departure from Senzu at 14:14 (Arrival at Shin-Kanaya at 15:27)
*James the Red Engine is not running in 2020.
If you're unable to reserve a seat on Thomas, it's still possible to catch a glimpse of him during his run on the Oigawa Railway. Plus, you can still meet him when he's at the station or in the garage. If you're ever visiting Japan, please come and see Thomas the Tank Engine in Shizuoka.
Sponsored by Ōigawa Railway