Riding northwards into Shimane Prefecture, I was treated to a whistle-stop tour of what the region had in store for me. The train took me through the ancient samurai towns, forested valleys, and beautiful coastal scenery, which I would be exploring in reverse over the next four days on a rural road trip, discovering the stories and people which make this pocket of Japan unique.
The locals of Iwami — Shimane Prefecture's westernmost region — pride themselves on preserving the old ways of life. It's a place to tune in to the rhythms of the authentic Japanese countryside and discover some of the most unspoiled tourist spots in the country. Whether by rail, bus, or car, you'll find plenty to enjoy here.
Day 1: Exploring Iwami Ginzan Silver Mine and its Historic Surroundings
As we cut a winding path through the scenic cedar woodland towards Mt Sanbe, I had no idea that there was actually another forest hidden away beneath our feet. That's because the mountain is actually a dormant volcano, which has erupted seven times in the past. The most recent one, around 4000 years ago, caused a gigantic flow of ash down the valley to the north, creating a fully organic Pompeii of ancient buried cedars.
Sanbe Azukihara Buried Forest Museum
To get a look into this subterranean lost world, we stopped off at Sanbe Azukihara Buried Forest Museum. This marks the site that the lost forest was officially rediscovered by a farmer in 1983. The museum boasts two deep silos in which the earth and ash have been excavated, leaving only the millennia-old trees behind. Both are encircled by walkways, allowing you to climb down 13m below ground to observe them.
Iwami Ginzan World Heritage Center
Next, we drove on to Omori (大森), the town which once thrived as the hub of the Japanese silver trade throughout the Edo Era. At one point, one-third of the entire world silver supply came from Japan, most of it from the Iwami Ginzan silver mine!
The best place to discover this illustrious economic history is at the Iwami Ginzan World Heritage Center. It houses a modern multimedia museum that charts the mine's development from its mythical origins story, all the way to its designation as a UNESCO World Heritage site in 2007.
Even if you're not one for history or geology, there's plenty of entertainment to be found in the varied displays. Alongside the artifacts and video screens, you'll also find a life-sized recreation of a smelting workshop, ant farm-like dioramas of the mine shafts, and a replica tunnel entrance for those too afraid to make the descent for real.
Near the end, you'll find a 30kg silver ingot inviting you to lift it, which was apparently worth ¥3,240,000 at the time of my visit. Before you get any ideas — yes, it's fastened to the table.
Lunch and a Wander Around Omori Town
After finishing up at the museum, we decided to take a stroll down into the town of Omori itself. At the peak of the silver rush, it's said that the town boasted 200,000 inhabitants, but now that number is closer to just 400. Nonetheless, the town is preserved in much the same state as it existed way back in the Edo Period.
There's not a single power line in sight, and even the vending machines are concealed behind ornate wooden casings. The best part is that Omori isn't just some living museum — it's a genuine, bustling countryside community.
We met local resident Shun at his company's restaurant a short way down the street, Gungendo Store & Cafe. Lifestyle brand Gungendo and prosthetics pioneer Nakamura Brace are the two heavyweight companies leading the regeneration of this historic town, and together they're responsible for the renovation of dozens of historic houses into charming businesses and attractions.
This cafe and store is one of them. It perfectly encapsulates the artistic, eco-friendly ethos of the town in its organic local vegetable dishes. After lunch, we stop into some of the town's best tourist spots and chic independent stores.
At the north end of the main street is Kigami Shrine, best known for the 'roaring dragon' mural on the ceiling. A little further up the road is the courthouse turned community center, and two old samurai residences which have been turned into museums using the owners' authentic family heirlooms: the Kawashima Residence and Kumagai Residence.
Bike Ride to Ryugenji Mabu Mine Tunnel
We then walked over to the Yashichi Bicycle Rental Shop for the next leg of our journey. Here you can hire an electric-assisted bike for just ¥700 for two hours. That's plenty of time to explore the area around town and visit some relics left behind from its mining past.
Our first stop was Rakan-ji Temple. This place is famous for its 500 buddha statues, each of them unique. They're housed in two small caverns across the road from the main temple complex. It's said that if you search around the statues for long enough, you'll find the face of a loved one among them.
After that, we head southwards into the woods, taking a short detour up to the Shimizudani Refinery Ruins along the way. I spotted an elderly lady edging her way up the steep hillside with the balance of a mountain goat, and Shun told me this adventurous obāsan was foraging for wild butterbur sprouts (a popular pastime in Omori).
After a few more minutes of cycling and we've reached our final destination: the entrance to a mine shaft itself. Most of the 200 shafts dotting the mountain are sealed off to the public, but Ryugenji Mabu Mine Tunnel is open for business. As you descend into the mountain, look out for the centuries-old pickaxe marks on the wall. Apparently, it took a six-man team an entire day just to hew out 30cm of the tunnel by hand.
In all, a round trip to the mine tunnel takes around 70 minutes. If you have more time to spare, consider taking a stroll up the walking trail which leads from Omori to the entrance.
A Night at Takyo-Abeke: An Inn Fit for a Lord
Staying at the traditional Japanese inn Takyo-Abeke in Omori feels like stepping back in time to the Edo Period (except with electricity and WiFi, of course). They offer four different rooms, two Japanese and two western-style, each with its own unique character.
The craftsmen overseeing the project took every pain to maintain the house's authenticity down to the finest detail. Staying here is a cultural experience in and of itself, as every nook and cranny — from the bar to the study to the baths — offers some fresh details to discover.
At dinner, I sat down with Tomi-san, founder of design company Gungendo, and the brain behind the whole endeavor. Her design philosophy with Takyo-Abeke was to populate the historic space with "the nonchalant scenery of everyday life," so that guests feel genuinely at home and can tune in to the ancient ways of life preserved in Omori town.
Towards that end, all guests enjoy their meal together around one table, and what a meal it is. Local produce is the order of the day, spun into a multi-course feast of mouthwatering original dishes. Guests also have unlimited access to the hotel's impressive drinks collection for the duration of their stay, including dozens of jars of aged homemade liqueurs.
The best part of it all? The staff all leave in the evening, and since I was the only guest for that night, it meant I had the entire mansion to myself! That kind of lordly luxury is truly once in a lifetime.
Day 2: An Agricultural Road Trip Through Kawamoto
We began our second day by driving to Kawamoto town, along the banks of the Gōnokawa River. Located in the agricultural heartlands of Iwami, the town boasts lovely pastoral scenery and thriving food industry. One of the area's famous products is perilla leaf (egoma in Japanese), a plant originally from Korea.
We stopped in at O-San Farm in the morning. They produce organic oil from perilla seeds, which they purchase from local farmers. It's a painstaking process but worth it in the end though, as the finished oil is fantastically crisp and healthy.
We get a sample at the production area after watching a demonstration of the pressing process. It's not all about the oil though; O-San Farm also produces all kinds of specialty perilla products, including dressings and egoma kamo: juicy duck meat fed on its perilla plant feed.
The farm itself doesn't usually take visitors, but you can pick up their range of products online, or at the nearby Information Center Kawamoto. As the name suggests, this roadside center offers tourist information (mostly in Japanese), but also houses a shop which promotes local produce and specialty products of Iwami.
Lunch at Onan's A-class Gourmet Zone
Our next stop was Onan town (邑南町), home to a culinary retreat with A-class gourmet status known as Koboku no Mori. The area consists of an onsen resort, farm market, hotel, chalets for rent, and a great selection of fantastic restaurants. Much of the produce used in these eateries are grown in the greenhouses and fields you can see around the lush green surroundings.
We stopped in at Kamuri, a teppanyaki grill restaurant specializing in hearty local meat and vegetable dishes. Here you can sample Iwami wagyu beef, one of the rarest varieties of Japanese beef, with only 200 cattle produced each year. I opted for their pork hamburg steak, which is incredibly juicy and thicker than any I've ever seen before.
This little pocket of Iwami is a fantastic destination for foodies, in part due to the initiatives of the local government. They help sponsor talented young chefs with an agricultural interest to set up in town. That's how Kuroyama-san, the man behind the grill, came to be here. A native of Osaka, he spent two years apprenticing in Tuscany before returning to take Onan up on its offer.
The Last Leg: Roadside Station Mizuho and Iwami Bakushu Brewery
In case you need to pick up any more mouthwatering Iwami omiyage, you've got a few more options for shopping in the area. Continuing down south, you'll find Roadside Station Mizuho, another excellent local produce shop and information center.
Pretty much everything on offer here is locally-sourced, with a heavy emphasis on traceability. In fact, you can actually see pictures of the 400 producers they partner with on the walls above the door. After a quick scan of the headshots, we're able to find Tanaka-san, the lady whose name is on the label of our Japanese cabbage.
I admit, cabbage doesn't exactly make the best souvenir, but their canned boar meat, Onan town cheese, and local craft beer are a little more suitcase-friendly.
In my humble opinion, we saved the best stop of our Iwami gourmet tour for last. This was Iwami Bakushu, a microbrewery that takes pride in its Iwami heritage, displaying the region's famous Iwami Kagura theatre masks on its labels.
They've been brewing for five years now, and are well on the way to becoming a top name on Japan's burgeoning craft beer scene. The brewery itself has a small bar counter at the front where you can try their house specials on tap.
Unless they're extremely busy, master brewer Yamaguchi-san will be happy to show you around their operation as well. Inspired by American homebrewing culture, he's developed his own house methods, which he passes on to prospective brewers from around Japan who come to study here.
Relaxing in a Retro Onsen Town at Arifuku Yoshidaya Ryokan
We arrive at Arifuku Onsen town to the sound of trickling streams and a Showa Era ambiance in the air. A short walk up the cobbled paths leads us to Arifuku Yoshidaya Ryokan, a traditional Japanese hot spring inn that has been run by the same family for three centuries.
They offer traditional tatami-style rooms with futons to sleep on, and two baths segregated by gender. Both of them are as natural as they come. That means no artificial heating, filtering, or pumping; the waters simply spring up directly from deep in the earth to their baths.
Before dinner (served right to my room), I spoke with the waka okami, or the proprietress in training. Aya-san is the latest in a long line of inheritors. After working as a police officer in Tokyo and Shimane, she traded in the uniform for a kimono and returned to her hometown to prepare for taking on the family mantle.
It's a role that seems to fit her effortlessly, as she produces a business card from her obi belt, and an iPhone magically materializes from her sleeve whenever we need some help from Google Translate. She tells me about how the town used to have dozens of ryokan, but now only three remain, along with three public baths.
However, Arifuku Yoshidaya Ryokan itself is thriving and using its influence to revive the town. We walk down an atmospheric alley to Cha Cha Yoshinoya, the cafe that Aya runs in the early afternoons. The refurbished space actually used to be a geisha house, and most of the original features have been retained.
Day 3: Soak Up Some Sun on the Sea of Japan Coast
I have to admit, we didn't get much sun at all on this particular day. In fact, the main thing we soaked up was the ocean water spraying up over the sea walls. However, this gorgeous stretch of coastline offers up plenty to see and do whatever the weather.
Coastal Drive: Asari Beach and Gotsu Wind Farm
First, we drove to Gotsu City's seaside, which boasts a long stretch of white sand beach along its shore. This is a popular hangout for the locals in the summer. Along the back of the beach, you'll struggle to miss Gotsu Wind Farm: a row of huge wind turbines. You'll see these eco-friendly monuments in many places around the prefecture, making for some nice pictures. It's fair to say these were getting a decent workout today.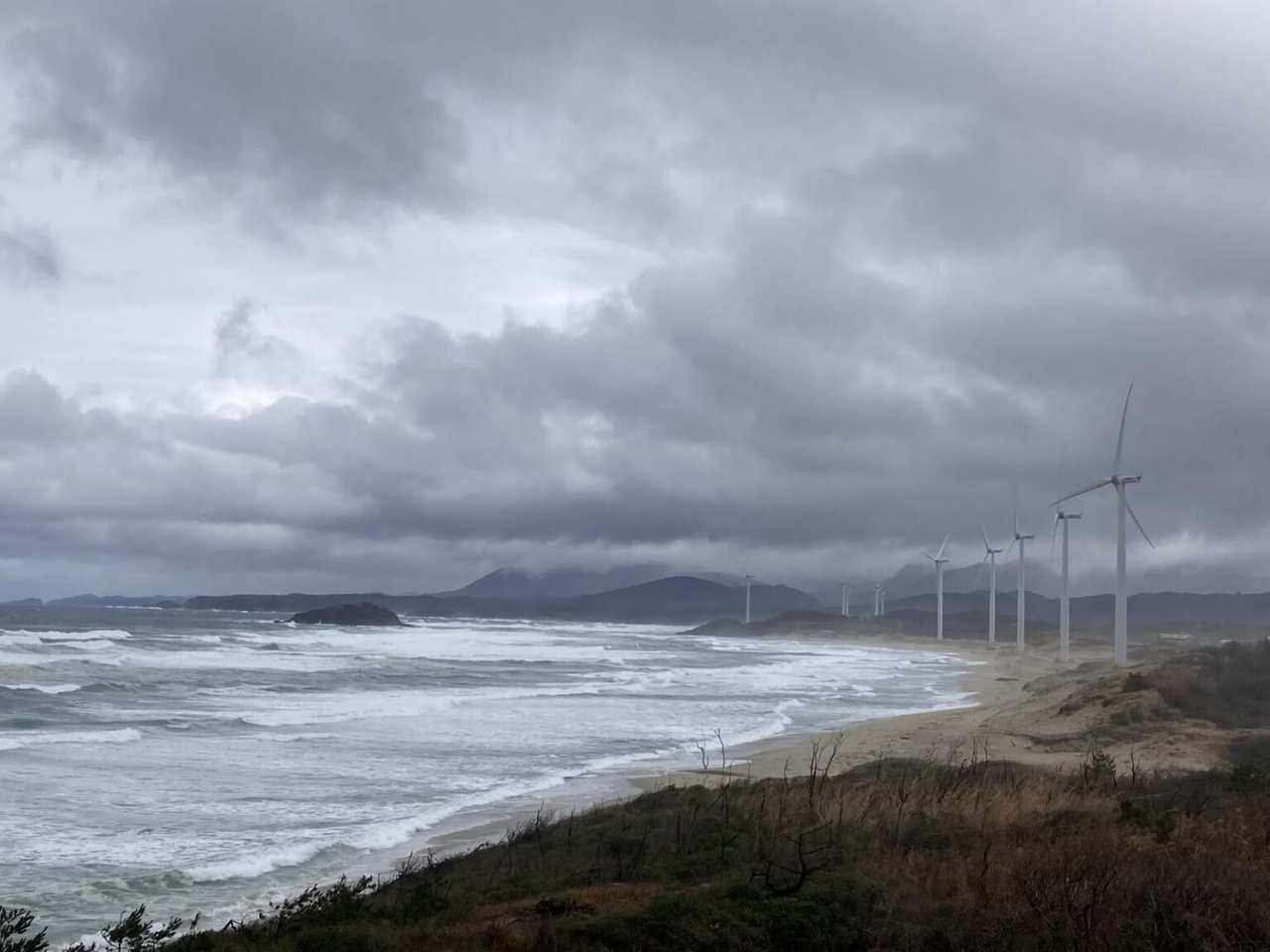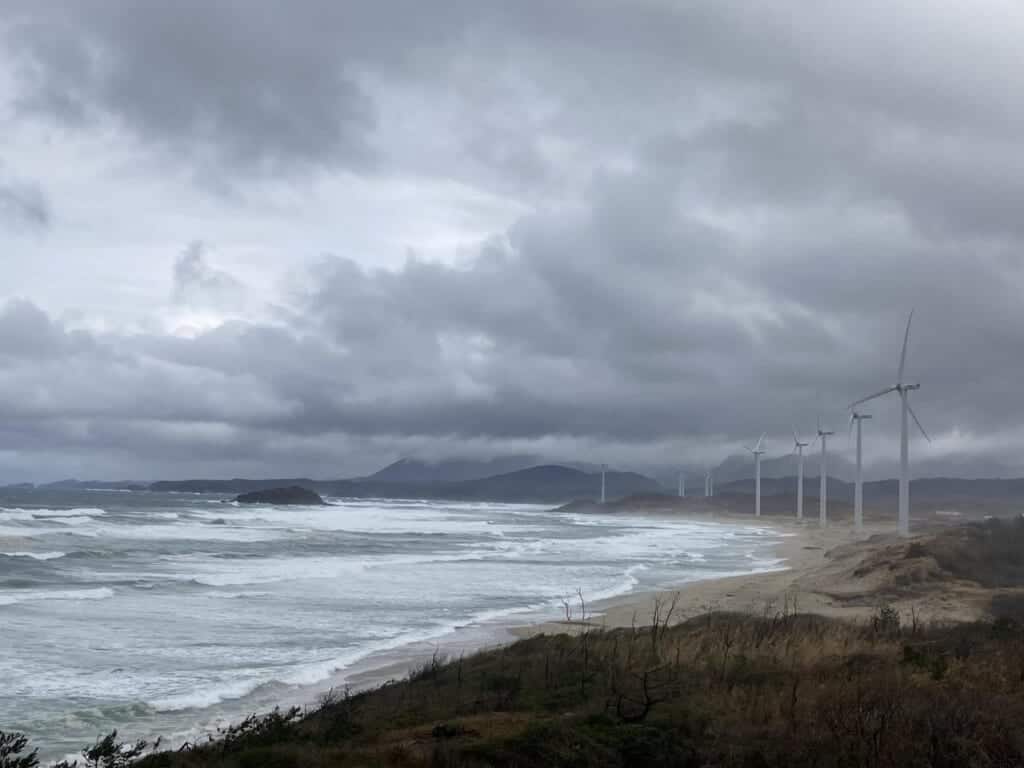 Lunch with a View at Araisokan
Continuing down the coast to Masuda City, you'll find Araisokan, a seaside onsen resort perched on the edge of a rocky cove, looking out over the waves of the Sea of Japan. This coastal inn is a nice mix of traditional and modern, with an older wing featuring traditional tatami rooms and a fresh new wing with western beds.
Some of the rooms even feature their own private baths on the balconies, looking out over the sea. Even if you're just stopping by for lunch, Araisokan is well worth the visit. Floor-to-ceiling windows in the restaurant offer a beautiful view of the sea, while the chef serves up fresh dishes caught from it often the very same day.
They serve various sets from around ¥1500 upwards, and from May to September offer Japanese barbecue dishes on their seaside terrace.
Horse Riding at Sansan Farm
At the back of Masuda City, you'll find Sansan Farm, a family-friendly horse riding facility. Masuda used to host a small racecourse, and the staff here continue the equine tradition of the area. Their mission is about more than that though; Sansan Farm was founded with the goal of enriching the lives of some of the most overlooked members of the community.
Oga-san Is the boss here — a horse grooming and care expert who first proposed the idea for Sansan to the local government. Now he partners with a hospital to run a group home for mentally disabled young people on the site, allowing them to experience the emotional healing power of these amazing animals. Not only that, Mr. Oga even offers the young people employment opportunities as well.
It's an absolutely inspiring initiative, as well as a lovely way to spend a day out, horse-riding in Shimane. They have seven horses in total, four of them thoroughbreds, and offer various experiences from feeding to trekking. For the little ones, they also have ponies and bunnies and plan to offer beachside horse-riding soon.
Sanrigahama Beach and Ebisu Shrine
Stretching along Masuda's coastline is the beautiful Sanrigahama Beach, which boasts white sands and clear waters which can make you feel like you've been teleported to Okinawa. If you visit on a calmer day than I did, the beach is a lovely spot to stop for a sunbathe or a picnic.
It has several beach huts along its 12km stretch, with toilets and changing rooms inside. You'll be spoiled for choice when deciding where to set up, but the best spot is probably down at Ebisu Shrine. This seaside Shinto shrine is perched on a tower of rocks on the beach's west side, like a mini Mont Saint-Michel.
The stairway up to the shrine is cut off at high tide, and when we went, the waves were crashing against the rocks pretty fiercely. I didn't fancy risking a (very likely) tumble into the surf, so unfortunately never got the chance to seek the blessings of Ebisu himself.
A Rural Hotel Experience at Haradaya Ryokan, Kakinokimura
Our final destination for the day was the small village of Kakinokimura, nestled in a valley with cloudy mists rolling along the treetops on either side. This is where you'll find the century-old inn Haradaya Ryokan. This quaint family-run hotel has a decidedly retro vibe, made extra warm and welcoming by the friendly staff.
The rooms are basic tatami-style spaces, the bathroom shared and Japanese style, giving the feeling of a village homestay — a world away from your average soulless city hotel. Here you get a much more personal kind of service, proven when my host offers to drive me to the local hot spring and pick me up afterward!
As it turns out, the proprietor Saito-san is also one hell of a cook. At dinner, he serves up a mouthwatering traditional feast of local fish, meat, and organic vegetables, some of which are grown out back on their own plot of land. The food perfectly represents the calming, pastoral atmosphere of this tranquil mountain location.
Day 4: Discovering Iwami Heritage at Historic Tsuwano Town
We begin our final day by driving to the historic samurai town of Tsuwano, home to ancient culture and a bustling community. First on the itinerary is Taikodani Inari Shrine — one of the five great shrines dedicated to the god of rice and agriculture. It enshrines the same deity as Fushimi Inari Shrine in Kyoto, and it shares the same picturesque red torii gates on one of its staircases.
Get Triple the Blessings at Taikodani Inari Shrine and Around
You'll find two shrines in the complex and two smaller shrines hidden at the back where you can make an offering to the shrine's kitsune fox messengers. Grab a parcel of aburaage fried tofu for ¥200 at the box near the entrance and place them in the kitsune holes in front of the smaller shrines. It's said that these holes magically connect to the kitsune fox messenger's dens.
If you still haven't had your fill of blessings, you can also take a short walk to Yomei-ji Zen Temple with its distinctive thatched roof, and Otome Toge Maria Chapel, a Catholic memorial to Japanese Christians exiled to the area in the Meiji Era.
The Ruins of Tsuwano Castle
Just a short walk from the Inari Shrine, you'll find the single-seater chairlift, which takes you up to the town's 200m high Tsuwano Castle Ruins. Unlike the showy castles of the big cities, Tsuwano Castle was all about sheer defensive power. In fact, the entire mountain was once scattered with booby traps such as hidden spike pits (don't worry, they're all gone now).
Unfortunately, the castle buildings themselves have long since disappeared too; the main tower was destroyed by a lightning strike in 1686, and the rest was dismantled in the Meiji Era. What remains are the stacked-stone bases: a monument to the town's history and gorgeous viewpoint over the valley below.
The uppermost tier is the best place to watch the historic steam train pass through town every weekend at around midday. In autumn, you can also witness the unkai sea of clouds phenomenon here on some mornings. Making it up there takes about 20 minutes of walking from the upper chairlift station, or about 40 minutes you opt for the pleasant hiking trail from the base.
Authentic Local Shopping around Tonomachi Street
Tsuwano's townscape is one of the best-preserved townscapes in all of Japan, best experienced with a slow stroll down Tonomachi Street. This was once the home of the samurai class, whose white mansions still stand on either side of the road, and streams filled with truly gigantic koi carp on either side.
Here you'll find the Hanko Yorokan samurai school, where some of the country's most famous thinkers and commanders once studied. Head through here to the riverside to see a statue commemorating the town's sacred Tsuwano heron dance. This ancient ritual is believed to help ward off disease, so it was performed twice in 2020 for… obvious reasons.
Continuing further down the street, you'll pass the Catholic church, and cross the road into Honmachi Street, the old merchant's district. Here there are plenty of local stores and workshops to discover. There's a centuries' old incense shop, a sweet shop that specializes in local chestnut recipes, and a sake brewery that has been using some of the same equipment since the Meiji Era.
My favorite stop of all was Kamiryo Chaho, a shop that specializes in the local chamaecrista herbal tea. It's run by a young International couple, Rumi Ricotta and her French husband Adrien. They offer custom tea-blending workshops for visitors to the town. Contact them through Instagram for bookings (@Tsuwano.Zaracha).
If you're looking to stay in the area, then there are a handful of Tsuwano hotels to choose from in the area around the station. The top-rated Tsuwano accommodation tends to be on the more traditional side, but prices are very reasonable for the experience.
Accessing Iwami
By train: The JR Yamaguchi Line runs northwards through Iwami area. Transfer at Shin-Yamaguchi Station.
By air: Flights to Hagi-Iwami Airport, Izumo Airport, and Hiroshima Airport available from most major JP airports.
Car rental: Rental stores available in Hamada, Hiroshima, Oda, Izumo. Prices from ¥3000/day.
By bus: The highway bus from Hiroshima Station or Hiroshima Bus Center takes approx. 2 hours to Hamada Station (Between April 1, 2021 – March 31st, 2022 a one-way ticket costs only ¥500 for visitors with a non-Japanese passport. Download this PDF for more info).
This little-travelled corner of Japan is truly one of the best hidden gems in the country, not only for its strong cultural credentials but also the welcoming attitude of the people who call it home. There are the farmers producing fantastic local food, business owners carrying on centuries' old family traditions, and young professionals turning old samurai houses into contemporary eco-conscious businesses.
Each of them shows immense pride in everything their region has to offer and invites visitors into their rural Iwami communities as one of their own. If you just need a break from it all, to tune in to a calmer way of life, you'd do well to take them up on the offer.
Sponsored by Iwami Tourism Promotion Committee