After my relaxing stay in a ryokan in Hita, I continued my hot springs tour of southern Japan. I was on my way to a well-known onsen town in Oita Prefecture: Beppu, Japan. There are so many hot springs in Beppu that no matter where you go in the city, there is natural steam everywhere!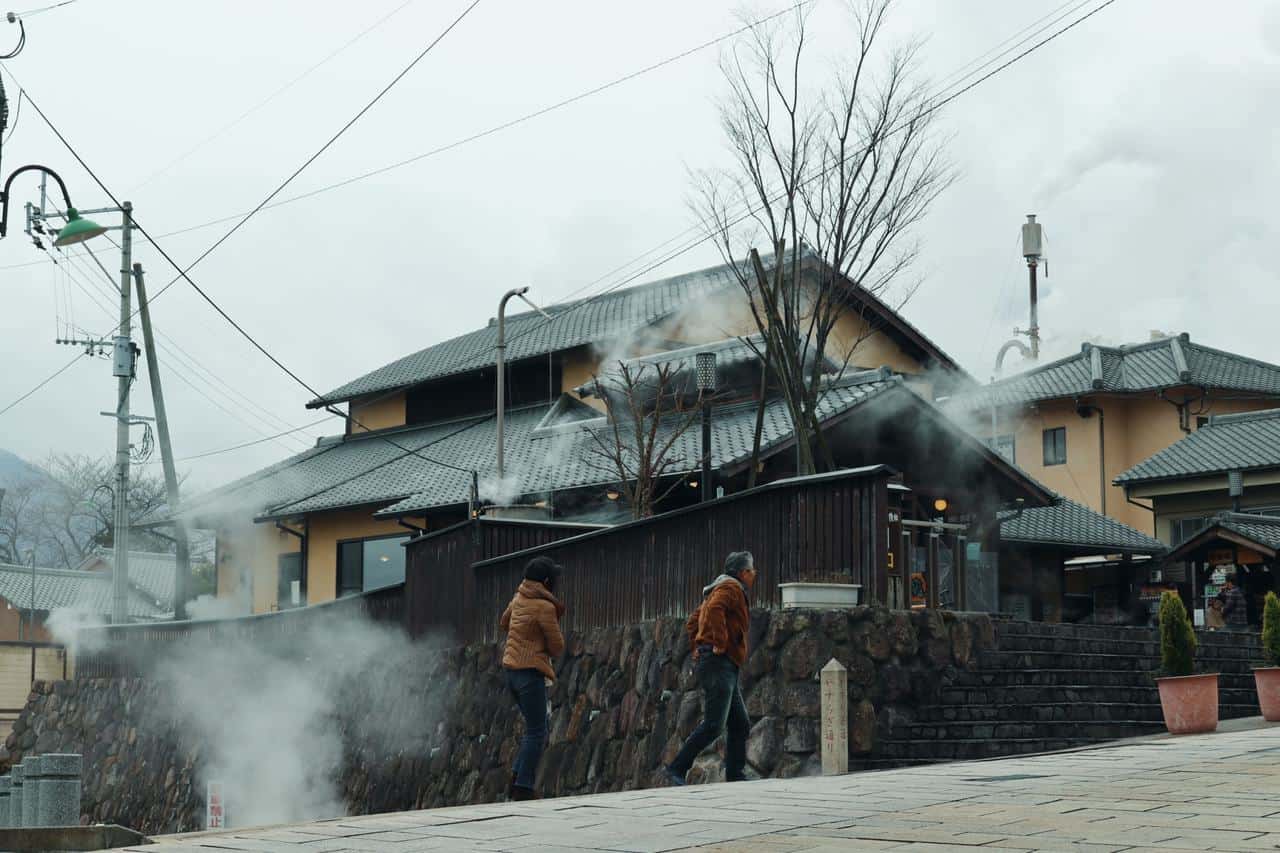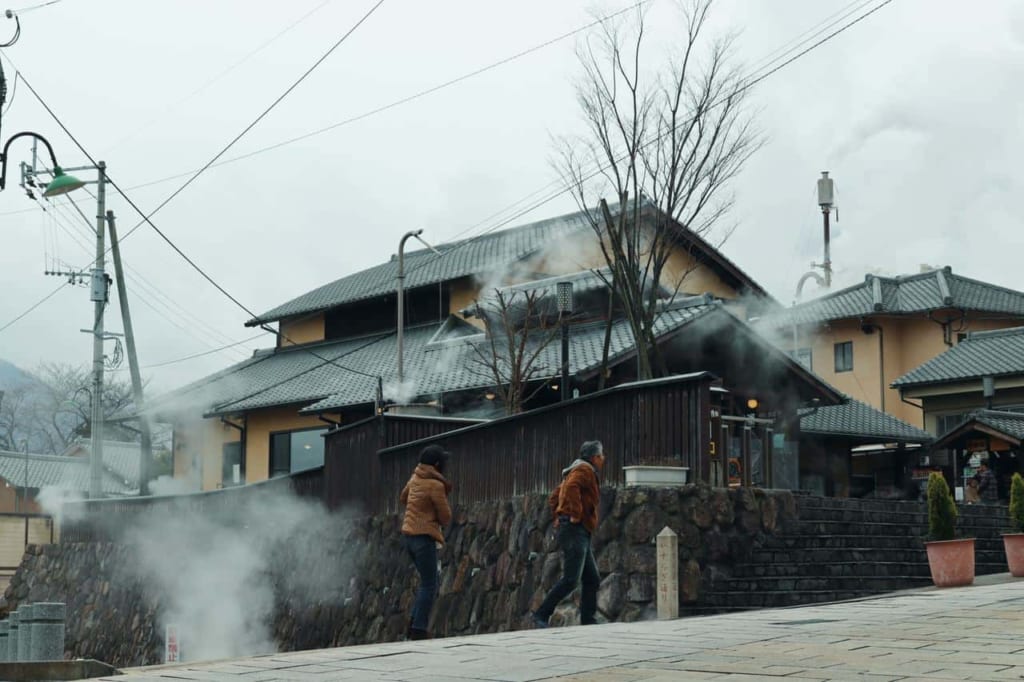 Kannawa, Beppu's Famous Hot Springs Area
Beppu is located at the base of Mount Tsurumi, a steaming active volcano. One of the areas with the most hot spring activity is Kannawa, one of the biggest onsen regions in the Japanese archipelago.
From Beppu's Station, I took a bus to Kannawa and throughout the journey, I could see clouds of steam emerging from the ground. In Kannawa, the effect is almost unbelievable! The district was built on an active hot springs area. That is why there is steam emerging from everywhere: the ground, the walls, the chimnies, everything is surrounded by the steam clouds like a thousand active volcanoes.
It is said that this area was developed by a Buddist Monk from the 13th century. Kannawa was a dangerous place because the hot water burst from the ground and if someone was careless, they could easily be burned to death by scalding steam or water. So, little by little, they constructed an underground system in order to regulate the underground hot springs, which eventually became Beppu city.
The Seven Hells
On my itinerary, I included one of the seven "hells" of the city. We wrote about the Seven Hells in another article, so this time I would focus my tour on other attractions of the city.
I chose the Sea's Hell (Umi Jigoku) for my visit, located next to a mountain. It was impressive seeing the big cloud of steam emerging from a hole in the ground. The water here is so hot that it is impossible to use it as an onsen!
Onsen…for the feet!
Many people have heard about onsen (natural Japanese "pool" with hot springs), but,… What about foot onsen? In Beppu and some other areas of Japan you can find these small public spaces called ashiyu (足湯 – foot bath). It is nice to use it to relax your feet with very hot water.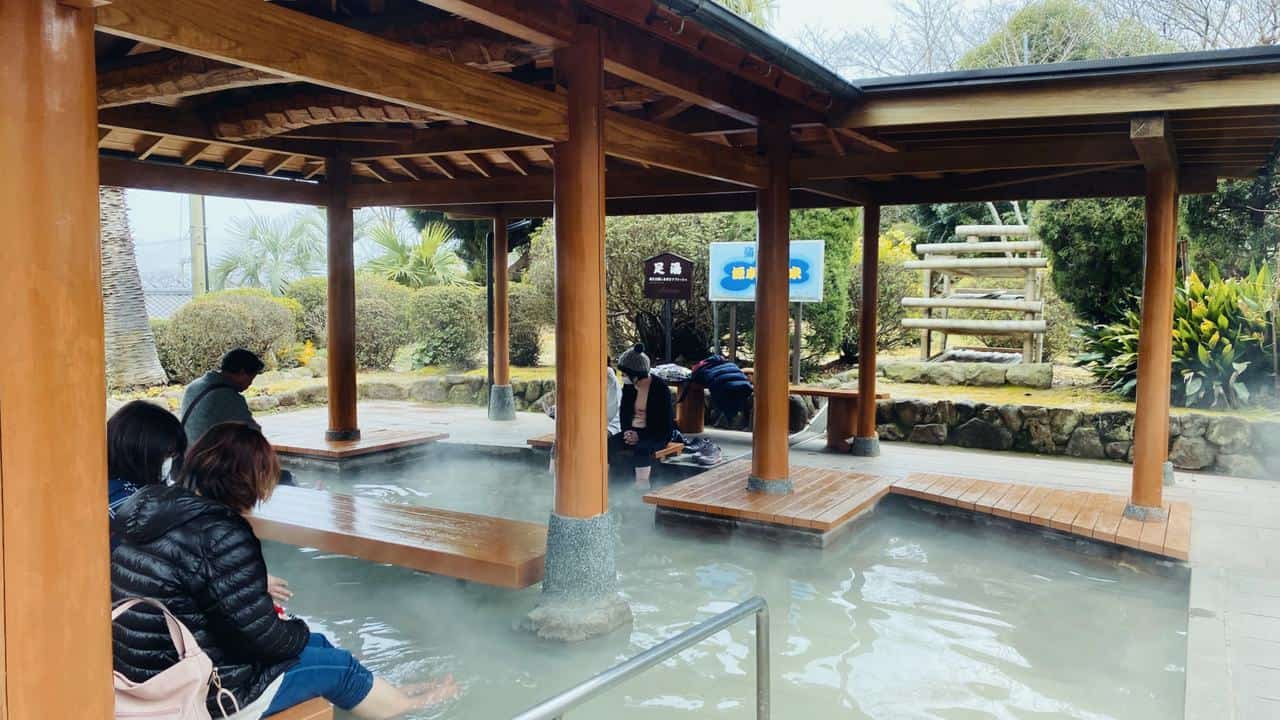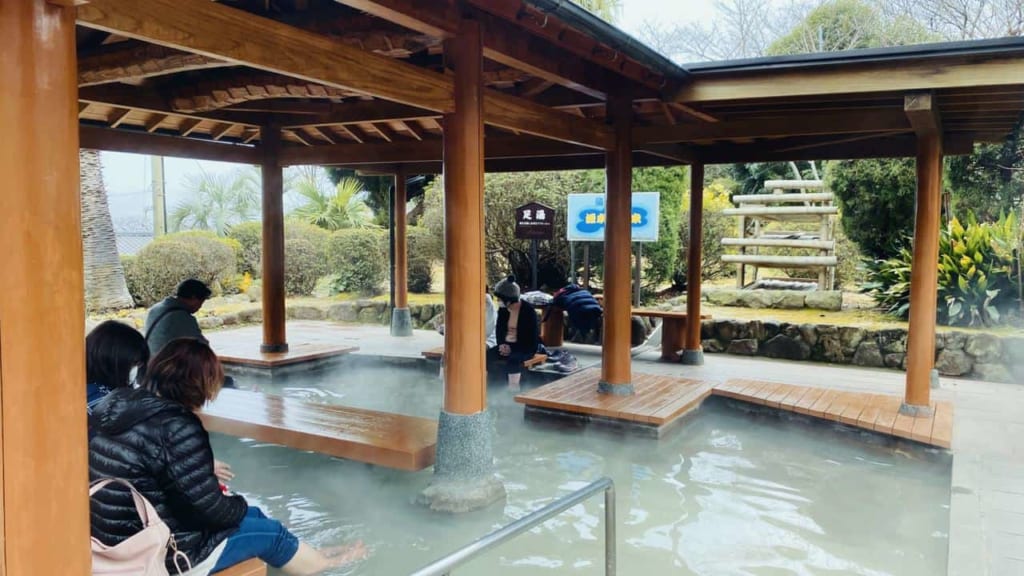 Ashiyu are usually free access and you just have to bring a towel to dry your feet. You don't have to be naked, of course, which is a good way to experience Japanese hot springs without taking off your clothes.
During my Beppu stay, I saw three ashiyu: one next to the Jigokumushi Kobo Kannawa, which was not operating that day. Another was next to the Mushiyu Onsen and the third one was in the Sea's Hell, where I tried it.
It was really funny to put my feet in the hot water. After so many days of walking around, it helped to refresh my tired feet. But remember: the water is really hot! When I took my feet out, it looked like I was wearing red socks!
Mushiyu Onsen: Most Famous Onsen in Beppu
In this onsen you can relax in its hot springs. These waters are good for many illnesses such as chronic joint pain, stress, and depression. One of the most famous experiences there are the steam baths, known as Kannawa Steam Bath. Consisting of a sauna inside a rock cabin with medicinal herbs on the floor, you lie down on the floor and let the steam surround you for 10 minutes. It is said that these baths help keep your skin looking young and healthy.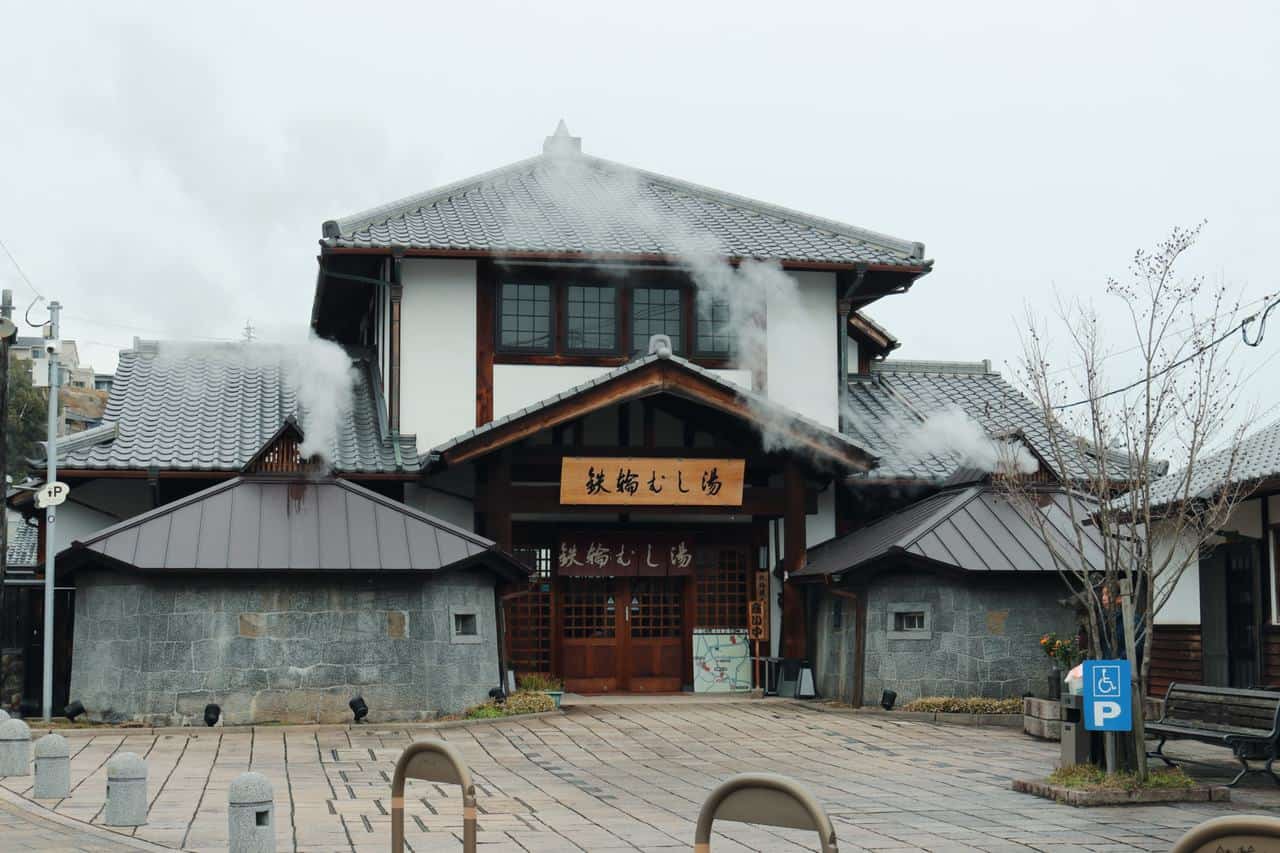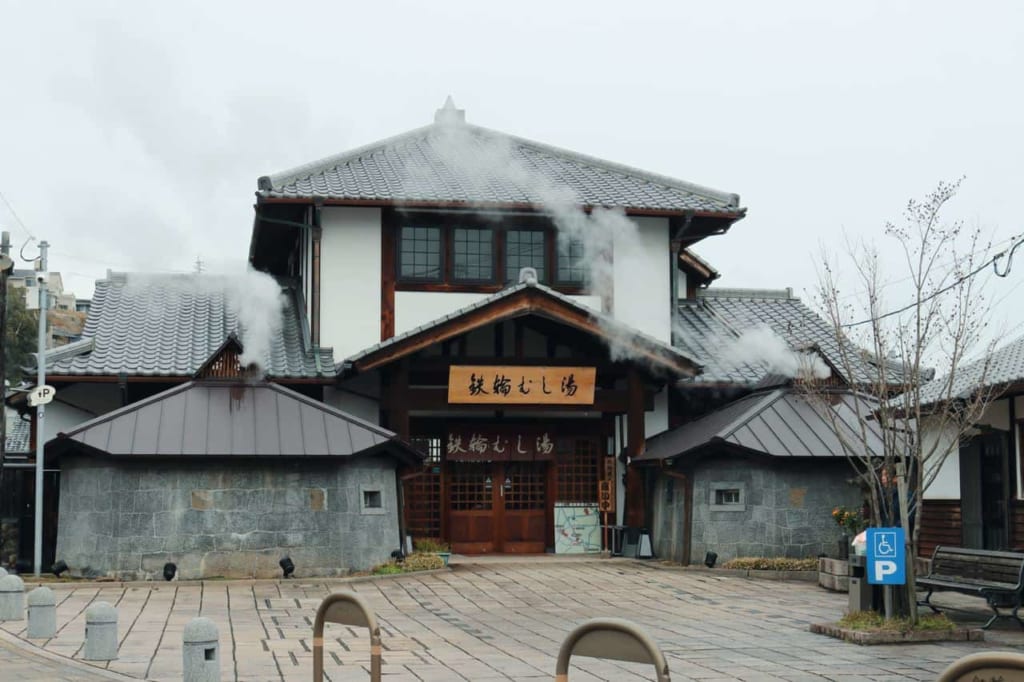 Mushiyu Onsen information
Hours: 6:30am to 20:00pm (last entrance at 19:30h)
Fees: 520 yen general fee. Soap, shampoo, and dryer included.
Extras: Towel: 310 yen. Bath towels to rent: 210 yen. Locker: 100 yen. Men's clothes: 830 yen a shirt and 550 yen trousers. Women's clothes: 780 yen a shirt and 450 yen a pair of short trousers.
Eating Hot Springs Steamed Food in Beppu
In Beppu, you can find delicious food, such as the well-known fried chicken of Toriwaka or Gokokuya ice-cream.
During my visit, I ate at the famous Jigokumushi Kobo Kannawa. The distinctive feature of this restaurant is that you can eat food steam cooked with the very same hot water running around the city. The system is unique: you order what you want to eat from a machine (I chose chicken, potato, sweet potato, and pumpkin). When it is your turn, they gave you the raw food inside a basket and a timer, then you go to an adjacent room with many steam ovens.
There, you put on gloves and with the staff's help, you put the basket inside the oven with the boiling water. Once inside, you start the timer and leave your food. When the countdown is finished, you go back to the room and pick up your food, then return to your table and enjoy it!
If you want to know more about Oita Prefecture, please read these articles:
– The samurai town of Kitsuki and the Kunisaki Peninsula
– Oita city
– Beppu, the onsen city
– Oita's little Kyoto – Mameda Town in Hita
– Tensui, the magnificent ryokan with onsen
How to Get to Beppu, Japan
From Tokyo, I recommend you take a flight from Haneda to Oita Airport, which takes about 1 hour and 25 minutes. After that, you have to take the Airport Bus from the airport and it will take about 50 minutes to arrive at Beppu.
If you travel from Osaka, you can take a 55 minutes flight from Osaka Itami Airport to Oita Airport. After that, you have 50 minutes until Beppu with the Airport Bus.
If you want to travel by train, take the Shinkansen from Shin-Osaka Station to Kokura Station. Once you arrive there you have to change trains to the Nippo Line. Altogether, it will be about 3 hours and 40 minutes.
Sponsored by Tourism Oita