Osaka is famous across Japan for its delicious cuisine, vibrant nightlife, and friendly people. It's a crazy city full of neon lights, posters and facades with singular decorations and street food stalls. But, unlike the neighboring Kyoto, Osaka is not particularly known for its temples and shrines.
We're used to see images of the crowded and bustling streets of Namba, Shinsekai's retro-futuristic atmosphere, the endless streets crammed with local shops in Tenjinbashi or Umeda's massive department stores.
However, there's also a traditional side to the city. Its beautiful castle surrounded by cherry blossoms in Spring and its many shrines and temples evoke a feeling of a more classical Osaka. And, as a lover of Japan's traditional culture, I wanted to uncover that unknown side.
But instead of visiting its well-known classic spots, I decided to seek out other places that are keepers of the singular and eccentric essence of the city. Some of these places are so unusual, not even Osakans are aware of them.
I invite you to discover these special and unique temples and shrines in Osaka, with some surprising features that make them stand out from the rest.
Yasaka Namba shrine in Namba, Osaka
Around an eight-minute walk from the bustling Namba streets, you can find one of the most unusual Shinto shrines of the city: Namba Yasaka (難波八坂神社).
Recently it has become popular on Instagram, with many people coming here to take pics or selfies in this photogenic spot and posting them on their social media.
The main distinctive feature is the building shaped like an enormous lion's head (called Ema-den), although it reminds me of a dragon. Inside its mouth, there is a small shrine where local people pray for good luck and long-lasting prosperity in business and school. It is said that the open mouth will swallow the bad luck and the negative spirits.
Although I had already seen some pictures before coming here for the first time, I was amazed by its huge dimensions: 12 meters (39 feet) tall and 11 meters (36 feet) wide. The lion's fangs are enormous and its gaze is particularly penetrating.
On the lion's right side, is the shrine's main hall building which I find particularly beautiful because of the contrast between its white facade and its green roof. Next to the hall, there is a small shop where you can buy the shrine's lucky charms. Also, you can buy a unique ema (a small wooden plaque for writing prayers or wishes) or an omikuji to find out your fortune.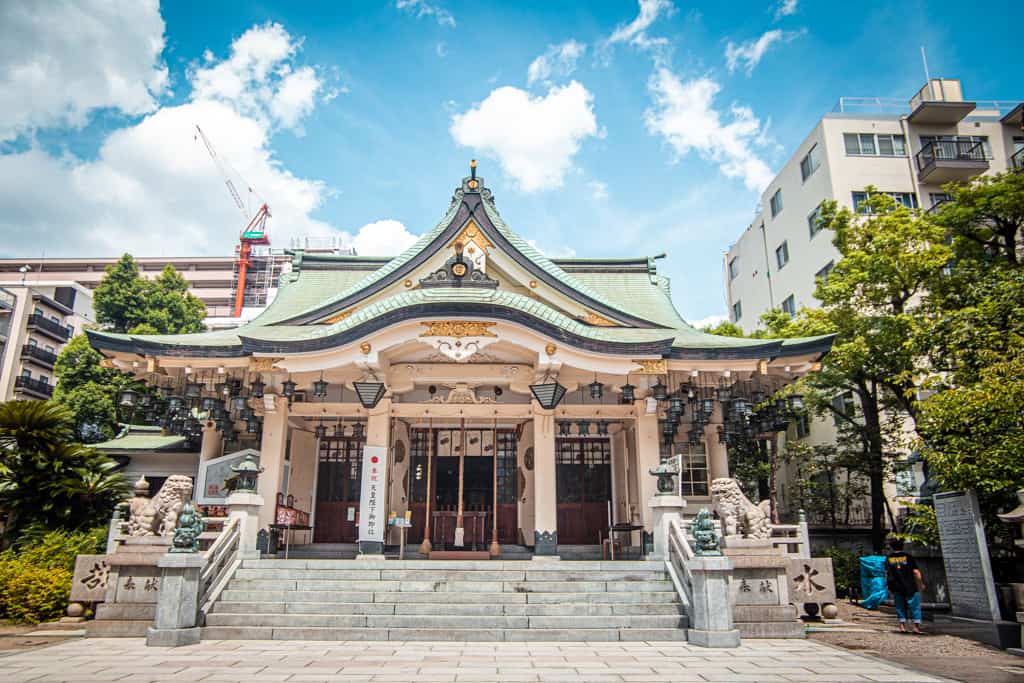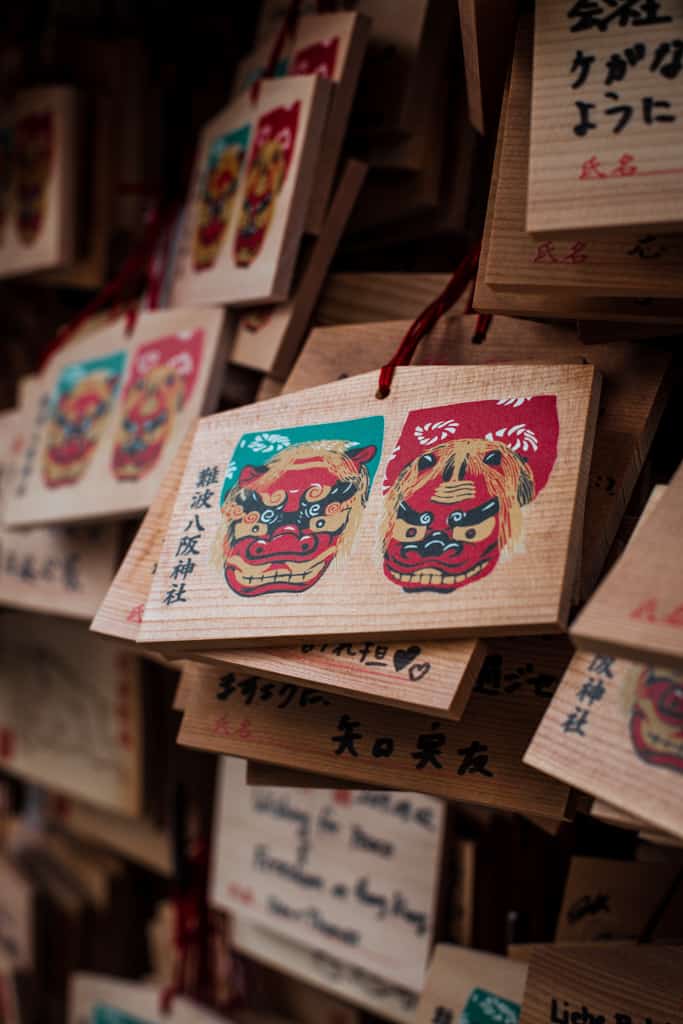 Tsuyu no Tenjinja Shrine in Umeda, Osaka
The next shrine, Tsuyu no Tenjinja (露天神社), better known among locals as Ohatsu Tenjinja or Tsuyuten, is located near another one of Osaka's main tourist spots. It is 10 minutes away from Umeda, one of the biggest shopping districts of the city.
At first, I struggled to find the shrine's access, but I finally discovered a small gate among bars and restaurants in a street notably popular among the Japanese people for having drinks after work.
I recommend visiting this place at night because besides the lively neighborhood atmosphere, the shrine is illuminated after sunset.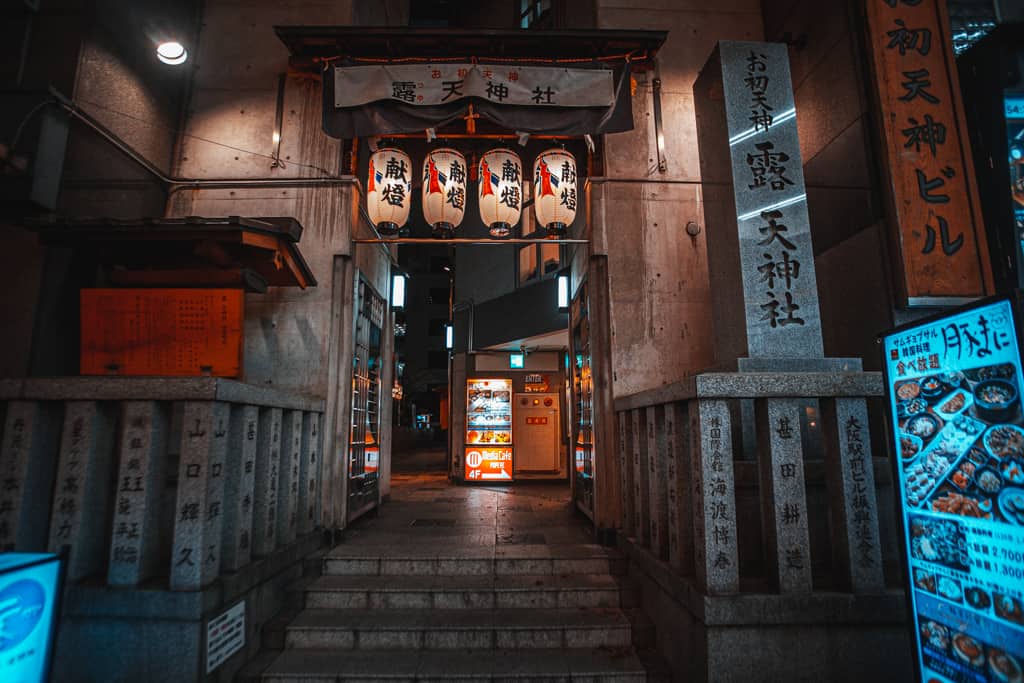 The Love Suicides of Tsuyuten
Tsuyuten, one of the oldest shrines and temples in Osaka, harbors a tragic love story over 1300 years old.
The main characters of this tale are Tokubei, a trader apprentice and his lover Ohatsu, a prostitute working in a tea house.
Their story is a combination of family pressures, money issues and a friend's betrayal. These circumstances prevent the young lovers' romance, who find themselves unable to stay together in spite of their love. Therefore, they decide to end this tragic situation by committing suicide in the forest that once surrounded Tsuyuten shrine.
Nowadays, Tsuyuten is a popular spot among young couples or people longing to find their true love. You can find references to this tragic love story in every nook and cranny within this shrine. There are many statues and images of the young couple and even an altar dedicated to love.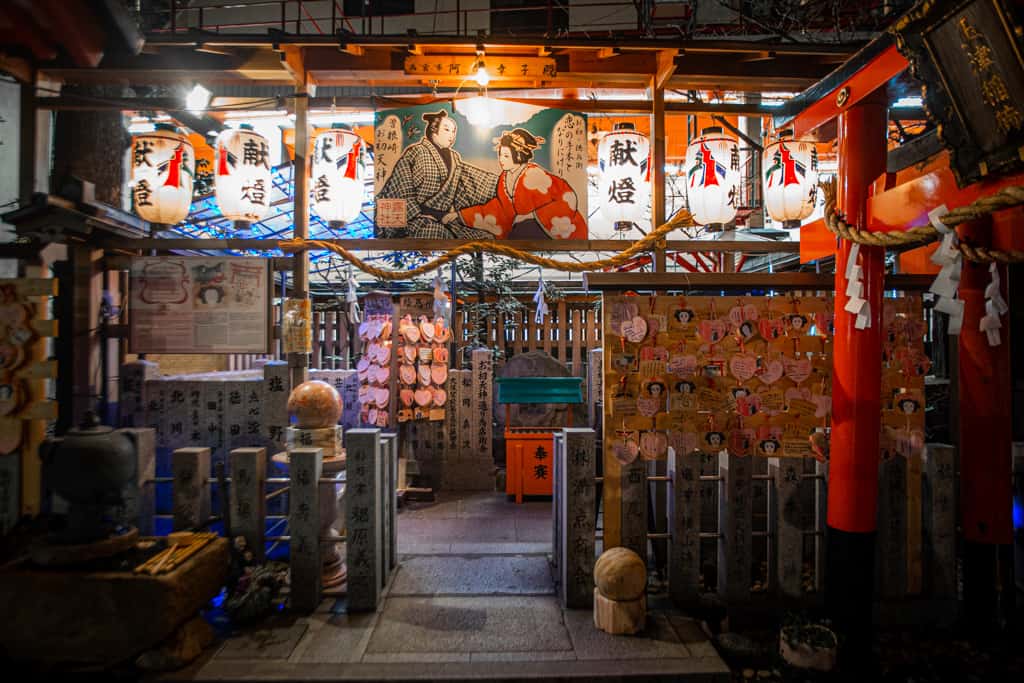 In addition to discovering the lovers' legend, one of the things that surprised me was the ema plaques of Tsuyuten. A geisha's head is painted on them, representing Ohatsu, but her face is left blank. Many young Japanese girls often come to Tsuyuten to paint Ohatsu's face and write their wishes on the opposite side of the plaque. There are many funny and original designs of the heroine, giving the shrine its nickname, Ohatsu Tenjinja.
Himejima Shrine in Himejima, Osaka
Only ten minutes away from Umeda, after an easy train trip, we arrive at Himejima station, which has the same name as the shrine that we're about to discover. This sacred spot is located around seven minutes on foot from the station, in a peaceful residential area.
I discovered Himejima shrine (姫島神社) while searching for limited and unique goshuin. And I found other things that caught my eye.
Himejima's ema are not wooden plaques. Instead, prayers and wishes to the gods are written in scallop shells. After writing your ema, you hang it up on one of the four pillars full of other shells that you can find in the shrine.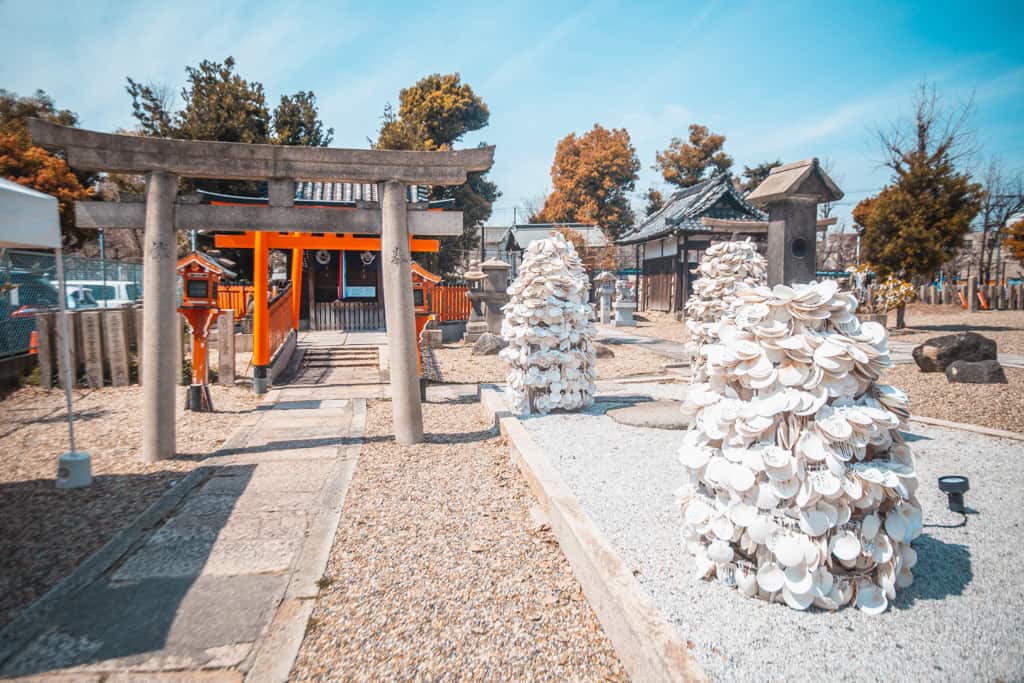 In the center of these four pillars, there is a statue with a tiny hole. If you want the wish you wrote in your ema to become true, you have to throw a small ball that you can obtain in the shrine through the small hole in the statue.
At first glance, it seems easy but it's actually difficult to toss the ball through the hole. Fortune will only smile on a few lucky people, or so says the tale.
Unique lucky charms
Another feature that I also like here is its unusual omikuji. In addition to the classic fortune-telling paper similar to other Japanese shrines and temples, there is also a different type of omikuji. For 500 yen, you can buy a small hand painted wooden doll, similar to the Russian Matryoshka. At the base of this doll, the paper with your fortune is hidden.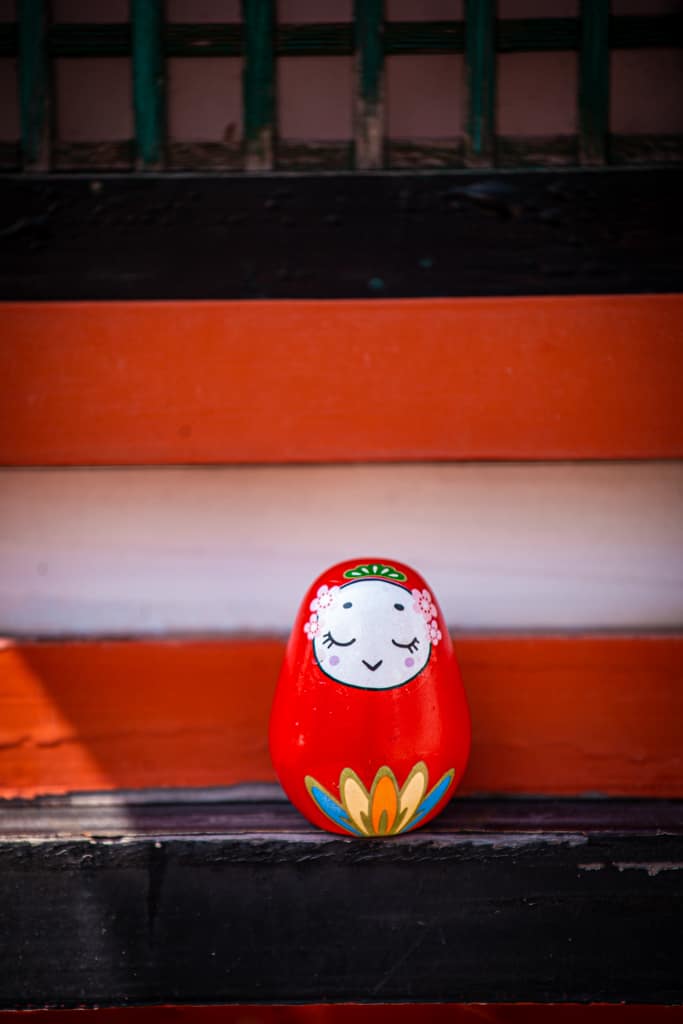 With this original omikuji, you are not only able to know what the future has in store for you but also take home an original and handcrafted memento. It's a different item in comparison with those from other temples and shrines in Osaka.
And, as previously mentioned, Himejima is a must-visit place for goshuin collectors. In addition to several limited edition designs that change every month, the basic design features a red Torii because Himejima is filled with these beautiful sacred gates.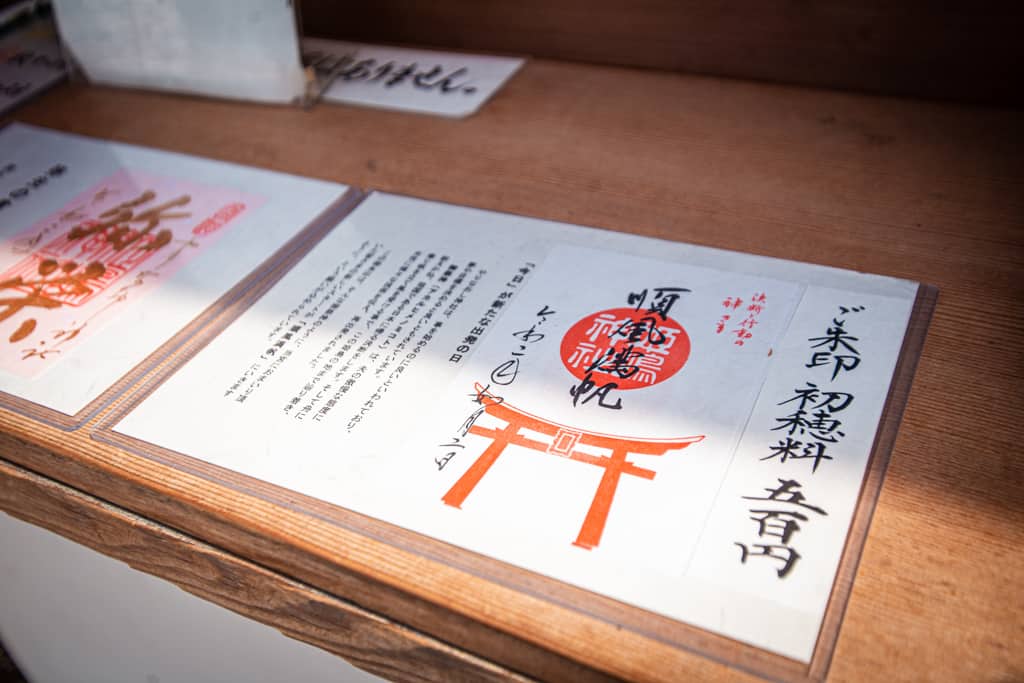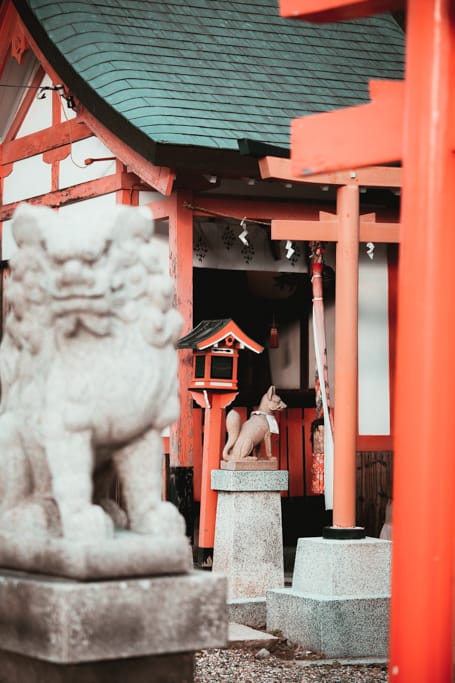 Senkoji Temple in Hirano, Osaka
In the Hirano neighborhood, easily accessible from Tennoji station, you can find one of the most original temples in Osaka, and I'd even dare to say in all of Japan.
Senkoji Temple (全興寺) is the frontier between heaven and hell, between good and evil. Its an experience only suited for the most avid adventurer, where you'll be able to verify if your soul is pure or if a demon lurks within you.
The first thing you discover after passing through the temple's main door is a representation of Fudo Myoo, the unmovable. Also known as Acala, one of the guardian deities in Buddhism. Its ferocious visage, with two fangs protruding from its mouth certainly caught my eye since it's in juxtaposition to the way other Buddhist deities are portrayed, like the gentle Buddha.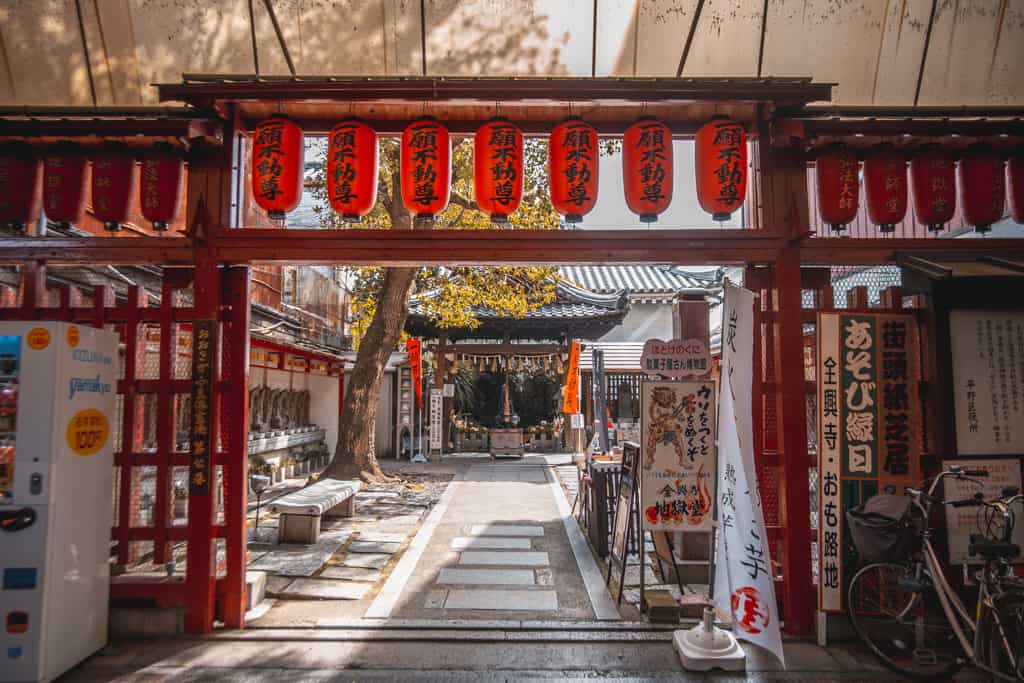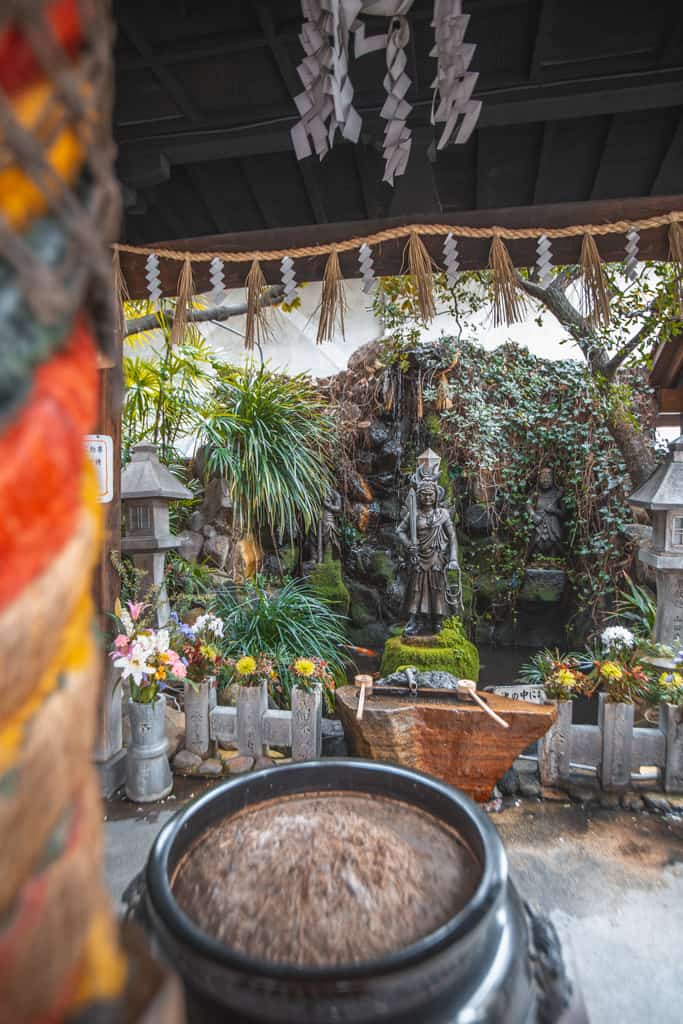 After passing through the shop where amulets and other temple goods are being sold, you begin your trip to hell. In order to access hell, you first need to buy a ticket for 100 yen which will allow you to cross the doorway into purgatory.
The Gates of Hell
Before entering, you can fill out a short questionnaire on a machine that will check if your soul is heaven worthy or hell-bent. This machine will ask some questions (you can find a sheet with instructions translated to English to the right) which you will be required to answer according to your personality.
Next to this machine, there is a QR reader where you scan the ticket you bought in order to open the gates that will take you straight to hell.
After entering through the door, you find yourself in a small, dimly-lit room, surrounded by demons and other bizarre creatures. Below the altar in front of you is a bell that you strike with a mallet to kickstart the event sounds and the short film that you can watch in the room's monitor.
In front of you is Enma, the lord of the spirits and the dead and guardian of the underworld.
On the right side, behind a showcase, is the terrifying representation of Enma's protective demon, and to his right you can see Yama Uba, a character from Japanese folklore. Yama Uba is known as the Mountain Witch and it is said that she will eat any unfortunate soul that may stand in her way.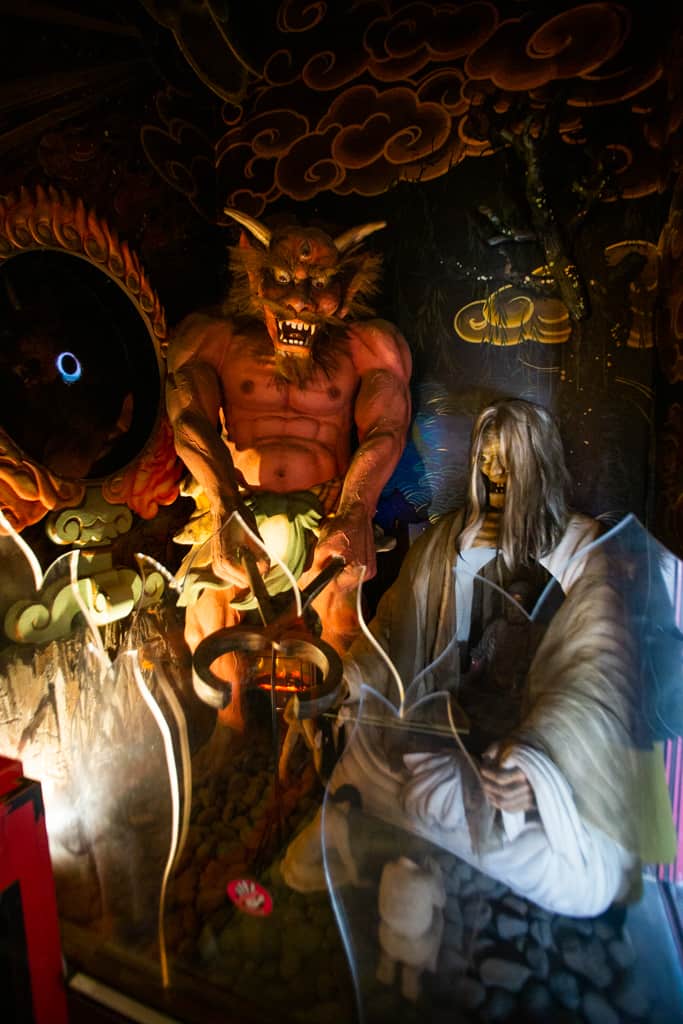 On the left side, the Ten Kings of Buddhism are represented. They are tasked with judging people's souls and deciding if they will be able to reincarnate.
Stairway to Heaven
Upon leaving the underworld, it is now time for your soul to visit heaven. Paradoxically, Senkoji's heaven is underground. After going down the stairway to heaven you enter, again, another dimly-lit room. In the center there is a Mandala, the Buddhist geometric figure, and on the walls, surrounding this sacred symbol, we can find the presence of 151 Buddhas.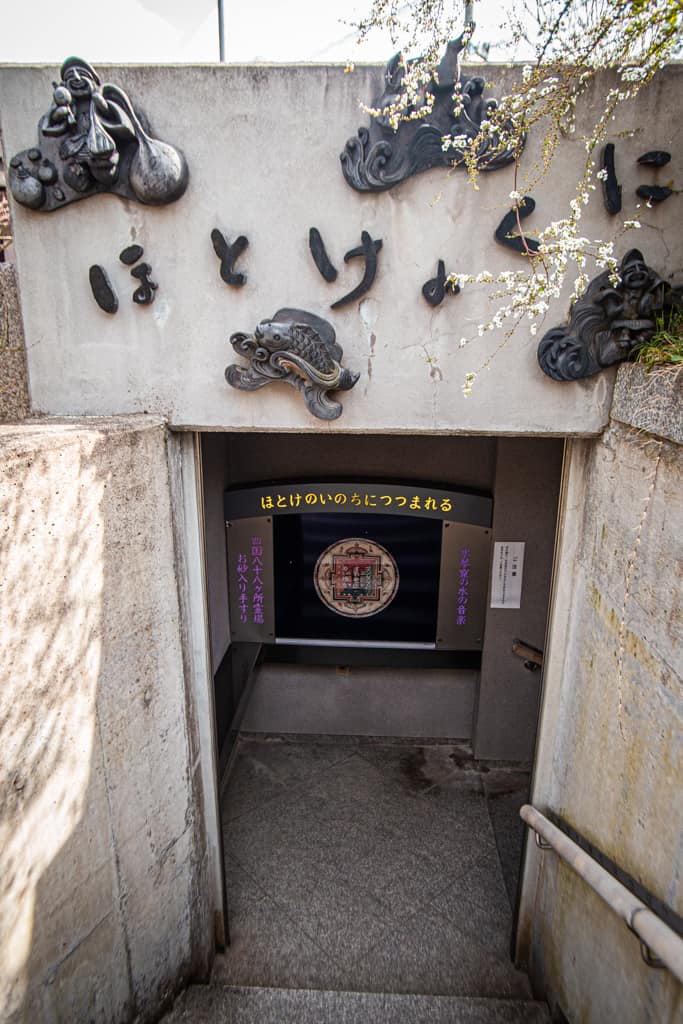 Dagashi-ya, the Old Japanese Confectionary
Within the same temple complex, there is a small room playing the part of a dagashi-ya. The dagashi used to be the shops during the 1950's and 60's where Japanese children were able to buy sweets, snacks, and toys.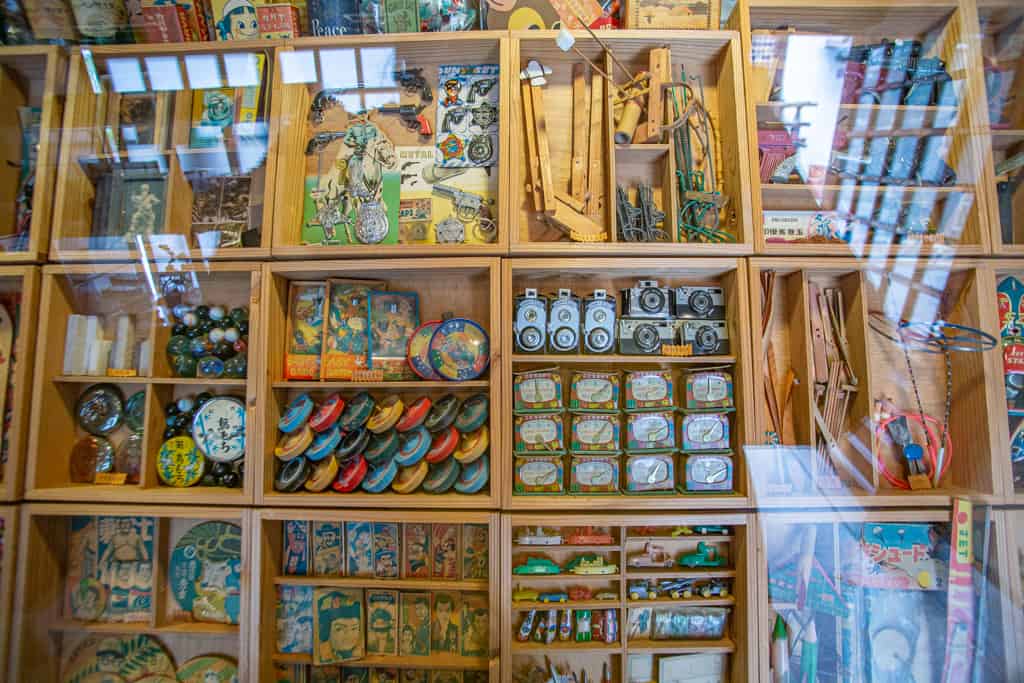 Senkoji's temple complex is quite large and filled with small details that are worth being discovered. During my visit, since there were lots of tourists, one of the people in charge of the temple accompanied me to explain a myriad of details I didn't know about Buddhism and Japanese culture. It was a unique experience in one of Osaka's most surprising and unrivaled temples.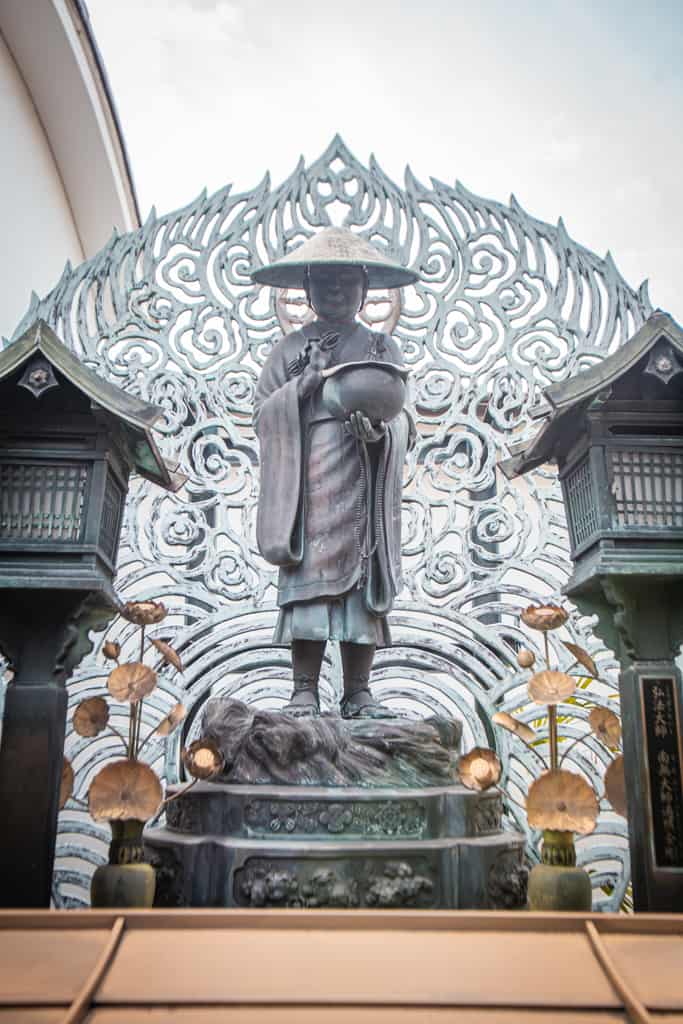 Nunose Shrine in Matsubara, Osaka
Nunose shrine (布忍神社) is located in a small and quiet village named Matsubara. It's somewhat far from downtown Osaka although it's easily reachable from Tennoji. The closest train station is called Nunose, like the shrine.
Matsubara is a rural area with just a few inhabitants, but it becomes packed with people during February on Setsubun (February 2nd) because a famous paper lantern festival is celebrated in this shrine.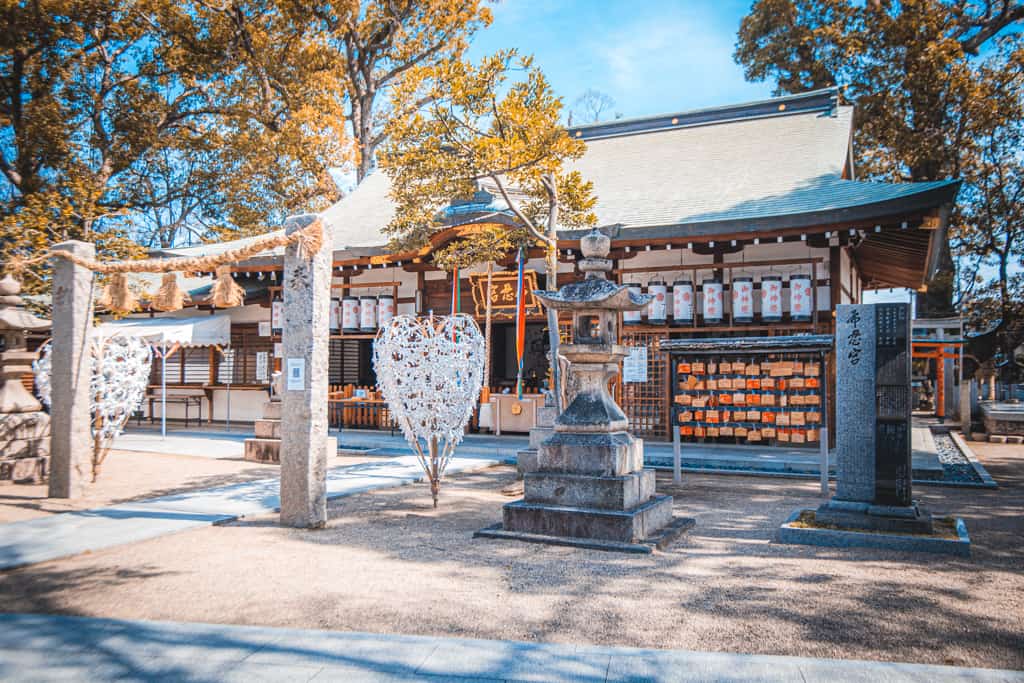 Apart from this festival, Nunose is also becoming popular in social media because of its peculiar omikuji (fortune-telling papers). In this case, they are called koi mikuji, because unlike normal omikuji which predict different matters like love, health, business, or studies, Nunose's koi mikuji are only related to love.
A Different Kind of Fortune
There's also something else setting them apart from the normal omikuji, which are usually restrained, serious and written in small characters.
Nunose's koi mikuji consists of a sheet of paper with a simple phrase written in large Japanese characters and sometimes with a dash of humour.
My koi mikuji states the following:
いつ
選ばれても
いいように。

いつ
捨てられても
いいように。
Which in English would mean something similar to "When you're chosen, when you're abandoned".
This means that with regards to love you need to be prepared and have a strong heart to withstand all kinds of situations, good and bad alike.
The temple staff explained to me that they chose this type of omikuji because when people buy a normal one, they usually only pay attention to the general fortune: if it's good, bad or mediocre. But seldom do people care about the details of the fortune.
That's why they wanted to create an omikuji dedicated to be simple yet impactful, encouraging self reflection and thus, they retained an artist to design the koi mikuji.
People are uploading their koi mikuji photos on social media and some really amusing phrases can be found like these ones:
I want to get married. I want to get married. I want to get married. I want to get married. I want to get married. I want to get married.
What a shame.
You are about to break up.
Truth be told, with such shocking and original koi mikuji like these ones, I wished that I had bought more and seen other phrases. These are the most amusing fortune papers out of all temples and shrines in Osaka.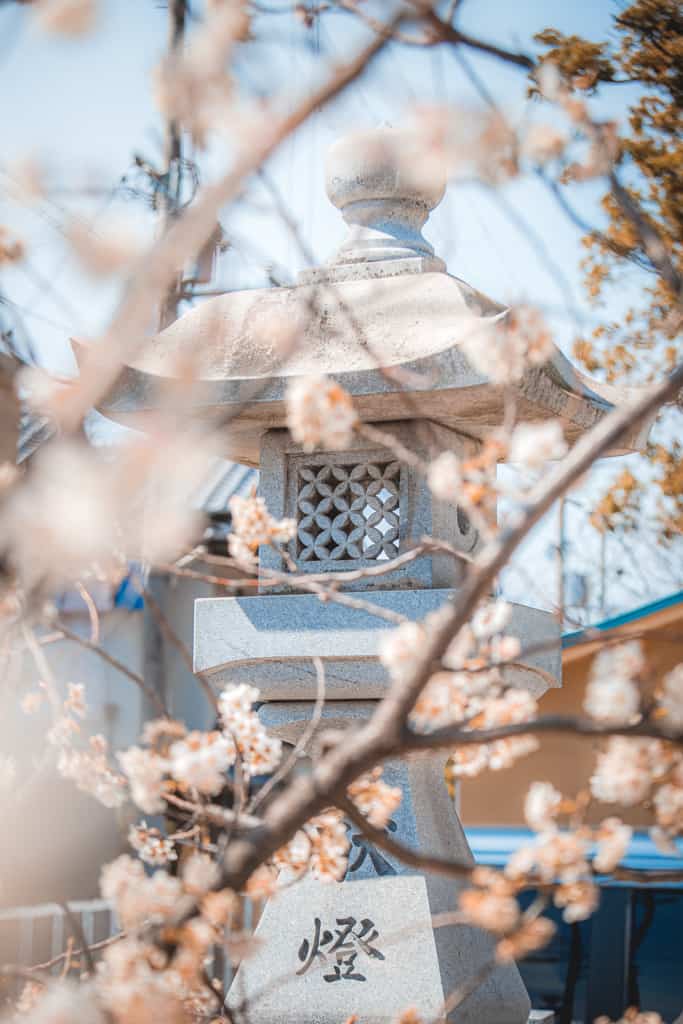 Visiting the Shrines and Temples of Osaka
These temples and shrines are scattered across different areas in Osaka. In this map you will be able to locate each one in order to calculate the best route to reach them depending on your location.