I am definitely late to the Japanese onsen appreciation party, and Aoni Onsen located in the remote woods of the Aomori region (青森) deserves all the credit for my recent conversion to becoming an onsen enthusiast. After living in Japan for two years and having visited the country numerous times before calling it my home, until recently, my onsen behavior was still strange enough to shock my otherwise admirably polite Japanese friends. My odd onsen behavior consisted of sitting briefly in the water for a minute before jumping out, dressing quickly, and fleeing the premises as if running from my worst enemy. Furthermore, my behavior was incomprehensible as one hailing from Turkey, with its own famous bathing culture where we willingly enter suffocatingly hot common baths and agree to a not so gentle body scrub from a stranger who scours us off as if their lives depended on it.
After Aoni Onsen, I have an entirely different outlook on the public bathing experience. A hike does not feel like a hike unless it ends with a visit to an onsen, and I seek out these places at every new destination I visit. My conversion story started in the fall of 2020 when I took advantage of the JR Tohoku Rail Pass, which is available to the residents of Japan with a foreign passport for a limited time. The 5-day unlimited train travel pass pays for itself (20,000 Yen) with a one-way Shinkansen trip from Tokyo to Aomori city (regular ticket costs 17,470 Yen).
Aoni Onsen: A Japanese Hot Spring Hidden in the Remote Forests of Aomori
Aomori and the entire Tohoku region is famous for onsen, and I needed a full day off from my busy hiking-focused itinerary to experience and photograph the famous autumn colors of Tohoku. Aoni Onsen first caught my attention as it was accepting solo travelers without charging them the minimum price of two people per room as many ryokan and onsen in Japan tend to do.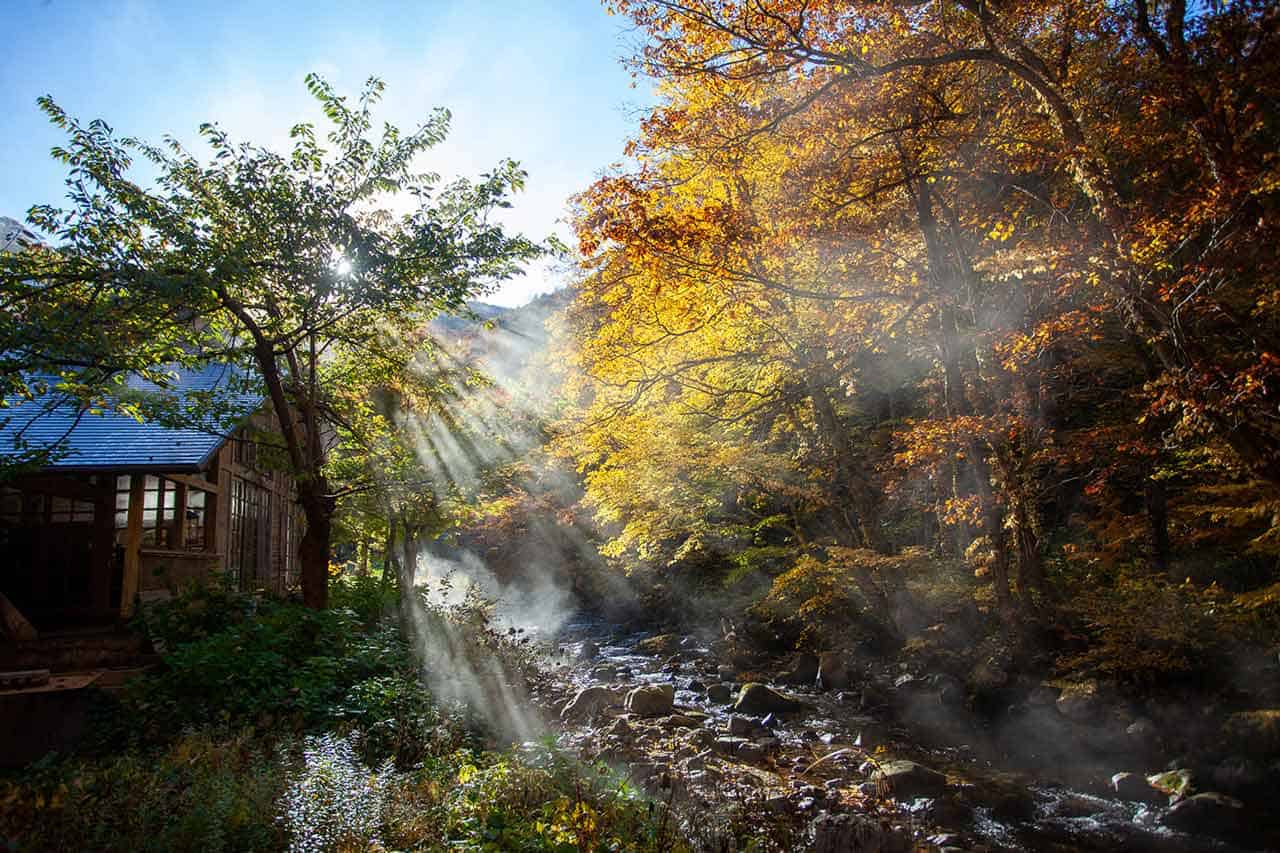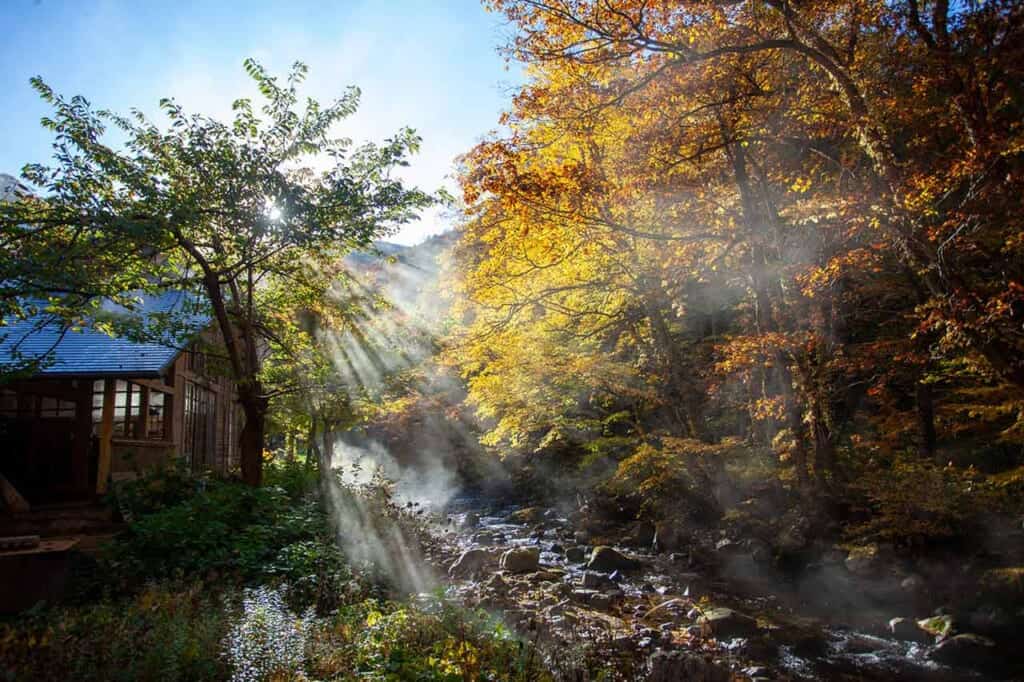 Aoni Onsen (青荷温泉, also known as ランプの宿 Lamp no Yado) — established in 1929 and located by a mountain stream — is not packed together with numerous other hotels like many typical onsen towns. It is an independent establishment hidden deep in the atmospheric forests of Aomori. In my experience, the high concentration of onsen facilities in small towns often leads to an industrial atmosphere that takes away from the charm of otherwise unique baths. The remote location of Aoni Onsen and the lack of surrounding facilities and infrastructure are what make the stay at Aoni Onsen a truly unique Japanese onsen experience.
In addition to the charm of the facilities, the autumn colors observed from each of the four baths in Aoni Onsen is a reason alone to visit this cozy establishment during the fall season, starting in the second half of October in the region.
Rare Privilege to Disconnect
A stay at Aoni Onsen requires some commitment and enough privilege to be able to disconnect from work and daily responsibilities during your stay as there is no phone or wi-fi reception in the area. If that is not enough for you, electricity is another modern convenience that you will be deprived of during your stay at Aoni Onsen. The entire facility is lit only with oil lamps, resulting in an impossibly atmospheric environment, especially at night.
Each guest is provided with yukata to wear during their stay. Wearing the yukata is, of course, optional, but many guests choose to wear it, adding to the overall ambiance.
I arrived at Aoni Onsen during a weekday in late October. After checking in to my modestly sized room, I excitedly checked out all four baths before settling on Kenroku-no-Yu. The view of the autumn colors flushing out of the surrounding forest was too inviting to pass.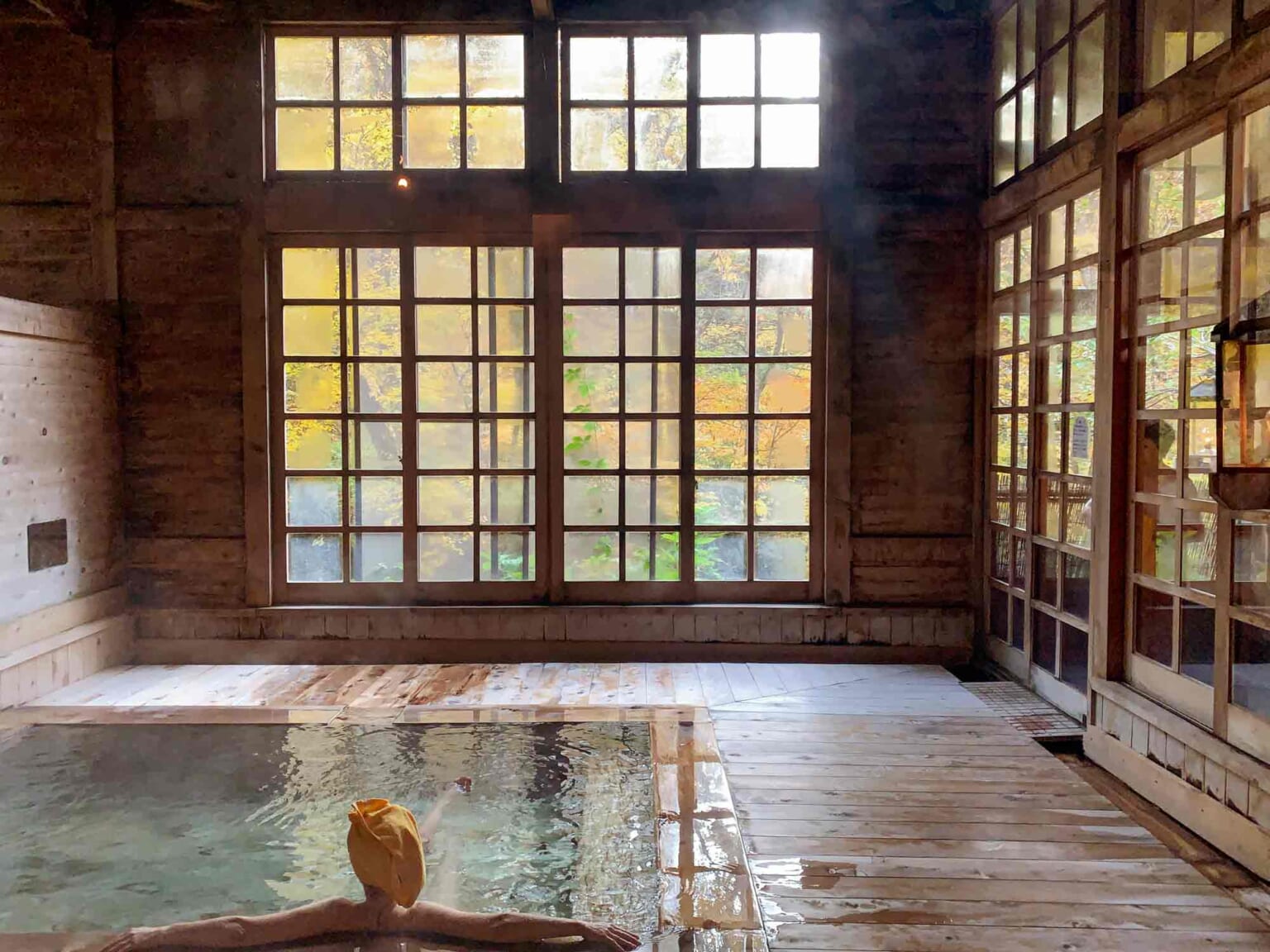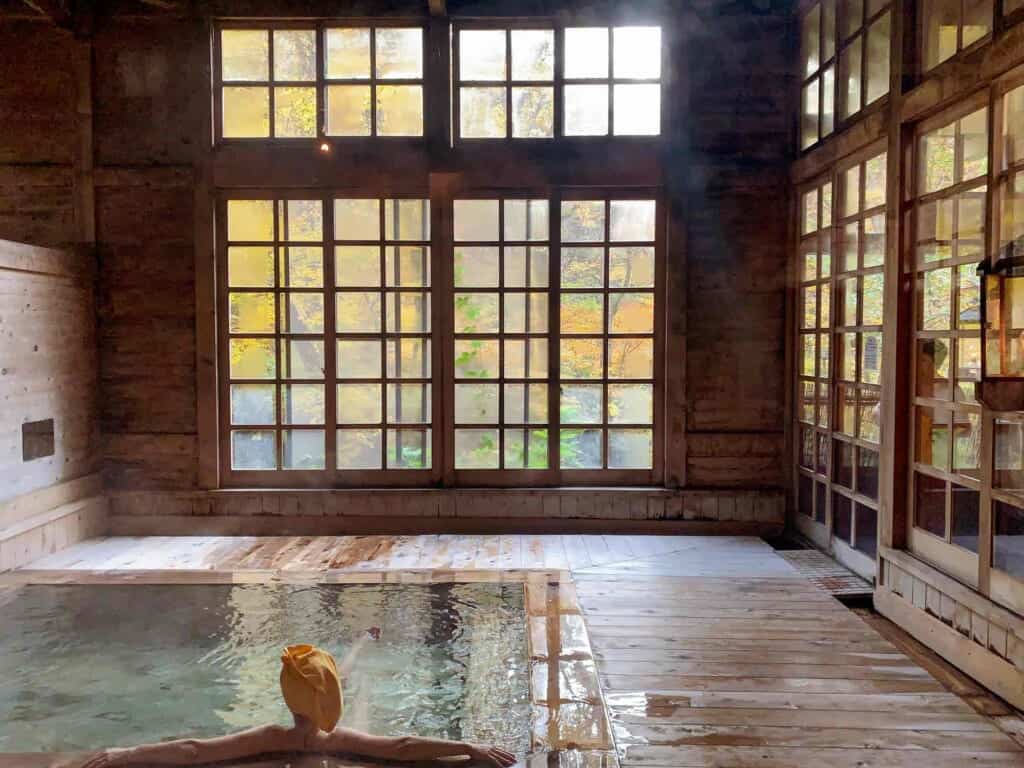 As evening approached, the increased activity of the onsen staff and the slowly rising excitement of other guests alerted me that something special was approaching: dinner time. Two meals are served at Aoni Onsen; dinner starts at 6 pm and breakfast at 7.30 am. Both meals are served in a common dining room featuring low tables where guests sit on the floor. Dining is an essential part of the experience in any onsen or ryokan stay in Japan, and I highly recommend that you do not miss it. The dinner is usually made of seasonable mountain vegetables and river fish. While it is always the atmosphere that counts for me, the taste of the food at Aoni is far from being disappointing.
Literary Dreams at Aoni Onsen
No electricity and oil lamps, hidden in a forest and adjacent to a mountain stream, guests wearing yukata, and wooden baths open all day and night — for me, it was a perfect setting to match the magical ambiance that Japan's first Nobel Laureate in literature, Yasunari Kawabata, created for his readers in his 1948 novel "Snow Country." Kawabata's story takes place in a remote Japanese onsen town in the north of the country and focuses on the romantic attraction between a Tokyoite and a rural geisha.
During my travels, I like to play a game in my mind where I try to match the places that I visit with a story that I either previously read or selected to read during my stay. Kawabata's "Snow Country" is a perfect match for my mental game in Aoni Onsen, where every guest becomes a candidate to be one of the protagonists in the story. A solo young man from Tokyo who is immersed in his poetry book whom I spotted during a pre-dinner coffee break quickly assumes the role of the Tokyoite gentleman. But the geisha role is a little more challenging to assign as I see no other solo women travelers and I have a rule to never assign any role to myself in my stories. So, I take the liberty to modify Kawabata's story to focus on the young poet from Tokyo trying to find solitude in the remote forests of Aomori.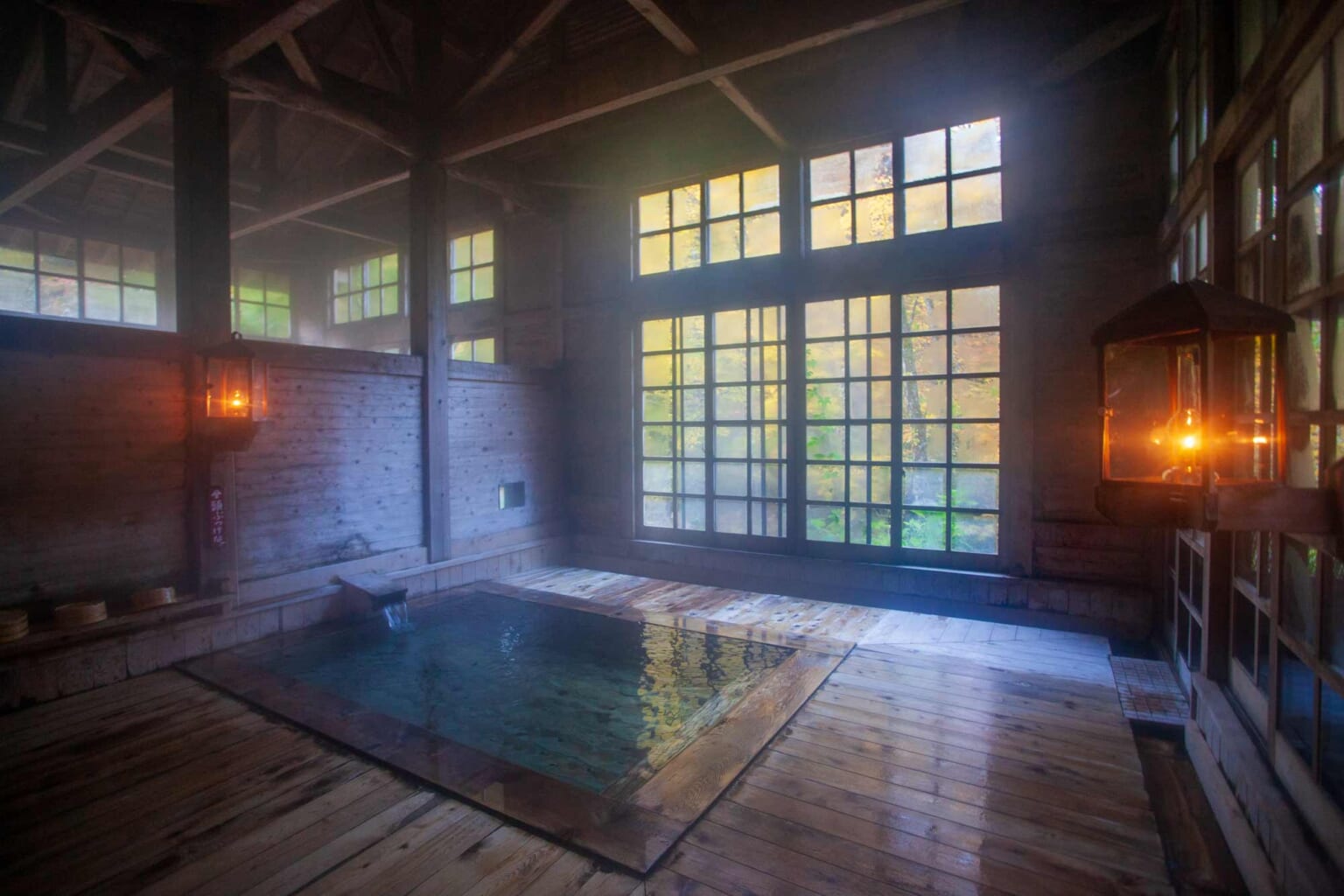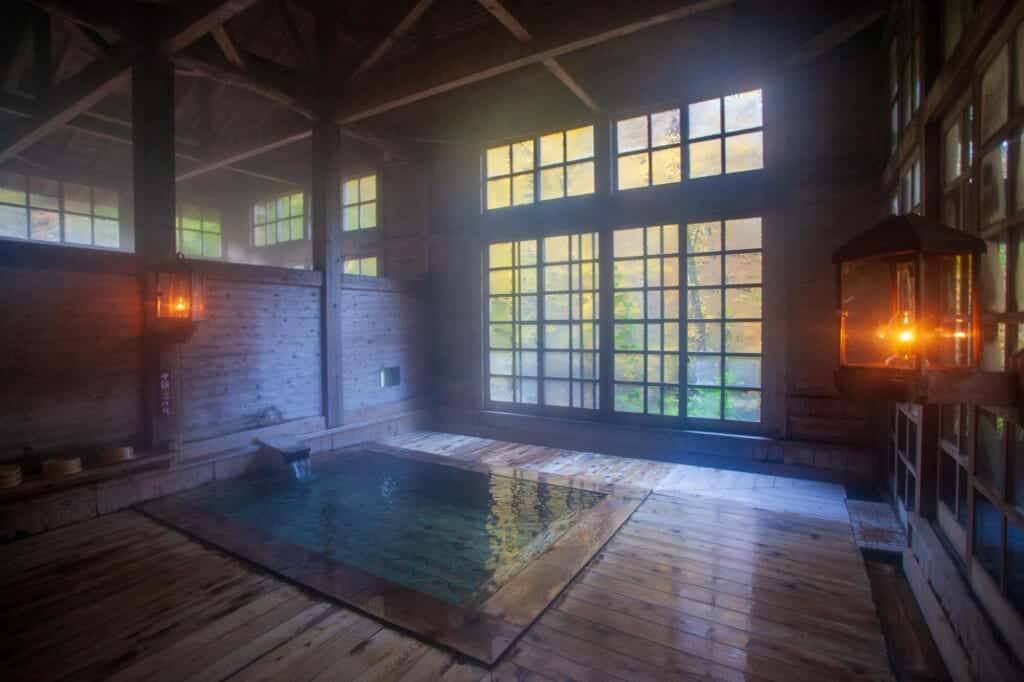 My story is suddenly interrupted when I am drawn back to the real world by two Japanese guests who — after noticing that I have no drink to go with my dinner — gently pass me a glass of water that they carried for me from the dining hall. One of those things that never ceases to amaze me in Japan is the subtle gestures by other Japanese guests who take the initiative to help solo foreign travelers navigate the sometimes confusing routines of traditional Japanese-style accommodations. They usually undertake their mission in such a subtle and gentle way that never feels forced or awkward and always brings a smile of appreciation to my face.
Four Baths with Splendid Views
Early morning at Aoni Onsen is almost eerily silent where you are likely to be alone in one of the four baths that offer not only soothing water but splendid views of the surrounding forests. My favorite is Kenroku-no-Yu, with its large windows that look out over the forest. The views are mesmerizing in late October, which is the peak autumn color season for most parts of Aomori.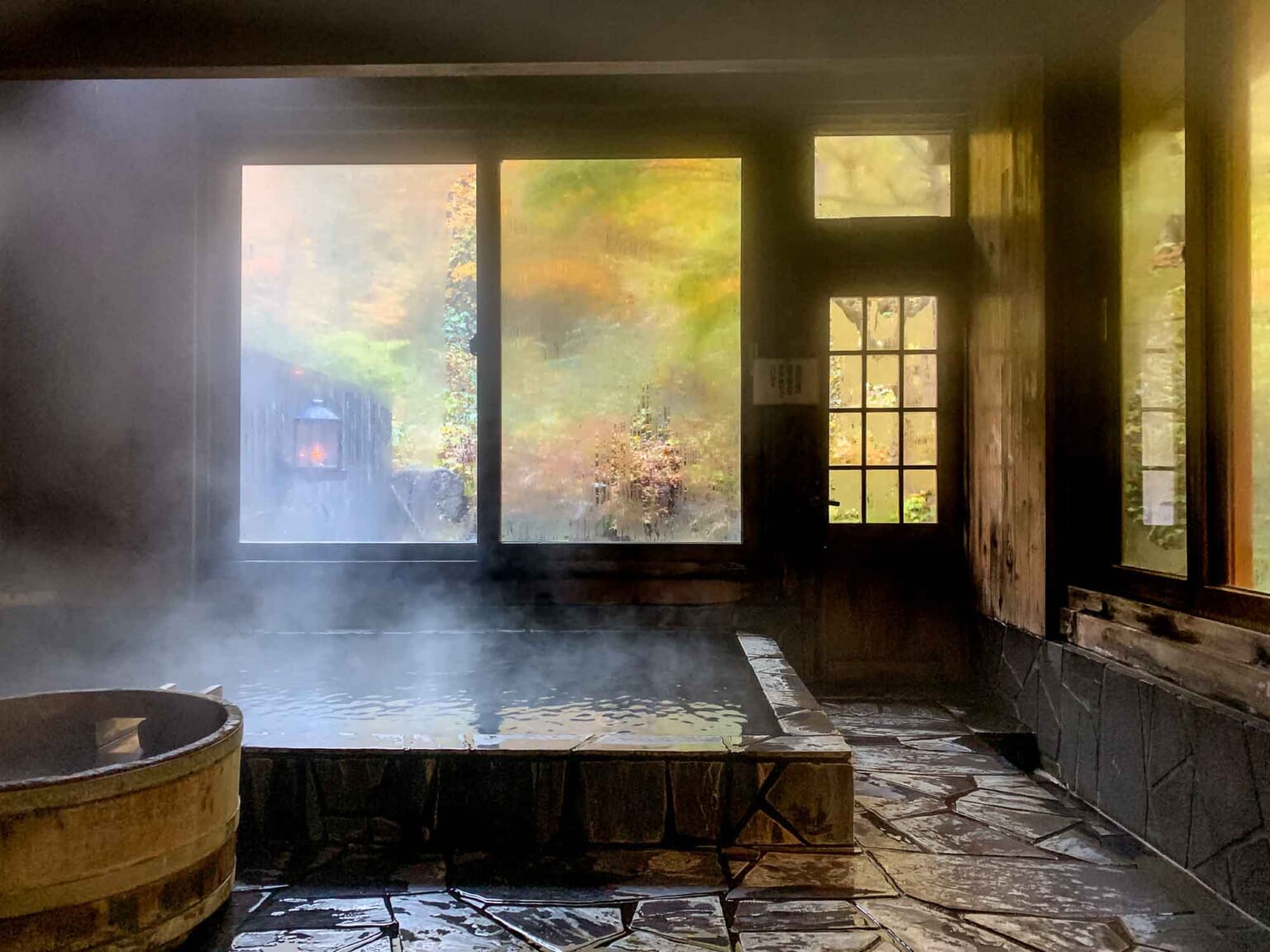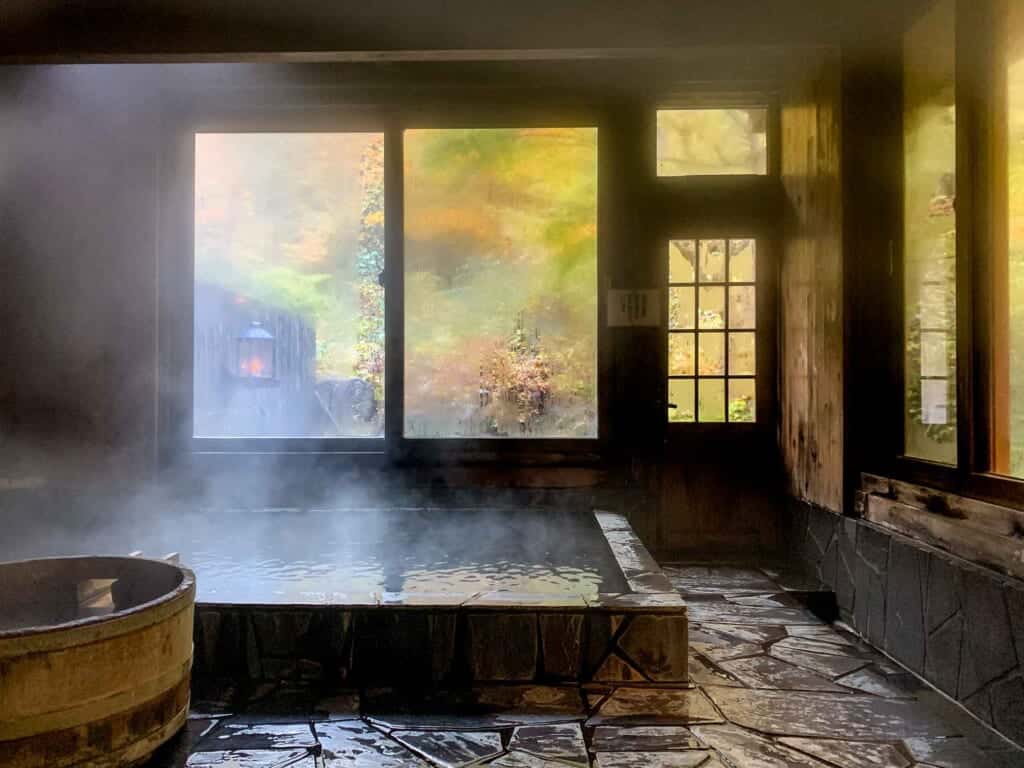 Some of the baths in Aoni Onsen are mixed baths, whereas some others are gender-segregated. I highly recommend that you try each bath as they each offer a unique atmosphere. My favorite time to visit was either close to dawn or right after mealtimes when the baths would mostly be empty with most of the guests still taking their time in the dining room.
If you are an early riser like me, it is best to visit each bath early in the morning for the best lighting and the luxury of having the entire bath to yourself.
How to Get to Lamp no Yado Aoni Onsen
The remote location of Aoni Onsen is what makes it unique but also a difficult one to reach unless you have access to a car. If you are relying on public transportation, as I did, you will need to change multiple forms of transportation depending on your departure point. The nearest train station to Aoni Onsen is in Kuroishi (黒石市). If you are traveling from Aomori City, you can take the JR Ou line to Hirosaki Station (弘前駅), which is connected to Kuroishi via Konan line (30 min). From Kuroishi, you will need to take a bus (Nurugawa line) to reach the roadside station of Nijinoko (虹の湖).
If you intend to stay at Aoni Onsen for one night/two days as most people tend to do, you can also consider purchasing a Dosayusa-go bus pass, which is valid for two days for bus travel between Kuroishi and Nijinoko and costs 700 Yen. Aoni Onsen has a pre-scheduled shuttle service between Nijinoko and the onsen. You can check the latest shuttle schedule at Aoni Onsen's website.
Rates and Reservation at Lamp no Yado Aoni Onsen
There are 32 mid-sized rooms in Aoni Onsen, as well as three annexes, which are usually occupied by big family groups. The wooden architecture of the annexes and the main building blends in perfectly with the surrounding forest. The single-person rates at Aoni Onsen vary between 11,000-13,000 Yen depending on the season including breakfast and dinner. There is also a day visit package available where the visitors can use the baths and have lunch at the dining room for around 2,000 Yen to 3,500 Yen depending on the meal menu chosen. The onsen was accepting solo visitors during my visit in October 2020 without charging for a double room but the latest policy should be checked directly with Aoni Onsen. The onsen accepts reservations on the phone but you can also book through Rakuten Travel or Booking.com.
A Memorable Unique Japanese Onsen Experience
Aoni Onsen, despite the often harsh weather conditions of Aomori, is also open during winter. I can only imagine how beautiful the entire area might look in the winter. I recommend that you pick your own story and visit Aoni Onsen in either fall or winter for a unique Japanese onsen experience. If you are not already an onsen lover like me, I'm sure a visit here will help you become one.